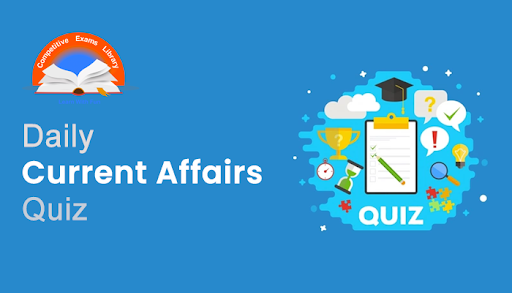 Dear Readers, Daily Current Affairs Questions Quiz for SBI, IBPS, RBI, RRB, SSC Exam 2020 of 17th & 18th December 2020. Daily GK quiz online for bank & competitive exam. Here we have given the Daily Current Affairs Quiz based on the previous days Daily Current Affairs updates. Candidates preparing for IBPS, SBI, RBI, RRB, SSC Exam 2020 & other competitive exams can make use of these Current Affairs Quiz.
1) International Migrants Day is observed on which of the following date?
A) December 11
B) December 12
C) December 18
D) December 14
E) December 17
2) Which city will host the 2030 Asian Games?
A) Paris
B) Canberra
C) Jakarta
D) Doha
E) Oman
3) UN Arabic Language Day is observed on which of the following date?
A) December 12
B) December 13
C) December 15
D) December 17
E) December 18
4) Who among the following has Inaugurated the World's Largest Renewable Energy Park Opens in Kutch?
A) Venkiah Naidu
B) Prahlad Patel
C) Amit Shah
D) Narendra Modi
E) Prakash Javadekar
5) The Minorities Rights Day is observed in India every year on which date?
A) December 11
B) December 18
C) December 13
D) December 17
E) December 12
6) Cabinet has approved the assistance of Rs _______ crore for sugarcane farmers.
A) 1500
B) 2000
C) 3500
D) 3000
E) 2500
7) Which institution has launched a Recognition Scheme for Hygiene Rating Audit Agencies?
A) ONGC
B) BHEL
C) BEML
D) QCI
E) ISRO
8) India and which country have decided to reopen the Chilahati-Haldibari rail link after nearly 55 years?
A) Myanmar
B) Bhutan
C) Nepal
D) Afghanistan
E) Bangladesh
9) CCEA has approved the revised cost of Rs _______ crores  for power transmission project.
A) 5200
B) 5500
C) 6700
D) 6200
E) 6000
10) Which institution has decided to set up a dedicated control centre for Space Situational Awareness?
A) DRDO
B) ISRO
C) GRSE
D) BEML
E) BHEL
11) British PM has invited Prime Minister Modi to attend a UK hosted _______ summit next year.
A) OECD
B) G-20
C) G-11
D) G-7
E) EU
12) India and Bangladesh have signed _____ MoUs and agreements recently.
A) 4
B) 8
C) 9
D) 5
E) 7
13) Who among the following has launched a dedicated economic diplomacy website?
A) Venkiah Naidu
B) Amit Shah
C) S Jaishankar
D) Prahlad Patel
E) Narendra Modi
14) Who among the following has been named VP of Asia Pacific Broadcasting Union?
A) Anant Gupta
B) Rajendra Singh
C) Sushil Singh
D) Shashi Shekhar Vempati
E) Rajesh Verma
15) Defence Acquisition Council has approved proposals worth Rs ________ crore to procure equipment from domestic industry.
A) 20,000
B) 24,000
C) 23,000
D) 25,000
E) 27,000
16) According to the Union Minister for Road Transport, the National Infrastructure Pipeline Projects Worth ₹ _____ Lakh Crore Under Implementation.
A) 39
B) 40
C) 44
D) 42
E) 41
17) AICTE has decided to release ________ Maintenance Allowance For Jammu And Kashmir, Ladakh Students.
A) Rs 35,000
B) Rs 20,000
C) Rs 25,000
D) Rs 15,000
E) Rs 30,000
18) India has signed a ________ billion dollar loan agreement with NDB for AtmaNirbhar Bharat Abhiyan.
A) 3
B) 2.5
C) 2
D) 1
E) 1.5
19) Which state has rolled out a free crop insurance scheme?
A) Bihar
B) Madhya Pradesh
C) Haryana
D) Chhattisgarh
E) Andhra Pradesh
20) Indian Coast Guard (ICG) ship _______, the second in the series of five Offshore Patrol Vessel (OPV) built by Goa Shipyard Limited, will be commissioned at Goa on December 15. 
A) Amar
B) Supreet
C) Sujeet
D) Rajlaxmi
E) Vikrant
21) FY21 GDP to contract at ______ per cent on better recovery as per SBI report.
A) 6.2
B) 6.5
C) 7.0
D) 7.4
E) 7.2
22) The Government of India and the World Bank have signed a _______ million dollar project to protect India's poor from COVID-19.
A) 250
B) 400
C) 450
D) 300
E) 350
23) India has ranked _______ in the recently released UN's Human Development Index.
A) 135
B) 131
C) 129
D) 125
E) 120
24) Satyadev Singh who passed away at 75 was a former leader belonging to which party?
A) CPI-M
B) JDU
C) BJP
D) BJD
E) Congress
Answers :
1) Answer: C
The International Migrants Day is observed on 18 December every year.
On 4 December 2000, the UN General Assembly (UNGA), taking into account the large and increasing number of migrants in the world, proclaimed 18 December as International Migrants Day
The day was selected to mark the anniversary of the 1990 adoption by UNGA of the International Convention on the Protection of the Rights of All Migrant Workers and Members of Their Families
The theme of International Migrants Day 2020 : 'Reimagining Human Mobility'.
To mark International Migrants Day this year, the International Organization for Migration (IOM) has called for the world community to come together and remember the refugees and migrants who have lost their lives.
2) Answer: D
Doha will host the 2030 Asian Games and rival Riyadh will stage the event in 2034 following a vote by the Olympic Council of Asia (OCA) General Assembly in Muscat.
The second hosting city, for 2034, is Riyadh.
The double award comes after OCA President Sheikh Ahmad Al-Fahad Al-Sabah arranged a "win win" situation which saw the city with the most votes awarded the 2030 Games and the runner-up given 2034.
2030 Asian Games will be the 21st edition of the multi-sports event, held after every four years. It is also known as Asiad.
It means back-to-back Games will be held in West Asia with an intriguing race between two fierce political opponents ending with both Qatar and Saudi Arabia having something to show for it.
3) Answer: E
World Arabic Language Day is celebrated every year on 18 December since 2012.
December 18 was chosen as the date for the Arabic language as it is "the day in 1973 when the General Assembly approved Arabic as an official UN language "
The event was established by the UN Educational, Scientific and Cultural Organization (UNESCO) in 2010 seeking to celebrate multilingualism and cultural diversity as well as to promote equal use of all six of its official working languages throughout the organization.
World Arabic Language Day 2020 will provide an opportunity to reflect on and discuss how Language Academies can help revive and enhance the use of classical Arabic.
The Day will also give an opportunity to showcase and celebrate the richness and global importance of the Arabic language worldwide.
4) Answer: D
Prime Minister NarendraModi laid the foundation stone of the world's largest renewable solar and wind energy 30,000 megawatts (MW) Ultra Mega Hybrid Park in Gujarat's Kutch.
It will be the largest renewable energy park of its kind in the world.
The vast project in western Gujarat's Kutch region spread over 1,80,000 acres
The energy project in PM Modi's home state will account for a large chunk of India's ambitious target of generating 175 GW in renewable energy by 2022 and 450 GW by 2030.
The desalination plant will be able to process 100 million litres of water a day for 8 lakh people living in the arid region.
PM Modi also laid the foundation stone for the Rs 129-crore fully automated dairy plant under the Centre's RashtriyaKrishiVikasYojana. As the then CM, Modi had set up the district's first dairy plant with 2 lakh litre processing capacity in 2013-14.
5) Answer: B
The Minorities Rights Day is observed in India every year on December 18.
AIM:
The aim of the day is to advance and protect the privileges of the individuals to have a place with linguistic, religion, castes and color minorities.
History:
The Minorities Rights Day is celebrated by the National Commission for Minorities (NCM).
On 18 December 1992, the United Nations adopted the Statement on the individual's Rights belonging to religious or Linguistic National or Ethnic Minorities.
It highlighted religious linguistic, cultural, and national identity of the minorities that shall be respected, preserved, and protected by the states and within individual territories.
6) Answer: C
The Cabinet Committee on Economic Affairs chaired by Prime Minister Mr. NarendraModi has approved assistance of about Rs. 3,500 crore (US$ 476.10 million) for sugarcane farmers (GannaKisan).
This subsidy aims at covering expenses on marketing costs including handling, upgrading and other processing costs and costs of international and internal transport and freight charges on export of up to 60 LMT of sugar limited to Maximum Admissible Export Quota (MAEQ) allocated to sugar mills for sugar season 2020-21.
7) Answer: D
Quality Council of India (QCI) at the behest of the FSSAI has come out with a Scheme for approval of Hygiene Rating Audit Agencies to scale up Hygiene Rating by increasing the number of recognised Hygiene Rating Audit Agencies in the country.
This rating will be in the form of smileys (1 up to 5) and the certificate should be displayed prominently in the consumer facing area.
Aim : To help consumers take informed decisions regarding food outlets where they prefer to eat by encouraging businesses to improve hygiene and safety standards, the Commerce and Industry Ministry.  The recognised agency will verify compliance with food hygiene and safety procedures laid down by the Food Safety and Standards Authority of India (FSSAI).
FSSAI's initiative of 'Food Hygiene Rating Scheme' is a certification system for food businesses supplying food directly to consumers, either on or off premise, the ministry said in a statement.
8) Answer: E
India and Bangladesh reopened the 55 years old Chilahati-Haldibari rail link between the two nations. The inauguration took place during a virtual bilateral summit between PM Modi and PM Sheikh Hasina on December 17, 2020.
9) Answer: C
CCEA (Cabinet Committee on Economic Affairs), chaired by Prime Minister NarendraModi, has approved the Revised Cost Estimate (RCE) of North Eastern Region Power System Improvement Project (NERPSIP) at an estimated cost of Rs 6,700 crore
The central government approved the revised cost estimate of Rs 6,700 crore for North Eastern Region Power System Improvement Project for six states to strengthen intra-state transmission and distribution systems.
six beneficiary the north-eastern states – Assam, Manipur, Meghalaya, Mizoram, Nagaland and Tripura, and are targeted to be commissioned by December 2021.
The main objective of the project is the government commitment for the total economic development of the North Eastern Region and to strengthen the intra-state transmission and distribution infrastructure in the region.
The scheme will also increase the per capita power consumption of these states, and contribute to the total economic development of the region.
10) Answer: B
The Indian Space Research Organization (ISRO) has set up a dedicated Space Situational Awareness (SSA) Control Centre, at its ISTRAC campus at Peenya, Bangalore.
The control centre was formally inaugurated by Chairman, ISRO and Secretary, Department of Space K Sivan on December 14.
According to ISRO, the Network for space object Tracking and Analysis (NETRA) project is initiated as a first step towards meeting this goal, its main elements being a radar, an optical telescope facility, and a control centre.
11)  Answer: D
British Prime Minister Boris Johnson has invited India to attend the G7 Summit next year.
Mr Johnson has sent a letter inviting Prime Minister NarendraModi to the summit. UK Foreign Secretary Dominic Raab called on MrModi and handed over the letter in New Delhi.
Mr Johnson's ambition to work with a group of like-minded democracies to advance shared interests and tackle common challenges.
This year, the G7 grouping will also reportedly witness an expansion and will include ten democracies, naming it D10.
12) Answer: E
India and Bangladesh signed seven MoUs and agreements during the virtual summit between Prime Minister NarendraModi and Prime Minister Sheikh Hasina.
The agreements and MoUs were signed in Dhaka by the High Commissioner of India VikramDoraiswami on behalf of India and officials of Bangladesh.
The agreements include a framework of understanding in Hydrocarbon sector, framework agreement on High Impact Community Development Project (HICDP), protocol on transborder elephant conservation, an MoU on the supply of equipment and improvement of Garbage and solid waste disposal, MoU in the field of agriculture, an MoU between National Museum Delhi and Bangabandhu Sheikh MujiburRahman Memorial museum, Dhaka and terms of reference for India Bangladesh CEO forum.
13) Answer: C
External Affairs Minister S Jaishankar launched a dedicated economic diplomacy website.
Aim : To provide critical and relevant information on major economic indicators, central and state government policy updates as well as the latest business news and trade data.
The website www.indbiz.gov.in will act as a two-way funnel connecting Indian nationals' businesses and states globally for enhancing exports, exploring employment opportunities.
The website also includes information on global mineral resource endowments, opportunities for agricultural exports, and employment abroad for Indian nationals and businesses, he said at the virtual launch event.
It has been launched to showcase India's economic, sectoral and state-wise trends that make for an attractive economic partnership.
14) Answer: D
PrasarBharati CEO ShashiShekharVempati has been elected as the Vice President of Asia Pacific Broadcasting Union (ABU), one of the largest broadcasting associations in the world.
About Asia Pacific Broadcasting Union (ABU) :
Founded : 1964
The Asia Pacific Broadcasting Union is a professional association of broadcasting organisations with over 286 members in 57 countries and regions, reaching the potential population of about three billion people.
15) Answer: E
Defence Acquisition Council (DAC) meeting, headed by Defence Minister Rajnath Singh, approved proposals to procure equipment worth Rs 27,000 crore from the domestic industry.
DAC approved Capital Acquisition proposals of various weapons, platforms, equipment and systems required by the Indian Army, the Navy and Air Force at an approximate overall cost of Rs 28,000 crore.
AIR Correspondent reports, this was the first meeting of the Council under the new regime of Defence Acquisition Procedure 2020 and this will give a boost to the Make in India and AtmaNirbhar Bharat initiatives of the Government.
16) Answer: C
Union Minister for Road Transport and Highways NitinGadkari stated the National Infrastructure Pipeline (NIP), infrastructure projects worth 44 lakh crore are under implementation.
It involves 39 % investment by the central government, 40 % investment by the states, and 21 % by the private sector.
While addressing the CII Partnership Summit 2020, the minister said that the national infrastructure pipeline encapsulates an investment of 111 lakh crore on infrastructure projects by the year 2024-2025.
Currently, projects worth ₹ 44 lakh crore out of the 111 lakh crore, accounting for 40 per cent are under implementation, while projects worth 22 lakh crore account for 20 per cent are under development stages
17) Answer: B
AICTE has decided to release the instalment of Rs 20,000 as maintenance allowance under Prime Minister's Special Scholarship Scheme (PMSSS) for the students of Jammu and Kashmir and Ladakh.
Aim: To Support & Empower Students for Completing their online studies.
18) Answer: D
The Government of India and New Development Bank signed a loan agreement for one thousand million dollars to provide support to AtmaNirbhar Bharat Abhiyan through MGNREGA Scheme.
Significance of the Scheme:
It will support the Government in mitigating the adverse economic impact of COVID-19 pandemic and enable economic recovery in the rural areas through Natural Resource Management (NRM) works.
This will facilitate economic activity and employment generation to stimulate rural demand, to combat the decline in economic activity due to the outbreak of COVID-19.
The programme proposes creation of durable rural infrastructure assets relating to NRM and generation of employment opportunities for rural poor, especially migrant workers who have returned from urban areas and have lost their livelihoods due to the COVID-19 pandemic.
19) Answer: E
Andhra Pradesh Chief Minister YS Jagan Mohan Reddy has launched YSR Free Crop Insurance scheme.
In this Scheme ₹1,252 crore credited into the bank accounts of 9.48 lakh farmers in insurance claims for the agricultural season 2019.
The previous government spent an average Rs 393 crore per annum for three years towards payment of insurance premium.
The number of beneficiaries now has gone up to 49.80 lakhs
The compensation for the crop losses during 2020 will be paid in April next.
20) Answer: C
Indian Coast Guard (ICG) ship Sujeet, the second in the series of five Offshore Patrol Vessel (OPV) built by Goa Shipyard Limited, will be commissioned at Goa on December 15.
This vessel has been made in line with Prime Minister NarendraModi's vision of 'Make in India'. will be commissioned  by Secretary of Defence Production  Raj Kumar.
21) Answer: D
India's GDP growth is expected to be at (-) 7.4 per cent in FY21 on better than projected recovery, stated a SBI research report, upgrading its earlier forecast of (-) 10.9 per cent.
The SBI research report has also forecast India's GDP growth in FY22 at 11 percent.
The report also believes that it would take seven quarters from the fourth quarter of FY21 for GDP to reach the pre-pandemic level in nominal terms.
22) Answer: B
The Government of India and the World Bank have signed a 400 million dollar project to protect India's poor and vulnerable from the impact of COVID-19.
The programme will strengthen the capability of state and central governments to provide coordinated and adequate social protection to the poor and vulnerable from the shocks triggered by the COVID-19 pandemic.
The agreement was signed by Additional Secretary, Department of Economic Affairs CS Mohapatra and SumilaGulyani, Acting Country Director, India, on behalf of the World Bank.
This is the second such assistance in the series of two 'Accelerating India's COVID-19 Social Protection Response Programme'
23) Answer: B
India has been ranked 131 among 189 countries in the 2020 human development index, according to a report released by the United Nations Development Programme (UNDP).
Human Development Index is the measure of a nation's health, education, and standards of living.
Norway topped the index,with a score of 0.957 and followed by Ireland, Switzerland, Hong Kong and Iceland.Niger is the lowest ranked country at 189, placed among Low human development category, with a score of 0.394.
Top 10 Countries in HDI Index 2019 :
1)  Norway (HDI value – 0.957)
2) Ireland (HDI value – 0.955)
3) Switzerland (HDI value – 0.955)
24) Answer: C
Former BJP MP, SatyaDev Singh, one of the senior-most leaders of the BharatiyaJanata Party, has passed away. He was 75.
Satyadev Singh had held several important posts, including the national president of the YuvaMorcha, as well as the state vice-president.
Singh was also a part of the core committee of former Prime Minister AtalBihari Vajpayee. He also served as the chairman of BJP's disciplinary committee.
He contested from GondaLokSabha constituency on the ticket of BhartiyaLok Dal for the first time in 1977 and won.
Later, he was elected to the LokSabha from the Balrampur parliamentary seat as a member of the BharatiyaJanata Party in 1991 and 1996. He also played an important role in the Ram Mandir movement.