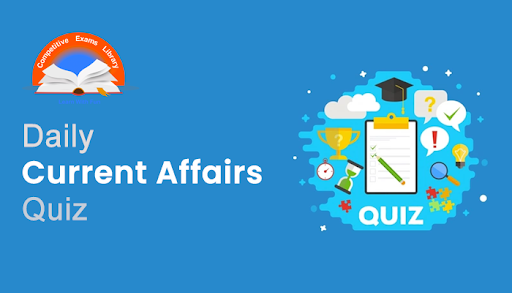 Dear Readers, Daily Current Affairs Questions Quiz for SBI, IBPS, RBI, RRB, SSC Exam 2020 of 22nd December 2020. Daily GK quiz online for bank & competitive exam. Here we have given the Daily Current Affairs Quiz based on the previous days Daily Current Affairs updates. Candidates preparing for IBPS, SBI, RBI, RRB, SSC Exam 2020 & other competitive exams can make use of these Current Affairs Quiz.
1) National Mathematics Day is observed on which of the following date?
A) December 12
B) December 13
C) December 22
D) December 15
E) December 18
2) The Union environment Minister has released the Status of Leopards in India 2018 report. Which state has topped in the report?
A) Haryana
B) Uttar Pradesh
C) Chhattisgarh
D) Madhya Pradesh
E) Kerala
3) MotilalVora who passed away at 93 belonged to which political party?
A) CPI-M
B) Congress
C) BJP
D) BJD
E) JDU
4) India and which country have signed seven agreements during the virtual summit?
A) Sri Lanka
B) Singapore
C) Myanmar
D) Thailand
E) Vietnam
5) Which state has launched a P2P trading platform for rooftop solar power?
A) Madhya Pradesh
B) Kerala
C) Uttar Pradesh
D) Haryana
E) Chhattisgarh
6) Which bank has inked a MoU with the Assam government to develop the MSME ecosystem?
A) SBI
B) HDFC
C) ICICI
D) SIDBI
E) NABARD
7) India's first hypersonic wind tunnel test facility has been inaugurated in which city?
A) Gwalior
B) Pune
C) Hyderabad
D) Surat
E) Delhi
8) Which edition of the IORA Council of Ministers meeting has been held in UAE, Virtually?
A) 24th
B) 23rd
C) 22nd
D) 20th
E) 21st
9) Which of the following bank has tied up with NPCI to launch RuPay Select?
A) Bandhan Bank
B) SBI
C) HDFC
D) ICICI
E) Central Bank of India
10) Indian Navy has signed anMoU with which institution to sign MoU to share ocean services data?
A) BDL
B) BEL
C) INCOIS
D) DRDO
E) ISRO
11) Who among the following has won the BBC Sports Personality of the Year award?
A) Tom Moore
B) Charles Lelerc
C) Fernando Alonso
D) Lewis Hamilton
E) Sebastian Vettel
12) Government has approved the inclusion of ______ indigenous sports in Khelo India Youth Games 2021.
A) 8
B) 4
C) 5
D) 6
E) 7
13) Indian boxers have bagged nine medals including three golds, two silver and four bronze at the Cologne Boxing World Cup held in which country?
A) Netherlands
B) Switzerland
C) Israel
D) France
E) Germany
Answers :
1) Answer: C
National Mathematics Day is celebrated every year on December 22 across the nation to recognise and celebrate the works of SrinivasaRamanujan.
The former Prime Minister Manmohan Singh, on February 26, 2012, declared December 22 as the National Mathematics Day to mark the mathematician's birth anniversary.
2020 ensures 133rd birth anniversary of Ramanujan.
2) Answer: D
The Union environment minister ShriPrakashJavadekar released a report of the  Status of Leopard in India 2018.
The population of leopards in India has increased by 60 percent, according to a report released by the government.
As per report,India now has 12,852 leopards.
More than 60 per cent increase in population has been recorded over the previous estimate which was conducted in 2014.
To the States of Madhya Pradesh (3,421), Karnataka(1783) and Maharashtra(1690) who have recorded the highest leopard estimates.
3) Answer: B
Veteran Congress leader MotilalVora died at the age of 93 from post-Covid complications.
MotilalVora, a former two-time chief minister of undivided Madhya Pradesh and also a former Governor of Uttar Pradesh, had served as a RajyaSabha member four times and as a LokSabha member once.
MotilalVora was a long-time Congress leader and was considered to be very close to the Gandhi family.
4) Answer: E
Prime Minister NarendraModi and the Prime Minister of the Socialist Republic of Vietnam, Nguyen XuanPhuc, jointly addressed the India-Vietnam Virtual Summit, held on 21 December 2020, through video conferencing.
India and Vietnam have signed agreements in varied areas such as defence, scientific research, renewable energy, nuclear energy, petro-chemicals, and cancer treatment demonstrating the expanding ties and existing potential for increased cooperation between the two nations.
This Joint Vision for peace, prosperity and people will send a strong message of our deepened ties to the world.
Both leaders agreed to support each other's national development and work together towards the shared objective of a peaceful, stable, secure, free, open, inclusive and then rules-based Indo-Pacific region.
5) Answer: C
Uttar Pradesh has become the first in India and South Asia to launch the block chain-enabled peer to peer (P2P) trading platform for rooftop solar power producers.
The Uttar Pradesh Power Corporation Limited (UPPCL) and Uttar Pradesh New and Renewable Energy Development Agency (UPNEDA) are hosting the first-of-its-kind pilot project involving energy generated from solar rooftop systems installed on buildings in Lucknow.
The Project is being implemented by Indian Smart Grid Forum (ISGF)
This pilot project will demonstrate the feasibility of rooftop solar energy trading through smart contracts on the blockchain platform between prosumers with their neighbouring households.
6) Answer: D
Small Industries Development Bank of India (SIDBI) has inked a memorandum of understanding (MoU) with the Assam government to develop the Micro, Small and Medium Enterprises (MSME) ecosystem in the State.
The MoU was signed by the commissioner and secretary of industries and commerce department, K KDwivedi and SIDBI general manager RK Singh in the presence of minister Chandra Mohan Patowary.
As per the MoU, a Project Management Unit will be set up by SIDBI in Assam.
The PMU will support the state government in making necessary interventions for enhancing efficacy of MSMEs in the state.
7) Answer: C
Defence Minister Rajnath Singh inaugurated the advanced Hypersonic Wind Tunnel (HWT) test facility in Hyderabad.
HWT Test facility is pressure vacuum driven enclosed free jet facility having nozzle exit diameter of 1 metre.
That will simulate Mach No 5 to 12 (Mach represents the multiplication factor to the speed of sound).
After America and Russia, India is the third country to have such a large facility.
In that test Defence Minister also visited two anti-drone technologies which were demonstrated by DRDO labs on the occasion.
8) Answer: D
The United Arab Emirates (UAE) hosted the 20th IORA Council of Ministers (COM) Meeting on 17 December 2020, virtually.
The theme of the meeting was Promoting a Shared Destiny and Path to Prosperity in the Indian Ocean.
The Indian delegation was led by Shri V. Muraleedharan, MoS, Ministry of External Affairs.
The 20th Council of Ministers was inaugurated by Sheikh Abdullah bin Zayed Al Nahyan, Minister of Foreign Affairs and International Cooperation of the United Arab Emirates.
All 22 Member States and 10 Dialogue Partners, to discuss ways in coordinating efforts to achieve IORA's vision for a peaceful, stable, and prosperous Indian Ocean region as outlined in the Jakarta Concord and IORA Action Plan.
9) Answer: E
The Central Bank of India has launched a unique variant of a contactless debit card under the name RuPay Select, in association with the National Payments Corporation of India (NPCI).
About RuPay Select Card :
This RuPay Debit Select Card will focus on customers' lifestyle, fitness, rejuvenation, nutrition and personal care.
Central Bank RuPay Select Debit cardholders will be able to avail complimentary membership and concessional access to golf courses, gyms, spas and restaurants.
The card comes with features such as airport lounge access to over 20 domestic and more than 500 international lounges.
The card will also facilitate offline transactions in both transits as well as retail purchases.
Apart from this, the cardholders would also be entitled to discounted health check-ups with this National Common Mobility Debit Card (NCMC).
Additionally, it comes up with an accidental and permanent disability insurance cover up to 10 lakh at no extra cost to customers.
10) Answer: C
Indian Navy has signed a Memorandum of Understanding (MoU) with Indian National Centre for Ocean Information Services (INCOIS) for sharing ocean services data.
This MoU is focused on sharing ocean services, data, and expertise in the field of operational oceanography and the same will benefit both Indian Navy and INCOIS in furthering meaningful interactions and professional exchanges in future.
Dr. T. Srinivasa Kumar, Director INCOIS and Commodore A AAbhyankar, who heads Indian Navy's Oceanology and Meteorology Directorate, signed the MoU.
11) Answer: D
Formula 1 world champion Lewis Hamilton has been voted BBC Sports Personality of the Year 2020.
This is the second time that the 35-year-old Hamilton has been crowned Sports Personality of the Year. Prior to this he won the award in 2014.
Other award winners of BBC Sports Personality 2020
Helen Rollason Award: Captain Sir Tom Moore
12) Answer: B
The Sports Ministry has approved the inclusion of four indigenous Games to be a part of Khelo India Youth Games 2021, scheduled to be held in Haryana.
The games include Gatka, Kalaripayattu, Thang-Ta and Mallakhamba.
The four selected games represent different parts of the country and will get national recognition with the help of the Khelo India Youth Games 2021.
Origin of 4 new games :
Kalaripayattu has its origin from Kerala
Mallakhamba is practiced in Madhya Pradesh and Maharashtra.
Gatka originates from Punjab. It is a traditional fighting style of the Nihang Sikh Warriors, used both as self-defense as well as a sport.
Thang-Ta is a Manipuri martial art.
13) Answer: E
Indian boxers bagged nine medals including three golds, two silver and four bronze at the Cologne Boxing World Cup held in Koln, Germany.
The Cologne Boxing World 2020 was hosted by the European Boxing Confederation (EUBC).
List of Medal Winners
Gold: The three gold medals for India were bagged by AmitPanghal (52kg), ManishaMoun (57kg) and SimranjitKaur (60kg) in their respective categories.
Silver: Silver medals were claimed by SakshiChoudhary (57kg) and Satish Kumar (91kg).
Bronze: Sonia Lather (57kg), Pooja Rani (75kg) GauravSolanki (57kg) and Mohamed Hussamudin (57kg) claimed the bronze medal in their respective categories.