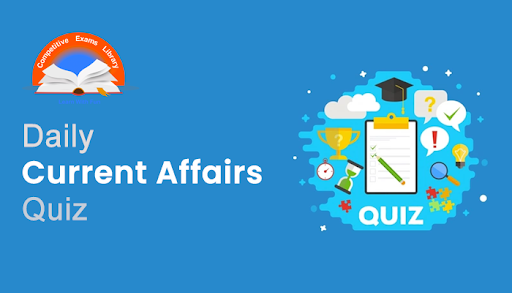 Dear Readers, Daily Current Affairs Questions Quiz for SBI, IBPS, RBI, RRB, SSC Exam 2020 of 26th December 2020. Daily GK quiz online for bank & competitive exam. Here we have given the Daily Current Affairs Quiz based on the previous days Daily Current Affairs updates. Candidates preparing for IBPS, SBI, RBI, RRB, SSC Exam 2020 & other competitive exams can make use of these Current Affairs Quiz.
1) Who among the following has launched the SwachhataAbhiyan?
A) Amit Shah
B) Anurag Thakur
C) Thaawarchand Gehlot
D) Narendra Modi
E) Prahlad Patel
2) John Edrich who died at 83 played cricket for which country?
A) West Indies
B) South Africa
C) New Zealand
D) England
E) Australia
3) FASTag will be made mandatory for all vehicles in the country from the new year. It was launched in which year?
A) 2019
B) 2018
C) 2014
D) 2017
E) 2016
4) Who among the following has written the book Covid-19: SabhyatakaSankataurSamadhan?
A) Rajnath Singh
B) Narendra Singh Tomar
C) Narendra Modi
D) Kailash Satyarthi
E) Amit Shah
5) DGT – MSDE has inked a pact with which company and NASSCOM FOUNDATION for digital skilling?
A) Wipro
B) Dell
C) Microsoft
D) HCL
E) HP
6) India adds TsoKar Wetland Complex in Ladakh as its ______ Ramsar site.
A) 39th
B) 42nd
C) 43rd
D) 41st
E) 40th
7) Which state has launched a career portal for students in collaboration with UNICEF?
A) Chhattisgarh
B) Madhya Pradesh
C) Assam
D) Haryana
E) Odisha
8) Who among the following has launched Digital 'PR Insight' Mobile App And Web Portal Platform?
A) Narendra Modi
B) Prahlad Patel
C) Amrinder Singh
D) Arvind Kejriwal
E) Amit Shah
9) Which state will host India's first Lithium refinery?
A) Maharashtra
B) Assam
C) Chhattisgarh
D) Gujarat
E) Haryana
10) Who among the following has been elevated as the MD & CEO of Yes Securities?
A) Amar Srivastav
B) Prasanth Prabhakaran
C) Surender Singh
D) Nalini Gupta
E) Sonia Singhania
11) Union Minister Hardeep Singh Puri has launched which web portal and mobile app on Good governance day?
A) E-housing
B) Geo-portal
C) E-Sampada
D) E-Complaint
E) E-Seva
12) Which country's parliament has approved a new government?
A) Lithuania
B) Iceland
C) Ethiopia
D) Romania
E) Estonia
13) FIFA has cancelled the U17 and U20 World Cups in 2021. The next edition will now be held in _____.
A) Mexico
B) Chile
C) Argentina
D) Brazil
E) Peru
14) Shamsur Rahman Faruqi who passed away at 85 was a legendary _____.
A) Producer
B) Musician
C) Poet
D) Cricketer
E) Director
Answers :
1) Answer: C
Union Minister for Social Justice and Empowerment ShriThaawarchandGehlot launched a Mobile Application SwachhataAbhiyan in the presence of Ministers of State for Social Justice and Empowerment Shri Ram Das Athawale and ShriKrishan Pal Gurjar in New Delhi.
It Provides the authorities concerned details of any insanitary latrine or manual scavenger.
This would help in rehabilitating all manual scavengers and replace insanitary with sanitary ones.
As per the 2011 census, insanitary latrines is the main reason for manual scavenging.
2) Answer: D
Former England batsman John Edrich has died at the age of 83, the England and Wales Cricket Board (ECB) announced on December 25, 2020.
Edrich, a left-handed batsman, scored more than 5,000 runs for England during a 77-match Test career spanning 13 years between 1963 and 1976.
He also partook in the first ever men's One Day International.
He scored the first boundary and the first-ever fifty in men's ODI cricket.
He scored a triple-century during a test match in 1965 that is the fifth highest Test score for England.
3) Answer: E
Road Transport & Highways Minister NitinGadkari has announced that FASTag is being made mandatory for all vehicles in the country from new year.
FASTag will be enforced from 1st of January, 2021. Enumerating its benefits,it is useful for the commuters as they will not need to stop at toll plazas for cash payments.
It will also save time and fuel.
FASTag was launched in 2016.
The Ministry had issued a notification last month making FASTag mandatory by  1st of January 2021 in old vehicles also sold before 1st December, 2017.
4) Answer: D
Nobel laureate KailashSatyarthi's new book  titled Covid-19: SabhyatakaSankataurSamadhan (Covid-19: Crisis of Civilisation and Solutions) was launched online by former Chief Justice of India DipakMisra and RajyaSabha Deputy Chairman Harivansh Narayan Singh.
About the book :
The Hindi book, published by PrabhatPrakashan, discusses how the pandemic has influenced the education system, business, politics, public safety, foreign policy, law, medicine, economy and development of countries.
He also pointed out the need to focus on children who are the "worst sufferers of economic, social and political violence".
5) Answer: C
The Directorate General of Training (DGT) joined hands with Microsoft and NASSCOM Foundation to provide digital content for ITI students.
Nearly 1,20,000 students in around 3000 ITIs across India can be benefited by this digitized e-learning module via the Bharatskills portal.
Bharatskills portal:
Central Repository for skills providing easy access for the trainees and trainers of the ITI ecosystem.
This platform also presents a unique access to a centralized, scalable and a thriving support ecosystem .
6) Answer: B
India has added TsoKar Wetland Complex in Ladakh as its 42nd Ramsar site, which is a second one in the Union Territory of Ladakh.
Aim : The aim of the Ramsar list is to develop and maintain an international network of wetlands which are important for the conservation of global biological diversity and for sustaining human life through the maintenance of their ecosystem components, processes and benefits.
TsoKarBasin : High-altitude wetland complex, consisting of two principal waterbodies, StartsapukTso, a freshwater lake of about 438 hectares to the south, and TsoKar itself, a hypersaline lake of 1800 hectares to the north, situated in the Changthang region of Ladakh.
7) Answer: E
The Department of School and Mass Education, Government of Odisha in collaboration with UNICEF has launched a career portal for Secondary and Higher Secondary students to help them with expert advice on their future careers.
Samir Ranjan Dash, Odisha's School and Mass Education Launched the Odisha Career Portal on 24th December 2020.
The portal can be accessed through the website www.odishacareerportal.com with the student login ID and password.
The portal will provide easy access to information on different careers and will give students an opportunity to interact with teachers. Students will also be able to access career guidance services through a mobile friendly app created specifically for the portal.
8) Answer: C
Punjab, Chief Minister Captain Amarinder Singh launched Mobile Application and web portal 'PR Insight' to monitor the feedback and subsequently improve the delivery of citizen centric services to ensure responsive and transparent administration in the State.
It has been developed by the Directorate of Information & Public Relations Department, Punjab.
It is mainly for the application to restructure the existing schemes &Programmes after analyzing the feedback received from people.
As many as 31 leading Newspaper agencies/portals have been integrated online with PR Insight application & portal and all the State Departments' news articles are fetched from these newspaper agencies on a real time basis.
The app will help the Government in identifying best practices from positively perceived programmes.
9) Answer: D
India's first Lithium refinery which will process Lithium ore to produce battery-grade material will be set up in Gujarat.
Manikaran Power Limited, one of the country's largest power trading and renewable energy companies will be investing over Rs 1,000 crore to set up this refinery.
The company will be importing Lithium ore from Australia and will be processing in Gujarat.
Last year, Manikaran Power had collaborated with Australian firm Neometals to tap the Mount Marion Lithium mine in Western Australia.
The proposed project is expected to help Gujarat secure the raw material supply for domestic manufacturing of Lithium batteries as it looks to promote electric vehicles.
10) Answer: B
Yes Securities announced the elevation of PrasanthPrabhakaran as its managing director and chief executive officer.
Prabhakaran was previously the Joint MD and CEO of Yes Securities, spearheading the wealth broking and investment advisory and institutional equities business.
11) Answer: C
Housing and Urban Affairs Minister Hardeep Singh Puri launched E-Sampada, a new web portal and mobile app on Good Governance Day.
The new application provides a single window for all the services including allotment for over one lakh government residential accommodations, office space allotment to government organisations in 45 office complexes in 28 cities and booking of 1,176 holiday home rooms.
About E-SampadaPortal :
The portal provides online facility to users across India to lodge complaints, submit documents and appear for virtual hearing.
This is a significant step towards promotion of e-governance to enhance  transparency and accountability in providing various estate services like allotment, retention, regularisation and no dues certificate
The real time information on utilisation of assets and delivery of service will facilitate optimum utilisation of resources.
The automated processes will minimize human intervention and will lead to greater transparency.
12) Answer: D
Romania's parliament approved a new liberal government and prime minister Florin Citu, keeping out of power a left-leaning populist party that won most votes at a parliamentary election earlier this month.
Former investment banker and finance minister Florin Citubecome the new prime minister
260 lawmakers in Romania's 465-seat, two-chamber assembly voted for the new government.
The opposition Socialist Democratic Party (PSD) won the most votes in the election — around 30%. But it could not muster support from more than half of lawmakers in the assembly to be able to form a government.
About Florin Citu :
Citu had stints as an economist for the New Zealand central bank and the European Investment Bank before entering politics in 2016.
He is from the ruling National Liberal Party (NLP) whose leader and former Prime Minister LudovicOrban resigned in the wake of the Dec. 6 vote.
Citu was backed by three more parties, giving him a majority in Romania's two-chamber parliament.
13) Answer: E
FIFA has canceled the Under-17 and Under-20 World Cups scheduled for next year due to the pandemic. The next editions are now due to be staged in 2023, with Indonesia still hosting the U20s and Peru the U17s.
So Peru will host the FIFA U-17 World Cup in 2023.
In the same year, the FIFA U-20 World Cup will be held by Indonesia.
14) Answer: C
Legendary Urdu poet and critic ShamsurRahmanFaruqi passed away, He was 85.
ShamsurRahmanFaruqi's books Mirror of Beauty (translated into English from the Urdu Kai ChaandTheSar-e-Aasmaan in 2006), GhalibAfsaney Ki Himayat Mein (1989) and The Sun That Rose From The Earth (2014) are among others he wrote in his five-decade-long literary career.
He received SaraswatiSamman in 1996 for his work "She'r-e Shor-Angez", a four-volume study of the eighteenth-century poet Mir Taqi Mir.
He was also honoured with the Padma Shri in the year 2009.