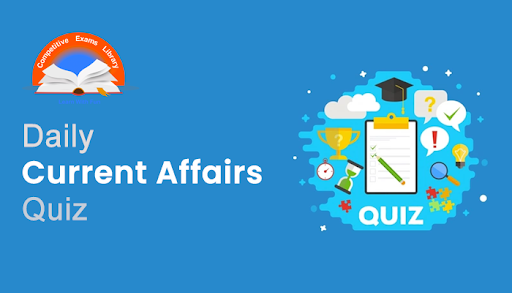 Dear Readers, Daily Current Affairs Questions Quiz for SBI, IBPS, RBI, RRB, SSC Exam 2020 of 27th & 28th December 2020. Daily GK quiz online for bank & competitive exam. Here we have given the Daily Current Affairs Quiz based on the previous days Daily Current Affairs updates. Candidates preparing for IBPS, SBI, RBI, RRB, SSC Exam 2020 & other competitive exams can make use of these Current Affairs Quiz.
1) India's 1st tiger reserve hot air balloon safari has been launched in which state?
A) Uttar Pradesh
B) Assam
C) Madhya Pradesh
D) Haryana
E) Bihar
2) Brodie Lee also known as Jon Huber was a famous _______ who passed away at 41.
A) Actor
B) Producer
C) Director
D) Wrestler
E) Cricketer
3) The Ministry of Road Transport and Highways has extended the validity of vehicular documents till which date?
A) 1 March 2021
B) 1 February 2021
C) 1 August 2021
D) 30 July 2021
E) 31 March 2021
4) Who among the following has been unanimously elected as National President of JD (U)?
A) Rajesh Singh
B) RCP Singh
C) Sanjiv Singh
D) Subodh Singh
E) Vimal Singh
5) The chief minister of which state has unveiled Vajpayee's statue at Ridge?
A) Uttar Pradesh
B) Chhattisgarh
C) Assam
D) Himachal Pradesh
E) Haryana
6) Myanmar Navy formally commissions which submarine which was handed over by the Indian Navy?
A) Chakra
B) Viraat
C) Sindhuvir
D) Sindhughosh
E) Veerangna
7) The cabinet of which state has approved the Dharma Swatantrya (Religious Freedom) Bill 2020?
A) Bihar
B) Uttar Pradesh
C) Haryana
D) Chhattisgarh
E) Madhya Pradesh
8) India will replace the UK as the fifth-biggest economy in which year?
A) 2029
B) 2028
C) 2025
D) 2026
E) 2027
9) Home Minister Amit Shah will lay foundation stone for 7 major projects in which state?
A) Uttar Pradesh
B) Bihar
C) Chhattisgarh
D) Manipur
E) Mizoram
10) Which country has planned to set up a nuclear reactor on the moon?
A) Israel
B) US
C) Japan
D) France
E) Germany
11) Who among the following will inaugurate New Bhaupur-New Khurja section of EDFC?
A) Venkiah Naidu
B) Nirmala Sitharaman
C) Anurag Thakur
D) Prahlad Patel
E) Narendra Modi
12) PM Modi has launched the  Ayushman Bharat PMJAY SEHAT scheme for residents of which state/UT?
A) Uttar Pradesh
B) Assam
C) Jammu & Kashmir
D) Chhattisgarh
E) Bihar
13) The Chief Minister of which state has launched the Navaratnalu-PedalandarikiIllu Housing Scheme?
A) Haryana
B) Bihar
C) Chhattisgarh
D) Andhra Pradesh
E) Madhya Pradesh
14) Which of the following bank has introduced an e-Card, a digital replica of a physical credit card?
A) Axis
B) HDFC
C) PNB
D) SBI
E) ICICI
15) BCCI has confirmed that ____ teams will take part in IPL From 2022.
A) 11
B) 10
C) 12
D) 13
E) 14
16) Who among the following has been named as captain of ICC Men's ODI?
A) Chris Gayle
B) Aaron Finch
C) Rohit Sharma
D) MS Dhoni
E) ViratKohli
17) Who among the following has grabbed silver in Wrestling, India's first medal at the Individual World Cup?
A) Rashmi Deshmukh
B) Anita Chaudhury
C) Anshu Malik
D) Sakshi Phoghat
E) Malika Singh
18) Russian badminton player Nikita Khakimov has been banned for ______ years over betting, fixing offences.
A) 6
B) 7
C) 3
D) 4
E) 5
19) Robin Jackman who passed away at 75 was a former _____.
A) Writer
B) Singer
C) Cricketer
D) Producer
E) Actor
Answers :
1) Answer: C
India's first hot air balloon wildlife safari in a tiger reserve was launched in the world famous Bandhavgarh Tiger Reserve by Madhya Pradesh forest minister Vijay Shah.
The activity will be restricted to the buffer area and people can watch tigers, leopards, Indian sloth bears and other wild animals from a height.
It is the first in any tiger reserve in the country.
The service is being operated by Jaipur-based Sky Waltz.
2) Answer: D
US wrestler Jon Huber, better known to fans as Brodie Lee or Luke Harper, has died aged 41.
He competed as Luke Harper for WWE, before leaving in 2019 and joining All Elite Wrestling (AEW) as Brodie Lee.
He won Tag Team titles twice and also won the Intercontinental Championship (AEW).
3) Answer: E
Ministry of Road Transport and Highways has extended the validity of vehicular documents such as driving licenses (DLs), registration certificates (RCs) and Permits till 31st of March 2021 in the light of need to prevent the spread of Covid-19 Pandemic.
The Ministry had earlier issued advisories on 30th March, 9th June and 24th August this year regarding extension of validity of documents related to Motor Vehicles Act, 1988 and Central Motor Vehicle Rules, 1989.
It was advised that the validity of Fitness, Permit (all types), License, Registration or any other concerned documents may be treated to be valid till 31st of December this year.
It is further advised that the validity of all of the above referred documents may be treated to be valid till 31st March 2021.
This covers all documents whose validity has expired since 1st Feb, 2020 or would expire by 31st March 2021.
4) Answer: B
RajyaSabha MP RCP Singh was unanimously elected as the national president of the Janata Dal.
This decision was taken at the party's national executive meeting in Patna .
The 62-year-old leader from Bihar's Nalanda took over from Chief Minister Nitish Kumar who was re-elected as the JD(U) president in 2019 for three years.
Outgoing President Nitish Kumar proposed the name of RCP Singh and members of the Executive Committee supported the proposal. Mr. Singh was holding the post of General Secretary of the party.
5) Answer: D
Himachal Pradesh Chief Minister Jai Ram Thakur unveiled an 18 feet statue of former prime minister AtalBihari Vajpayee at the historic Ridge Maidan here on his 96th birth anniversary.
The statue has been built at a cost of Rs 1.08 crore. The Ridge Maidan also houses statues of Mahatma Gandhi and former prime minister Indira Gandhi.
December 25 is also marked as Good Governance Day, which was established in 2014 to honour Vajpayee by fostering awareness on accountability in government among the people.
6) Answer: C
The Myanmar Navy has officially commissioned the submarine INS Sindhuvir, which was handed over by the Indian Navy to the country in October 2020.
INS Sindhuvir was commissioned as UMS MinyeTheinkhathu and inducted on the 73rd anniversary of the Myanmar Navy.
During the commissioning ceremony, Indian ambassador to Myanmar Saurabh Kumar was also present along with top brass of Myanmar's Navy.
The kilo class submarine has a displacement of 3000 tonnes, a diving depth of 300 meters and top speed at 20 knots.
This was the first time India has given a submarine to another country.
The submarine has been refurbished for the Myanmar Navy by state-run defense shipbuilder, Hindustan Shipyard Limited (HSL) in Visakhapatnam.
7) Answer: E
The Madhya Pradesh cabinet approved the Dharma Swatantrya (Religious Freedom) Bill 2020 .
Under the provisions of the bill, forced conversion of a woman will be punishable for a term up to 10 years and minimum fine of Rs 50,000.
Specific provisions are also made in the cases of religious conversion of minors, groups, or of those belonging to scheduled castes and scheduled tribes.
Blood relatives, including parents of victims of such religious conversion, can file complaints under the proposed Act.
8) Answer: C
The Centre for Economics and Business Research stated Indian economy will again overtake the UK to become the fifth largest economy in 2025 and race to the third spot by 2030.
India had overtaken the UK in 2019 to become the fifth largest economy in the world but has been relegated to 6th spot this year.
The Research organisation forecasts that the Indian economy will expand by 9 percent in 2021, and another 7 percent in 2022.
As per the report, China will become the World's Biggest Economy in 2028 meanwhile, japan will remain on 3rd spot till 2030s.
9) Answer: D
On December 27, 2020, Union Home Minister Amit Shah will lay the foundation stone for seven major projects while two other projects will be inaugurated.
The Union Minister of State (Independent Charge), Development of North Eastern Region (DoNER) Dr. Jitendra Singh will also attend the function.
The convention was organised by the Coordinating Committee on Manipur Integrity (COCOMI), which was formed to spearhead public movement against any outcome of the Indo-Naga peace talks that could potentially disintegrate Manipur.
Shah will address a public gathering at HaptaKangjeibung ground before inaugurating Thoubal multipurpose project worth Rs 1,998.99 crores and Bishnupur-Tupul-Thoubal-KasomKhullen road worth Rs 475.68 crore.
The seven major projects, including the Churachandpur Medical College estimated to cost Rs 325 crore, IIIT worth Rs 128 crore, IT SEZ worth Rs 950 crore, and State Government Guest House worth Rs 237.49 crore, among others.
10) Answer: B
US's plan to have the first nuclear reactor on the moon by the end of 2026.
The US Department of Energy in collaboration with Nasa intends to solicit industry design proposals in early 2021  got an impetus with a recent White House directive.
On December 16, outgoing President Donald Trump, issued the National Strategy for Space Nuclear Power and Propulsion.
President Trump issued Space Policy Directive-6 (SPD-6), the Nation's Strategy for Space Nuclear Power and Propulsion (SNPP), which aims at increasing US presence on the surface of the moon and Mars too.
11) Answer: E
Prime Minister NarendraModi will inaugurate the New Bhaupur-New Khurja section of Eastern Dedicated Freight Corridor, EDFC through video conferencing.
The 351-kilometre New Bhaupur- New Khurja section of EDFC is situated in Uttar Pradesh and is built at a cost of Rs. 5,750 crore.
The section will open new vistas of opportunity for the local industries such as aluminium industry in Kanpur Dehat district, dairy sector in Auraiya, textile production in Etawah, glassware industry in Firozabad and locks and hardware in Aligarh district.
The section will also decongest the existing Kanpur-Delhi main line and will enable Indian Railways to run faster trains.
The Prime Minister will also inaugurate EDFC's Operation Control Centre (OCC) at Prayagraj, This will act as the command centre for the entire route length of the EDFC.
The Centre is one of the largest structures of its type globally, with modern interiors, ergonomic design and best-in-class acoustics.
12) Answer: C
Prime Minister NarendraModi launched the Ayushman Bharat PradhanMantri Jan ArogyaYojana (AB-PMJAY) SEHAT scheme via video-conferencing to extend health insurance coverage to all residents of Jammu and Kashmir.
About the Scheme:
The scheme will ensure universal health coverage, and focus on providing financial risk protection and ensuring quality and affordable essential health services to all individuals and communities.
Nearly 229 Government Hospitals and 35 private hospitals have been listed under Ayushman Bharat PradhanMantri Jan ArogyaYojana.
The scheme will provide free-of-cost insurance cover to all residents of the UT of Jammu and Kashmir, the PMO said, adding that it will extend financial cover of up to 5 lakh per family on a floater basis to all residents of the UT.
After the health plan, all 21 lakh families will get the same benefit under the SEHAT Scheme.
13) Answer: D
Andhra Pradesh chief minister YS Jagan Mohan Reddy launch of his government's much-publicisedprogramme, Navaratnalu-PedalandarikiIllu (Nine jewels – housing for all the poor), of providing house sites to 30.90 lakh poor people at Komarigiri village of U-Kothapalli block of East Godavari district.
Under the scheme, a house site patta (sash) is being given to the beneficiaries at a nominal rate of Re one and will be registered in the name of a women's household. All the beneficiaries will be given either 1.5 cents in rural areas or one cent in urban areas.
A total of 30.90 lakh houses will be constructed by the government by 2024. These houses are being taken up in 17,500 layouts, named YSR Jagananna Colonies, with all infrastructure facilities. The first phase of the programme will be completed by June, 2022. The second phase will be started in December, 2021 and proposed to be completed by June 2023.
14) Answer: C
Nation's leading public sector bank, Punjab National Bank (PNB), introduced PNB e-Credit Card, a digital replica of a physical Credit Card.
It will allow PNB customers to use PNB e-credit cards at any e-commerce platform or merchant website, without the need of carrying the physical card.
Customers can view PNB e-Credit Cards details by clicking on the e-Credit Card facility in PNB Genie Mobile app.
PNB Genie app also helps customers in activation of card for international/ Domestic usage and setting up transaction limits for ATM, Ecommerce, POS and Contactless payments.
15) Answer: B
The Board of Control for Cricket in India (BCCI)  confirmed that 10 teams will take part in the Indian Premier League from 2022. The decision was taken in the BCCI AGM meeting in Ahmedabad.
Two new teams will be added to the Indian Premier League (IPL) from the 2022 edition, making it a 10-team league
In addition to that, former cricketer Chetan Sharma has been appointed as the new chairman of selectors for national men's cricket team by the Cricket Advisory Committee headed by MadanLal.
The cricket governing body also decided to increase the retirement age of referees, umpires and scorers to 60. Earlier it was 55.
16) Answer: D
The International Cricket Council (ICC) announced the Men's T20I and ODI teams of the decade  and named former India captain MS Dhoni as the leader of both sides.
The T20I side comprises four players from India, two from Australia, two West Indies and one each from Sri Lanka, South Africa, and Afghanistan.
Current Indian captain ViratKohli, pacer JaspritBumrah and Rohit Sharma are the other Indians in the T20I team.
List of Members :
ICC's T20I Team of the Decade: Rohit Sharma, Chris Gayle, Aaron Finch, ViratKohli, AB de Villiers, Glenn Maxwell, MS Dhoni (c), Kieron Pollard, Rashid Khan, JaspritBumrah, and LasithMalinga.
17) Answer: C
Anshu Malik has become the first wrestler of the country to finish on the podium position at the Individual Wrestling World Cup in Belgrade, Serbia.
The 19-year-old put up a bold and brave fight before she lost to reigning European champion Anastasia Nichita of Moldova in the 57 kg women's freestyle final, bagging a silver.
18) Answer: E
Russian doubles badminton player Nikita Khakimov has received a five-year ban after being found guilty of offences relating to betting, wagering and irregular match results, the Badminton World Federation (BWF).
The BWF opened an investigation against Khakimov after obtaining a statement from a whistleblower, who claimed the shuttler had approached him to manipulate match results at the European Teams Championships held in Feb. 2018.
Khakimov, 32, was part of the Russian men's team that won the bronze medal at the 2020 European Team Championships.
19) Answer: C
Former England cricketer Robin Jackman, played four test matches and 15 one-day internationals, has died, the International Cricket Council stated. He was 75.
Jackman played in four Tests and 15 one-day internationals for his country, while he took 1,402 wickets in a 399-game first-class career between 1966 and 1982.
Jackman's domestic career began in 1966 and was spread across 16 seasons, during which he took 1402 first-class wickets in 399 matches at an average of 22.80 and also scored 5681 runs.