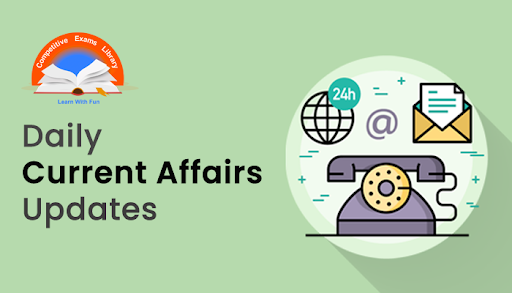 Dear Readers, Daily Current Affairs News Updates about the National and International events were listed here. Read Current Affairs Today here and stay updated with current news. Candidates those who are preparing for IBPS/SBI/PO/Clerk exam and all other competitive exams can use this and try the Current Affairs Quiz to test your knowledge level.
CURRENT AFFAIRS: IMPORTANT DAYS
World Heritage Day – Observed on Apr 18
The International Day for Monuments and Sites also known as World Heritage Day is an international observance held on 18 April each year around the world with different types of activities, including visits to monuments and heritage sites, conferences, round tables and newspaper articles. 
Theme for this year is 'Complex Pasts: Diverse Futures'.
Check here all you need to know about the day.
World Heritage Day is observed every year on April 18, to preserve the human heritage and recognize the efforts of the organizations working for it.
The day is dedicated to the conservation and promotion of cultural heritage through various activities undertaken by the International Council on Monuments and Sites (ICOMOS).
Italyhas the highest number of Unesco heritage sites in the world.
CURRENT AFFAIRS: NATIONAL NEWS
Tourism and Culture Minister initiates first-ever online exhibition on Ramayana
Tourism and Culture Minister Prahlad Singh Patel has inaugurated the first-ever online exhibition on Ramayana.
The weblink for the online exhibition is nmvirtual.in/Virtual_Tour/Ramayan. 
Mr Patel addressed a webinar 'India's Heritage: Powering Tourism' on the occasion of World Heritage Day 2021.
The online exhibition showcases forty nine miniature paintings collections of National Museum, New Delhi from different art schools of India.
Mr Patel said that India has a unique heritage of temples, dance, music, shastras which cannot be found anywhere in the world.
He said, protecting these invaluable inheritances for future generations is a collective responsibility and requires a renewed focus on community participation and awareness.
The Minister said, it is the responsibility of the younger generation to carry forward the task of promoting the vast heritage of the country with proper facts and timelines.
DRDO to build its dedicated Corona hospital in New Delhi 
The dedicated Covid hospital re-established by Defence Research and Development Organisation (DRDO) will become operational.
The hospital has been established near Domestic Airport Terminal in New Delhi.
It has 500 ICU beds.
Union Health Minister Dr Harsh Vardhan said that 250 beds will be ready and it will be increased to 500 within a few days.
He said, all beds are equipped with oxygen facilities and sufficient number of ventilators is available.
A medical team drawn from the Armed Forces will look after the facility.
The facility will be available free of cost.
The person required in this hospital needs to bring an RT-PCR Covid positive report and Aadhar card.
There will be a large number of monitoring equipment, ventilators, basic testing facilities, and air-conditioning in this hospital, as per the WHO standards.
162 Pressure Swing Adsorption Oxygen plants – installation in public health facilities in all States
The Health Ministry said that 162 Pressure Swing Adsorption, PSA oxygen plants have been sanctioned by Government of India for installation in public health facilities in all States and these will augment medical oxygen capacity by over 154 Metric Tonnes.
The Ministry said, out of 162 PSA plants sanctioned by the Centre, 33 have already been installed, five in Madhya Pradesh,  four in Himachal Pradesh, three each in Chandigarh, Gujarat and Uttarakhand, two each in Bihar, Karnataka and Telangana and one each in Andhra Pradesh, Chhattisgarh, Delhi, Haryana, Kerala, Maharashtra, Puducherry, Punjab and Uttar Pradesh.
The Health Ministry said, States have appreciated the installation of PSA Oxygen plants in their public health facilities.
It said, in addition to 162 plants already sanctioned, they have requested the Government of India for more than 100 such additional plants which are also being sanctioned.
Out of 162 PSA Oxygen plants, 33 have been installed.
By the end of this month, 59 will be installed and by the end of next month 80 will be installed.
The Ministry said, the entire cost of 162 PSA Oxygen plants amounting to over 201 crore rupees has been borne by the Central Government.
Gallantry Awards portal organised Innovative Tributes to Bravehearts competition 
The Gallantry Awards portal has organized Innovative Tributes to Bravehearts competition wherein it is inviting participants from all over India to recommend unique and innovative tributes to salute the Bravehearts of the nation.
The objective of this competition is to find a series of befitting tribute messages for the Gallantry Awardees.
The competition is being held from 15th April to 15th May 2021.
Entries received as a part of the competition would be judged on the basis of elements of creativity, originality, composition and simplicity and how well they highlight the vision and objectives of the Gallantry Awards portal.
The winners of the competition will be recognized on the Gallantry Awards portal and its related social media channels. 
These winners will also be given an opportunity to witness the Republic Day Parade 2022 in New Delhi. 
To participate in the competition, people can visit,  https://www.gallantryawards.gov.in/single_challenge/event/46.
CURRENT AFFAIRS: STATE NEWS
J&K LG to share his thoughts through radio programme "Awaam Ki Awaaz"
In the Union Territory of Jammu and Kashmir, Lieutenant Governor Manoj Sinha will share his thoughts through the first episode of the monthly Radio Broadcast titled "Awaam Ki Awaaz".
It will be carried by all the AIR stations of Jammu and Kashmir apart from Doordarshan channels of DD-Kashir and DDK Jammu.
The initiative is a leap towards strengthening the concept of "Jan Bhagidhari" by inviting the participation of people of Jammu and Kashmir.
The "Awaam Ki Baat" is a half an hour long radio broadcast and will be aired every third Sunday of a month.
It is one of the many sequential steps of broader programmes taken by the J&K Government.
Awaam Ki Baat is the novel initiative of Lieutenant Governor Manoj Sinha which aims at disseminating the progressive steps taken by his administration and seeks feedback from the public.
Now, with this initiative, the J&K administration is giving a determined push to strengthen the govt-public relationship by inviting suggestions from the public and seeking their active participation in the policy formation.
CURRENT AFFAIRS: BUSINESS NEWS
Indian pharma exports raise up at 18% to 24.44 billion dollars in FY 21
India's pharma exports jumped over 18 percent to 24.4 billion dollars during the last financial year in comparison to the 2020 fiscal year.
According to the Pharmaceuticals Export Promotion Council of India data, North America was the largest exporting region for Indian pharmaceutical companies with more than 34 percent exports to the region.
Country-wise, exports to Canada registered the highest growth of 30 percent, followed by South Africa at 28%.
The US and Mexico also recorded a healthy growth of 12.6, and 21.4 percent respectively.
DoT gets Rs 2,307 cr from Jio, Airtel by assigning some spectrum 
The Department of Telecom successfully completed the assignment of frequencies to successful bidders of the Spectrum Auction, 2021.
Frequency assignment letters were issued to successful bidders.
The frequency assignment was accompanied by a frequency harmonization exercise, whereby spectrum blocks assigned to Telecom Service Providers, TSPs in the current spectrum auction have been made contiguous with the spectrum blocks already held by them, wherever possible, in various bands in different Licensed Service Areas, LSAs.
The harmonization of spectrum was accomplished in 19 LSAs in 800 MHz band, 8 LSAs in 900 MHz band, 21 LSAs in 1800 MHz band, 3 LSAs in 2100 MHz band, and 16 LSAs in 2300 MHz band.
The harmonization exercise facilitates more efficient utilization of spectrum held by TSPs, leading to improved Quality of Service for consumers.
Elon Musk's SpaceX bags $2.89 billion moon lander contract, announced by NASA
NASA awarded billionaire entrepreneur Elon Musk's space company SpaceXa $2.9 billion contract to build a spacecraft to bring astronauts to the moon as early as 2024, the agency said, picking it over Jeff Bezos' Blue Origin and defense contractor Dynetics Inc.
Elon Musk's rocket company has been chosen to build the human lander that will drop those astronauts onto the lunar surface.
It will do so as part of the Artemis programme, which not only aims to put the first woman and person of colour on the Moon– but now the first commercial lander, too.
The contract is worth $2.89 billion to SpaceX, and Nasa noted that total price is fixed and dependent on reaching certain milestones.
CURRENT AFFAIRS: AWARDS AND HONOURS
Six firms for investment deals selects by Indywood Startup Awards 2021 
Six firms for investment deals selects by Indywood Startup Awards 2021
These include education startup(Futuristic Skill Training Provider) – RobotGuru Education Technologies Pvt Ltd; technology startup (Advanced Marine Technology Provider) – EyeROV (IROV Technologies Private Limited); social impact startup – AllAbout Innovations (Wolf), innovative startup– iBoson Improvements Non-public Restricted; promising startup (e-commerce platform for do-it-yourself manufacturers) – Garga M-Commerce, and schooling startup (On-line Educating Resolution Supplier) – Tutorhow Scientific Edutech Pvt Ltd.
As many as 20 startups have been recognized and honoured on the maiden version of Indywood Startup Awards 2021, organized by Aries Worldwide Maritime Analysis Institute powered by Indywood Billionaires Membership.
Indywood Billionaires Membership startup awards 2021 present enterprise collaboration alternatives to excellent startups that construct modern merchandise and options and have excessive potential to generate wealth, employment and show measurable social influence.
In addition to providing organizations an opportunity to pitch their merchandise in the entrance of traders, AIMRI would additionally open incubation prospects for deserving tasks.
FICCI HR score 2021 Awards conferred
FICCI Tamil Nadu State Council in association with IIM-Trichy hosted the first-ever Awards ceremony which felicitated the HR Managers and the team who had excelled in their fields.
The event saw the participation from hundreds of companies and the winners were announced.
Awards were given for SME Best HR Practices, SME Best HR Leader, Large Corporates Best HR Executive, Large Corporates Best HR Manager, Large Corporates Best HR Leader, Large Corporates Best HR Practices (Manufacturing), Large Corporates Best HR Practices (Healthcare Services), Large Corporates Best HR Practices (State- run PSU), Large Corporates Best HR Practices (IT & ITeS), Corporates Best HR Practices (Banking) and Lifetime Achievement Award.
CURRENT AFFAIRS: MOU's AND AGREEMENTS
Indian Oil make partnership with Consumerfed for 5 kg LPG cylinders sales
The Indian Oil Corporation Limited (IOCL) launched the sale of a free trade licence (FTL) 5-kg LPG cylinders at the M/s Pilot Service Station (IOCL petrol bunk) on the Bandar Road.
IOCL (Vijayawada Division) LPG Senior Manager V.V.S. Chakravarthy launched the sale.
Petrol bunk managing partner M.V.V. Satyanarayana said the cost of the cylinder including gas has been fixed at 1441.50. 
The cylinders would be sold at the station round the clock.
The cylinders can be purchased without submitting any proof of identity, Satyanarayana said.
Petrol bunk managing partner K. Venkatappaiah, IOCL sales officer (LPG) G.V.V. Mukteswara Rao, sales officer S. Prabhu Sunder, Indane Gas distributor Lokesh, Vijayawada Press Club president N. Chalapathi Rao and others were present on the occasion.
CURRENT AFFAIRS : DEFENCE NEWS
Eighth India-Kyrgyz Joint Special Forces Exercise 'Khanjar' Begins
On April 16, 2021, The 8th India-Kyrgyz Joint Special Forces Exercise 'Khanjar' was inaugurated at the Special Forces Brigade of National Guards of Kyrgyz Republic in Bishkek.
This is a two-week military exercise in Bishkek with a focus on counter-terror drills.
It was Initiated first in 2011, the two-week long exercise focuses on high-altitude, mountains and counter-extremism.
the Indian contingent for the Exercise and felicitated their role as a bridge in promoting shared mountain and nomadic-heritage of the two peoples.
A ceremonial parade graced the occasion along with a display of equipment and weapons and a visit to the training arena and barracks.
Note :
In 2018, India and Kyrgyzstan signed four agreements, including one to boost defence cooperation and hold annual joint military exercises.
The two countries had agreed to expeditiously consider signing an agreement on "combating international terrorism and other crimes".
About Kyrgyzstan :
Capital: Bishkek
President: Sadyr Japarov
Currency: Kyrgyzstani som
About India :
President: Ram Nath Kovind
Capital: New Delhi
Prime minister: Narendra Modi
CURRENT AFFAIRS : APPS & SERVICES
RBL Bank & Mastercard partner to launch "Pay by Bank App "
On April 15, RBL Bank and Mastercard revealed their partnership to introduce the Pay by Bank App, a mobile-based consumer-friendly payment solution that will be the first of its kind in India.
It is a first-of-its-kind mobile-based customer-friendly payment solution, launched to suit the growing demand for digital, contactless payments to ensure social distancing norms amid the ongoing COVID-19 pandemic.
Through this RBL Bank account holders will be able to make contactless transactions across the world through their mobile banking application both in-store and online.
The payment application includes bill payments and personal payments via the mobile banking application.
About RBL Bank :
CEO : Vishwavir Ahuja
Founded: August 1943
Headquarters: Mumbai
About Mastercard :
CEO: Michael Miebach (1 Jan 2021–)
Headquarters: Purchase, Harrison, New York, United States
Founded: 16 December 1966, United States
CURRENT AFFAIRS : BOOKS & AUTHORS
Suresh Raina's Memorier 'Believe Release in May 2021
The autobiography of Suresh Raina, titled 'Believe – What Life and Cricket Taught Me', is set to hit the bookstands in May 2021.
It has been co-authored by Raina and sports author Bharat Sundaresan.
It will be published by the publishing house, Penguin India.
This book will be published in May 2021.
About the book :
The book expected to follow Raina's lightning-fast rise in the Indian cricket team and the hardships that he encountered on the way to becoming a record-breaking batsman.
The book should also help unwind the story of Raina's early days as a budding cricketer in UP.
PM Modi released 4 books related to Babasaheb Ambedkar
On April 14, 2021, Prime Minister Shri Narendra Modi will address the Association of Indian Universities' 95th Annual Meet and National Seminar of Vice-Chancellors through video conferencing.
He will also launch four books related to Dr BR Ambedkar
It was authored by Shri Kishor Makwana.
The event is being hosted by Dr Babasaheb Ambedkar Open University, Ahmedabad.
Four books List :
Ambedkar Jivan Darshan,
Ambedkar Vyakti Darshan,
Dr Ambedkar Rashtra Darshan, and
Ambedkar Aayam Darshan
CURRENT AFFAIRS : OBITUARIES
First CEO of Angel Broking , Vinay Agrawal, Passes away
On April 17, 2021, Vinay Agrawal, the Chief Executive Officer of Angel Broking, passed away.
He was 57.
Agrawal was the first CEO of Angel Broking and was developing business strategies and strong analytical skills for the broking house.
About Vinay Agarwal :
Agrawal was a Chartered Accountant by profession holding the executive position since 2015.
He had joined the stock broking firm in the year 2000 as a consultant.
Agrawal is also the Whole Time Director in the company and had 20 years of experience in fields like  Banking, Financial Services and Insurance (BFSI) domain while also covering various aspects like finance & operations, business development, product development and e-broking.
Noted Tamil Comedy actor Vivek passes away
Famous Tamil film actor and Padma Shri awardee Vivek passed away.
He was 59.
He is an incredible comedian, Vivek had entertained people of Tamil Nadu for over three decades through his 200 plus films. 
A disciple of former President Abdul Kalam, Vivek was involved in afforestation and other social welfare activities.  
Achievements :
The actor was awarded the Padma Shri in 2009 for his excellent work in Tamil cinema.
Renowned Bangladeshi actor Kabori passes away
On April 17, 2021, Renowned Bangladeshi actor Sara Begum Kabori passed away.
She was 70 years old.
she attained popularity and fame in Bangla cinema with films like Sujon Sokhi, Sareng Bou, Shat Bhai Champa, Arun Varun Kiran Mala and Lalon Fokir
Achievements :
Sara Begum Kabori was honoured with the National Film Award for her role in the film Sareng Bou in 1978. 
She got the lifetime achievement award in 2013. She was also a freedom fighter and former member of parliament. 
Kabori was fondly known as the 'Mishti Meye', the 'Sweet Girl' of Bangladesh cinema for her role in the films.
Indian Former football Olympian Ahmed Hussain passes away
On April 16, 2021, Former India international footballer Ahmed Hussain Passed
He was 89.
He served as a SAI coach until his retirement while occasionally dabbling into officiating a few local matches in the Garden City apart from the Stafford Cup, a national-level competition hosted in Bengaluru.
About Ahmed Hussain :
A defender, Hussain was also a part of the Indian Olympics football team that put on a fantastic show in Melbourne (1956).
Ahmed also took part in the 1958 Asian Games in Tokyo, Japan, in which India finished fourth.
He was also part of the Indian team that won the gold medal in 1951 Asian Games.
The footballer was incredibly talented and was an integral part of the Hyderabad side which won the Santosh Trophy in 1956 and 1957.
Daily CA on April 17:
World Haemophilia Dayis observed on 17 April every year to increase awareness about haemophilia disease and other inherited bleeding disorders.
The Indian Air Force Commanders' Conference 2021, themed 'Reorienting for the Future' concluded at Air headquarters in New Delhi.
Education Minister Ramesh Pokhriyal Nishank launched World 1st affordable and long-lasting hygiene product DuroKea Series.
External Affairs Minister Dr S Jaishankar congratulated Foreign Minister of Vietnam Bui Thanh Son on his recent appointment
Andhra Pradesh Chief Minister YS Jagan Mohan Reddy launched AP Amul Project in Guntur district and outlined 4,000 crore plans to strengthen the milk supply chain
The Hindu Group Publishing Pvt. Ltd. (THGPPL), publisher of The Hindu, BusinessLine, Frontline and Sportstar, has appointed Krishna Prasad as Group Editorial Officer with effect from April 16, 2021
Ajai Seth took charge as the new Economic Affairs Secretary in the Finance Ministry
For the better management of the hospitals, the AAP-led state government has appointed Deputy Chief Minister Manish Sisodia as the 'Nodal Minister' for Covid-19 situation in the national capital
Pakistan Prime Minister Imran Khan has appointed Shaukat Tareen as the new finance minister of the country, the fourth to don the mantle, in another cabinet reshuffle, it was announced by his office
The Marathi film "Puglya"has won the Best Foreign Language Feature award at Moscow International Film Festival, 2021.
Indian space agency, ISROhas signed an agreement with the space agency of France CNES for cooperation in its first human space mission, Gaganyaan
Nettle Infrastructure Investments, a wholly-owned arm of Bharti Airtel has acquired 100% stake in OneWeb India Communications Pvt Ltd
On April 15, 2021, Commerce and Industry Minister Piyush Goyal today chaired the first meeting of the National Startup Advisory Council
On April 15, 2021, Ajay Prakash Sawhney, IAS, Secretary Ministry of Electronics & Information Technology (MeitY) & Chairman NIXI inaugurated three path breaking initiatives for National Internet Exchange of India (NIXI)
On April 16, 2021, Olympics-bound Indian wrestlers Vinesh Phogat and Anshu Malik clinched their maiden Asian Championship titles at Almaty, Kazakhstan.
On April 16, 2021, Former CBI director Ranjit Sinha passed away
On April 16, 2021, Renowned radiologist and former Director of Nizam's Institute of Medical Sciences in Hyderabad Dr. Kakarla Subba Rao passed away
On April 14, 2021, Former Chief Election Commissioner G.V.G. Krishnamurty passed away
Daily CA on 18 & 19:
The International Day for Monuments and Sites also known as World Heritage Day is an international observance held on 18 April each year around the world with different types of activities, including visits to monuments and heritage sites, conferences, round tables and newspaper articles. 
Tourism and Culture Minister Prahlad Singh Patel has inaugurated the first-ever online exhibition on Ramayana.
The dedicated Covid hospital re-established by Defence Research and Development Organisation (DRDO) will become operational.
The Health Ministry said that 162 Pressure Swing Adsorption, PSA oxygen plants have been sanctioned by Government of India for installation in public health facilities in all States and these will augment medical oxygen capacity by over 154 Metric Tonnes.
The Gallantry Awards portal has organized Innovative Tributes to Bravehearts competition wherein it is inviting participants from all over India to recommend unique and innovative tributes to salute the Bravehearts of the nation.
In the Union Territory of Jammu and Kashmir, Lieutenant Governor Manoj Sinha will share his thoughts through the first episode of the monthly Radio Broadcast titled "Awaam Ki Awaaz".
It will be carried by all the AIR stations of Jammu and Kashmir apart from Doordarshan channels of DD-Kashir and DDK Jammu.
India's pharma exports jumped over 18 percent to 24.4 billion dollars during the last financial year in comparison to the 2020 fiscal year.
The Department of Telecom successfully completed the assignment of frequencies to successful bidders of the Spectrum Auction, 2021.
NASA awarded billionaire entrepreneur Elon Musk's space company SpaceXa $2.9 billion contract to build a spacecraft to bring astronauts to the moon as early as 2024, the agency said, picking it over Jeff Bezos' Blue Origin and defense contractor Dynetics Inc.
Six firms for investment deals selects by Indywood Startup Awards 2021
FICCI Tamil Nadu State Council in association with IIM-Trichy hosted the first-ever Awards ceremony which felicitated the HR Managers and the team who had excelled in their fields.
The Indian Oil Corporation Limited (IOCL) launched the sale of a free trade licence (FTL) 5-kg LPG cylinders at the M/s Pilot Service Station (IOCL petrol bunk) on the Bandar Road.
On April 16, 2021, The 8th India-Kyrgyz Joint Special Forces Exercise 'Khanjar' was inaugurated at the Special Forces Brigade of National Guards of Kyrgyz Republic in Bishkek.
On April 15, RBL Bank and Mastercard revealed their partnership to introduce the Pay by Bank App, a mobile-based consumer-friendly payment solution that will be the first of its kind in India.
The autobiography of Suresh Raina, titled 'Believe – What Life and Cricket Taught Me', is set to hit the bookstands in May 2021.
On April 14, 2021, Prime Minister Shri Narendra Modi will address the Association of Indian Universities' 95th Annual Meet and National Seminar of Vice-Chancellors through video conferencing.
On April 17, 2021, Vinay Agrawal, the Chief Executive Officer of Angel Broking, passed away.
Famous Tamil film actor and Padma Shri awardee Vivek passed away.
On April 16, 2021, Former India international footballer Ahmed Hussain Passed
On April 17, 2021, Renowned Bangladeshi actor Sara Begum Kabori passed away.
On April 16, 2021, Former India international footballer Ahmed Hussain Passed away