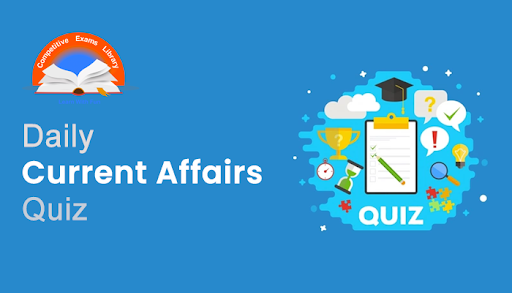 Dear Readers, Daily Current Affairs Questions Quiz for SBI, IBPS, RBI, RRB, SSC Exam 2021 of 20th April 2021. Daily GK quiz online for bank & competitive exam. Here we have given the Daily Current Affairs Quiz based on the previous days Daily Current Affairs updates. Candidates preparing for IBPS, SBI, RBI, RRB, SSC Exam 2021 & other competitive exams can make use of these Current Affairs Quiz.
1) UN Chinese Language Day is Observed on which of the following date?
A) April 3
B) April 4
C) April 20
D) April 11
E) April 23
2) Indian Oil will begin the supply of ______ metric tonnes of oxygen to hospitals in Delhi, Haryana & Punjab.
A) 170
B) 165
C) 160
D) 150
E) 155
3) Which country has opened a travel bubble with New Zealand – first time in more than a year?
A) France
B) Tasmania
C) US
D) Germany
E) Australia
4) In F1 Grand Prix 2021 who among the following has won the Emilia Romagna ?
A) Arnie Simpson
B) Max Verstappen
C) Lando Norris
D) Valtteri Bottas
E) Liz Mcguire
5) Which country has initiated the First ever mega Food Park & Food processing unit in India?
A) UK
B) Israel
C) France
D) Italy
E) Germany
6) IFFCO's new oxygen plant will come up in which state?
A) Kerala
B) Chhattisgarh
C) Gujarat
D) Madhya Pradesh
E) Haryana
7) Which asset management company has raised a DRHP for IPO?
A) Apollo Munich
B) Aviva
C) Religare
D) Nippon
E) Aditya Birla Sun Life
8) Sivasubramanian Ramann has been appointed as Chairman and Managing Director of which company?
A) BOI
B) NHB
C) NABARD
D) SIDBI
E) ICICI
9Tata Consumer has appointed _________ as President, Packaged Foods.
A) Aditi Tyagi
B) Deepika Bhan
C) Anand Kumar
D) Sudesh Verma
E) Narendra Singh
10) Air Force chief RKS Bhadauria on a five day visit to which country for defence cooperation?
A) UK
B) US
C) Sweden
D) Germany
E) France
11) Centre has launched the Startup India Seed Fund Scheme worth ______ crore rupees.
A) 985
B) 975
C) 945
D) 955
E) 965
12) Who among the following has won the 'Nelson Mandela World Humanitarian Award 2021'?
A) Sudepta Dhar
B) Nalini Singh
C) Suparna Ghosh
D) Rumana Sinha Sehgal
E) Aditi Mittal
13) Quess Corporation will acquire ______ per cent stake in Conneqt from Tata Sons for Rs.208 crore.
A) 40
B) 20
C) 25
D) 35
E) 30
14) Charles Geschke, who passed away recently was the co-founder of which company?      
A) Santro
B) Hyundai
C) Adobe
D) Panasonic
E) TVS
15) The Education Minister has launched the "World 1st affordable and long-lasting hygiene product DuroKea Series. It was developed by which institution?
A) IIT Bengaluru
B) IIT Guwahati
C) IIT Delhi
D) IIT Hyderabad
E) IIT Madras
16) Sumitra Bhave who passed away recently was an eminent ______. 
A) Dancer
B) Lyricist
C) Writer
D) Singer
E) Film maker
17) Which country has launched an advanced IR-6 uranium enrichment centrifuges?
A) China
B) Iran
C) Japan
D) France
E) Afghanistan
18) Senior Asian Wrestling Championship – India has clinched ____medals.
A) 15
B) 13
C) 12
D) 11
E) 14
19) G Venkatasubbaiah who Passed away was an eminent _____.
A) Director
B) Singer
C) Lexicographer
D) Writer
E) Dancer
20) Former Union Minister Bachi Singh Rawat who Passed away recently belonged to which political party?
A) RDJ
B) JDU
C) BJD
D) BJP
E) Congress
Answers :
1) Answer: C
UN Chinese Language Day is observed on April 20 annually.
The event was established by The UN Department of Public Information established the day in 2010 to celebrate multilingualism and cultural diversity as well as promote equal use of all six of its official working languages throughout the organization.
April 20 has also been chosen to pay tribute to Cangjie, a mythical figure who is presumed to have invented Chinese characters about 5,000 years ago.
2) Answer: D
Indian Oil has begun the supply of 150 Metric Tonnes of Oxygen at no cost to various hospitals in Delhi, Haryana and Punjab.
The first batch of the lifesaver medical grade Oxygen was dispatched to Maha Durga Charitable Trust Hospital, New Delhi.
Delhi is already facing an oxygen emergency situation.
In the face of a massive surge in demand for medical oxygen during the second wave of the Covid-19 pandemic, Indian Oil has diverted the high-purity oxygen used in its Mono Ethylene Glycol (MEG) Unit to produce medical-grade liquid oxygen at its Panipat Refinery and Petrochemical Complex.
3) Answer: E
Tearful reunions filled Auckland airport as Australia opened the travel bubble with New Zealand for the first time in more than a year.
The long-awaited Australia-New Zealand travel bubble means visitors no longer need to quarantine on arrival.
Thousands of passengers were booked to fly between the two nations.
Both countries have contained COVID outbreaks and kept infection rates low, largely due to tight restrictions.
4) Answer: B
On April 18, 2021, Max Verstappen (Red Bull – Netherlands) won the Emilia Romagna F1 Grand Prix 2021.
It was held in Imola, Italy.
This win is his first victory of the season.
The seven-time Formula One champion Lewis Hamilton finished second, following the crash and sustaining damage involving Mercedes team-mate Valtteri Bottas.
Lando Norris (McLaren – Great Britain) took third place.
The race was the second round of the 2021 Formula One World Championship.
5) Answer: D
Italy has launched its first ever mega food park project in India, comprising of food processing facilities, in a bid to further strengthen ties between the two nations.
The pilot project named "The Mega Food Park" was launched virtually on April 17, 2021 at Fanidhar Mega Food Park, in Gujarat.
The project will develop a synergy between agriculture and industry of both countries, besides focusing on the research and development of newer, efficient technologies in the sector.
6) Answer: C
Union Chemicals & Fertilizers Minister Sadananda Gowda has said that cooperative fertilizer company IFFCO's new oxygen plant at Kalol in Gujarat will enhance the daily production capacity of medical grade Oxygen by 33 thousand litres per day.
The Minister informed that the company has also agreed to set up 3 more Oxygen plants each at Aonla&Phulpur in Uttar Pradesh and Paradeep in Odisha.
Mr. Gowda also urged other urea companies to explore possibilities of setting up of oxygen plants in their existing manufacturing units.
He said the current COVID situation demands a united fight against it.
7) Answer: E
Aditya Birla Sun Life AMC Ltd has filed a draft red herring prospectus with the Securities and Exchange Board of India to raise funds via initial public offering.
Aditya Birla Capital Ltd and Sun Life (India) AMC said that they will together sell a 13.5% stake in their asset management joint venture – Aditya Birla Sun Life AMC Ltd.
Aditya Birla Capital will sell up to 2.88 million shares held by it in the asset management business, while Sun Life (India) AMC will sell up to 36.03 million shares.
Aditya Birla Capital holds 51% stake in the AMC, and the remaining 49% is held by Sun Life.
About Aditya Birla Sun Life AMC:
Aditya Birla Sun Life Asset Management Company Ltd. formerly known as Birla Sun Life Asset Management Company Limited is an investment managing company registered under the Securities and Exchange Board of India.
It is a joint venture between the Aditya Birla Group of India and the Sun Life Financial Inc. of Canada.
8) Answer: D
SIDBI informed Sivasubramanian Ramann has taken charge as Chairman and Managing Director of the bank.
The appointment is for a period of three years from April 19, 2021, SIDBI said in a release.
Small Industries Development Bank of India (SIDBI) is the principal financial institution engaged in the promotion, financing, and development of micro, small & medium enterprises.
Prior to this appointment, Ramann was serving as Managing Director & Chief Executive Officer of National E-Governance Services Ltd (NeSL), India's first information utility.
Ramann is an Indian Audit & Accounts Service (IA&AS) officer of 1991 batch.
9) Answer: B
Tata Consumer Products (TCP), the consumer products company uniting the principal food and beverage interests of the Tata Group under one umbrella, announced the appointment of Deepika Bhan as the Company's new President – Packaged Foods, India, effective April 27, 2021.
Deepika joined TCP from Hindustan Unilever where she was Global Brand Director, Haircare for South Asia.
She has had varied stints in Sales, Customer Marketing, Media, Brand and Category/ P&L roles in her career during which she has led large teams across brands and portfolios.
She has also worked with PepsiCo and Tata Motors.
On this appointment, Sunil D'Souza, MD & CEO, Tata Consumer Products, said "We are delighted to welcome Deepika on board to lead our Foods portfolio.
We aspire to build this business through agility, innovation and strengthening our brands, and Deepika will lead us in this exciting growth phase.
10) Answer: E
Marking the continuity of growing bilateral defence cooperation with the French Air and Space Force, Air Chief Marshal RKS Bhadauria left for France on a five day official visit.
The visit will enhance potential avenues for strengthening the level of interaction between the Indian and French Air Forces.
During his visit, the Chief of Air Staff will hold meetings and discussions with senior military leadership of France and visit operational facilities and air bases.
The two Air Forces have seen significant operational interaction in the recent past.
11) Answer: C
Union Minister for Commerce and Industry, Piyush Goyal launched the Startup India Seed Fund Scheme (SISFS).
The Fund aims to provide financial assistance to startups for proof of concept, prototype development, product trials, market entry and commercialization.
An amount of 945 crore rupees corpus will be divided over the next 4 years for providing seed funding to eligible startups through eligible incubators across India.
The scheme is expected to support an estimated 3,600 startups through 300 incubators.
Mr Goyal said that the SISFS will Secure seed funding, Inspire innovation, Support transformative ideas, Facilitate implementation, and Start startup revolution.
He said that this Scheme will create a robust startup ecosystem, particularly in Tier 2 and Tier 3 towns of India, which are often deprived of adequate funding.
The Minister said that he would like to especially encourage innovators from rural areas to come forward and benefit from this scheme.
12) Answer: D
Software-engineer turned social entrepreneur,Rumana Sinha Sehgal has been awarded the prestigious 'Nelson Mandela World Humanitarian Award 2021' by the Diplomatic Mission Global Peace earlier this month.
The proud Hyderabadi is also the recipient of the Nationwide Award -under 50- Business Leader 2021 for social entrepreneurship by Business Mint.
At the Influencer Summit in January this year, she also received the 'International Influencer of the year 2021'.
The ceremonies were held virtually due to the Covid-19 pandemic.
Rumana says: "My work has been recognized in the fields of developing innovative and functional 'green' products by recycling varied materials and creative use of non-biodegradable materials, thus enhancing their useful life."
13) Answer: E
On April 16, 2021, Quess Corp, a business services platform, will acquire the remaining 30% equity stake in Conneqt Business Solutions from Tata Sons for Rs.208 crore.
Conneqt will become a wholly-owned subsidiary of Quess.
Quess had acquired 51% of Conneqt in November 2017 and further increased its stake in Conneqt from 51% to 70% in May 2019 via infusion of primary capital.
Conneqt is a customer lifecycle management (CLM) and BPM services firm that runs 21 delivery centers and employs over 29,000 people.
14) Answer: C
On April 16, 2021, Adobe founder who helped develop Portable Document Format (PDF) document & publishing software company Adobe Inc Charles Geschke passed away.
He was 81.
About Charles Geschke :
He founded Adobe in 1982 with colleague John Warnock from Xerox.
He also helped in developing the popular Portable Document Format (PDF).
He was widely known as Chuck.
In 2009, President Barack Obama awarded Geschke and Warnock the National Medal of Technology.
15) Answer: D
Union Minister of Education Shri Ramesh Pokhriyal 'Nishank' launched "World 1st affordable and long-lasting hygiene product DuroKea Series Virtually.
It was developed by IIT Hyderabad researchers.
IIT Hyderabad has developed innovative DuroKea long-lasting technologies to combat COVID-19 virus spreading.
Research Team :
This is a highly effective and affordable research innovation from IIT Hyderabad.
It was developed by a team led by Dr. JyotsnenduGiri, Department of Biomedical Engineering, IIT Hyderabad. Dr. Sunil Kumar Yadava, Dr. Qasim M, Ms. Meenakshi Chauhan, and Ms. Ruby Singh, Ms. SuparnaBasu, Ms. Uzma Hasan, Mr. Jayakkumar and Dr. PurandhiRoopmani has a common vision with this innovation.
DuroKea antimicrobial technology starts at Rs. 189, kills 99.99% of germs instantly and leaves behind the long-lasting protective nanoscale coating up to 35 days till next wash.
The unique property of DuroKea range is to ensure instant killing (within 60 sec) and prolonged protection which is an immense necessity during this current pandemic situation.
16) Answer: E
On April 19, 2021, Renowned 7-time National Award winner Marathi film-maker and writer Sumitra Bhave passed away.
She was 78.
Sumitra Bhave was popular as a duo with filmmaker Sunil Sukthankar in Marathi cinema and Marathi theatre.
The duo of Sumitra and Sunil together directed several popular films like Doghi, Dahavi Fa, Vastupurush, Devrai, Badha, Ek Cup Chya, Samhita, Astu, Kaasav, among others.
Achievements :
She made her first short film "Bai " in 1985 for Stress Vani.
This film made her the first National Award for Best Non-Feature Film on Family Welfare (1986), followed by another short film "Paani" that got the National Award in 1988.
Sumitra Bhave& Sunil Sukthankarboth  have won National Film Awards in Best Non-Feature Film on Family Welfare, Best Educational / Motivational / Instructional Film, Best Film on Other Social Issues, Best Feature Film categories.
Among their other prominent films were "Kaasav" (2016) which bagged the National Award in 2017, "Aastu" (2013) which got a National Award.
17) Answer: B
On April 10, 2021, Iran celebrated its National Day of Nuclear Technology, with an event held simultaneously in Tehran and in nuclear sites in different Iranian cities, in which advanced IR-6 centrifuges started operating.
Iranian President Hassan Rouhani inaugurated the 164 IR-6 semi-industrial centrifuges were injected with gas and became fully operational at Iran's uranium enrichment plant in Natanz, and 30 IR-6S centrifuges entered the first phase of gas injection at the same plant.
The manufacturing and assembly of the first prototype of IR-9S and IR-9-1B centrifuges, currently under mechanical testing,.
Under the 2015 nuclear agreement, formally known as Joint Comprehensive Plan of Action (JCPOA), Iran is restricted to use only a number of uranium enrichment centrifuges of first generation (IR-1) until year 2025.
18) Answer: E
The 2021 Senior Asian Wrestling Championships was held from April 13 to 18, 2021 in Almaty, Kazakhstan.
India won 14 medals to stand at third spot in the medal table.
The medals include 5 Gold, 3 Silver & 6 Bronze Medals.
Iran and Kazakhstan topped the medal tally with 17 medals each.
The event was the 34th edition of the Asian Wrestling Championships.
List of GOLD MEDAL Winners :
Ravi Kumar Dahiya – 57 kg Men's freestyle
VineshPhogat–  53 kg Women's freestyle
Anshu Malik – 57 kg Women's freestyle
Sarita Mor – 59 kg Women's freestyle
DivyaKakran – 72 kg Women's freestyle
List of SILVER MEDAL Winners :
Bajrang Punia – 65 kg Men's freestyle
Deepak Punia – 86 kg Men's freestyle
Sakshi Malik – 65 kg Women's freestyle
19) Answer: C
On April 19, 2021, G Venkatasubbaiah, well-known Kannada lexicographer, passed away.
He was 107.
About G Venkatasubbaiah :
He had compiled 12 dictionaries.
He also authored around 60 books.
Professor G Venkatasubbaiah was also proficient in Kannada literature, poetry, essays and translations.
20) Answer: D
On April 18, 2021, Former Union minister and senior BJP leader Bachi Singh Rawat Passed away.
He was 71.
About Bachi Singh Rawat :
Bachi Singh Rawat was a four-time MP from the Almora-Pithoragarh constituency in Uttarakhand
He had defeated former chief minister and Congress leader Harish Rawat thrice in consecutive elections.
Rawat Served as the Union minister of state for science and technology in the Atal Bihari Vajpayee government.