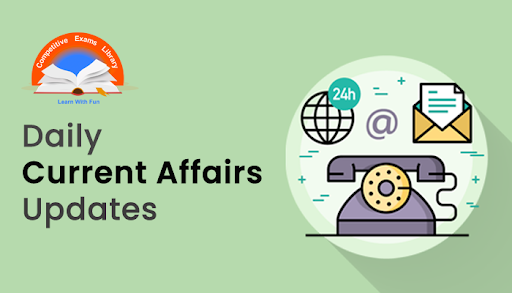 Dear Readers, Daily Current Affairs News Updates about the National and International events were listed here. Read Current Affairs Today here and stay updated with current news. Candidates those who are preparing for IBPS/SBI/PO/Clerk exam and all other competitive exams can use this and try the Current Affairs Quiz to test your knowledge level.
CURRENT AFFAIRS: IMPORTANT DAYS
World Meteorological Day – Observed on Mar 23
World Meteorological Day is observed every year on March 23 to highlight the importance of the role that people and their behaviour play in protecting Earth's atmosphere.
The theme of World Meteorological Day 2021 is "The Ocean, Our Climate and Weather"
According to WMO's website, the theme has been chosen to reflect the organization's focus on "connecting the ocean, climate and weather within the Earth System."
The day also commemorates the establishment of the World Meteorological Organization (WMO), which is an intergovernmental body, on March 23, 1950. 
World Meteorological Day is celebrated by presenting awards and prizes for meteorological research.
The International Meteorological Organization Prize. Professor Dr Vilho Vaisala Award.
The Norbert Gerbier-Mumm International Award.
Biggest World Weather institution:
Headquartered in Geneva, Switzerland, the WMO is governed by the World Meteorological Congress, composed of member states, which meets every four years to set policies and priorities.
CURRENT AFFAIRS: NATIONAL NEWS
Govt. launches 'Gram Ujala Scheme' to offer LED bulbs in rural areas
The Government of India has launched an ambitious scheme called "Gram Ujala"under which high quality energy efficient LED bulbs will be given for just Rs 10 per piece in rural areas.
This scheme is in line with the government's climate change strategy and further strengthening its self-reliance credentials.
The Gram Ujala programme was launched by Power & New and Renewable Energy Minister R K Singh in Bihar.
The scheme will be implemented in phased manner. In the first phase, 15 million LED bulbs will be distributed across certain villages of 5 states.
These include: Arrah (Bihar), Varanasi (Uttar Pradesh), Vijaywada (Andhra Pradesh), Nagpur (Maharashtra), and western Gujarat.
Dept of Posts conducts Universal Postal Union 2021 – International Letter Writing Competition
Department of Posts is organizing Universal Postal Union 2021 International Letter Writing Competition for Young People in all States of the country through the  Postal Circle Offices.
The subject for the Competition is "Write a letter to a family member about your experience with COVID-19.
It will be open to school going children up-to the age of 15 years. 
The Competition will be conducted in the Schools and Centres by the concerned Postal Circle of the State.
The candidates are also given the option for participating in the Competition at their home without their physical appearance at the Schools.
candidates who wish to participate from home must send their entries through the mode of Speed Post to the designated Nodal Officer of the concerned Postal Circle Office along with credentials.
CURRENT AFFAIRS: INTERNATIONAL NEWS
Afghan Foreign Minister arrived India for talks
The Minister of Foreign Affairs of Afghanistan, Mohammed Haneef Atmar arrived in New Delhi for a three-day visit to discuss, among other things, the ongoing peace process in the war-torn country.
"The purpose of Atmar and his accompanying delegation's visit to India is to discuss bilateral relations, strengthen regional and international consensus on the Afghan peace process, and enhance cooperation," declared a press release from the Afghan Foreign Ministry.
Upon his arrival, Mr. Atmar held bilateral talks with External Affairs Minister Dr. S. Jaishankar.
CURRENT AFFAIRS: STATE NEWS
Bihar – first state to have Ethanol Promotion Policy
Biharhas become the first state of the country to have its own ethanol policy called Ethanol Production Promotion Policy, 2021.
The Policy was approved by the Central government in December 2020 in consonance with National Policy of Biofuels, 2018  and subsequently by National Biofuel Co-ordination Committee.
The ethanol promotion policy would pave the way for making Bihar an ethanol hub and investors' coveted destination.
The policy would allow investors to directly make ethanol from maize, molasses, broken rice and rotten grains, which was restricted to sugarcane till now.
CURRENT AFFAIRS: BUSINESS NEWS
India supplies two Mobile Harbour Cranes – weighing 100 tons to Iran
India supplied two Mobile Harbour Cranes (MHCs) each weighing 100 tons to Iran.
Indian Embassy in Iran said it is part of India's continued commitment towards development of phase-I of Shahid Beheshti port in Chabahar.
This is the second such consignment of equipment shipped to the strategic port at Chah Bahar.
India had earlier supplied two 140-ton MHCs in January this year.
Shipping Minister Mansukh Mandaviya said, the step is continuing with India's commitment to develop Chabahar Port.
Center report More than 57,000 lakh rupees disbursed under Atal Pension Yojana till February 2021
Government has said that more than 57 thousand lakh rupees have been disbursed under Atal Pension Yojana till February this year.
Minister of State for Finance and Corporate Affairs Anurag Singh Thakur mentioned this in a written reply to a question in Lok Sabha.
He said, the Atal Pension Yojana is a Government Scheme launched on 9th May, 2015, and became operational with effect from 1st June, 2015.
He said, It is open to all citizens of India between 18 to 40 years of age, having a savings bank account in a bank or post office.
The benefits of the scheme will arise to the subscribers on attaining the age of 60 years and under the scheme, five pension plan slabs are available from one thousand to five thousand rupees.
The Minister further stated that the Central Government co-contributes 50 per cent of the total contribution or one thousand rupees per annum, whichever is lower, for those subscribers who have joined the scheme during the period 1st June, 2015 to 31st March, 2016.
More than 23 lakh loans sanctioned to beneficiaries under PM SVANidhi scheme
Government has said that more than 23 lakh loans have been sanctioned to the beneficiaries under the Pradhan Mantri Street Vendors, Atma Nirbhar Nidhi Scheme – PM SVANidhi.
Minister of State for Finance Anurag Singh Thakur said this in a written reply to a question in Lok Sabha.
He said, over 18 lakh loans have been disbursed to the beneficiaries.
The PM SVANidhi scheme was launched on 1st June 2020, with the objective to facilitate collateral free working capital loan up to ten thousand rupees, to about 50 lakh street vendors across the country whose businesses had been adversely affected due to lockdown.
The scheme also provides for incentives in the form of interest subsidy at the rate of seven per cent per annum on regular repayment of loan and cash-back reward upto one hundred rupees per month on undertaking prescribed digital transactions.
BSNL – launch 4G with a Rs.1,000-cr investment
State-owned telecom firm Bharat Sanchar Nigam Ltd (BSNL)can launch 4G services, a key requirement for its revival, with an investment of about 1,000 crore against the estimated Rs.9,000 crore it would require as per the new tender.
BSNL had its network 4G-ready with an investment of 6,000 crore in 2018, while the government allotted spectrum in October 2019.
However, the firm is yet to launch the services. According to SNEA, BSNL should immediately avail the 5 MHz of 4G spectrum allotted to it and provide both 4G and 3G services.
Mi India giving out one-time hardship bonus to 1,200 employees
Manu Kumar Jain, Managing Director of Mi India, is giving out one-time hardship bonus to 1,200 of its corporate employees for roughing out a very tough, pandemic-struck year, 2020.
The company currently has 60,000 direct as well as indirect employees.
India Managing Director Manu Kumar Jain said the smartphone maker will make all efforts to ensure that all its staffers and their family members take the coronavirus vaccine as per the eligibility criteria.
CURRENT AFFAIRS: APPOINTMENTS
GoAir Jeh Wadia quits MD post
WADIA-family owned GoAir is heading into a key management change after Jeh Wadia resigned from the post of managing director after serving in the role for three years. 
However, he will continue to be the promoter of the company.
Aviation veteran Ben Baldanza, who has been a director in the company since 2019, has been appointed as Vice-Chairman of the GoAir board.
"With the goal of taking GoAir to its next phase of growth, the promoters of the company and its Board came together to formulate a long-term plan.
President appoints 2 ministers as angers ruling partner
Afghan President Ashraf Ghani has made two key Cabinet changes, a move condemned as "unacceptable" by his powerful governing partner, Abdullah Abdullah, at a time when the US is ratcheting up the pressure to reach a peace agreement with the Taliban.
Under the deal, Ghani remained president of the war-torn nation while Abdullah was named head of the country's National Reconciliation Council, which has the authority to handle and approve all affairs related to Afghanistan's peace process.
Abdullah would also be able to appoint half of Ghani's Cabinet and issue executive orders.
Ghani dismissed Interior Minister Masoud Andarabi, appointing Hayatullah Hayat as caretaker minister.
CURRENT AFFAIRS: AWARDS and HONOURS
67th National Film Awards Announced
The winner of 67th National Film Awards was announced on 22 March 2021 in New Delhi to honour the best of Indian cinema in 2019.
Most Film Friendly State Award – Sikkim
Award for Best Book on Cinema – A Gandhian Affair: India's Curious Portrayal of Love in Cinema, by Sanjay Suri
Best Feature Film: Marakkar: Lion of the Arabian Sea (Malayalam)
Best Actor (shared): Manoj Bajpayee for Bhonsle (Hindi), and Dhanush for Asuran (Tamil)
Best Actress: Kangana Ranaut for Panga (Hindi) and Manikarnika: The Queen of Jhansi (Hindi)
Best Director: Sanjay Puran Singh Chauhan for Bahattar Hoorain (Hindi)
Best Non-Feature Film: An Engineered Dream (Hindi)
Best Hindi Film: Chhichhore
Kangana Ranaut will get a Best Actress award for her movie Manikarnika -The Queen of Jhansi and Panga. 
Vijaya Sethupati will be awarded the best supporting actor award for Tamil film Super Deluxe and Pallavi Joshi will get the best supporting actress award for Hindi film The Tashkent Files.
B Praak will get the Best Male playback Singer award for song Teri Mitti in Hindi Film Kesari. 
Savani Ravindra will be awarded Best Female playback Singer award for song Rann Petala in Marathi Movie Bardo. 
D Imman will get the Best Music Direction Award for his songs in Tamil Fim Vishwasam.
Prabuddha Banerjee will get the award for background music in Bengali movie
Prabha Varma will get the Best Lyrics award for Malayalam movie
Raju Sundaram bagged the Best Choreography award for Telugu Movie
The award for the most film friendly state goes to Sikkim.
Best Non Feature Film will be awarded to Hemant Gaba's An Engineered Dream.
The award for the best film critic goes to 'Sohini Chattopadhyay.
In the Non Feature Film category, Best Animation Film to be awarded to Radha.
Best Art and Culture film award will be given to Shrikhetra ru Sahijata (Odia).
The Award for the best Narration for Non-Feature Films goes to Wild Karnataka (English) by Sir David Attenborough.
The award for the Best Music Direction in Non-Feature Films goes to Kranti Darshi Guruji- Ahead Of Times (Hindi) by Bishakhjyoti. 
The best book on cinema goes to A Gandhian Affair: India's Curious Portrayal of Love in Cinema written by Sanjay Suri.
Ronuwa – Who Never Surrender has been selected as the best Assamese Film.
Srijit Mukherjee's Gumnaami will be awarded as Best Bengali Film.
Chhichore has been selected as best Hindi film.
Best Kannada film is Akshi directed by Manoj Kumar and Best Konkani fillm is Kaajro directed by Nitin Bhaskar.
Bhimrao Mude's Bardo has been selected as the best Marathi film.
Best Malayalam film is Kalla Nottam and Best Manipuri Film is Eigi Kona.
Two Films have been selected for Best Odia Film Award.
They are Sala Budhar Badla directed by Dr Sabyasachi Mohapatra and Kalira Atita Directed by Nila Madhab Panda.
Best Punjabi Film is Rab Da Radio 2, Best Tamil film is Asuran and Best Telugu film is Jersey.
CURRENT AFFAIRS: MOU's
RISE model of cloud services : HCL Tech partner with SAP 
HCL Technologies  announced its support for RISE with SAP, an offering by SAP that helps clients take their business-critical elements into the cloud, thereby accelerating their digital transformation and the value realization of their investments on their journey to becoming an "intelligent enterprise."
HCL`s partnershipwith SAP will enable organizations to move to the cloud SaaS model of RISE with SAP using HCL`s digital and application capabilities, while leveraging their existing investments in SAP configuration and extensions.
CURRENT AFFAIRS : DEFENCE NEWS
Indian Navy undertakes Passage Exercise with Royal Bahrain Naval Force
On March 17, 2021, Indian Navy undertook Passage Exercise (PASSEX) with Royal Bahrain Naval Force Corvette Al Muharraq in the Persian Gulf under Operation Sankalp.
PASSEXs are conducted regularly by the Indian Navy with units of friendly foreign navies, whilst visiting each other's ports or during a rendezvous at sea.
It is Mainly for To enhance interoperability and strengthening the bilateral maritime cooperation, reassuring diaspora and merchant shipping, the INS Talwar mission deployed for Operation Sankalp
Aim : To foster interoperability and reflect the commitments of both, India and Bahrain, to build cooperative partnerships to meet emergent maritime challenges.
It is in pursuance of the Government of India's commitment towards ensuring the safety of Indian-flagged merchant vessels in the Gulf region.
Note :Maritime Security Operations were initiated in the Gulf region on June 19, 2019, in the aftermath of the attacks on merchant ships in the Gulf of Oman.
About Bahrain :
Capital: Manama
Currency: Bahraini dinar
King : Hamad bin Isa Al Khalifa
About Indian Navy :
Founded: 26 January 1950
Vice Chief of the Naval Staff (VCNS): Vice Admiral G. Ashok Kumar
Deputy Chief of the Naval Staff (DCNS): Vice Admiral M. S. Pawar
Chief of the Naval Staff (CNS): Admiral Karambir Singh
Commander-in-Chief: President Ram Nath Kovind
CURRENT AFFAIRS : RANKING & INDEX 
Global Home Price Index Q4 2020 : Turkey Tops & India Placed Last at 56th Rank
India has gone down13 spots to rank at 56th place in the latest global home price index 2020 released by property consultant Knight Frank.
India reported a decline of 3.6 percent year-on-year (YoY) in home prices, to finish last in the fourth and last quarter ending December 2020.
In Q4 2019 It ranked 43rd in the same quarter.
Turkey was the leading country in the global ranking with home prices up by 30.3 percent year-on-year.
Followed by New Zealand at 18.6% YoY and Slovakia at 16.0% YoY.
India was the weakest-performing country in Q4 2020, with a decline of 3.6% YoY in home prices, followed by Morocco with a drop of 3.3% YoY.
About Global Home Price Index :
The Global House Price Index tracks the movement in mainstream residential prices across 56 countries and territories worldwide using official statistics.
The mainstream residential prices across 56 countries and territories worldwide rose at an annual rate change of 5.6% on average in 2020, compared to 5.3% in 2019.
About Knight Frank :
Headquarters: London, United Kingdom
Founded: 1896
Founders: Howard Frank, John Knight, William Rutley
Chairman & Managing Director : Shishir Baijal
CURRENT AFFAIRS : BOOKS & AUTHORS
Vice President Of India Launches Book "Bringing Governments And People Closer"
On 20th March 2021, Hon'ble Vice President of India, Sri M. Venkaiah Naidu launched the The Book "Bringing Governments and People Closer" A development practitioner's prescription was launched through virtual mode.
The book was authored by Dr. M. Ramachandran, IAS (Retd.)
About the Book :
The Book Discuss the problems a common man is facing in dealing with Government offices in getting documents, certificates, benefits of govt. schemes, clearances etc and various ways to deal with these issues.
He also underlined that the author with his rich experience as a distinguished civil servant in various capacities has rightly portrayed the need to bring governments closer to people and illustrated various ways through which the objective can be accomplished.
He has mentioned that "Good governance means good living for the People and improved quality of life and ease of living.
He invited youngsters and the student population to study the impact of COVID in the villages of India.
About Dr. M. Ramachandran :
He belongs to the 1972 batch of UP Cadre, served for thirty-eight years before retiring in 2010.
He Served as the Chief Secretary of Uttarakhand and was Secretary in the Ministry of Urban Development, Government of India. 
He is the Chairperson of the Indian Heritage Cities Network Foundation,
Chairman of the National Urban Transport Awards Committee, 
Chancellor of ICFAI University, 
Dehradun and Advisor on the Green Buildings rating system.
CURRENT AFFAIRS : SPORTS NEWS
Sports Ministry decides to extend Khelo India scheme from 2021-22 to 2025-26
The Sports Ministry has decided to extend the Khelo India scheme for a period of five years, from 2021-22 to 2025-26.
An amount of 8750 crore has been estimated as financial implication of the new Khelo India Scheme (2021-22 to 2025-26) by the Expenditure Finance Committee (EFC).
Note : An amount of Rs 657.71 crore has been allocated in the Budget Estimate (B.E.) for the year 2021-22 under the Khelo India Scheme.
In addition to that Rs 13.73 crore had been released till then for the promotion of sports among disabled sports persons under one vertical of the Khelo India Scheme, namely, 'Promotion of sports among persons with disabilities'.
About Sports Ministry :
Minister of State for Youth Affairs & Sports : Shri Kiren Rijiju 
Founded: 27 May 2000
Road Safety World Series T-20 India Legends beat Sri Lanka Legends to win 2020-21
On March 21, 2021, India Legends defeated Sri Lanka Legends by 14 runs in the final of Road Safety World Series to clinch the title.
It was held at Shaheed Veer Narayan Singh International Stadium in Raipur, Chhattisgarh.
India Legends, put on a huge total of 181 for four from their allotted 20 overs.
Sachin Tendulkar, captain of the India Legends, finished the tournament as the third-highest run-getter with 233 runs from seven matches.
Player of the Match – Yusuf Pathan (India Legends) 
Most Runs – Tillakaratne Dilshan
Most Wickets – Tillakaratne Dilshan
Player of the Series – Tillakaratne Dilshan (Sri Lanka Legends) 
About Road Safety World Series (RSWS) :
RSWS, is a T20 cricket competition featuring retired cricketers and is organised by the Road Safety Cell of Maharashtra to raise awareness about road safety.
The 2020-21 edition of the series featured notable retired players from India, England, Sri Lanka, West Indies, South Africa, Australia and Bangladesh.
It was held between March 7 to 21, 2021 at Shaheed Veer Narayan Singh International Stadium.
Sunil Gavaskar, former India captain, being the commissioner of the series
Sachin Tendulkar being its brand ambassador.
Ravi Gaikwad is the founder of the Road Safety World 
The tournament was to be played in a round-robin
The Road Safety World Series was approved by the BCCI.
The first edition of the tournament began in March 2020, with the tournament set to take place across venues in Mumbai and Pune.
Nozomi Okuhara clinches Women's title ; Malaysia's Lee Zii Jia wins All England Badminton C'ships Men's title
In badminton,Malaysia's Lee Zii Jia has won the All England Badminton Championships men's title as he defeated Denmark's Viktor Axelsen in the summit clash.
The 22-year-old defeated Axelsen 30-29, 20-22, 21-9 in the summit clash.
He is the first Malaysian to win the All England Open since Lee Chong Wei in 2017.
Japan's Nozomi Okuhara won the women's single title after she defeated Thailand's Pornpawee Chochuwong 21-12, 21-16 in the finals to win All England Badminton Championships 2021.
It is the second All England Open title for the 26-year-old, who last won it in 2016.
About Winners List :
Women's Female
Nozomi Okuhara
Men's Single
Lee Zii Jia (22 Years)

Women's Doubles

Mayu Matsumoto

Wakana Nagahara

Men's Doubles

Hiroyuki Endo

Yuta Watanabe

Mixed Doubles

Yuta Watanabe

Arisa Higashino
CURRENT AFFAIRS : OBITUARIES
Noted writer and Filmmaker Sagar Sarhadi passes away
On March 22, 2021, Veteran Bollywood writer and director Sagar Sarhadi passed away
He was 87.
He is known for films like 'Kabhi Kabhie', 'Silsila', and 'Bazaar'.
About Sagar Sarhadi :
He is Born as Ganga Sagar Talwar in Baffa, near Abbottabad city, now Pakistan
Sarhadi began his career writing Urdu short stories and entered Bollywood via Yash Chopra's 1976 "Kabhi Kabhie", starring Amitabh Bachchan and Raakhee. 
In 1982, Sarhadi turned director with "Bazaar".
Sarhadi is also responsible for the dialogue in Shah Rukh Khan's film debut Deewana (1992), as well as Hrithik Roshan's Kaho Na Pyaar Kai (2000).
Daily CA On March 21 & 22 :
The International Day of Forests was established on the 21st day of March, by resolution of the United Nations General Assembly on November 28, 2012.
World Poetry Day is celebrated on 21 March, and was declared by UNESCO in 1999, "with the aim of supporting linguistic diversity through poetic expression and increasing the opportunity for endangered languages to be heard".
The International Day for the Elimination of Racial Discrimination is observed annually on 21 March to remind people about the negative consequences of racial discrimination.
The World Puppetry Day is observed every year on March 21,to promote the puppet arts.
The United Nations declared March 22 as World Water Day. 
Union Environment and Information & Broadcasting Minister Prakash Javadekar has said that the new Nagar Van Scheme will help in creation of Urban forests in the cities.
Union Minister of Health & Family Welfare, Science & technology Dr. Harsh Vardhan inaugurated the new Advanced High Resolution Microscopy Facility at National Agri-Food Biotechnology Institute (NABI) 
Prime Minister Narendra Modi will virtually launch Jal Shakti Abhiyan : Catch the Rain campaign on the occasion of World Water Day.
India participated in the Nowruz festivities at the SCO Secretariat in Beijing.
Indian Embassy in Beijing started [email protected] celebrations with belated Vishwa Hindi Diwas celebrations which were attended by the Chinese students studying Hindi in different Chinese universities, their Hindi teachers and members of the Indian community in Beijing.
Haryana Chief Minister Manohar Lal inaugurated and dedicated various development projects worth Rs. 1411 crore to the people of the State through video conference from Chandigarh.
The Road, Transport and Highways Ministry has received reports from Indian Computer Emergency Response Team – CERT-In regarding targeted intrusion activities directed towards Indian Transport sector with possible malicious intentions.
Maruti Suzuki India (MSI) said it has shortlisted three new startups as part of its Mobility and Automobile Innovation Lab (MAIL)
Adani Green Energy Limited (AGEL) said it has signed a share purchase agreement for acquiring 100% stake in a special purpose vehicle (SPV) holding 50 MW operating solar project from Toronto-based SkyPower Global. 
Piramal Capital and Housing Finance Ltd (PCHFL), a wholly owned subsidiary of Piramal Enterprises Limited (PEL), has raised 4,050 crore through issuance of long-term, five-year non-convertible debentures (NCDs) in two tranches.
Finance Minister Nirmala Sitharaman will introduce the National Bank for Financing Infrastructure and Development Bill, 2021 in the Lok Sabha.
Three nature camps were felicitated by the State government with Chief Minister's Award for best performance in forest protection through nature tourism on the occasion of World Forestry Day.  
On March18, 2021, The Competition Commission of India (CCI) approved the acquisition of 51 percent stake in Odisha power utility NESCO from Grid Corporation of Odisha (GRIDCO).
On March 18, 2021, Indian Space Research Organisation (ISRO) and National Institute of Technology(NIT), Rourkela signed an MoU for setting up a Space Technology Incubation Centre(S-TIC).
On March 18, 2021, The government, while encouraging private players to host apps, is equally keen to develop and strengthen its own mobile app store.
On March 19, 2021, Former Ireland skipper Gary Wilson announced his retirement from professional cricket.
Mumbai captain Prithvi Shaw became the first player to breach the 800-run mark in a single edition of the Vijay Hazare Trophy.
G V Ramakrishna, a former chairperson of India's market regulator, SEBI Passed away.
Daily CA On Mar 23 :
World Meteorological Day is observed every year on March 23 to highlight the importance of the role that people and their behaviour play in protecting Earth's atmosphere.
The Government of India has launched an ambitious scheme called "Gram Ujala"under which high quality energy efficient LED bulbs will be given for just Rs 10 per piece in rural areas.
Department of Posts is organizing Universal Postal Union 2021 International Letter Writing Competition for Young People in all States of the country through the  Postal Circle Offices.
The Minister of Foreign Affairs of Afghanistan, Mohammed Haneef Atmar arrived in New Delhi for a three-day visit to discuss, among other things, the ongoing peace process in the war-torn country.
Biharhas become the first state of the country to have its own ethanol policy called Ethanol Production Promotion Policy, 2021.
India supplied two Mobile Harbour Cranes (MHCs) each weighing 100 tons to Iran.
Government has said that more than 57 thousand lakh rupees have been disbursed under Atal Pension Yojana till February this year.
Government has said that more than 23 lakh loans have been sanctioned to the beneficiaries under the Pradhan Mantri Street Vendors, Atma Nirbhar Nidhi Scheme – PM SVANidhi.
State-owned telecom firm Bharat Sanchar Nigam Ltd (BSNL)can launch 4G services, a key requirement for its revival, with an investment of about 1,000 crore against the estimated Rs.9,000 crore it would require as per the new tender.
Manu Kumar Jain, Managing Director of Mi India, is giving out one-time hardship bonus to 1,200 of its corporate employees for roughing out a very tough, pandemic-struck year, 2020.
WADIA-family owned GoAir is heading into a key management change after Jeh Wadia resigned from the post of managing director after serving in the role for three years. 
Afghan President Ashraf Ghani has made two key Cabinet changes, a move condemned as "unacceptable" by his powerful governing partner, Abdullah Abdullah, at a time when the US is ratcheting up the pressure to reach a peace agreement with the Taliban.
The winner of 67th National Film Awards was announced on 22 March 2021 in New Delhi to honour the best of Indian cinema in 2019.
HCL Technologies  announced its support for RISE with SAP, an offering by SAP that helps clients take their business-critical elements into the cloud, thereby accelerating their digital transformation and the value realization of their investments on their journey to becoming an "intelligent enterprise."
On March 17, 2021, Indian Navy undertook Passage Exercise (PASSEX) with Royal Bahrain Naval Force Corvette Al Muharraq in the Persian Gulf under Operation Sankalp.
India has gone down13 spots to rank at 56th place in the latest global home price index 2020 released by property consultant Knight Frank.
On 20th March 2021, Hon'ble Vice President of India, Sri M. Venkaiah Naidu launched the The Book "Bringing Governments and People Closer" A development practitioner's prescription was launched through virtual mode.
The Sports Ministry has decided to extend the Khelo India scheme for a period of five years, from 2021-22 to 2025-26.
On March 21, 2021, India Legends defeated Sri Lanka Legends by 14 runs in the final of Road Safety World Series to clinch the title.
In badminton,Malaysia's Lee Zii Jia has won the All England Badminton Championships men's title as he defeated Denmark's Viktor Axelsen in the summit clash.
On March 22, 2021, Veteran Bollywood writer and director Sagar Sarhadi passed away