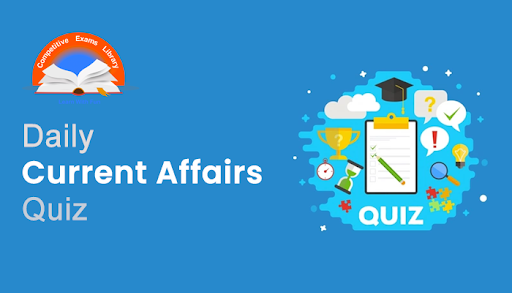 Dear Readers, Daily Current Affairs Questions Quiz for SBI, IBPS, RBI, RRB, SSC Exam 2021 of 24th March 2021. Daily GK quiz online for bank & competitive exam. Here we have given the Daily Current Affairs Quiz based on the previous days Daily Current Affairs updates. Candidates preparing for IBPS, SBI, RBI, RRB, SSC Exam 2021 & other competitive exams can make use of these Current Affairs Quiz.
1) World Tuberculosis (TB) Day is observed on which of the following date?
A) March 1
B) March 3
C) March 24
D) March 4
E) March 5
2) Which ship with 1000 MT rice, and one lakh Hydroxychloroquine tablets has reached Madagascar's Port Ehoala?
A) INS Arihant
B) INS Sagar
C) INS Airavat
D) INS Jalashwa
E) INS Mysore
3) India has appreciated the initiative announced by Saudi Arabia – fostering peace in which country?
A) Sudan
B) Oman
C) Qatar
D) UAE
E) Yemen
4) US Senate has confirmed who among the following as President Biden's Surgeon General?
A) Navneet Negi
B) Vivek Murthy
C) Narayan Aggrawal
D) Sunil Mehta
E) Rajesh Singh
5) The CM of which state has inaugurated multiple services: e-Office, e-Heli Service, e-Aagman, e-Lahaul for Lahaul-Spiti district?
A) Punjab
B) Chhattisgarh
C) Himachal Pradesh
D) Bihar
E) Haryana
6) International Day for Right to the Truth Concerning Gross Human Rights Violations and for the Dignity of Victims is Observed on which of the following date?
A) March 4
B) March 5
C) March 11
D) March 24
E) March 13
7) As per the Jal Jeevan Mission, which of the following state/UT has achieved 100% Functional Household Tap Connection coverage ?
A) Delhi
B) Chandigarh
C) Punjab
D) Daman & Diu
E) Andaman & Nicobar Islands
8) The Health Minister of which state has launched the 'i-Learn' initiative?
A) Tripura
B) Nagaland
C) Mizoram
D) Assam
E) Kerala
9) Fitch Ratings has estimated India's growth to ______ per cent for the next fiscal.
A) 12.1
B) 12.3
C) 12.8
D) 12.5
E) 12.4
10) Which of the following small Finance Bank has bagged the 'Great Place to Work' Award?
A) Ujjivan
B) Equitas
C) Aditya Birla
D) Paytm
E) ESAF
11) Who among the following has reported that the Bamboo industry in India will be worth Rs. 25 to 30 thousand crore?
A) NS Tomar
B) Prahlad Patel
C) Nitin Gadkari
D) Nirmala Sitharaman
E) Anurag Thakur
12) Which of the following PSU has launched the e-Tendering Portal-PRANIT?
A) IOCL
B) BPCL
C) HPCL
D) PGCIL
E) ONGC
13) Which of the following company has recently inaugurated its first all-electric SUV?
A) Honda
B) Jaguar
C) Hyundai
D) Mercedez
E) Maruti
14) Which Bank has initiated an instant EMI facility on net banking for high value transactions?
A) Bandhan
B) ICICI
C) SBI
D) Axis
E) Yes
15) RBI may soon examine a  proposal to merge _____ or more Urban Cooperative Banks.
A) 6
B) 5
C) 4
D) 3
E) 2
16) Who among the following will head the RBI panel to examine applications for banks, SFBs?
A) TN Manoharan
B) Hemant Contractor
C) Shyamala Gopinath
D) B Mahapatra
E) Revathy Iyer
17) SEBI has recently appointed a forensic auditor to which of the following company recently?
A) NHPC
B) NTPC
C) Tata Power
D) Vodafone Idea
E) Suzlon Energy
18) Cabinet has given nod to sign MoC between India & which country in Water Resources field?
A) Norway
B) Iceland
C) Japan
D) Sweden
E) Netherlands
19) Cabinet approved to signing of MoU between UPSC and IARCSC of which country?
A) Saudi Arabia
B) Oman
C) UAE
D) Afghanistan
E) Iran
20) The Defence Ministry has signed a contract of ______ crore with Mahindra Defence Systems to supply 1,300 Light Specialist Vehicles to Indian Army.
A) 1110
B) 1056
C) 1032
D) 1025
E) 1020
21) The Government has exited from which of the following company by selling its stake of Rs 8,846 crore?
A) Indowind
B) NHPC
C) NTPC
D) Suzlon
E) TCL
22) Nawal El Saadawi who passed away recently was an eminent _____.
A) Actor
B) Director
C) Writer
D) Musician
E) Singer
23) As per defence website Military Direct, India has ranked _______ & China has topped.
A) 6th
B) 4th
C) 3rd
D) 2nd
E) 5th
24) For the ICC Women's World Cup 2022 'Girl Gang' has announced an official song. The tournament will be held in which country?
A) US
B) Bangladesh
C) Sri Lanka
D) Australia
E) New Zealand
Answers :
1) Answer: C
World Tuberculosis Day, observed on 24 March each year, is designed to build public awareness about the global epidemic of tuberculosis and efforts to eliminate the disease.
The Theme for World TB Day 2021 is 'The Clock is Ticking' which conveys the sense that the world is running out of time to act on the commitments to end the deadly disease, made by global leaders.
In 2018, 10 million people fell ill with TB, and 1.5 million died from the disease, mostly in low and middle-income countries.
2) Answer: D
As part of Mission Sagar – IV, Indian Naval Ship Jalashwa arrived at Port Ehoala, Madagascar to deliver a consignment of one thousand Metric Tonne of rice and one lakh Hydroxychloroquine tablets in response to an appeal made by Madagascar for assistance to deal with natural calamities.
An official ceremony for handing over the aid from the Government of India to the Government of Madagascar was held.
The ceremony was attended by Prime Minister of Madagascar Christian Ntsay while the Indian side was represented by Mr Abhay Kumar, Ambassador of India to Madagascar and Captain Pankaj Chauhan, Commanding Officer INS Jalashwa.
The Ministry of Defence in a statement said that this is the second visit of an Indian Navy ship to the island country within a span of one year.
Earlier, as part of Mission Sagar-I, In May-June 2020, the Indian Navy had delivered essential medicines to the nation.
3) Answer: E
India has welcomed the initiative announced by Saudi Arabia for fostering peace in Yemen.
In response to a question on the announcement of peace initiative by Saudi Arabia for Yemen, External Affairs Ministry spokesperson Arindam Bagchi said that India has noted that the initiative inter alia proposes a comprehensive ceasefire across Yemen under the supervision of the United Nations as well as consultations between the Yemeni parties to reach a political resolution under the auspices of the UN.
He said, India supports all efforts to find a political solution to the Yemeni crisis.
India has hoped that all parties in Yemen would be able to come together to the negotiating table soon to end the conflict.
4) Answer: B
The US Senate has voted to confirm Indian-American Dr Vivek Murthy to be President Biden's Surgeon General, handing the administration one of its top public health officials amid the coronavirus pandemic.
The Senators voted 57-43 to confirm the Indian American as Biden's surgeon general.
Dr Murthy mentioned he is deeply grateful to be confirmed by the Senate to serve once again as the Surgeon General.
1977 born Dr Murthy served as the Surgeon General under the Obama administration from 2014 to 2017.
He is a distinguished Physician and former Vice Admiral in the Public Health Service Commissioned Corps.
5) Answer: C
Himachal Pradesh Chief Minister Jai Ram Thakur virtually launched e-Office, e-Heli Service, e-Aagman and e-Lahaul for Lahaul-Spiti district from Shimla.
Chief Minister said that all these services would go a long way in providing people friendly services to the people of Lahaul-Spiti district on click of button.
He said that these initiatives were the best examples of optimum use of Information Technology for good governance.
Information Technology Minister Dr. Ram Lal Markanda noted that Lahaul-Spiti would become the first district of the State in effective adopting of e-office in the State.
It may be recalled that district administration Lahaul & Spiti with the help of Department of Information Technology has been working on many IT initiatives to provide citizen services digitally to the people  of tribal  district.
6) Answer: D
Every year March 24 is observed as the International Day for the Right to the Truth concerning Gross Human Rights Violations and for the Dignity of Victims, to say no to all forms of violence, injustice and oppression against humanity.
The day aims to pay tribute to those who have devoted their lives to, and lost their lives in, the struggle to promote and protect human rights for all
The day proclaimed by the United Nations in December 2010.
7) Answer: E
Andaman and Nicobar Islands Lt. Governor Admiral D K Joshi declared that the UT achieved 100 percent Functional Household Tap Connection (FHTC) coverage in Islands.
He said that in a function at Raj Niwas in Port Blair on World water day.
With this, the Andaman and Nicobar Islands became the third state/UT in the country to achieve the target after Goa and Telangana under Jal Jeevan Mission.
The connections were provided at 266 villages located in 9 blocks in all the three districts.
All the schools, Anganwadi centers and sub-centers have also been covered under this.
The Chief Secretary Jitendra Narain said that this achievement is the result of contribution and co-ordination of various departments of A&N Administration working under the mission.
He also informed that the administration is also planning to transform Jal Shakti Mission into a People's Mission.
Under the mission, the administration is planning to have a pond with a fish at every household in the islands besides water harvesting.
8) Answer: B
Nagaland Health and Family Welfare Minister S Pangyu Phom launched i-Learn, a capacity building and performance tracking application for Community Health Officers, CHOs in the state at his office chamber in Kohima.
The state government launched an i-Learn application in partnership with USAID-NISHTHA/Jgpiego which will cater across the 189 Health & Wellness centers in the state.
i-Learn is a learning management system for CHOs with self facilitated learning for improving and learning new skills in clinical and non clinical areas.
The Health Minister said, like any other states in the country, Nagaland has been impacted with COVID.
He however said the state is committed to defeat the pandemic and as such it has rolled out several interventions including digital technology like the Naga Tele health services.
9) Answer: C
American credit rating agency Fitch has revised India's GDP growth estimate to 12.8% for next fiscal from the previous 11% on the back of a stronger carryover effect, a looser fiscal stance, and better virus containment.
The ratings agency, in its latest Global Economic Outlook GEO, anticipates the level of the country's GDP to remain well below its pre-pandemic forecast trajectory.
Fitch also expects GDP growth to ease to 5.8% in Fiscal Year 2023.
In a report it said, India's recovery from the depths of the lockdown-induced recession in the second quarter of 2020 has been swifter than expected.
GDP surpassed its pre-pandemic level in the fourth quarter of the current fiscal.
It also added that High-frequency indicators point to a strong start to 2021.
10) Answer: E
Esaf Small Finance Bank has been awarded 'Great Place to Work' certification by the Great Place to Work Institute.
ESAF started its operations as an NGO in 1992 as the Evangelical Social Action Forum.
Before becoming a bank, ESAF was a non-banking finance company and microfinance institution (NBFC-MFI), licensed by the Reserve Bank of India (RBI) and headquartered in Thrissur city of Kerala.
11) Answer: C
MSME Minister Nitin Gadkari expressed hope that with integrated efforts from all stakeholders, bamboo industry in India will be worth 25 to 30 thousand crore rupees.
He was addressing a virtual exhibition on Bamboo Technology, Products and Services through video conferencing.
Mr. Gadkari called for multiple uses of Bamboo to increase its demand and plantation.
The minister said that use of jute and coir mattresses is soon going to be made mandatory for all NHAI roads.
He said that bamboo can also be used to make bio-CNG and charcoal and IITs can be roped in to conduct further research on this with help of special grants from Bamboo Mission.
The Minister assured all assistance from the Ministry of MSME for any scheme related to promotion of bamboo.
The Minister said that there is need more research, more appropriate approach for product development and market support.
He also said that he is trying to get a 50 per cent subsidy from Railways for bamboo and bamboo sticks.
12) Answer: D
Power Grid Corporation of India Limited, a central PSU, has established an e-Tendering Portal-PRANIT.
This will lead to less paperwork, ease of operation and make the tendering process more transparent.
Power Ministry has said that with this, POWERGRID is now the only organization in India to have an eProcurement solution on SAP Supplier Relationship Management, complying with all applicable requirements relating to security and transparency.
13) Answer: B
The I-PACE is a Jaguar vehicle above all else—a true driver's car.
Its electric motors and near-perfect weight distribution deliver 512 lb-ft of instant torque and sports car agility.
Luxury carmaker Jaguar Land Rover (JLR) launched its first electric car in India—the Jaguar I-PACE—at a starting price of Rs 1.6 crore.
The launch took place a month after JLR, which is owned by the Tata Group, had announced that all Jaguar models and 60 per cent of Land Rovers sold will be zero-emissions vehicles by 2030.
The I-PACE is powered by a 90 kWh lithium-ion battery delivering 294 kW power and 696 Nm torque, allowing the electric car to accelerate from 0-100 km/hour in just 4.8 seconds.
As for the driving range, the I-Pace claims a rage of 470 km/full charge.
14) Answer: B
Private sector lender ICICI Bank has launched an instant EMI facility on its internet banking platform.
Called 'EMI @ Internet Banking', the facility would allow pre-approved customers to convert high-value transactions up to Rs.5 lakh into easy monthly instalments (EMIs).
ICICI Bank in the present day introduced the launch of an instant EMI (Equated Monthly Instalments) facility on its web banking platform.
The 'EMI @ Internet Banking' facility aims to supply elevated affordability to hundreds of thousands of pre-approved customers, because it allows them to convert their high-value transactions up to Rs 5 lakh into simple month-to-month instalments.
The financial institution claims, this facility will herald enhanced buyer expertise as customers will get the good thing about EMIs immediately and in a totally digital method.
With the EMI facility, customers will probably be in a position to buy gadgets or pay for his or her insurance coverage premium or college charges in simple EMIs from their financial savings account utilizing the web banking platform.
15) Answer: E
RBI to examine a  proposal to merge two or more Urban Cooperative Banks. As per the 'Amalgamation of Urban Cooperative Banks, Directions, 2020', issued by the RBI, it may consider proposals for merger and amalgamation among UCBs under three circumstances, including when the net worth of the amalgamated bank is positive, and the amalgamating bank assures to protect entire deposits.
16) Answer: C
The Reserve Bank of India (RBI) has set up a five-member Standing External Advisory Committee for the purpose of evaluating applications for Universal Banks as well as Small Finance Banks.
The panel will be headed by former RBI Deputy Governor Shyamala Gopinath and the other members are: Revathy Iyer, Director, Central Board, Reserve Bank of India; B Mahapatra, former executive director, RBI and presently chairman of National Payments Corporation of India; TN Manoharan, former chairman, Canara Bank; and Hemant G Contractor, former MD, State Bank of India and former chairman, Pension Fund Regulatory and Development Authority.
The tenure of this SEAC will be for three years.
In November 2020, the RBI made public a working group report that recommended that well-run large non-banking financial companies (NBFCs), with an asset size of Rs 50,000 crore and above, including those which are owned by a corporate house, should be considered for conversion into banks.
17) Answer: E
Suzlon Energy  said market regulator Sebi has appointed a forensic auditor to carry out a forensic audit of its financial statements.
"The company is in receipt of a letter from the Securities and Exchange Board of India (Sebi) dated March 22, 2021, informing the company that it (Sebi) has appointed the forensic auditor to carry out forensic audit with respect to the financial statements of the company," it said in a regulatory filing.
18) Answer: C
The Union Cabinet was apprised of the Memorandum of Cooperation (MoC) signed between Department of Water Resources, River Development and Ganga Rejuvenation of  Ministry of Jal Shakti and Water and Disaster Management Bureau, Ministry of Land, Infrastructure, Transport and Tourism of Japan in the field of Water Resources.
This MoC was signed for development of a long-term cooperation in the field of Water and Delta management, and Water technology in order to increase the exchange of information, knowledge, technology and scientific allied experience, as well as implementation of joint projects between the two countries.
This MoC will help achieving water security, improved irrigation facility and sustainability in water resources development.
19) Answer: D
The Union Cabinet has approved the signing of a Memorandum of Understanding (MoU) between Union Public Service Commission (UPSC), India and Independent Administrative Reforms and Civil Services Commission (IARCSC), Afghanistan.
The MoU will strengthen the relationship between IARCSC and UPSC.
It will facilitate sharing of experience and expertise of both the institutions in the area of recruitment.
The MoU includes exchange of information and expertise including books, manuals and other documents which are not of a confidential nature and sharing of expertise in the use of Information Technology (IT) for the preparation of written examinations and holding of Computer Based Recruitment Tests and Online Examinations.
20) Answer: B
On March 22, 2021, The defence ministry finalised a contract with Mahindra Defence Systems Ltd (MDSL) to procure 1,300 light combat vehicles for the Indian Army at a cost of Rs 1,056 crore.
The induction of the vehicles into the army should be completed in four years.
The vehicle is indigenously designed and developed by MDSL.
The vehicles are extremely agile with all-round protection against small arms fire and they will assist small independent detachments.
It is a modern fighting vehicle and will be authorised to various fighting units for carriage of medium machine guns, automatic grenade launchers as well as anti-tank guided missiles
This is a flagship project showcasing the indigenous manufacturing capabilities of the defence industry and will add another milestone to the 'Atmanirbhar Bharat Abhiyaan' and 'Make in India' initiative of the Government.
21) Answer: E
On March 22, 2021, The government has fully exited Tata Communications Ltd by selling its 26.12% stake and has netted Rs 8,846 crore in the process, the department of investment and public asset management (DIPAM).
Disinvestment of government holding completed of 16.12% in TCL through OFS at Rs 5,457 crore and 10% to strategic partner at OFS discovered price for Rs 3,389 crore.
Public sector company VSNL was privatised in 2002 by disinvesting 25 percent shareholding along with transfer of management control to Panatone Finvest Ltd, the strategic partner. Subsequent to the strategic disinvestment, the name of the company was renamed to TCL.
The revised disinvestment target for this financial year has been set at Rs 32,000 crore, substantially lower than the budgeted Rs 2.10 lakh crore.
22) Answer: C
World-renowned Egyptian author Nawal El Saadawi, an outspoken champion of women's rights in the Arab world, has Passed away.
He was 89.
About Nawal El Saadawi :
Born in the village of Kafir Tahla in 1931, El Saadawi rose to prominence in 1972 with her taboo-breaking book, Women and Sex.
El Saadawi had an outspoken brand of feminism. She wrote on controversial topics including polygamy and female circumcision – among others – which gained her as many critics as admirers in the region.
23) Answer: B
China has the strongest military force in the world while India stands at number four, according to a study titled "ultimate military strength index" released by defence website Military Direct.
China has the strongest military in the world, scoring 82 out of 100 points in the index.
Top 5 Countries In the ultimate military strength index :
Rank                           Score                          Country
1                                  82                                China
2                                  74                                USA
3                                  69                                Russia
4                                  61                                India
5                                  58                                France
24) Answer: E
Girl Gang, a track by New Zealand singer Gin Wigmore, has been announced as the official song of the 2022 ICC Women's World Cup.
The tournament is set to be hosted in New Zealand from March 4 to April 3, 2022.
OriginallyIt was scheduled to be held from February 6 to March 7, 2021, the World Cup was postponed by a year due to the Covid-19 pandemic.
The International Cricket Council (ICC) made the announcement in an event at Mt Maunganui Beach
Essence of the Song :
To celebrate women coming together to "fight against a society that so often pits us against each other and tears us down".