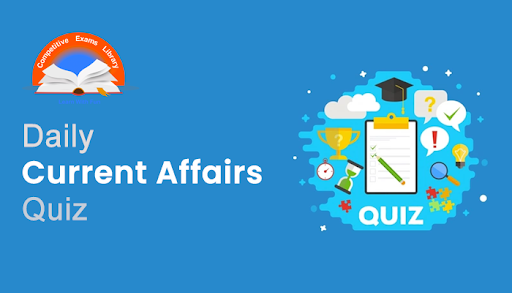 Dear Readers, Daily Current Affairs Questions Quiz for SBI, IBPS, RBI, RRB, SSC Exam 2021 of 23rd March 2021. Daily GK quiz online for bank & competitive exam. Here we have given the Daily Current Affairs Quiz based on the previous days Daily Current Affairs updates. Candidates preparing for IBPS, SBI, RBI, RRB, SSC Exam 2021 & other competitive exams can make use of these Current Affairs Quiz.
1) World Meteorological Day is observed on which of the following dates?
A) March 1
B) March 3
C) March 23
D) March 4
E) March 17
2) Which of the following departments has conducted the International Letter Writing Competition in all States of the country?
A) Department of Economic Affairs
B) Department of Commerce
C) Department of Public Industry
D) Department of Posts
E) Department of Education
3) India recently supplied _____ Mobile Harbour Cranes – weighing 100 tons to Iran.
A) 6
B) 5
C) 4
D) 3
E) 2
4) Foreign Minister of which country recently arrived in India for talks?
A) US
B) Qatar
C) Afghanistan
D) Iran
E) Oman
5) Which state has become the first one to have Ethanol Promotion Policy?
A) Chhattisgarh
B) Bihar
C) Haryana
D) Madhya Pradesh
E) Uttar Pradesh
6) As per the Central government report more than 57,000 lakh rupees has been disbursed under Atal Pension Yojana till February 2021. The scheme was launched in which year?
A) 2014
B) 2011
C) 2013
D) 2015
E) 2012
7) The Central Government has launched the 'Gram Ujala Scheme' to offer LED bulbs in rural areas for a price of just _____ per piece.
A) 14
B) 20
C) 15
D) 12
E) 10
8) Which company has announced its support of the RISE model of cloud services in partnership with SAP?
A) Dell
B) Infosys
C) HCL
D) TCS
E) Wipro
9) Which company has launched 4G services with an Rs.1,000-crore investment?
A) Essar
B) BSNL
C) MTNL
D) VI
E) Airtel
10) Recently which company has given out a one-time hardship bonus to 1,200 employees?
A) Panasonic
B) Nokia
C) Oppo
D) Mi
E) Realme
11) Jeh Wadia who recently quit his post was the MD of which company?
A) Jet Air
B) BPCL
C) GoAir
D) IndiGo
E) HPCL
12) Afghan President has recently appointed _____ ministers, a move made to rejig his Cabinet.
A) 8
B) 5
C) 4
D) 3
E) 2
13) As per the 67th National Film Awards which state has been awarded the most film friendly state?
A) Haryana
B) Sikkim
C) Bihar
D) J&K
E) Chhattisgarh
14) Indian Navy undertakes Passage Exercise with Naval Force of which country?
A) Qatar
B) Singapore
C) Thailand
D) Bahrain
E) Sri Lanka
15) Sagar Sarhadi who passed away recently was an eminent _____.
A) Cricketer
B) Doctor
C) Filmmaker
D) Singer
E) Hockey player
16) As per the Global Home Price Index Q4 2020, India has been ranked at which position?
A) 48th
B) 50th
C) 52nd
D) 53rd
E) 56th
17) Who among the following has launched the Book "Bringing Governments And People Closer"?
A) Prahlad Patel
B) Narendra Modi
C) Venkaiah Naidu
D) Amit Shah
E) NS Tomar
18) Sports Ministry decides to extend the Khelo India scheme from 2021-22 to which of the following year?
A) 2026-27
B) 2025-26
C) 2024-25
D) 2023-24
E) 2022-23
19) As per the Road Safety World Series T-20 which country Legends has beaten Sri Lanka Legends to win 2020-21?
A) England
B) West Indies
C) India
D) Australia
E) South Africa
20) Who among the following has clinched the men's title of the All England Badminton Championship?
A) Arisa Higashino
B) Yuta Watanabe
C) Hiroyuki Endo
D) Lee Zii Jia
E) Viktor Alexen
Answers :
1) Answer: C
World Meteorological Day is observed every year on March 23 to highlight the importance of the role that people and their behaviour play in protecting Earth's atmosphere.
The theme of World Meteorological Day 2021 is "The Ocean, Our Climate and Weather"
According to WMO's website, the theme has been chosen to reflect the organization's focus on "connecting the ocean, climate and weather within the Earth System."
The day also commemorates the establishment of the World Meteorological Organization (WMO), which is an intergovernmental body, on March 23, 1950.
World Meteorological Day is celebrated by presenting awards and prizes for meteorological research.
2) Answer: D
The Department of Posts is organizing the Universal Postal Union 2021 International Letter Writing Competition for Young People in all States of the country through the  Postal Circle Offices.
The subject for the Competition is "Write a letter to a family member about your experience with COVID-19.
It will be open to school going children up-to the age of 15 years.
The Competition will be conducted in the Schools and Centres by the concerned Postal Circle of the State.
The candidates are also given the option for participating in the Competition at their home without their physical appearance at the Schools.
candidates who wish to participate from home must send their entries through the mode of Speed Post to the designated Nodal Officer of the concerned Postal Circle Office along with credentials.
3) Answer: E
India supplied two Mobile Harbour Cranes (MHCs) each weighing 100 tons to Iran.
Indian Embassy in Iran said it is part of India's continued commitment towards development of phase-I of Shahid Beheshti port in Chabahar.
This is the second such consignment of equipment shipped to the strategic port at Chah Bahar.
India had earlier supplied two 140-ton MHCs in January this year.
Shipping Minister Mansukh Mandaviya said, the step is continuing with India's commitment to develop Chabahar Port.
4) Answer: C
The Minister of Foreign Affairs of Afghanistan, Mohammed Haneef Atmar arrived in New Delhi for a three-day visit to discuss, among other things, the ongoing peace process in the war-torn country.
"The purpose of Mr. Atmar and his accompanying delegation's visit to India is to discuss bilateral relations, strengthen regional and international consensus on the Afghan peace process, and enhance cooperation," declared a press release from the Afghan Foreign Ministry.
Upon his arrival, Mr. Atmar held bilateral talks with External Affairs Minister Dr. S. Jaishankar.
5) Answer: B
Bihar has become the first state of the country to have its own ethanol policy called Ethanol Production Promotion Policy, 2021.
The Policy was approved by the Central government in December 2020 in consonance with National Policy of Biofuels, 2018  and subsequently by National Biofuel Co-ordination Committee.
The ethanol promotion policy would pave the way for making Bihar an ethanol hub and investors' coveted destination.
The policy would allow investors to directly make ethanol from maize, molasses, broken rice and rotten grains, which was restricted to sugarcane till now.
6) Answer: D
Government has said that more than 57 thousand lakh rupees have been disbursed under Atal Pension Yojana till February this year.
Minister of State for Finance and Corporate Affairs Anurag Singh Thakur mentioned this in a written reply to a question in Lok Sabha.
He said, the Atal Pension Yojana is a Government Scheme launched on 9th May, 2015, and became operational with effect from 1st June, 2015.
He said, It is open to all citizens of India between 18 to 40 years of age, having a savings bank account in a bank or post office.
The benefits of the scheme will arise to the subscribers on attaining the age of 60 years and under the scheme, five pension plan slabs are available from one thousand to five thousand rupees.
The Minister further stated that the Central Government co-contributes 50 per cent of the total contribution or one thousand rupees per annum, whichever is lower, for those subscribers who have joined the scheme during the period 1st June, 2015 to 31st March, 2016.
7) Answer: E
The Government of India has launched an ambitious scheme called "Gram Ujala" under which high quality energy efficient LED bulbs will be given for just Rs 10 per piece in rural areas.
This scheme is in line with the government's climate change strategy and further strengthening its self-reliance credentials.
The Gram Ujala programme was launched by Power & New and Renewable Energy Minister R K Singh in Bihar.
The scheme will be implemented in phased manner. In the first phase, 15 million LED bulbs will be distributed across certain villages of 5 states.
These include: Arrah (Bihar), Varanasi (Uttar Pradesh), Vijaywada (Andhra Pradesh), Nagpur (Maharashtra), and western Gujarat.
8) Answer: C
HCL Technologies  announced its support for RISE with SAP, an offering by SAP that helps clients take their business-critical elements into the cloud, thereby accelerating their digital transformation and the value realization of their investments on their journey to becoming an "intelligent enterprise."
HCL`s partnership with SAP will enable organizations to move to the cloud SaaS model of RISE with SAP using HCL`s digital and application capabilities, while leveraging their existing investments in SAP configuration and extensions.
9) Answer: B
State-owned telecom firm Bharat Sanchar Nigam Ltd (BSNL) can launch 4G services, a key requirement for its revival, with an investment of about Rs.1,000 crore against the estimated Rs.9,000 crore it would require as per the new tender.
BSNL had its network 4G-ready with an investment of Rs.6,000 crore in 2018, while the government allotted spectrum in October 2019.
However, the firm is yet to launch the services. According to SNEA, BSNL should immediately avail the 5 MHz of 4G spectrum allotted to it and provide both 4G and 3G services.
10) Answer: D
Manu Kumar Jain, Managing Director of Mi India, is giving out one-time hardship bonus to 1,200 of its corporate employees for roughing out a very tough, pandemic-struck year, 2020.
The company currently has 60,000 direct as well as indirect employees.
India Managing Director Manu Kumar Jain said the smartphone maker will make all efforts to ensure that all its staffers and their family members take the coronavirus vaccine as per the eligibility criteria.
11) Answer: C
WADIA-family owned GoAir is heading into a key management change after Jeh Wadia resigned from the post of managing director after serving in the role for three years.
However, he will continue to be the promoter of the company.
Aviation veteran Ben Baldanza, who has been a director in the company since 2019, has been appointed as Vice-Chairman of the GoAir board.
"With the goal of taking GoAir to its next phase of growth, the promoters of the company and its Board came together to formulate a long-term plan.
12) Answer: E
Afghan President Ashraf Ghani has made two key Cabinet changes, a move condemned as unacceptable by his powerful governing partner, Abdullah Abdullah, at a time when the US is ratcheting up the pressure to reach a peace agreement with the Taliban.
Under the deal, Ghani remained president of the war-torn nation while Abdullah was named head of the country's National Reconciliation Council, which has the authority to handle and approve all affairs related to Afghanistan's peace process.
Abdullah would also be able to appoint half of Ghani's Cabinet and issue executive orders.
Ghani dismissed Interior Minister Masoud Andarabi, appointing Hayatullah Hayat as caretaker minister.
13) Answer: B
The winner of 67th National Film Awards was announced on 22 March 2021 in New Delhi to honour the best of Indian cinema in 2019.
Most Film Friendly State Award – Sikkim
Award for Best Book on Cinema – A Gandhian Affair: India's Curious Portrayal of Love in Cinema, by Sanjay Suri
Best Feature Film: Marakkar: Lion of the Arabian Sea (Malayalam)
Best Actor (shared): Manoj Bajpayee for Bhonsle (Hindi), and Dhanush for Asuran (Tamil)
Best Actress: Kangana Ranaut for Panga (Hindi) and Manikarnika: The Queen of Jhansi (Hindi)
Best Director: Sanjay Puran Singh Chauhan for Bahattar Hoorain (Hindi)
Best Non-Feature Film: An Engineered Dream (Hindi)
14) Answer: D
On March 17, 2021, Indian Navy undertook Passage Exercise (PASSEX) with Royal Bahrain Naval Force Corvette Al Muharraq in the Persian Gulf under Operation Sankalp.
PASSEXs are conducted regularly by the Indian Navy with units of friendly foreign navies, whilst visiting each other's ports or during a rendezvous at sea.
It is Mainly for To enhance interoperability and strengthening the bilateral maritime cooperation, reassuring diaspora and merchant shipping, the INS Talwar mission deployed for Operation Sankalp
15) Answer: C
On March 22, 2021, Veteran Bollywood writer and director Sagar Sarhadi passed away
He was 87.
He is known for films like 'Kabhi Kabhie', 'Silsila', and 'Bazaar'.
16) Answer: E
India has gone down13 spots to rank at 56th place in the latest global home price index 2020 released by property consultant Knight Frank.
India reported a decline of 3.6 percent year-on-year (YoY) in home prices, to finish last in the fourth and last quarter ending December 2020.
In Q4 2019 It ranked 43rd in the same quarter.
Turkey was the leading country in the global ranking with home prices up by 30.3 percent year-on-year.
Followed by New Zealand at 18.6% YoY and Slovakia at 16.0% YoY.
India was the weakest-performing country in Q4 2020, with a decline of 3.6% YoY in home prices, followed by Morocco with a drop of 3.3% YoY.
17) Answer: C
On 20th March 2021, Hon'ble Vice President of India, Sri M. Venkaiah Naidu launched the The Book "Bringing Governments and People Closer" A development practitioner's prescription was launched through virtual mode.
The book was authored by Dr. M. Ramachandran, IAS (Retd.)
18) Answer: B
The Sports Ministry has decided to extend the Khelo India scheme for a period of five years, from 2021-22 to 2025-26.
An amount of Rs. 8750 crore has been estimated as financial implication of the new Khelo India Scheme (2021-22 to 2025-26) by the Expenditure Finance Committee (EFC).
Note : An amount of Rs 657.71 crore has been allocated in the Budget Estimate (B.E.) for the year 2021-22 under the Khelo India Scheme.
In addition to that Rs 13.73 crore had been released till then for the promotion of sports among disabled sports persons under one vertical of the Khelo India Scheme, namely, 'Promotion of sports among persons with disabilities'.
19) Answer: C
On March 21, 2021, India Legends defeated Sri Lanka Legends by 14 runs in the final of Road Safety World Series to clinch the title.
It was held at Shaheed Veer Narayan Singh International Stadium in Raipur, Chhattisgarh.
India Legends, put on a huge total of 181 for four from their allotted 20 overs.
Sachin Tendulkar, captain of the India Legends, finished the tournament as the third-highest run-getter with 233 runs from seven matches.
Player of the Match – Yusuf Pathan (India Legends)
Most Runs – Tillakaratne Dilshan
Most Wickets – Tillakaratne Dilshan
Player of the Series – Tillakaratne Dilshan (Sri Lanka Legends)
20) Answer: D
In badminton,Malaysia's Lee Zii Jia has won the All England Badminton Championships men's title as he defeated Denmark's Viktor Axelsen in the summit clash.
The 22-year-old defeated Axelsen 30-29, 20-22, 21-9 in the summit clash.
He is the first Malaysian to win the All England Open since Lee Chong Wei in 2017.
Japan's Nozomi Okuhara won the women's single title after she defeated Thailand's Pornpawee Chochuwong 21-12, 21-16 in the finals to win All England Badminton Championships 2021.
It is the second All England Open title for the 26-year-old, who last won it in 2016.
About Winners List :
Women's Female
Nozomi Okuhara
Men's Single
Lee Zii Jia (22 Years)
Women's Doubles
Mayu Matsumoto
Wakana Nagahara
Men's Doubles
Hiroyuki Endo
Yuta Watanabe
Mixed Doubles
Yuta Watanabe
Arisa Higashino