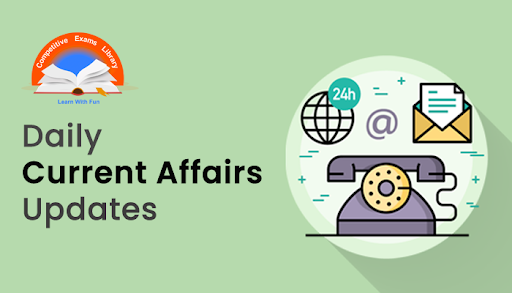 Dear Readers, Daily Current Affairs News Updates about the National and International events were listed here. Read Current Affairs Today here and stay updated with current news. Candidates those who are preparing for IBPS/SBI/PO/Clerk exam and all other competitive exams can use this and try the Current Affairs Quiz to test your knowledge level.
CURRENT AFFAIRS: IMPORTANT DAYS
National Sports Day – Observed on Aug 29
National Sports Day is a public holiday celebrated in various countries to honour the national sports teams and sport it ions of those countries.
On this day people from different age groups take a part in sports like kabaddi, marathon, basketball, hockey etc.
Major Dhyan Chand, widely known as the "Hockey Wizard" and "The Magician", was born on August 29, 1905.
The day is celebrated on 29th August every year to commemorate the birth anniversary of legendary hockey player Major Dhyan Chand.
This day marks the birthday of Major Dhyan Chand Singh, the hockey player who won gold medals in Olympics for India in the years 1928, 1932 and 1936.
First National Sports Day was celebrated in India on 29 August 2012.
International Day against Nuclear Tests – Observed on Aug 29
The International Day against Nuclear Tests is observed on August 29.
It was established on December 2, 2009, at the 64th session of the United Nations General Assembly by the resolution 64/35, which was adopted unanimously.
Palau became the first nuclear-free nation in 1980.
New Zealand was the first Western-allied nation to legislate towards a national nuclear free zone by effectively renouncing the nuclear deterrent.
The International Day against Nuclear Tests aims to raise people's awareness on the need to prevent nuclear catastrophes to avert devastating effects on humankind, the environment and the planet.
Many people use the day as an opportunity to share their perspective on the issue of nuclear weapons and testing.
Different organizations may host educational and public activities to bring awareness of the use of nuclear weapons and the dangers involved with nuclear weapons testing and usage.
National Small Industry Day – Observed on Aug 30
National Small Industry Day 2021 is on August 30.
The day is celebrated to make the small scale business sector stronger and promote their well being.
The society as a whole looks forward to the business sector and promotes the small scale industry.
Small scale industries are those businesses that are sent out on a small scale and are usually run with the aid of local artisans and workers.
Small Scale Industries is an industrial project with decided assets in investment plants and tools.
This investment goal changes from time to time by the government.
Small scale businesses and cottage industries have worked a vital part in the Indian economy.
The best quality gains have been produced in the base and cottage manufacturers of India.
Although this area like other Indian businesses experienced a huge drop in British rule, it has grown at a very fast step after independence.
International Day of the Victims of Enforced Disappearances – Observed on Aug 30
The International Day of the Disappeared, on August 30 of each year, is a day created to draw attention to the fate of individuals imprisoned at places and under poor conditions unknown to their relatives and/or legal representatives.
International Day of the Victims of Enforced Disappearances is marked every year on August 30 to honour and pay tribute to people who have faced enforced disappearances. 
Global organisations UN and Amnesty International observe this day to raise awareness about how enforced disappearance is a crime and should not be used as a tool to deal with situations of conflict.
More than 6,000 people were registered as missing in Kosovo since 1999.
Hence, the resource centre for missing persons in Kosovo has also been initiated by the UN.
CURRENT AFFAIRS: NATIONAL NEWS
President inaugurates 65-day long Ramayana conclave in Ayodhya
President of India Ram Nath Kovind stated that the values of Indian tradition and culture are contained in holy Ramayana and the human values implied in Ramayana will always be relevant for the world.
He stated that Rama belongs to everyone and he is in everyone.
He was noted at the inauguration of Ramayana Conclave in Ayodhya.
Ramayana not just tells about the ways to economic prosperity but also the ways to lead the humanity.
It also tells how humans should behave with others and tells the relationship between Rulers and the common people also.
Ayodhya and Ramayana provide cultural power to our relationship with other countries.
President mentioned that there is no Ayodhya without Rama that is why this place is called Ayodhya because Ayodhya means with whom no one can fight.
President stated that in this Covid era, our ancient prayer has become relevant which says that all become prosperous and disease free.
Army Sports Institute, Pune named as "Neeraj Chopra Stadium"
Defence Minister Rajnath Singh visited the Army Sports Institute (ASI), Pune and renamed the Army Sports Institute stadium as "Neeraj Chopra Stadium" to honour Neeraj Chopra for winning the gold medal at the Tokyo Olympics.
It was accompanied by Chief of Army Staff, General Manoj Mukund Naravane and Southern Army Commander, Lieutenant General JS Nain.
The Indian Army's "Mission Olympics" programme was launched in 2001 with an intent to deliver medal-winning performances in the Olympics and other international events.
Govt extends payment deadline for "Vivaad Se Vishwas scheme" till September 30
The government extended by a month the deadline for making payments under the direct tax dispute resolution scheme Vivad Se Vishwas till September 30.
The scheme provides for settlement of disputed tax, interest, penalty or fees in relation to an assessment or reassessment order on payment of 100 per cent of the disputed tax and 25 per cent of the disputed penalty or interest or fee.
The taxpayer is granted immunity from levy of interest, penalty and institution of any proceeding for prosecution for any offence under the Income Tax Act in respect of matters covered in the declaration.
"Considering the difficulties being faced in issuing and amending Form no 3, which is a prerequisite for making payment by the declarant under Vivad se Vishwas Act, it has been decided to extend the last date of payment of the amount (without any additional amount) to September 30, 2021".
The ministry had in June extended the deadline for making payments under the scheme till August 31.
However, taxpayers have the option to make payments till October 31, with an additional amount of interest.
Govt launches "Bharat series (BH-series)" registration mark to facilitate seamless transfer of vehicles
Government has taken a host of citizen centric steps to facilitate mobility.
An IT based solution for vehicle registration is one such effort.
However, one of the pain points in the vehicle registration process that needed attention was re-registration of a vehicle while moving to another state.
Station relocation occurs with both Government and private sector employees.
Such movements create a sense of unease in the minds of such employees with regard to transfer of registration from the parent state to another state as, under section 47 of the Motor Vehicles Act, 1988, a person is allowed to keep the vehicle for not more than 12 months in any state other than the state where the vehicle is registered, but a new registration with the new state- registering authority has to be made within the stipulated time of 12 months.
A passenger vehicle user takes the following steps to re-register a vehicle:
(i) No Objection Certificate from the Parent State for assignment of a new registration mark in another state.
(ii) Assignment of new registration mark after the road tax on prorata basis is paid in the new State
(ii) Application for refund of the road tax in the parent State on pro rata basis.
This provision to get refund from the parent State on pro rata basis is a very cumbersome process and varies from one State to another.
Govt grants NBF-PNBSA as self-regulatory body for news media
The Ministry of Information and Broadcasting has officially recognised the News Broadcasters Federation"s (NBF) self-regulatory body.
NBF stated that the granting of official status by the MIB to the NBF makes the body the only institution of its kind in the entire country to get the accreditation from the government of India.
"The NBF's self-regulatory body's emergence as the sole body to meet all criteria to be granted validation by the Union of India and be the only recognised body regulating the news media sector as on-date once again reiterates the commitment of the largest news broadcasters body to the fundamentals of transparency, accountability and strong self-regulation".
With the NBF's Professional News Broadcasters Standards Authority ("PNBSA") being recognised by the government of India, the body is set to build a robust system with the highest standards of transparency and accountability, and one that has set an unmatched precedent in the domain of news media vis-a-vis self-regulation.
PNBSA is the only body in the country that has successfully demonstrated compliance with national standards in the domain of news media.
As the only accredited self-regulatory body for news media, the PNBSA has undergone rigorous scrutiny.
"The NBF has already established itself as a pillar for news media organisations who have chosen to be members of the body and made it the largest-ever group of news broadcasters in India".
Pradhan Mantri Jan-Dhan Yojana (PMJDY) completes seven years of successful implementation
The Pradhan Mantri Jan Dhan Yojana (PMJDY) completed seven years and the Union Ministry of Finance stated that over 430 million accounts have been opened under the scheme as on August 18, 2021.
The scheme has been acclaimed as "one of the biggest financial inclusion initiatives in the world".
Bank accounts under PMJDY have increased to 43 Crore with total deposits over Rs. 1.46 lakh crore is no doubt, a great landmark in Government Flagship Programme.
Out of the 43.04 Crore PMJDY accounts, 36.86 Crore or 85.6 per cent are operative.
The total RuPay cards issued to PMJDY account holders rose to 31.23 Crore is another milestone in the PMJDY.
About PMJDY:
Pradhan Mantri Jan Dhan Yojana is a financial inclusion program of the Government of India open to Indian citizens that aims to expand affordable access to financial services such as bank accounts, remittances, credit, insurance and pensions.
Union Minister Anurag Thakur launches e-Photo Exhibition "Making of the Constitution" and Virtual Film Poster Exhibition "[email protected]" 
Union minister of information and broadcasting, and youth affairs and sports, Anurag Thakur along with Union minister of tourism G Kishan Reddy inaugurated the e-Photo exhibition namely 'Making of the Constitution" and Virtual Film Poster Exhibition '[email protected]'.
The programme was organised as part of the 'Iconic Week' being celebrated by the Ministry of I&B along with various media units to celebrate Azadi Ka Amrit Mahotsav, aimed at showcasing the journey of New India and celebrate the contribution of freedom fighters including the 'Unsung Heroes' of the freedom struggle through massive outreach activities.
PM Modi dedicates renovated complex of Jallianwala Bagh Smarak to the nation
As the Jallianwala Bagh massacre marked 102 years, Prime Minister Narendra Modi dedicated a renovated complex of Jallianwala Bagh Smarak to the nation through video conferencing.
Besides this, the Prime Minister also inaugurated museum galleries developed at the Smarak.
This virtual event was also attended by Punjab Chief Minister Captain Amarinder Singh.
The Jallianwala Bagh massacre, also known as the Amritsar massacre, took place on April 13, 1919.
A large but peaceful crowd had gathered at the Jallianwala Bagh in Amritsar, Punjab, to protest against the arrest of pro-Indian independence leaders Dr Saifuddin Kitchlu and Dr Satya Pal.
About Jalianwala Bagh:
Jallianwala Bagh is a historic garden and 'memorial of national importance' in Amritsar, India, preserved in the memory of those wounded and killed in the Jallianwala Bagh Massacre that occurred on the site on the festival of Baisakhi, 13 April 1919.
It houses a museum, gallery and a number of memorial structures.
CURRENT AFFAIRS: STATE NEWS
World's Highest Altitude Movie Theatre launched in Ladakh 
A newly launched mobile digital movie theatre in Ladakh has made history as the highest theatre in the world.
The inflatable theatre has been established at an altitude of 11,562 feet at the Paldan area of Leh in Ladakh.
Bollywood film Bell Bottom, starring Akshay Kumar and the short film Sekool were screened for the army at the theatre.
To bring cinema watching experience to most remote areas, a mobile theatre, situated at an altitude of 11,562 ft, was introduced in Leh.
'It offers affordable tickets & has several facilities. Seating arrangement is also good".
About Ladakh:
Capital: Leh, Kargil
Lieutenant governor: Radha Krishna Mathur
National park: Hemis National Park
Maharashtra state govt launches special programme for women who lost their husbands due to COVID
The Maharashtra government has launched a special mission for women from poor families who have lost their husbands to coronavirus infection which aims to provide a bunch of services under one roof.
"The new programme- "Mission Vatsalya"– has been designed for widows, especially from rural areas who come from poor backgrounds and deprived sections.
Due to the death of the sole breadwinner in their families, their hardship is increased.
Considering these all aspects, a bunch of 18 benefits, schemes, and services will be provided to these widows under one roof".
In the last 18 months, 15,095 women lost their husbands due to COVID-19 infection.
About Maharashtra:
Capital: Mumbai
Governor: Bhagat Singh Koshyari
Chief minister: Uddhav Thackeray
National Parks: ChandoliNational Park, Gugamal National Park, Nawegaon National Park, Pench (Jawaharlal Nehru) National Park, Sanjay Gandhi (Borivali) National Park, Tadoba National Park
First commercial batch of Covaxin released from Bharat Biotech's new plant at Ankleshwar in Gujarat's Bharuch district 
The first commercial batch of Covaxin was released from the new plant of Bharat Biotech at Ankleshwar in Gujarat's Bharuch district by Union Health Minister Mansukh Mandaviya.
"Vaccination is the most important thing to strengthen the country's fight against coronavirus.
Released the first commercial batch of #COVAXIN from Bharat Biotech's plant at Ankleshwar, Gujarat.
This will increase the supply of vaccine in the country and will help the vaccine reach every Indian".
The government had earlier this month given approval to Bharat Biotech's Ankleshwar-based manufacturing plant to produce anti-COVID-19 vaccine Covaxin.
About Gujarat:
Capital: Gandhinagar
Governor: Acharya Devvrat
Chief minister: Vijay Rupani
National Parks: Gir National Park, Velavadar National Park, Marine National Park, Vansda National Park.
CURRENT AFFAIRS: BANKING NEWS
RBI increases limit under Indo-Nepal Remittance Facility to Rs 2 lakh
The Reserve Bank hiked the ceiling on remittances per transaction from India to Nepal to 2 lakh from Rs.50, 000, a move that will help facilitate retirement and pension-related payments to ex-servicemen settled in the neighbouring country.
Besides, the central bank has removed the cap of 12 remittances in a year per remitter.
"As hitherto, banks shall accept remittances by way of cash from walk-in customers or non-customers.
The ceiling of Rs 50,000 per remittance with a maximum of 12 remittances in a year shall, however, continue to apply for such remittances".
While increasing the ceiling, RBI has also advised banks to put in place suitable velocity checks and other risk mitigation procedures.
"The enhancements are also expected to facilitate payments relating to retirement, pension, etc., to our ex-servicemen who have settled/ relocated in Nepal".
RBI increases the incentive for distribution of coins over the counter by banks to Rs 65
The Reserve Bank of India (RBI) has increased incentives for banks for the distribution of coins to the general public to Rs 65 per bag with effect from September 1.
Currently, the incentive is Rs 25 per bag.
An additional incentive of Rs 10 per bag would be paid for coin distribution in rural and semi-urban areas on the submission of a auditor certificate to this effect.
The distribution of coins shall also be verified by RBI Regional Offices during inspection of currency chest or incognito visit to branches among others.
RBI mentioned that with a view to meet the coin requirements of bulk customers (requirement of more than 1 bag in a single transaction), banks are advised to provide coins to such customers purely for business transactions.
The banks may also endeavour to provide such services as part of their Board approved policy on 'Door Step Banking' services.
LIC introduces ANANDA mobile app for Agents/Intermediaries
Life Insurance Corporation of India (LIC) has introduced a new mobile application for its agents and intermediaries to facilitate the on boarding of prospective customers.
The mobile application is the latest dimension of the Atma Nirbhar Agents New Business Digital Application or ANANDA, the paperless solution for new business processes,that the insurance company had introduced last year.
The new app was launched by Chairperson M.R. Kumar in the presence of managing directors and other senior officials of LIC.
LIC stated that the app was a digital tool to get new customers on board using a paperless process.
About LIC:
Life Insurance Corporation of India is an Indian government owned insurance and Investment Corporation.
It is under the ownership of Ministry of Finance, Government of India.
Chairperson: M R Kumar
Founder: Government of India
Founded: 1 September 1956
Headquarters: Mumbai
CURRENT AFFAIRS: APPOINTMENT AND RESIGNATION NEWS
IAS Officer Pramod Kumar Meherda Take Charge As MD In National Food Security Mission
The Appointments Committee of the Cabinet (ACC), appointed Pramod Kumar Meherda, a 1997-batch IAS officer, Odisha cadre, as Managing Director (MD) in National Food Security Mission (NFSM) which comes underneath the Agriculture and Farmers Welfare division.
Pramod Kumar, Indian Forest Administrative Service (lAS) batch-1997 from Odisha Cadre, has been appointed as Managing Director for a mixed tenure of 5 years from the date of assumption of the cost of the put up or till additional orders.
The appointment of Pramod Kumar Meherda together with a number of others has been accepted by the Appointments Committee of the Cabinet (ACC) which is headed by Prime Minister Narendra Modi.
Iran appointed former Roads Minister Mohammad Eslami as head of nuclear agency
Iran's president appointed a new director of the country's nuclear department, state TV reported, replacing the nation's most prominent nuclear scientist with a minister who has no reported experience in nuclear energy but ties to the defence ministry.
Iran's newly elected hard-line President Ebrahim Raisi chose Mohammad Eslami, a 64-year-old civil engineer who previously oversaw the country's road network, to lead Iran's civilian nuclear program and serve as one of several vice presidents.
He succeeds Ali Akbar Salehi, a US-educated scientist who was a key player during the years of intense international diplomacy that led to Tehran's now-tattered 2015 landmark nuclear deal with world powers.
About Iran:
Supreme leader: Ali Khamenei
Capital: Tehran
Currency: Iranian rial
CURRENT AFFAIRS: AWARDS AND HONOURS
NTPC bagged CII Energy Leader Award
National Thermal Power Corporation (NTPC), Ramagundam, has bagged the Confederation of Indian Industry (CII) Energy Leader Award-2021. 
The award was present during the virtual CII energy summit, held between August 24 and 27.
The unit in Ramagundam is the only station of the NTPC to get the top award in power category.
This is the third consecutive year that NTPC-Ramagundam bagged the prestigious award.
The CII Energy Leader Award is conferred for exemplary performance and contribution in the area of energy efficiency and environment protection and implementation of energy management system as per ISO 50001 standards.
About NTPC:
NTPC Limited, formerly known as National Thermal Power Corporation Limited, is an Indian statutory corporation. 
It engaged in generation of electricity and allied activities.
It is a statutory corporation incorporated under the Companies Act 1956 and is under the jurisdiction of Ministry of Power, Government of India.
Headquarters: New Delhi, India
About CII:
The Confederation of Indian Industry is a non-governmental trade association and advocacy group headquartered in New Delhi, India, founded in 1895.
CII engages business, political, academic, and other leaders of society to shape global, regional, and industry agendas.
It is a membership-based organisation.
President: T. V. Narendran
Director General: Chandrajit Banerjee
CURRENT AFFAIRS : DEFENCE NEWS
NSG commandos undertake counter-terrorist drills 'Gandiv'
The third edition of the week-long annual exercise called 'Gandiv' launched by the National Security Guard (NSG) from August 22 to August 28.
Gandiv was the name of Arjuna's bow in Mahabharata.
Aim :
Enhancing the counter-terror skills of the state administration, police, anti-terrorist squads and also creating awareness among the public.
The drills are aimed to "validate the planning parameters" of the commando pressure within the occasion of a terrorist assault, hijack of a plane or hostage state of affairs.
It was held at multiple cities in Uttar Pradesh, Madhya Pradesh, Gujarat and the national capital region by NSG to check its response time and reaction to hostage and hijack-like situations.
About National Security Guard :
The National Security Guard (NSG) is an elite counter-terrorism unit under the Indian Ministry of Home Affairs (MHA).
National Security Guard personnel are sometimes referred to as The Black Cats.
Founded: 22 September 1986
Headquarters: New Delhi
Minister Responsible : Amit Shah
Director General : M.A. Ganapathy
The NSG has five hubs in the country, they are located in Gandhinagar, Mumbai, Kolkata, Hyderabad and Chennai
Defence minister Rajnath Singh Commissions Indigenously built ICGS 'Vigraha'
On Aug 28, 2021, Union defence minister Rajnath Singh commissioned the L&T built Offshore Patrol Vessel (OPV) ICGS Vigraha into the Indian coast guard.
The commissioning ceremony took place in Chennai, TamilNadu, and it was witnessed by Tamil Nadu chief minister MK Stalin and army chief Manoj Mukund Naravane among others.
The ship will be based in Visakhapatnam, Andhra Pradesh and operate on the eastern seaboard under the Operational and Administrative Control of the Commander, Coast Guard Region (East).
The ICG, with this ship joining the fleet, will have 157 ships and 66 aircraft in its inventory.
About ICGS Vigraha :
The ICGS Vigraha, is the seventh and final ship in the series of Offshore Patrol Vessels (OPVs), the agreement for which was signed in 2015.
The ICGS Vigraha is about 98 metres long, 15 metres wide, has 3.6 metres draught, with 2,140 tonnes displacement and a range of 5,000 nautical miles.
About Larsen & Toubro :
L&T, is an Indian multinational conglomerate, with business interests in engineering, construction, manufacturing, technology and financial services.
Chairman : Anil Manibhai Naik
CEO & MD : S.N. Subrahmanyan
Headquarters: Mumbai
Founded: 7 February 1938, Mumbai
India and Germany conducts joint maritime exercise in Gulf of Aden
On Aug 26, 2021, Navies of India and Germany conducted a joint exercise in the Gulf of Aden.
The Indian Navy was represented by the frigate "Trikand" while the German Navy was represented by the frigate "Bayern".
Aim :
To enhance interoperability and exchange of best practices between the navies of the two countries in maritime domain.
The exercise included cross deck helo (helicopter) landings and visit board search and seizure operations.
About Germany :
Capital: Berlin
Currency: Euro
President: Frank-Walter Steinmeier
Chancellor: Angela Merkel
CURRENT AFFAIRS : SPORTS NEWS
Tokyo Paralympics: Avani Lekhara wins gold in shooting
Indian paralympic shooter Avani Lekhara won country's first gold medal in shooting at the Tokyo Paralympics in the women's 10m air rifle standing SH1 event.
Avani Lekhara is India's first woman to win a Paralympic Gold Medal.
Lekhara,19, won the gold medal with a total score of 6 in the final.
China's Cuiping Zhang won silver with 248.9 and Ukraine's Iryna Shchetnik took bronze with a total of 227.5.
Lekhara became the fourth Indian athlete to win a gold medal at the Paralympics after swimmer Murlikant Petkar in 1972, javelin thrower Devendra Jhajharia in 2004 and 2016 and high jumper Thangavelu Mariyappan in 2016.
About Avani Lekhara :
Avani Lekhara hails from Jaipur, Rajasthan.
Lekhara is currently World No 5 in Women's 10m Air Rifle standing SH1 (World Shooting Para Sport Rankings) and has competed in the 2018 Asian Para Games.
Tokyo Paralympics: India's Bhavinaben Patel wins silver in table tennis    
On Aug 29, 2021, In table tennis, 34-year-old  Indian paddler Bhavinaben Patel clinched the silver medal at 2020 Paralympic Games at Tokyo in the women's singles summit clash.
This is the first medal for India at the ongoing Tokyo Paralympic Games 2020 and 13th overall.
She lost the Gold medal match 3-0 to China's Zhou Ying in the women's singles class 4 final.
Note :
Patel is the first table tennis player ever to win a medal at the Paralympics for India and the second female athlete after PCI chief Deepa Malik to achieve the feat. Malik had won silver at Rio 2016 in women's shot put.
About Bhavinaben Patel :
Bhavinaben Patel hails from Mehsana, Gujarat.
In 2011, PTT Thailand Table Tennis Championship she reached the ranking of World Number 2, by winning Silver Medal for India in The Individual Category.
In October 2013, Patel won the silver medal in the women's singles Class 4 at the Asian Para table tennis championships in Beijing.
She won the bronze medal in the International Table Tennis Federation Asian Para Table Tennis Championship that was organised from 23 to 31 August 2017 in Beijing, China.
Tokyo Paralympics: India's High Jumper Nishad Kumar wins silver medal 
On Aug 29, 2021, 23-year-old High jumper Nishad Kumar clinched a silver medal in the men's high jump T46/47 event at the Tokyo Paralympics 2020.
He made a jump of 06m, and in doing so created an Asian record.
With this win, it is a second medal for India at the Tokyo 2020 Paralympics
USA's Roderick Townsend won gold with a jump of 15m & Dallas Wise won bronze with a jump of 2.06 m.
India's Rampal Chahar finished at the fifth spot with a jump of 94m.
Note :
Nishad Kumar became the second Indian to win a medal at the 2020 Summer Paralympics after Bhavina Patel when he clinched a silver in the T47 category high jump event
About Nishad Kumar :
Nishad hails from Una, Himachal Pradesh.
In November 2019, he claimed a bronze at the World Para Athletics Championships for a berth in the Tokyo Paralympics.
He claimed the gold medal in T46 category at the 2021 World Para Athletics Grand Prix which was held in Dubai.
Belgian Grand Prix: Red Bull's Max Verstappen 'Wins' the Rain-affected Grand Prix
Red Bull's Max Verstappen emerged as the winner of Belgian Grand Prix.
The Belgian Grand Prix was stopped due to rain and only two laps were completed.
The winner was decided based on progress made in these two laps.
George Russell, Williams came second and Lewis Hamilton, Mercedes came third.
List of Top 10 Positions :
1.Max Verstappen, Red Bull – 12.5 points
2.George Russell, Williams – 9 points
3.Lewis Hamilton, Mercedes – 7.5 points
4.Daniel Ricciardo, McLaren – 6 points
5.Sebastian Vettel, Aston Martin – 5 points
6.Pierre Gasly, AlphaTauri – 4 points
7.Esteban Ocon, Alpine – 3 points
8.Charles Leclerc, Ferrari – 2 points
9.Nicholas Latifi, Williams, 1 points
10.Carlos Sainz, Ferrari, 0.5 points
The next round of the 2021 F1 World Championship is the Dutch Grand Prix at Zandvoort on September 5.
About Max Verstappen :
Max Verstappen became the youngest driver to compete in Formula One.
He won the 2016 Spanish Grand Prix on his debut for Red Bull Racing, and was the first Dutch driver to win a Formula One Grand Prix.
In May 2021, Verstappen became the first Dutch F1 driver to lead the World Championship, after winning the Monaco Grand Prix.
About Belgian Grand Prix :
The Belgian Grand Prix is a motor racing event which forms part of the Formula One World Championship.
The first national race of Belgium was held in 1925 at the Spa region's race course.
Sports Minister Anurag Singh Thakur launches FIT India Mobile App
On Aug 29, 2021,On the occasion of the second anniversary of the Fit India Movement, the Union Minister of Youth Affairs and Sports, Shri Anurag Singh Thakur launched the Fit India Mobile Application at Major Dhyan Chand National Stadium, New Delhi
About FIT India Mobile App :
The Fit India App is free and available in English & Hindi on both the Android and the iOS platforms.
Objective :
To empower every Indian to check their fitness level based on a set of age specific fitness tests and get specific recommendations on how to improve their fitness level through physical activities including yoga protocols.
Unique Features of the app :
Fitness score, animated videos, activity trackers and 'my plan' catering to individual specific needs.
Currently, the Fit India Movement is also conducting Fit India Freedom Run 2.0 in celebration of Azadi Ka Amrit Mahotsav to celebrate and commemorate 75 years of India's Independence.
Note :
The Fit India Movement was launched on 29th August 2019 by Prime Minister Narendra Modi with the vision of making India a Fit and Healthy Nation.
Daily CA On Aug 28 :
India has been elected to the Council of Administration (CA) at 27th Universal Postal Union (UPU) Congress in Abidjan.
The Ministry of Textiles along with NIFT, Delhi and DesignSmith, launched the India Size project at Select City Mall, Saket. 
The Election Commission's two-day Systematic Voters' Education and Electoral Participation SVEEP Consultation Workshop ended.
President Ram Nath Kovind, who is currently in Uttar Pradesh as part of his four-day visit to the state, will travel to Gorakhpur, the third day of his tour.
Defence Minister Rajnath Singh inaugurated the Army Sports Institute's stadium in Pune named after Olympic gold medal winner Neeraj Chopra.
The Securities and Exchange Board of India (Sebi) has banned Kotak Mahindra Asset Management Company from launching fixed maturity plan (FMP) schemes for six months.
Karnataka Bank launched KBL FASTag for seamless movement of vehicles at toll plazas by facilitating automatic deduction of the toll amount.
Arvind Kejriwal and Sonu Sood, in which Kejriwal, "Sonu Sood has agreed to become the brand ambassador of our 'Desh Ke Mentors' programme which will be launched soon."
Union Minister for Health and Family Welfare Mansukh Mandaviya took over charge as the Chairperson of Stop TB Partnership Board. 
Neeraj Bansal, the former deputy chairman and chairman in-charge of Jawaharlal Nehru Port Trust (JNPT), has quit the Indian Revenue Service (IRS) to join as the chief executive officer of Dighi Port Ltd, a unit of Adani Ports and Special Economic Zone Ltd (APSEZ).
Auto components industry body ACMA stated it has appointed SONA Comstar Chairman Sunjay J Kapur as its new President for a two-year term.
Justice M.S. Ramachandra Rao, the most senior judge in the Telangana High Court, was appointed Acting Chief Justice to perform the duties of the Chief Justice.
President Ram Nath Kovind has appointed Tamil Nadu Governor Banwarilal Purohit, to discharge the functions of the Governor of Punjab, in addition to his own duties from the date he assumes charge of the office of the Governor of Punjab.
Commissioner of School Education Vadrevu Chinaveerabhadrudu and State School Games Secretary G Bhanumurthy have stated School of Sports Excellence awards will be presented to the institutions that fared well in sports in 2019-20 academic year.
The Odisha Sangeet Natak Akademi under the Odia Language, Literature and Culture Department announced various awards for the year 2019 and 2020.
On Aug 26, 2021, The first-ever G20 ministerial conference on Women's Empowerment, was held at Santa Margherita Ligure, Italy in a hybrid format & On behalf of India, The Union Minister of Women & Child Development, Smriti Irani addressed the meeting.
On Aug 27, 2021, Union Minister for Agriculture & Farmers Welfare Shri Narendra Singh Tomar chaired the 11th Meeting of BRICS Agriculture Ministers & Theme : "BRICS Partnership for Strengthening Agro Biodiversity for Food and Nutrition Security".
The militaries of China, Pakistan, Mongolia and Thailand will take part in a multinational peacekeeping exercise named "Shared Destiny-2021".
On Aug 25, 2021, A New Book Titled An Invitation to Die: A Colonel Acharya Mystery' authored by Tanushree Podder.
Indian Grandmaster SP Sethuraman won the Barcelona Open chess tournament title in Barcelona, Spain.
Indian table tennis player Sathiyan Gnanasekaran beat Ukraine's Yevhen Pryschchepain straight sets 11-9, 11-6, 11-6,14-12  to claim the men's singles title at the ITTF Czech International Open in Olomouc in Czech Republic held from 21 to 25 aug 2021.
On Aug 27, 2021, Renowned Kerala chef and film producer Naushad, passed away.
Renowned Indian classical musician and tabla player Pt Subhankar Banerjee Passes away.
Daily CA On Aug 29 & 30 :
National Sports Day Observed on Aug 29, every year to commemorate the birth anniversary of legendary hockey player Major Dhyan Chand.
The International Day against Nuclear Tests is observed on August 29.
The National Small Industry Day is celebrated on 30 August every year, to support and promote small Industries for their overall growth potential and opportunities received for their development in the year.
The International Day of the Disappeared, on August 30 of each year, is a day created to draw attention to the fate of individuals imprisoned at places and under poor conditions unknown to their relatives and/or legal representatives.
President of India Ram Nath Kovind stated that the values of Indian tradition and culture are contained in holy Ramayana and the human values implied in Ramayana will always be relevant for the world.
Defence Minister Rajnath Singh visited the Army Sports Institute (ASI), Pune and renamed the Army Sports Institute stadium as "Neeraj Chopra Stadium" to honour Neeraj Chopra for winning the gold medal at the Tokyo Olympics.
The government extended by a month the deadline for making payments under the direct tax dispute resolution scheme Vivad Se Vishwas till September 30.
Govt launches "Bharat series (BH-series)" registration mark to facilitate seamless transfer of vehicles
The Ministry of Information and Broadcasting has officially recognised the News Broadcasters Federation"s (NBF) self-regulatory body.
The Pradhan Mantri Jan Dhan Yojana (PMJDY) completed seven years and the Union Ministry of Finance stated that over 430 million accounts have been opened under the scheme as on August 18, 2021.
Union minister of information and broadcasting, and youth affairs and sports, Anurag Thakur along with Union minister of tourism G Kishan Reddy inaugurated the e-Photo exhibition namely 'Making of the Constitution" and Virtual Film Poster Exhibition '[email protected]'.
As the Jallianwala Bagh massacre marked 102 years, Prime Minister Narendra Modi dedicated a renovated complex of Jallianwala Bagh Smarak to the nation through video conferencing.
A newly launched mobile digital movie theatre in Ladakh has made history as the highest theatre in the world.
The Maharashtra government has launched a special mission for women from poor families who have lost their husbands to coronavirus infection which aims to provide a bunch of services under one roof.
The first commercial batch of Covaxin was released from the new plant of Bharat Biotech at Ankleshwar in Gujarat's Bharuch district by Union Health Minister Mansukh Mandaviya.
The Reserve Bank hiked the ceiling on remittances per transaction from India to Nepal to 2 lakh from Rs.50, 000, a move that will help facilitate retirement and pension-related payments to ex-servicemen settled in the neighbouring country.
The Reserve Bank of India (RBI) has increased incentives for banks for the distribution of coins to the general public to Rs 65 per bag with effect from September 1.
Life Insurance Corporation of India (LIC) has introduced a new mobile application, ANANDA for its agents and intermediaries to facilitate the on boarding of prospective customers.
The Appointments Committee of the Cabinet (ACC), appointed Pramod Kumar Meherda, a 1997-batch IAS officer, Odisha cadre, as Managing Director (MD) in National Food Security Mission (NFSM) which comes underneath the Agriculture and Farmers Welfare division.
Iran's newly elected hard-line President Ebrahim Raisi chose Mohammad Eslami, a 64-year-old civil engineer who previously oversaw the country's road network, to lead Iran's civilian nuclear program and serve as one of several vice presidents.
National Thermal Power Corporation (NTPC), Ramagundam, has bagged the Confederation of Indian Industry (CII) Energy Leader Award-2021. 
The third edition of the week-long annual exercise called 'Gandiv' launched by the National Security Guard (NSG) from August 22 to August 28.
On Aug 28, 2021, Union defence minister Rajnath Singh commissioned the L&T built Offshore Patrol Vessel (OPV) ICGS Vigraha into the Indian coast guard.
On Aug 26, 2021, Navies of India and Germany conducted a joint exercise in the Gulf of Aden.
Indian paralympic shooter Avani Lekhara won country's first gold medal in shooting at the Tokyo Paralympics in the women's 10m air rifle standing SH1 event.
On Aug 29, 2021, In table tennis, 34-year-old  Indian paddler Bhavinaben Patel clinched the silver medal at 2020 Paralympic Games at Tokyo in the women's singles summit clash.
On Aug 29, 2021, 23-year-old High jumper Nishad Kumar clinched a silver medal in the men's high jump T46/47 event at the Tokyo Paralympics 2020.
Red Bull's Max Verstappen emerged as the winner of Belgian Grand Prix.
On Aug 29, 2021,On the occasion of the second anniversary of the Fit India Movement, the Union Minister of Youth Affairs and Sports, Shri Anurag Singh Thakur launched the Fit India Mobile Application at Major Dhyan Chand National Stadium, New Delhi