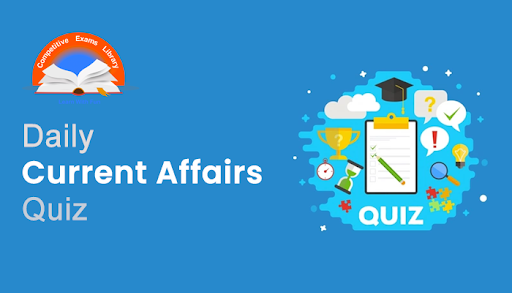 Dear Readers, Daily Current Affairs Questions Quiz for SBI, IBPS, RBI, RRB, SSC Exam 2021 of 01st April 2021. Daily GK quiz online for bank & competitive exam. Here we have given the Daily Current Affairs Quiz based on the previous days Daily Current Affairs updates. Candidates preparing for IBPS, SBI, RBI, RRB, SSC Exam 2021 & other competitive exams can make use of these Current Affairs Quiz.
1) Rajasthan Diwas 2021  is observed on which of the following date?
A) March 3
B) March 4
C) March 30
D) March 12
E) March 27
2) SBI has inked a _____billion loan agreement with Japan Bank for International Cooperation.
A) 3.5
B) 3
C) 2.5
D) 1
E) 1.5
3) As per the First half of FY22 the Government has pegged the market borrowing at Rs ______ lakh crore.
A) 6.5
B) 6.36
C) 6.50
D) 7.15
E) 7.24
4) The Government has announced Rs 14,500-crore capital infusion in _____ Public Sector Banks.
A) 8
B) 4
C) 5
D) 6
E) 7
5) Government extends Emergency Credit Line Guarantee Scheme to June 30, 2021 or such time till amount of _____ lakh crore is sanctioned.
A) 1
B) 5
C) 2
D) 3
E) 4
6) India and which country will carry out military drill Vajra Prahar 2021 in Himachal Pradesh?
A) France
B) Germany
C) US
D) UK
E) France
7) DPIIT has recently upgraded which of the following portals?
A) International relations
B) Environment Compliance
C) Investor Alliance
D) Defence Procurement
E) Industrial Entrepreneurs Memorandum
8) Didier Ratsiraka who passed away recently was the president of which country?
A) Ethiopia
B) Madagascar
C) Sudan
D) Algiers
E) Nigeria
9) CBIC has notified which of the following as a common portal for bills of entry and registration?
A) PRAGATI
B) SRUM
C) SCORES
D) ICEGATE
E) SPICE+
10) Which women-led startup, has developed an innovative wireless product that gives fibre-like bandwidth at fraction of cost of fibre?
A) GigaMesh
B) ZoomGo
C) Astrone
D) Nexon
E) Women Plus
11) How many new species of butterfly have been discovered in Nacaduba sinhala ramaswamii sadasivan?
A) 8
B) 7
C) 4
D) 5
E) 6
12) Which of the following bank has launched the "Uni-Carbon Card"?
A) Bandhan
B) Axis
C) Union Bank of India
D) SBI
E) ICICI
13) Walter Anthony Gustavo 'Wag' Pinto who passed away recently was a former ______.
A) Producer
B) Author
C) Singer
D) Director
E) Army officer
14) In ICC Men's Cricket World Cup Super League standings India has now moved to _____ position.
A) 9th
B) 5th
C) 8th
D) 7th
E) 6th
15) Beverly Cleary who passed away recently was an eminent _____.
A) Tennis player
B) Writer
C) Singer
D) Actor
E) Director
Answers :
1) Answer: C
Rajasthan Diwas is observed on March 30th every year to commemorate the formation of the state.
Rajasthan Diwas 2021 is being celebrated as the 72nd foundation day of the state.
History :
The state was formed on March 30th, 1949 when Rajputana was merged into the Dominion of India.
Jaipur being the largest city was declared as the capital of the state.
2) Answer: D
Country's largest lender, State Bank of India, has raised $1 billion from Japan Bank for International Cooperation (JBIC) to extend loans to the supply chain of Japanese automobile industry in India.
The virtual signing ceremony event was held in the presence of Dinesh Khara, Chairman, SBI along with senior executives of SBI, Hayashi Nobumitsu, Deputy Governor (JBIC) and Ayukawa Kenichi, CEO & MD of Maruti Suzuki.
The loan is in the form of refinance against the funding support provided to the manufacturers, suppliers and dealers of Japanese automobiles in India.
This collaboration (between SBI and JBIC) will help the bank in extending loan facility to the entire supply chain at a time when people are preferring personal mode of transport.
Now the total loan facility between SBI and JBIC has become $2 billion.
3) Answer: E
On March 31, 2021, The government announced it will borrow Rs 7.24 lakh crore in the first half of 2021-22 fiscal to meet resources to perk up the economy hit by the coronavirus pandemic.
According to the Budget 2021-22, the government's gross borrowing was estimated at Rs 12.05 lakh crore in the financial year beginning April 1.
In the first half of 2021-22, borrowing Rs 7.24 lakh crore, which is 60.06 per cent of the gross issuances
The government raises money from the market to fund its fiscal deficit through dated securities and treasury bills.
4) Answer: B
On March 31, 2021, The government announced capital infusion totalling Rs 14,500 crore in four public sector banks (PSBs) through zero-coupon bonds.
The four public sector banks (PSBs) namely Central Bank of India, Indian Overseas Bank, Bank of India and UCO Bank in 2020-21, by issuing non-interest bearing bonds to these banks.
The government will charge Rs 4,800 crore in Central Bank of India, Rs 4,100 crore in Indian Overseas Bank, Rs 3,000 crore in Bank of India and Rs 2,600 crore in UCO Bank.
These securities will be issued in six different maturities and will be issued at par for the amount as per the application made by the eligible banks.
Nirmala Sitharaman on February 1 announced a capital infusion of Rs 20,000 public sector banks for the current financial year 2021-2022.
5) Answer: D
On March 31, 2021, The government extended the Emergency Credit Line Guarantee Scheme (ECLGS) till June 30 2021, or till such time that an amount of Rs. 3 lakh crore is sanctioned under the Scheme.
Also it expanded its scope to cover enterprises in hospitality, travel and tourism, leisure and sporting sectors.
6) Answer: C
Special forces of India and the US carried out a joint military exercise at Bakloh in Himachal Pradesh in March 2021.
It was the 11th edition of the exercise 'Vajra Prahar' which is aimed at sharing best practices and experiences in areas such as joint mission planning and operational tactics.
7) Answer: E
The Department for Promotion of Industry and Internal Trade (DPIIT) has revamped its Industrial Entrepreneurs Memorandum (IEM) portal.
This has been done with a view to enhancing ease of doing business and transparency
The upgraded portal offers a single IEM for one company to capture details of all its locations and sectors.
This Single form will facilitate the filling of investment intentions (IEM-Part A) and reporting of commencement of production (IEM-Part B) in a seamless manner
The G2B portal can be accessed at http://services.dipp.gov.in for the purpose of submitting applications and obtaining the IEM certificate.
8) Answer: B
On March 28th 2021, Madagascar's former President Didier Ratsiraka was Passed away.
He was 84.
About Didier Ratsiraka :
Didier Ratsiraka, a naval officer nicknamed the "Red Admiral" for his socialist policies
He was appointed as the Minister of foreign affairs in 1972
Ratsiraka was the president of the Indian Ocean Island from 1975 to 1993 and 1997-2002.
He had visited India in 1980 on a bilateral state visit and in 1983 to participate in the NAM Summit.
9) Answer: D
On march 29, 2021, The Central Board of Indirect Taxes and Customs (CBIC) notified ICEGATE or Indian Customs and Central Excise Electronic Commerce/Electronic Data Interchange (EC/EDI) Gateway as the common customs electronic portal
It is for all customs related documentation and duty payments.
The changes form part of the move to making the customs processing of bills of entry and declarations more electronic, paperless and seamless, so as to facilitate trade.
10) Answer: C
Astrome, Bangalore based a women-led startup, has developed an innovative wireless product that gives fibre-like bandwidth at fraction of cost of fibre to help telecom operators deliver reliable low-cost internet services to suburban and rural areas.
It is a wireless backhaul product that can deliver low-cost, high data capacity, and wide reach.
The wireless product, called GigaMesh, could enable telecom operators to deploy quality, high-speed rural telecom infrastructure at five times lower cost.
11) Answer: E
The discovery of the species six line blue butterfly Nacaduba sinhala ramaswamii Sadasivan, 2021 in the Agasthyamalais in the Western Ghats.
It is the first time that a butterfly species was discovered by an all-Indian research team from the Western Ghats.
It has now found a place in the Journal of Threatened Taxa.
The new taxon of Lycaenid butterflies belonging to the genus  Nacaduba
About Researchers Team :
Team comprises Kalesh Sadasivan and Baiju K. representing the Travancore Nature History Society, Rahul Khot of the Bombay Natural History Society, and Ramasamy Naicker from Theni.
About the Butterfly :
Line Blues are small butterflies belonging to the subfamily Lycaenidae
Their distribution ranges from India and Sri Lanka to the whole of southeastern Asia, Australia and Samoa.
12) Answer: C
On March 26, 2021, Union Bank of India launched "UNI – CARBON CARD", an HPCL co-branded credit card on the Rupay platform of NPCI.
It is a unique HPCL co-branded credit card on the Rupay platform of NPCI.
It will play a role in creating an opportunity to create value for the customers.
The card has been designed in joint association with Union Bank of India and HPCL and Rupay.
The Union Bank HPCL Co-branded credit card is first of its kind with HPCL, a major player in fuel retail.
13) Answer: E
On March 25th, 2021, Lieutenant General Walter Anthony Gustavo 'Wag' Pinto, former General Officer in the Indian Army, passed away.
He was 97.
About Walter Anthony Gustavo 'Wag' Pinto :
Gen Pinto was born on July 1, 1924, in Poona, Bombay Presidency.
Gen Pinto last served as the 8th General Officer Commanding-in-Chief of the Central Command.
As Major General, he had led the 54th Infantry Division on the western front in the Indo-Pak War of 1971,
He was awarded the prestigious Param Vishisht Seva Medal (PVSM).
He had penned a book 'Bash on Regardless', in which he described the Battle of Basantar.
14) Answer: D
India has been moved up to seventh position on the International Cricket Council's (ICC) Men's Cricket World Cup Super League standings after their seven-run win over England in the third ODI.
Despite the loss, England remained the top-ranked team in the standings with 40 points.
India has scored 29 points.
The Super League started on July 30, 2020 with England's three-match series against Ireland.
It includes the 12 full members of the ICC along with the Netherlands.
Teams that finish within the top eight will gain automatic qualification for the 2023 World Cup which is scheduled to be held in India
15) Answer: B
The renowned American writer , Beverly Cleary, children's and young adult fiction has passed away.
She was 104.
About Beverly Cleary :
Cleary was born April 12, 1916 in McMinnville, Oregon, and grew up in Portland and Yamhill, titling her autobiography, "A Girl from Yamhill.
Cleary published more than 40 books, with more than 85 million copies sold.
They were translated into 29 languages.
Her books have been sold worldwide since her first book was published in 1950.
Cleary was one of America's most successful authors.
Ramona Quimby and Beezus Quimby, Henry Huggins and his dog Ribsy, and Ralph S. Mouse all have Some of her best known characters.
Cleary won the National Book Award in 1981 for "Ramona and Her Mother," and "Dear Mr. Henshaw" won the John Newbery Medal in 1984.