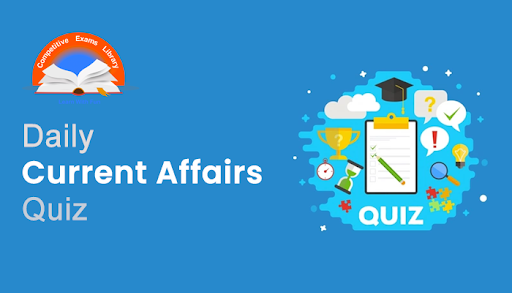 Dear Readers, Daily Current Affairs Questions Quiz for SBI, IBPS, RBI, RRB, SSC Exam 2021 of 01st January 2021. Daily GK quiz online for bank & competitive exam. Here we have given the Daily Current Affairs Quiz based on the previous days Daily Current Affairs updates. Candidates preparing for IBPS, SBI, RBI, RRB, SSC Exam 2021 & other competitive exams can make use of these Current Affairs Quiz.
1) Government has extended Income Tax Returns Filing Date To which date?
A) January 11
B) January 12
C) January 10
D) January 15
E) January 18
2) Veteran broadcaster Indira Joseph Venniyor who passed away was a renowned ____.
A) Director
B) Producer
C) Actor
D) Broadcaster
E) Singer
3)  Government has extended deadline for FASTag till which date?
A) February 11
B) February 13
C) February 17
D) February 18
E) February 15
4) Which state assembly has passed a Bill to abolish all government-run Madrassas?
A) Bihar
B) Assam
C) Haryana
D) Kerala
E) Madhya Pradesh
5) Which state is organizing  ExhibitionRaag-Bhopali being organized to promote Zari-Zardozi?
A) Nagaland
B) Assam
C) Madhya Pradesh
D) Bihar
E) Chhattisgarh
6) Navy and which organization has conducted a maiden trial of 1st indigenous air-droppable container?
A) BEL
B) BHEL
C) BDL
D) DRDO
E) ISRO
7) Which bank has introduced a one-stop integrated travel marketplace Travel Now?
A) Axis
B) Yes
C) ICICI
D) SBI
E) DBS
8) Union Cabinet has approved a Multi-Modal Logistics Hub & Multi-Modal Transport Hub (MMTH) at ______.
A) Indore
B) Noida
C) Chandigarh
D) Bhopal
E) Surat
9) India's First Testbed for Autonomous Navigation Systems has been launched at which institution?
A) IIT Roorkee
B) IIT Bombay
C) IIT Delhi
D) IIT Hyderabad
E) IIT Madras
10) Which institution has developed a plaque therapy successfully used on eye cancer patients in AIIMS?
A) BHEL
B) BDL
C) BARC
D) ISRO
E) DRDO
11) Who among the following has been conferred with Eminent Engineer Award ?
A) Naren Singh
B) VK Paul
C) Suresh Mehta
D) Ramesh Chand
E) VK Yadav
12) Mother Teresa Memorial Awards For Social Justice 2020 Announced. This is the ____year of the award.
A) 12th
B) 14th
C) 16th
D) 15th
E) 13rd
13) ISRO chairman K Sivan has received a _______ year extension as Department of Space secretary.
A) 3
B) 2.5
C) 1.5
D) 1
E) 2
14) Which city will host the much-awaited Tansen Music Festival?
A) Mumbai
B) Gwalior
C) Indore
D) Chandigarh
E) Jaipur
15) Dr. Harsh Vardhan has digitally inaugurated the ______ NHM National Summit on Good, Replicable Practices through a video conference.
A) 3rd
B) 4th
C) 7th
D) 5th
E) 6th
Answers :
1) Answer: C
The government extended the deadline to file income tax return (ITR) for individuals by 10 days to January 10, 2021.
Prior to that the deadline was December 31, 2020
This is the third time that the government has extended the deadline to file ITR  first from the normal deadline of July 31 to November 30, 2020, and then to December 31, 2020.
The last date for filing ITR has been extended for those taxpayers whose filings using ITR-1 and ITR-4 forms are not required to be audited.
2) Answer: D
Indira Joseph Venniyor, Renowned broadcaster, All India Radio Veterean, and the first English news announcer of Travancore Radio, passed away. She was 94.
She was the wife of well-known literary scholar and art critic the late E.M.J. Venniyoor.
She is a lover of music and performing arts, she encouraged budding professionals in the fields.
3) Answer: E
The Ministry of Road Transport and Highways has extended the deadline for FASTags for all vehicles in India till February 15, 2021.
Earlier, the National Highways Authority of India (NHAI) had announced to completely do away with cash transactions for paying toll charges from January 1.
The new deadline for FASTags to be made mandatory to cross a toll plaza has been set on February 15, 2021.
The compulsory use of FASTags will help vehicles pass through the toll plazas swiftly, preventing long queues.
4) Answer: B
The Assam Legislative Assembly passed the repeal provincialisation of Madrassa Bill, 2020  to abolish all government-run Madrassas in the state and convert them to general schools.
The new act will come into effect from April 1, 2021. The Bill was tabled in the assembly by the state government on December 28, 2020.
Assam, the state government has decided to make 'education secular' and 198 high madrasas and 542 other madrasas in the state will operate as any other general educational institute and will not give admission to students for theological studies.
5) Answer: C
Madhya Pradesh Government is Organizing an exhibition called Raag-Bhopali is being organized to promote Zari-Zardozi crafts of Bhopal.
The exhibition is being organised till 30 December in GauharMahal, Bhopal. Chief Minister Shivraj Singh Chouhan while inaugurating the exhibition on that fading art of Zari-Zardozi will be revived.
Different kinds of zari work
Zardozi: This is a heavy and more elaborate embroidery work which uses varieties of gold threads, spangles, beads and gota.
It is used to embellish wedding outfits, heavy coats, cushions, curtains etc.
Kamdani : This is a lighter needlework which is done on lighter material like scarves, veils, and caps.
Mina Work: This is thus called owing to its resemblance with enamel work. The embroidery is done in gold.
6) Answer: D
Defence Research and Development Organisation (DRDO) along with the Indian Navy conducted the successful maiden test trial of 'SAHAYAK-NG' India's first indigenously designed and developed Air Dropped Container from IL 38SD aircraft (Indian Navy) off the coast of Goa.
The trial was conducted by the Indian Navy to enhance its operational logistics capabilities and provide critical engineering stores to ships that are deployed more than 2000 kilometers from the coast.
SAHAYAK-NG is an advanced version of SAHAYAK Mk I.
The newly developed GPS aided air dropped container is having the capability to carry a payload that weighs up to 50 kilograms and can be dropped from heavy aircraft.
SAHAYAK-NG container was developed by two DRDO laboratories i.e. NSTL, Visakhapatnam and ADRDE, Agra along with Avantel for GPS integration.
7) Answer: E
DBS Bank India introduced a one-stop travel marketplace within the digibank app.
Named as Travel Now, the platform enables customers to browse and book flights, bus tickets and hotels across hundreds of destinations both within and outside of India.
With the help of this new platform customers will now be able opt for travel insurance, offered by Bharti AXA General Insurance, with an automated claims process for flight cancellation, and flight departure and arrival delays of more than 60 minutes.
8) Answer: B
The government approved a multi-modal logistics and transport hub (MMTH) at Greater Noida in Uttar Pradesh.
For a view to making India a strong player in the global value chain. The Union Cabinet also approved a proposal to set up industrial corridor nodes at Krishnapatnam and Tumakuru under CBIC.
The proposals have a total estimated cost of Rs 7,725 crore and an estimated employment generation of more than 2.8 lakh persons
The Union Cabinet has approved proposals of Department of Promotion of Industry & Internal Trade (DPIIT) for construction of of various trunk infrastructure components, which includes:
Krishnapatnam Industrial Area in Andhra Pradesh (estimated cost of the project of Rs. 2,139.44 crore)
9) Answer: D
Union Minister of Education Ramesh PokhriyalNishank virtually laid the foundation stone of 'TiHAN-IIT Hyderabad, India's first Testbed for Autonomous Navigation Systems (Terrestrial and Aerial) at IIT Hyderabad.
The Department of Science and Technology (DST), Government of India, has sanctioned Rs. 135 crores to IIT Hyderabad under the National Mission on Interdisciplinary Cyber-Physical Systems (NM-ICPS) to set up a Technology Innovation Hub on Autonomous Navigation and Data Acquisition Systems.
The Technology Innovation Hub on Autonomous Navigation Systems for Unmanned Aerial Vehicles and Remotely Operated Vehicles at IIT Hyderabad, known as 'TiHAN Foundation' has been incorporated as a Section-8 company by the institute in June 2020.
10) Answer: C
The Bhabha Atomic Research Centre in Mumbai has developed an eye cancer therapy in the form of the first indigenous Ruthenium 106 Plaque for the treatment of ocular tumours.
The handling of plaque is very convenient for surgeons and it has been acknowledged to be at par with international standards.
About Ocular Tumours:
Ocular tumors are tumors inside the eye.
They are collections of cells that grow and multiply abnormally and form masses.
They can be benign or malignant. In adults the most common type is metastatic, from another part of the body (lung, breast, prostate, etc).
About Ruthenium-106:
Ruthenium-106 is a radioactive form of the rare heavy metal ruthenium, which is a "platinum group" metal similar to platinum.
11) Answer: E
Shri V.K. Yadav, Chairman & CEO, Railway Board, Ministry of Railways has been conferred with the prestigious Eminent Engineer Award for the Year 2020
The award is given  by the Institution of Engineering and Technology (IET) for his outstanding contribution towards modernization and reforms over Indian Railways.
Every year the Institution of Engineering and Technology, Delhi Local Network celebrates Engineers' Day on the 15th of September to commemorate the birth anniversary of Bharat Ratna Sir M Visvesvaraya.
On this occasion, besides technical activities, the Institution also presents the Eminent Engineer's Award to distinguished Engineering personalities for their outstanding services in the field of Engineering and technology.
12) Answer: C
On December 27, 2020, Harmony Foundation hosted the Mother Teresa Memorial Awards for Social Justice.
The Awards in its 16th year is the only award endorsed by Sister Prema, the Superior General of the Missionaries of Charity, the organization started by Mother Teresa.
The theme for this year's awards was, Celebrating Compassion In Times OfCovid
Dr Anthony Fauci (USA) is the Director of the National Institute of Allergy and Infectious Diseases, USA. He and his task force were among the first ones to realize the seriousness of this pandemic.
Fr Fabio Stevenazzi (Milan, Italy) decision to return to medical practice in order to help those infected with COVID 19 has thrust him to be the modern day example of St Charles Borromeo who in 1576 during the Great Plague that hit the city of Milan and cut the population by half, stayed behind to nurse the sick and renovate hospitals.
DrPradeep Kumar (Chennai) took it upon himself to give a befitting burial to his colleague with the help of two ward boys, at a cemetery in the city in the middle of the night.
CristianFracassi and Alessandro Romaioli (Italy) CEO and Founder of ISINNOVA along with his teammate and engineer Alessandro Romaioli built prototypes on Isinnova's 3D printers, to create the parts of the use-and-throw valves for ventilators which were desperately needed in Italy and provided it to them for free helped many patients survive the terrors of this pandemic.
Sanjay Pandey, IPS (DG Home Guards, Maharashtra) went beyond the call of duty as a police officer to open the first relief camp in the Mumbai city suburbs for migrant workers whose livelihood were disrupted by the lockdown to contain the pandemic.
VikasKhanna (Manhattan, USA) heart still moves to serve the lonely and underprivileged here in India.
13) Answer: D
The Appointments Committee of the Cabinet has approved the extension of tenure of K Sivan, secretary, Department of Space and chairman, Space Commission, for a period of one-year beyond January 14, 2021, that is up to January 14, 2022.
Sivan is also Chairman of Indian Space Research Organisation (ISRO).
Sivan joined Isro in 1982 and was inducted into the PSLV Project.
He took over as Isro chairman in January 2018.
Under his chairmanship, the space agency launched various important projects, including Chandrayaan 2, the second mission to the moon, on July 22 last year and currently working on the human spaceflight mission.
He was the chief architect of 6D trajectory simulation software, SITARA, which is the backbone of the real-time and non-real-time trajectory simulations of all Isro launch vehicles.
14) Answer: B
In Madhya Pradesh, the much-awaited Tansen Music Festival began in Gwalior with strict COVID-19 guidelines in place. In the inaugural ceremony renowned santoor player PtSatishVyas was conferred upon the prestigious TansenSamman.
Bhopal-based institution Abhinav Kala Parishad was honoured with Raja MansinghTomar award.
The inaugural day events started with cross-cultural offerings of Harikatha, Milad and shehnaivadan at Tansen'ssamadhisthal in Hazira.
The festival will conclude on December 30 at Behat village, the birthplace of the music maestro Tansen.
15) Answer: C
Dr. Harsh Vardhan, Union Minister of Health and Family Welfare digitally inaugurated the 7th National Summit on Good, Replicable Practices through a video conference.
Dr. Vardhan also launched New Health Management Information System (HMIS) along with the Operational Guidelines for TB services at AB-HWCs and the Operational Guidelines 2020 on Active Case Detection and Regular Surveillance for Leprosy.
Main Objective :  to recognize, showcase and document various best practices and innovations in public healthcare system