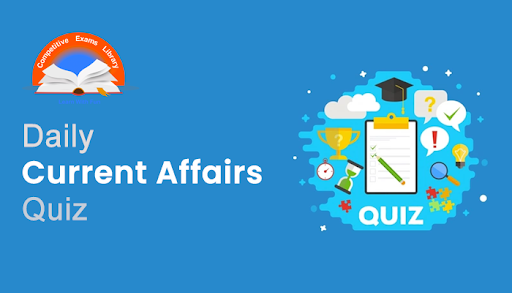 Dear Readers, Daily Current Affairs Questions Quiz for SBI, IBPS, RBI, RRB, SSC Exam 2021 of 01st June 2021. Daily GK quiz online for bank & competitive exam. Here we have given the Daily Current Affairs Quiz based on the previous days Daily Current Affairs updates. Candidates preparing for IBPS, SBI, RBI, RRB, SSC Exam 2021 & other competitive exams can make use of these Current Affairs Quiz.
1) Global Parents Day is Observed on June ___.
A) 5
B) 4
C) 1
D) 2
E) 3
2) Languages of Truth: Essays 2003-2020 has been Authored by who among the following?
A) Sukseh Ranjan
B) Anand Tripathi
C) Sudesh Raj
D) Salman Rushdie
E) Amit Shah
3) Who among the following has introduced the Horticulture Cluster Development Programme?
A) Anurag Thakur
B) Prahlad Patel
C) Narendra Modi
D) Amit Shah
E) NS Tomar
4) Which institution has launched AmbiTAG, India's first indigenous temperature data logger?
A) IIT Bombay
B) IIT Guwahati
C) IIT Madras
D) IIT-Ropar
E) IIT Delhi
5) Which institution has devised the 'Bal Swaraj' for children affected due to COVID-19?
A) FICCI
B) NCPCR
C) CII
D) ASSOCHAM
E) NAFED
6) Agri Services E-Marketplace Launches CSC SPV. The CSC, a Special Purpose Vehicle under the Ministry of Electronics and IT, plans to reach out to ____ Farmer Producer Organisations (FPOs), one in each block of the country, this year.
A) 4000
B) 5000
C) 6000
D) 5500
E) 6500
7) Who among the following has initiated the jetty at Old Goa?
A) Narendra Modi
B) Mansukh Mandaviya
C) Amit Shah
D) Prahlad Patel
E) NS Tomar
8) Mali court has appointed who among the following as interim president?
A) Somalia Case
B) Ibhraim Keita
C) Boubar Keita
D) Mahmoud Dicko
E) AssimiGoita
9) Which state government has launched "Udaan Scheme" to provide sanitary pads ?
A) Himachal Pradesh
B) Chhattisgarh
C) Bihar
D) Punjab
E) Haryana
10) Moody's predicts India GDP growth at ___ per cent in FY22.
A) 7.4
B) 8.8
C) 8.5
D) 9.2
E) 9.3
11) Which company has introduced india's first crypto based lending platform?
A) PayPal
B) GPay
C) ZebPay
D) OlaPay
E) UberPay
12) Omnivore, an agritech venture capital firm has appointed who among the following as senior advisor?
A) Anand Tiwary
B) HK Bhanwala
C) Akshay Pathak
D) Sudarshan Aggarwal
E) Bimal Jalan
13) Adar Poonawalla appointed as Chairman of which company?
A) Dormstain
B) Amstrad
C) Muthoot Fincorp
D) Ricky Fincorp
E) Magma Fincorp
14) Who has been appointed as interim Chairman of CBDT?
A) Amit Singh
B) Sudarshan Talwar
C) JB Mohapatra
D) Mikesh Arora
E) Anand Raj
15) Which Bank has appointed S K Majumdar as CFO?
A) UCO
B) Axis
C) Indian
D) Canara
E) SBI
16) Who has taken charge as chief advisor to CM Mamata Banerjee?
A) Amit Talwar
B) Alapan Bandyopadhyay
C) Rajat Mittal
D) Sudarshan Singh
E) Raju Srivastava
17) Who among the following has taken oath as Admiral Superintendent, Naval Dockyard, Visakhapatnam?
A) Sambhav Pant
B) Amit Kotiyal
C) NB Balakot
D) Amit Singh
E) IB Uthaiah
18) World Milk Day is Observed on June __.
A) 5
B) 4
C) 3
D) 1
E) 2
19) Who has been Elected as IAU Council as Asia & Oceania Representative?
A) Arjun Swami
B) Nagaraj Adiga
C) Ramachandran
D) Suchitra Naidu
E) Raj Panwar
20) Which author has won the 2021 Dublin Literary Award?
A) Gloria Smith
B) Alfre Knopf
C) Valeria Luiselli
D) Mike Schimt
E) Hailey Collins
21) Which Bollywood actor has won the UAE's Golden Visa?
A) Shahrukh Khan
B) Sanjay Dutt
C) Amir Khan
D) Akhsay Kumar
E) Amitabh Bachan
22) Authors Nitin Rakesh and Jerry Wind bags International Business Book of the Year Award 2021. The book has been published by which publication?
A) Arihant
B) Bloomsbury
C) Oxford
D) Harvard
E) Notion Press
23) Which stateagricultural university has signed an MoU with Wadhwani Institute ?
A) Chhattisgarh
B) Punjab
C) Bihar
D) Telangana
E) Madhya Pradesh
24) Who has commissioned Indian Coast Guard's offshore Patrol Vessel Sajag?
A) Narendra Modi
B) Ajit Doval
C) Amit Shah
D) Harsh Vardhan
E) NS Tomar
25) Artificial Synaptic Network that Mimics Human Brain Developed by Scientists of which institution?
A) IIT Guwahati
B) IIT Bengaluru
C) IIT Madras
D) IIT Delhi
E) Jawaharlal Nehru Centre for Advanced Scientific Research
26) Who has released the book The Players in My Life to release 2021 ?
A) Amir Khan
B) Bhappi Lahiri
C) Ravi Shastri
D) Amit Shah
E) Raj Kanwar
Answers :
1) Answer: C
A day to appreciate parents across the world, Global Parents Day or Parents Day, is an excellent opportunity for children and parents to celebrate the unique bond.
"Appreciate all parents throughout the world" is the theme of global parents' day 2021.
The Global Day of Parents is observed on the 1st of June every year.
The Day was proclaimed by the UN General Assembly in 2012.
2) Answer: D
A Book Titled Languages of Truth: Essays 2003-2020 Authored by Salman Rushdie.
The book has been published by Random House.
About the Book :
In this Book , the author talks about his view and imagination of the change in literature and culture, written between 2003 and 2020.
3) Answer: E
In a pilot phase, the programme will be implemented in 12 horticulture clusters out of the total 53 clusters selected for the programme.
A central sector programme implemented by the National Horticulture Board (NHB) of the Ministry of Agriculture and Farmers' Welfare, CDP aims at growing and developing identified horticulture clusters to make them globally competitive.
NS Tomar, in his speech, highlighted that the programme will address all major issues related to the Indian horticulture sector including pre-production, production, post-harvest management, logistics, marketing and branding.
4) Answer: D
Indian Institute of Technology, Ropar (IIT Ropar) in Punjab has developed a first-of-its-kind IoT device – AmbiTag that records real-time ambient temperature during the transportation of perishable products, vaccines and even body organs and blood.
That recorded temperature further helps to know whether that particular item transported from anywhere in the world is still usable or perished because of temperature variation.
This information is particularly critical for vaccines including Covid-19 vaccine, organs and blood transportation.
5) Answer: B
In view of the growing problem related to children affected by COVID-19, The Union Ministry of Women and Child Development stated the National Commission for Protection of Child Rights (NCPCR) has devised an online tracking portal "Bal Swaraj (COVID-Care link)" for children in need of care and protection.
The portal has been created with the purpose of tracking and monitoring children who need care and protection in real-time, digitally.
The portal will also be used to track children who have lost both their parents during COVID-19.
The "COVID-Care" link on the portal has been provided for the concerned officer or department to upload the data of such children.
6) Answer: C
Aimed at empowering small and marginal farmers, who constitute 86 per cent of India's farming community, the Common Services Centres (CSC) has unveiled a unique Agri Services Portal that will act as a one-stop destination and marketplace for them.
The portal will enable small and marginal farmers, who do not have easy access to the digital world, to avail essential agri services with ease and at an affordable cost.
CSC CEO Sanjay Rakesh stated, "Newly launched portal can be accessed by farmers with support from local CSCs for buying agri-input products, renting and hiring of agriculture implements and machinery, soil testing, sale of farm produce, tele-consultations, loan and insurance facility".
The CSC, a Special Purpose Vehicle under the Ministry of Electronics and IT, plans to reach out to 6,000 Farmer Producer Organisations (FPOs), one in each block of the country, this year.
7) Answer: B
Union Minister of State (I/C) for Ports, Shipping & Waterways Shri Mansukh Mandaviya in the presence of Chief Minister of Goa Shri Pramod Sawant inaugurated the second floating jetty at Old Goa virtually on the occasion of Goa statehood day.
Shri Mandaviya expressed hope that the floating jetty at Old Goa will prove a game changer for the tourism sector of Goa.
He also announced that Panjim and Old Goa will be connected by ferry and cruise services.
The Minister stated the jetty will offer safe, hassle free transportation to the tourists.
The Minister lauded the work done by Government of Goa in making tourism sector a growth engine of the state.
8) Answer: E
Mali's constitutional court declared AssimiGoita, the colonel who led a military coup while serving as vice president, to be the new interim president.
Colonel AssimiGoita is a Malian military officer and the leader of the National Committee for the Salvation of the People, a military junta that seized power from former president Ibrahim Boubacar Keïta in the 2020 Malian coup.
9) Answer: D
Punjab Social Security Minister Aruna Chaudhary launched the women-empowerment oriented 'Udaan Scheme' on the occasion of International Menstrual Hygiene Day, under which sanitary pads of Rs 40.55 crore would be distributed free of cost annually to needy women and girls.
Chaudhary stated the main objective of the scheme is to protect women and girls from menstrual hygiene related diseases and spread awareness about menstrual hygiene.
At the launch ceremony, a total of one lakh packets of sanitary pads were distributed at all 1,500 online locations as well as at anganwadicentres in the state.
10) Answer: E
Moody's Investors Service pegged India's GDP growth at 9.3 per cent in the current fiscal ending March 2022 and 7.9 per cent in FY23.
"The reimposition of lockdown measures along with behavioural changes on fear of contagion will curb economic activity, but we do not expect the impact to be as severe as during the first wave.
"We expect a decline in economic activity in the April-June quarter, followed by a rebound, resulting in real, inflation-adjusted GDP growth of 9.3 per cent in the fiscal year ending March 2022 and 7.9 per cent in fiscal 2022-23".
11) Answer: C
One of the oldest crypto companies in India, ZebPay, launched a new lending platform for crypto asset exchange.
ZebPay will offer both open and fixed-term lending using the platform.
Only Bitcoin , Ethereum, Tether and Dai tokens will be accepted at first.
The company says that the platform is a "first of its kind" crypto lending model in India and will allow users to lend their cryptocurrency to ZebPay, earning interest on the same.
The company stated "The ZebPay Lending Platform generates returns on users' crypto investments if they lend select cryptos thus, providing an opportunity to earn a passive income by adding on to the returns gained from rise in crypto prices".
12) Answer: B
Former chairman of the National Bank for Agriculture and Rural Development (NABARD), Dr Harsh Kumar Bhanwala, has joined Omnivore, an agritech venture capital firm,  Senior Advisor.
As a Senior Advisor, Bhanwala will mentor Omnivore's portfolio companies, advise on new investments, and help develop the fund's rural fintech investment strategy.
Bhanwala was NABARD chairman from 2013 to 2020.
As head of NABARD, the Indian government's apex development bank, he oversaw all aspects of agricultural credit and the supervision of regional rural banks and cooperative banks.
13) Answer: E
Magma Fincorp Ltd announced a series of leadership changes, including appointment of Adar Poonawalla as the chairman of the company.
The non-banking finance company's (NBFC's) board also appointed Abhay Bhutada as its managing director.
The new appointments come following Poonawalla-led Rising Sun Holdings' acquisition of controlling stake in Magma Fincorp through an equity infusion of Rs 3,456 crore earlier this month.
Poonawalla is also the chief executive officer of Pune-based Serum Institute of India, the world's largest vaccine manufacturer.
Vijay Deshwal, currently working at private sector lender ICICI Bank, as its business head, will take charge as the chief executive officer (CEO) of Magma Fincorp in July.
14) Answer: C
The Centre appointed J.B. Mohapatra was the interim chief of the Central Board of Direct Taxes (CBDT) for three months.
CBDT chairman P.C. Mody's extended tenure ended on May 31 and in his place Mr. Mohapatra, who was made a member of the apex policy-making body of income tax only last week, has been asked to officiate as the chairman for three months or till the appointment of the regular chairman.
Mr. Mody was given a three-month extension in February, effective from March to May 31.
15) Answer: D
State-owned Canara Bank has appointed S K Majumdar as its chief financial officer (CFO) with immediate effect.
Canara Bank stated 'S K Majumdar, general manager of the bank has been designated as Chief Financial Officer (CFO) of the bank with immediate effect from May 31, 2021 in place of V Ramachandra, chief general manager.
Majumdar, 52, is a chartered accountant and cost accountant by qualification.
He has over 21 years' experience in banking in various capacities and departments.
He has been associated with the bank since January 2000.
16) Answer: B
In a major turn of events in the ongoing tussle between the Centre and Mamata Banerjee-led West Bengal government over the repatriation of Chief Secretary Alapan Bandyopadhyay, Chief Minister Mamata Banerjee informed that Bandyopadhyay has retired and the Bengal government has appointed him as chief advisor to the CM for the next three years.
Notably, the Centre had first given Bandyopadhyay a three-month extension on the Bengal government's request.
17) Answer: E
Rear Admiral IB Uthaiah, VSM took over as the Admiral Superintendent, Naval Dockyard, Visakhapatnam from RearAdmiral Sreekumar Nair, NM during a formal ceremony held on 31 May 21.
Rear Admiral IB Uthaiah, VSM was commissioned into the Indian Navy in Nov 1987.
The Admiral holds a B Tech Degree in Marine Engineering, an M Tech Degree in Mathematical Modelling and Computer Simulation and an M Phil Degree in Strategic Studies.
In his 33 years of service, the Admiral has served the Indian Navy in various capacities, with appointments at the Warship Design Directorate, Training Academies, Naval Dockyard and at
the Command and Naval Headquarters.
18) Answer: D
World Milk Day is an international day established by the Food and Agriculture Organization of the United Nations to recognize the importance of milk as a global food.
It has been observed on June 1 each year since 2001.
The theme and focus of World Milk Day 2021 is: "Sustainability in the dairy sector" with messages on nutrition.
India is one of the largest producers of milk in the world.
19) Answer: B
India's Nagraj Adiga has been elected as the Asia-Oceania Representative at the recently concluded 2021 International Association of Ultrarunners (IAU) Congress at which the IAU council elections were held.
The pandemic caused the congress to be virtual and elections were held online from the 22 May 2021 onwards.
For the Asia-Oceania representative, voting was held over a 24-hour period where a total of ten countries from Asia and Oceania region casted their online vote.
Adiga, who was nominated for elections by the Athletics Federation of India, got elected by a margin of 7-3 against South Korea's Gilsoo Park.
20) Answer: C
Mexican author Valeria Luiselli has won the 2021 DUBLIN Literary Award, sponsored by Dublin City Council, for her novel Lost Children Archive (published by 4th Estate (Harper Collins) in the UK and Vintage Books (Alfred A. Knopf) in the USA.
With prize money of €100,000, the Award is the world's largest prize for a single novel published in English.
Valeria Luiselli is the first writer from Mexico and the fifth woman to claim the prestigious award in its 26 year history.
21) Answer: B
Bollywood actor Sanjay Dutt was thrilled to receive a golden visa for the United Arab Emirates (UAE).
The 61-year-old actor mentioned that he was honoured to receive the prestigious visa "in the presence of Major General Mohammed Al Marri, Director General of General Directorate of Residency and Foreigners Affairs (GDRFA) – Dubai".
The UAE government has introduced the Golden Visa initiative for long-term residents to encourage foreigners to work, live, study and conduct business in the country without requiring national sponsors.
Through this initiative, foreign investors and businessmen get complete ownership of their businesses in the country.
These golden visas are issued for five or 10 years, which automatically get renewed.
22) Answer: E
The authors made history by winning the prestigious International Business Book of the Year Award for 2021 for their recently launched book Transformation in Times of Crisis, published by Notion Press.
The Business Book Awards is one of the biggest and most prestigious events in the calendar for business book writers all over the world.
23) Answer: D
To empower farmers with advance information about the possible pink bollworm infestation in cotton fields so that they could take preventive and control measures, Professor Jayashankar Telangana State Agricultural University (PJTSAU) has signed a memorandum of understanding with Wadhwani Institute for Artificial Learning, Mumbai, for providing AI-based interventions.
The Agriculture Department, Krishi Vignan Kedras of the Agriculture University, Information Technology department and Wadhwani Institute would participate in the project.
24) Answer: B
On May 29, 2021, the Indian Coast Guard (ICG) Offshore Patrol Vessel (OPV) 'Sajag' was commissioned by National Security Advisor Ajit Doval.
It has been constructed by Goa Shipyard Limited.
Sajag is the third in a series of five offshore patrol vessels indigenously designed.
The ship is fitted with advanced technology equipment, weapons and sensors capable of carrying a twin engine helicopter and four high speed boats.
25) Answer: E
Scientists have fabricated a device that can mimic human brain cognitive actions and is more efficient than conventional techniques in simulating artificial intelligence, thus enhancing the computational speed and power consumption efficiency.
It has been devised by Scientists from Jawaharlal Nehru Centre for Advanced Scientific Research, Bengaluru, an autonomous institute of the Department of Science & Technology, Government of India.
It has been recently published in the journal 'Materials Horizons'.
26) Answer: C
Cricket legend, commentator and one of Team India's most successful coaches, Ravi Shastri has Penned a book titled 'Stargazing: The Players in My Life'.
The book will be published by HarperCollins India.
It is expected to be released on June 25, 2021.
The book is co-authored by Shastri and Ayaz Memon.
Shastri has written about some 60 extraordinary talents he has met from across the world who have inspired him in the book.