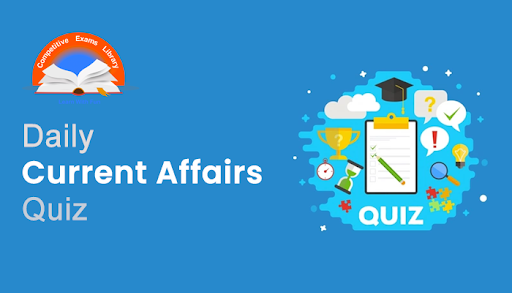 Dear Readers, Daily Current Affairs Questions Quiz for SBI, IBPS, RBI, RRB, SSC Exam 2021 of 01st May 2021. Daily GK quiz online for bank & competitive exam. Here we have given the Daily Current Affairs Quiz based on the previous days Daily Current Affairs updates. Candidates preparing for IBPS, SBI, RBI, RRB, SSC Exam 2021 & other competitive exams can make use of these Current Affairs Quiz.
1) International Labour Day or May Day is Observed on which date?
A) May 12
B) May 11
C) May 1
D) May 4
E) May 3
2) Soli Sorabjee who passed away was an eminent ____.
A) Director
B) Singer
C) Producer
D) Lawyer
E) Actor
3) NFAI brought out a rich treasure of audio recordings on the occasion of _____birth anniversary of Dadasaheb Phalke.
A) 143rd
B) 145th
C) 149th
D) 150th
E) 151st
4) I&B Ministry assemble year-long centenary celebrations of who among the following?
A) Sandip Ray
B) Uttam Kumar
C) Soumitra Chatterjee
D) Satyajit Ray
E) Bijoy Ray
5) The Finance Ministry has planned to provide additional amount of upto Rs ____ crore to States.
A) 10000
B) 11000
C) 12000
D) 13000
E) 15000
6) Which country has recently unveiled core module of its space station?
A) Israel
B) France
C) China
D) Japan
E) Germany
7) Which state government has handed over Rs 61 crore into accounts of over 6.10 lakh street vendors of the state?
A) Uttar Pradesh
B) Chhattisgarh
C) Bihar
D) Madhya Pradesh
E) Haryana
8) The government of which state has initiated the Corona Warriors Scheme?
A) Chhattisgarh
B) Madhya Pradesh
C) Haryana
D) Bihar
E) Kerala
9) The Agriculture Minister reported Target of food grains production for 2021-22 is _____ million tonnes.
A) 150
B) 200
C) 250
D) 350
E) 307
10) Which of the following company has received a CCI approval for the BigBasket deal?
A) Bata
B) Reliance
C) Tata Group
D) Exon
E) ITC
11) Union Minister Ravi Shankar Prasad represents India at which of the following forums recently?
A) ASEAN
B) SAARC
C) G-11
D) G-7
E) G-5
12) Which company has declared cash incentives for vaccinating 150,000 drivers?
A) Maruti
B) Uber
C) Hyundai
D) Tata
E) Ola
13) Which of the following group has declared new chiefs for insurance business?
A) HDFC
B) SBI
C) Axis
D) ICICI
E) Kotak Mahindra
14) Samir Seksaria has been appointed as CFO of which company?
A) HDFC
B) Religare
C) TCS
D) Axis bank
E) ITC
15) Rohit Sardana Passed away recently was an eminent ___.
A) Producer
B) Actor
C) Singer
D) Journalist
E) Author
16) Who has been appointed as the new MD and CEO of Exide Industries?
A) Anand Kumar
B) Subir Chakaraborty
C) Shri Varma
D) Rahul Tripathi
E) Sudhir Mishra
17) US Army-led NATO military exercises DEFENDER-Europe 21 launched in which country?                  
A) Afghanistan
B) Uzbekistan
C) Albania
D) Ethiopia
E) Uganda
18) Indian Navy unveiled which operation for Shipment of Oxygen-filled Containers to India?
A) Op Set Rakshak – II
B) Op Rakshak
C) Op Setu Rakshak
D) Op Samudra Setu-II
E) Op Setu-Samudra
19) Finance Minister Nirmala Sitharaman has inaugurated India's first 3D printed house at which institution?
A) IIT Bengaluru
B) IIT Guwahati
C) IIT Chennai
D) IIT Delhi
E) IIT Madras
20) Indian Scientists have developed a high-yielding and pest-resistant variety of _____.
A) Moong Daal
B) Brinjal
C) Soyabean
D) Rajma
E) Urad Dal
21) Brand Finance Report : LIC has been valued at ______ insurance brand, third-strongest globally.
A) 8th
B) 9th
C) 12th
D) 10th
E) 11th
22) The Central government has let out in advance over Rs ______ crore for SDRF to all States.
A) 7273
B) 7873
C) 7500
D) 8500
E) 8873
Answers :
1) Answer: C
Labour Day is an annual holiday to celebrate the achievements of workers.
Labour Day has its origins in the labour union movement, specifically the eight-hour day movement, which advocated eight hours for work, eight hours for recreation, and eight hours for rest.
May 1 is the International Day of Workers or International Labour Day dedicated to workers and labourers across the world.
This day celebrates labourers and encourages them to be aware of their rights.
The day has its origins in the labour union movement, specifically the eight-hour day movement.
It is also celebrated in countries in Central America, South America, and in some parts of the Caribbean.
In the United States, Australia, and Canada, Labor Day or Labour Day is celebrated at different times of the year.
India celebrated the first Labour day in the year 1923 and the day is referred nationally as Antarrashtriya Shramik Diwas or Kamgar Din.
Peter J. McGuire, a carpenter and labor union leader, was the person who came up with the idea for Labor Day.
He thought American workers should be honored with their own day.
He proposed his idea to New York's Central Labor Union early in 1882, and they thought the holiday was a good idea, too.
2) Answer: D
On April 30, 2021, Former Attorney General of India and renowned jurist Soli Sorabjee Passed away.
He was 91.
He was designated senior counsel of the Supreme Court in 1971.
He served as the Solicitor General of India from 1977 to 1980.
He became the Attorney General of India for the first time from 1989 to 1990 and then from 1998 to 2004.
He was appointed by the United Nations as a Special Rapporteur for Nigeria in 1997 to report on the human rights situation in that country.
Also, he became a member and later chairman of the UN Sub Commission on the Promotion
3) Answer: E
On the occasion of the 151st birth anniversary of the father of Indian cinema, Dadasaheb Phalke, the National Film Archive of India (NFAI) has published a rich treasure of audio recordings in the public domain.
About 8000 minutes of interviews of veteran film artists from the Indian film industry are now made available on the NFAI website.
Starting from the silent era of Indian cinema, these are the fascinating tales of journeys of actors, technicians, producers, directors and studio owners.
Conducted mostly in the 1980s, these interviews were recorded as part of the Oral History Project of NFAI's Research Programme and features long interviews of pioneering film personalities, narrating the experiences about their life, stories and anecdotes from the world of cinema.
4) Answer: D
In homage to the legendary filmmaker, the Ministry of Information & Broadcasting will organize year-long centenary celebrations of late Satyajit Ray across India and abroad.
Satyaji Ray was a renowned filmmaker, writer, illustrator, graphic designer, music composer.
He started his career in advertising and found inspiration for his first film, Pather Panchali, while illustrating the children's version of the novel by Bibhutibhushan Bandopadhyay.
The film catapulted him into international fame.
Ray went on to make other great films such as Charulata, Agantuk and Nayak.
He was also a prolific writer, making the famous sleuth Feluda and scientist Professor Shonku, a popular part of Bengali Literature.
The Government of India honoured him with the Bharat Ratna, the highest civilian award, in 1992.
5) Answer: E
The Finance Ministry has decided to provide an additional amount of upto 15 thousand crore rupees to States as interest free 50 year loan for spending on capital projects.
The Department of Expenditure has issued fresh guidelines in this regard on the Scheme of Financial Assistance to States for Capital Expenditure for the financial year 2021-22.
Capital expenditure creates employment, especially for the poor and unskilled, has a high multiplier effect, enhances the future productive capacity of the economy and results in a higher rate of economic growth.
The Finance Ministry said, despite the adverse financial position of the Centre, it was decided last year to launch a Scheme for Special Assistance to States for Capital Expenditure.
Under the Scheme, financial assistance is provided to the State Governments in the form of 50-year interest free loan.
6) Answer: C
China launched the core module of its space station, kicking off a series of key launch missions that aim to complete the construction of the station by the end of next year.
The Long March-5B Y2 rocket, carrying the Tianhe module, blasted off from the Wenchang Spacecraft Launch Site on the coast of the southern island province of Hainan.
The Tianhe module will act as the management and control hub of the space station Tiangong, meaning Heavenly Palace, with a node that could dock with up to three spacecraft at a time for short stays, or two for long, Bai Linhou, deputy chief designer of the space station at the China Academy of Space Technology (CAST) said as reported by China's state news agency.
7) Answer: D
Madhya Pradesh government transferred Rs 61 crore into the accounts of more than 6 lakh 10 thousand street vendors of the state through Direct Benefit Transfer.
Meanwhile, the state reported 12,400 new cases while 13,584 patients have recovered.
The state's recovery rate has been 83 percent.
Chief Minister Shivraj Singh Chauhan said that the government is fully committed to remove the difficulties faced by the poor due to covid pandemic.
Meanwhile, the rate of corona infection is continuously decreasing.
The state stands at 14th place in the country in terms of corona infection.
The number of active cases of corona in the state has come down to 90 thousand 796.
The average positivity rate of the state has declined to 21.1%.
Chief Minister Mr Chouhan said that the state is now getting adequate amounts of oxygen.
On 29 April, the state received 556.2 MT of oxygen, while the state consumed 467 MT of oxygen.
8) Answer: B
In Madhya Pradesh, the state government has launched the Corona Warriors Scheme.
The government will take the responsibility of family members of health workers who have passed away while on Corona duty.
Their families will be given an honorarium of Rs 50 lakhs by the government.
Meanwhile Chief Minister Shivraj Singh Chouhan has said that the Corona vaccination campaign of people above 18 years of age cannot be started from May 1st due to non-receipt of vaccines from the manufacturing companies.
The vaccines are likely to be received in the state on May 3rd.
The Covid vaccine will be administered free of cost to those above 18 years of age.
Chief Minister Mr Chouhan while reviewing COVID conditions directed that new vaccination centers should be established in view of Corona infection, vaccination work should not be done in hospitals.
So far 80 lakh 66 thousand 980 doses of Corona vaccines have been administered in the state, out of which 70 lakh 19 thousand 763 first and 10 lakh 47 thousand 217 second doses have been administered.
9) Answer: E
Agriculture Minister Narendra Singh Tomar has said that the target of foodgrains production for 2021-22 is 307 million tonnes.
Mr Tomar said while addressing the National Conference on Agriculture for Kharif Campaign-2021.
He said, higher production targets for pulses and oilseeds are important to reduce our dependence on import and to achieve the dream of Aatmanirbhar Bharat.
During the conference, the discussion was held to review and assess the preparedness for management of Kharif crops and ensuring availability of seeds, pesticides, fertilizers, machinery and their prepositioning at Block levels.
Mr Tomar said, agriculture sector has shown its resilience amid the adversities of COVID-19 pandemic.
He said, Agriculture and allied sectors have registered a continuous growth in GDP contribution.
As per Economic Survey 2020-21, the share of agriculture in GDP increased from 17.8 per cent in 2019-20 to 19.9 per cent in 2020-21.
10) Answer: C
The Tata group's foray into the India's growing e-grocery market has been sealed with the Competition Commission of India giving its nod to its $1 billion acquisition of BigBasket.
In a statement, the CCI said that it has given its approval for Tata Digital, a subsidiary of Tata Sons, acquiring 63.4 per cent acquisition of Supermarket Grocery Supplies Ltd, a B2B entity that owns online retail firm BigBasket.
The deal, sources say, values BigBasket at over $1.8 billion and is likely to provide an exit to both majority and minority stakeholders in the internet company, such as Chinese internet giant Alibaba.
Tata Digital is also in the process of taking on the likes of Vijay Shekhar Sharma's Paytm in developing India's first 'super-app' and is already in talks to acquire e-pharma start-up 1mg.
11) Answer: D
Union Minister Ravi Shankar Prasad represented India at the G-7 Digital and Technology Ministerial Meeting.
India's efforts to bring digital inclusion and empower ordinary citizens through the use of technology under the Digital India programme.
The Minister also shared India's views on ensuring trust in the digital ecosystem, securing data privacy of users and creating a safe cyberspace with the G-7 Digital Ministers.
12) Answer: B
Uber unveiled a Rs 18.5 crore (USD 2.5 million) initiative to get 150,000 drivers on its platform vaccinated over the next six months.
The company said in a statement, car, auto and Moto drivers on its platform showing valid digital vaccination certificates would be eligible for Rs 400 for each of their two Covid vaccine shots.
Head of Supply & Driver Operations, Uber India South Asia, Pavan Vaish, said, "We will soon begin communicating this initiative to drivers across all our product lines, and encourage them to take up the offer."
13) Answer: E
Kotak Mahindra Group announced two key appointments for their insurance businesses.
Mahesh Balasubramanian will be the Managing Director of Kotak Mahindra Life Insurance and Suresh Agarwal will be the Managing Director and CEO of Kotak General Insurance.
These appointments will be effective May 1, 2021.
These moves come as G Murlidhar completes a 10-year term as the Managing Director of Kotak Life and superannuates on 30th April 2021.
He is one of the founding members of Kotak Life, and has played a pivotal role in not only growing the company to be profitable but also establishing it as a very high quality standard company, making Kotak Life amongst the leading Life Insurance companies in India.
14) Answer: C
Tata Consultancy Services (TCS) veteran Samir Seksaria  took over as Chief Financial Officer of the country's largest IT services firm.
He replaces V Ramakrishnan who retired a day earlier.
Seksaria started his career in 1999 and spent his early years in consulting assignments involving regulatory compliance and M&A spin-offs, amongst others.
He moved to Corporate Finance in 2004 and played a critical role in the company's IPO.
Prior to being appointed as CFO, he was heading the financial analytics, planning and business finance functions.
15) Answer: D
On April 30, 2021, Well-known TV journalist and anchor Rohit Sardana Passed away.
He was 40.
Rohit Sardana had long been associated with Zee Media.
He used to host the popular show – 'Taal Thok Ke', a debate programme that discusses contemporary issues in India on Zee News.
Presently Rohit Sardana, who has been the face of TV media for a long time, used to anchor the show 'Dangal', which aired on 'Aaj Tak' news channel.
Sardana was hugely popular with the masses for his good debating skills.
16) Answer: B
Subir Chakraborty has taken over as MD and CEO of the storage battery major Exide Industries.
He has replaced Gautam Chatterjee, who has now been appointed as 'whole-time advisor' to the board of the company from May 1, 2021, for a period of three years.
Chatterjee, a veteran in the company for the last 39 years, was reappointed as MD & CEO for two years from May 1, 2019 till April 30, 2021.
He will also cease to be a member of the board of directors of the company with effect from May 1.
Based on the recommendation of the nomination and remuneration committee (NRC) and subject to approval of the shareholders, the board of directors approved the appointment of Chakraborty as MD and CEO, Exide said in a stock exchange filing.
17) Answer: C
On April 26, 2021, The US-Army led multinational, joint exercise 'DEFENDER-Europe 21' was kicked off in Albania.
It will be conducted in more than 30 training areas in 12 countries during April, May and June, including Western Balkan countries.
This was the annual US-led military exercises.
It will consist of 28,000 forces from 26 nations, including the United States, NATO countries and their allies.
It is designed to build readiness and interoperability between US and NATO and partner militaries.
18) Answer: D
Indian Navy has launched Operation Samudra Setu-II to augment the ongoing national mission for meeting the Oxygen requirements.
Mission deployed Indian Naval warships will undertake shipment of liquid Oxygen filled cryogenic containers and associated medical equipment in support of the nation's fight against COVID-19.
Two ships INS Kolkata and INS Talwar have entered port of Manama, Bahrain for embarking and transporting 40MT of liquid oxygen to Mumbai.
INS Jalashwa is enroute to Bangkok and INS Airavat to Singapore for similar missions.
Last year Indian Navy had launched Operation Samudra Setu as part of the Vande Bharat Mission and repatriated approx 4000 (3992) stranded and distressed Indian citizens from Maldives, Sri Lanka and Iran.
19) Answer: E
On April 27, 2021, Union Finance Minister Nirmala Sitharaman inaugurated the country's first 3D printed house at IIT, Madras.
The single-storey home has a built-in area of 600 sq. ft. and a functional space comprising a single bedroom, hall, and kitchen.
It has been built in just five days.
The entire ensemble is designed, developed, and realised by Tvasta's indigenous 'Concrete 3D Printing' Technology, which was developed by the faculty members and alumni of the IIT-Madras back in 2018.
It was developed in association with Habitat for Humanity's Terwilliger Centre for Innovation in Shelter.
The 3D Printed House would help to meet the deadline of Prime Minister Narendra Modi's vision of 'housing for all' scheme by 2022.
20) Answer: C
Indian Scientists have developed a high-yielding and pest-resistant variety of soybean MACS 1407.
It is suitable for cultivation in the states of Assam, West Bengal, Jharkhand, Chhattisgarh and North-Eastern states.
Scientists from MACS- Agharkar Research Institute, Pune, in collaboration with Indian Council of Agricultural Research, New Delhi have developed this higher yielding varieties and improved practices for the cultivation of soybean.
The new variety MACS 1407 gives 39 quintals per hectare and it is also resistant to major insect pests like girdle beetle, leaf miner, white fly and defoliators.
It is suitable for rain-fed conditions of north- east India.
21) Answer: D
State-owned insurance giant Life Insurance Corporation has emerged as the strongest and the tenth most valuable insurance brand globally in Brand Finance Insurance 100 report for 2021.
The annual report is released by London-based brand valuation consultancy firm Brand Finance.
Purpose :
To identify the most valuable and strongest insurance brands globally.
However, LIC's brand value increased by almost 7 per cent to $8.65 billion.
There are five Chinese insurance companies in the top 10 most valuable insurance brands globally, with Ping An Insurance emerging the world's most valuable insurance brand, despite recording a 26 per cent drop in brand value.
In the strongest insurance brands category, Italy's Poste Italiane was at top position, followed by Mapfre of the US and LIC of India.
However, the total brand value of the world's top 100 most valuable insurance brands declined by 6 percent from $462.4 billion in 2020 to $433.0 billion in 2021.
22) Answer: E
As a special dispensation, the Centre has released in advance over 8873 crore rupees for State Disaster Response Fund (SDRF) to all the States.
The States can use up to 50 percent of the released amount for COVID-19 containment measures, that include meeting the cost of oxygen generation and storage plants in hospitals, ventilators, strengthening ambulance services, COVID-19 hospitals, thermal scanners, personal protective equipment, testing laboratories and testing kits.
The Finance Ministry has released the amount ahead of the normal schedule of the 1st installment of SDRF, which is generally released in the month of June.
However, in relaxation of the normal procedure, not only the release of SDRF has been advanced, the amount has also been released without waiting for the utilization certificate.