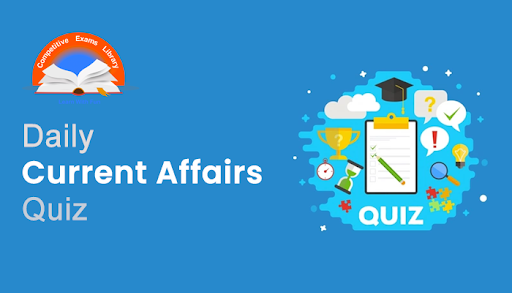 Dear Readers, Daily Current Affairs Questions Quiz for SBI, IBPS, RBI, RRB, SSC Exam 2021 of 02nd April 2021. Daily GK quiz online for bank & competitive exam. Here we have given the Daily Current Affairs Quiz based on the previous days Daily Current Affairs updates. Candidates preparing for IBPS, SBI, RBI, RRB, SSC Exam 2021 & other competitive exams can make use of these Current Affairs Quiz.
1) Odisha Foundation Day is Observed on which date?
A) April 11
B) April 2
C) April 1
D) April 3
E) April 4
2) Cabinet Approves Production Linked Incentive Scheme for Food Processing Industry with an outlay of ______ crores.
A) 10600
B) 10400
C) 10300
D) 10900
E) 10500
3) The Government recently announced Interest Rates on Small Savings Schemes for Q1 of FY 2021-22 (April-June) which will remain effective till which date?
A) August 30
B) July 30
C) May 30
D) April 30
E) June 30
4) The Deadline for Linking PAN-Aadhaar has recently been Extended to which date?
A) September 30
B) June 30
C) May 30
D) July 30
E) August 30
5) AYUSH Ministry has asked for applications for Prime Minister's Yoga Awards where the winners will receive a _____ lakh cash awards.
A) 35
B) 20
C) 25
D) 10
E) 15
6) Government has recently unveiled an All-India Survey of Migrant Workers which is done every ______.
A) Annually
B) Bi-Annually
C) Monthly
D) Quarter
E) Week
7) Lightweight Bullet Proof Jacket has been developed by which of the following institution?
A) HAL
B) ISRO
C) BEL
D) BDL
E) DRDO
8) International Children's Book Day is observed on which of the following date?
A) April 1
B) April 3
C) April 2
D) April 4
E) April 5
9) Who among the following has inaugurated a new cruise service connecting Hazira port in Surat and Diu Island?
A) NS Tomar
B) Nitin Gadkari
C) Amit Shah
D) Mansukh Mavadiya
E) Prahlad Patel
10) India will participate in the _____ Sherpas meeting of G7 and guest countries.
A) 5th
B) 2nd
C) 1st
D) 3rd
E) 4th
11) Who among the following has held discussion with Tajikistan Defence Minister Colonel General Sherali Mirzo?
A) Prahlad Patel
B) Narendra Modi
C) S Jaishankar
D) NS Tomar
E) Harshvardhan
12) Vikram Misri, India's Ambassador to ______ has recently interacted with representatives of Indian industry in Shanghai.
A) Israel
B) France
C) Germany
D) China
E) Japan
13) World Autism Awareness Day is observed on which of the following date?
A) April 1
B) April 3
C) April 4
D) April 5
E) April 2
14) How many Bangladeshi students will receive the Muktijoddha Scholarships?
A) 1000
B) 1500
C) 1800
D) 1900
E) 2000
15) Vice president recently made an appearance in Bhubaneswar on two-day visit to which city recently?
A) Surat
B) Odisha
C) Pune
D) Delhi
E) Chandigarh
16) In which city/UT has the Training & Awareness Programme organised for Self Help Groups under National Rural Livelihood Mission being held?
A) Gwalior
B) Delhi
C) Chandigarh
D) Kargil
E) Jammu
17) Central Government has suggested upto ______ per cent % tax concession on purchase of new vehicles on submission of scrappage certificate.
A) 10
B) 25
C) 20
D) 15
E) 12
18) The Central government has approved ______ crore project for upgradation of Kargil Zanskar road.
A) 630
B) 650
C) 780
D) 740
E) 720
19) Digital payments have surged recently with UPI transactions crossing ______ lakh crore in March.
A) 7
B) 6
C) 3
D) 4
E) 5
20) RBI has increased the deadline to process recurring online transactions with AFA to which date?
A) July 30
B) May 30
C) September 30
D) August 30
E) October 30
21) Who among the following has taken additional charge as CMD of ONGC?
A) Neelesh Kumar
B) Anand Kumar
C) Ranjit Kumar
D) Subash Kumar
E) Rajesh Kumar
22) As per the WEF's gender gap index 2021,  India has ranked _____ among 156 nations.
A) 130
B) 140
C) 125
D) 115
E) 119
23) Who among the following has been appointed as Chief of Staff, Western Command?
A) Rakesh Singh
B) Harendra Singh
C) Surendra Singh
D) Manjinder Singh
E) Narendra Singh
24) The World Bank has approved a USD ____ million project to upgrade health services in Mizoram.
A) 20
B) 35
C) 42
D) 40
E) 32
25) Who among the following has been appointed as Director General of ESIC?
A) Suresh Makhija
B) Anand Rathi
C) Mukhmeet S. Bhatia
D) Rajesh Gupta
E) Narayan Singh
26) Who among the following has been appointed as additional director of Britannia?
A) Raghuram Rajan
B) Urijit Patel
C) MK Jain
D) NS Vishwanathan
E) BP Kanungo
27) Super Star Rajinikanth will be honoured with _______ Dadasaheb Phalke Award.
A) 52nd
B) 47th
C) 48th
D) 50th
E) 51st
28) Which institution has inked a pact with Agriculture Skill Council?
A) CII
B) FICCI
C) NCML
D) IFFCO
E) NCMS
29) Maruti Suzuki has recently partnered with which bank for vehicle financing?
A) Bank of India
B) UCO
C) Bandhan
D) Karnataka
E) Axis
30) 'Shantir Ogroshena -2021', the Indian Army to participate in Multinational Military Exercise in which country?
A) China
B) Bangladesh
C) Germany
D) Japan
E) Israel
Answers :
1) Answer: C
Odisha Day, also Utkala Dibasa, is celebrated on 1 April in the Indian state of Odisha in memory of the formation of the state as a separate state out of Bihar and Orissa Province with addition of Koraput and Ganjam from the Madras Presidency on 1 April 1936.
In 2021, Odisha is celebrating its 86th statehood day.
Odisha Day is also called Orissa Foundation Day and Vishuva Milan.
On 1 April 1912, the Bihar and Orissa Province were formed.
On 1 April 1936, Bihar and Orissa were split into separate provinces.
The new province of Orissa came into existence on a linguistic basis during the British rule in India, with Sir John Austen Hubback as the first governor.
Under the British rule, Odisha was part of the Bengal presidency, which consisted of the present-day Bihar, West Bengal, and Odisha.
2) Answer: D
The Union Cabinet has approved the Central Sector Scheme called "Production Linked Incentive Scheme for Food Processing Industry (PLISFPI)" with an outlay of Rs.10900 crore.
Scheme will be implemented over a six year period from 2021-22 to 2026-27.
The Project Management Agency (PMA) shall implement the scheme.
PMA will be responsible for appraisal of applications/ proposals, verification of eligibility for support, scrutiny of claims eligible for disbursement of incentive.
The PLI scheme will support creation of global food manufacturing champions and support Indian brands of food products in the international markets.
3) Answer: E
The rate of interest on Small Savings Schemes for the first quarter (April-June) of 2021-22 will remain unchanged as the last quarter (January-March) of 2020-2021.
Earlier on March 31, 2021, the Government had announced a cut in interest rates on various small savings schemes sharply by 40-110 basis points.
However, the orders issued were withdrawn by the government on April 01, 2021.
This marks the fourth consecutive quarter that the government has maintained the rates on such schemes that are effective from April 1 and remain in effect till June 30, 2021.
4) Answer: B
The Central Board of Direct Taxes (CBDT) has extended the last date for the mandatory linking of the Permanent Account Number (PAN) with Aadhaar number till June, 30 2021.
Earlier this deadline was March, 31 2021.
The extension has been done keeping in mind the difficulties arising out of the COVID-19 pandemic.
5) Answer: C
The Ministry of AYUSH has invited applications for the Prime Minister's Yoga Awards (PMYA).
The nomination process for this year has begun from the 30th of March and the last date for the submission of the entries is the 30th of April.
Due to the COVID-19, pandemic the applications for the award were not invited in 2020.
However, like previous years, the AYUSH Ministry will be felicitating the achievers and unsung heroes and institutions of the domain of Yoga, from different parts of the country and across the world with the Prime Minister's Yoga Awards.
The award will be hosted on the MyGov platform, and consists of two National categories for the entities of Indian origin and two International categories for the entities of Indian or foreign origin.
The Ministry of AYUSH said that the winners will be felicitated with a trophy, certificate, and a cash award of 25 lakh rupees, which will be announced on the International Day of Yoga on the 21st of June 2021.
In-case of joint winners, the awards would be divided among the winners.
6) Answer: D
Government launched the All-India Survey of Migrant Workers and All-India Quarterly Establishment-based Employment Survey.
The Labour and Employment Ministry said, the objective of the All-India Survey of Migrant Workers is to study the kind of employment-related migration undertaken by workers.
The survey will provide the details of working and living conditions faced by Migrant Workers and impact of COVID 19 on their world of work.
The All-India Quarterly Establishment-based Employment Survey will provide the employment estimates for establishments employing ten or more workers as well as those employing nine or less workers.
The survey will provide crucial data on the changes in employment situation across the selected sectors on a quarterly basis.
The Ministry said these surveys will plug-in the data gap on various aspects of labour and employment and will aid evidence-based policy making processes.
7) Answer: E
Defence Minister Rajnath Singh has congratulated DRDO and DMSRDE Kanpur for developing a LightWeight Bullet Proof Jacket.
Mr Singh said, India needs more such innovative product design and development to realize the dream of Atma Nirbhar Bharat.
DMSRDE Kanpur, a DRDO laboratory has developed a LightWeight Bullet Proof Jacket weighing 9 kg meeting the qualitative requirements of Indian Army.
The Front Hard Armour Panel jacket was tested successfully at TBRL Chandigarh and met relevant BIS standards.
8) Answer: C
International Children's Book Day (ICBD) is organised annually on 2nd April since 1967, by the International Board on Books for Young People (IBBY), an international non-profit organization, to inspire a love of reading and to call attention to children's books.
Theme 2021: "The Music of Words."
Each year a different National Section of IBBY has the opportunity to be the international sponsor of ICBD and decide upon a theme.
IBBY United States is the sponsor for International Children's Book Day 2021.
9) Answer: D
Union Minister of Ports, Shipping and Waterways (Independent charge) Mansukh Mandaviya launched a new cruise service connecting Hazira port in Surat and Diu Island.
He flagged off this service virtually via video conference.
A cruise ship will leave Hazira every Monday and Wednesday and reach Diu -next day in the morning.
Return journey will take place on the same day in the evening from Diu and end at Hazira- next day in the morning.
One side journey will take 13 to 14 hours time.
A 300 passenger capacity cruise ship will have 16 cabins.
It will make two round trips during the week.
It will take passengers to high-sea on Friday, Saturday and Sunday.
Cruise ship has latested facilities including a gaming lounge, VIP lounge, entertainment on deck etc.
Around four months ago, a ropax ferry service connecting Hazira (Surat) and Ghogha in Bhavnagar district was launched.
It has so far carried one lakh passengers in addition to thousands of vehicles.
10) Answer: B
The second meeting of the Sherpas of G7 and guest countries was held.
India's G7 Sherpa Suresh Prabhu attended the meeting.
External Affairs Ministry spokesperson Arindam Bagchi said the priority issues under the UK's G7 Presidency agenda were discussed, including preparations for the COP26 Summit and global health cooperation.
Mr Bagchi also said that India has been invited as a guest country of the G7 by the UK this year, along with Australia, South Korea and South Africa.
11) Answer: C
External Affairs Minister Dr S Jaishankar held discussions with Tajikistan Defence Minister Colonel General Sherali Mirzo.
The talks were held on the sidelines of the Heart of Asia Ministerial conference in Dushanbe.
Dr Jaishankar said the discussions were focused on further strengthening defence and security cooperation between India and Tajikistan.
12) Answer: D
India's Ambassador to China Vikram Misri interacted with representatives of Indian industry in Shanghai.
He will also launch [email protected] celebrations in Shanghai.
The event was attended by more than 30 representatives representing 8 sectors such as textiles, pharma, electronics, manufacturing, chemicals, IT, banking etc.
Ambassador Misri discussed the issues related to business risk in the fluid current geopolitical scenario.
He also discussed the general issues faced by the businesses such as flights and visas for their Indian employees who want to come back to China.
Amid a geopolitical tussle including tensions in technology and trade, with the western countries led by the US, Chinese companies and businesses are facing sanctions on various counts.
China has also announced tit for tat sanctions, affecting the whole business environment.
Amid the border tensions in Ladakh, India had tightened regulatory requirements last year for investments from China and banned more than 200 Chinese apps which were considered "prejudicial to sovereignty, security of state and public order".
Also, due to the COVID-19 pandemic, global trade flows have been slowed, although there has still been strong demand for medical equipment and supplies which has largely contributed to China becoming India's top trade partner in 2020.
13) Answer: E
The World Autism Awareness Day is observed internationally on 2 April every year, to raise awareness about people with Autism Spectrum Disorder (ASD) throughout the world.
Theme 2021: "Inclusion in the Workplace: Challenges and opportunities in a Post-Pandemic World".
It was adopted by the United Nations General Assembly on 18 December 2007.
World Autism Day is one of only seven official health-specific UN Days.
14) Answer: E
The India Bangladesh ties are historic and multi-dimensional.
India is keen to support the national effort of Bangladesh for the betterment of their own people.
In order to further the people to people ties between the two countries, India provides scholarships for the descendants of the Liberation War fighters of Bangladesh.
The government of India has announced scholarships to 2000 descendants of the Liberation War fighters of Bangladesh under its new Muktijoddha Scholarship scheme.
The scheme was launched in 2017 during the visit of Prime Minister Sheikh Hasina to India.
Under this scheme, 1000 students each from the Higher Secondary and Undergraduate categories have started receiving the amount of scholarship for this year directly in their account.
The new scheme was aimed to benefit 10,000 students from Bangladesh over a period of five years.
The scholarship carries an amount of 20,000 Taka for students of Higher Secondary and 50,000 Taka to Undergraduate category students, who are direct descendants of Muktijoddhas or Liberation War fighters of Bangladesh.
15) Answer: B
Vice President M. Venkaiah Naidu arrived at capital Bhubaneswar on a two days visit to Odisha.
He was received at the airport by the Governor of Odisha Prof Ganeshi Lal, Chief Minister Naveen Patnaik and other top level officials.
The Vice president is scheduled to attend a book release function at the Raj Bhawan in capital Bhubaneswar a short while from now before proceeding to the twin city of Cuttack to inaugurate the 600th birth anniversary of Adikavi Sarala Das.
He will also attend as chief guest at the convocation of Utkal University in Bhubaneswar.
16) Answer: D
In Kargil Ladakh, Rural Development Department Kargil organised one-day Training and Awareness Programme for Self Help Groups under National Rural Livelihood Mission at Sankoo block.
The training was imparted by Mrs Razia Banoo from Agriculture Department and Dr Rigzin Dolkar from KVK Kargil (SUKAST) on Onion Cultivation and other agricultural activities and SHG Formation and Agriculture as a means to boost these SHGs to earn and increase their livelihood.
17) Answer: B
Centre has proposed up to 25 percent tax concession on the purchase of new vehicles on submission of scrappage certificate.
The Road, Transport and Highways Ministry has published the draft rules regarding concession in motor vehicle tax against scrapped vehicles.
Under the draft rules, people will get 25 percent concession on the purchase of personal vehicles with vehicle scrappage certificate while on the purchase of commercial vehicles, the tax relief will be 15 percent.
In case of personal vehicles, the tax concessions will be available upto eight years while for commercial vehicles; it will be upto 15 years.
18) Answer: C
Union Government has approved a 780 Crore rupees project for upgradation of Kargil Zanskar road.
The 2 lane Kargil Zanskar NH 301 road is sanctioned under EPC mode.
Union Minister for Road Transport & Highways Nitin Gadkari approved the upgradation of the 780 Crore project.
Zanskar- Kargil road was declared National Highway in 2017 by the Centre.
This road from Zanskar valley, also connects Suru valley, Sankoo valley of Kargil Ladakh with the Highway.
The road will be a key for economic development of the remote region of Ladakh.
MP Jamyang Tsering Namgyail said, Modi government is fulfilling the major assurances given to Ladakh.
After becoming Union Territory the pace of progress has been multiplied by initiation of various projects like Zojjila Tunnel Construction, Improved Air Connectivity and increase in the total road length by sanctioning various projects under CRF, PMGSY and other schemes.
19) Answer: E
Homegrown digital payments innovation United Payments Interface (UPI) has processed Rs 5.04 lakh crore in transaction value an all time high during March 2021, showed data shared by regulator National Payments Corporation of India (NPCI).
This is a 18 per cent rise from Rs 4.25 lakh crore in February.
In terms of volume, UPI has seen transactions on its platform more than double to 2.73 billion when compared to 1.25 billion in March 2020.
Also, UPI transactions have jumped by 20 per cent from 2.29 billion in February.
For the financial year 2020-21, total transaction value on its network stood
at Rs 34.19 lakh crore.
When it comes to UPI payments, PhonePe, and Google Pay, have the lion's share.
20) Answer: C
The Reserve Bank of India, RBI, extended the deadline to process recurring online transactions with additional factor of authentication, AFA, to 30th September of this year from the last date fixed.
The RBI said, to prevent any inconvenience to the customers, it has decided to extend the timeline for the stakeholders to migrate to the framework by six months.
The framework regarding it mandated the use of AFA during registration and first transaction, with relaxation for subsequent transactions up to a limit of Rs 5,000.
Indian Banks' Association (IBA) and payment gateways had sought additional time to comply with the RBI directive on automatic recurring payment.
On 4th December last year, the RBI had directed all banks including RRBs, NBFCs, and payment gateways that the processing of recurring transactions, domestic or cross-border, using cards or prepaid payment instruments or unified payments interface not compliant with AFA would not be continued beyond 31 st March, 2021.
21) Answer: D
Subhash Kumar has assumed the additional charge as Chairman and Managing Director (CMD) of Oil and Natural Gas Corporation (ONGC) on April 01, 2021. He is serving as Director (Finance) at ONGC.
Kumar succeeds incumbent CMD, Shashi Shanker, who superannuated on March 31, 2021.
22) Answer: B
India has slipped 28 places to rank 140th among 156 countries in the World Economic Forum's Global Gender Gap Report 2021.
In 2020, India ranked 112th among 153 countries.
In the 2021 Global Gender Gap Report, India emerged as the third-worst performing country in South Asia.
India has closed 62.5 percent of its gender gap till date.
For the 12th time, Iceland is the most gender-equal country in the world.
The top 10 most gender-equal countries :
Finland, Norway, New Zealand, Rwanda, Sweden, Ireland and Switzerland.
In regions, South Asia is the second-lowest performer on the index, with 62.3 percent of its overall gender gap closed.
23) Answer: D
Lieutenant General Manjinder Singh, Yudh Seva Medal, Vishist Seva Medal took over as the Chief of Staff, Headquarters Western Command.
After taking over the charge, he laid a wreath at 'Veer Smriti' and paid homage to the martyrs of Western Command.
General Manjinder Singh is an alumnus of Sainik School Kapurthala, National Defence Academy and Indian Military Academy.
The General was commissioned into 19 MADRAS Regiment on 20 December 1986.
In an illustrious career spanning over a period of more than 34 years, the General has tenanted important Command appointments in varied sensitive operational sectors and High Altitude terrains.
He has commanded his Battalion in an intense counter-insurgency environment in J&K, an Infantry Brigade at the line of Control and an Infantry Division as part of Strike Corps.
For his exemplary leadership and devotion to duty towards the Nation, the General has been decorated with Yudh Seva Medal in 2015 and Vishist Seva Medal in 2019.
24) Answer: E
The World Bank Board of Executive Directors has approved a USD 32 million project to improve management capacity and quality of health services in Mizoram, a World Bank statement said.
The project titled "Mizoram Health Systems Strengthening Project" will strengthen the governance and the management structure of the Mizoram Health department and its subsidiaries, the statement said.
It will improve the quality and coverage of services delivered by the state government health systems, and invest in a comprehensive quality assurance programme which would enable quality certification of health facilities, it said.
25) Answer: C
Senior IAS officer Mukhmeet S. Bhatia took over the charge of Director General of Employees' State Insurance Corporation (ESIC) on April 04, 2021.
Bhatia is a 1990 IAS Officer of Jharkhand cadre.
Earlier, he has worked as the Additional Secretary in the Department of Economic Affairs, Ministry of Finance
ESIC is a Statutory and an Autonomous Body under the Ministry of Labour and Employment.
26) Answer: B
Former Reserve Bank of India governor Dr. Urjit Patel has been appointed as Additional Director of Britannia Industries with effect from 31st March, 2021 for tenure of 5 years.
The company has announced that it's board of directors has approved the appointment.
"This is to inform you that the Board of Directors of the company at their meeting held 31 March, 2021, approved the appointment of Dr Urjit Patel, as an additional director of the company in the category of non-executive and independent director with effect from 31 March, 2021 for a term of 5 years i.e., upto 30th March, 2026, subject to approval of the shareholders of the company," Britannia said in a statement to the stock exchange filing.
27) Answer: E
The legendary actor Super Star Rajinikanth has been selected to be honored with the 51st Dadasaheb Phalke Awards, the highest film honour in India.
The iconic actor Rajinikanth will receive the Dadasaheb Phalke award for 2019 for his stupendous contribution to Indian cinema.
Rajinikanth will receive the Dadasaheb Phalke Award on May 3, 2021.
Prime Minister Narendra Modi wished the superstar hearty congratulations in his tweet and said that he was one of the superstars who can boast of being popular across generations.
Rajinikanth has said that he was immensely humbled and honoured to receive the award.
28) Answer: C
NCML signs MoU with Agriculture Skill Council of India for skill development in agriculture sector.
"This will give impetus to agriculture growth through skill enhancement of workforce and make Agriculture a sought after occupation amongst the youth", says Satender Singh Arya CEO, ASCI.
29) Answer: D
The country's largest carmaker Maruti Suzuki India said it has partnered with Karnataka Bank to offer vehicle financing options for potential car buyers.
The company said it has signed a Memorandum of Understanding (MoU) with the Mangaluru-headquartered private sector lender.
Customers can avail the benefits across 858 branches of Karnataka Bank at metro, urban, semi-urban and rural locations.
Under the collaboration, customers can avail loans up to 85 per cent of the on-road price of all new cars from Maruti Suzuki ARENA and NEXA showrooms.
Customers can opt for tenure of up to 84 months for their loans, Maruti Suzuki India (MSI) said in a statement.
30) Answer: B
Indian Army will participate in Multinational Military Exercise namely SHANTIR OGROSHENA -2021.
It will be held in Bangladesh from April 04 to 12, 2021.