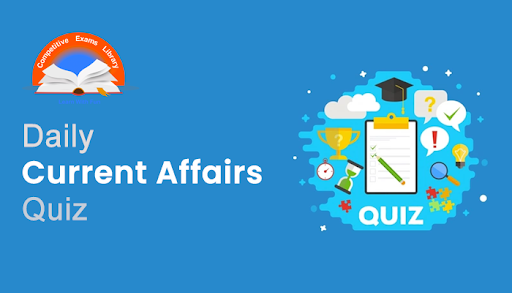 Dear Readers, Daily Current Affairs Questions Quiz for SBI, IBPS, RBI, RRB, SSC Exam 2021 of 02nd February 2021. Daily GK quiz online for bank & competitive exam. Here we have given the Daily Current Affairs Quiz based on the previous days Daily Current Affairs updates. Candidates preparing for IBPS, SBI, RBI, RRB, SSC Exam 2021 & other competitive exams can make use of these Current Affairs Quiz.
1) Indian Coast Guard Day is observed on which of the following date?
A) February 3
B) February 5
C) February 1
D) February 7
E) February 9
2) Which of the following state has decided to set up a Shivalik arboretum?
A) Karnataka
B) Kerala
C) Assam
D) Uttarakhand
E) Haryana
3) Vietnam ruling Communist Party chief Trong has been re-elected for the _____ term recently.
A) 6
B) 5
C) 2
D) 4
E) 3
4) Who among the following will inaugurate the National Tribal Festival 'Aadi Mahotsav'?
A) Ram Nath Kovind
B) Amit Shah
C) Venkiah Naidu
D) Narendra Modi
E) Prahlad Patel
5) Who among the following has inaugurated the India International Silk Fair?
A) Nirmala Sitharaman
B) Prahlad Patel
C) Narendra Modi
D) Smriti Irani
E) Amit Shah
6) Which of the following country has recently applied to join the Asia-Pacific free trade pact?
A) Switzerland
B) Germany
C) France
D) Sweden
E) UK
7) The UK has opened the visa scheme to the residents of ________ to become citizens.
A) Brunei
B) Malaysia
C) Hong Kong
D) Singapore
E) Vietnam
8) Which country has decided to award hydropower project  679 mega watt Lower Arun Hydropower Project to India's Satluj Jal Vidyut Nigam (SJVN)?
A) Madagascar
B) Maldives
C) Sri Lanka
D) Nepal
E) Bhutan
9) Military has seized power in which of the following country and has announced a 1 year emergency?
A) Vietnam
B) Myanmar
C) Brunei
D) Thailand
E) Singapore
10) Insurance stocks advance after FM has proposed a higher FDI limit to _____ per cent recently.
A) 37
B) 49
C) 51
D) 26
E) 74
11) The customers of which bank won't be able to withdraw money from ATMs ?
A) BOB
B) HDFC
C) PNB
D) SBI
E) ICICI
12) Hilton Valentine who passed away at the age of 77 was an eminent ____.
A) Tennis player
B) Director
C) Cricketer
D) Guitarist
E) Hockey player
13) SBI Card has appointed who among the following as MD & CEO for 2 years?
A) Rajesh Tanwar
B) Rama Mohan Rao Amara
C) Sudesh Gupta
D) Nitin Singh
E) Arjun Arora
14) Which of the following company has recently hired Its First Chief Compliance Officer?
A) HP
B) Twitter
C) Apple
D) Google
E) Facebook
15) Which country has recently topped the medals tally at first Asian Online Shooting Championship?
A) Sweden
B) Germany
C) India
D) France
E) US
16) Who among the following led Tamil Nadu to win Syed Mushtaq Ali T20 Trophy?
A) Kedhar Jadhav
B) Ishant Sharma
C) Ajinkya Rahane
D) Dinesh Karthik
E) Rohit Sharma
Answers :
1) Answer: C
The Indian Coast Guard (ICG) will celebrate its 45th Raising Day on Feb 01.
The ICG is an armed force of India that protects maritime interests and enforces maritime law.
The ICG is headed by a Director-General, Vice-Admiral rank of the Indian Navy.
With just seven surface platforms in 1978, the ICG has grown into the fourth largest coast guard with 156 ships and 62 aircraft in its inventory.
The ICG has targeted force levels of 200 surface platforms and 80 aircraft by 2025.
Since its inception in 1977, the ICG has saved over 10,000 lives and apprehended around 14,000 miscreants, the agency said.
Director General, Indian Coast Guard K Natarajan
2) Answer: D
An arboretum showcasing the floral diversity of the Shivalik hills was inaugurated at Jeolikot in Nainital district, Uttarakhand.
It is Mainly for conserving over 210 species of trees found in the Shivalik range of Himalayas.
One of the unique features of the "Shivalik Arboretum" inaugurated by noted environmental activist Ajay Rawat is that the trees standing there introduce themselves to visitors.
Shivalik Arboretum aims to spread nature education among people so that they are able to feel an emotional connection with the trees, and make them more active towards conservation.
The facility will showcase information like scientific information about particular species, cultural significance, medicinal use, country of origin, type of habitat in which it is found and all possible uses including timber, dyes or any other peculiar use.
The tree species include Kaphal (myrica esculenta), Toon (toona ciliata), Tejpat (cinamomum tamala), Banj oak (quercus leucotrichophora) and Buransh (rhododendron arboreum).
Some exotic tree species like Queensland Kauri Pine (agathis robusta), Atlas Cider (cedrus Atlantica) and Montezuma Cypress also stand at the arboretum. PTI ALM HDA
3) Answer: E
Vietnam's ruling Communist Party chief Nguyen Phu Trong, 76, has been re-elected for a rare third five-year term.
Mr Trong was granted an exception to party rules that say people over the age of 65 should retire, cementing his position as one of the country's strongest and longest-serving leaders for decades.
It aims to bolster Vietnam's ongoing economic success, and the legitimacy of the party's rule.
Vietnam's Communist Party governs the nation of nearly 100 million people and has ruled for more than 45 years since reunification.
Leadership of the one-party state is split among three positions: the party chief, a president who serves as head of state and a prime minister who runs the government. Since 2018, Mr. Trong has served as both party leader and president.
A new study by the independent Lowy Institute in Australia ranked Vietnam second in the world behind New Zealand in handling the pandemic's first nine months.
4)  Answer: C
Vice President M Venkaiah Naidu will inaugurate Aadi Mahotsav, a National Tribal Festival at Dilli Haat in INA in the National Capital.
It will continue till 15th Feb.
The Tribal Affairs Ministry said, the Aadi Mahotsav – A Celebration of the Spirit of Tribal Culture, Crafts, Cuisine and Commerce is a successful annual initiative that was commenced in 2017.
The festival was an attempt to familiarise the people with the rich and diverse craft, culture of the tribal communities across the country, in one place.
5) Answer: D
Textiles Minister Smriti Irani inaugurated the 8th India International Silk Fair on Virtual Portal.
India has long history of silk production and is the 2nd largest producer of Silk.
India is the only country in the world which produces all the four major varieties of silk – Mulberry, Eri, Tassar, and Muga.
The fair is considered to be India's biggest silk fair, being held under one roof on Indian Silk Export Promotion Council's virtual platform.
The five days event is being held virtually due to COVID-19 pandemic.
Mrs Irani said that more than 200 overseas buyers have already registered and equal number of their representatives in India will be interacting with more than 100 renowned and big Indian companies manufacturing and trading silk and silk blended products.
She called upon the exhibitors and overseas buyers to take part in this initiative to celebrate the beauty and vibrancy of Indian silk.
6) Answer: E
The UK is applying to join a free trade area made up of 11 Asia and Pacific nations, under its post-Brexit plans.
The Comprehensive and Progressive Agreement for Trans-Pacific Partnership (CPTPP).
The trade agreement formed in 2018 which includes Australia, Brunei, Canada, Chile, Japan, Malaysia, Mexico, New Zealand, Peru, Singapore and Vietnam.
In total, it covers a market of around 500 million people, generating more than 13% of the world's income.
International Trade Secretary Liz Truss will make the request with negotiations expected in the spring.
7) Answer: C
A visa scheme to allow Hong Kong residents to come to the UK opened, with some THREE LAKH people expected to apply.
The visa, which is open to holders of a British National (Overseas) passport and their immediate dependents, will offer a fast track to UK citizenship.
But the Chinese foreign ministry said it would no longer recognize the BNO passport as a travel document.
The UK launched the new visa after China imposed a new security law.
Beijing has previously warned the UK not to meddle in domestic issues.
8) Answer: D
Nepal has decided to award the contract for construction of 679 mega watt Lower Arun Hydropower Project to India's Satluj Jal Vidyut Nigam (SJVN).
This was decided at a meeting of the Investment Board Nepal (IBN), chaired by Nepal Prime Minister KP Sharma Oli.
The project was awarded to the SJVN under the Build, Own, Operate and Transfer (BOOT) delivery method.
Arun III hydel project, which will provide 21 per cent free power to Nepal during the concession period.
9) Answer: B
The Myanmar Military Tatmadaw has announced a one year state of emergency in the country.
The Vice President Myint Swe has been made the acting President and all powers have been transferred to the Commander in Chief Min Aung Hlaing.
The development follows early morning detention of the State Counsellor Aung San Suu Kyi, President Win Myint and other senior leaders from the ruling party National League for Democracy (NLD) by the military.
10) Answer: E
In the Union Budget, Finance Minister Nirmala Sitharaman proposed to amend Insurance Act, 1938 to increase FDI limit from 49% to 74% in insurance companies, and allow foreign ownership and control with safeguards.
Shares of six insurance companies added 3% to 5% after the central government proposed to amend Insurance Act to allow higher foreign direct investment (FDI) in insurance companies.
ICICI Prudential Life Insurance Company (up 5.86%), General Insurance Corporation of India (up 5.41%), The New India Assurance Company (up 5.16%), HDFC Life Insurance Company (up 4.46%), ICICI Lombard General Insurance Company (up 3.68%), SBI Life Insurance Company (up 3.49%) advanced.
11) Answer: C
The Punjab National Bank (PNB) has taken a giant step and won't allow its customers to withdraw money from non-EMV automated teller machines (ATMs) from today(1 February 2021).
To protect our esteemed customers from fraudulent ATM activities, PNB will be restricting transactions (financial and non-financial) from Non-EMV ATM machines from February 1, 2021.
Punjab National Bank has introduced PNB One App that allows PNB debit card users to switch on or off their debit card through this app.
What are non-EMV ATMs
Non-EMV ATMs are those which read data through magnetic strips and do not hold the ATM card during the transaction.
In such ATMs, Data Magnetic Chips enabled reading is done by the ATM machine and for a few seconds one's debit card gets locked.
12) Answer: D
The Animals guitarist Hilton Valentine, who created one of the most famous riffs in pop music in the 1960s, died at the age of 77.
The British band's version of blues standard The House of The Rising Sun topped the UK and US charts in 1964.
The Animals' record label ABKCO Music described Valentine as a pioneering guitar player influencing the sound of rock and roll for decades to come.
Valentine co-founded the Animals in Newcastle in 1963 alongside singer Eric Burdon, bassist Chas Chandler, organist Alan Price and drummer John Steel.
13) Answer: B
SBI Cards and Payment Services Ltd (SBI Card) appointed Rama Mohan Rao Amara as its Managing Director and Chief Executive Officer for a period of two years.
It was effective from 30 January 2021.
Prior to this appointment, Amara, who started his banking career with SBI in 1991 as a probationary officer, was the Chief General Manager of SBI Bhopal circle.
Rao is a veteran banker, with a successful career spanning over 29 years at SBI, the credit card company said in a release. Prior to taking charge at SBI Card, he was the Chief General Manager, SBI Bhopal Circle.
14) Answer: E
Facebook Inc. has hired its first chief compliance officer, as the social media company faces increasing scrutiny from regulators.
About Henry Moniz :
Henry Moniz, who has been the chief compliance officer and chief audit executive at media company ViacomCBS Inc., will join Facebook on Feb. 8 to lead the company's global compliance team, according to Facebook.
He will be the first person to hold the compliance chief title at Facebook.
Mr. Moniz was previously the chief compliance officer and chief audit officer at Viacom before its merger with CBS.
He also previously worked as a partner at law firm Bingham McCutchen LLP, which is now Morgan, Lewis & Bockius LLP, and as an assistant U.S. attorney in Miami and Boston.
15) Answer: C
India's 24-member shooting contingent topped the medals tally in the first Asian Online Shooting Championship.
The squad won four out of the eight gold medals on offer, besides two silver and five bronze medals, for a total of 11 podium finishes.
The two-day competition, held on Thursday and Friday, was organised by the Kuwait Shooting Federation and saw 274 shooters from 22 Asian countries take part.
16) Answer: D
Dinesh Karthik-led Tamil Nadu clinched their second national T20 championship as they beat Baroda by seven wickets in the final of Syed Mushtaq Ali T20 Trophy in Ahmedabad.
This was Tamil Nadu's second Syed Mushtaq Ali Trophy triumph, after winning their first title way back in 2006-07.
Baroda, who had won the title twice in the past (in 2011-12 and 2013-14), ended runners-up this time.
Siddharth (4/20) spun his web around the Baroda batsmen to restrict them to a meagre 120 for 9 and then Tamil Nadu overhauled the target in 18 overs, with opener C Hari Nishaanth top-scoring with 35.
Chasing 121 for a win, Tamil Nadu lost opener Narayan Jagadeesan (14) early as pacer Lukman Meriwala (1/34) picked up the first wicket, with the opposition at 26/1.
This is the second Syed Mushtaq Ali Trophy (SMAT) title for Tamil Nadu, and their first title in 13 years. The team claimed their first SMAT title in 2006-07, that too under Karthik's captaincy.
The Player of the match title was won by Manimaran Siddharth (Tamil Nadu) who picked 4 wickets, conceding 20 runs