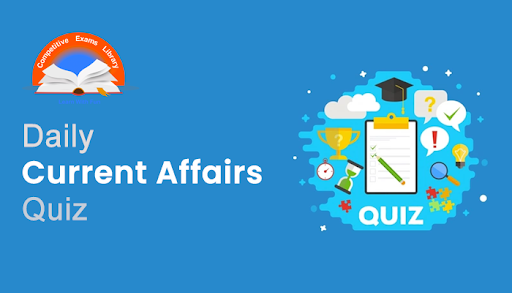 Dear Readers, Daily Current Affairs Questions Quiz for SBI, IBPS, RBI, RRB, SSC Exam 2021 of 02nd January 2021. Daily GK quiz online for bank & competitive exam. Here we have given the Daily Current Affairs Quiz based on the previous days Daily Current Affairs updates. Candidates preparing for IBPS, SBI, RBI, RRB, SSC Exam 2021 & other competitive exams can make use of these Current Affairs Quiz.
1) Global family Day 2020 is observed on which of the following date?
A) January 3
B) January 15
C) January 4
D) January 5
E) January 1
2) Who among the following has recently launched the Global PravasiRishta portal & mobile App to connect with Indian Diaspora across the world?
A) Anurag Thakur
B) Prahlad Patel
C) V.Muraleedharan
D) S.Jaishankar
E) Narendra Modi
3) PM Modi has laid the foundation stone of Light House projects (LHPs) across ___ states via video conference.
A) 4
B) 8
C) 7
D) 6
E) 5
4) Indian Army Chief MM Naravane receives Guard of Honour at Army Headquarters of which country?
A) Israel
B) France
C) South Korea
D) Nepal
E) Bhutan
5) Prime Minister has laid the Foundation stone of AIIMS in which state recently?
A) Chhattisgarh
B) Haryana
C) Bihar
D) Gujarat
E) Madhya Pradesh
6) DRDO has recently celebrated its ____ Foundation Day of its establishment on January 01, 2021.
A) 58th
B) 60th
C) 61st
D) 62nd
E) 63rd
7) PM Modi has inaugurated a permanent campus of IIM Sambalpur in which state?
A) Chhattisgarh
B) Haryana
C) Odisha
D) Bihar
E) Madhya Pradesh
8) Petroleum Minister has launched missed call facility for LPG consumers in which city?
A) Chandigarh
B) Delhi
C) Kolkata
D) Bhubaneswar
E) Indore
9) Who among the following has inaugurated the Virtual Agri-hackathon 2020?
A) Prahlad Patel
B) NitinGadkari
C) Venkiah Naidu
D) Narendra Modi
E) NS Tomar
10) India is all set to begin its ______year tenure as a non-permanent member in UNSC.
A) 6
B) 1
C) 2
D) 3
E) 4
11) Which country has recently changed the words of its national anthem?
A) France
B) Australia
C) England
D) Malaysia
E) Singapore
12) Who among the following has launched the IAF e-Governance (e-Office) portal?
A) Rajnath Singh
B) Anurag Thakur
C) Prahlad Patel
D) RKS Bhadauria
E) Narendra Modi
13) India and ADB have signed USD _____ million loan to augment electricity generation capacity in Assam.
A) 260
B) 245
C) 231
D) 250
E) 247
14) Which state has launched a Crop Relief Scheme – KisanFasalRahatYojana?
A) Karnataka
B) Chhattisgarh
C) Kerala
D) Jharkhand
E) Assam
15) Chief of Naval Staff recently visited INS Dwarka in which state?
A) Madhya Pradesh
B) Karnataka
C) Gujarat
D) Kerala
E) Maharashtra
16) State-owned ______announced the extension of its festival bonanza offer till March.
A) HDFC
B) ICICI
C) SBI
D) BOB
E) PNB
17) Post Office Savings Bank be apt interconnected with other banks by which month?
A) August
B) April
C) March
D) June
E) July
18) RuPay partners with which Bank to introduce 'RuPayPoS'?
A) Axis
B) ICICI
C) SBI
D) RBL
E) HDFC
19) IFSCA has become an associate member of the global lobby group _____.
A) UNICEF
B) UNESCO
C) WB
D) IMF
E) IOSCO
20) P Ravi Kumar appointed as Chief Secretary of which state?
A) Chhattisgarh
B) Telangana
C) Karnataka
D) Gujarat
E) Kerala
21) Who among the following has taken over the charge of new Chairman & CEO of Railway Board?
A) Anand Varma
B) Sumeet Sharma
C) Manoj Kumar
D) Surender Singh
E) Vishesh Singh
22) Soma Mondal has taken over from Anil Kumar Chaudhary as Chairman of which organization?
A) HPCL
B) ONGC
C) BDL
D) SAIL
E) BHEL
23) Narendra 'Bull' Kumar who passed away was a famous ______.
A) Actor
B) Director
C) Writer
D) Singer
E) Mountaineer
24) Who among the following has been appointed Deputy Election Commissioner?
A) Naveen Gupta
B) Sumit Singh
C) UmeshSinha
D) Manoj Kumar
E) Anand Raj
25) Which state government has promoted 3 IPS Officers recently?
A) Haryana
B) Punjab
C) Kerala
D) Chhattisgarh
E) Madhya Pradesh
26) DRDO's 'Scientist of the Year' award has been won by whom?
A) Sushil Gupte
B) Anand Tiwary
C) Hemant Kumar Pandey
D) Manoj Kumar
E) Surender Prakash
27) GST collections for December has been highest ever at Rs ______ lakh crore.
A) 1.05
B) 1.10
C) 1.30
D) 1.24
E) 1.15
28) J&K UT Administration has signed anMoU with which organization?
A) ONGC
B) BHEL
C) HPCL
D) NAFED
E) NAREDCO
29) ADB and India have signed a _____million loan to support project preparation to expand horticulture in Himachal Pradesh.
A) 14
B) 13
C) 10
D) 11
E) 12
30) John Fulton Reid who died at the Age of 64 played for which country?
A) England
B) New Zealand
C) West Indies
D) Australia
E) South Africa
Answers :
1) Answer: E
Global Family Day is an annual celebration observed on January 1st of every year.
People all over the world find no time to spend with their family.
The reason varies from person to person due to their work, living atmosphere, and so on.
This Day is celebrated as the global day of peace and sharing in the United States.
Spending time with the family members has reasonably reduced in recent years.
The Day aims in promoting peace and sharing.
Assembly's declaration made in 1997 started with the theme "One Day of Peace" which was then observed on the first day of every year to welcome the New Year.
2) Answer: C
Minister of State for External Affairs V. Muraleedharan launched the Global PravasiRishta portal and mobile App, to connect with Indian Diaspora across the world.
About the Portal :
The portal will act as a dynamic communication platform between our pravasis, the Ministry of External Affairs and missions abroad and will help in engaging Indian diaspora more intensively.
The portal will also assist the Indian overseas during any crisis management and will also lend a helping hand.
The portal will also contain useful information for the Indian diaspora such as information on passport, visa, and other consular services. It will also have the details about various events that are organized by the missions and the invites will be sent to diaspora members for greater participation.
The dynamic nature of the portal and the app will also allow the ministry to take useful opinions of the Indian diaspora on policy issues, conducting surveys, sharing e-newsletters, etc.
PravasiBharatiya Divas (PBD) is celebrated on 9th January every year to mark the contribution of the Overseas Indian Community in the development of India.
3) Answer: D
On 1st January Prime Minister NarendraModi laid the foundation stone of Light House projects (LHPs) under Global Housing Technology Challenge (GHTC)- at six sites across six States, through video conference.
The projects are being undertaken under the Global Housing Technology Challenge (GHTC).
The LightHouse Projects will be undertaken at Rajkot in Gujarat, Lucknow in Uttar Pradesh, Indore in Madhya Pradesh, Ranchi in Jharkhand, Chennai in Tamil Nadu and Agartala in Tripura.
The project will comprise around 1000 houses at each location along with allied infrastructure facilities.
It will mainly aim to deliver ready to live houses at a fastened pace within twelve months.
The Chief Ministers of all six states took part in the foundation laying ceremony.
It has been conceptualised by the Union Ministry of Housing and Urban Affairs.
The LightHouse Projects will showcase the best use of new-age alternate global technologies, processes and materials in the construction sector at such a large scale for the first time in the country.
These houses will be more economical, sustainable, durable and of high quality in comparison to the conventional brick and mortar construction.
4) Answer: C
Chief of Army Staff General MM Naravane has received a Guard of Honour at Republic of Korea Army Headquarters at Gyeryong, South Korea.
He called on General Nam Yeong shin, Chief of Staff of Korean Army and discussed issues of bilateral defence cooperation.
The Army chief visited the Demilitarized Zone (DMZ) near the border with North Korea. General Naravane visited the 30th Armoured Brigade and DMZ.
During his three day visit, he met senior military and civilian leadership of the Republic of Korea and discussed avenues for enhancing defence relations between the two countries.
5) Answer: D
Prime Minister NarendraModi laid the foundation stone of All India Institute of Medical Sciences (AIIMS) at Rajkot in Gujarat through video conferencing.
Gujarat Governor AcharyaDevvrat, Union Health Minister Dr. Harsh Vardhan and Union Minister of State for Health Ashwini Kumar Choubey were also present on the occasion.
AIIMS will play a big role in ensuring the modern health care facility reaches to the last mile in the State.
Under AIIMS project, 201 acres of land has been allotted near Rajkot.
It will be built at an estimated cost of Rs 1,195 crore and is expected to be completed by mid of 2022.
The state-of-the-art 750-bed hospital will also have a 30-bed AAYUSH block.
It will have 125 MBBS seats and 60 nursing seats.
6) Answer: E
The DRDO observed the 63rd Foundation Day of its establishment on January 01, 2021.
DRDO was established in 1958 with just 10 laboratories to enhance the research work in the Defence sector.
It was tasked with designing and developing cutting edge defence technologies for Indian Armed Forces.
DRDO is working in multiple cutting edge military technology areas, which include aeronautics, armaments, combat vehicles, electronics, instrumentation, engineering systems, missiles, materials, naval systems, advanced computing, simulation, cyber, life sciences and other technologies for defence.
7) Answer: C
Prime Minister NarendraModi will lay the foundation stone of the permanent campus of the Indian Institute of Management (IIM), Sambalpur, on January 2 via video-conferencing.
Odisha Governor GaneshiLal and Odisha Chief Minister Naveen Patnaik along with Union Ministers Ramesh Pokhriyal 'Nishank', DharmendraPradhan and Pratap Chandra Sarangi will also be present on the occasion.
The ceremony will be virtually attended by more than 5,000 invitees, including officials, industry leaders, academicians and students, alumni and faculty of IIM, Sambalpur.
The institute also outscored all other IIMs in terms of highest gender diversity with 49 per cent girl students in the MBA batch of 2019-21 and 43 per cent in the 2020-22 MBA batch.
The proposed campus of IIM Sambalpur will be equipped with State-of-the-art infrastructure with energy efficient green features as per GRIHA standards.
It will be a green campus with maximum usage of renewable energy.
The project is scheduled to be completed by April 2022.
8) Answer: D
Union Minister for Petroleum and Natural Gas and Steel DharmendraPradhan launched the missed call facility for LPG consumers in Bhubaneswar.
Indian Oil LPG customers can now give a missed call to 8454955555 for refill booking for all India and for new connection for Bhubaneswar city.
The Minister also rolled out the second phase of the world class octane 100 premium grade petrol, under the brand XP 100.
The Petroleum Minister said that while about 13 crore people were given LPG connection between 1955 and 2014, now it is about to reach 30 crore, representing a quantum jump there by empowering Indian women.
Rolling out the Indian Oil's branded XP 100 to seven more cities including Bhubaneswar, MrPradhan said it epitomizes the Prime Minister's vision of Purvoday.
"In the line Modi's vision for a Digital India, the missed call facility will play a crucial role in making LPG more easily accessible to the consumers.
The Petroleum Ministry has always strived to improve customer convenience and this facility by IndianOil will play a crucial role in making LPG more easily accessible.
9) Answer: E
Virtual Agri-hackathonAtmanirbharKrishi inaugurated To make Agriculture profitable and attract youth towards agriculture are challenges of the Agri-hackathon
Union Minister of Agriculture & Farmers' Welfare ShriNarendra Singh Tomar said Agri-Startups can help improve the lot of farmers
Building Smart India with Self-Reliant Agriculture.
The application of the hackathon was made live on mygov.in and will remain open till 20 January, 2021.
The hackathon will happen in 3 elimination rounds and the final 24 winners will get a cash prize of INR 1,00,000 along with incubation support, tech & business mentoring and various other benefits.
The hackathon will accept innovations & ideas on farm mechanization, precision agriculture, supply chain & food technology, waste to wealth, green energy, etc.
Narendra Singh Tomar said "In the light of Prime Minister's vision to introduce new-age technology and innovations in agriculture, the Agri India Hackathon is being organised.
It is a proud moment for all of us where young minds will discuss, collaborate, and create some of the best ideas & solutions which will guide us for years to come.
Agriculture is the backbone of our country and plans are afoot to strengthen this backbone with youth engagement, employment generation, technology & digitization".
10) Answer: C
India will begin its two-year tenure as a non-permanent member of the United Nations Security Council (UNSC).
India will sit in the 15-nation UNSC for the 2021-22 term as a non-permanent member — the eighth time that the country has had a seat on the powerful horseshoe table.
On January 1, India, Norway, Kenya, Ireland and Mexico will join non-permanent members Estonia, Niger, Saint Vincent and the Grenadines, Tunisia and Vietnam and the five permanent members China, France, Russia, U.K. and the U.S.
India will be UNSC President in August 2021 and will preside over the council again for a month in 2022.
11) Answer: B
On new year eve, Australia has changed one word in its national anthem to reflect "the spirit of unity" and the country's Indigenous population.
Prime Minister of Australia Scott Morrison announced that the second line of the anthem, Advance Australia Fair, has been changed from For we are young and free to For we are one and free.
Minister for Indigenous Australians Ken Wyatt, who is also the first Indigenous Australian elected to the federal Parliament's lower house, has given his support to the change.
He said that the one-word change was small in nature but significant in purpose.
12) Answer: D
Indian Air Force Chief, Air Marshal R K S Bhadauria launched the IAF e-Governance (e-Office) portal in New Delhi.
Bhadauria launched the portal at VayuBhawan
The launch of the portal is part of Digital India and e-governance initiative that will transform the entire Indian Air Force into a paperless office workflow.
It marks a major shift from the current method of correspondence, filing and documentation to a digital one.
The platform will ensure enhanced transparency, improved efficiency, increased accountability, assured data integrity and rapidly accessible archives along with a major reduction in the use of paper.
This project started in April and was to be completed by January 1, 2021
13) Answer: C
India and Asian Development Bank (ADB) have signed a USD 231 million loan to augment electricity generation capacity in the State of Assam through construction of a 120 MegaWatts hydroelectric power plant that will enhance availability of electricity for households.
This is the third tranche loan for the ongoing Assam Power Sector Investment Programme that was approved by the ADB Board in July 2014.
The programme, including its two previous tranches, focuses on enhancing capacity and efficiency of the energy generation and distribution systems in Assam to improve electricity service to end users.
14) Answer: D
Jharkhand is set to replace the Prime Minister's insurance scheme for farmers with its own crop relief scheme – KisanFasalRahatYojana.
To be launched on December 29, the scheme will take three months to come into effect.
What is Jharkhand's KisanFasalRahatYojana?
It is a compensation scheme aimed at providing security cover to Jharkhand farmers in case of crop damage due to natural calamity.
It will cover both land owning and landless farmers. The Department of Agriculture, Animal Husbandry and Co-operative will be the implementing agency and it will work in association with a project management unit, which will be a consultancy firm that will take care of technical requirements.
Food safety, crop diversification, rapid development in agriculture and paving the way for competition, are among the aims of the scheme. It is not an insurance scheme where premiums are paid.
15) Answer: C
Admiral Karambir Singh, the Chief of the Naval Staff (CNS) visited INS Dwarka, Indian Navy's forward operating base at Okha, Gujarat, on new year's eve.
The CNS was briefed by the Flag Officer Commanding Gujarat, Daman and Diu on maritime operations and security aspects relevant to Gujarat, Daman & Diu (GD&D) Naval Area.
He also took stock of coastal surveillance initiatives by GD&D Area and interacted with personnel from Naval Station Okha and other units.
Appreciating the quality work put in by the station, he encouraged the personnel to keep up the good work as INS Dwarka enters its golden jubilee year.
The CNS also wished all personnel and families at GD&D Area the very best for the new year.
16) Answer: E
State-owned Punjab National Bank NSE 0.92 % (PNB) announced the extension of its festival bonanza offer till March.
The promotional scheme has now been rechristened as "PNB NEW YEAR BONANZA-2021", the bank said in a statement.
"Under the PNB New Year Bonanza 2021 (during the offer period from January 1 to March 31, 2021), PNB will offer a full waiver of upfront or processing fees and documentation charges on all fresh housing loans, takeover housing loans, car loans, and property loans," it said.
About PNB :
17) Answer: B
India Post expects to make the Post Office Savings Bank interoperable with other bank accounts by April and will focus on enhancing digitisation of all services in 2021, a senior official of the department said.
Department of Posts Secretary Pradipta Kumar Bisoi said that The postal department during the lockdown was at the frontline to deliver essential parcels when rail, road and air traffic were grounded and continues to enhance capacity as trains are not fully operational yet.
18) Answer: D
National Payments Corporation of India (NPCI) announced that RuPay has partnered with RBL Bank to launch an innovative payment solution for Indian merchants – RuPayPoS in association with PayNearby.
The RuPayPoS will transform smartphones into merchant Point of Sale (PoS) terminals for the retailers.
Merchants will now be able to accept contactless payments of up to INR 5000 through a simple tap and pay mechanism on his NFC enabled mobile phones.
Customers using RuPay cards or have tokenized their RuPay Cards, can carry out contactless payments for their regular purchases.
The introduction of RuPayPoS to digitally empower merchants by turning their smartphones into a PoS machine
RuPayPoS will provide cost effective acceptance infrastructure to retailers at no additional capital cost.
This unique phenomena will proliferate digital payments acceptance among millions of underserved Indian MSMEs.
19) Answer: E
International Financial Services Centres Authority (IFSCA) has become an associate member of the International Organization of Securities Commissions (IOSCO).
The IOSCO works closely with the G20 nations and the Financial Stability Board (FSB), in setting up the standards for strengthening the securities markets.
The IOSCO Objectives and Principles of Securities Regulation have been endorsed by FSB as one of the key standards for sound financial systems.
The membership of IOSCO will provide the IFSCA a platform to exchange information at the global level, and even at the regional level, on areas of common interests.
With this new membership, IFSCA will get the platform to exchange information at the global level and regional level on areas of common interests and help to learn from the experiences and best practices of the regulators of other well established financial centres.
20) Answer: C
Senior IAS officer P Ravi Kumar has been appointed as Karnataka's 38th chief secretary.
He will replace TM Vijay Bhaskar who will superannuate on December 31 2020.
About P. Ravi Kumar:
He is 1984-batch IAS officer Ravi Kumar is currently additional chief secretary (ACS) and was earlier Karnataka Chief Minister BS Yediyurappa's ACS.
Ravi Kumar is the second senior most IAS officer of Karnataka cadre after Bhaskar.
21) Answer: B
Suneet Sharma has been appointed as the new Chairman & Chief Executive Officer (CEO), Railway Board (Ministry of Railways) and ex-officio Principal Secretary to Government of India.
Prior to this, Suneet Sharma worked as General Manager, Eastern Railway.
He took over in his new role with effect from January 01, 2021.
Suneet Sharma joined the Indian Railways in 1979 as a Special Class Apprentice while he was studying engineering at IIT Kanpur.
He was Chief Workshop Manager, Parel workshop in Mumbai where he was instrumental in manufacturing narrow gauge locomotives for hill railways.
He also restored an old steam narrow gauge locomotive for the heritage Matheran line near Mumbai.
22) Answer: D
Soma Mondal has taken over as Chairman of Steel Authority of India Limited (SAIL) with effect from January 01, 2021.
Before joining SAIL as a Director, Mondal was the Director (Commercial) at fellow Central public sector enterprise, National Aluminium Company Limited (NALCO).
She replaces Anil Kumar Chaudhary, who superannuated on 31 December 2020.
Under her leadership, the company launched niche branded products like NEX (Structural) and SAIL SeQR (TMT bars), a company.
23) Answer: E
Ace mountaineer Colonel Narendra 'Bull' Kumar, 87, who helped India secure the Siachen Glacier, passed away.
He earned the nickname 'Bull' for relentlessly charging into everything he did.
India had launched 'Operation Meghdoot' in April 1984 to gain total control of the strategically-located glacier as well as nearby passes following Col Kumar's ground report about Pakistani activities.
24) Answer: C
UmeshSinha has been appointed as the deputy election commissioner in the Election Commission of India, according to a Personnel Ministry order.
Sinha, a 1986-batch IAS officer (retired) of the Uttar Pradesh cadre, is at present the secretary general in the commission.
The Appointments Committee of the Cabinet has approved extension in the term of reemployment of Sinha as deputy election commissioner on contract basis for a period of six months beyond December 31, 2020, that is up to June 30, 2021, it said.
Sinha is a part of a committee set up by the Election Commission to look into the issue of revising the election expenditure of candidates during campaigning.
25) Answer: B
The Punjab Government has promoted three Additional Director Generals of Police (ADGPs) to the rank of DGP.
ADGPs SanjeevKalra, B K Uppal, and Parag Jain, who are IPS officers, have been promoted to the rank of Director General of Police (DGP) from January 1.
Parag Jain, IPS, who is presently on central deputation with cabinet secretariat, New Delhi would be entitled only to the notional benefits and the actual benefits would be admissible as and when he would join his duty in the state government.
It is mentioned here that SanjeevKalra is ADGP railways at Patiala and BK Uppal is holding charge of state vigilance bureau chief.
26) Answer: C
'LUKOSIN' Developer and Senior scientist Hemant Kumar Pandey has been honoured with DRDO's 'Scientist of the Year Award' for his contribution in developing several herbal medicines, including the popular drug Lukoskin meant for treatment of leucoderma.
A recipient of several prestigious awards for his contribution in the field of herbal medicine, Pandey has been undertaking research at the Defence Research and Development Organisation's (DRDO) lab Defence Institute of Bio-Energy Research (DIBER) at Pithoragarh in Uttarakhand for the past 25 years.
Defence Minister Rajnath Singh had recently facilitated the scientist at an event here with the prestigious award that comprises a certificate and cash prize of Rs 2 lakh.
27) Answer: E
Goods and Services Tax collections for December Rs 1.15 lakh crore, the highest ever since the implementation of the nationwide tax in July 2017.
The previous monthly GST collection record was just short of Rs 1.14 lakh crore in April 2019.
The revenues for the month of December 2020 are 12 percent higher than the GST revenues in the same month in 2019.
In November 2020, the GST collection had crossed Rs 1 lakh croremark.
This has been due to the combined effects of the rapid economic recovery and the nationwide drive against the GST evaders and fake bills along with many systemic changes introduced recently, which have led to improved compliance.
28) Answer: D
In Jammu and Kashmir, the Union Territory Administration signed a historic Memorandum of Understanding (MoU) with National Agricultural Cooperative Marketing Federation of India Ltd. (NAFED), an apex organization of marketing cooperatives for agricultural produce.
The MoU with NAFED is seen as a game changer for the Horticulture sector in Jammu and Kashmir.
High Density plantation of Apple, Walnut, Cherry, Flowers etc has potential to increase the income of farmers by 3 to 4 times.
After signing of the MoU, NAFED to cover 5500 Hectares at a cost of Rs.1700 Crore in the next five years with major focus on Apple, Walnut, Cherry, Pear and other significant horticulture produce. NAFED will also set up 20 Farmer-Producer Organizations, one in each district, in the next three months.
The NAFED will set up three cold storage clusters, one each in North Kashmir, South Kashmir and Kathua at a cost of Rs.500 Crore, besides ensuring Geographical Indications tags (GI Tags) for all premium/niche horticulture produce, branding and marketing of fruit crops like Apple, Walnut, Cherry, Olive, Litchi etc.
29) Answer: C
The Asian Development Bank (ADB) and the Government of India on 30th December 2020 signed a $10 million project readiness financing (PRF).
Mainly to help finance piloting activities, and design and capacity building for an ensuing project that aims to expand horticulture production and farm household income in the hill state of Himachal Pradesh.
The PRF project aims to ensure implementation readiness with prior testing of new production technologies and marketing systems so that the ensuing project is cost-effective and gets completed in a timely manner to enhance farm profitability.
30) Answer: B
On December 28, 2020, John Fulton Reid, New Zealand cricketer passed away. He was 64.
The left-handed batsman, who made his Test debut against Pakistan in 1979, played 19 Tests and 25 ODIs for his country, mostly batting at No 3.
He finished his Test career with a noteworthy average of 46.28, scoring six hundreds. He compiled his highest Test score of 180 against Sri Lanka in Colombo in 1984.
Reid was one of the key members of the successful New Zealand side in the 1980s, and is fondly remembered for his crucial hand of 108 and his stand of 224 with Martin Crowe versus Australia at the Gabba in 1985.
He served as the chief executive of Auckland Cricket,
And then he was appointed the cricket operations manager and high performance manager of New Zealand Cricket.
Reid also played a leading role in the establishment of the National High Performance Centre at Lincoln.