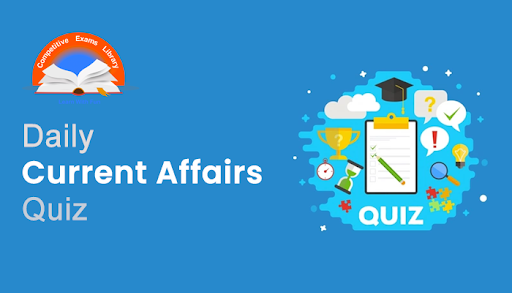 Dear Readers, Daily Current Affairs Questions Quiz for SBI, IBPS, RBI, RRB, SSC Exam 2021 of 02nd June 2021. Daily GK quiz online for bank & competitive exam. Here we have given the Daily Current Affairs Quiz based on the previous days Daily Current Affairs updates. Candidates preparing for IBPS, SBI, RBI, RRB, SSC Exam 2021 & other competitive exams can make use of these Current Affairs Quiz.
1) Telangana Formation Day is Observed on June ___.
A) 5
B) 3
C) 2
D) 1
E) 6
2) New Species of Spider  Cricket – Indimimus Jayanti has been Found in which state?
A) Madhya Pradesh
B) Telangana
C) Kerala
D) Chhattisgarh
E) Bihar
3) Who among the following has launched the digitized versions of NHA's IT platform?
A) Narendra Modi
B) Prahlad Patel
C) NS Tomar
D) Amit Shah
E) Harsh Vardhan
4) The GST Council has formed a ___ member panel to examine GST exemption on Covid material.
A) 9
B) 8
C) 7
D) 5
E) 6
5) Which state's Health Department has introduced the 'doctors ride towards village side' programme?
A) Telangana
B) Uttar Pradesh
C) Haryana
D) Karnataka
E) Kerala
6) OECD forecasts India's Growth projection for FY22 to ____%
A) 7.5
B) 9.1
C) 9.3
D) 9.5
E) 9.9
7) Which institution has set the standards for the railway sector?
A) Central Government
B) Railway Board
C) RDSO
D) ISRO
E) DRDO
8) SBI Economists predict GDP Growth Estimate in FY22 to ___.
A) 6.5
B) 7.9
C) 4.5
D) 5.3
E) 3.1
9) Which institution has cancelled the licence of Shivajirao Bhosale Sahakari Bank?
A) IRDAI
B) NABARD
C) NHB
D) RBI
E) SEBI
10) Who among the following has taken oath as Chief of Personnel?
A) Sunil Mehta
B) Jai Narain
C) Raju Mehta
D) Amit Singh
E) DK Tripathi
11) Which organization labelled two Covid-19 Variants in India as 'Kappa' and 'Delta'.
A) FAO
B) UNESCO
C) WHO
D) UNICEF
E) None of these
12) Who has assumed the presidency of CII ?
A) Man Singh Tomar
B) Gopal Kanda
C) Rajesh Kumar
D) TV Narendran
E) Amit Singh
13) Which institution has honoured Dr Harsh Vardhan with special recognition for tobacco control?
A) UNICEF
B) WHO
C) IMF
D) UNICEF
E) UNESCO
14) Which institution has inked a pact with ESC?
A) ASE
B) CSE
C) NSE
D) OTCEI
E) BSE
15) Which Fintech start-up has tied up with Mahindra Insurance ?
A) Muthoot
B) Axiocorp
C) Boxop
D) Fintel
E) Fincorp
16) Which institution has Launched an online portal 'Bal Swaraj' ?
A) FICCI
B) CII
C) Niti Aayog
D) NCPCR
E) AISEC
17) Bharti backed OneWeb ha successfully launched ___ New LEO satellites.
A) 17
B) 15
C) 14
D) 36
E) 22
18) Which country has successfully launched a cargo spacecraft Tianzhou-2?
A) Israel
B) France
C) Japan
D) Germany
E) China
19) IFFCO has launched the world's ___ Nano Urea Liquid Globally.
A) 5th
B) 4th
C) 1st
D) 2nd
E) 3rd
Answers :
1) Answer: C
Telangana Day commonly known as Telangana Formation Day is a state holiday in the Indian state of Telangana, commemorating the formation of the state of Telangana.
It has been observed annually on 2 June since 2014.
After several years of protest and agitation, the central government, under the United Progressive Alliance, decided to bifurcate the existing Andhra Pradesh state and on 7 February 2014, the Union Cabinet unilaterally cleared the bill for the creation of Telangana.
In the General Elections held in April 2014, Telangana Rashtra Samithi emerged victorious by winning 63 of the 119 seats and formed the government.
Sri K Chandrashekar Rao was sworn in as the First Chief Minister of Telangana.
2) Answer: D
The Zoology Department of Panjab University, Chandigarh, in April 2021 by a team of zoologists headed by Dr Ranjana Jaiswara discovered a new species of Spider Cricket named Indimimus jayanti.
The new species was named after Professor Jayant Biswas, one of the leading cave explorers in the country.
It was identified under the genus Arachnomimus Saussure, 1897.
3) Answer: E
The Health Minister has launched the revamped Central Government Health Scheme, CGHS and the Umbrella schemes of Rashtriya Arogya Nidhi, RAN and Health Minister's Discretionary Grant, HMDG on NHA's platform, making them cashless, paperless and the citizen centric.
Dr Harsh Vardhan stated, the initiative will enable seamless delivery of healthcare services to eligible beneficiaries under these schemes by making the whole process paperless.
This is a solid step towards digitalization of healthcare services.
4) Answer: B
GST Council forms 8 member panel under to examine GST exemption on Covid material.The group of ministers was constituted after several member states of the council, such as West Bengal and Punjab asked for exempting GST on all Covid-essential materials.
Other members of the group of ministers (GoM) are – Gujarat deputy chief minister Nitinbhai Patel, Maharashtra deputy CM Ajit Pawar, Goa transport minister Mauvin Godinho, Kerala finance minister KN Balagopal, Odisha finance minister Niranjan Pujari, Telangana finance minister T Harish Rao and UP finance minister Suresh Kr Khanna.
Vaccines and cotton masks attract 5% GST, most of these items fall in the 12% tax slab.
Testing kits, drugs, medical oxygen, oxygen concentrators and ventilators fall under the 12% tax bracket.
Alcohol-based sanitizers, hand wash gels, disinfectants and thermometers attract 18% GST.
5) Answer: D
In Karnataka, the Health Department has launched Doctors ride towards village side programme.
Under this scheme, the Government provides necessary logistic support for the teams led by medical students to visit villages and provide better healthcare during the pandemic.
MBBS final year students, BSc Nursing, BDS, MDS, Ayush graduating doctors are deputed to rural areas to carry out Covid tests.
A team of medical students, nurses, ASHA and Anganwadi workers visit door to door to identify vulnerable members of the family and carry out tests.
6) Answer: E
The Organization for Economic Co-operation and Development (OECD) cut its growth projection for India for FY22 to 9.9% from 12.6% estimated in March, as the second wave of coronavirus infections has paused economic recovery in Asia's third largest economy.
OECD mentioned that while India is projected to be the fastest-growing G20 economy in 2021, it will also be the one which is the furthest away from its pre-crisis GDP trend.
The OECD has revised up its growth projections across the world's major economies since its last full Economic Outlook in December 2020.
It now sees global GDP growth at 5.8 % this year (compared with 4.2% projected in December), helped by a government stimulus-led upturn in the United States, and at 4.4% in 2022 (3.7% in December).
7) Answer: C
Lucknow – based RDSO, which sets standards for the railway sector, has become the first standards body in the country to join the central government's 'One Nation, One Standard' scheme that aims to ensure quality products to Indian consumers.
The Research Design and Standards Organization (RDSO) has now been recognized as a 'Standard Developing Organization' by the Bureau of Indian Standards (BIS), which is implementing the scheme.
The partnership will help RDSO, the sole R&D wing of the railways ministry, to realign its standard formulation procedures as per the code of good practices mentioned under the WTO-Technical Barriers to Trade (WTO-TBT).
8) Answer: B
The State Bank of India (SBI) has revised India's growth outlook downwards for the current financial year.
The latest SBI Ecowrap report has projected a 7.9 percent growth for India's GDP, down from its previous projection of 10.4 percent growth.
The SBI Ecowrap noted that the real GDP for FY21 in the provisional estimates has been revised upwards to Rs 135.13 lakh crore from Rs 134.09 lakh crore as per the second advance estimates.
9) Answer: D
The RBI stated it has cancelled the licence of Shivajirao Bhosale Sahakari Bank, Pune as the lender does not have adequate capital and earning prospects.
RBI mentioned, Shivajirao Bhosale Sahakari Bank has more than 98% of the depositors will receive full amount of their deposits from the Deposit Insurance and Credit Guarantee Corporation (DICGC)
The RBI Stated the bank does not have adequate capital and earning prospects and as such, it does not comply with the certain provisions of the Banking Regulation Act, 1949.
10) Answer: E
The spokesperson of the Indian Navy stated that Vice Admiral Dinesh K Tripathi, who has commanded various operation and staff appointments, assumed charge as Chief of Personnel.
The flag officer is a specialist in communication and electronic warfare and has served on frontline warships of the Navy.
VAdm Dinesh K Tripathi, AVSM, NM, assumes charge as Chief of Personnel, 01 Jun 2021.
11) Answer: C
The WHO has advised against using location-based terms for variants, and has designated an official name for the variant first detected in India: B.1.617.
The organization took six weeks to announce the name "COVID-19" after cases of the corona virus infection were first reported in Wuhan, China.
WHO renames COVID-19 variants with Greek letters to avoid stigma; Alpha, Beta, Gamma, Delta.
The B.1.617.1 and B.1.617.2 variants of the Covid-19, first identified in India, has been named as 'Kappa' and 'Delta' respectively, the World Health Organisation (WHO) announced as it named various variants of the corona virus using Greek alphabets.
12) Answer: D
Industry chamber CII stated it has elected T V Narendran, CEO and MD, Tata Steel, as its new president for 2021-22.
He takes over from Uday Kotak, Managing Director, and Chief Executive Officer, Kotak Mahindra Bank.
He was the Chairman of CII Eastern Region during 2016-17 and has led CII national panels on leadership and HR besides being Chairman of CII Jharkhand.
He takes over the leadership of the industry body from Kotak Mahindra Bank Ltd managing director and chief executive officer Uday Kotak, who has completed his term.
13) Answer: B
On May 31, 2021, The World Health Organization (WHO) honoured Union health minister Harsh Vardhan with Director-General Special award for his efforts to control tobacco consumption in India on World No Tobacco Day.
WHO Director-General stated that Dr Harsh Vardhan's leadership was instrumental in the 2019 national legislation to ban e-cigarettes and heated tobacco products.
The World Health Organization has set this year's theme for no tobacco day as 'commit to quit'.
WHO has also designated 31st May as 'World No Tobacco Day' with an aim to abolish the toxic material from the environment.
The day was first observed by WHO in 1988.
14) Answer: E
Leading stock exchange BSE stated it has joined hands with Electronics and Computer Software Export Promotion Council (ESC) to create awareness about the benefits of listing among small businesses and startups.
BSE has signed a memorandum of understanding (MoU) with ESC, the exchange said in a statement.
Electronics and Computer Software Export Promotion Council (ESC) is an organization sponsored by the Government of India with a mandate to promote the export of Information and Communications Technology (ICT) sector from the country and works as a bridge between the government and the industry on policy and promotional matters.
Ajay Thakur, Head of BSE SME and startup, mentioned that, "This MoU will help toreaching out to ESC's pan India network of Electronics and IT exporters and create greater awareness
amongst the SMEs and startups about benefits of listing on the BSE SME & Startup platform'.
15) Answer: C
Boxop, a Kerala-based start-up has tied up with Mahindra Insurance Brokers Ltd (MIBL) to provide low-cost insurance protection for the Covid-19 treatment.
Boxop is providing this comprehensive service across the State through Akshaya Kendras and support from MIBL.
BOXOP has introduced a Group Covid plan in which individuals will get a lump sum benefit plan of Rs.25000, who have tested positive for Covid in which 24hr of hospitalization is mandatory.
16) Answer: D
The National Commission for Protection of Child Rights (NCPCR) under the Ministry of Women and Child Development has devised an online tracking portal Bal Swaraj (COVID-Care link).
Purpose of the Portal :
The portal has been created with the purpose of tracking and monitoring children who need care and protection in real-time, digitally.
The portal will also be used to track children who have lost both their parents during COVID-19.
The COVID-Care link on the portal has been provided for the concerned officer or department to upload the data of such children.
17) Answer: D
On May 28, 2021, Bharti group backed OneWeb, the Low Earth Orbit (LEO) satellite communications company, Co-owned by Bharati Global and the UK Government launched the next successful 36 satellites.
It was done by Arianespace from the Vostochny Cosmodrome.
It will form part of OneWeb's 648 LEO satellite fleet that will deliver high-speed, low-latency global connectivity.
It brings OneWeb's total in-orbit constellation to 218 satellites.
It is a part of Five to 50′ service, enabling OneWeb to offer connectivity across the United Kingdom, Alaska, Northern Europe, Greenland, the Arctic Seas and Canada.
The company was also able to back an investment of almost $550 million from a Company named Eutelsat Communications, which is based in Paris, France, in April 2021.
It has the acquisition of a total of 24% stakes of the company
18) Answer: E
On May 29, 2021, China successfully launched an automated cargo resupply spacecraft named Tianzhou-2, or Heavenly Vessel.
It was blasted off via a Long March-7 Y3 rocket from the Wenchang Space Launch Centre on the southern island of Hainan in the South China Sea.
Tianzhou-2 is the second of 11 missions needed to complete China's first self-developed space station around 2022.
It is the third and largest orbital station launched by China's increasingly ambitious space programme.
19) Answer: C
On May 31, 2021, Indian Farmers Fertiliser Cooperative Limited (IFFCO) introduced the world's first Nano Urea for the farmers.
This Nano Urea will be in liquid form.
It is easy on the pocket of farmers and will be effective in increasing farmers' income.
The production of the urea will begin from June 2021.
IFFCO has priced Nano Urea at Rs 240 per 500 ml bottle for the farmers, it is 10 per cent cheaper than the cost of a bag of conventional Urea.
It will be primarily available to farmers through its cooperative sales and marketing channel apart from its sale on IFFCO's e-commerce platform www.iffcobazar.in