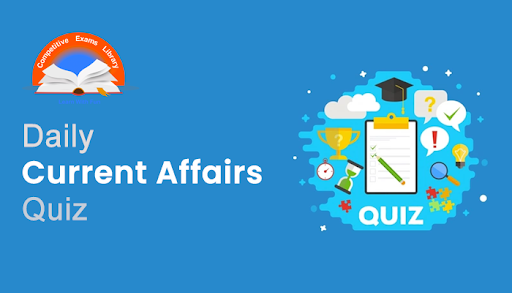 Dear Readers, Daily Current Affairs Questions Quiz for SBI, IBPS, RBI, RRB, SSC Exam 2021 of 03rd April 2021. Daily GK quiz online for bank & competitive exam. Here we have given the Daily Current Affairs Quiz based on the previous days Daily Current Affairs updates. Candidates preparing for IBPS, SBI, RBI, RRB, SSC Exam 2021 & other competitive exams can make use of these Current Affairs Quiz.
1) India's biggest floating solar power plant project has come up in which state?
A) Uttar Pradesh
B) Haryana
C) Telangana
D) Chhattisgarh
E) Madhya Pradesh
2) In which state/UT has CWC counselled political parties not to utilize the service of children for election campaign?
A) Chandigarh
B) J&K
C) Punjab
D) Puducherry
E) Delhi
3) PEL has recently appointed who among the following to its board as Executive Director?
A) Ramesh Pathak
B) Naren Chaudhury
C) Vijay Verma
D) Anand Sethi
E) Khushru Jijina
4) BIMSTEC has recently concluded Connectivity master plan for Bay of Bengal region. It consists of how many members?
A) 9
B) 7
C) 8
D) 5
E) 6
5) Spicy, Juicy, Lip-smacking Good Indian Food at 7 day long India Food Week is being held in which country?
A) UK
B) France
C) Germany
D) China
E) UAE
6) The governor of which state has recently bagged the Kalinga Ratna award?
A) Madhya Pradesh
B) Andhra Pradesh
C) Haryana
D) Kerala
E) Chhattisgarh
7) In spite of a tumultuous fiscal, BSE StAR MF processed over ______ crore transactions amounting to Rs. 3,33,095 crore in the financial year 2020-21.
A) 4.45
B) 5.48
C) 6.38
D) 8.38
E) 9.38
8) Who among the following assumed additional charge as ONGC CMD?
A) Ranjit Kumar
B) Rajesh Kumar
C) Subash Kumar
D) Akashy Kumar
E) Naren Kumar
9) Which of the following deputy governor recently retired against expectations of a second extension?
A) Rajeshwar Rao
B) MK Jain
C) NS Vishwanathan
D) BP Kanungo
E) Urijit Patel
10) World Bank and AIIB sanctioned loan for USD _____ million canal-based drinking water projects in Punjab.
A) 400
B) 200
C) 250
D) 350
E) 300
11) Dutch development bank has infused $_____ million in India's Green Growth Equity Fund.
A) 157
B) 147
C) 137
D) 117
E) 127
12) Jeh Wadia has recently stepped down as MD of which company?
A) Lakshmi Mills
B) Bombay Dyeing
C) ITC
D) Grasim
E) Arvind
13) Who among the following has been named as the chairperson of Public Enterprises Selection Board?
A) Subash Arya
B) Anand Rathi
C) Naresh Mehta
D) Arjun Chawla
E) Mallika Srinivasan
14) Who among the following was booked for the Tokyo Olympic Games after she sent the discus to 65.06 metres in her first and only legal throw?
A) Sukanya Singh
B) Anandi Raj
C) Supriya Kamal
D) Kamalpreet Kaur
E) Preeti Singhvi
15) Which company will acquire WKTL for Rs 3,370 crore?
A) Ajanta Power
B) Adani Transmission
C) BSES
D) Tata Power
E) GMR
16) Which of the following ministry has deployed sensor-based IoT devices to monitor rural drinking water supply systems?
A) Earth Sciences
B) Education
C) Biotechnology
D) S&T
E) Jal Shakti
17) Solar Physicists of which institution have Developed a New Novel Technique for Tracking the Solar Eruptions?
A) SpaceX
B) NASA
C) ARIES
D) ISRO
E) DRDO
18) Who among the following has Released Book Agriculture in India authored by Mohan Kanda?                       
A) Anurag Thakur
B) Amit Shah
C) Narendra Modi
D) NS Tomar
E) Venkiah Naidu
19) ______ cities in Australia and New Zealand to host the 2023 FIFA Women's World Cup.
A) 5
B) 6
C) 9
D) 8
E) 7
Answers :
1) Answer: C
India's biggest floating solar power plant with a capacity of 100 MW will be set up at Ramagundam in Telangana.
The project, expected to be opened in May, is being set up at Ramagundam thermal power plant reservoir.
The solar project is commissioned by the National Thermal Power Corporation (NTPC).
The project, which is estimated to cost around 423 crore rupees, will have 4.5 lakh photovoltaic panels.
The solar panels will cover 450-acre areas of the reservoir and can be expanded in the future.
NTPC's efforts to set up floating solar power projects are aimed at reducing its carbon footprints and accelerate its green energy production to 30 percent of its capacity.
The world's largest solar power plant with 600 MW capacities is being set up on Omkareshwar Dam on Narmada River in Madhya Pradesh.
The project costing 3,000 crore rupees is expected to start power generation only by 2022-23.
2) Answer: D
In the Union Territory of Puducherry the Child Welfare Committee (CWC) here advised political parties not to utilize the service of Children in Electioneering.
Child Welfare Committee chairperson Ashokan in a release said that the commission received complaints that children are being used by political parties for their election campaign and as per the directions of the National Child Welfare Commission; the election department was directed to monitor the campaigning of political parties and to initiate action if children are used for campaign.
He said a 5 year old boy was badly injured in his hand when he took a cracker which was not busted when the political parties lit it and it busted in his hands.
A report on the incident was sought from the Karaikal Collector for further action, he said.
3) Answer: E
Piramal Enterprises Ltd (PEL) has appointed Khushru Jijina to its board as Executive Director, Financial Services.
"Khushru Jijina, Managing Director, Piramal Capital, will join the Board of Piramal Enterprises Limited as Executive Director, Financial Services," it said in a statement.
Ajay Piramal, Chairman, Piramal Group said that as Executive Director on the Board for Financial Services, Jijina will lead the wholesale business.
"He will also be closely involved across the financial services platforms in helping drive the transformation into a more diversified, sustainable, technology driven business in addition to helping develop and train the next generation of leaders to take on greater responsibilities, and to take the business to greater heights," he said.
4) Answer: B
The virtual meeting of the Foreign Ministers of Bay of Bengal Multi-Sectoral Technical and Economic Cooperation (BIMSTEC) grouping finalised a major Connectivity master plan for the Bay of Bengal region.
The seven-member regional grouping namely India, Bangladesh, Nepal, Bhutan, Sri Lanka, Thailand and Myanmar will take up the Master plan for transport connectivity for adoption in the next summit of the organization to be hosted by Sri Lanka in a few months from now.
The meeting also endorsed three MoUs/agreements relating to convention on Mutual Legal Assistance in Criminal matters, cooperation between diplomatic and training academies and establishment of BIMSTEC Technology Transfer Facility in Colombo.
External Affairs Minister Dr. S. Jaishankar expressed India's commitment to take the BIMSTEC to new heights.
The connectivity master plan is the outcome of more than a decade of consultations among the member states.
The study conducted by the Asian Development Bank (ADB) in 2007 and 2014, identified 166 connectivity projects at an estimated cost of USD 50 billion out of which 65 projects were identified as priority projects.
5) Answer: D
Any Indian Food Festival is every foodie's heaven! It's not just about eating but to have an experience.
Beijingers got another opportunity to experience the soul of India, this time through its food as they flocked to the 7 day-long Indian Food Week organized at a five-star hotel in Beijing which concluded.
Indians, Chinese and foreigners of other nationalities alike savored diverse delicacies, anecdotal Indian masala tea, Indian chaat, panipuris and chowmein along with delectable desserts like kulfi.
There was something for everyone.
There was a special counter for Salads which offered a variety of salads.
Live counters were a special attraction which allowed the foodies to adjust the taste as per their choice.
Beautifully decorated food stalls presented dishes from different Indian states giving a glimpse of mini-India to the visitors.
Indian in plenty, they not only enjoyed the food but also got a glimpse of India's culture and its diversity through a range of tastes on their plates.
They said, there is no better way to experience the soul of India than trying out its variety of food on offer.
6) Answer: B
Andhra Pradesh Governor Biswa Bhusan Harichandan has been conferred the 'Kalinga Ratna' award for the year 2021.
The award instituted by Sarala Sahitya Sansad was presented to Governor Biswa Bhusan Harichandan by M. Venkaiah Naidu, Vice President of India, during the 600th Birth Anniversary of Adikabi Sarala Das and 40th Annual Celebrations of Sarala Sahitya Sansad during the programme held at Sarala Bhawan in Cuttack, 02.04.21.
The Kalinga Ratna award carried a silver statue of Goddess Saraswati and a copper plaque.
Vice President Venkaiah Naidu described Sarala Das as Adi Kavi and a genius in the field of Odia literature.
The Vice President said 'Sarala Mahabharat' written by Sarala Das in the 15th century, the first complete Mahabharat in a regional language, is a classic example of popularity and adoption of literature in the spoken dialect.
7) Answer: E
In spite of a tumultuous fiscal, BSE StAR MF processed over 9.38 crore transactions amounting to Rs. 3,33,095 cr in the financial year 2020-21.
It is 63% more as compared to 5.75 cr in FY 2019-20.
Last month it has schooled new high by recording 1 crore monthly transactions, the highest ever on the platform.
It is India's largest and leading Mutual Funds Distributor platform.
The platform also recorded the highest number of new SIPS registrations 5.45 lakh in a single month in March 2021 as compared to previous best of 4.97 lakh in Feb '21.
In the past quarter, Jan to March 2021, BSE StAR MF added 15.45 lakh new SIPs.
8) Answer: C
ONGC's Finance Director Subhash Kumar has assumed additional charge of the post of Chairman and Managing Director following superannuation of Shashi Shanker on March 31.
9) Answer: D
Against expectations of getting a second extension, the senior-most deputy governor BP Kanungo retired from the Reserve Bank on completion of his one-year extension.
Kanungo joined the RBI in 1982 and was in charge of currency management, external investments, operations, payment, and settlement system, among others, during the four-year term as the deputy governor, which began in April 2017.
The government had appointed him as a deputy governor in March 2017 when Urjit Patel was the governor and he took charge on April 3, 2017, for a three-year term ending April 2, 2020, but was given a one-year extension.
There was an expectation that he might get a second extension after the government had cancelled interviews for the post of the deputy governor, scheduled for March 10.
10) Answer: E
The World Bank and Asian Infrastructure Investment Bank (AIIB) have approved a loan for USD 300 million (about Rs 2,190 crore) canal-based drinking water projects in Punjab.
The project is aimed at ensuring quality drinking water and minimizes water losses for Amritsar and Ludhiana, according to a Punjab government statement.
The entire project will be co-financed by IBRD (World Bank) – USD 105 million, Asian Infrastructure Investment Bank – USD 105 million and the Punjab government – USD 90 million, according to an official spokesperson.
In the Amritsar project, the source of surface water supply is Upper Bari Doab Canal and a 440 MLD (million litres per day) water treatment plant will be constructed in village Vallah, Amritsar for treating the surface water, the spokesperson added.
11) Answer: C
Dutch development bank FMO will invest $137 million (about Rs.1,000 crore) in India's Green Growth Equity Fund (GGEF), managed by EverSource Capital, while the fund aims to raise a total of $940 million.
GGEF is raising the capital to invest in the country's green infrastructure sectors such as renewable energy, transport, resource efficiency and energy services.
The fund will also invest in value chain, water, waste and transport sectors that promote low carbon and climate-resilient initiatives.
The fund-raising was approved by South Korea-based Green Climate Fund's (GCF) board, the world's largest dedicated climate fund, EverSource Capital and FMO.
12) Answer: B
Jeh Wadia has stepped down as the managing director of Bombay Dyeing and Manufacturing Company, the flagship firm of Wadia Group confirmed.
In a regulatory filing, the company said that Jeh, son of industrialist Nusli Wadia, would not be renewing his contract as the managing director that expired on March 31, 2021.
The development also comes just a week after he stepped down from the leadership role at GoAir.
"In the interim, the day-to-day management of the company will be looked after by Mr Suresh Khurana, CEO (PSF) along with Mr Hitesh Vora, CFO under the supervision of Dr Minnie Bodhanwala, a Director," Bombay Dyeing said in a BSE filing after the conclusion of the meeting of its Board of Directors.
13) Answer: E
Mallika Srinivasan, Chairman and Managing Director of Tractors and Farm Equipment (TAFE) Ltd, has been named chairperson of the Public Enterprises Selection Board (PESB), according to an order issued by the Personnel Ministry.
It is gathered that this is for the first time a private sector specialist has been appointed the head of the PESB, which is responsible for making appointments to top posts in Central Public Sector Enterprises (CPSEs).
Mallika Srinivasan will hold office for three years from the date of assumption of charge or until she turns 65, whichever is earlier, said the Ministry note.
Mallika Srinivasan is recognised for entrepreneurship and her contribution to the agriculture sector.
She has built TAFE into the third largest tractor manufacturer in the world and No 2 in India by volumes, with annual sales of over 150,000 units.
14) Answer: D
An Indian Women discus thrower Kamalpreet Kaur booked for the Tokyo Olympic Games after she sent the discus to 65.06 metres in her first and only legal throw at the 24th Federation Cup Senior Athletics Championships held in Patiala.
Kamalpreet set a new national record and breached the Olympic qualification mark of 63.50m in the process.
She broke the previous record of 64.76 set by Krishna Poonia in 2012.
15) Answer: B
On March 27, 2021 Adani Transmission Limited (ATL) signed a definitive agreement with Essel InfraProjects Limited (EIL) to acquire Warora-Kurnool Transmission Limited (WKTL) for an enterprise value of Rs 3,370 crore.
The cumulative network of ATL will reach 17,200circuit kilometre of which 12,350 ckt kms network is already operational and 4,850 ckt kms (including this asset) is in various stages of execution.
ATL has already received the approval from Central Electricity Regulatory Commission (CERC) for substitution of original awardee in the contract.
16) Answer: E
To monitor the rural drinking water supply systems in villages, the Ministry of Jal Shakti has decided to take the digital route to use sensor-based IoT devices
It is to effectively monitor the implementation of Jal Jeevan Mission (JJM) in more than six lakh villages.
For this Purpose National Jal Jeevan Mission in collaboration with Tata Community Initiatives Trust (TCIT) and Tata Trusts.
It is recently completed pilot projects in several remote villages of five States i.e. Uttarakhand,
Rajasthan, Gujarat, Maharashtra, and Himachal Pradesh.
17) Answer: C
Solar Physicists of ARIES (Aryabhatta Research Institute of Observational Sciences) have developed a New Novel Technique called CMEs Identification in Inner Solar Corona (CIISCO) to detect and track the accelerating solar eruption in the lower corona.
This algorithm is based on the use of parabolic Hough transform to automatically detect the presence of parabolic profiles in the height-time plots of the solar eruption.
It will be used in India's first solar mission, Aditya-L1, launched in 2022.
Aditya-L1 being built in collaboration between the ISRO & Various Research Institutes.
Aditya-L1, will be observing this region of the solar corona. After the launch of Aditya-L1, implementation of CIISCO on the Aditya-L1 data will provide new insight into the CME properties in this less explored region.
The research led by Mr. Ritesh Patel, Dr. Vaibhav Pant and Prof. Dipankar Banerjee from ARIES, Nainital, an autonomous institute under DST, Government of India, along with their collaborators from Royal Observatory of Belgium have led to the development of an algorithm.
This research has been published in the Solar Physics journal.
18) Answer: E
On March 31, 2021, Vice President of India, Venkaiah Naidu released noted bureaucrat and former Chief Secretary of Andhra Pradesh Mohan Kanda's book, 'Agriculture in India: Contemporary challenges in the context of doubling farmers' income
The book is Published by BSP Books Private Limited.
It was held at CESS Auditorium, Begumpet
Salient features of the book :
19) Answer: C
The 2023 Women's World Cup of football will be spread across nine cities in Australia and New Zealand.
The opening match will be held at Eden Park in Auckland, with Sydney's Stadium Australia hosting the final.
The two semi-final matches will be split between Australia and New Zealand.
It will be the first-of-a-kind World Cup, co-hosted by members of different confederations.
Australia joined the Asian confederation after qualifying for the 2006 men's World Cup, leaving New Zealand as the largest member of the Oceania confederation.
This World Cup will also be the first to feature 32 teams, up from the 24 that participated in the 2019 women's tournament in France.