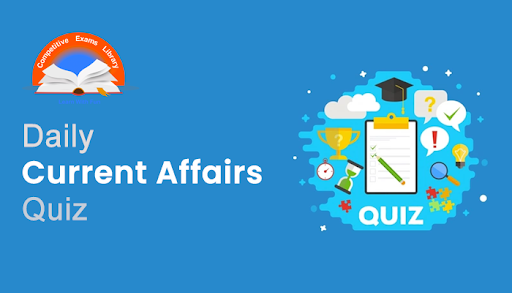 Dear Readers, Daily Current Affairs Questions Quiz for SBI, IBPS, RBI, RRB, SSC Exam 2021 of 03rd February 2021. Daily GK quiz online for bank & competitive exam. Here we have given the Daily Current Affairs Quiz based on the previous days Daily Current Affairs updates. Candidates preparing for IBPS, SBI, RBI, RRB, SSC Exam 2021 & other competitive exams can make use of these Current Affairs Quiz.
1) World Wetlands Day Celebrated on which of the following date?
A) February 11
B) February 14
C) February 2
D) February 18
E) February 17
2) The government has announced a Policy of Strategic Disinvestment where a _____ fold classification of sectors will be done.
A) 6
B) 4
C) 5
D) 2
E) 3
3|) Which of the following organization has confirmed 2020 as "the worst year on record"?
A) WHO
B) WB
C) IMF
D) UNICEF
E) UNWTO
4) Tax holiday for start ups has been extended for which of the following year?
A) 2025
B) 2024
C) 2022
D) 2023
E) 2021
5) India has established its first Centre for Wetland Conservation and Management in which city?
A) Surat
B) Pune
C) Delhi
D) Chennai
E) Chandigarh
6) Who among the following has announced the launch of a unified web portal for monitoring progress of GOBARDHAN activities?
A) Prahlad Patel
B) Narendra Modi
C) Amit Shah
D) Giriraj Singh
E) Narendra Singh Tomar
7) World Bank will provide _______ million to Bangladesh for improving Road and Digital Connectivity.
A) 200
B) 350
C) 300
D) 500
E) 450
8) In 2021 Budget, Government has proposed to introduce single securities markets code. Who is the current security market regulator?
A) IRDA
B) SEBI
C) RBI
D) NHB
E) NABARD
9) Who among the following has launched the First Reference Material synthesized by NDTL and NIPER to strengthen anti-doping measures?
A) Anurag Thakur
B) Amit Shah
C) Narendra Modi
D) Prahlad Patel
E) Kiren Rijiju
10) Indian-American BhavyaLal appointed acting chief of staff of which organisation?
A) SpaceX
B) JAXA
C) NASA
D) ESA
E) None of these
11) Ford has joined with which company to offer cloud-based data services?
A) TCS
B) Google
C) Amazon
D) Facebook
E) HCL
12) Who among the following has penned a new book 'The Little Book of Encouragement' ?
A) Anurag Thakur
B) AnupamKher
C) Dalai Lama
D) Narendra Modi
E) Amitabh Bachan
13) Which state has topped the 2nd India Justice Report for delivering justice to people?
A) Gujarat
B) Chhattisgarh
C) Karnataka
D) Maharashtra
E) Kerala
14) Who among the following has been inducted into the Australian Cricket Hall of Fame?
A) Jack Blackham
B) Charles Bannerman
C) Ricky Ponting
D) Adam Gilchrist
E) Merv Hughes
Answers :
1) Answer: C
World Wetlands Day is observed every year on 2nd February .
Purpose : To raise global awareness about the vital role played by wetlands for people and our planet.
Wetlands are protected places under UNESCO (United Nations Educational, Scientific and Cultural Organization).
There are over 2,400 protected wetlands across the world.
The theme for World Wetlands Day 2021 is 'Wetlands and Water.
The day is celebrated to mark the date of the adoption of the Convention on Wetlands on February 2, 1971, in the Iranian city of Ramsar on the shores of the Caspian Sea.
In 2021 marks 50 years of the Convention on Wetlands.
World Wetlands Day was first celebrated in 1997.
About Wetland :
A wetland is a distinct ecosystem that is flooded by water, either permanently or seasonally, where oxygen-free processes prevail.
The primary factor that distinguishes wetlands from other landforms or water bodies is the characteristic vegetation of aquatic plants, adapted to the unique hydric soil.
2) Answer: D
Union Minister for Finance and Corporate Affairs, Smt. NirmalaSitharaman, while presenting the Union Budget FY 2021-22 in Parliament  announced that the government has approved a policy of strategic disinvestment of public sector enterprises
That will provide a clear roadmap for disinvestment in all non-strategic and strategic sectors.
The government aims at making use of disinvestment proceeds to finance various social sector and developmental programmes and also to infuse private capital, technology and best management practices in Central Government Public Sector Enterprises
Two fold classification of Sectors to be disinvested :
Strategic Sector : Bare minimum presence of the public sector enterprises and remaining to be privatised or merged or subsidiarized with other CPSEs or closed.
Non- Strategic Sector : In this sector, CPSEs will be privatised, otherwise shall be closed.
Following 4 sectors to come under it :
Atomic energy, Space and Defence
Transport and Telecommunications
Power, Petroleum, Coal and other minerals
Banking, Insurance and financial services
Recognising that Idle assets will not contribute to AtmaNirbhar Bharat and the non-core assets largely consist of surplus land with government Ministries/Departments and Public Sector Enterprises, the Minister proposed to use a Special Purpose Vehicle in the form of a company to carry out monetization of idle land.
This can either be by way of direct sale or concession or by similar means.
Smt. Sitharaman also proposed to introduce a revised mechanism that will ensure timely closure of sick or loss making CPSEs.
About CPSEs :
Central public sector enterprises (CPSEs) are those companies in which the direct holding of the Central Government or other CPSEs is 51% or more.
As on 31.3.2015 there were 298 CPSEs wherein, 63 enterprises are yet to commence commercial operation.
3) Answer: E
According to the  global travel and tourism report 'World Tourism Barometer' released by the World Tourism Organization (UNWTO), the year 2020 was the "worst year on record.
Global tourism suffered its worst year on record in 2020, with international arrivals dropping by -74% year-on-year according to the latest data from the World Tourism Organization (UNWTO).
Locations worldwide welcomed 1 billion fewer worldwide arrivals in 2020 than within the earlier year as a result of COVID-19 disaster, the associated fall in demand and widespread travel restrictions.
Asia and the Pacific (-84%)  the primary area to endure the influence of the pandemic and the one with the very best stage of journey restrictions at present in place – recorded the most important lower in arrivals in 2020 (300 million fewer).
The Center East and Africa each recorded a -75% decline.
Europe recorded a -70% lower in arrivals, regardless of a quick revival within the Summer season of 2020.
Based on the most recent UNWTO World Tourism Barometer, the collapse in worldwide travel represents an estimated lack of US$1.3 trillion in export revenues – greater than 11 instances the loss recorded in the course of the 2009 world financial disaster.
4) Answer: C
To help India's startups amid the COVID-19 pandemic, tax holidays for these businesses have been extended by one year till March 31, 2022, said Finance Minister NirmalaSitharaman while presenting the Union Budget 2021-22
The government has also proposed to incentivise incorporation of one-person companies (OPCs). The move is likely to help smaller startups and innovators.
The Government has increased the FDI limit from 49 to 74 percent in Insurance Companies and allowed foreign ownership and control with safeguards.
The Government has proposed to infuse 20 thousand crore rupees to re-capitalized Public Sector Banks.
5) Answer: D
Sh. Babul Supriyo announced the establishment of a Centre for Wetland Conservation and Management (CWCM), as a part of the National Centre for Sustainable Coastal Management(NCSCM), Chennai, an institution under the Ministry.
On the occasion of the World Wetland Day and as a part of its commitment towards conservation, restoration and management of India's wetlands, the Minister of State for Environment, Forest and Climate Change.
The event was attended virtually by NCSCM, State Wetland Authorities and the knowledge partners of the Wetland Division.
India has nearly 4.6% of its land as wetlands, covering an area of 15.26 million hectares and has 42 sites designated as Wetlands of International Importance (Ramsar Sites), with a surface area of 1.08 million hectares.
6) Answer: E
Agriculture Minister Narendra Singh Tomar, Petroleum Minister DharmendraPradhan, Animal Husbandry Minister Giriraj Singh, Jal Shakti Minister Gajendra Singh Shekhawat and Minister of State for Jal Shakti Rattan LalKataria jointly launched a unified web portal for monitoring the progress of GOBARDHAN activities across the nation.
Gobardhan is an important component of Swachh Bharat Mission Phase-2 for organic solid waste management.
The Gobardhan scheme aims at supporting villages effectively to manage their cattle dung and other organic waste.
The Department of Drinking Water and Sanitation will work with all the other stakeholders to implement Gobardhan, a unified approach across villages.
Gobardhan pilot project will prove to be an important and useful step in cleanliness
Through this will get ethanol, bio-diesel and compressed bio-fuel in the coming years.
7) Answer: D
World Bank to provide USD 500 million to Bangladesh for improving Road and Digital ConnectivityThe government of Bangladesh signed an agreement with the World Bank for the upgradation of rural  roads and connectivity in the western region.
The project is expected to benefit over 20 million people in the western region of Bangladesh.
The project will help upgrade the 48 kilometre two-lane Jashore-Jhenaidah road to a modern 4-lane highway.
It will also help improve 600 kilometre of connecting rural roads and build or develop new rural markets.
The project will finance installation of  fiber-optic cables along the highway to ensure fast and reliable internet service
The project is the first of a multi-phased USD1.4 billion 10-year program to upgrade the existing 110 kilometre two-lane highway, Bhomra-Satkhira-Navaron and Jashore-Jhenaidah. In the current phase, the project will be implemented in four districts namely Jashore, Jhenaidah, Magura, and Chuadanga.
8) Answer: B
The government proposed to introduce a unified securities markets code, a move that will help in boosting the ease of doing business in the country's financial markets.
The proposed move would help in cutting down compliance costs and reducing the friction between rules enacted by capital markets watchdog SEBI, depositories and government
Finance Minister in her Budget speech for 2021-22 proposed to consolidate the provisions of SEBI Act, Depositories Act, Securities Contracts (Regulation) Act and Government Securities Act into a rationalised single securities markets code.
The proposal to create a unified securities market code is very progressive as it aims to simplify and reduce the friction between rules enacted by various acts of Sebi, depositories.
SEBI Act – 1992
Depositories Act – 1996
Securities Contracts (Regulation) Act – 1956
Government Securities Act – 2007
9) Answer: E
Union Minister of Youth Affairs & Sports KirenRijiju launched a breakthrough Reference Material for use in chemical testing.
It is synthesized by collaborative efforts of National Dope Testing Laboratory (NDTL) and National Institute of Pharmaceutical Education and Research (NIPER), Guwahati.
The Memorandum of Understanding (MoU) between NDTL and NIPER Guwahati was signed in August 2020 which proposes to synthesize 20 rarely available Reference Materials (RMs) during a period of 3 years.
10) Answer: C
NASA appointed Indian-American BhavyaLal as its acting chief of staff.
Previously, as the senior White House appointee at NASA, Lal served as a member of the Biden Presidential Transition Agency Review Team for the agency and oversaw the agency's transition under the administration of President Joe Biden.
About BhavyaLal :
Lal serves as a member of the research staff at the Institute for Defense Analyses (IDA) Science and Technology Policy Institute (STPI) from 2005 to 2020
Lal is an active member of the space technology and policy community, having chaired, co-chaired, or served on five high-impact National Academy of Science committees.
DrLal will also serve as the senior advisor for budget and finance at NASA.
About NASA :
Headquarters : Washington DC, United States
Founder : Dwight D.Eisenhower
Founded : 1 October 1958
11) Answer: B
Ford Motor Co will tap into software, artificial intelligence and cloud computing offered by Alphabet Inc's Google to develop new consumer services and modernize internal operations.
As part of a six-year partnership, the Dearborn, Michigan-based automaker will incorporate the tech giant's Android operating system into its Ford and Lincoln vehicles starting in 2023.
Ford will offer its customers built-in Google apps, including its map and voice technology.
It will deploy Google artificial intelligence technology to improve the efficiency of vehicle development, supply chain and manufacturing operations
12) Answer: C
Tibetan spiritual leader the Dalai Lama has come out with his new book titled  'The Little Book of Encouragement', in which he has shared quotes and words of wisdom to promote human happiness.
"The Little Book of Encouragement", which has 130 quotes, is edited by Renuka Singh and published by Penguin Random House.
It  deals with the new realities of the panic-stricken world, combat rising extremism, polarity and climate change besides Dalai Lama's views on Tibet.
13) Answer: D
The second edition of the India Justice Report, India's only ranking of states on delivery of Justice to people, announced.
Maharashtra once again at the top of the 18 Large and Mid-sized states (with population of over one crore each), followed by Tamil Nadu (2019: 3rd), Telangana (2019: 11th) Punjab (2019: 4th) and Kerala (2019: 2nd).
The India Justice Report (IJR) is an initiative of Tata Trusts in collaboration with Centre for Social Justice, Common Cause, Commonwealth Human Rights Initiative, DAKSH, TISS–Prayas, Vidhi Centre for Legal Policy and How India Lives. The maiden IJR was announced in 2019.
Through a rigorous 14-month quantitative research, the India Justice Report 2020 once again tracks the progress states have made in capacitating their justice delivery structures to effectively deliver services to all.
It takes account of latest statistics and situations as they existed prior to March 2020. It brings together otherwise siloed statistics from authoritative government sources, on the four pillars of Justice delivery–Police, Judiciary, Prisons and Legal Aid.
14) Answer: E
Former pacer Merv Hughes has been inducted into the Australian Cricket Hall of Fame, the country's board (CA) announced.
The 59-year-old captured 212 Test wickets at an average of 28.38 in a career spanning 53 Tests and 33 ODIs for Australia from 1985 to 1994.
His career-best figures of 8-87 against the West Indies at the WACA in 1988 included the final wicket of a hat-trick spread across three separate overs, two innings and two different days.