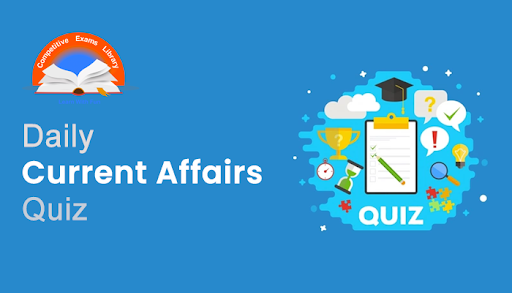 Dear Readers, Daily Current Affairs Questions Quiz for SBI, IBPS, RBI, RRB, SSC Exam 2021 of 03rd June 2021. Daily GK quiz online for bank & competitive exam. Here we have given the Daily Current Affairs Quiz based on the previous days Daily Current Affairs updates. Candidates preparing for IBPS, SBI, RBI, RRB, SSC Exam 2021 & other competitive exams can make use of these Current Affairs Quiz.
1) World Bicycle Day – Observed on June ___.
A) 1
B) 5
C) 3
D) 4
E) 2
2) ICC Expands Men's ODI World Cup To ___ Teams For 2027 & 2031 Editions.
A) 8
B) 9
C) 11
D) 14
E) 12
3) The Union Cabinet approved a draft of Model Tenancy Act to promote ___.
A) Banking
B) Rural Development
C) Solar Power
D) Agriculture
E) Rental housing
4) Isaac Herzog has been Elected as President of which country?
A) Mongolia
B) Israel
C) Uzbekistan
D) Afghanistan
E) Sri Lanka
5) Which company has  launched its first European innovation centre in Amsterdam?
A) HP
B) HCL
C) TCS
D) Infosys
E) Dell
6) Which Bank has installed mobile ATMs across 50 cities in India?
A) UCO
B) Axis
C) SBI
D) HDFC
E) ICICI
7) Who has been appointed as IAF Vice Chief?
A) Raj Mittal
B) Shankar Gupta
C) Narain Rane
D) Amit Singh
E) Vivek Chaudhuri
8) Which company has appointed Shabnam Syed as EVP of post-paid marketing?
A) Infosys
B) VI
C) Jio
D) HCL
E) Dell
9) Who has launched the Seed Minikit Programme?
A) Anurag Thakur
B) Narendra Modi
C) Prahlad Patel
D) NS Tomar
E) Amit Shah
10) Who has been appointed as NHRC chief?
A) Pradeep Kotiyal
B) Shankar Mahajan
C) Amit SInghal
D) Narain Singh
E) AK Mishra
11) The IBF has appointed ____as the Chairman.
A) Rajat Mittal
B) Vivek Raj
C) Vikramjit Sen
D) Sudhir Singh
E) Narender Khatri
12) Which bank has appointed A K Vinod as chief compliance officer?
A) Bandhan
B) Union Bank of India
C) SBI
D) UCO
E) Axis
13) Dr Patrick Amoth of which country has been Appointed as Chair of WHO Executive Board?
A) Japan
B) Sweden
C) Singapore
D) South Africa
E) Kenya
14) Dr Vinay K Nandicoori appointed as Director of CCMB______.
A) Kolkata
B) Chandigarh
C) Hyderabad
D) Delhi
E) Bengaluru
15) Which company has appointed Paresh B Lal as Grievance Officer for India?
A) Snap
B) Instagram
C) Twitter
D) Whatsapp
E) Facebook
16) Which Indian-origin girl has bagged the Apple 'WWDC21 Swift Student Challenge'?
A) Mahesh Mittal
B) Narain Saba
C) Sudhir Raj
D) Amit Singh
E) Abhinaya Dinesh
17) Cabinet has approved MoC between India and which countryin the field of sustainable urban development?
A) Singapore
B) Israel
C) Japan
D) France
E) Germany
18) Cabinet has approved MoU between India & which country by the Ministry of Housing and Urban Affairs?
A) Brunei
B) Singapore
C) Vietnam
D) Maldives
E) Thailand
19) AI-based Solution XraySetu Developed to Detect Covid-19 in Rural Population Through which platform?
A) Instagram
B) Twitter
C) Snap
D) Facebook
E) Whatsapp
20) 2021 Asian Amateur Boxing Championships has been won by Sanjeet Kumar in the ___ category.
A) 65
B) 70
C) 91
D) 80
E) 75
21) Lee Evans who passed away recently was an eminent __.
A) Dancer
B) Actor
C) Singer
D) Sprinter
E) Director
Answers :
1) Answer: C
In April 2018, the United Nations General Assembly declared June 3 as International World Bicycle Day.
The resolution for World Bicycle Day recognizes "the uniqueness, longevity and versatility of the bicycle, which has been in use for two centuries, and that it is a simple, affordable, reliable, and clean and environmentally fit sustainable means of transport".
The day aims at developing a culture of cycling for basic transportation, commutation, and strengthening physical and mental health.
2) Answer: D
On June 01, 2021, The International Cricket Council (ICC) announced the men's ODI World Cup will once again become a 14-team tournament in 2027 and 2031.
These 14 teams will split into two groups of seven, with the top three in each group progressing to a Super Six stage, followed by semi-finals and final.
Earlier in the 2019 World Cup, only 10 teams contested.
The ICC Men's T20 World Cup will be expanded to a 20-team.
The tournament will take place every two years from 2024-2030.
3) Answer: E
The Union Cabinet has approved the draft Model Tenancy Act (MTA) for adoption and enactment by States and Union Territories to promote rental housing in the country.
MTA envisages balancing the interests and rights of both, the owner and tenant, in an accountable and transparent manner.
A digital platform will be set up in the local vernacular language or the language of the State and Union Territory for this purpose.
The MTA also provides for a time-bound and robust grievance redressal mechanism.
The Centre has said that the Model Tenancy Act will make vacant houses available on rent as well as repose confidence of investors in the sector.
4) Answer: B
Isaac Herzog is a former head of Israel's Labor Party and opposition leader who unsuccessfully ran against Prime Minister Benjamin Netanyahu in the 2013 parliamentary elections.
Isaac Herzog, a veteran politician and the scion of a prominent Israeli family, was elected president, a largely ceremonial role that is meant to serve as the nation's moral compass and promote unity.
Herzog will be Israel's 11th president, succeeding Reuven Rivlin, who is set to leave office next month after seven years in office.
5) Answer: C
Tata Consultancy Services has launched TCS Pace Port Amsterdam, a co-innovation and advanced research center designed to help customers successfully navigate their growth and transformation journeys.
Bringing together an ecosystem of partners from academia, government institutions, start-ups and technology providers, TCS Pace Port Amsterdam will serve as a hub for TCS teams to co-innovate with European customers, guiding them through the discovery, definition, refinement and delivery phases of innovation.
6) Answer: D
HDFC Bank mentioned it has installed mobile ATMs across 50 cities in India, which can be used for over 15 transactions by customers.
The bank stated These ATMs have been deployed in various metros and non-metros in view of the restrictions imposed by Covid-19.
Customers can conduct over 15 types of transactions using the Mobile ATM, which will be operational at each location for a specific period.
The Mobile ATM will cover 3-4 stops in a day.
7) Answer: E
The Indian Air Force has appointed Air Marshal Vivek Ram Chaudhari as the next Vice Chief of Air Staff in the Air headquarters.
Two new commander-in-chiefs would also be moving for their new assignments as Director General Air Operations.
Air Marshal Ballabha Radha Krishna would be succeeding Chaudhari at the Western Command in Delhi while Air Marshal RJ Duckworth would be taking charge of the Central Air Command in Prayagraj.
8) Answer: B
Vodafone Idea Ltd (VIL) has appointed Shabnam Syed as executive vice president of post-paid marketing.
Shabnam Syed brings wide experience across varied industry segments which will help us curate products and services for our postpaid customer base.
Prior to VIL, she was VP–Marketing and Ecommerce at Go Air".
Syed has more than 20 years experience in marketing strategy, digital marketing and Analytics and brand management among others.
9) Answer: D
Agriculture Minister Narendra Singh Tomar launched Seed Minikit Programme by distributing Seed Minikits, higher yielding varieties of seeds to farmers.
The mini kits are being provided by the Central Agencies, National Seeds Corporation, NSC, NAFED and Gujarat State Seeds Corporation and it is fully funded by the Government of India through the National Food Security Mission.
The distribution of seeds will continue till 15th of this month so that the seeds reach the farmers before the Kharif sowing commences.
10) Answer: E
After a 5-member Appointments Committee meeting, comprising of one Opposition member and four NDA representatives, proposed Arun Kumar Mishra's name, the contentious former Supreme Court judge took over as the new chairperson of the National Human Rights Commission (NHRC) on 2 June.
The panel included Prime Minister Narendra Modi, Home Minister Amit Shah, and Deputy Chairman of the Rajya Sabha Harivansh, Lok Sabha Speaker Om Birla, and the Opposition leader in Rajya Sabha, Mallikarjun Kharge.
11) Answer: C
The Indian Broadcasting Foundation (IBF), renamed as Indian Broadcasting & Digital Foundation (IBDF), the apex body of broadcasters and OTT operators, has announced the appointment of Justice (Retd.) Vikramjit Sen as the Chairman, along with six other eminent industry members for the newly formed Digital Media Content Regulatory Council (DMCRC).
The Council constitutes prominent personalities from the Media & Entertainment industry and Online Curated Content Providers (OCCPs), with experience in IPR, programming and content creation.
The Council includes national award-winning filmmaker Nikkhil Advani; Deepak Dhar, CEO and founder, Banijay Group; prominent artist, filmmaker and writer Ashwiny Iyer Tiwari; and creative writer and innovative director, Tigmanshu Dhulia.
The other two members from the OCCPs include Ashok Nambisan, General Counsel, Sony Pictures Pvt. Ltd, and Mihir Rale, Chief Regional Counsel, Star and Disney India.
12) Answer: B
State-owned Union Bank of India stated it has nominated A K Vinod as its chief compliance officer.
A K Vinod, chief general manager, has been nominated as the chief compliance officer with effect from June 1, 2021 in place of K L Raju, general manager, the lender said in a regulatory filing.
Vinod, 50, who was handling MSME and small corporate vertical of the bank, has been nominated as the CCO for a minimum period of three years.
13) Answer: E
As Union Health Minister Harsh Vardhan completed his tenure as the Chairman of the World Health Organization (WHO) Executive Board, he stated that there is no scope for industries to stick to intellectual property rights (IPR) of COVID-19 vaccines and those organizations must find ways to ensure affordable access to key drugs.
Dr Patrick Patrick Amoth, Acting Director-General for Health, Ministry of Health of Kenya has been appointed as the Chair of WHO Executive Board to replace Harsh Vardhan.
14) Answer: C
Molecular biologist and scientist at DBT-National Institute of Immunology, New Delhi, Dr Vinay K Nandicoori has been appointed as the Director of Centre for Cellular and Molecular Biology (CCMB), Hyderabad.
Dr Nandicoori's research interest extensively spans molecular signaling networks in Mycobacterium tuberculosis, the micro-organism that causes TB.
His research has found national and international relevance and recognition.
Dr Nandicoori will succeed Dr Rakesh K Mishra as CCMB's Director.
15) Answer: D
WhatsApp has appointed Paresh B Lal as its grievance officer for India, updated information on the messaging platforms' website.
The move comes amid a legal battle between WhatsApp and the government over new digital rules.
The instant messaging app has alleged that one of the new rules that require the identification of the originator of a message violates the citizens' right to privacy.
16) Answer: E
Abinaya Dinesh, a 15-year-old Indian-origin girl, is among three winners of the annual tech giant Apple WWDC21 Swift Student Challenge, a platform for the young brains willing to demonstrate their coding and problem-solving skills.
Passionate about the intersection of medicine and technology, something that became personal for her last year, Dinesh created an app called Gastro at Home, which she plans to launch on the App Store this summer.
Apple has selected 350 Swift Student Challenge winners from 35 different countries and regions, as it opens all-virtual Worldwide Developers Conference (WWDC) 2021′ from June 7-11.
17) Answer: C
The Union Cabinet  approved a memorandum of cooperation with Japan in the field of sustainable urban development which is expected to create employment opportunities.
The memorandum of cooperation (MoC) will be signed between the Ministry of Housing and Urban Affairs and the Ministry of Land, Infrastructure, Transport and Tourism, Japan in supersession of an existing MoU of 2007 on urban development.
The agreement will promote strong, deep and long-term bilateral cooperation in the field of sustainable urban development between the two countries.
18) Answer: D
The Union Cabinet was apprised of the Memorandum of Understanding (MoU) signed between the Ministry of Housing and Urban Affairs, Government of India and Ministry of National Planning, Housing and Infrastructure, Government of Maldives on cooperation in the field of Sustainable Urban Development.
The MoU was signed in February 2021.
A Joint Working Group (JWG) will be constituted to strategize and implement programmes on cooperation under the framework of the MoU.
The Joint Working Group will meet once in a year, alternately in Maldives and in India.
19) Answer: E
A new AI-driven platform called 'XraySetu' has been developed with the help of Chest X-ray, to help in early detection of COVID 19.
It can work with low-resolution images sent via mobiles, is quick and easy to use, and can facilitate detection in rural areas.
It is useful for RT-PCR tests and CT-Scans are not easily available.
X-Ray Setu, Can be operates through Whatsapp,
It has been developed by ARTPARK (AI & Robotics Technology Park), with support from the Department of Science & Technology (DST), GOI, in collaboration with Bangalore based HealthTech startup Niramai and the Indian Institute of Science (IISc).
20) Answer: C
Indian heavyweight boxer Sanjeet Kumar won a gold medal in the 91 kg weight category at the ASBC Asian Boxing Championships.
The 2021 Asian Amateur Boxing Championships was held from 24 to 31 May 2021 in Dubai, United Arab Emirates.
Sanjeet Kumar defeated five-time Asian Championships medallist and Rio Olympic silver medalist Vassiliy Levit of Kazakhstan in a 3-2 split decision in the final of Asian Championships.
The 19-member Indian contingent, including both men and women, secured 15 medals comprising 2 gold, 5 silver and 8 bronze.
In Men's Category :
Sanjeet Kumar – 91 kg – Gold Medal
Amit Panghal – 52 kg – Silver Medal
Shiva Thapa – 64 kg – Silver Medal
Vikas Krishan Yadav – 69 kg – Bronze Medal
Varinder Singh – 60 kg – Bronze Medal
In Women's Category :
Pooja Rani – 75 kg – Gold Medal
Mary Kom – 51 kg – Silver Medal
Lal Buat Saihi – 64 kg – Silver Medal
Anupama Kundu – 81 kg – Silver Medal
Monika – 48 kg – Bronze Medal
Sakshi Chaudhary – 54 kg – Bronze Medal
Jasmine – 57 kg – Bronze Medal
Simranjit Kaur – 60 kg – Bronze Medal
Lovlina Borgohain – 69 – Bronze Medal
Saweety Boora – 81 kg – Bronze Medal
21) Answer: D
The record-setting sprinter & Olympic activist  Lee Evans Passed away.
He was 74.
About Lee Evans :
He became the first man to crack 44 seconds in the 400 meters, winning the gold medal at the Mexico City Games in 43.86.
He Co-founded the olympic project for Human Rights.
He was also the athletes boycott and the Black Power Movement.
He wore a black beret in a sign of protest at the 1968 Olympics then went onto a life of humanitarian work in support of social justice.