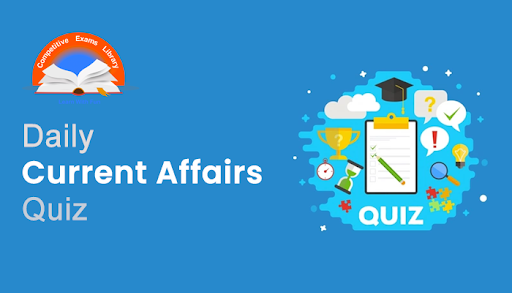 Dear Readers, Daily Current Affairs Questions Quiz for SBI, IBPS, RBI, RRB, SSC Exam 2021 of 03rd March 2021. Daily GK quiz online for bank & competitive exam. Here we have given the Daily Current Affairs Quiz based on the previous days Daily Current Affairs updates. Candidates preparing for IBPS, SBI, RBI, RRB, SSC Exam 2021 & other competitive exams can make use of these Current Affairs Quiz.
1) 3rd Jan Aushadhi Diwas celebrations will be observed on which date?
A) March 11
B) March 3
C) March 1
D) March 4
E) March 5
2) Land Ports Authority of India (LPAI) recently celebrated its ____th Foundation Day.
A) 5th
B) 6th
C) 7th
D) 9th
E) 8th
3) Sugamya Bharat App & handbook entitled "Access – The Photo Digest" has recently been launched by who among the following?
A) Narendra Modi
B) Anurag Thakur
C) Prahlad Patel
D) NS Tomar
E) Thawar Chand Gehlot
4) Who among the following took over the chair of the 3rd GCM of BIS?
A) Nirmala Sitharaman
B) Piyush Goyal
C) Anurag Thakur
D) NS Tomar
E) Narendra Modi
5) The Real-Time Monitoring System of Toll Plazas has recently been launched by who among the following?
A) Narendra Modi
B) Amit Shah
C) Nitin Gadkari
D) Piyush Goyal
E) NS Tomar
6) Which edition of the Field assessment of Swachh Survekshan -2021 has been launched by the Housing and Urban Affairs Ministry?
A) 7th
B) 2nd
C) 3rd
D) 6th
E) 5th
7) The three-day Maritime India Summit-2021 will be held on which of the following date?
A) 2nd
B) 3rd
C) 6th
D) 5th
E) 4th
8) Villages Merak and Khakted in which of the following states/UT will get mobile connectivity?
A) Haryana
B) Delhi
C) Chandigarh
D) Ladakh
E) Daman & Diu
9) Which of the following RRB launched digital savings account opening facility through Video-Know Your Customer (KYC)?
A) Telangana Grameena Bank
B) Tamil Nadu Grama Bank
C) Andhra Pradesh Grameena Vikas Bank
D) Both A and C
E) Both A and B
10) PM Jan Aushadhi Kendra has been inaugurated at District Hospital in ______.
A) Daman & Diu
B) Jharkhand
C) Kargil
D) Haryana
E) Punjab
11) Fino Payments Bank is now a scheduled bank. It has been included in the _____ schedule of RBI.
A) 6th
B) 5th
C) 4th
D) 2nd
E) 3rd
12) Which of the following bank has organised a cricket tournament in Guntur?
A) HDFC
B) ICICI
C) SBI
D) Bank of Baroda
E) Bank of India
13) The ____ edition of RashtriyaSanskriti Mahotsav has recently begun.
A) 6th
B) 5th
C) 3rd
D) 2nd
E) 4th
14) Bharat Petroleum Corporation Board has approved sale of its _____ per cent stake.
A) 40.20
B) 61.65
C) 55.66
D) 51.52
E) 49.50
15) Suryakirans, Sarang and Tejas will take part in which country's Air Force's 70th anniversary celebrations?
A) Japan
B) US
C) Sri Lanka
D) Bhutan
E) Maldives
16) ISRO has successfully launched Amazonia 1 satellite from which country?
A) Israel
B) Netherlands
C) Germany
D) Brazil
E) France
17) Health Minister Harsh Vardhan has inaugurated the _____edition of Global-Bio India 2021.
A) 6th
B) 5th
C) 4th
D) 3rd
E) 2nd
18) Who among the following has been appointed as Director of Cricket, Sri Lanka?
A) Earl Eddings
B) Yuvraj Narayan
C) Tom Moody
D) Greg Barclay
E) Indra Nooyi
19) Book Titled 'Advantage India: The Story of Indian Tennis' has been written by who among the following?
A) Rihan Richards
B) Ehsan Mani
C) Ross Macclum
D) Anindya Dutta
E) Ian Watmore
20) Who among the following has taken charge as Principal DG, PIB?
A) Anand Kumar
B) Jaideep Bhatnagar
C) Amit Sinha
D) Raj Gupta
E) Anil Singh
21) Manpreet Vohra has been appointed India's High Commissioner to which country?
A) Japan
B) Israel
C) Australia
D) Germany
E) France
22) Who among the following will receive the CERAWeek global energy and environment leadership award?
A) Prahlad Patel
B) Anurag Thakur
C) Amit Shah
D) Narendra Modi
E) NS Tomar
23) Which state will host Indian Women's League this year?
A) Bihar
B) Uttar Pradesh
C) Haryana
D) Madhya Pradesh
E) Odisha
24) Which film won the Best Film Drama at the Golden Globes 2021?
A) Minari
B) Andra Day
C) Nomadland
D) Chloe Zhao
E) Borat
25) Who among the following has won the Arjunan Master Award?
A) G. Devarajan
B) MK Arunaja
C) Gaanam
D) SreekumaranThampi
E) Raji Thampi
26) Who among the following beat Vanesa Kaladzinskaya to win gold in Ukraine wrestling event?
A) Bajrang Punia
B) Vinesh Phogat
C) Ritu Phogat
D) Somvir Rathee
E) Geeta Phogat
Answers : 
1) Answer: C
The Third Jan Aushadhi Diwas celebrations began Mar 01.
The week-long celebrations will go on till 7th of March.
Jan Aushadhi Kendras conducted Health Check-up Camps across the country.
The health check-up activities include Blood Pressure check-up, Sugar level check-up, free doctor consultation and free medicine distribution.
General public who visited these health camps were informed and educated about the price, benefits and quality of the medicines being sold at Jan Aushadhi Kendras.
2) Answer: D
The Land Ports Authority of India (LPAI) celebrated its 9th Foundation Day on 01 March 2021.
The event also included special addresses through virtual conferences by the High Commissioner of India to Bangladesh, Shri Vikram Kumar Doraiswami and other senior officers from the Government of India and the Asian Development Bank.
The LPAI website, Newsletter and News Journal were also launched during the Foundation Day event.
The event concluded with a virtual panel discussion on the subject "Facilitating Regional Trade and Connectivity through Land Route", which was attended by various eminent scholars and persons from India, Bangladesh, Bhutan and Nepal.
3) Answer: E
Minister for Social justice and Empowerment Thawar Chand Gehlot will virtually launch "Sugamya Bharat App" and a handbook entitled "Access – The Photo Digest".
Sugamya Bharat App is a means for sensitising and enhancing accessibility.
It provides for five main features of which four are directly related to enhancing accessibility.
They include registration of complaints of inaccessibility across the broad pillars of built environment, transportation sector and  Information and Communication Technology (ICT) ecosystem,  positive feedback of examples and best practices worth emulating being shared by people as jan-bhagidhari; Departmental updates; and guidelines and circulars related to accessibility.
The fifth feature is a special feature meant only for Divyangjan for COVID related issues.
4) Answer: B
Consumer Affairs Minister Piyush Goyal virtually presided over the Third Governing Council Meeting of the Bureau of Indian Standards.
He reviewed the process of making Indian Standards and their implementation with BIS officials, senior officials from different Ministries or Regulators.
Mr Goyal said there is a need to change the approach of the country towards standardization.
He said, Prime Minister Narendra Modi has given the three Mantras for faster economic development: SPEED, SKILL and SCALE.
Mr Goyal said, now it is time to add the fourth dimension of STANDARD into this.
The meeting was attended by the Minister of State for Consumer Affairs Raosaheb Patil Danve, MP Rajya Sabha Mahesh Poddar, Secretary, Consumer Affairs Leena Nandan, DG, BIS P.K. Tiwari, Chairman of Quality Council of India Adil Zainulbhai and other senior officials of the Ministry and Bureau of Indian Standards.
5) Answer: C
Union Minister for Road Transport and Highways Nitin Gadkari launched the Real-Time Monitoring System of Toll Plazas at a function in New Delhi.
Speaking on the occasion, Mr Gadkari said that implementation of FASTag at toll plazas has improved electronic toll collections and facilitated ease of doing business.
He said it also saves time and fuel.
The government has made FASTag mandatory from the 15th February midnight and any vehicle not fitted with it will be charged double the toll at electronic toll plazas across the country.
Mr Gadkari said the government is also working on ways to reduce the number of road accidents in the country by half up to 2025.
Mr Gadkari said, over eleven thousand kilometres of National Highways were constructed in the 11 months of this financial year and the per day road construction has reached 33 kilometres.
6) Answer: D
The Housing and Urban Affairs Ministry launched the field assessment of Swachh Survekshan -2021 at a web event in New Delhi.
This will be the sixth edition of the annual cleanliness survey.
Swachh Survekshan was introduced in 2016 as a competitive framework to encourage cities to improve the status of urban sanitation while encouraging large scale citizen participation.
Secretary of Housing and Urban Affairs Ministry Durga Shankar Mishra said, the survey has led to a spirit of healthy competition among cities and towns.
The journey that started in 2016 with only 73 cities with a million plus population has grown manifold, with 434 cities in 2017, 4,203 cities in 2018, 4,237 cities in 2019 and 4,242 cities in 2020.
Cities have been regularly filling in their data, updating their progress in the MIS along with running several citizen centric campaigns in preparation for Swachh Survekshan-2021.
7) Answer: E
Prime Minister Narendra Modi will inaugurate Maritime India Summit-2021 through video conferencing.
The three-day Summit will be held till 4th of March.
The three-day Maritime India Summit -2021 is being organized by the Ministry of Ports, Shipping and Waterways on a virtual platform www.maritime india summit.in.
The Summit will visualize a roadmap for India's Maritime sector for the next decade and will work to propel India to the forefront of the Global Maritime Sector.
Eminent speakers from several countries are expected to attend the Summit and explore the potential business opportunities and investments in Indian Maritime domain.
Denmark is the partner country for the three-day summit.
8) Answer: D
In the eastern Ladakh region, zero border villages are now getting better connectivity by all means.
Opposite to much discussed finger four, Merak and Khakted villages on the southern side of Pangong Tso got mobile connectivity.
As things are easing, under operation Sadbhavana, the Army laid OFC cable to fulfill the decades-long dream of the villagers to have mobile connectivity.
BSNL provided the equipment and ChuchulCouncillorKonchokStanzin provided solar power systems to the project.
KonchokStanzin said army and border villagers are symbiotic and complement each other in need.
Moreover as the situation is easing with disengagement at Line of Actual Control and with vaccination programs on covid pandemic front, the stalled developmental activities are expected to take off this season in Chuchul and Changthang regions.
9) Answer: D
Telangana Grameena Bank (TGB) and Andhra Pradesh Grameena Vikas Bank (APGVB) have launched digital savings account opening facility through Video-Know Your Customer (KYC).
The Digital Insta Savings Account mobile app of Andhra Pradesh Grameena Vikas Bank (APGVB) and Telangana Grameena Bank (TGB) was launched recently by State Bank of India chairman Dinesh Kumar Khara.
The app will be at the heart of the Digital Insta Savings Account (DISA) launched by the two regional rural banks.
The benefits of DISA include zero balance account; can be opened within 10 minutes and activation of mobile banking and SMS alerts immediately.
Rupay debit cards will be issued and the account holders need to successfully complete e-KYC at home branch or video-KYC within one year.
10) Answer: C
In Ladakh, Councillor (Town) LAHDC, Kargil Haji Mohammad AbassAdulpa inaugurated a Pradhan Mantri Jan Aushadhi Kendra at District Hospital, Kargil to celebrate the Pradhan Mantri Jan Aushadhi Diwas-2021.
Haji Abass purchased medicine from the centre in which all types of Generic Medicines will be available at lesser price.
Haji Abass said that considerable progress has been made, but a lot more needs to be done for improving facilities for patients in government hospitals.
He said that these stores would have a great impact on the lives of people by providing them quality medicines at affordable prices.
RMO Dr Shabir Hussain briefed about the importance for the Scheme and urged the people to take maximum benefits from the Jan Aushadhi Store.
A free Medical Check-up Camp was also organised at this juncture.
11) Answer: D
RBI has announced through a notification issued dated 22 February 2021 that Fino Payments Bank has been included in the Second Schedule to the Reserve Bank of India Act, 1934.
The scheduled commercial bank (also called as scheduled bank) status allows Fino Payments Bank to enhance its banking position in the treasury and participation in LAF (Liquidity Facility) window as per the RBI. It also helps the bank strengthen its business proposition on liabilities generation.
As a scheduled commercial bank, Fino Payments Bank will be better positioned to explore and manage government businesses. Mandates pertaining to pensions, provident funds and various welfare schemes under direct benefit transfer (DBT) will help enhance Fino's foot print in the financial inclusion space. Also, increased visibility on the government websites strengthens the customers' bond with the bank.
Scheduled Commercial Banks in India are categorised into five groups based on their ownership/nature of operation. These bank groups are:
State Bank of India and its Associates
Nationalised Banks
Regional Rural Banks
Foreign Banks
Other Indian Scheduled Commercial Banks (in the private sector)
12) Answer: E
Bank of India organised a cricket tournament for AMO Guntur, Zonal Office Vijayawada and AMO Tirupati at Pichukulagunta Grounds in Guntur.
Bank of India Vijayawada Zonal Manager V Somasekhar was the chief guest at the event. Deputy Zonal Manager D Ram Prasad supervised the conduct of the programme.
While Tirupati AMO team won the first prize, Guntur AMO team won the second prize.
Srikalahasti branch manager N Jogireddy has been declared as Man of the Series. Officials of 50 branches in the State participated in the tournament.
13) Answer: C
The third and final edition of the RashtriyaSanskriti Mahotsav 2021 in West Bengal organized by the Ministry of Culture, Government of India began on 27th February 2021 at Murshidabad, West Bengal.
Directors of all the zonal cultural centres of the Ministry of Culture were present during the inauguration of the Mahotsav and lit the ceremonial lamp .
The Mahotsav in Murshidabad will run for two days, 27–28 February 2021.
The Mahotsav started with colourful performances by the local artists, which included 'BaulGaan', 'AlkupGaan', 'Leto gaan', 'Jhumuriya' and Ranpa folk dances.
RashtriyaSanskriti Mahotsav, the flagship festival of Culture Ministry has been organized since 2015 with the active participation of Seven Zonal Culture Centres and has been playing a pivotal role to take the vibrant culture of India out to the masses instead of confining it to auditoria and galleries.
It has been instrumental in showcasing folk and tribal art, dance, music, cuisines & culture of one state in other states reinforcing the cherished goal of "Ek Bharat Shreshtha Bharat" and at the same time providing an effective platform to the artists and artisans to support their livelihood.
Earlier RashtriyaSanskritikMahotsavs have been held till date since November, 2015 in various states and cities such as Delhi, Varanasi, Bengaluru, Tawang, Gujarat, Karnataka, Tehri and Madhya Pradesh.
14) Answer: B
Bharat Petroleum Corporation Board has approved sale of its 61.65 percent stake in Numaligarh Refinery for 9,875 crore rupees.
Oil India Limited, Engineers India Ltd and Assam Government will be picking up the stake.
Government has also received Multiple Expressions of Interest for privatisation of Shipping Corporation of India Limited.
The transaction will now move to the second stage.
15) Answer: C
Suryakirans, Sarang and Light Combat Aircraft Tejas will participate in an air show in Colombo from March 3 to 5 as part of the 70th-anniversary celebrations of the Sri Lankan Air Force.
The IAF's aerobatic display teams, the fixed wing 'Suryakirans' and rotary wing 'Sarang', along with Tejas arrived at Colombo
The IAF and SLAF have seen active exchanges and interactions for a number of years in diverse fields like training, operational exchanges and professional military education courses.
IAFs participation in the 70th-anniversary celebration of SLAF is a further manifestation of the strong professional bonds that the two air forces share.
The IAF Suryakiran Aerobatic Team (SKAT) had earlier toured Sri Lanka in 2001 for the 50th-anniversary celebrations of SLAF.
16) Answer: D
In the Indian Space Research Organisation's (ISRO) first mission of the year, the country's polar rocket successfully launched Brazilian satellite Amazonia-1 and 18 other satellites from the Satish Dhawan Space Centre in Andhra Pradesh's Sriharikota.
The 18 co-passenger satellites placed in the orbit include four from ISRO's Indian National Space Promotion and Authorisation Centre (three UNITY Sats from consortium of three Indian academic institutes and the SD-SAT from SKI) and 14 from NSIL.
After four stages of separation, the rocket launched  Brazil's 637 kilogram Amazonia 1 satellite, its primary passenger.
Amazonia-1 is the optical earth observation satellite of National Institute for Space Research (INPE).
17) Answer: E
The Union Minister for Science & Technology, Earth Sciences and Health & Family Welfare Dr. Harsh Vardhan inaugurated the second edition of Global Bio-India-2021 in New Delhi through virtual mode.
The 3-day event will showcase the strength and opportunities of the India's biotechnology sector at national level and to the global community.
The three day event being held from 1st to 3rd March 2021 has been organized on a digital platform.
The theme for this year is "Transforming lives" with the tagline "Biosciences to Bio-economy".
Being one of the largest biotechnology stakeholder conglomerates, this event is being co-organised by the Department of Biotechnology, Ministry of Science & Technology, Government of India along with its Public Sector Undertaking, and Biotechnology Industry Research Assistance Council (BIRAC) in partnership with industry association Confederation of Indian Industry (CII), Association of Biotechnology Led Enterprises (ABLE) and Invest India.
The Biotechnology sector has emerged as an integral part of the Indian economy over the past few decades, and the Government of India is playing a transformative and catalytic role in building a USD 150 billion bio-economy by 2025.
The sector is recognized as one of the key drivers for India to achieve its USD 5 trillion target.
18) Answer: C
Sri Lanka Cricket (SLC) confirmed the appointment of former Australia all-rounder, Tom Moody, as the new Director of Cricket.
Moody's appointment came after recommendations made by the Technical Advisory Committee of the SLC to revamp Sri Lanka's Cricket operations.
"Sri Lanka Cricket wishes to announce the appointment of Mr. Tom Moody as the 'Director of Cricket,' effective from March 1, 2021.
19) Answer: D
Anindya Dutta has written the book titled "Advantage India: The Story of Indian Tennis".
The book highlights the history of Indian tennis.
Westland Sport publishes the book.
About the Book :
The book provides an extensive history of Indian tennis on both men's and women's sides
The book is the result of the detailed research of Anindya Dutta on the data from the archives of the Ministry of Information and Broadcasting and British newspapers from the past 200 years.
The book covers pre-independence players such as Mohammed Sleem, the Fyzee brothers, S.M. Jacob and Ghaus Mohammed and tennis icons Dilip Bose, SumantMisra, Naresh Kumar and Ramanathan Krishnan.
20) Answer: B
Mr. Jaideep Bhatnagar has taken over as Principal Director General, Press Information Bureau.
Mr. Bhatnagar is an Officer of the Indian Information Service belonging to the 1986 Batch.
He has earlier served in Doordarshan as Head of the Commercial, Sales and Marketing Division.
He also served as Prasar Bharati Special Correspondent in West Asia.
He later went on to head the News Services Division of All India Radio.
Mr. Bhatnagar takes over from Mr Kuldeep Singh Dhatwalia who has superannuated.
21) Answer: C
Manpreet Vohra, presently the Ambassador of India to Mexico, has been appointed as the next High Commissioner to Australia, the Ministry of External Affairs (EAM) informed.
Vohra is a 1988 batch Indian Foreign Service officer.
"Manpreet Vohra (IFS:1988), presently Ambassador of India to Mexico, has been appointed as the next High Commissioner of India to Australia.
He is expected to take up the assignment shortly," MEA said in a statement.
22) Answer: D
Prime Minister Narendra Modi will receive the CERAWeek Global Energy and Environment Leadership Award this week in recognition of his commitment to sustainability in the energy and the environment.
Theme: The New Map: Energy, Climate, and Charting the Future
CERAWeek by IHS Markit  the world's preeminent energy conference  will be held virtually March 1-5.
The year 2021 marks the 39th edition of the conference and is the first time that it will be an all-virtual event.
Modi will participate in a special plenary with Daniel Yergin, vice chairman of IHS Markit and conference chair, on March 5.
He will receive the CERAWeek Global Energy and Environment Leadership Award in recognition of his commitment to sustainability in the energy and the environment.
CERAWeek by IHS Markit is an annual international gathering of energy industry leaders, experts, government officials and policymakers, leaders from the technology, financial and industrial communities, as well as energy technology innovators.
23) Answer: E
The All India Football Federation confirmed Odisha as the venue for the 2020-21 edition of the Indian Women's League.
This is the fifth edition of the IWL, which began in 2016 and was held in Delhi. The current champions of the tournament are Gokulam Kerala FC, beating Kryphsa FC 3-2 in the final on February 14, 2020 in Bengaluru.
The inaugural edition of the tournament was also held in Odisha at Cuttack in 2016.
24) Answer: C
The Golden Globes 2021 ceremony was held March 1.
Purpose : To recognise excellence in film, both American and international, and American television.
This was the 78th edition of the annual event, which honored the best in American television, as well as film in 2020 and early 2021, as chosen by the Hollywood Foreign Press Association.
American TV series "The Crown" won the most awards for the ceremony with four awards.
Winners in Film category
Best Film – Drama: Nomadland
Best Film – Musical/Comedy: Borat Subsequent Movie Film
Best Director: Chloe Zhao for Nomadland
25) Answer: D
The first M K Arjunan Master award was conferred on lyricist SreekumaranThampi.
The event was organised by M K Arjunan Master Foundation in association with Medical Trust Hospital.
SreekumaranThampi said, "This award ignites a lot of emotions in me".
Since 1968, Arjunan Master has been a strong presence when my film songs found acclaim.
26) Answer: B
India's star wrestler VineshPhogat defeated 2017 world champion V Kaladzinskay to win the gold medal at the Outstanding Ukrainian Wrestlers and Coaches Memorial tournament.
Haryana's Bhiwani-based Vinesh won in the 53kg bout with a 10-8 lead.
She is the only Indian woman wrestler to have qualified for the Tokyo Olympics Games in the 53 kg category