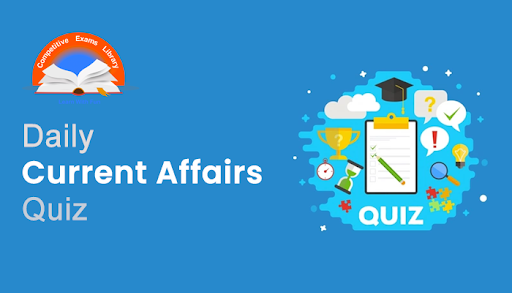 Dear Readers, Daily Current Affairs Questions Quiz for SBI, IBPS, RBI, RRB, SSC Exam 2021 of 04th & 05th April 2021. Daily GK quiz online for bank & competitive exam. Here we have given the Daily Current Affairs Quiz based on the previous days Daily Current Affairs updates. Candidates preparing for IBPS, SBI, RBI, RRB, SSC Exam 2021 & other competitive exams can make use of these Current Affairs Quiz.
1) International Day for Awareness on Mine and Assistance in Mine Action is observed on which of the following date?
A) April 1
B) April 12
C) April 4
D) April 3
E) April 5
2) Facebook and which company have jointly planned to launch 2 new undersea internet cables from the US West Coast to Singapore and Indonesia?
A) Nvidia
B) Microsoft
C) Intel
D) Google
E) Amazon
3) Which company has unveiled the "Sankalp se Siddhi"- Village and Digital Connect Drive?
A) ASSOCHAM
B) FICCI
C) CII
D) IFFCO
E) TRIFED
4) The Central Government has announced the Birth anniversary of Dr B R Ambedkar as a public holiday with effect from 2021, The birth anniversary of Dr BR Ambedkar celebrated on which date?
A) April 3
B) April 14
C) April 5
D) April 6
E) April 7
5) National Maritime Day is observed on which of the following date?
A) April 8
B) April 11
C) April 3
D) April 5
E) April 7
6) The Foreign Minister of which country will come to New Delhi for a two-day visit to India?
A) Denmark
B) France
C) Germany
D) Japan
E) Russia
7) The government of which state will inaugurate a unique gift scheme to promote covid vaccination?
A) Chhattisgarh
B) Bihar
C) Uttar Pradesh
D) Madhya Pradesh
E) Haryana
8) Foot marchers of 'Azadi Ka Amrit Mahotsav' have reached which of the following state recently?
A) Haryana
B) Gujarat
C) Bihar
D) Chhattisgarh
E) Madhya Pradesh
9) The Shistura Hiranyakeshi in Sindhudurg has Become the ____ Biological Heritage Site.
A) 9th
B) 8th
C) 7th
D) 4th
E) 5th
10) CRISIL has reported India's GDP rate at -7% for FY21 and ______ per cent for FY22.
A) 9.6
B) 9.5
C) 11
D) 10.5
E) 10.2
11) UNESCAP has reported India's Economic Growth Rate at _____ per cent in 2021-22.
A) 5.5
B) 6
C) 6.5
D) 7
E) 7.5
12) Japanese Nobel laureate Isamu Akasaki who passed away recently was the inventor of _____.
A) Pen Drive
B) CD
C) Blue-Ray Disc
D) White Light
E) Blue Led
13) Which of the following batch of Rafale fighter jets has landed in India from France?
A) 2nd
B) 3rd
C) 4th
D) 5th
E) 6th
14) NPCI has transferred Bharat Bill Payments business to its new subordinate company NBBL from ______.
A) April 11
B) April 2
C) April 3
D) April 1
E) April 4
15) KPSC has appointed who among the following as its New chairman?
A) Shiv Rathi
B) Shivashankarappa S Sahukar
C) Sudharshan Pattnaik
D) Manoj Verma
E) Anand Kumar
16) A New Book  'Manohar Parrikar: Brilliant Mind, Simple Life' has been Authored by who among the following?
A) Sudhir Mishra
B) Anuj Singhal
C) Sudharan Singh
D) Raj Verma
E) Nitin Gokhale
17) Shashikala who passed away recently was a veteran ____.
A) Hockey Player
B) Director
C) Actress
D) Dancer
E) Singer
18) Who among the following has released a new book called 'Suparipalana?
A) NS Tomar
B) Amit Shah
C) Venkiah Naidu
D) Prahlad Patel
E) Anurag Thakur
19) South Asian Wushu Championship Kerala-based Aniyan Midhun has won Gold. The event was held in which country?
A) Sri Lanka
B) India
C) Maldives
D) Nepal
E) Bhutan
20) Digvijaysinh Zala who passed away recently belonged to which political party?
A) CPI-M
B) JDU
C) BJD
D) BJP
E) Congress
Answers :
1) Answer: C
The United Nations' International Day for Mine Awareness and Assistance in Mine Action is celebrated on April 4 each year.
2021 Theme – "Perseverance, Partnership, and Progress"
The day was declared by the UNGA on 8 December 2005, to raise awareness about landmines and progress toward their eradication.
2) Answer: D
Technology giant Facebook and Google have planned to lay two huge subsea cables, called Echo and Bifrost, to provide vital new connections between the Asia-Pacific region and North America.
The Echo and Bifrost trans-Pacific cables will link the U.S. West Coast to Singapore and Indonesia, and increase the data capacity between the regions by 70% and improve internet reliability.
Facebook will be investing in both cables, but Google will invest only in Echo.
Google and Facebook have partnered with leading regional and global partners to implement the project, including Indonesian firms Telin and XL Axiata, and Singapore-based Keppel.
The Echo project is to be completed by late 2023, while Bifrost is set to be finished by late 2024.
3) Answer: E
TRIFED under Ministry of Tribal Affairs has now launched "Sankalp se Siddhi" – Village and Digital Connect Drive.
It is a 100 day drive which was started from 1st of this month.
The drive will entail 150 teams visiting ten villages each of which 10 in each region from TRIFED and State Implementation Agencies, visiting ten villages each.
The main aim of this drive is to activate the Van Dhan Vikas Kendras in these villages.
Ministry of Tribal Affairs in a statement said that 100 villages in each region and 1500 villages in the country will be covered in the next 100 days.
The visiting teams will also identify locations and shortlist potential Van Dhan Vikas Kendras for clustering as TRIFOOD, and Scheme of Fund for Regeneration of Traditional Industries- SFURTI units as larger enterprises.
4) Answer: B
The government has declared Ambedkar Jayanti, the birth anniversary of Dr BR Ambedkar which falls on 14 April every year, as a public holiday with effect from 2021, under Section 25 of the Negotiable Instruments Act, 1881.
On 14 April 2021, India will celebrate the 130th birth anniversary of Babasaheb Ambedkar.
5) Answer: D
On this day in 1919, the Indian shipping started when SS Loyalty, the first ship of The Scindia Steam Navigation Company Ltd, sailed to London (UK) from Mumbai.
India celebrates National Maritime Day every year on April 5. In 1959, India became an associate of International Maritime Organization which is for maritime protection and to prevent pollution from ships.
The World Maritime Theme for 2021 is devoted to seafarers, highlighting their central role which is very important for the way forward for the shipping sector.
6) Answer: E
Russian Foreign Minister, Sergey Lavrov will begin a two-day visit to India.
The visit will present an opportunity to discuss aspects of bilateral ties and review preparations for the pending India-Russia annual summit later this year.
The Ministry of External Affairs (MEA) spokesperson, Arindam Bagchi had said that the visit will be a unique opportunity to discuss important aspects of our bilateral ties, also to review preparations for the next India Russia annual summit and also perhaps discuss regional and international issues of mutual interest.
Russian Foreign Ministry spokesperson Maria Zakharova said the Russian Foreign Minister, during his visit, will hold talks with External Affairs Minister S Jaishankar.
After India, Mr Lavrov will visit Pakistan from April 6-7.
7) Answer: C
Uttar Pradesh government has launched a unique gift scheme to promote covid vaccination in the state.
Chief Minister Yogi Adityanath has asked officials to make all preparations to deal with the growing number of Corona infections.
World Health Day on 7th April, the state government will conduct a lucky draw for those who have taken the vaccine.
Additional chief secretary health Amit Mohan Prasad said that in those districts where more than 25,000 beneficiaries have taken both doses of vaccine they will be eligible for this gift scheme.
4 gifts will be given to the beneficiaries after the lucky draw.
Where more than 25,000 or more than 50,000 beneficiaries have taken both the doses of vaccines, the number of gifts will be increased to 6 and 8.
8) Answer: B
Mahatma Gandhi during his historic Dandi March of 1930, left for Daman from Wanj in the morning of 3rd April.
The foot marchers of the Azadi Ka Amrit Mahotsav have reached Dhaman on the footsteps of Mahatma Gandhi.
Dandi Padyatris are getting a warm welcome at every turn passing by.
Women children and local residents are welcoming the Padyatris by eradicating the wall of caste and religion.
In Dhaman, Sikkim Chief Minister Prem Singh Tamang joined the Padyatris and traveled on foot to Navsari.
During the Dandi March of 1930, Mahatma Gandhi left for Dhaman in the morning of 3rd April.
Dandi Padyatris of Azadi Ka Amrut Mahotsav are proceeding on the same route.
There is a lot of enthusiasm in the atmosphere.
There are paths decorated with flowers, children and girls dressed as Gandhi and Bharat Mata are also involved in the yatra.
Women are showering flowers to welcome the padyatris.
Sikkim Chief Minister Prem Singh Tamang joined padyatris in Dhaman and walked up to Navsari on the historic path of Mahatma Gandhi.
9) Answer: E
The Maharashtra government has declared an area at Amboli in Western ghats in Sindhudurg district as a biodiversity heritage site, following the discovery of a rare freshwater fish species.
The new freshwater fish species called 'Schistura Hiranyakeshi' was discovered in a pond at the Mahadev Temple at Amboli in Sawantwadi tehsil of Sindhudurg district by Tejas Thackeray (son of Maharashtra Chief Minister Uddhav Thackeray), long with his team.
The 2.11 hectare area has been declared as 'Shistura Hiranyakeshi Biological Heritage Site', under the Biological Diversity Act, 2002, making it the fifth area in Maharashtra.
10) Answer: C
Rating Agency CRISIL has projected India's GDP growth rate as under:
For FY21= -7%
For FY22= +11%
CRISIL is a subsidiary of American company S&P Global.
11) Answer: D
The United Nations Economic and Social Commission for Asia and the Pacific (UNESCAP) has estimated the GDP growth rate of India at 7% in 2021-22, in its latest report titled Economic and Social Survey of Asia and the Pacific 2021.
For the previous fiscal 2020-21, UNESCAP estimated a contraction of 7.7% for India on account of the pandemic's impact on normal business activity.
12) Answer: E
On April 02, 2021, Japanese physicist Isamu Akasaki passed away.
He was 92.
About Isamu Akasaki :
Akasaki, born in 1929 in Kagoshima in southern Japan.
He is a co-winner of the 2014 Nobel Prize in physics for inventing the world's first efficient blue light-emitting diodes
13) Answer: C
The fourth batch of three IAF Rafales landed in India on March 31, 2021, after a direct ferry from Istres Air Base in France.
These Rafales were refuelled mid-air by UAE Air Force tankers.
Five extra Rafale jets are scheduled to be ferried to India by the end of April 2021.
With this new arrival of the three jets, the total Rafale fleet with Indian Air Force has increased to 14.
14) Answer: D
The National Payments Corporation of India (NPCI) has transferred all its Bharat Bill Payment System (BBPS) transaction business to NPCI Bharat BillPay Limited (NBBL), a wholly-owned subsidiary of NPCI.
All licensed bill processors on the Bharat Bill Payment Operating Units (BBPOU), i.e. the banks and payment aggregators, have been directed to start accounting their billing transactions under NBBL from April 1 2021.
The decision to set up a separate subsidiary for bill payment business aims to scale growth of the interoperable bill platform by giving it increased autonomy in operations and on boarding of new billers.
BBPS is an interoperable bill payments platform set up in 2013, for use by banks, fintech companies and biller merchants to automate bill collection and request solutions.
15) Answer: B
Shivashankarappa S Sahukar, Member, Karnataka Public Service Commission (KPSC), has been appointed as the chairman of KPSC, with immediate effect.
He will replace former IAS officer Shadakshari Swamy, who retired.
"Governor Vajubhai Vala appointed Shivashankarappa S Sahukar as chairman of KPSC with immediate effect and until further orders under Article 316 (1) of the Constitution of India," a notification issued by the State Government.
Shivashankarappa joined KPSC as a member on September 3, 2019.
16) Answer: E
On March 31, 2021, A new book named 'Manohar Parrikar: Brilliant Mind, Simple Life' authored by Nitin Gokhale.
The book was published by Bloomsbury.
About the book :
The book is a tribute to Parrikar, India's former defence minister and four-time chief minister of Goa, the first IIT-ian to become a chief minister
The book highlights the journey of the contribution of Parrikar to nation-building and his service to the Goan society, from being an IIT student to a social worker and to India's defence minister.
About Nitin Gokhale :
Gokhale is a renowned author, founder of a specialised defence related website BharatShakti.in. and StratNewsGlobal.com and media trainer.
17) Answer: C
Veteran actress Shashikala Om Prakash Saigal (née Jawalkar) passed away.
She was 88
About Shashikala :
Born in Solapur, Maharashtra.
She made her first big-screen appearance in the 1945 movie "Zeenat", directed by legendary actor Noor Jehan's husband Syed Shaukat Hussain Rizvi.
She then appeared in supporting roles in classics like "Gumrah" (1963), "Waqt" (1965),
18) Answer: C
Vice President Shri M. Venkaiah Naidu has released a book titled 'Suparipalana',
The book has been written by retired civil servant Dr Shailendra Kumar Joshi.
It was published by Shri Maruthi.
Suparipalana is the Telugu translation of "Echo T Calling: Towards People-Centric Governance", written by former Telangana Chief Secretary, Shri S K Joshi.
Shri Annavarapu Brahmaiah has translated this book into Telugu.
19) Answer: D
On March 30 & 31, 2021, Aniyan Midhun of Kerala won the gold medal in the 70-kg category at the South Asian Wushu Championship 2021.
It was held in Nepal.
He is the first Wushu player from southern India to reach the Indian team.
20) Answer: E
Former Union Environment Minister and Gujarat MLA Digvijaysinh Zala passed away.
He was 88.
About Digvijaysinh Zala :
The Environment ministry under Prime minister Indira Gandhi, he became the first Environment Minister of the country from 1982 to 1984.
Zala was an MLA from Wankaner for the years 1962-67 as an independent candidate and as a member of the Swatantra Party from 1967-71.
He joined the Congress and became a Member of Parliament from Surendranagar for two terms from 1979 to 1989.