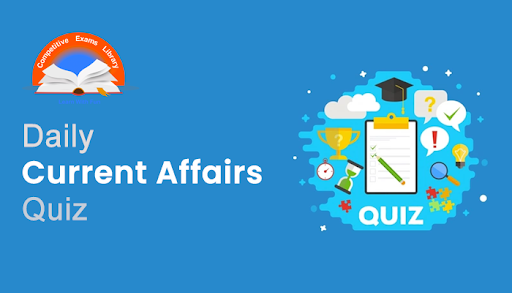 Dear Readers, Daily Current Affairs Questions Quiz for SBI, IBPS, RBI, RRB, SSC Exam 2021 of 04th February 2021. Daily GK quiz online for bank & competitive exam. Here we have given the Daily Current Affairs Quiz based on the previous days Daily Current Affairs updates. Candidates preparing for IBPS, SBI, RBI, RRB, SSC Exam 2021 & other competitive exams can make use of these Current Affairs Quiz.
1) World Cancer Day is observed on which of the following date?
A) February 1
B) February 3
C) February 4
D) February 5
E) February 8
2) Who among the following has inaugurated the ChauriChaura centenary celebrations?
A) Venkiah Naidu
B) Amit Shah
C) Anurag Thakur
D) Narendra Modi
E) Prahlad Patel
3) India's First Amputee Clinic has been Launched in which city?
A) Gujarat
B) Delhi
C) Pune
D) Surat
E) Chandigarh
4) Which of the following word has been named as Oxford Hindi word of 2020?
A) Samvidhaan
B) Atmanirbharta
C) Swadesh
D) Aadhar
E) Shakti
5) Budget 2021-22 has proposed the setting up of ______ new Sainik Schools in the country.
A) 175
B) 200
C) 125
D) 100
E) 150
6) Which of the following UT has become the first Union Territory to be corona free?
A) Delhi
B) Chandigarh
C) Andaman and Nicobar Islands
D) Puducherry
E) Daman & Diu
7) International Day of Human Fraternity is being Observed On which of the following date?
A) February 1
B) February 2
C) February 4
D) February 6
E) February 4
8) Which edition of Aero India is being organized recently?
A) 9th
B) 10th
C) 13th
D) 12th
E) 11th
9) The Indian Council of Agricultural Research (ICAR) has started organising _________ a National level hackathon in the month of August, 2020 to promote innovation in agriculture and allied sectors in the country.
A) Agrim
B) Vishwas
C) Swadhar
D) Kritagya
E) Kutumbh
10) NBCFDC has signed anMoU with which company to provide providing COVID Vaccine Administration training?
A) Nippon
B) Apollo
C) Religare
D) MedSpa
E) Medic Health
11) Chiefs of Air Staff (CAS) Conclave has been recently organised at which city?
A) Surat
B) Chandigarh
C) Bengaluru
D) Chennai
E) Delhi
12) Who among the following will replace Jeff Bezos as Amazon CEO?
A) Arnould Renault
B) Steve Micthell
C) Nitin Desai
D) Gazal Alagh
E) Andy Jassy
13) India to emerge as the most resilient economy after which country in 2021 as per the industry body PHDCCI?
A) Israel
B) Denmark
C) Germany
D) France
E) Sweden
14) Who among the following is one of the recipients of Alert Being Awards 2020 by the NGO ALERT, for their Good Samaritan work?
A) Bappi Lahri
B) Ravi Shankar
C) Shankar Mahadevan
D) AR Rahman
E) Amaal Malik
15) Ashoke Dinda has retired from all forms of cricket. He played for which state?
A) MP
B) UP
C) Bihar
D) Maharashtra
E) Bengal
Answers :
1) Answer: C
World Cancer Day 2021 Annually observed on February 4.
World Cancer Day seeks to raise awareness and reduce the stigma surrounding the disease that is the second leading cause of deaths globally.
This international day is a 'global uniting initiative' led by the Union of International Cancer Control (UICC) and is meant to encourage the prevention, detection, diagnosis and treatment of cancer as early as possible.
History of the day :
World Cancer Day was first established at the World Cancer Summit Against Cancer for the New Millennium held in Paris, on February 4, 2000.
This day celebrates the anniversary of the signing of the 'Charter of Paris Against Cancer' by the General Director of UNESCO, Kōichirō Matsuura and the French President Jacques Chirac.
In 2019, the theme 'I Am and I Will' was introduced and was to be carried on till 2021
2) Answer: D
Prime Minister NarendraModi will inaugurate the ChauriChaura centenary celebrations at ChauriChaura in Uttar Pradesh on February 4 via video conferencing.
MrModi will also release a postal stamp dedicated to the ChauriChaura incident.
Uttar Pradesh Chief Minister Yogi Adityanath will also be present on the occasion.
February 4 marks the centenary of a landmark event in the freedom struggle that took place at ChauriChaura village in Gorakhpur district of Uttar Pradesh, known as United Province in British India, when a large group of protesters participating in Mahatma Gandhi's non-cooperation movement clashed with the police, who opened fire.
3) Answer: E
An 'amputee clinic', the first of its kind in India, with the aim of improving amputation patient care by providing a collection of services under one roof with significant coordination was launched in Chandigarh.
The clinic was formally inaugurated by the Post Graduate Institute of Medical Education and Research (PGIMER) Director Prof Jagat Ram.
The basic intent of this initiative is to bring an Amputee as a near-normal functional human being in society.
This initiative will attempt to provide appropriate management to amputees to guide them in their path to rehabilitation in society and will support patients with counseling and medical facilities during their treatment and recovery.
4) Answer: B
Prime Minister NarendraModi pushed for 'Atmanirbhar Bharat' (self-reliant India) an Oxford panel has now chosen 'Atmanirbharta' in Hindi word of 2020.
The advisory panel of language experts KritikaAgrawal, Poonam Nigam Sahay and Imogen Foxell stated that "it validated the day-to-day achievements of the countless Indians who dealt with and survived the perils of a pandemic".
The Oxford Hindi word of the year is a word or expression that is chosen to reflect the ethos, mood, or preoccupations of the passing year, and have lasting potential as a term of cultural significance.
The usage of the word 'Aatmanirbharta' after Prime Minister Modi's address has increased significantly.
There was a massive increase in the usage of aatmanirbharta following the prime minister's address, highlighting its increased prominence as a phrase and concept in the public lexicon of India
Previous Hindi words of the year are Aadhar (2017), Nari Shakti (2018) and Samvidhaan (2019).
5) Answer: D
Union Budget for Financial Year 2021-22 has proposed to set up 100 new Sainik Schools in the country, in partnership with NGOs, private schools and State-owned schools.
The endeavor is to provide schooling opportunities in 'CBSE Plus' type of educational environment by involving desirous government, private schools and NGOs to partner in establishing their system with Sainik Schools' ethos, value system and national pride.
The aim of establishing Sainik Schools is to prepare children academically, physically and mentally for entry into the National Defence Academy and to develop qualities of body, mind and character which will enable the young boys to become good and useful citizens.
From the academic session 2021-22, girl candidates are also eligible for admission to Class 6th in all 33 Sainik Schools.
6) Answer: C
Andaman and Nicobar Islands has become the first state or Union territory in the country to become Covid-19 free with active cases falling to zero in the islands.
Health ministry's website reported that the last four infected persons in Andaman and Nicobar Islands have been declared cured.
The UT had reported a total of 4,932 cases and 62 deaths from the virus.
The share of Kerala in India's daily cases crossed 50 percent for the first time
There were 11,024 fresh cases in the country out of which Kerala alone reported 5,716,  51.8 percent of the total.
The state also has the highest count of active cases at 69,157, out of around 1 lakh 61 thousand in the country.
7) Answer: E
In December, the UN General Assembly adopted a resolution to declare 4 February as International Day of Human Fraternity.
International Day of Human Fraternity aims to underline the importance of raising awareness about different cultures and religions, or beliefs, and the promotion of tolerance.
It also aims to educate people that tolerance,  pluralistic tradition,  mutual respect, and the diversity of religions and beliefs promote human fraternity.
Theme of 2021 is A Pathway to the future
8) Answer: C
In a first, the 13th edition will see an Indian Ocean Region (IOR) defence minister's conclave as India seeks a bigger role in this volatile hub of global geopolitical rivalry.
It can be seen that the conclave is an initiative that promotes dialogue in an institutional, economic and cooperative environment that can foster development of peace and stability.
It can be seen that Bengaluru has hosted all 13 editions of the show.
Since 1996, Aero India has come a long way to become Asia's largest defence and aerospace air show over the years.
In its 25th year, the government is using it to further geopolitical goals with strategic events.
9) Answer: D
The Indian Council of Agricultural Research (ICAR) has started organising KRITAGYA- a National level hackathon in the month of August, 2020 to promote innovation in agriculture and allied sectors in the country.
Agri-Hackathon  is to give opportunity to the students along with faculties, innovators for showcasing their innovative approaches & technologies in agriculture and allied sectors.
Indian Council of Agricultural Research (ICAR) has put in place an Institutional mechanism through Research Institutes, KrishiVigyanKendras (KVKs) and Agriculture Universities (AUs) to address the problems being faced by the farming sector.
10) Answer: B
The National Backward Classes Finance and Development Corporation (NBCFDC) has signed an MoU with Apollo Medskills Private Ltd for providing COVID Vaccination Administration training to Nurses, Medical and Nursing students and Pharmacists.
The programme has been sanctioned with the aim of Up-Skilling the competency level of the health care workers as well contributing to the national programme of vaccination under progress.
The Corporation has sanctioned training programmes for 1,000 trainees in the State of Bihar, Delhi, Telangana, Tamil Nadu and Uttar Pradesh.
11) Answer: C
The Indian Air Force will host a Chiefs of Air Staff (CAS) Conclave on 3rd and 4th Feb 21 at Air Force Station Yelahanka, Bangalore.
The Conclave will be a unique one where Chiefs of Air Staff from various countries would brainstorm and synergize their thoughts on current issues related to aerospace power strategy and technological developments.
The Conclave will be inaugurated by Hon'bleRakshaMantriShriRajnathIt is expected to be attended by about 75 countries.
The Conclave will also be a perfect example of India's Defence Cooperation with other countries working as a diplomatic instrument, giving an opportunity for building bridges of friendship, mutual trust and capacities on a global basis. Promoting transparency in defence cooperation and building areas of common interests in military aviation will be focus areas of the CAS Conclave.
12) Answer: E
Amazon Web Services (AWS) chief Andy Jassy will replace billionaire founder Jeff Bezos as Amazon.com's next chief executive officer.
Bezos started the company 27 years ago, on 5 July 1994, as an internet bookseller.
He will assume the role of Executive Chairman of Amazon.
Meanwhile, it has also been announced that the head of Amazon's cloud services, Andy Jassy will take over as the company's new CEO.
13) Answer: C
Germany ranks first in the PHDCCI International Economic Resilience (IER) Rank followed by India and South Korea at second and third positions, respectively, according to the report released by industry body PHDCCI.
It is based on analysis of five lead macroeconomic indicators reflecting a country's economic performance including real GDP growth rate, merchandise export growth rate, current account balance (as percentage of GDP), general government net lending/borrowing (as percentage of GDP) gross debt-to-GDP ratio.
India's IER Rank stands at second among the top-10 leading economies, indicating strong resilience of the Indian economy to the daunting pandemic of COVID-19,
India's real GDP growth rate is projected to be the highest at 11.5% in the year 2021 among the top-10 leading economies in the world, according to the industry body.
14) Answer: D
Music composer AR Rahman and social activist SaidapetHari Krishnan were among the 14 people who were presented the fourth edition of the Alert Being Awards 2020 by the NGO ALERT , for their Good Samaritan work.
Hari Krishnan had been appointed by the Greater Chennai Corporation as a district volunteer head for Covid-19 relief work.
About the Award :
The awards will give recognition to the awardees and encourage others.
The Alert Being Icon Award for an organisation was presented to the Biocon Foundation founded by KiranMazumdar Shaw.
According to Rajesh R Trivedi, a managing trustee of ALERT, 156 nominations from 15 states
and 35 districts across India were received.
15) Answer: E
Fast bowler AshokeDinda, 36, has retired from all forms of the game after 15 years in Bengal cricket.
Addressing the media, in Kolkata, Dinda announced his retirement from all forms of cricket on February 2.
About  AshokeDinda:
The right-handed pacer made his international debut in 2009, in a T20I against Sri Lanka, followed by making his ODI debut in Zimbabwe in 2010.
He went on to play 13 ODIs, with the last one being against England at Rajkot in 2013 and 9 T20I matches for India.
Dinda played 116 first-class matches for Bengal, bagging 420 wickets at a bowling average of 28.28. In List A matches, he played 98 fixtures in his career bagging 151 wickets- all for Bengal cricket team.
He last appeared in T20 fixtures for Goa, last month, in the Syed Mushtaq Ali Trophy.