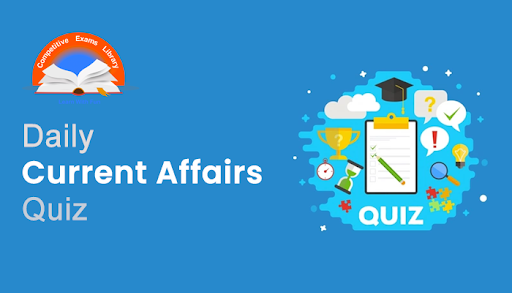 Dear Readers, Daily Current Affairs Questions Quiz for SBI, IBPS, RBI, RRB, SSC Exam 2021 of 04th June 2021. Daily GK quiz online for bank & competitive exam. Here we have given the Daily Current Affairs Quiz based on the previous days Daily Current Affairs updates. Candidates preparing for IBPS, SBI, RBI, RRB, SSC Exam 2021 & other competitive exams can make use of these Current Affairs Quiz.
1) International Day of Innocent Children Victims of Aggression – Observed in June ___.
A) 1
B) 2
C) 4
D) 5
E) 3
2) Brazil to host Copa America for ___ consecutive time.
A) 6th
B) 5th
C) 2nd
D) 3rd
E) 4th
3) Who among the following will launch the SAGE project ?
A) Narendra Modi
B) NS Tomar
C) Prahlad Patel
D) Thawarchand Gehlot
E) Amit Shah
4) Which organization has suggested to link Aadhaar with Voter ID card ?
A) RBI
B) FICCI
C) ECI
D) Niti Aayog
E) CII
5) The government has announced the Target year to Achieve '20% Ethanol-Blending to Petrol' to 2023 from ___.
A) 2028
B) 2027
C) 2025
D) 2023
E) 2026
6) The National AI Portal recently celebrated its first anniversary on which date?.
A) May 25
B) May 26
C) May 28
D) May 30
E) May 31
7) Who among the following has Announced the Integration of e-Gopala app with UMANG platform?
A) Anurag Thakur
B) NS Tomar
C) Giriraj Singh
D) Amit Shah
E) Prahlad Patel
8) Who among the following has Initiated List of Initiatives to Enhance SATAT Scheme?
A) Narendra Modi
B) NS Tomar
C) Dharmendra Pradhan
D) Amit Shah
E) Thawarchand Gehlot
9) Which institution gave approval to China's SINOVAC Covid vaccine for Emergency Use Listing?
A) UNESCO
B) UNICEF
C) WHO
D) IMF
E) None of these
10) Which state government has launched new plans on Kaliagnar's 97th birthday?
A) Bihar
B) Chhattisgarh
C) Tamil Nadu
D) Haryana
E) Madhya Pradesh
11) Union Minister Narendra Singh Tomar launches Indus Best Mega Food Park at which city?
A) Chandigarh
B) Raipur
C) Pune
D) Surat
E) Delhi
12) Haryana state's Governor has approved 'The Haryana Recovery of Damages to property Act', Who is the present governor of Haryana?
A) Baby Rani Maurya
B) Acharya Devvrat
C) Jagdish Mukhi
D) Satyadev Narayan Arya
E) Kalraj Mishra
13) Number of startups granted by DPIIT has recently reached ____.
A) 65000
B) 60000
C) 40000
D) 45000
E) 50000
14) ADB and India have signed a loan agreement for which state?
A) Madhya Pradesh
B) Sikkim
C) Kerala
D) Haryana
E) Bihar
15) Which Bank has become the 1st in Asi-Pacific, 2nd Globally to offer 'SWIFT gpi Instant' Facility?
A) Bandhan
B) BOI
C) ICICI
D) Axis
E) HDFC
16) Bharti Axa Life Bancassurance Partnership with which bank? 
A) SBI
B) UCO
C) BOI
D) Shivalik SFB
E) Axis
17) Inter Milan appointed Simone Inzaghi as coach on ___ contract.
A) 6 year
B) 5 year
C) 4 year
D) 3 year
E) 2 year
18) Which state governor has appointed V Bhoopal Reddy as pro-tem Council Chairman?
A) Haryana
B) Telangana
C) Karnataka
D) Kerala
E) Madhya Pradesh
19) Ola elaborates the team with appointment of ___ new CFOs.
A) 5
B) 4
C) 2
D) 1
E) 3
20) Who has been appointed as MD for HBO Max in Southeast Asia and India?
A) Nagesh Rane
B) Sunil Mishra
C) Pradeep Kotiyal
D) Amit Malhotra
E) Ranjan Mathur
21) RanjitsinhDisale has been appointed as Education Advisor to which bank?
A) NDB
B) EDB
C) IMF
D) ADB
E) World Bank
22) Who has recently been elected as board of International Dairy Federation?
A) Sakshi Rahi
B) RS Sodhi
C) Amit Aggarwal
D) Suresh Rana
E) Nalini Mishra
23) Who has taken oath as DG of Assam Rifles?
A) Anand Rathi
B) Nalini Kumar
C) Pradeep Chandran Nair
D) Amit Tyagi
E) Sudesh Tyagi
24) Which International Airport has bagged a green award?
A) Mumbai
B) Delhi
C) Surat
D) Hyderabad
E) Pune
25) Which Metro Rail limited has inked MoU for Water Metro project?
A) Chandigarh
B) Kolkata
C) Mumbai
D) Delhi
E) Kochi
26) Add Engg has signed MoU with a firm from which country?
A) US
B) UAE
C) Qatar
D) Finland
E) Sweden
27) India has Obtained __  new Flying Training Academies.
A) 4
B) 6
C) 5
D) 7
E) 8
28) Which company has launched tiny critters, solar panels to space station?
A) ESA
B) ISRO
C) Roscosmos
D) SpaceX
E) NASA
29) Who has remained to top ICC women's T20I batting rankings?
A) Aditi Tyagi
B) Rani Talwar
C) Shafali Verma
D) Nalini Singh
E) Sakshi Mishra
Answers :
1) Answer: C
International Day of Innocent Children Victims of Aggression is a United Nations observance held on June 4 every year.
It was established on 19 August 1982.
The purpose of the day is to acknowledge the pain suffered by children throughout the world who are the victims of physical, mental and emotional abuse.
This day affirms the UN's commitment to protect the rights of children.
2) Answer: C
Brazil will host Copa America for the second consecutive time after Colombia and Argentina were stripped of hosting rights for the Football tournament.
It has been announced by South American soccer body CONMEBOL.
The tournament is confirmed to take place between June 13 and July 10.
Colombia was removed as co-host on May 20 as street protests against President Ivn Duque rocked the nation.
Copa America was initially scheduled for 2020, but the COVID-19 pandemic.
3) Answer: D
The Ministry of Social Justice and Empowerment will launch Senior care Ageing Growth Engine (SAGE) project to select, support and create a "one-stop access" of elderly care products and services by credible start-ups.
The initiative was launched by Shri Thaawarchand Gehlot in the presence of MoS, MSJE, Shri Rattan lal Kataria in New Delhi.
Start-ups can apply for being a part of SAGE through a dedicated portal.
As per surveys, the share of elders, as a percentage of the total population in the country, is expected to increase from around 7.5 per cent in 2001 to almost 12.5 per cent by 2026.
4) Answer: C
In a bid to ensure free and fair elections in the country and maximize the electoral coverage, the Election Commission of India has made a series of recommendations to the Law Ministry including cancellation of candidature & increasing the imprisonment to 2 years in case of false affidavit by poll candidates.
Currently the statute allows inclusion of names of only those people who have turned 18 years old as on 1st January of the year.
In another major reform, the Central poll body has also suggested linking the Aadhar Card with the Voter ID card in order to prevent duplicity of EPIC cards.
Current Chief Election Commissioner: Shri Sushil Chandra
5) Answer: C
India's government will bring forward to 2023 from 2025 the possibility of fuel companies selling gasoline containing up to 20% of ethanol (E20), according to brokers and a publication in the country's official gazette.
It is the second time India's government anticipates sales of the E20 fuel, which originally would happen only in 2030, as the country seeks to cut its oil import bill and reduce carbon dioxide pollution in cities.
Most of the additional ethanol production in the country will come from sugar cane processing, so less cane will likely be used to make sugar.
India has also been giving soft loans to sugar mills to increase ethanol production capacity by adding distillation infrastructure to existing plants.
6) Answer: C
The 'National AI Portal' celebrated its first anniversary on May 28, 2021.
About National AI Portal:
Firstly, the National AI Portal was launched in May 2020.
It is a joint initiative by the Ministry of Electronics and IT (MeitY), National e-Governance Division (NeGD) and NASSCOM.
Second Purpose: The portal works as a one-stop digital platform for sharing of resources.
Such as articles, startups, investment funds in AI, resources, companies and educational institutions related to AI in India.
Third Purpose: The portal also shares documents, case studies, research reports etc.
It also has a section about learning and new job roles related to AI.
7) Answer: C
Union Minister for Fisheries, Animal Husbandry & Dairying, Giriraj Singh announced integration of e Gopala App with UMANG platform so that 3.1 Crore users of Umang platform will get access to App.
e-GOPALA app (Generation of wealth through Productive Livestock), a comprehensive breed improvement marketplace and information portal for direct use of farmers, was launched by Hon'ble PM on 10th September 2020.
The Minister stated that India is a global leader amongst dairying nations and produced 198.4 million tonnes of milk during 2019-20.
Value of output of milk is more than Rs 7.72 lakh crore during 2018-19 at current prices which is more than the value of output of wheat and paddy together.
The Minister announced the launch of the National Awards for the Cattle and Dairy sector, the Gopal Ratna Awards.
The award has three categories –  i) Best Dairy farmer, ii) Best Artificial Insemination Technician (AIT) and Best Dairy Cooperative/ Milk producer Company/ FPO.
He mentioned that eligible farmers/dairy cooperative societies/ AI technicians can apply for the award online and the portal for award will open from 15th July 2021.
Winners for the award will be announced on 31st October 2021.
8) Answer: C
Union Minister of Petroleum and Natural Gas & Steel Shri Dharmendra Pradhan presided over a virtual ceremony in which a number of initiatives were launched to provide major fillip to the SATAT initiative, and help India leap ahead towards a greener.
This included signing of a Cooperation Agreement by Oil and Gas majors including IndianOil, HPCL, BPCL, GAIL and IGL, for the promotion and development of the SATAT (Sustainable Alternative Towards Affordable Transportation) scheme.
The SATAT scheme aims to set up Compressed Biogas production plants and make CBG available in the market for use as a green fuel.
GAIL shall serve as the coordinator for the implementation of the CBG-CGD synchronization scheme.
9) Answer: C
The World Health Organization (WHO) has approved China's Sinovac Covid vaccine for emergency use.
It is the second Chinese vaccine to receive the green light from the WHO, after Sinopharm.
WHO stated that the emergency approval means the vaccine "meets international standards for safety, efficacy and manufacturing".
Vaccine efficacy results showed that the vaccine prevented symptomatic disease in 51% of those vaccinated and prevented severe COVID-19 and hospitalization in 100% of the studied population.
Few older adults (over 60 years) were enrolled in clinical trials, so efficacy could not be estimated in this age group.
10) Answer: C
Tamil Nadu Govt has introduced new plans for the celebration of Kaliagnar's 97th birthday.
A slew of new techniques had been declared and Chief Minister Stalin inaugurated distribution of welfare strategies in the course of Covid-19.
The Government mentioned that a 500 bedded multi speciality medical center for the reward of the people living in South Chennai will be designed at a value of Rs. 250 crore.
A library will be built in memory of Kalaignar at Madurai.
Award winning Tamil writers will be supplied a residence in their individual districts.
Chief Minister Stalin distributed ten kilogram rice with 15 grocery merchandise alongside with the next installment of 2000 Rs compensation throughout Covid time period for ration card holders.
He also gave Rs.4000 alongwith provisions and rice to the priests who are doing the job at temples underneath the State Hindu spiritual and Charitable Endowments Ministry.
The Chief Minister started the scheme of Rs Rs.5000/- bonus for a single lakh 12 thousand 184 law enforcement personnel who are functioning in the forefront of battling Covid-19.
11) Answer: B
Union Minister for Food Processing Industries Narendra Singh Tomar, virtually inaugurated the Indus Best Mega Food Park, Raipur along with Bhupesh Baghel, Chief Minister, Chhattisgarh, and in presence of Rameswar Teli, Union Minister of State for Food Processing Industries.
Tomar stated that the Mega Food Park will ensure value addition, longer shelf life for farm produce, better price realisation for farmers, excellent storage facility and will provide an alternate market for farmers in the region.
The Park will also provide direct and indirect employment to about 5,000 persons and benefit about 25,000 farmers in the CPC and PPC catchment areas.
12) Answer: D
Governor of Haryana, S N Arya, approved the Haryana Recovery of Damages to Property Bill.
According to the bill (now act), any damage created to people's shops, houses, vendor carts, government offices, buses, vehicles and other such public property will be recovered from protestors.
The "Haryana Recovery of Damages to Property During Disturbance to Public Order Bill, 2021" was passed in March 2021, a move similar to Uttar Pradesh government which had passed the "Uttar Pradesh Recovery of Damages to Public and Private Property Act, 2020.
The Recovery of damages to properties will be made by the person causing disturbances to public order by any assembly, lawful or unlawful such as riots and violent disorder.
13) Answer: E
As many as 50,000 startups have been recognized by the Department for Promotion of Industry and Internal Trade (DPIIT).
Startup India is a flagship initiative of the government launched on January 16, 2016.
The initiative is intended to catalyze a startup culture and build a strong and inclusive ecosystem for innovation and entrepreneurship in India.
Maharashtra, Karnataka, Delhi, Uttar Pradesh and Gujarat have the largest number of these entrepreneurs.
14) Answer: B
The Asian Development Bank and the Government of India has signed a $2.5 million project readiness financing (PRF) loan to support project preparation and design activities to upgrade major district roads in Sikkim that will help improve connectivity to important towns, rural areas, and pilgrimage and tourist destinations in the northeastern state.
The signatories to the PRF for the proposed Sikkim Major District Road Upgradation Project were Rajat Kumar Mishra, Additional Secretary, and Department of Economic Affairs in the Ministry of Finance, who signed for the Government of India, and Mr. Takeo Konishi, Country Director of ADB's India Resident Mission who signed for ADB.
15) Answer: C
ICICI Bank announced that it has tied up with SWIFT to offer a facility that helps overseas partner banks to send instant remittances on behalf of their customers to the beneficiary in India.
The beneficiary gets the credit to the bank account instantly.
This makes ICICI Bank the first bank in Asia-Pacific and the second globally to offer the facility, called 'SWIFT gpi Instant', for cross border inward payments.
16) Answer: D
To make available health insurance solutions to Shivalik's customers across 31 branches.
Private life insurer Bharti AXA Life Insurance has entered into a bancassurance partnership with Shivalik Small Finance Bank for the distribution of its life insurance products through the bank's pan-India network of branches.
Bharti AXA Life Insurance will offer its suite of life insurance products, including protection, health, savings and investment plans, to customers of Shivalik Small Finance Bank across its 31 branches and digital network across the country.
17) Answer: E
Inter Milan appointed Simone Inzaghi as coach, signing him to a two-year contract.
Inzaghi replaces Antonio Conte, who left Inter last month after leading the club to its first Series A title in more than a decade.
The 45-year-old Inzaghi has been coaching Lazio and led the club to the Italian Cup title in 2019.
He also won two Italian Super Cups in his five seasons.
Inzaghi had been expected to extend his contract with Lazio last week but opted not to after Conte left Inter.
Inzaghi is the younger brother of former AC Milan player and Coach Filippo Inzaghi.
18) Answer: B
TelanganaGovernor Tamilisai Soundararajan appointed V Bhoopal Reddy, MLC from Medak Local Authorities' segment, as pro-tem Chairman for the State Legislative Council.
Present Chairman Gutha Sukhender Reddy and Deputy Chairman Nethi Vidya Sagar retired as MLCs.
As both of them retired on the same day, the Governor appointed a pro-tem Chairman as the Legislative Council is a permanent body and cannot be dissolved like the Assembly.
19) Answer: C
SoftBank-backed mobility company Ola has expanded its leadership team with the appointment of two chief financial officers.
G R Arun Kumar joins as the Group CFO for Ola and CFO for Ola Electric, while Swayam Saurabh has come in as CFO for Ola's mobility, financial services and foods businesses.
G R Arun Kumar brings more than two decades of experience in finance and strategy.
Swayam Saurabh brings over two decades of varied experience in a cross-section of roles.
20) Answer: D
WarnerMedia announced that Amit Malhotra will join the company later this month as Managing Director for HBO Max in Southeast Asia and India.
He will report to Johannes Larcher, Head of HBO Max International, and will be responsible for the rollout and management of WarnerMedia's direct-to-consumer platform in Southeast Asia.
He will immediately assume responsibility for the management of HBO GO, WarnerMedia's existing OTT streaming service available in eight territories across Southeast Asia.
In the future, he will spearhead the introduction of HBO Max in these territories and will lead WarnerMedia's exploration of future opportunities to launch the streaming platform in additional markets, as well as a potential future launch in India.
21) Answer: E
RanjitsinhDisale, a primary teacher from Maharashtra's Solapur, who won the Global Teacher Prize 2020, has been appointed as the World Bank Education Advisor for the period June 2021 to June 2024.
MrDisale, 32, was named the winner of the Global Teacher Prize 2020 in recognition of his efforts to promote girls' education and trigger a quick-response (QR) coded textbook revolution in India.
The World Bank has launched a new Coach initiative that aims to accelerate student learning by improving in-service teacher professional development (TPD).
22) Answer: B
The International Dairy Federation (IDF) unanimously elected R S Sodhi, managing director, Gujarat Cooperative Milk Marketing Federation Ltd or GCMMF that sells Amul branded products in India, to its board during the general assembly held on 1 June.
IDF is an international non-governmental, non-profit association and represents the global dairy sector.
The federation ensures that right policies, standards, practices and regulations monitor the production of dairy products globally.
It has over 1,200 qualified dairy experts in 43 member countries.
23) Answer: C
Lieutenant General Pradeep Chandran Nair, Ati Vishisht Seva Medal (AVSM), Yudh Seva Medal (YSM) took over as the 21st Director General of the Assam Rifles (popularly known as Sentinels of the North-East).
He has rich experience of Assam Rifles and the North East, having earlier served as an Inspector General and a Company Commander in Assam Rifles, besides having commanded Assam Rifles battalions as a Brigade Commander.
24) Answer: D
For the fourth consecutive year, Hyderabad International Airport has been awarded the Gold Recognition by the Airports Council International (ACI) Asia-Pacific Green Airports Recognition 2021, in the below 25 million passengers per annum (MPPA) category.
GMR-led Hyderabad International Airport Ltd (GHIAL), the ACI's Green Airports Recognition programme promotes best environmental practices to minimize the aviation industry's impact on the environment.
25) Answer: E
The Kochi Metro Rail Ltd (KMRL) and the state government signed a memorandum of understanding (MoU) for forming a special purpose vehicle (SPV) for the operation and maintenance of the Rs 747-crore Water Metro project.
The SPV, Kochi Water Metro Ltd (KWML), shall be a joint venture with equity of 74% for the government and 26% for KMRL.
As per the MoU signed by Chief Secretary V P Joy and KMRL MD K R Jyothilal in Thiruvananthapuram, KWML will undertake the operation and maintenance of the project.
26) Answer: B
Add Engineering Gmbh, the parent company of ADD Engineering (India) Private Limited,  has signed an MoU with the UAE-based defence sector EDGE Group PUSC to share crucial technology to enhance production and improve efficiency of maintenance, repair and overhaul (MRO) in the defence aviation sector.
ADD Engineering has been allotted land by KIADB at Tumakuru Machine Tools Park to set up its unit.
KIADB authorities handed over the letter of allotment to Girish Linganna.
27) Answer: E
India will get eight new Flying Training Academies under the liberalised Flying Training Organisation (FTO) policy of the Airports Authority of India (AAI), the Ministry of Civil Aviation.
These academies will be set up at five airports across the country Belagavi, Jalgaon, Kalaburagi, Khajuraho and Lilabari.
28) Answer: D
On June 03, 2021, SpaceX launched thousands of tiny sea creatures to the International Space Station, along with a plaque-fighting toothpaste experiment and powerful solar panels.
This is 7,300-pound (3,300-kilogram) which also includes fresh lemons, onions, avocados and cherry tomatoes for the station's seven astronauts.
The Dragon cargo capsule, also brand new, is delivering the first of three sets of high-tech solar panels designed to bolster the space station's aging power grid.
29) Answer: C
On June 01, 2021, Teenage India batswoman Shafali Verma continued to top the ICC women's T20I batting rankings.
The 17-year-old player, being touted as the successor to Smriti Mandhana, has 776 points.
India's T20 vice-captain, Smriti, is fourth with 693 points.
Rank
Player
1 – Shafali Verma ( India ) – 776 Points
2 – Beth Mooney ( Australia )
3 – Jemimah Rodriques ( India ) – 640 Points
4 – Smriti ( India ) – 693 Points
Scotland all-rounder Kathryn Bryce, has become the first batswoman from her country to make it into the top 10.