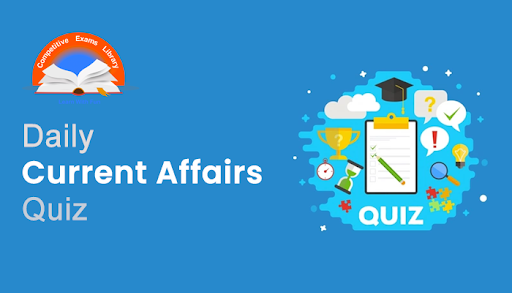 Dear Readers, Daily Current Affairs Questions Quiz for SBI, IBPS, RBI, RRB, SSC Exam 2021 of 04th March 2021. Daily GK quiz online for bank & competitive exam. Here we have given the Daily Current Affairs Quiz based on the previous days Daily Current Affairs updates. Candidates preparing for IBPS, SBI, RBI, RRB, SSC Exam 2021 & other competitive exams can make use of these Current Affairs Quiz.
1)  World Hearing Day 2021 is observed on which of the following date?
A) March 1
B) March 2
C) March 3
D) March 4
E) March 5
2)  World Wildlife Day 2021 is being observed on which of the following date?
A) March 1
B) March 2
C) March 4
D) March 3
E) March 5
3) India will be Sending Humanitarian Assistance to which of the following countries recently?
A) Vietnam
B) Mauritius
C) Thailand
D) Myanmar
E) Madagascar
4) Who among the following will Mark the inaugural session on 'Harnessing Education, Research and Skill Development for Atmanirbhar Bharat' ?
A) Anurag Thakur
B) Venkiah Naidu
C) Narendra Modi
D) NS Tomar
E) Amit Shah
5)  Lok Sabha TV & Rajya Sabha TV merged into one single entity named _____ TV.
A) Lokmat
B) Bharat
C) Parliament
D) Sansad
E) Democracy
6) Which state has launched its first air cargo services from Dimapur airport?
A) Tripura
B) Nagaland
C) Assam
D) Mizoram
E) Manipur
7) Which country has officially received its first ever UAE ambassador?
A) Germany
B) France
C) Israel
D) China
E) US
8) New passenger train service has been between Dhaka and which Indian state?
A) Mizoram
B) Manipur
C) Tripura
D) West Bengal
E) Assam
9) Union Cabinet has apprised of the signing of MoU between India and which country in the field of renewable energy cooperation?
A) Japan
B) China
C) Israel
D) Germany
E) France
10) GST collections are now by ______ per cent to Rs 1.13 lakh cr in February.
A) 9
B) 8.5
C) 7
D) 7.5
E) 8
11) Which state is organizing a 2-day national seminar on NEP and its Implementation concluded?
A) Chhattisgarh
B) Uttar Pradesh
C) Punjab
D) Madhya Pradesh
E) Haryana
12) Sebi has eased the listing rules for large IPOs, paving the way for LIC's mega floating a minimum of ____ per cent in the IPO.
A) 20
B) 10
C) 12
D) 6
E) 5
13)  AFI, Verraton has now launched _______a new layer of security for online transactions.
A) 3D-Prevent
B) GoSecure
C) Tayambak
D) Secure-3D
E) PoS Prevent
14) Cashfree has partnered with which company for a global payment solution?
A) Gpay
B) PhonePe
C) Freecharge
D) Paypal
E) PayTM
15) In a first, Air Force to participate in Exercise Desert Flag VI being held in which country?
A) Israel
B) UAE
C) France
D) US
E) UK
16) Nandkumar Singh Chauhan who died at 69 belonged to which political party?
A) CPI-M
B) Congress
C) JDU
D) BJD
E) BJP
17) Hurun Global Rich List 2021: Mukesh Ambani is now the _____ richest in the world, Elon Musk at top.
A) 4th
B) 5th
C) 8th
D) 7th
E) 6th
18) Major and Medium Water Resources Minister Ramesh Jarkiholi resigned recently. He was the water resource minister from which state?
A) Punjab
B) Bihar
C) Haryana
D) Karnataka
E) Madhya Pradesh
19) Who has been appointed as CTO of retail finance business of Piramal?
A) Anand Tiwary
B) Saurabh Mittal
C) Sunil Raj
D) Ashish Mehta
E) Rajkumar Verma
20)  Who has been appointed as Chief Commercial Officer of Biocon Biologics?
A) Anand Gupta
B) Sunil Verma
C) Susheel Umesh
D) Indra Nooyi
E) Anjali Bhagat
21) Which movie has recently been selected for Golden Reel awards nomination?
A) Ma Rainey
B) Emperor
C) Nomadland
D) Jallikattu
E) Sound of Metal
22) Which bank recently inked a pact with Our Food?
A) BOI
B) UCO
C) KVGB
D) SBI
E) Bandhan
23) Who among the following won a silver at Strandja Memorial Tournament in Bulgaria?
A) Suresh Kumar
B) Deepak Kumar
C) Vinesh Gupta
D) Neeraj Phogat
E) Nitin Mahadev
24) The 2nd ODI National Zone Cricket Championship League for the deaf recently began from which date?
A) March 7
B) March 5
C) March 4
D) March 1
E) March 3
Answers:
1) Answer: C
The world observes World Hearing Day on March 3, every year.
This year, the theme is 'Screen, Rehabilitate, Communicate', to address hearing loss and ear diseases across the life course.
This day is observed to highlight and spread the message that timely and effective care can help people with hearing loss to achieve full potential.
This occasion is to spread awareness about action that can be taken to protect the auditory nerves and adopt preventive measures.
WHO commemorates World Hearing Day each year and decides the theme.
Objective of the day :
This day is observed to raise awareness about how to prevent deafness and hearing loss and promote hearing care across the world.
World Hearing Day aims to promote public health actions for ear and hearing care. Stimulate intersectoral partnership for ear and hearing care.
Raise awareness on hearing loss and care at national and community levels across the world.
Encourage behavior change towards healthy EHC practices.
2) Answer: D
World Wildlife Day is observed annually on March 3 to celebrate and raise awareness of the world's flora and fauna.
This year's theme for World Wildlife Day is "Forests and Livelihoods: Sustaining People and Planet".
The day was proposed by Thailand and recognised in 2013 by the United Nations General Assembly (UNGA).
This year, the UN intends to highlight the role of the ecosystem and forests in providing livelihood to millions of people.
The day is about raising awareness about wildlife and educating yourself and others about the diversity and importance of flora and fauna across the world.
March 3 was chosen as World Wildlife Day as the Convention on International Trade in Endangered Species of Wild Fauna and Flora (CITES) was signed on the same day in 1973.
3) Answer: E
India announced it will send a consignment of 1,000 metric tonnes of rice and 100,000 tablets of Hydroxychloroquine to drought-hit Madagascar.
The humanitarian assistance will be delivered onboard the Indian Naval Ship Jalashwa. The ship will leave with food and medical assistance on March 3 and is expected to reach the Port of Ehoala in Madagascar between March 21 and 24.
The Indian assistance was conveyed to the Madagascar government during External Affairs Minister S Jaishankar's phone call with his Madagascar counterpart Tehindrazanarivelo Djacoba A.S Oliv.
4) Answer: C
Prime Minister Narendra Modi will address the inaugural session on 'Harnessing Education, Research and Skill Development for an Atmanirbhar Bharat'.
Education Minister Ramesh Pokhriyal Nishank  will address the valedictory session.
5) Answer: D
The Rajya Sabha and Lok Sabha Television channels that broadcast the proceedings of the upper and lower Houses of Parliament, respectively, have been merged into a single entity.
Retired Indian Administrative Service officer Ravi Capoor was appointed the chief executive officer of the channel for one year on March 1.
The decision is in line with the proposals of a panel headed by former Prasar Bharati chairperson A Surya Prakash.
The panel was set up by Rajya Sabha chairman M Venkaiah Naidu after consulting with Speaker Om Birla in November 2019.
These two channels are also expected to serve as two language variants of Sansad TV by airing similar programming in English and Hindi , when not telecasting live proceedings of Lok Sabha and Rajya Sabha.
While Lok Sabha TV was launched in 2006, Rajya Sabha TV was launched in 2011.
6) Answer: B
Nagaland launched its first air cargo services from Dimapur airport.
Chief Minister Neiphiu Rio officially flagged off the service, a joint initiative of Department of Horticulture, Nagaland and Airport Authority of India with Air India and Indigo as airline partners.
The introduction of air cargo service is a long felt need for the state as many of the products from the state go wasted.
AAI is planning to construct a new terminal building including a cargo service terminal at Dimapur with all modern facilities.
7) Answer: C
Israel's president formally received the first-ever ambassador from the United Arab Emirates, following last year's historic agreement between the countries.
The UAE was the first country to agree to establish full diplomatic relations with the Jewish state under the Abraham Accords, a pact brokered by former US president Donald Trump.
This will bring peace and prosperity to the people of the Middle East.
Israel opened its UAE embassy in January, with veteran diplomat Eitan Naeh heading the Abu Dhabi mission.
Israel and the UAE have already signed treaties on direct flights and visa-free travel, along with accords on investment protection, science and technology.
8) Answer: D
A new passenger train service between Dhaka and New Jalpaiguri, West Bengal is set to start from 26th of March marking the 50th Anniversary of the liberation of Bangladesh.
According to an official release by the Bangladesh Rail Ministry, the direct train between Dhaka and New Jalpaiguri will run through the Chilahati-Haldibari cross border rail route.
However, other details like the schedule of the train, fair and immigration and its name will be decided later through discussion between the officials of the two countries.
There are two passenger trains currently running between Bangladesh and India.
The Maitree Express runs between Dhaka and Kolkata and Bandhan Express links Khulna with Kolkata.
At present, five rail routes connect Bangladesh and India namely Petrapole-Benapole, Gede-Darshana, Singhabad-Rohanpur Radhikapur-Birol and Haldibari-Chilahati.
9) Answer: E
The Union Cabinet, chaired by the Prime Minister Narendra Modi was apprised of the signing of Memorandum of Understanding (MoU) between India and French Republic in the field of renewable energy cooperation.
The MoU was signed in January this year.
The objective of the MoU is to establish the basis for promotion of bilateral cooperation in the field of new and renewable energy on the basis of mutual benefit, equality and reciprocity.
It covers technologies relating to solar, wind, hydrogen and biomass energy. The MoU entails exchange and training of scientific and technical personnel; exchange of scientific and technological information and data; organization of workshops and seminars; transfer of equipment, know-how and technology and development of joint research and technological projects.
The MoU will help in the development of technological know-how in the field of Renewable Energy and will aid the process of attaining the target of 450 GW of installed Renewable Energy capacity by 2030.
10) Answer: C
GST collections are now by 7 per cent to Rs 1.13 lakh cr in February
The gross GST revenue collected in the month of February is one lakh 13 thousand 143 crore rupees.
Finance Ministry said, out of this amount, CGST is 21 thousand 92 crore rupees, SGST is 27 thousand 273 crore, IGST is 55 thousand 253 crore and Cess is 9,525 crore rupees.
The government has settled 22 thousand 398 crore rupees to CGST and 17 thousand 534 crore to SGST from IGST as regular settlement.
In addition, the Centre has also settled 48 thousand crore rupees as IGST ad-hoc settlement in the ratio of 50:50 between Centre and States and UTs.
The total revenue of Centre and the States after regular settlement and ad-hoc settlement in February was 67 thousand 490 crore rupees for CGST and 68 thousand 807 crore for the SGST.
11) Answer: D
A two-day national seminar on National Education Policy and its Implementation, organised by Makhanlal Chaturvedi National University of Journalism and Communication, Bhopal, Madhya Pradesh NITI Aayog and Bharatiya Shikshan Mandal concluded.
State Higher Education Minister Dr Mohan Yadav said that Universities in Madhya Pradesh will execute NEP from next academic session.
General Secretary of Bharatiya Shikshan Mandal Dr Umashankar Pachauri said that education should unfold the inner knowledge and skills of students.
The NEP followed this concept.Vice Chancellor Prof. K.G. Suresh said, Indian culture is education and teacher-centric.
National Education Policy focused on teachers.
Prof Suresh announced establishment of Human Resource Development Centre (HRDC) in the university and said, MCU will implement the policy from next academic session
12) Answer: E
The Securities and Exchange Board of India (Sebi) eased the listing norms for large companies, apparently paving the way for the much-awaited mega float of Life Insurance Corporation (LIC).
The regulator said large companies can now divest a minimum 5 per cent in the IPO, instead of 10 per cent. Further, they will get five years, instead of three, to raise the public float to 25 per cent.
This move would encourage large firms to opt for listing.
The meeting was also attended by Finance Minister Nirmala Sitharaman and Minister of State (Finance and Corporate Affairs) Anurag Thakur.
13) Answer: C
Academy of Fraud Investigations along with Consult Verraton have developed Trayambak, a solution to prevent ATM, online banking and PoS (point of sale) frauds.
Trayambak will add another layer of security for all ATM, online banking and PoS transactions.
14) Answer: D
Homegrown payments and banking technology company, Cashfree on announced its partnership with PayPal to enable international payments for merchants.
Cashfree Payment Solutions is a Payment Gateway.
It can Collect local and international payments with a simple integration.
15) Answer: B
The Indian Air Force (IAF) will participate in the Exercise Desert Flag-VI along with the air forces of the UAE, the US, France, Saudi Arabia, South Korea and Bahrain for the first time.
The exercise is scheduled from March 3 to 21 at the Al-Dhafra air base in the United Arab Emirates (UAE).
The Exercise Desert Flag is an annual multinational large force employment warfare exercise hosted by the UAE Air Force.
The IAF is participating for the first time in Exercise Desert Flag-VI along with air forces of United Arab Emirates, United States of America, France, Saudi Arabia, South Korea and Bahrain.
The IAF is participating with six Su-30 MKI, two C-17 and one IL-78 tanker aircraft.
The C-17 Globemaster will provide support for the induction and de-induction of the IAF contingent.
The aim of the exercise is to provide operational exposure to the participating forces, while training them to undertake simulated air combat operations in a controlled environment.
The participating forces will get an opportunity to enhance their operational capabilities, it said, adding that there will also be a mutual exchange of best practices.
16) Answer: E
Bharatiya Janata Party Lok Sabha MP Nandkumar Singh Chauhan died. He was 69.
Nandkumar Singh Chauhan started his political career in 1978 from the Shahapur Municipal Council and was later elected as an MLA.
He was an MLA from 1985 to 1996 when he was elected a Lok Sabha member.
He was re-elected in 1998, 1999, 2004, 2014 and 2019.
17) Answer: C
Asia's richest person and Reliance Industries chairman Mukesh Ambani has been ranked eighth on the Hurun Global Rich List 2021.
Mukesh Ambani's total wealth swelled to $83 billion (approximately Rs 6.09 lakh crore) over the past one year.
Tesla chief Elon Musk bagged the top spot on the list for the first time after adding a massive $151 billion during the year to take his net worth to $197 billion.
Amazon.com Inc boss Jeff Bezos ranked second with $189 billion in net worth.
Bernard Arnault, chief executive of LVMH Moët Henness, the world's largest luxury-goods company, with a net worth of $114 billion, Microsoft founder Bill Gates with $110 billion and Facebook founder Mark Zuckerberg with $101 billion were among the top five billionaires.
The report showed that despite COVID-19 pandemic, the world added 8 billionaires every week in 2020 and 421 in a year, taking their total number to a record 3,288.
The total wealth of all billionaires across the globe surged 32 percent, an addition of $3.5 trillion, to  take their total wealth to $14.7 trillion, during the period under review.
The wealth calculations taken into account is as of January 15, 2021.
18) Answer: D
In Karnataka, the Major and Medium Water Resources Minister Ramesh Jarkiholi has resigned after he was allegedly caught up in a sex scandal CD released.
The CD was released by a social activist Dinesh Kallahalli and a complaint was filed with the Bengaluru City Police Commissioner Kamal Pant.
The Opposition Congress and JD(S) had sought the resignation of the Minister after the CD was released.
After tendering his resignation, Ramesh Jarkiholi said that he has sent his resignation letter to the Chief Minister on moral grounds.
19) Answer: B
Piramal appoints Saurabh Mittal as Chief Technology Officer of its Retail Finance Business.
In this role, Saurabh will lead technology strategy towards building a world-class Tech and Artificial Intelligence (AI)-led lending business, creating a cloud-native cutting-edge tech-stack.
20) Answer: C
Biocon Biologics Ltd., a fully integrated 'pure play' biosimilars company and a subsidiary of Biocon Ltd, announced that Mr Susheel Umesh has joined Biocon Biologics as the Chief Commercial Officer – Emerging Markets (CCO-EMs) w.e.f. March 1, 2021.
He will drive the company's business in the Emerging Markets (EMs) and will also be responsible for the Branded Formulations business.
21) Answer: D
Lijo Jose Pellissery's Jallikattu has been nominated for the prestigious Motion Picture Sound Editors (MPSE) Golden Reel Awards, which honour various categories in the entertainment sector.
The film has been nominated for outstanding achievement in Sound Editing (Foreign Language) in the 68th edition of the awards.
Sound editor/designer Renganaath Ravee and his team comprising Sreejith Sreenivasan, Kannan Ganpat, Boney M Joy, Arun Rama Varma, Amandeep Singh, Francis C David, and Mohammad Iqbal Paratwada worked on the film's sound.
22) Answer: C
The Dharwad-headquartered Karnataka Vikas Grameena Bank (KVGB) has signed a memorandum of understanding (MoU) with Our Food Pvt Ltd, Visakhapatnam, for arranging cost-effective processing units to farmers through the bank loan.
They must instead process their produce and sell it to fetch better prices."
23) Answer: B
In Boxing, Deepak Kumar (52kg) won the silver medal at the 72nd Strandja Memorial Tournament in Sofia, Bulgaria.
He lost the final face-off in a split decision against Bulgaria's Daniel Asenov in the men's flyweight.
The 23-year-old youngster belongs to Haryana's Hisar, which is known as the 'City of Steel', for being India's largest manufacturer of galvanised iron.
24) Answer: D
The Indian Deaf Cricket Association (IDCA) affiliated and recognized by the Deaf International Cricket Council (DICC) will organize the 2nd ODI National Zone Cricket Championship league for the deaf from March 1 to 5, 2021.
The 50-over tournament to be held in New Delhi will witness deaf cricketing talent from across the country competing for the championship title.
The tournament will also hand over a handsome prize money for various categories of awards.
The 'Champion Winner' team will get a cash reward of INR 1,00,001 while the 'Runner-up' team will be given a cash prize of INR 50,001.
The Man of the Series will be given INR 5,100, the Best Bowler & Best Batsmen would be given INR 2500 per match and the Man of the Match will be given a cash prize of INR 1100 per match.