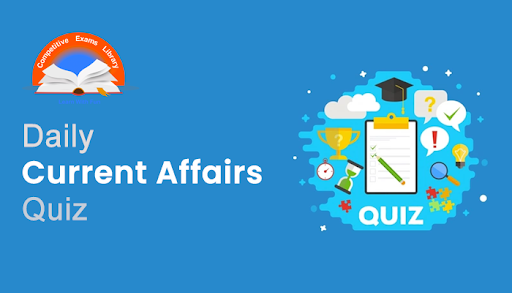 Dear Readers, Daily Current Affairs Questions Quiz for SBI, IBPS, RBI, RRB, SSC Exam 2021 of 04th May 2021. Daily GK quiz online for bank & competitive exam. Here we have given the Daily Current Affairs Quiz based on the previous days Daily Current Affairs updates. Candidates preparing for IBPS, SBI, RBI, RRB, SSC Exam 2021 & other competitive exams can make use of these Current Affairs Quiz.
1) What is the theme of the World Press Freedom Day?
A) Best of Information
B) Producing and disseminating information
C) Information as a Public Good
D) Information is New
E) Tackling misinformation
2) G-7 ministers will meet to hold first in-person talks in ____ years.
A) 6
B) 5
C) 4
D) 2
E) 3
3) International Firefighters Day is Observed on which date?
A) May 3
B) May 1
C) May 11
D) May 12
E) May 4
4) Chandro Tomar who passed away recently was an eminent ____.
A) Singer
B) Writer
C) Actor
D) Shooter
E) Dancer
5) Who among the following has declared some guidelines for the Production Linked Incentive Scheme for the Food Processing Industry?
A) Nitin Gadkari
B) NS Tomar
C) Amit Shah
D) Narendra Modi
E) Prahlad Patel
6) The government has alarmed the people: Vial for Remdesivir injection by name _____ is fake.
A) COVIVIAL
B) COVINEW
C) COVIPRI
D) COVIVAX
E) COVISHIELD
7) Which national government has vowed 1.7 billion dollars in childcare subsidies?
A) Israel
B) France
C) Germany
D) Australia
E) China
8) Which political party is set to form a new government in Kerala?
A) CPI-M
B) JDU
C) BJP
D) Congress
E) LDF
9) Which Bank has mulled investing in NARCL?
A) Axis
B) Bandhan
C) IDBI
D) SBI
E) HDFC
10) SII endorses accepting Rs 1,732 crore for ____crore doses of Covishield vaccine.
A) 10.5
B) 9.5
C) 8
D) 11
E) 10
11) PM Narendra will hold a virtual summit with the counterpart of which country?
A) China
B) UK
C) France
D) Germany
E) Israel
12) Which company has partnered with SEEDS to set up COVID care centres, launch vaccination drive?
A) BMW
B) TVS
C) Hero
D) ITC
E) PEPSI
13) RBI has imposed a penalty of _____ crores on ICICI Bank.
A) 7
B) 6
C) 3
D) 4
E) 5
14) Airtel Payments Bank has increased rate _____ percent interest on deposits of over Rs 1 lakh.
A) 4
B) 9
C) 8
D) 6
E) 7
15) Which company has appointed Wayne Burgess as Head of Vehicle Design?
A) Hero
B) Ola electric
C) Honda
D) BMW
E) Audi
16) JSW Renew Energy sign pact with SECI for selling _____ MW green energy.
A) 350
B) 400
C) 450
D) 500
E) 540
17) Motilal Oswal PE has acquired over Rs ____ crores in Fincare Small Finance Bank.
A) 100
B) 210
C) 185
D) 120
E) 150
18) World's largest aeroplane by _______ has completed a test flight.
A) State Plane
B) Starplane
C) Sky Plane
D) Stratolaunch
E) Sky Trek
19) Which state has provided puppetry Performs COVID campaign for the revival?
A) Bihar
B) Assam
C) Kerala
D) Madhya Pradesh
E) Haryana
20) Who among the following has won the Portuguese Grand Prix 2021?
A) Mike Schmidt
B) Arnie Schmidt
C) Valtteri Bottas
D) Lewis Hamilton
E) Max Verstappen
21) Thisara Perera who announced retirement from international cricket played for which country?
A) South Africa
B) Zimbabwe
C) England
D) Bangladesh
E) Sri Lanka
Answers :
1) Answer: C
"The theme of this year's World Press Freedom Day, "Information as a Public Good", underlines the indisputable importance of verified and reliable information.
It  calls  attention  to  the  essential  role of free and professional  journalists  in  producing  and  disseminating this information, by tackling misinformation and other harmful content – Audrey Azoulay, Director-General of UNESCO, on the occasion of World Press Freedom Day
2) Answer: D
Foreign and development ministers from the Group of Seven leading industrial nations will be meeting in London this week in their first face-to-face discussions in two years, with U.S. Secretary of State Antony Blinken holding talks with British host Dominic Raab.
The withdrawal of troops from Afghanistan and a post-Brexit trade deal are likely to feature in the discussions between Blinken and Raab.
A possible prisoner exchange deal with Iran is also likely to feature in their talks.
Speculation has mounted that the United States and the U.K. are in discussions with Iran over the release of prisoners, which could see the release of British-Iranian woman Nazanin Zaghari-Ratcliffe.
3) Answer: E
International Firefighters' Day is observed on May 4.
It was instituted after a proposal was emailed out across the world on January 4, 1999 due to the deaths of five firefighters in tragic circumstances in a bushfire in Australia.
The day was instituted, after the deaths of five firefighters in tragic circumstances in a bushfire in Australia on 2 December 1998.
4) Answer: D
On April 30, 2021, 'Shooter Dadi' Chandro Tomar passed away.
He was 89.
Shooter Chandro Tomar, nicknamed 'Shooter Dadi'.
She was Hailing from the Baghpat village in Uttar Pradesh.
Tomar was already 60-plus when she picked up a gun for the first time but went on to win many national competitions, even inspiring a Bollywood movie on her life.
Her feats ultimately inspired the award-winning Bollywood movie 'SaandkiAankh'.
Shooter Dadi won many awards in the senior citizen category including Stri Shakti Sanman presented by the President of India.
5) Answer: B
Government has issued guidelines for 'Production Linked Incentive Scheme for the Food Processing Industry (PLISFPI).
Minister of Food Processing Industry Narendra Singh Tomar also launched an online portal for the PLISFPI.
The Ministry said, as part of the Prime Minister's announcement of Aatmanirbhar Bharat Abhiyan, the Government  has approved a new Central Sector Scheme namely PLISFPI for implementation during 2021-22 to 2026-27 with an outlay of 10 thousand 900 crore rupees.
The aim is to support creation of global food manufacturing champions commensurate with India's natural resource endowment and support Indian brands of food products in the international markets.
The Ministry said it is inviting applications for availing sales based incentives and grants for undertaking Branding and Marketing activities abroad under the scheme from three categories of Applicants.
In Category-1, the applicants are large entities who apply for Incentive based on Sales and Investment Criteria.
Applicants under this category could undertake Branding and Marketing activities abroad also and apply for grant under the scheme with a common application.
6) Answer: C
Government has said that a vial for Remdesivir injection by the name 'COVIPRI' which is in circulation is fake.
The Press Information Bureau mentioned no Remdesivir by the name COVIPRI exists.
People have been advised not to buy medical supplies from unverified sources and beware of counterfeit medicines and injection.
7) Answer: D
Australian Government has pledged 1.7 billion Australian dollars in childcare subsidies to boost female participation in the workplace.
The spending targets families with more than one child in daycare, boosting subsidies for those with two or more children aged up to five years-old to a maximum 95% subsidy for their second and subsequent children.
Australian government Treasurer Josh Frydenberg said that the measures are targeted, and are an investment in making Australian economy stronger and boosting female working participation.
He added that the treasury estimates the additional spending will encourage up to 300,000 in additional work hours a week – equivalent to 40,000 people working an extra day a week and boost Australia's economic output by about 1.5 billion Australian Dollars a year.
8) Answer: E
In Kerala, the CPM led LDF is all set to form the new government.
Chief Minister Pinarayi Vijayan handed over his resignation letter to Governor Arif Mohammad Khan.
The CPI (M) and the LDF will soon begin discussions regarding the formation of the new government.
The CPI (M) State Secretariat meeting scheduled to be convened will also discuss the matter in detail.
Prior to this, members of the state politburo will also convene a meeting to discuss and decide further proceedings.
9) Answer: C
IDBI Bank is considering picking up a stake in the National Asset Reconstruction Company (NARCL) which is being set up jointly by banks to clean up their books.
Rakesh Sharma, MD & CEO at IDBI Bank said that large public sector and private sector banks will be investing in NARCL, with each bank taking less than 10 per cent stake.
So, IDBI Bank will also consider investing in the company, Sharma said.
He observed that consortium loans (Rs.500 crore and above) will be transferred to NARCL.
The quantum of stressed loans to be transferred to NARCL will be a reasonably good number so that the bank is able to reduce its gross non-performing assets, he added.
10) Answer: D
Serum Institute of India (SII) endorsed the government statement that 100 per cent advance of Rs 1,732.50 crore has been released to the company on April 28 for 11 crore doses of the Covishield vaccine for May, June and July.
"We endorse this statement, & the authenticity of the information.
We have been working closely with the Government of India for the past year & thank it for its support.
We remain committed to ramping up our vaccine production to save every life we can," SII said.
The company's response came after the Health Ministry in a statement refuted allegations that it has not placed any fresh orders for the Covishield vaccine with SII.
11) Answer: B
Prime Minister Narendra Modi will hold a virtual Summit with his British counterpart Boris Johnson.
During the summit, apart from exchanging views on regional and global issues of mutual interest, both leaders will discuss Covid 19 cooperation and the global efforts to fight the pandemic.
The Summit will be an important opportunity to elevate multi-faceted strategic ties and enhance cooperation on regional and global issues of mutual interest.
A comprehensive Roadmap 2030 will be launched during the Summit, which will pave the way for further expanding and deepening India-UK cooperation over the next decade across five key areas.
These are people-to-people relationships, trade and prosperity, defence and security, climate action and healthcare.
India and the UK have enjoyed a Strategic Partnership since 2004.
It has been marked by regular high level exchanges and growing convergences in diverse areas.
Mr Jhonson was to visit India late last month, But days before the visit, he called it off in view of the Coronavirus pandemic.
12) Answer: E
PepsiCo Foundation, the philanthropic arm of PepsiCo, said it has partnered with not-for-profit organisation, Sustainable Environment and Ecological Development Society (SEEDS) to launch a community COVID-19 vaccination drive and set up COVID care centres.
Under the partnership, over 1 lakh vaccines doses will be provided to communities, to be administered through the local healthcare system, while five COVID care centres will be set up for three months that will be equipped with beds and medical facilities, including oxygen cylinders, PepsiCo India said in a statement.
Moreover, over 100 oxygen concentrators will be provided to the Central government for distribution to various government hospitals across states, it added.
13) Answer: C
The Reserve Bank of India (RBI) has imposed a monetary penalty of Rs.3 crore on ICICI Bank for non-compliance with its directions in the matter of shifting of securities from one category to another.
The central bank, in a statement, said the monetary penalty has been imposed on the Bank for contravention of certain directions contained in its Master Circular on 'Prudential Norms for Classification, Valuation and Operation of Investment Portfolio by Banks.'
"This penalty has been imposed in exercise of powers vested in RBI under the provisions of the Banking Regulation Act, 1949 (the Act)," RBI said in a statement.
This action is based on the deficiencies in regulatory compliance and is not intended to pronounce upon the validity of any transaction or agreement entered into by the bank with its customers, the statement added.
14) Answer: D
Airtel Payments Bank announced that customers with savings account deposits of over Rs 1 lakh will get an increased interest rate of 6 per cent per annum.
The payments bank's offer comes after the RBI implemented guidelines for an enhanced day-end savings limit of Rs 2 lakh for payments banks.
Airtel Payments Bank currently has over 5.5 crore engaged users across its operations, its statement said, adding that the interest rate for accounts with less than Rs 1 lakh deposit will be at 2.5 per cent per annum.
15) Answer: B
Ola Electric announced the appointment of Wayne Burgess as Head of Vehicle Design for its entire product range, including scooters, bikes, cars and more.
Commenting on the appointment, Bhavish Aggarwal, Chairman and Group CEO, Ola, said, "Wayne is a fantastic addition to our leadership team and will bring global appeal and design aesthetic to our industry-changing electric vehicles.
As the world moves to EVs, the vehicle form factors will be fundamentally reimagined.
Wayne's expertise in designing some of the most legendary vehicles will also help bring these new form factors to consumers.
I look forward to collaborating with him to build the most iconic range of EVs in the world."
16) Answer: E
JSW Renew Energy, a wholly-owned subsidiary of JSW Future Energy, has signed agreement with Solar Energy Corporation of India to sell 540 MW of the overall awarded capacity of 810 MW.
JSW Future Energy had won the wind power project by bidding Rs.3 per kwh, sources said.
JSW Energy marked its entry into the wind power generation sector by winning 810 MW projects in the auction conducted by SECI in August 2020.
Sources aware of the developments said talks are currently underway between the company and SECI to sign a PPA for the remaining capacity won in the auction.
The company was awarded the wind project against its quote of Rs 3 per unit.
17) Answer: C
On May 03, 2021, Motilal Oswal Private Equity picked up a minority stake in Fincare Small Finance Bank through a secondary acquisition worth around Rs 185 crore (USD 25 million).
The investment is through India Business Excellence Fund-III, a fund managed and advised by Motilal PE.
18) Answer: D
The world's largest aeroplane, designed to transport hypersonic vehicles and facilitate easy access to space, soared into clear skies over California's Mojave Desert.
The company Stratolaunch designed it to transport hypersonic vehicles and facilitate easy access to space.
The aircraft named 'Roc' features a twin-fuselage design and the longest wingspan ever flown, at 385 feet (117 m), surpassing the Hughes H-4 Hercules flying boat of 321 feet (98 m).
The Stratolaunch is intended to carry a 550,000-pound payload and will be able to launch rockets from high altitude.
19) Answer: B
The COVID-19 pandemic has provided an Assam-based trust the opportunity to focus on a near-forgotten form of string puppetry called Putola Nach.
In collaboration with the UNICEF-Assam, the Anamika Ray Memorial Trust (ARMT) has produced three short videos using string puppetry for creating mass awareness on COVID appropriate behaviour.
It is performed in three areas with distinct characteristics.
These areas are
Barpeta-Nalbari in western Assam
Kalaigaon in northern Assam
Majuli "island" in eastern Assam.
The puppeteers are happy to add dialogues or chants taken from bhaona.
It Basically Showcases Ramayana, either in its entirely and Mahabharata
20) Answer: D
Lewis Hamilton (Mercedes-Great Britain) won the 2021 Portuguese Grand Prix.
It was held on 2 May 2021 at the Algarve International Circuit in Portugal.
This was the second win of the season for Hamilton and 96th career victory.
This was the third race of the season of the 2021 Formula One World Championship.
Max Verstappen came second and Valtteri Bottas was third.
21) Answer: E
On May 03, 2021, Sri Lanka all-rounder Thisara Perera announced his retirement from international cricket.
The 32-year-old featured in six Tests, 166 ODIs, and 84 T20Is. He tasted the most accomplishment in ODI cricket, scoring 2338 runs and scalping175 wickets.
Perera made his debut for Sri Lanka in an ODI against India in Kolkata in December 2009.
The highlight came in 2014, when he was part of the Sri Lanka side that won the ICC Men's T20 World Cup, beating India in the final in Dhaka.