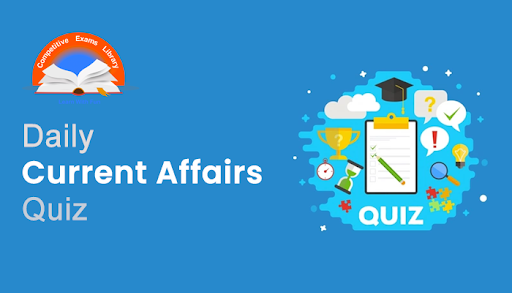 Dear Readers, Daily Current Affairs Questions Quiz for SBI, IBPS, RBI, RRB, SSC Exam 2021 of 05th February 2021. Daily GK quiz online for bank & competitive exam. Here we have given the Daily Current Affairs Quiz based on the previous days Daily Current Affairs updates. Candidates preparing for IBPS, SBI, RBI, RRB, SSC Exam 2021 & other competitive exams can make use of these Current Affairs Quiz.
1) Who among the following has become India's youngest female pilot?
A) Monisha Behl
B) KritiKullar
C) Ayesha Aziz
D) Anjana Kumari
E) Priya Rajput
2) The CM of which state has launched the 'HarGharPani, HarGharSafai' mission?
A) Madhya Pradesh
B) Haryana
C) Uttar Pradesh
D) Kerala
E) Punjab
3) State election commission of which statehas launched its own poll app, eWatch?
A) Uttar Pradesh
B) Madhya Pradesh
C) Karnataka
D) Andhra Pradesh
E) Kerala
4) RBI has unveiled risk-based internal audit guidelines for select NBFCs, UCBs which will come into force from?
A) January 1, 2022
B) March 31, 2022
C) September 30, 2022
D) August 31, 2021
E) March 31, 2021
5) Which of the following IPS officer has been appointed interim CBI chief?
A) Nitin Desai
B) Vasu Malhotra
C) Suresh Mehta
D) Raja Gupta
E) Praveen Sinha
6) Who among the following has taken over as Director General (Inspection & Safety) at Air Headquarters on 01 Feb 21?
A) Suresh Gupta
B) Mukesh Rajput
C) GS Bedi
D) Kiran Kumar
E) Anand Raj
7) Cicely Tyson who passed away recently was an eminent ___.
A) Director
B) Economist
C) Banker
D) Dancer
E) Actress
8) Who among the following has been re-elected as President of Boxing Federation of India?
A) Rajakumar
B) Anant Gupta
C) Suresh Kalmadi
D) Ajay Singh
E) NitinRai
9) MCA has amended the One Person Companies (OPCs) rules, where for being considered a resident in India, the residency period has been proposed to be reduced to _____ days.
A) 150
B) 120
C) 110
D) 100
E) 90
10) Who among the following has launched the 'Switch Delhi' campaign to promote electric vehicles?
A) Prahlad Patel
B) Narendra Modi
C) Arvind Kejriwal
D) Amit Shah
E) Anil Baijal
11) Which institution has inked a deal with MIDHANI to develop, manufacture composite raw materials?
A) DRDO
B) ONGC
C) BDL
D) HAL
E) BEL
12) Which company has received its world's first 'carbon-neutral' oil from US?
A) ONGC
B) HPCL
C) BP
D) Infosys
E) Reliance
13) India ranked _____ in EIU's 2020 Democracy Index
A) 57th
B) 98th
C) 53rd
D) 71st
E) 49th
14) Which edition of the Kerala State Film Awards have recently been Conferred?
A) 44th
B) 50th
C) 48th
D) 46th
E) 45th
15) ICC has nominated who among the following as Men's Player of the Month award?
A) Hardik Pandya
B) Rohit Sharma
C) Virat Kohli
D) MS Dhoni
E) Rishab Pant
Answers :
1) Answer: C
Ayesha Aziz, the 25-year-old from Kashmir who is the youngest female pilot in the country, acts as a source of inspiration and a beacon of empowerment for numerous Kashmiri women.
In the year 2011, Aziz became the youngest student pilot to get a license at the age of 15 and underwent training to fly a MIG-29 jet at Russia's Sokol airbase the following year.
She later graduated in aviation from the Bombay Flying Club (BFC) and obtained a commercial license in 2017.
2) Answer: E
Punjab Chief Minister Captain Amarinder Singh virtually launched the 'HarGharPani, HarGharSafai' mission as part of the government's campaign to accomplish the goal of 100 per cent potable piped water supply in all rural households by March next year.
The Chief Minister also inaugurated one Mega Surface Water Supply Scheme covering 85 villages in the Moga district, 144 new water supply schemes for 172 villages, 121 Arsenic, and Iron removal plants.
The scheme will benefit more than 1.6 lakh residents from 155 villages in Amritsar, Tarn Taran, and Gurdaspur districts by helping replace groundwater with surface water supply for drinking, besides resolving the problem of arsenic affected habitations.
The scheme is being funded by the World Bank, JalJeewan Mission of GoI, NABARD, and State Budget.
The Chief Minister also formally launched 10 new large multi-village surface water supply schemes at a cost of Rs.1,020 Crore. The scheme will cover 1,018 villages in the water quality affected areas of districts Patiala, Fatehgarh Sahib, Gurdaspur, Amritsar, and Tarn Taran.
3) Answer: D
State Election Commissioner N. Ramesh Kumar launched a software application called 'eWatch' to keep tabs on poll-related irregularities in Andhra Pradesh.
It was an in-house software application developed at the request of the State Election Commission by Reliance Jio for use in the ensuing gram panchayat elections.
Developed exclusively for the election watch, the app comes with features that enable people to interact with the SEC about everything related to the panchayat polls being held in the state after a prolonged conflict between the SEC and the government.
The e-watch app will be available on Google Play Store from Thursday, he added and called upon people to use their franchise with enthusiasm.
Ramesh Kumar also inaugurated a call center exclusively set up for receiving and resolving election related complaints.
4) Answer: B
The Reserve Bank of India (RBI) issued guidelines on risk-based internal audit (RBIA) system for select non-bank lenders and urban co-operative banks (UCBs).
NBFCs and UCBs have grown in size and become systemically important, prevalence of different audit systems/approaches in such entities has created certain inconsistency.
The entities have to implement the RBIA framework by March 31, 2022
This is mainly for Strengthen the quality and effectiveness of the internal audit system of selected entities.
The regulator also specified that RBIA policy shall clearly document the purpose, authority, and responsibility of the internal audit activity, with a clear demarcation of the role and expectations from risk management function and risk -based internal audit function.
RBI, in its monetary policy statement on December 4, 2020, had announced that suitable guidelines would be issued to large UCBs and NBFCs for the adoption of RBIA to strengthen the internal audit function, which works as a third line of defence.
5) Answer: E
The government has appointed 1998 Gujarat cadre IPS officer Praveen Sinha as interim director of the Central Bureau of Investigation (CBI)
Sinha, who is currently an additional director at the investigating agency, will take charge of the CBI temporarily as the government failed to appoint a new director by the end of the incumbent chief RK Shukla's tenure.
The decision was taken as the high powered panel comprising Prime Minister NarendraModi, Chief Justice of India SA Bobde and Leader of Opposition in the LokSabhaAdhirRanjanChowdhury.
About Sinha :
Sinha, who joined the CBI in 2018, was earlier an additional secretary in the Central Vigilance Commission and served under multiple designations when he was posted in Gujarat.
He supervised investigations into the coal scam cases and is currently leading the probe into the death of actor Sushant Singh Rajput.
6) Answer: C
Air Marshal GS Bedi Ati Vishisht Sewa Medal, Vayusena Medal, VishishtSewa Medal took over as Director General (Inspection & Safety) at Air HeadQuarters on 01 Feb 21.
An alumnus of Defence Services Staff College and National Defence College, the Air Marshal was commissioned in the flying branch of Indian Air Force in 1984.
The Air Marshal has flown a wide variety of fighters and trainer aircraft.
He has over 3700 hrs of flying in various challenging sectors.
He is a Qualified Flying Instructor and a Fighter Combat Leader with vast instructional experience.
He was awarded with Vishisht Seva Medal on  26 Jan 2010 and Ati Vishisht Seva Medal on 26 Jan 2020 by the President of India.
7) Answer: E
Pioneering Hollywood actress Cicely Tyson – who was known for portraying strong African-American characters – has died aged 96.
About  Cicely Tyson :
Tyson won two Emmys for her performance in the 1974 civil rights-era film The Autobiography of Miss Jane Pittman.
She also became the first black woman to take on a main role in the TV drama East Side/West Side in the 1960s.
Tyson was nominated for a best actress Oscar and Golden Globe in 1973 for Sounder, about a family of poor black sharecroppers in the midst of the Great Depression in 1933 Louisiana.
The Tony Awards also nominated her in 2013 for lead actress for the play The Trip to Bountiful, about an unhappy, elderly woman desperate to visit her girlhood home before she dies.
Tyson also appeared in 2011 film The Help and TV shows including 1977's Roots, season four of House of Cards andthe recent How to Get Away with Murder, which starred Viola Davis.
8) Answer: D
Ajay Singh has been re-elected as President of the Boxing Federation of India (BFI).
Singh received 37 votes while Shelar, who has held many top positions in sport, including the role of President of Maharashtra Cricket Association and Mumbai District Football Association, got 27 votes in the BFI elections.
Hemanta Kumar Kalita was elected secretary general and Digvijay Singh treasurer.
The elections were held in the presence of AIBA observer YuryZaystsev and IOA observer Rakesh Gupta.
The six-time world champion boxer Mary Kom credited BFI President Ajay Singh for the remarkable performances of the boxers from the country at the global stage in recent years.
9) Answer: B
The Ministry of corporate affairs (MCA) amended the Companies Rules to revise the definition of a small company and to allow non-resident Indians (NRIs) to incorporate one person companies (OPCs) in India.
Previously NRIs were not allowed to incorporate OPCs. Now any natural person, who is an Indian citizen, whether resident in India or otherwise would be allowed to form an OPC.
For being considered as a resident in India, the residency period has been proposed to be reduced to 120 days from 182 days for NRIs.
Amendments to the Act in 2018, contained provisions for increasing the paid up capital and turnover thresholds for small companies up to Rs 10 crore and Rs 100 crore, respectively.
The move is expected to lighten the compliance burden of about 200,000 companies
10) Answer: C
Delhi Chief Minister ArvindKejriwal launched the 'Switch Delhi' campaign to promote electric vehicles and appealed to people to buy such vehicles to combat pollution in the city.
Kejriwal said his government will hire only electric vehicles for various purposes in the next six weeks.
In the 'Switch Delhi' campaign, awareness will be created about the benefits of electric vehicles and how it can contribute to making Delhi clean and pollution free.
Under its electric vehicle policy, the Delhi government has planned extensive subsidies on purchase of electric two-wheelers and four-wheelers, besides waiving road tax and registration charges
More than 6,000 electric vehicles have been purchased since the policy launch in August 2020. The government has also issued tenders for setting up 100 charging stations across the city,
The government has fixed an ambitious target of 25 per cent electric vehicles among total vehicle registrations in Delhi by 2024
11) Answer: D
Hindustan Aeronautics Limited (HAL) and Mishra Dhatu Nigam Limited (MIDHANI) have signed a Memorandum of Understanding (MoU) for development and production of composite raw materials during the Aero India 2021 in Bengaluru on February 04, 2021
This is the first time that such anMoU has been signed for composite raw materials.
The MoU was signed by Chairman and Managing Director, HAL Shri R Madhavan and Chairman and Managing Director, MIDHANI Dr S K Jha in the presence of other senior officials.
Composites raw materials, mainly in the form of prepregs used in platforms like Light Combat Aircraft (LCA), Advanced Light Helicopter (ALH), Light Combat Helicopter (LCH) and Light Utility Helicopter (LUH) are currently imported.
The usage of composites in aerospace is going to exist and increase, particularly for fighter aircraft/helicopters because of its inherent advantages over metallic raw materials.
In addition, similar requirements exist for other aerospace and defenceprogrammes, including those of Indian Space Research Organisation (ISRO), Defence Research Development Organisation (DRDO) and National Aerospace Laboratories (NAL).
12) Answer: E
Billionaire MukeshAmbani's Reliance Industries Ltd has sourced the world's first consignment of 'carbon-neutral oil' from the US as it looks to become a net zero-carbon company by 2035.
The Very Large Crude Carrier (VLCC) Sea Pearl containing the carbon-neutral oil unloaded the cargo at Jamnagar on January 28.
This transaction is a first step in the creation of a new market for climate-differentiated crude oil.
It is also a bridge to the development of a further differentiated petroleum product, net-zero oil, which Occidental intends to eventually produce through the capture and sequestration of atmospheric CO2 via industrial-scale direct air capture (DAC) facilities and geological sequestration.
Reliance, which operates the world's largest single location oil refining complex at Jamnagar in Gujarat with capacity of 68.2 million tonnes a year, got 2 million barrels of consignment Permian basin.
This transaction, which was arranged in conjunction with Macquarie Group's Commodities and Global Markets group (Macquarie), is the energy industry's first major petroleum shipment for which greenhouse gas (GHG) emissions associated with the entire crude lifecycle, well head through combustion of end products, have been offset.
13) Answer: C
India slipped two places to 53rd position in the 2020 Democracy Index's global ranking, according to The Economist Intelligence Unit.
India is ranked higher than most of its neighbouring countries. India's overall score fell from 6.9 in 2019 to 6.61 in the Index that provides a snapshot of the current state of democracy worldwide for 167 countries.
Norway has topped the Index.Iceland, Sweden, New Zealand and Canada are the top five countries in the list.
Out of 167 countries, the Democracy Index classifies 23 countries as full democracies, 52 as flawed democracies, 35 as hybrid regimes and 57 as authoritarian regimes. India has been classified as a 'flawed democracy' along with countries.
14) Answer: B
50th Edition of Kerala State Film Awards have recently been conferred
Chief Minister PinarayiVijayan presented the 2019 Kerala State Film Awards and the J C Daniel Award at a function here.
PinarayiVijayan released the stamp published in connection with the International Film Festival of Kerala (IFFK).
Veteran filmmaker Hariharan, who was conferred with the J C Daniel Award, is an artist who had travelled with cinema for about half a century and made films which went on to become milestones in the annals of Malayalam tinsel town.
K Jayakumar, poet-lyricist and former chief secretary, received the JC Daniel Award on behalf of Hariharan.
The film awards were also distributed.
In that Culture Minister A K Balan presided.
About International Film Festival of Kerala :
Artistic Director :Bina Paul
Hosted by : Kerala State Chalachitra Academy
15) Answer: E
India's wicketkeeper-batsman Rishabh Pant has been nominated for the ICC Men's Player of the Month award along with England skipper Joe Root and Ireland's Paul Stirling.
The International Cricket Council announced the nominees for the inaugural Player of the Month Awards which will recognise and celebrate the best performances from both male and female cricketers across all forms of international cricket throughout the year".
The 23-year-old Pant played two Tests against Australia where he scored a 97 at Sydney to ensure a draw before an unbeaten 89 at Brisbane that led India to a historic series-clinching win.
In January, Root played two Tests against Sri Lanka, where he scored a 228 and 186 and led his team to a 2-0 Test series victory.
The third nominee in the category, Stirling played two ODIs against the UAE and three ODIs vs Afghanistan, where he scored three centuries.