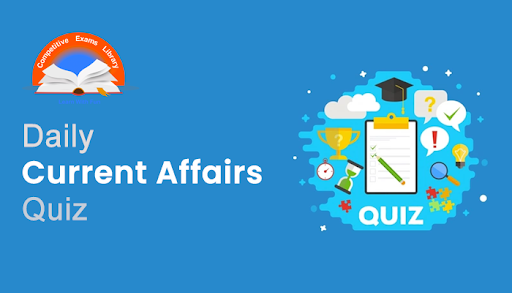 Dear Readers, Daily Current Affairs Questions Quiz for SBI, IBPS, RBI, RRB, SSC Exam 2021 of 05th May 2021. Daily GK quiz online for bank & competitive exam. Here we have given the Daily Current Affairs Quiz based on the previous days Daily Current Affairs updates. Candidates preparing for IBPS, SBI, RBI, RRB, SSC Exam 2021 & other competitive exams can make use of these Current Affairs Quiz.
1) World Asthma Day is Observed on ____ Tuesday of May.
A) 5th
B) 3rd
C) 4th
D) 1st
E) 2nd
2) EAM Dr S Jaishankar has held a meeting with UK's Home Secretary Priti Patel in which city?
A) Edinburgh
B) Bristol
C) London
D) Frankfurt
E) Austria
3) Jagmohan who passed away recently was the former governor of which state/UT?
A) Uttar Pradesh
B) Haryana
C) Punjab
D) Chandigarh
E) J&K
4) International Midwives' Day is Observed on which date?
A) May 11
B) May 5
C) May 3
D) May 2
E) May 1
5) World Hand Hygiene Day is Observed on which date?
A) May 11
B) May 2
C) May 05
D) May 4
E) May 12
6) Which global body has endorsed to ease travel restrictions on fully vaccinated tourists?
A) IMF
B) WB
C) WHO
D) EU Commission
E) UNICEF
7) India along with which international association has affirmed commitment to support Afghanistan?
A) OPEC
B) G5
C) G7
D) ASEAN
E) EU
8) Which country has attained another milestone by administering more than 16 crore 4 lakh doses of covid vaccine?
A) Pakistan
B) Germany
C) China
D) India
E) US
9) _____ States, UTs start to raise food grains from FCI for free distribution to poor under PMGKAY.
A) 27
B) 28
C) 20
D) 25
E) 21
10) In the World Snooker Championship Mark Selby has become World Snooker Champion for ____ Time.
A) 2nd
B) 3rd
C) 4th
D) 5th
E) 6th
11) Petroleum Minister has flagged off the ____ supply of UCO based Biodiesel blended Diesel.
A) 5th
B) 4th
C) 3rd
D) 2nd
E) 1st
12) The government has obtained _____more wheat in the current Rabi season which compared to last year.
A) 25 percent
B) 65 percent
C) 35 percent
D) 45 percent
E) 30 percent
13) Yoga Day promotional activities planned to conducted through digital & electronic platforms. The International yoga day is observed on _____.
A) June 1
B) June 3
C) June 4
D) June 21
E) June 11
14) Madhya Pradesh government has announced Rs. ____crore transferred into accounts of 16,844 beneficiaries under Sambal scheme.
A) 200
B) 279
C) 379
D) 322
E) 350
15) Who among the following has bagged the Icon Award at Billboard Music Awards?
A) Prince
B) Jennifer Lopez
C) Neil Diamond
D) Pink
E) Billie Ellish
16) West Bengal: Mamata Banerji to be sworn-in as CM for the ____consecutive term.
A) 6th
B) 3rd
C) 2nd
D) 4th
E) 5th
17) Nation's first 'Drive in Vaccination Center' has been unveiled in which city?
A) Pune
B) Hyderabad
C) Bengaluru
D) Delhi
E) Mumbai
18) Delhi CM has declared free rations for _____ months, Rs 5,000 aid to autorickshaw & taxi drivers.
A) 6
B) 2
C) 3
D) 4
E) 5
19) L&T will soon deliver ____oxygen generators to hospitals across India.
A) 18
B) 22
C) 21
D) 20
E) 15
20) RBI governor has announced that 2nd purchase of G-secs worth Rs ______crore under G-SAP 1.0 on May 20.
A) 15000
B) 25000
C) 20000
D) 35000
E) 30000
21) Which company has vowed USD 25 million for pandemic relief efforts in India?
A) Infosys
B) Reliance
C) ITC
D) Tata
E) Accenture
22) Which company has done the rollout of generic favipiravir tablets for COVID-19 treatment?
A) Pfizer
B) Oxford
C) Cipla
D) Bajaj Healthcare
E) Ranbaxy
23) Samsung has vowed ____ million for COVID-19 relief efforts.
A) 4
B) 5
C) 6
D) 7
E) 8
24) Serum Institute CEO will invest over USD ____ million in the UK, may make inoculations.
A) 150
B) 250
C) 200
D) 350
E) 300
25) Which country has nodded approval for a major solar energy project in a desert?
A) South Africa
B) France
C) Germany
D) US
E) China
26) Who among the following has been appointed as Director of Indian Institute of Rice Research?
A) Raj Verma
B) Neel Bhopalam
C) RM Sundaram
D) Anand Rathi
E) Sudhir Mishra
27) The CM of which state has announced an International award in memory of Manoj Das?
A) Kerala
B) Chhattisgarh
C) Gujarat
D) Uttar Pradesh
E) Odisha
28) India, UK has elevated bilateral ties to adopt comprehensive Strategic Partnership for Roadmap _____. 
A) 2027
B) 2030
C) 2024
D) 2025
E) 2026
29) Mountains to Mangroves – A Journey of 1000 Kilometers Webinar has been Launched by which ministry?
A) Earth Sciences
B) S&T
C) Education
D) Finance
E) Tourism
30) Manas Bihari Verma who Passed Away was an eminent ___.
A) Producer
B) Scientist
C) Actor
D) Singer
E) Writer
31) Coal Miners Day is Observed on which date?
A) May 11
B) May 3
C) May 4
D) May 2
E) May 5
Answers :
1) Answer: D
World Asthma Day – Observed on First Tuesday of May. World Asthma Day (WAD) is organized by the Global Initiative for Asthma, (GINA) (www.ginasthma.org), a World Health Organization collaborative organization founded in 1993.
This year's World Asthma Day theme is "Uncovering Asthma Misconceptions".
WAD is held each May to raise awareness of Asthma worldwide.
WHO recognizes that asthma is of major public health importance.
According to WHO, it was estimated that more than 339 million people had Asthma globally and there were 417,918 deaths due to asthma at the global level in 2016.
Although asthma cannot be cured, it is possible to manage asthma to reduce and prevent asthma attacks, also called episodes or exacerbations.
The theme provides a call to action to address common widely held myths and misconceptions concerning asthma that prevent persons with asthma from enjoying optimal benefit from the major advances in the management of this condition.
Common misconceptions surrounding asthma include:
Asthma is a childhood disease; individuals will grow out of it as they age.
Asthma is infectious.
Asthma sufferers should not exercise.
Asthma is only controllable with high dose steroids.
2) Answer: C
External Affairs Minister Dr S Jaishankar, who is on a four day visit to the UK, held a meeting with Home Secretary Priti Patel in London.
They signed the Migration and Mobility Partnership Agreement that would facilitate legal travel and encourage talent flows between the two countries.
Dr Jaishankar mentioned, the living bridge between India and UK will get stronger as a result.
He said, this is an important outcome for the India-UK Virtual Summit.
3) Answer: E
On May 04, 2021, Former Union Minister and Former Governor of Jammu and Kashmir Jagmohan passed away in New Delhi.
He was 94.
4) Answer: B
Each year, May 5 is marked as the International Midwife Day in order to recognize the contribution of midwives.
This year's IDM theme: "Follow the data: Invest in Midwives", will coincide with the launch of the State of the World's Midwifery (SoWMy) Report 2021 co-led by United Nations Funds on Populations (UNFPA), World Health Organization (WHO), and International Confederation of Midwives (ICM).
International Day of the Midwives was first celebrated May 7th 1991, and has since been observed in over 50 nations around the world.
The idea of having a day to recognize and honor midwives came out of the 1987 International Confederation of Midwives conference in the Netherlands.
The day has been celebrated by the International Confederation of Midwives (ICM) since 1992.
Midwives are women who possess practical knowledge about helping pregnant women during childbirth.
5) Answer: C
Every year, the World Hand Hygiene Day is observed on May 5.
The day is organized by the World Health Organization (WHO) to raise awareness among people across the globe about the importance of hand hygiene in warding off many serious infections.
The theme for 2021 is 'Seconds Save Lives: Clean Your Hands'.
The day recognizes hand washing as one of the most effective actions that can be taken to avoid a huge range of infections including the COVID-19 virus.
6) Answer: D
The European Union Commission has recommended easing restrictions on non-essential travel from overseas for those who received the last dose of an EU-approved vaccine.
EU Commission President Ursula von der Leyen that it was time to revive the EU tourism industry and for cross-border friendships to rekindle safely.
The EU currently only allows non-essential travel from seven countries.
Discussions on the plans will begin.
The EU has already announced plans for a digital certificate, which would cover anyone who is either vaccinated against Covid-19, has a negative test or has recently recovered.
7) Answer: E
External Affairs Minister Dr S Jaishankar and EU High Representative for Foreign Affairs and Security Policy Josep Borrell have reaffirmed commitment to support Afghanistan in its path towards peace, security, self-reliance and prosperity.
Dr Jaishankar and Mr Borrell called for respecting and protecting the national sovereignty and territorial integrity of Afghanistan.
They reaffirmed their strong and continued support to an inclusive, Afghan-led, Afghan-owned peace process.
As representatives of the world's largest democracies, External Affairs Minister Dr.Jaishankar and Mr.Borrell reaffirmed that any political settlement in Afghanistan must protect the human rights and fundamental freedoms of all Afghans, including women, youth and minorities.
They reiterated that the nature of the peace settlement and its outcome will shape the future of international support and assistance.
They jointly and firmly condemned the unacceptable level of violence perpetrated against the national forces of Afghanistan and civilians and the targeted assassinations of civil rights activists, media persons and Ulema.
They reiterated their call for an immediate, permanent and comprehensive nationwide ceasefire.
8) Answer: D
India has scaled another peak in its effort to contain the COVID-19 virus with the administration of more than 16 Crore four lakh vaccine doses so far to its citizens.
Union Health Ministry said, the country also administered more than 13 Crore doses as the first dose and more than three crore vaccine doses have been administered as the second dose.
The Ministry said, more than two lakh 29 thousand beneficiaries of the age group 18 to 44 years received their first dose of COVID vaccine.
The cumulative vaccination coverage for this age group is over six lakh 62 thousand across 12 States and Union Territories.
The Ministry said that more than five crore 29 lakh beneficiaries in the age group of over 60 years has received the first dose and over one crore 23 lakh received the 2nd dose.
The country has administered nearly 11 lakh 50 thousand vaccine doses till 8 pm.
More than six lakh 15 thousand beneficiaries were vaccinated for 1st dose and over five lakh 33 thousand beneficiaries received 2nd dose of vaccine.
9) Answer: B
Government said that 28 States and Union Territories have started lifting food grains from Food Corporation of India depots for free distribution of food grains to the poor under Pradhan Mantri Garib Kalyan Anna Yojana.
Last month, Centre had decided to provide free food-grains to nearly 80 crore beneficiaries covered under National Food Security Act, NFSA in the month of May and June.
Under this scheme, five kilogram per person per month food grains will be provided to the NFSA beneficiaries belonging to both Antyodaya Anna Yojana and Priority Householders categories.
Prime Minister Narendra Modi had stressed that it is important that the poor people of the country have nutritional support when the country is facing the second wave of coronavirus.
The Consumer Affairs Ministry said, Food Corporation of India has already positioned sufficient food grains in all States and UTs for successful implementation of the scheme.
It said 28 States and UTs have started lifting foodgrains from Food Corporation of India depots and Rs. 5.88 lakh tonnes of food grains have been supplied for further distribution to beneficiaries.
Lakshadweep has completely lifted May and June allocation whereas Andhra Pradesh and Telangana have already lifted 100 percent of May allocation.
The Ministry said, the rest of the States and UTs have also been sensitized to immediately start lifting the foodgrains under the scheme.
It has advised them to encourage migrant NFSA beneficiaries for using the facility of portability under One Nation One Ration Card plan.
The Ministry said, Centre will bear the entire cost of implementation of this scheme, without any sharing by States and Union Territories.
10) Answer: C
In Snooker, Mark Selby became the World Champion for the fourth time.
It took place from 17 April to 3 May 2021 at the Crucible Theatre in Sheffield, England.
Selby won the Championship defeating Shaun Murphy by 18-15 victory at professional snooker tournament.
He has now moved up to second spot in world rankings, next only to Judd Trump.
Prior to this, Selby won the Championship title in 2014, 2016, 2017 and 2021.
11) Answer: E
Petroleum and Natural Gas Minister Dharmendra Pradhan remotely flagged off the first supply of UCO, Used Cooking Oil based Biodiesel blended Diesel from Indian Oil's Tikrikalan Terminal, Delhi.
The Centre had initiated Expressions of Interest for "Procurement of Bio-diesel produced from Used Cooking Oil" on the occasion of World Biofuel Day on 10th August 2019.
Such "Expressions of Interest" are being periodically released by Oil Marketing Companies.
Speaking on the occasion, Mr Pradhan complimented the Oil industry on the stellar role played by them in keeping the fuel lines running despite the stiff challenges of the pandemic.
He also lauded the OMCs for going beyond the usual business imperatives by extending support for medical oxygen supply to the nation in this crisis.
Mr Pradhan also appreciated Indian Oil's leadership role in smoothening the Liquid oxygen logistics in the country through various initiatives.
Regarding the first supply of UCO-based Biodiesel from Indian Oil's Tikrikalan Terminal, the Minister termed it as landmark in India's pursuance of Biofuels.
He said it will have a positive impact on the environment.
This initiative will garner substantial economic benefits for the nation by shoring up indigenous Biodiesel supply, reducing import dependence, and generating rural employment.
12) Answer: B
Government has said that about 65 per cent more wheat has been procured during the current Rabi Marketing Season in comparison to the corresponding period last year.
Consumer Affairs Ministry said, the procurement of Wheat is continuing smoothly in the procuring States of Punjab, Haryana, Uttar Pradesh, Madhya Pradesh, Rajasthan, Uttarakhand, Chandigarh, Himachal Pradesh, Delhi, Gujarat, Jammu and Kashmir and Bihar at Minimum Support Price.
The Ministry said, a quantity of over 299 lakh tonnes of Wheat has been procured against the last year corresponding purchase of around 181 lakh tonnes.
It said, about 29 lakh 46 thousand farmers have already benefited from the ongoing procurement operations with MSP value of over 59 thousand Crore rupees.
The Ministry said over 721 lakh tonnes of paddy have been procured in the ongoing Kharif Marketing Season 2020-21 and Rabi Marketing Season.
About one crore eight lakh farmers have benefited from the ongoing procurement operations.
13) Answer: D
The Ministry of Ayush and the Ministry of Youth Affairs & Sports have tapped into the spirit of International Day of Yoga to encourage the public to pursue Yoga as a daily routine for good health and well-being. The International Day of Yoga has been celebrated annually on 21 June.
The two Ministries came together to organize a virtual event to mark 50 days in the countdown to International Day of Yoga 2021.
In view of the COVID surge all the Yoga Day promotional activities are being conducted through digital & electronic platforms to encourage participation by citizens from their respective homes.
The Ministry of Ayush has, in this context, been propagating the message "Be with Yoga, Be at Home".
14) Answer: C
In Madhya Pradesh, 379 crore rupees have been transferred into the accounts of 16 thousand 844 beneficiaries under the Mukhyamantri Jan-Kalyan Sambal scheme.
Chief Minister Shivraj Singh Chouhan said the state government accords high priority to benefit the poor families of unorganised sector workers.
The Chief Minister informed that in the difficult times of crisis beneficiaries of Sambal Yojana are also being given three months of free ration along with financial assistance.
He called upon the beneficiaries to take precautions against the corona and to protect others along with themselves.
Meanwhile, Free Swastha Aahar Yojana (Healthy Food Scheme) for the corona patients of Bhopal is also being launched.
Medical Education Minister Vishwas Sarang said that the patient will get nutritious food on time free of cost in the hospital where he is admitted.
Minister Sarang said that as a pilot project, this scheme has been started in 110 hospitals in Bhopal.
On its success, this scheme will be started in other cities of the state as well.
15) Answer: D
Singer Pink will be honoured with the Icon Award at the 2021 Billboard Music Awards (BBMAs).
The award aims to recognize artists who have achieved success on the Billboard charts and left an indelible impact on music.
Pink joins previous honourees that include Neil Diamond, Stevie Wonder, Prince, Jennifer Lopez, Celine Dion, Cher, Janet Jackson, Mariah Carey and Garth Brooks.
"As a little girl, I always dreamed about being a singer and sharing my love of music with the world," the 41-year-old singer, who is the youngest recipient to date, said in a statement.
"Years later, to receive the Billboard Music Awards Icon Award is hard to fathom! I feel so honoured to join the ranks of music idols like Cher, Garth Brooks, Janet Jackson and Stevie Wonder.
16) Answer: B
TMC leader Mamata Banerjee will be sworn in as the Chief Minister of West Bengal for the third time.
Governor Jagdeep Dhankhar mentioned that the swearing-in ceremony will be held at Raj Bhawan.
Due to the corona situation, the list of guests invited to the ceremony at the Rajbhawan has been kept as short as possible.
After the swearing in of the Chief Minister, newly elected MLAs of the state will take oath in the Assembly in two phases.
17) Answer: E
The Nation's first 'Drive in Vaccination Center' was inaugurated by MP Rahul Shewale in Mumbai.
This center has been set up in the parking lot of Kohinoor Square Tower at Dadar.
This first of its kind 'Drive in Vaccination Center' facility has been made available to the citizens at a time when people with disabilities are facing difficulties in getting to the vaccination center.
The center also provides transportation facilities to the citizens who do not have their own vehicles.
The vaccination has been started and the facility is available for all the sections of the society.
MP Rahul Shewale informed that this facility will be provided in other multi-parking lots in the city, after assessing the success of this first project.
18) Answer: B
The Delhi Chief Minister Arvind Kejriwal announced that all ration card holders in the National Capital will be given free ration for the next 2 months.
This scheme by the government will benefit nearly 72 lakh ration card holders in Delhi.
Mr. Kejriwal also announced that all autorickshaw drivers and taxi drivers in the National Capital Territory of Delhi will be given 5000 rupees each to provide them the much needed financial assistance during the time of the pandemic.
The Chief Minister asserted that however the lockdown may not last for two months but the assistance has been extended by the Delhi Government to ensure food and livelihood to the poor amid the difficult times of COVID-19.
19) Answer: B
Infrastructure major Larsen & Toubro (L&T) said it will soon deliver 22 oxygen generators to various hospitals across India to address the severe crunch of oxygen for COVID-19 patients in the country "L&T will soon start delivering 22 oxygen generators to various hospitals in India, where the scarcity is most acute.
These units will absorb air from the atmosphere before converting it into medical-grade oxygen and pumping it into pre-existing pipes in the hospitals," the company said in a regulatory filing.
L&T said of these, the parts of the first tranche of nine equipment will reach India by May 9.
These will be progressively delivered from May 15 to hospitals that are in acute need and do not possess required infrastructure to receive bulk oxygen supply, the company added.
20) Answer: D
RBI said the second purchase of government securities worth Rs 35,000 crore under the G-sec Acquisition Programme (G-SAP 1.0) will be done on May 20 for an orderly evolution of the yield curve as a fresh COVID-19 wave threatens to hit the economy.
The first purchase of Rs 25,000 crore last month received enthusiastic response from the market, Reserve Bank of India (RBI) Governor Shaktikanta Das said while announcing slew of measures to provide relief to various segments of the economy hit by the second wave of the pandemic.
RBI will do a second purchase of government securities (G-secs) aggregating Rs 35,000 cr in two weeks, he said.
To provide clarity on its bond-buying programme through open market operations (OMO), Das had announced Rs 1 lakh crore target for the first quarter under the new instrument called G-SAP 1.0.On the rate of price rise, he said, food and fuel inflation have pushed core inflation.
Expected normal monsoon forecast should help contain food price inflation, he added.
21) Answer: E
Global IT and professional services company Accenture said it has pledged USD 25 million (about Rs 185 crore) for pandemic relief efforts in the country.
This is in addition to the company's ongoing investments in people and communities, Rekha M Menon, Chairperson and Senior Managing Director of Accenture in India, said in a blog post on LinkedIn.
Local and global efforts are already underway including providing ventilators, oxygen concentrators, and medical kits, she added.
"Accenture stands in solidarity with India.
We have made a fresh pledge of USD 25 million (about Rs 185 crore) for pandemic relief efforts in addition to ongoing investments in our people and communities.
Additionally, we will be augmenting existing hospitals with beds and ICUs and setting up portable hospitals," she noted.
22) Answer: D
Drug firm Bajaj Healthcare announced the launch of its antiviral Favipiravir tablets under the brand name 'Favijaj' used for the treatment of mild to moderate COVID-19 infections in the country.
The company has received approval from India's drug regulator DCGI to manufacture and market the tablets, Bajaj Healthcare said in a BSE filing.
"We hope the availability of an effective treatment such as Favijaj will considerably ease the pressure and offer patients much-needed and timely therapy options," Bajaj Healthcare Joint MD Anil Jain said.
The company has successfully developed the active pharmaceutical ingredient (API) and the formulation for favipiravir through its own in-house R&D team, Bajaj Healthcare said.
Shares of Bajaj Healthcare closed at Rs 583.05 per scrip on BSE, up steep 10.85 percent from its previous close.
23) Answer: B
Tech giant Samsung said it has pledged USD 5 million (Rs 37 crore), while Paytm Foundation intends to set up oxygen plants in 12-13 cities as part of efforts to support India"s battle against the COVID-19 pandemic.
Samsung will donate USD 3 million to the Centre and states of Uttar Pradesh and Tamil Nadu, and provide USD 2 million worth of medical supplies, including 100 Oxygen Concentrators, 3,000 Oxygen Cylinders, and one million LDS syringes (to Uttar Pradesh and Tamil Nadu), a statement said.
LDS or Low Dead Space syringes minimize the amount of drug left in the device after injection, optimizing vaccine usage.
The technology has demonstrated up to 20 percent greater efficiency and if existing syringes were to deliver one million doses, LDS syringes could deliver 1.2 million doses with the same amount of vaccine.
Samsung has helped the manufacturer of these syringes increase production capacity, the statement said.
24) Answer: E
Serum Institute of India is set to invest in facilities in Britain and could even manufacture inoculations in the UK in future, Prime Minister Boris Johnson said.
Johnson's Downing Street office said the GBP 240 million (USD 334 million) projects would include a sales office, "clinical trials, research and development and possibly manufacturing of vaccines".
The Serum Institute of India (SII) is the world's largest vaccine maker by volume, and has been at the forefront of producing the lower-cost AstraZeneca coronavirus shot.
SII has also begun phase one trials in the UK of a one-dose nasal vaccine for coronavirus.
Downing Street said the vaccine maker's plans were part of a wider package of trade and investment deals with India worth GBP 1 billion that it expects to create over 6,500 jobs.
It was announced ahead of virtual talks between Johnson and Indian Prime Minister Narendra Modi.
25) Answer: D
The US government has approved a major solar energy project in the California desert that will be capable of powering nearly 90,000 homes.
The Interior Department said in a statement, that the 550 million dollar Crimson Solar Project will be sited on 2,000 acres of federal land west of Blythe, California.
The announcement comes as President Joe Biden has vowed to expand development of renewable energy projects on public lands as part of a broader agenda to fight climate change, create jobs.
The project will include a battery storage system and will be sited on land designated for renewable energy development by the Desert Renewable Energy Conservation Plan.
26) Answer: C
Raman Meenakshi Sundaram has been appointed as Director of Indian Institute of Rice Research (IIRR), an arm of the Indian Council of Agricultural Research.
Prior to this elevation, he was working as Principal Scientist (Biotechnology) at the institute's Crop Improvement Section.
"He put in 23 years at the institute.
He is a scientist of global repute working in the area of rice biotechnology, molecular breeding, and genomics and has over 160 research papers in national and international journals of repute and has published several books, book chapters and popular articles.
Dr.Sundaram's research accomplishments include the development of one of the first biotechnology products in rice, Improved Samba Mahsuri, which is high yielding, is of fine-grain type, has a low glycaemic index and is highly resistant to bacterial blight, it said.
27) Answer: E
Odisha Chief Minister Naveen Patnaik announced 'Manoj Das International Literary Award' in memory of the great litterateur who passed away at a hospital in Puducherry on April 27.
The international award with prize money of Rs 10 lakh will be given to Odia writers for their creative writing in English every year.
The Chief Minister also announced 'Manoj Kishore Sahitya Prativa Samman' to create interest among youths for literature.
The award will be given at the high school level for original creative writing in Odia and English.
The prize money for the awards will be Rs 1 lakh each.
Similarly, the ancestral house of Das will be taken over by the State government and converted to 'Manmath-Manoj' memorial as per a proposal of family members in memory of the two illustrious brothers, eminent historian Manmath Nath Das and legendary writer Manoj Das.
28) Answer: B
Prime Minister Narendra Modi and his British counterpart Boris Johnson have adopted an ambitious 'Roadmap 2030' to elevate bilateral ties to a 'Comprehensive Strategic Partnership'.
The Roadmap will pave the way for a deeper and stronger engagement over the next ten years in the areas of people to people contacts, trade and economy, defence and security, climate action and health.
In a Virtual Summit held, the two leaders discussed the Covid19 situation and ongoing cooperation in the fight against the pandemic, including the successful partnership on vaccines.
Prime Minister Modi thanked Prime Minister Johnson for the prompt medical assistance provided by the UK in the wake of the severe second wave of Covid19 in India.
Prime Minister Johnson appreciated India's role in extending assistance to the UK and other countries over the last year, including by way of supply of pharmaceuticals and vaccines.
29) Answer: E
On April 24, 2021, The Ministry of Tourism's Dekho Apna Desh Webinar series held its 86th webinar titled Mountains to Mangroves: A Journey of 1000 Kilometers.
The DekhoApnaDesh Webinar Series is presented in technical partnership with the National e Governance Department, Ministry of Electronics and Information Technology.
The objective of these Webinars is to promote various tourism destinations of India – including the lesser known destinations and lesser known facets of popular destinations.
The Webinars include glimpses of the culture, heritage, handicrafts and cuisine of the destinations, in addition to the tourist spots. Concepts of Responsible Tourism, Accessible Tourism, Wildlife, Trekking, Bicycling and MotorCycle Tours, etc. have also been promoted through the Webinars.
Bounded by the Great Himalayas in the north, it stretches southwards and at the Tropic of Cancer, tapers off into the Indian Ocean between the Bay of Bengal on the east and the Arabian Sea on the west.
The Webinar was presented by Shri Debajit Dutta, Director &CEO of Impression Tourism Services (India) Private Limited, expert in experiential tours, adventure tours and offers voluntary Project services & community tourism initiatives as a part of sustainable tourism practice.
30) Answer: B
On May 03, 2021, The Indian aeronautical scientist, Manas Bihari Verma Passed away.
He was 78.
31) Answer: C
Every year, Coal Miners Day is observed on May 4 for the toughest professionals and the miners working in coal fields.
This day is observed as an appreciation for the workers who sacrificed their lives, honour their accomplishments, and remember the tragedies that these hardworking individuals experience.
So on this day, several organizations and communities raise funds to inform organizations in coal mining areas.
Coal is one of the basic forms of energy.
It is one of the most important primary fossil fuels that is rich in carbon.
Miners put their lives at risk by tunneling, digging, and extracting coal every single day.
Many miners face lung diseases which are caused due to the inhalation of coal dust the whole day.
From this, we can conclude that coal mining is one of the most dangerous professions.
India's half of the commercial energy needs are fulfilled by the coal industry.
It's the fuel for generating power, making steel and cement.