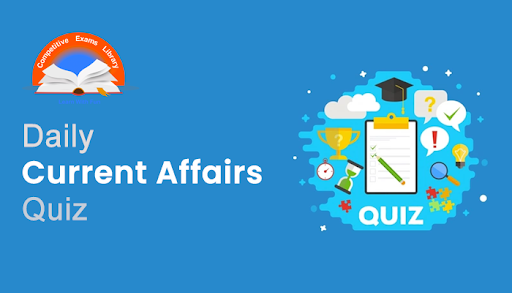 Dear Readers, Daily Current Affairs Questions Quiz for SBI, IBPS, RBI, RRB, SSC Exam 2021 of 06th February 2021. Daily GK quiz online for bank & competitive exam. Here we have given the Daily Current Affairs Quiz based on the previous days Daily Current Affairs updates. Candidates preparing for IBPS, SBI, RBI, RRB, SSC Exam 2021 & other competitive exams can make use of these Current Affairs Quiz.
1) International Day of Zero Tolerance to Female Genital Mutilation is observed on which of the following date?
A) February 1
B) February 3
C) February 6
D) February 15
E) February 11
2) Which of the following country will build the world's first energy island in the North Sea?
A) Israel
B) France
C) Germany
D) Sweden
E) Denmark
3) Which of the following company will launch a fighter jet?
A) BEML
B) HAL
C) BEL
D) BDL
E) DRDO
4) Which of the following state will get its first human milk bank?
A) Bihar
B) Haryana
C) Gujarat
D) Kerala
E) Madhya Pradesh
5) The Chief minister of which state will inaugurate the first heliport in Majuli?
A) Mizoram
B) Nagaland
C) Assam
D) Kerala
E) Tripura
6) What is the current MSF as per the latest RBI Monetary Policy?
A) 3.25%
B) 3%
C) 3.35%
D) 4%
E) 4.25%
7) India held its first meeting of the Joint Working Group meeting in the field of Renewable Energy with which country?
A) Israel
B) Bahrain
C) Qatar
D) Oman
E) South Korea
8) RBI Governor Shaktikanta Das has projected the GDP growth at ____ percent in FY22.
A) 8.5
B) 9
C) 9.5
D) 10
E) 10.5
9) Which company will shut its domestic payment services in India from April 1?
A) Mobikwik
B) Cashfree
C) Freecharge
D) Paypal
E) Razorpay
10) How many MoUs have been Signed in Aero India 2021?
A) 205
B) 204
C) 201
D) 202
E) 203
11) The Government of which state has approved the implementation of the Water Conservation Programme?
A) Bihar
B) Maharashtra
C) Kerala
D) UP
E) MP
12) Which company has signed an MoU to take street food vendors' businesses online?
A) Freecharge
B) Ola
C) Uber Eats
D) FoodPanda
E) Zomato
13) Who among the following is set to release the memoir 'Beautiful Things'?
A) Hillary Clinton
B) Barack Obama
C) Hunter Biden
D) Joe Biden
E) Kamala Harris
14) First ASEAN-India Hackathon 2021 was concluded on which of the following date?
A) February 1
B) February 2
C) February 3
D) February 4
E) February 5
Answers :
1) Answer: C
Every Year on Feb 06, International Day of Zero Tolerance for Female Genital Mutilation is Observed.
It was first held in 2003.
Theme of 2021is No time for global inaction: unite, fund and act to end FGM/C
It is a United Nations-sponsored annual awareness day to eradicate female genital mutilation (FGM).
2) Answer: E
The Denmark to build world's first energy island in the North Sea
The €28 billion construction project is the biggest of its kind in Danish history. The government will hold a 51% stake in the island, with the remainder held by the private sector.
In that Initial phase will be the size of 18 football fields, will be linked to hundreds of offshore wind turbines and will supply both power to households and green hydrogen for use in shipping, aviation, industry and heavy transport.
It will cost around 210 billion Danish crowns ($33.9 billion) to build, and is an important part of Denmark's legally binding target to cut greenhouse gas emissions by 70% by 2030 from 1990 levels, one of the world's most ambitious.
The move came as the European Union unveiled plans to transform its electricity system to rely mostly on renewable energy within a decade and increase its offshore wind energy capacity 25-fold by 2050.
The island, to be located 80 kilometres off Denmark's west coast, and its surrounding wind turbines will have an initial capacity of 3 gigawatt and be operational around 2033.
Denmark also has plans for an energy island in the Baltic Sea. The state will hold a controlling stake in both islands.
3) Answer: B
Hindustan Aeronautics Limited (HAL) unveiled a leap in technology of teaming up unmanned aircraft and vehicles with manned jets similar to the US project of skyborg.
It will enhance Indian military strike capabilities
The technology named Combined Air Teaming System (CATS) will have a mother ship, operating from faraway, and four autonomous unmanned aerial vehicles known as CATS Warrior.
HAL is also developing a high-altitude satellite system. It will be solar energised.
This asset will be flying unmanned around 70,000 feet height for around two to three months and will be taking all the information.
HAL is also developing a high altitude asset with long endurance. It will be flying 50,000 feet for 24 hours and it is also part of CATS programme.
4) Answer: D
The southern state of Kerala will get its first human milk bank. The state-of-the-art facility will be inaugurated by health minister K K Shailaja at state-owned Ernakulam general hospital in Kochi.
It is being set up in partnership with Rotary Club of Cochin Global.
The facility will provide breast milk to newborn babies who are deprived of it because of various issues, including the sickness of their mothers.
According to the state government, 3,600 babies are born in the general hospital a year and out of those, 600 to 1,000 sick babies are admitted into the Neonatal intensive care unit (NICU).
A similar milk bank – the Northeast's first – opened at Guwahati's Satribari Christian Hospital in December last year.
It was the 15th milk bank in the entire country.
5) Answer: C
Assam Chief Minister Sarbananda Sonowal inaugurated the first heliport of the state in Majuli district.
The heliport having facility for simultaneous landing of three helicopters was constructed at an expenditure of Rs 50 lakh.
The heliport was built with an aim to boost tourism in Majuli, which has a distinct identity as the world's largest river island.
The state government has also undertaken several projects to strengthen road infrastructure in the river island, and steps are being taken for construction of the bridge connecting Majuli with Jorhat.
The Assam government made dedicated efforts to put Majuli as an important tourist destination of the world.
The new heliport would significantly facilitate tourist flow to Majuli.
The chief minister also laid the foundation for the infrastructure improvement project of Sankarjyoti High School with a financial outlay of Rs 25 lakh.
6) Answer: E
The Reserve Bank of India's (RBI) Monetary Policy Committee (MPC) kept its repo rate unchanged at 4 percent while maintaining an 'accommodative stance' as long as necessary at least through the current financial year to the next year.
Reverse Repo Rate- 3.35%
Marginal Standing Facility Rate- 4.25%
Bank Rate- 4.25%
CRR- 3%
SLR- 18.00%.
This is the first MPC meeting after the presentation of the Union Budget 2021-22. The six-member MPC headed by RBI Governor Shaktikanta Das meets every two months to analyze the state of the Indian economy and inflation and address the monetary issues in the country.
This month, it began the 3-day bi-monthly meeting on Wednesday, February 3.
The CPI projection is revised to 5.2 percent for Q4 FY21 and CPI inflation is pegged at 5-5.2 per cent in H1 FY22.
Shaktikanta Das announced an integrated ombudsman scheme for customer grievance redressal, which will be rolled out by June 2021.
7) Answer: B
The 1st meeting of the Joint Working Group in the field of Renewable Energy between India and the Kingdom of Bahrain held On Feb 04, 2021 in virtual format.
H.E. Dr. Abdul Hussain bin Ali Mirza, President of Sustainable Energy Authority led the Bahraini delegation.
The Indian delegation was led by H.E. Mr. Dinesh Dayanand Jagdale, Joint Secretary, Ministry of New & Renewable Energy. H.E. Sh. Piyush Srivastava, Ambassador of India to the Kingdom of Bahrain also participated in the meeting.
A Memorandum of Understanding between India and Bahrain was signed in July 2018 for promoting bilateral cooperation in the field of Renewable Energy.
About the Meeting :
It was a very productive meeting, in which both sides underscored the importance of renewable energy to meet climate change goals, and presented the initiatives taken, progress made and future targets set by their respective governments as well as opportunities available in this sector.
Both sides agreed to forging deeper engagement in capacity building and focused cooperation between concerned agencies as well as the private sector of the two countries in this sector, particularly in the field of solar, wind and clean hydrogen.
The meeting took place in a cordial and friendly atmosphere. It was agreed to hold the next round of JWG meetings at mutually convenient dates, which will be decided through diplomatic channels.
8) Answer: E
The Union Budget 2021, the Reserve Bank of India (RBI) projected a GDP growth rate of 10.5 percent for the financial year beginning 1 April.
RBI projects GDP at 10.5% in FY22.
The growth outlook has improved significantly and the vaccination drive will help the economic rebound.
RBI's estimate is in line with the pre-Budget Economic Survey that predicted a 'V-shaped' recovery that said that the Indian economy will rebound with 11 per cent growth in the next financial year.
The apex bank expects the Indian economy to grow in the range of 8.3 percent to 26.2 percent in the first half of FY22, Followed by 6 percent growth in Q3FY22.
9) Answer: D
The California-based global digital payment platform PayPal has announced that the company has decided to wind down its domestic payment services in India with effect from April 01, 2021.
The US-based company will instead focus on enabling more international sales for Indian businesses.
Moreover,the global customer will be able to pay Indian merchants using Paypal.
Paypal was one of the payment options on platforms like ticketing services BookMyShow, MakeMyTrip, and food delivery platform Swiggy.
Earlier in December 2020, Financial solutions provider Razorpay had partnered with global digital payments platform PayPal to facilitate international payments for small businesses and freelancers.
10) Answer: C
A total of 201 MoUs, product launches, and technology transfers were concluded at the Bandhan ceremony held on the last day of Aero India 2021 at Yehalanka, Bengaluru on February 05, 2021.
Over 600 exhibitors attended physically while 108 in virtual mode.
And then around 3,000 Business-2-Business meetings were conducted.
Conclave of Defence Ministers of Indian Ocean Region (IOR)
Theme: 'Enhanced Peace, Security and Cooperation in the Indian Ocean'.
The first ever IOR Defence Ministers' Conclave was attended by ministers and delegates from 26 IOR countries.
A conclave of Chiefs of Air Staff was also organised to pursue the objectives of collaborative security for the region and beyond.
The 6th India-Russia Military Industrial Conference, iDEX 'Start-up Manthan' was also held.
Aero India 2021 would help in achieving the target set by the ministry to achieve a turnover of Rs 1,75,000 crore, including exports of Rs 35,000 crore in aerospace and defence goods & services by the year 2024.
11) Answer: B
The Maharashtra Cabinet approved the implementation of the Chief Minister Water Conservation Programme, costing Rs.1,340.75 crore.
Under the programme, water sources would be repaired, which will enhance the State's irrigation capacity.
The period of the programme is from April 2020 to March 2023,
12) Answer: E
The Ministry of Housing and Urban Affairs (MoHUA) has signed a memorandum of understanding (MoU) with Zomato for empowering street food vendors with new digital technology and to provide greater income-earning opportunities on the food delivery platform.
As part of Prime Minister Street Vendor's AtmaNibhar Nidhi (PM SVANidhi) Scheme, MoHUA and Zomato will work together to onboard street food vendors on Zomato's food-tech platform,
This agreement will give street vendors access to thousands of customers and would thus help them in growing their business. MoHUA has also introduced 'PMSVANidhi se Samriddhi'
13) Answer: C
Hunter Biden, son of President Joe Biden and an ongoing target for conservatives, has a memoir coming out April 6, 2021.
The book is called "Beautiful Things" and will center on the younger Biden's well publicized struggles with substance abuse.
It is according to Gallery Books, an imprint of Simon & Schuster.
"Beautiful Things" was circulated among several authors and includes advance praise from Stephen King, Dave Eggers and Anne Lamott.
About the Book :
The 51-year-old Hunter Biden has narrated his personal story.
It is about how he was a drug addict- from his first sips of alcohol as a child, when he was dealing with the aftermath of family tragedy, to his crack-cocaine use and how he fixed that
problem.
14) Answer: D
The first-ever ASEAN-India Hackathon concluded on February 4 with more than 400 students, mentors, and officials from 10 ASEAN countries and India participating.
Hackathon held by Association of SouthEast Asian Nations (ASEAN) and India is in line with the vision of ASEAN – plan of action on science, technology and innovation (APASTI) 2016-2025.
From the Ministry of Education, the ASEAN-India Hackathon 2021 aims at enhancing the cooperation between India and ASEAN countries in science, technology, and education
Mr Pokhriyal and Union Minister of External Affairs Subrahmanyam Jaishankar attended the award ceremony.