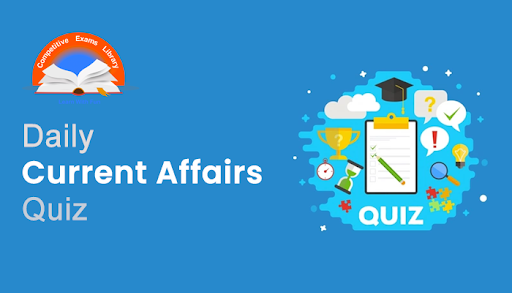 Dear Readers, Daily Current Affairs Questions Quiz for SBI, IBPS, RBI, RRB, SSC Exam 2021 of 06th January 2021. Daily GK quiz online for bank & competitive exam. Here we have given the Daily Current Affairs Quiz based on the previous days Daily Current Affairs updates. Candidates preparing for IBPS, SBI, RBI, RRB, SSC Exam 2021 & other competitive exams can make use of these Current Affairs Quiz.
1) The Journalist Day is observed by the Maharashtra state government on which date every year?
A) January 11
B) January 12
C) January 6
D) January 7
E) January 3
2) Who among the following will head the high-level group for South Asia energy security?
A) Prahlad Patel
B) G Kishan Reddy
C) VK Paul
D) Ram VinayShahi
E) Ramesh Chand
3) Who among the following will head the 51st IFFI"s International Jury?
A) Quentin Tarantino
B) SmritiIrani
C) Anupam Kher
D) Shekar Kapur
E) Pablo Cesar
4) Boris Johnson has cancelled the Republic Day visit as the UK has locked down. The last British leader to be the Chief guest was in which year?
A) 1996
B) 1993
C) 1994
D) 1995
E) 1997
5) The government of which state has launched the 'KisanKalyan Mission' to Double Farmers' Income?
A) Bihar
B) Madhya Pradesh
C) Chhattisgarh
D) Haryana
E) Uttar Pradesh
6) Who among the following has launched the Freight Business Development Portal?
A) Nitin Gadkari
B) Anurag Thakur
C) Piyush Goyal
D) Narendra Modi
E) Narendra Singh Tomar
7) Who among the following has launched the Toycathon 2021 launched to promote manufacturing of indigenous toys?
A) Prahlad Patel
B) Narendra Modi
C) Anurag Thakur
D) Ramesh Pokhriyal Nishank
E) S Jaishankar
8) Anil Panachooran who passed away recently was an eminent ____.
A) Director
B) Actor
C) Writer
D) Dancer
E) Poet
9) Which Bank  has launched a video KYC facility for opening savings bank accounts?
A) Axis
B) HDFC
C) IDBI
D) SBI
E) ICICI
10) World Bank has signed a _____ million project to improve waterways in West Bengal.
A) 125
B) 120
C) 115
D) 105
E) 110
11) Government  hasorganised ________ webinars to promote quality, productivity in Indian industry.
A) Udyog Sthiti
B) Udyog Manthan
C) Udyog Gram
D) Udyog Shetra
E) Udyog Shankrla
12) Who among the following has been elected as chairman of GJC?
A) Praksh Tiwari
B) Surender Singh
C) Anand Raj
D) Sanjay Mehra
E) Ashish Pethe
13) Who among the following has been elected All India Chess Federation president?
A) Kishore Bandekar
B) Naresh Sharma
C) Sanjay Kapoor
D) Bharat Chauhan
E) Ravindra Kumar
14) Modibo Keita who died recently, was the ex-Prime minister of which country?
A) Togo
B) Madagascar
C) Mauritius
D) Mali
E) Nigeria
Answers :
1) Answer: C
The Journalist Day is observed by the Maharashtra state government on 6th January every year.
This day was celebrated in memory of late journalist BalshastriJambhekar.
2) Answer: D
The government has set up a high-level group headed by former Union power secretary Ram VinayShahi and tasked it with helping build a South Asia-focused energy security architecture.
The high-level group, named the South Asia Group for Energy (SAGE), has been set up under the Ministry of External Affairs (MEA)-run think tank Research and Information System for Developing Countries (RIS).
The objective is to achieve a balanced and optimal development of energy infrastructure through mutual understanding and cooperation. SAGE will have the role of promoting, initiating and facilitating effective policy dialogue and capacity building on bilateral, sub-regional and regional basis for energy and related issues, among South Asian countries."
3) Answer: E
The 51st edition of International Film Festival of India (IFFI) will be held in Goa from January 16 to January 24, 2021.
The Information and Broadcasting Ministry stated that the Jury will comprise Pablo Cesar of Argentina as Chairman, PrasannaVithanage of Sri Lanka, Abu BakrShawkyof  Austria, Priyadarshan of India  and  RubaiyatHossain of  Bangladesh.
IFFI takes place in Goa from November 20-28 every year, but has been postponed due to the Covid-19.
4) Answer: B
British Prime Minister Boris Johnson cancelled his Republic Day visit to India later this month, citing the need to oversee the Covid-19 pandemic response at home. The development comes as Britain began its third Covid-19 lockdown.
Mr Johnson's government has announced a complete lockdown for England's 56 million people, which could last until mid-February.
Johnson would have been the sixth leader from the UK to be Chief Guest at the Republic Day celebrations. The last British leader to be Chief Guest was Prime Minister John Major in 1993.
5) Answer: E
On January 6, 2021, Uttar Pradesh CM Yogi Adityanath's government will launch an initiative named 'KisanKalyan Mission'
This is mainly for  double the income of farmers of the state.
The 3-week long campaign for the welfare of farmers will be organised in every development block of all 75 districts.
Under the mission to be launched by the Uttar Pradesh government, many departments of the state government such as Horticulture, MandiParishad, animal husbandry, sugarcane food and supply, fisheries, and Panchayati Raj will be working together.
It will help the farmers in getting benefit from the various schemes of the centre such as PM KisanSammanNidhi, Kisan Credit Cards, and PM FasalBimaYojana.
6) Answer: C
Railway Minister PiyushGoyal launched a Freight Business Development Portal as a one stop solution for all the needs of freight customers.
The new portal will be a game changer in ensuring ease of doing business with Railways.
The portal will ensure that best services are available to the clients.
The portal has been designed to replace physical processes with online ones to minimize the need of human to human interaction.
The portal can be accessed by logging on to Indian Railways web site https://indianrailways.gov.in/ or https://www.fois.indianrail.gov.in/RailSAHAY
7) Answer: D
Union Education Minister Ramesh Pokhriyal 'Nishank' and Union Minister for Textiles and Women & Child Development SmritiZubinIrani jointly launched the Toycathon 2021.
Aim : This Toycathon is aimed to conceptualize innovative toys based on the Indian value system which will inculcate the positive behaviour and good value among the children.
The Toycathon will majorly focus on conceptualizing new and innovative toys using local material which are economical, affordable, safe and environment friendly.
The grand finale of the event will be organized from 23rd to 25th of February.
There will be two categories for the Toycathon, one is for online toys and another for physical toys.
8) Answer: E
Malayalam poet and lyricist Anil Panachooran passed away. He was 51.
About  AnilPanachooran :
Anil Panachooran was a lawyer by profession.
He made his debut in the Malayalam film industry in 2005 with Makalkku, which was directed by Jayaraj.
Besides writing lyrics for many hit songs, he also has a poetry collection in Malayalam literature.
He has penned songs in films Bhramaram, Mulla, Cocktail, Madambi, Cycle and VelipadintePusthakam.
He passed away while working on his first film as a director.
9) Answer: C
IDBI Bank announced the launch of video KYC account opening (VAO) facility for savings bank accounts.
Through the facility, a customer can open a savings account with the lender from the convenience of his/her home or office as there are no physical forms to be filled or visits to be made to the branch.
10) Answer: D
The Government of India and the Government of West Bengal and the World Bank signed a $105 million project to improve the inland water transport infrastructure in Kolkata, West Bengal.
The $105 million loan from the International Bank for Reconstruction and Development (IBRD), has a maturity of 17 years, including a grace period of 7 years.
The West Bengal Inland Water Transport, Logistics and Spatial Development Project will facilitate passenger and freight movement across the Hooghly river; undertake spatial planning to improve accessibility in the Kolkata Metropolitan Area; enhance the quality of life of its residents; and contribute to the growth of the state's logistics sector.
The project will cover the five most populous districts of southern West Bengal, including its urban agglomeration  the Kolkata Metropolitan Area (KMA) where around 30 million people or one-third of West Bengal's population live.
11) Answer: B
Department for Promotion of Industry and Internal Trade (DPIIT), Ministry of Commerce and Industry in association with Quality Council of India (QCI), National Productivity Council (NPC), Bureau of Indian Standards (BIS) and Industry Chambers is organisingUdyogManthan – a marathon of focused sector-specific webinars for promoting Quality and Productivity in Indian Industry.
The webinars will commence from January 4 and conclude on March 2, 2021. Minister of Commerce and Industry, PiyushGoyal will address the participants on January 6, 2021.
Each webinar will be a two-hour long session, involving discussions by sectoral and industry experts and will be live-streamed on Youtube for all those interested in following the sessions.
This activity aims to draw in the best practices and experiences of the selected champion sectors, in order to identify challenges related to achieving quality and productivity faced by the Indian Industry with a view to arriving at a suggested way forward, thereby promoting the vision of 'Vocal for Local' and 'Atmanirbhar Bharat' initiatives.
The webinar series comprising 45 sessions will cover various major sectors in manufacturing and services
12) Answer: E
The All India Gem and Jewellery Domestic Council (GJC), the national apex body of the gems and jewellery industry, has announced the appointment of AshishPethe as chairman and SaiyamMehra as vice chairman for a period of two years.
The entire e-Voting election process was conducted by an authorised independent person (Chief Election Authority), and the voting platform was created by a digital agency, both appointed by GJC.
The voting process was for 5 days starting from 23rd to 27th December, 2020. The results were declared on 29thDecember, 2020.
GJC represents over 6,00,000 players comprising manufacturers, wholesalers, retailers, distributors, laboratories, gemologists, designers, and allied services to the domestic gems and jewellery industry.
13) Answer: C
Sanjay Kapoor was elected president of the All India Chess Federation (AICF) while Bharat Singh Chauhan retained the secretary's post .
Kapoor, representing Uttar Pradesh Chess Association, defeated incumbent PR Venketrama Raja in a close contest. Kapoor received 33 votes as against 31 of Raja.
Chauhan beat RavindraDongre 35-29.
Naresh Sharma, belonging to the Chauhan faction, was elected as treasurer, beating Kishore Bandekar 34-30.
Apart from the president, secretary and treasurer, six vice-presidents and six joint secretaries were also elected.
14) Answer: D
Mali's former prime ministerModibo Keita died at the age of 78.
About ModiboKeita :
Modibo Keita was one of six prime ministers to serve under President Ibrahim Boubacar Keita, who was ousted in a coup in August.
He was head of government between 2015 to 2017. He was the third Prime Minister under President Ibrahim BoubacarKeïta, who was re-elected in 2018.
From 2014 until his appointment as prime minister, Modibo Keita had been the president's representative for peace talks between the government and Tuareg rebel groups waging an insurgency in the country's conflict-ravaged north.