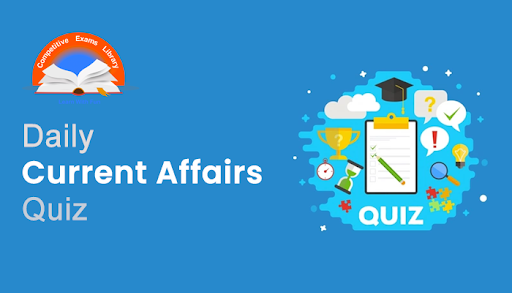 Dear Readers, Daily Current Affairs Questions Quiz for SBI, IBPS, RBI, RRB, SSC Exam 2021 of 07th & 08th February 2021. Daily GK quiz online for bank & competitive exam. Here we have given the Daily Current Affairs Quiz based on the previous days Daily Current Affairs updates. Candidates preparing for IBPS, SBI, RBI, RRB, SSC Exam 2021 & other competitive exams can make use of these Current Affairs Quiz.
1) Which of the following is not among the states which has completed the ease of doing business reforms?
A) Himachal Pradesh
B) Punjab
C) Chhattisgarh
D) Assam
E) Haryana
2) Which edition of the International Children's Film festival was recently concluded in Bangladesh?
A) 10th
B) 11th
C) 12th
D) 14th
E) 13th
3) Which of the following country will build the World's Largest Offshore Wind Farm?
A) Iceland
B) Sweden
C) Germany
D) France
E) South Korea
4) A new intergovernmental organisation called ________Council has been formed with the intention of building the world's largest radio telescope.
A) Arrange Earth Observatory
B) Square Kilometre Array Observatory
C) New Earth Observatory
D) Single Earth Observatory
E) New Skies Observatory
5) Which state has launched the  'SAANS' campaign to reduce infant mortality?
A) Uttar Pradesh
B) Punjab
C) Bihar
D) Madhya Pradesh
E) Haryana
6) NASA chooses SpaceX to launch a ______ million astrophysics mission.
A) 59
B) 79
C) 99
D) 100
E) 120
7) The government has restored the 4G mobile Internet service in which Union Territory?
A) Daman & Diu
B) Chandigarh
C) Delhi
D) Puducherry
E) Jammu and Kashmir
8) RBI has decided to set up an expert committee for which of the following bank?
A) SCBs
B) RRBs
C) Urban co-operatives
D) Small Finance
E) Payment
9) Who among the following is set to Become W.T.O.'s First Female Leader?
A) Charles Soludo
B) UzodinmaIweala
C) IkembaIweala
D) NgoziOkonjo-Iweala
E) YooMyung-hee
10) The Micro, Small and Medium Enterprises wing of Government of India will cooperate in setting up industries up to 20 crore rupees in which state?
A) Haryana
B) Punjab
C) Bihar
D) Chhattisgarh
E) Jharkhand
11) Which bank has launched the 'FedFirst' savings account scheme for children?
A) Bandhan
B) SBI
C) Federal Bank
D) ICICI
E) Axis
12) Theatre director Padma ShriBansiKaul who passed away recently was the founder of _____.
A) Sahitya Academy
B) Rang Vidushak
C) Rang Nach
D) Nritak Kala
E) Kala Academy
13) Which organization has decided to set up a 24×7 helpline for digital payment services?
A) SEBI
B) SIDBI
C) ICICI
D) RBI
E) NABARD
14) Who among the following has been Re-Appointed as United Nations Climate Envoy?
A) Arnie Frank
B) Stein Lockhardt
C) Keller Mark
D) Ana Hana
E) Michael Bloomberg
15) Who among the following has been appointed as Managing Director of Google Cloud?
A) Tarun Mittal
B) Anil Sharma
C) BS Bedi
D) Suresh Talwar
E) Anand Rathi
16) The government of which state has signed an Memorandum of Understanding with 34 Aerospace and Defence firms?
A) Bihar
B) Haryana
C) Punjab
D) Kerala
E) Karnataka
17) Winner Christopher who passed away at 91 was an eminent ______.
A) Producer
B) Director
C) Actor
D) Singer
E) Writer
Answers :
1) Answer: C
The Department for Promotion of Industry and Internal Trade (DPIIT), added four more states have completed the reforms in the 'Ease of Doing Business', as stipulated by the Department of Expenditure, Ministry of Finance as per recent data.
Four more States are Assam, Haryana, Himachal Pradesh and Punjab.
These States have become eligible to mobilise additional financial resources and have been granted permission to raise additional Rs 5,034 crore through Open Market Borrowings.
The total number of states that have undertaken the stipulated reforms to facilitate ease of doing business has gone up to 12.
Earlier, Andhra Pradesh, Karnataka, Kerala, Madhya Pradesh, Odisha, Rajasthan, Tamil Nadu and Telangana have also reported completion of this reform.
On completion of reforms facilitating ease of doing business, these twelve states have been granted additional borrowing permission of Rs 28,183 crore.
The ease of doing business is an important indicator of the investment friendly business climate in the country. Improvements in the ease of doing business will enable faster future growth of the state economy,
2) Answer: D
The 14th International Children's Film Festival of Bangladesh (ICFFB) came to an end in Dhaka.
A total of 12 awards were presented to the winners at the concluding ceremony.
179 films from 37 countries were shown at various venues during the 7-day long festival organised by the Children's Film Society (CFS) of Bangladesh.
Apart from Bangladesh, films from India, Armenia, US, UK, Ireland, Japan and China among others were shown in the course of the festival.
Dutch Film Jackie and Oopjenwas awarded the Best International Feature Film Award.
Bangldeshi film Maati got The Young Talent Award while Lottery won the Special mention under the Young Talent Award.
3) Answer: E
South Korea unveiled a 48.5 trillion won ($43.2 billion) plan to build the world's largest wind power plant by 2030 as part of efforts to foster an environmentally-friendly recovery from the COVID-19 pandemic.
The project is a major component of President Moon Jae-in's Green New Deal, initiated last year to curb reliance on fossil fuels in Asia's fourth-largest economy and make it carbon neutral by 2050
Moon attended a signing ceremony in the southwestern coastal town of Sinan for the plant, which will have a maximum capacity of 8.2 gigawatts.
The plan is part of the country's Green New Deal that seeks to transition South Korea to a more sustainable energy future.
It is accelerating the eco-friendly energy transition and moving more vigorously toward carbon neutrality.
The estimated cost of the project is 48.5 trillion won ($43.2 billion).
The project would provide up to 5,600 jobs and help achieve a goal to boost the country's wind power capacity to 16.5 GW by 2030 from 1.67 GW now.
Till date, the world's largest offshore wind farm is Hornsea 1 in Britain, which has 1.12 GW capacity.
4) Answer: B
A new intergovernmental organisation called Square Kilometre Array Observatory (SKAO) Council has been formed with the intention of building the world's largest radio telescope.
The council held its first-ever meeting to approve the plans and start a new journey in space exploration.
Though it is headquartered in the UK, SKAO has members from Australia, Canada, China, India, Italy, New Zealand, South Africa, Sweden and the Netherlands.
French-born Dr Catherine Cesarsky has been appointed as the first Chair of the SKAO Council.
The Indian contingent of over 20 institutions will be led by Pune-based National Centre for Radio Astrophysics (NCRA) of TIFR.
Objective of SKAO
To look into some of the unexplored areas of the universe and seek answers about its history and evolution, study fundamental physics in extreme environments and know about galaxies over cosmic time.
The telescope will enable astronomers to monitor the sky in unprecedented detail and survey the entire sky much faster than any system currently in existence.
5) Answer: D
The health department in Madhya Pradesh has launched the Social Awareness and Action to Neutralise Pneumonia Successfully ('SAANS') campaign with the aim of reducing infant mortality due to pneumonia.
Purpose :
To reduce the death rate due to pneumonia among infants a strategy is being chalked out under the Social awareness campaign in which medical staff is being trained.
Training will be imparted at the community and primary health centres.
Around 4,000 Health and Wellness Centres have been set up in Madhya Pradesh for this purpose.
The State government has also developed training modules in partnership with PGIMER, Chandigarh, and UNICEF, which will be used to enhance the skills of health workers, including doctors and paramedical staff .
6) Answer: D
NASA has chosen SpaceX to provide launch services for its upcoming two-year astrophysics mission slated to kick off in June of 2024.
The mission is dubbed Spherex, which stands for Spectro-Photometer for the History of the Universe, Epoch of Reionization, and Ices Explorer.
Its goal is to "survey the sky in the near-infrared light," which could then help answer questions about the birth of the universe and the development of galaxies.
SPHEREx will also look for water and organic molecules in areas where stars are formed from gas and dust, as well as disks around stars where new planets could be forming.
The mission will allow astronomers to collect data on more than 300 million galaxies, and more than 100 million stars in the Milky Way.
The small astrophysics spacecraft, SPHEREx, weighs 329-lb. (178 kilograms).
The mission, which costs around $98.8 million to launch, will take off on a Falcon 9 rocket from Space Launch Complex-4E at Vandenberg Air Force Base in California.
7) Answer: E
The high speed mobile data services have been restored in Jammu and Kashmir, bringing respite to people affected by the ban, especially students, working professionals and business community.
The services were suspended on August 5, 2019 when the central government abrogated the special status of J&K and bifurcated the erstwhile State into two Union Territories.
The 2G service on mobile phones was restored across J&K in January 2020.
The high speed mobile data services were restored in twin J&K districts including Ganderbal in Kashmir and Udhampur in Jammu division on a trial basis on August 16, 2020, as part of calibrated easing of restrictions.
The pre-paid SIM card holder will be given access to internet connectivity only after verification as per norms applicable to postpaid connections.
8) Answer: C
The Reserve Bank of India (RBI) has decided to set up an expert committee on Urban Co-operative Banks (UCBs) involving all stakeholders in order to provide a medium-term road map to strengthen the sector, enable faster rehabilitation/resolution of UCBs, as well as examine other critical aspects relating to these entities.
This follows the provisions of the Banking Regulation (Amendment) Act, 2020 becoming applicable to Primary (Urban) Co-operative Banks (UCBs) with effect from June 26, 2020.
The amendments have brought near parity in regulatory and supervisory powers between UCBs and commercial banks in respect of regulatory powers, including those related to governance, audit and resolution.
The constitution of the committee as well as the terms of reference will be notified separately by the RBI.
9) Answer: D
NgoziOkonjo-Iweala, an economist and former finance minister of Nigeria, appears set to become the next director general of the World Trade Organization.
She would be the first woman and the first African national to lead the organization.
Dr. Okonjo-Iweala served twice as Nigeria's finance minister, spent 25 years at the World Bank as a development economist and now is the chairwoman of the Center for Global Development, according to the center's website.
She is the former finance minister of Nigeria, succeeding Roberto Azevedo, who stepped down in August 2020.
10) Answer: E
In Jharkhand, the Micro, Small and Medium Enterprises, MSME wing of the Government of India will cooperate in setting up industries up to  20 crore rupees in Dhanbad.
The central government will give 70 percent amount, while the remaining 30 percent  is to be borne by the state government and industrialists.
The Central Government has taken initiatives to set up integrated industries, including the automobile section, tools room, and other subsidiary industries in Dhanbad for Rs 20 crore and more.
This amount will be received by industrialists through clusters. Director MSME D K Sahu in Dhanbad has assured the industrialists to resolve the above issues and problems, and focus upon Prime Minister's vision of Vocal for Local.
11) Answer: C
Federal Bank has announced the launch of FedFirst, a special savings account scheme for children below 18 years of age.
The account helps children develop healthy saving and spending habits, thereby giving them the freedom to save, spend and earn.
About the Account Features :
The account is designed to enable children to learn the importance of money management. The account comes with unique features and offers.
The account holder is provided with a FedFirst contactless Debit Card with a daily cash withdrawal limit of ₹2,500 and POS/e-com limit of Rs.10,000, in addition to free online facilities including access to internet banking, mobile alerts and email alerts.
Additional benefits including reward points, seasonal cashback and promotional offers and deals on dining, hotels, travel, bill payments through their debit card are available.
12) Answer: B
Founder of Rang Vidushak and theatre director Padma Shri Bansi Kaul, 71, passed away.
Born in 1949 in a Kashmiri Pandit family, Bansi Kaul was a Hindi theatre director and the founder of Rang Vidushak, a theatre group and theatre institute in Bhopal.
He was awarded Sangee tNatak Akademi Award in 1995 and Padma Shri in 2014.
He received Rashtriya Kalidas Samman for the year 2016–17.
Christopher Plummer, actor of 'The Sound of Music' fame, dies at 91
13) Answer: D
RBI has announced certain measures of protection of common bank account holders in the Monetary policy statement.
It includes setting up of 24*7 helpline for digital payment services, integrated ombudsman scheme, CTS across all bank branches and allowing retail investors to open Gilt accounts with RBI.
Reports that the government is encouraging various modes of digital payments.
The helpline will, in addition to building trust and confidence, also reduce expenditure on both financial and human resources, otherwise incurred for addressing queries and grievances.
The major payment system operators would be required to facilitate setting-up of a centralised industry-wide 24×7 helpline for addressing customer queries in respect of various digital payment products and give information on available grievance redress mechanisms by September 2021.
RBI has decided to move beyond the aggregator model and provide retail investors online access to the government securities market along with the facility to open their gilt securities account.
14) Answer: E
United Nations Secretary-General Antonio Guterres re-appointed Michael Bloomberg as his Special Envoy on Climate Ambition and Solutions.
About Bloomberg :
Bloomberg was first appointed UN special envoy on cities and climate change in 2014 by UN Secretary-General Ban Ki-moon.
Bloomberg would work with governments, companies, cities, and financial institutions to ensure they pledge to cut emissions and commit to net-zero before 2050.
Bloomberg has previously been appointed to U.N. climate envoy positions in 2014 and 2018.
Bloomberg will be global ambassador for the campaigns "Race to Zero" and "Race to Resilience," which rally businesses, cities, and investors to mobilize climate action.
Bloomberg is the founder and owner of Bloomberg LP, the parent company of Bloomberg News.
He would also work to mobilise stronger and more ambitious climate action in the lead-up to 2021 United Nations Climate Change conference in Scotland in November 2021.
15) Answer: C
Google Cloud has announced the appointment of Bikram Singh Bedi as the Managing Director for its India business.
With the current appointment as managing director, Bedi will succeed Karan Bajwa, who was recently elevated as the Vice President of Google's Asia Pacific Cloud.
About Bikram Singh Bedi :
At Google, BikramBedi will be responsible for leading Google Cloud's sales and operations teams in this dynamic market.
Bedi, a senior leader with more than 26 years of leadership experience, will be responsible for leading Google Cloud's sales and operations teams in this dynamic market.
He joined Google Cloud from Indian online grocery delivery startup, Grofers where he served as President Strategy and New Initiatives.
Prior to that, he set up the AWS business in India and was the head of India and South Asia for six years.
He also held various leadership positions at IBM and Oracle.
Bedi was the man who reportedly set up Amazon Web Services in India and led the vertical for six years long.
16) Answer: E
Karnataka has benefitted from the Aero India show that concluded in Bengaluru.
The State Government signed Memorandum of Understanding with 34 Aerospace and Defence firms with an investment prospect of 2464 crore rupees that can generate 6462 direct employment opportunities.
The agreements signed during the Aero India Show will encourage aerospace and defence equipment manufacturers to set up bases in the state.
Karnataka has a vibrant aerospace and defence sector manufacturing ecosystem contributing over 65 percent of defence and aerospace exports in the country
The state Industrial policy of 2020-25 provides several incentives and regulatory reforms related to land access and labour market regulations.
17) Answer: C
Christopher Plummel, known for his popular role as Captain von Trapp in The Sound of Music, has passed away at 91.
About Christopher Plummel :
The Canada-born actor had kicked off his career on stage, making his Broadway debut in 1954.
Plummel then made his film debut with Sidney Lumet's Stage Struck in 1958.
He received various awards for his work, which includes Academy Award, two Primetime Emmy Awards, two Tony Awards, a Golden Globe Award, a Screen Actors Guild Award, and a British Academy Film Award.
He won his first Oscar (for supporting performance) for his act in Beginners, released in 2011, becoming the oldest to win an acting academy Award. His other Oscar nomination was for All the Money in the World, released in 2017, after he had replaced Kevin Spacey.
He is the only Canadian and one of the few performers globally to have received the Triple Crown of Acting, which are Academy Award, Emmy Award, and Tony Award.
He won the Academy Award for Best Supporting Actor at the age of 82 for Beginners (2010)
Some of his other well-known works include Spike Lee's Malcolm X (1992), Terrence Malick's The New World (2005) Rian Johnson's Knives Out (2019), and Todd Robinson's The Last Full Measure (2019).