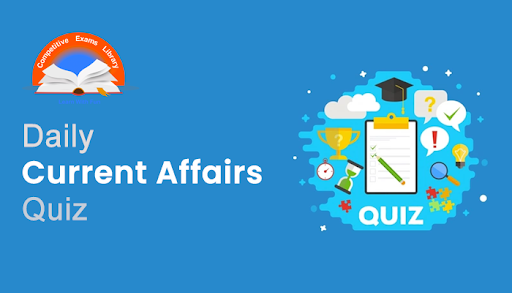 Dear Readers, Daily Current Affairs Questions Quiz for SBI, IBPS, RBI, RRB, SSC Exam 2021 of 07th & 08th January 2021. Daily GK quiz online for bank & competitive exam. Here we have given the Daily Current Affairs Quiz based on the previous days Daily Current Affairs updates. Candidates preparing for IBPS, SBI, RBI, RRB, SSC Exam 2021 & other competitive exams can make use of these Current Affairs Quiz.
1) The Chief Minister of which state has launched the KrishiSanjeevani vans to test soil, water & suggest remedies for pest control?
A) Chhattisgarh
B) Maharashtra
C) Karnataka
D) Kerala
E) Bihar
2) Who among the following has concluded his three-day visit to Sri Lanka?
A) Ram NathKovind
B) Venkiah Naidu
C) NarendraModi
D) S Jaishankar
E) Prahlad Patel
3) The Central government has mentioned that over ______ crore new connections have been provided under JalJeevan Mission.
A) 4
B) 2.5
C) 2
D) 3.5
E) 3
4) Who among the following will chair three-key subsidiary committees of UNSC?
A) Israel
B) Bangladesh
C) China
D) India
E) Uzbekistan
5) Who among the following has inaugurated the two-day Virtual International Akhand Conference 'EDUCON 2020' through video conferencing?
A) Nitin Gadkari
B) Ramesh Pokhriyal Nishank
C) Anurag Thakur
D) Prahlad Patel
E) Narendra Modi
6) Sagarmala Seaplane Project Services have commenced in various islands. Which of the following is not among the proposed destinations?
A) Yamuna Riverfront
B) Guwahati Riverfront
C) Lakshadweep
D) Andaman & Nicobar
E) Brahmaputra Riverfront
7) Who among the following has been picked as the US Attorney General?
A) Ruth Bader
B) Amy Coney
C) Merrick Garland
D) Lynn Garland
E) Antonia Scalia
8) Who among the following has been ranked as the world's wealthiest person?
A) Carlos Slim
B) Steve Balmer
C) Jeff Bezos
D) Elon Musk
E) Bill Gates
9) Which of the following platforms have removed videos about TRUMP?
A) Tumblr
B) Facebook
C) Twitter
D) Snap
E) Instagram
10) The PM of which country has exuded confidence that the Olympic Games will be held despite the state of emergency?
A) China
B) Israel
C) France
D) Germany
E) Japan
11) RastriyaKamdhenuAayog has announced the KamdhenuGau-VigyanPrachar-Prasar Exam. The exam will be held in _____ languages.
A) 15
B) 11
C) 12
D) 13
E) 14
12) Home Minister Amit Shah has hailed the CCEA approval to the Central Sector Scheme for Industrial Development of which state/UT?
A) Chandigarh
B) Delhi
C) Punjab
D) Chhattisgarh
E) Jammu & Kashmir
13) Who among the following has unveiled the Mobile Application 'SatarkNagrik' and Departmental Vigilance Officers Portal?
A) Venkiah Naidu
B) Narendra Modi
C) ManojSinha
D) Anurag Thakur
E) Prahlad Patel
14) Which state has become the 3rd State to complete ULB reform?
A) Haryana
B) Telangana
C) Bihar
D) Madhya Pradesh
E) Uttar Pradesh
15) Alan Burgess who passed away at 100 was an eminent ____.
A) Producer
B) Director
C) Singer
D) Writer
E) Cricketer
16) J&K LG has declared _______ crores mega Industrial Development Package.
A) 21,400
B) 22,400
C) 28,400
D) 25,400
E) 23,400
17) Who will head the College of Supervisors set up by RBI to strengthen supervision?
A) UK Sinha
B) BP Kanungo
C) MD Patra
D) MK Jain
E) NS Vishwanathan
18) Which bank has collaborated with IIT Kanpur to set up Fintech Innovation Centre?
A) Axis
B) HDFC
C) PNB
D) SBI
E) ICICI
19) Which mutual fund has unveiled a new campaign #PaisonKoRokoMat?
A) ICICI
B) HDFC
C) Bandhan
D) IDFC
E) Axis
20) Senior IPS officer HemantNagrale has taken additional charge as DGP of which state?
A) Madhya Pradesh
B) Maharashtra
C) Bihar
D) Uttar Pradesh
E) Himachal Pradesh
21) Who among the following has been appointed as the CMD of MTNL?
A) Dinesh Singh
B) Anand Mishra
C) PK Purwar
D) Nita Singha
E) Ramesh Gupta
22) NSO has estimated India's GDP may contract _______ per cent in FY21.
A) 7.2
B) 7.3
C) 7.4
D) 7.5
E) 7.7
23) Who has been selected for the National Florence Nightingale Award 2020?
A) Vasu Vashisht
B) Shivani Chauhan
C) Shailla Cannie
D) Shruti Mishra
E) Anand Ramani
24) Agriculture department of LAHDC Kargil has signed mou with Organic Certification Agency of which state?
A) Haryana
B) Uttar Pradesh
C) Madhya Pradesh
D) Sikkim
E) Bihar
25) IAF has signed anMoU with which institute recently?
A) HAWS
B) IDSR
C) IDSA
D) DIAT
E) RIMC
26) Who among the following has authored A book on India's tours Down Under?
A) Rakesh Gupta
B) Manoj Mehta
C) R. Kaushik
D) Satish Mishra
E) Anand Raj
27) Who among the following is set to become the first female match official in men's Test match?
A) Cloe Fitzpatrick
B) Meg Lanning
C) Lisa Sthalekar
D) Sophie Devine
E) Claire Polosak
28) SamagraShiksha has signed an MOU with which company to distribute 1.5 lakh soaps to different schools in J&K?
A) Godrej
B) Britannia
C) HUL
D) ITC
E) Aditya Birla
29) Khelo India Ice Hockey tournament has begun in _______ recently.
A) Leh
B) Chandigarh
C) Pithoragarh
D) Kargil
E) Naintal
Answers :
1) Answer:  C
On January 07, 2021, Karnataka Chief Minister B.S. Yediyurappa launched KrishiSanjeevani vans in Bengaluru.
This is Mainly for to help farmers in their own backyards.
As part of this scheme, 40 mobile agro clinics were rolled from outside the VidhanaSoudha.
The main objective of this project is to reduce the cost of production.
In addition to that to provide farmers with accurate information on improved agriculture production technologies, supply of quality agricultural tools and adequate use of recommended fertilisers, pest and disease management, and nutrients available in the soil.
This initiative is part of the National Agricultural Development Scheme 2020-21. These labs will also help the government conduct surveys at all stages of crop production and inform the farmers about the possible pest attacks, disease and weed management practices.
The state government has rolled out 40 labs, each lab for 31 districts, while some big districts like Mysuru, Bengaluru Rural and Shivamogga will get two labs.
2) Answer: D
External Affairs Minister Dr. S Jaishankar has concluded his three-day visit to Sri Lanka.
The Indian Embassy in Sri Lanka thanked the Foreign Minister of the Island Nation, Dinesh Gunawardena for making the visit a huge success.
Dr. Jaishankar held a productive meeting with Fisheries Minister Douglas Devananda.
The External Affairs Minister said, they reviewed cooperation in fisheries after the recent Joint Working Group session and added that they look forward to working with him closely.
Dr. Jaishankar also met the Tamil National Alliance and the Tamil Progressive Alliance delegations.
He discussed issues pertaining to development and devolution and the role of Provincial Councils.
The Minister also interacted with business leaders of Lanka and appreciated their insights and suggestions on economic cooperation.
3) Answer: E
Central govt. has said that over three crore new connections have been provided under JalJeevan Mission.
On reviewing a Flagship programme of jaljeevan mission, Minister of State for Jal Shakti, RattanlalKataria informed that since Independence till August 2019, a total of 3.23 Crore rural households out of 18.93 crore rural households had tap water connections.
JalJeevan mission has set an ambitious yet achievable target of giving piped water connections to each and every rural household with an approach ensuring – 'No one is left out'.
MrKataria informed that Goa is the first State to provide 100 per cent piped connection.
He said, so far 27 Districts, 458 blocks, 33,516 Gram Panchayats, 66,210 villages have been declared to have achieved 'HarGharJal'.
Recently, Kurukshetra became the 27th District in India and 3rd in Haryana to have achieved this target.
Telangana, Gujarat, Haryana, and Puducherry are close to achieving 100 per cent coverage.
He credited the success primarily to the people of these villages, Gram Panchayats, PaaniSamitis, public health authorities and other stakeholders, Uttarakhand, Manipur, Mizoram, UT of Andaman and Nicobar.
4) Answer: D
Permanent Representative of India at the United Nations Security Council, TS Tirumurti announced, India will be chairing three-key subsidiary bodies of the United Nations Security Council (UNSC).
The panels are: Counter-Terrorism Committee (for 2022), Taliban Sanctions Committee, and Libya Sanctions committee.
India will chair the Counter-Terrorism Committee of UNSC in 2022.
MrTirumurti said, chairing of this committee has a special resonance for India which has not only been at the forefront of fighting terrorism especially cross border terrorism but has also been one of its biggest victims.
He said, Taliban Sanctions Committee has always been a high priority for India keeping in minds its strong interest and commitment to peace, security, development, and progress of Afghanistan.
MrTirumurti said, India will be assuming the chair of the Libya Sanctions Committee at a critical juncture when there is an international focus on Libya and on the peace process.
5) Answer: B
Education Minister Ramesh Pokhriyal 'Nishank' has emphasized that the National Education Policy, NEP-2020, is revolutionary in all aspects.
The Education Minister said this while inaugurating the two-day Virtual International Akhand Conference 'EDUCON 2020' through video conferencing.
It focuses on multiple aspects of promoting mother language at primary level education, imparting vocational skills training for students at the secondary level and other innovative reforms.
He further stated that NEP emphasizes on the inter-disciplinary studies and integrated course curriculum in higher education for wider learning opportunities, with an aim to provide value-based holistic education, development of scientific temper and imparting skill training to youngsters.
6) Answer: E
The Union Ports, Shipping and Waterways has recently started the operations of the seaplane services, on several routes.
It is being implemented under a Special Purpose Vehicle (SPV) framework through prospective airline operators.
The implementation and execution of the "Sagarmala Seaplane Services (SSPS)" would be through the SPV with the Sagarmala Development Company Ltd, SDCL, under the control of the Ministry of Shipping.
The proposed Origin-Destination pairs under Hub and Spoke model include various islands of Andaman & Nicobar and Lakshadweep, the Guwahati Riverfront &Umranso Reservoir in Assam, Yamuna Riverfront/Delhi (as Hub) to Ayodhaya, Tehri, Srinagar (Uttrakhand), Chandigarh and many other tourist places of Punjab and Himachal Pradesh.
One such Seaplane Service is already in operation between Kevadia and Sabarmati Riverfront in Ahmedabad, which was inaugurated by Prime Minister NarendraModi on October 31, 2020.
7) Answer: C
President-elect Joe Biden confirmed he will nominate Merrick Garland, a centrist judge that Republicans denied a seat on the Supreme Court five years ago  to be US attorney general.
About Garland :
Garland, a judge on the Washington federal appeals court, has a record as a moderate liberal and is not aligned with either political party.
Garland, 68, has had a long career as a private sector lawyer and a federal prosecutor.
In 1993, he was named deputy assistant attorney general in the Department of Justice, handling important national security cases including the Oklahoma City and Atlanta Olympics bombings.
In 1997, president Bill Clinton named him to the Washington appeals court, and he received broad support from Democratic and Republican senators in his confirmation.
He became chief judge of that court in 2013 and, in March 2016, was picked by Obama to fill a seat on the Supreme Court after Antonin Scalia died.
8) Answer: D
US media reported that Tesla CEO Elon Musk now world's wealthiest person.
Elon Musk, the outspoken and envelope-pushing chief executive of Tesla, overtook Amazon boss Jeff Bezos to become the world's wealthiest person, US media reported.
Musk is a major shareholder of the electric car company and has benefited from Tesla's surging share price over the last year.
CNBC estimated Musk's wealth at $185 billion.
9) Answer: B
Facebook bans Trump 'indefinitely', YouTube removes videos from US President's channel.
Chief executive Mark Zuckerberg said Facebook banned President Donald Trump from the platform "indefinitely" due to the US leader's efforts to incite the violence in the US capital.
This is because of Trump's "use of our platform to incite violent insurrection against a democratically elected government."
Meanwhile, YouTube too has removed several videos that US President Donald Trump has posted on his channel and warned that any channel found to be posting three times within 90 days with false claims on US election results will be permanently removed from the Google-owned video platform.
10) Answer: E
Japan Prime Minister YoshihideSuga has exuded confidence that the Olympic Games will be staged this summer despite a state of emergency in Tokyo following the surge in coronavirus cases.
The Japanese Government said, organizers are sparing no effort to realize Tokyo Olympic Games that are safe and secure so as to prove that humanity has defeated the COVID-19 pandemic.
11) Answer: C
RashtriyaKamdhenuAayog (RKA), the government body set up for cow welfare has announced that it will hold a countrywide online examination on 'gauvigyan' (cow science) on February 25.
There will be no fee for the examination.
The exam will be held in 12 regional languages apart from Hindi and English.
The duration will be one hour and there will be 4 categories :
Primary level up to 8th standard,
Secondary level from class 9th to class 12th,
College level after 12th+
For the general public.
RKA comes under the Ministry of Fisheries, Animal Husbandry and Dairying.
It was set up by the Centre in February 2019, and is aimed at "conservation, protection and development of cows and their progeny".
12) Answer: D
Home Minister Amit Shah has hailed the CCEA approval to the Central Sector Scheme for Industrial Development of Jammu and Kashmir.
Mr Shah said, Prime Minister has started development in Jammu and Kashmir by ridding it of terrorism and separatism.
The approval of the Rs 28,400 crore central Sector Scheme for the industrial development of Jammu and Kashmir by the Cabinet illustrates the special place that Jammu and Kashmir holds in the heart of the Prime Minister.
Mr. Shah said this scheme will prove to be a boon for cottage industry, handicrafts, micro, small and medium industries of Jammu and Kashmir.
It will spur the setting up of new MSME units in the manufacturing and services sector, as well as encourage the expansion of existing units.
13) Answer: C
In Jammu and Kashmir, LG, ManojSinha launched Mobile Application 'SatarkNagrik' and Departmental Vigilance Officers Portal of J&K Anti Corruption Bureau at Civil Secretariat, Jammu.
Speaking on the occasion, the LG observed that UT Government is taking comprehensive measures for ensuring transparent, accountable and responsive governance.
The mobile application has been developed with a purpose to facilitate seamless flow of information about corruption and enable citizens to submit their grievances with ease and mobility.
The LG remarked that the most effective antidote to corruption is an active, involved, and empowered citizenry.
The Departmental Vigilance Officers (DVO) Portal has been designed to enable an online communication channel with the DVOs of various departments and the portal will help in quick disposal of complaints and will help to redress grievances in a systematic manner by enabling monitoring of the status of DVO matters and Citizens Grievances assigned to DVOs at ACB Central Office.
14) Answer: B
Telangana has become the 3rd State in the country to successfully undertake Urban Local Bodies, ULB reform stipulated by the Department of Expenditure, Ministry of Finance.
The State has become eligible to mobilize additional financial resources of Rs 2,508 crore through Open Market Borrowings.
Permission for the same was issued by the Department of Expenditure.
Telangana has now joined the two other States Andhra Pradesh and Madhya Pradesh, who have completed this reform.
On completion of urban local bodies reform, these three States have been granted additional borrowing permission of Rs 7,406 crore.
15) Answer: E
On Jan 07, 2021, The world's oldest living first-class cricketer Alan Burgess passed away at the age of 100, the New Zealand Cricket (NZC) announced.
A right-hand batsman and slow left-arm bowler, Alan appeared in 11 first-class matches for Canterbury from 1940/41 to 1951/52 and also for New Zealand Services in England in 1945. He took 6-52 on debut against Otago at Lancaster Park in a match that began on Christmas Day 1940.
Alan Burgess was a tank driver for New Zealand's forces in England during the Second World War.
Following his death, India's RaghunathChandorkar is now the oldest first class cricketer alive.
16) Answer: C
In the Union Territory of Jammu and Kashmir, Lieutenant Governor ManojSinha announced the Government of India's approval for a mega Industrial Development Package worth Rs.28,400 crore.
While addressing a press conference in Jammu, the LG Sinha said that the Union Cabinet sanctioned the huge Industrial Development Package-2021 for J&K's industrial sector that has been craving for the strong support from the Centre.
The LG said that the package aims at providing a huge boost to the existing industrial sector, setting up new units, creating 4.5 lakh jobs and at least investments of Rs.20,000 crore.
The package will remain in force for 17 years i.e. till 2037.
17) Answer: E
The Reserve Bank of India (RBI) announced in January, it is now fully operationalizing a College of Supervisors (CoS) to further strengthen supervision over regulated entities.
The Cos will be headed by former deputy governor N S Viswanathan and will have five other members.
18) Answer: C
Punjab National Bank (PNB), the country's second largest public sector bank, has announced an alliance with the Indian Institute of Technology (IIT), Kanpur and FIRST (Foundation for Innovation & Research in Science & Technology), to jointly establish the Punjab National Bank – IIT Kanpur Innovation Centre at the IIT campus.
AnMoU for this purpose was signed at the PNB Headquarters, Dwarka, New Delhi, in the presence of CH S SMallikarjunaRao, MD & CEO of PNB and top officials from the Bank, IIT Kanpur & FIRST.
Under this partnership, PNB and IIT-Kanpur will set up a "Fintech Innovation Centre (FIC)" as a vehicle to research and develop technological solutions to explore opportunities in the BFSI space.
19) Answer: D
IDFC Mutual Fund announced the launch of its latest pan-India investor awareness campaign #PaisonKoRokoMat, nudging savers to become investors.
A new campaign, IDFC Mutual Fund aims to shift the conversation regarding wealth creation from the traditional to the contemporary.
20) Answer: B
HemantNagrale, director general (legal and technical), has been given additional charge of the director general of police (DGP) of Maharashtra after the incumbent Subodh Kumar Jaiswal was appointed as the head of Central Industrial Security Force (CISF).
"HemantNagrale has been appointed with additional charge to the post fallen vacant after Jaiswal's new appointment".
21) Answer: C
The Board of Directors of state-run Mahanagar Telephone Nigam Ltd (MTNL) has re-appointed PK Purwar as Chairman & Managing Director (CMD) of the telecom PSU.
Purwar is currently CMD of Bharat Sanchar Nigam Ltd (BSNL).
He assumed additional charge as CMD of MTNL in April 2020.
MTNL was merged with BSNL and turned into a wholly-owned subsidiary of the company as part of the revival plan announced by the government for BSNL.
This is the fourth time Purwar has been given charge of the post of MTNL's CMD in the last six years.
The decision was taken in the board meeting held on December 31, 2020.
22) Answer: E
The GDP of India is expected to contract by 7.7 percent in 2020-21, the first advance estimate of GDP released by the National Statistical Office under the Ministry of Statistics and Programme Implementation (MOSPI) on January 07, 2021.
The first advance estimates of GDP of a financial year are released before the Union Budget. This data helps in the budget-making process.
23) Answer: C
In Jammu and Kashmir, DrShaillaCannie, Principal, Shri Mata Vaishno Devi College of Nursing, has been selected for the prestigious National Florence Nightingale Award 2020, to be conferred by President of India.
Lt Governor ManojSinha has congratulated Dr. Shailla for being selected for the prestigious award. Pertinently, the National Florence Nightingale Award is given to outstanding nursing personnel employed in Central, State/UTs, Private, Missionary and Voluntary Organizations.
It is the highest national distinction awarded to nurses or nursing aides, which consists of a cash amount of Rs 50,000, a certificate and a medal.
24) Answer: D
In Ladakh, Executive Councillor LAHDC Kargil for Agriculture Mohammad Ali Chandan signed a Memorandum of Understanding for organic farming and its certification with Sikkim State Organic Certification Agency.
The MOU was signed during a meeting organized by the Mission Director, Union Territory of  Ladakh for interaction, deliberation and confirmation of the Agriculture Sector in Kargil under Organic Certification.
25) Answer: B
Indian Air Force and Institute of Defence Studies and Research – IDSR- an autonomous Institution of Gujarat University have signed a Memorandum of Understanding.
This will enable the Officers of IAF to undertake Doctoral Research, Post-Graduate Programme and Post Graduate Diploma.
These courses will cover various areas of interest that include Defence studies, Defence Management, National Security, Aerospace & Aviation Science and other areas of Defence Technology.
26) Answer: C
On Jan 07, 2021, a book titled 'India's 71-Year Test: The Journey to Triumph in Australia' and one which reflects on India's previous 12 tours Down Under, was launched.
The book, a Bradman Museum initiative, is authored by senior cricket scribe R. Kaushik, and it chronicles a rivalry that has given a fillip to Test cricket.
Introducing the tome from the Sydney Cricket Ground, India's coach and former all-rounder Ravi Shastri said that the next two Tests of the current series will be fiercely competitive.
27) Answer: E
Australia's Claire Polosak is set to become the first female match official in a men's Test match when she takes up the fourth umpire's role in the third Test between India and Australia.
The 32-year-old from New South Wales has already earned the distinction of being the first woman on-field umpire in a men's ODI match in ICC's Division 2 league between Namibia and Oman played at the Windhoek in 2019.
28) Answer: C
In Jammu and Kashmir, the SamagraShiksha in partnership with Hindustan Unilever Limited (HUL), has distributed 1.5 lakh soaps to different schools of the Union Territory to support the government's response to COVID-19.
The soaps were distributed in 22,000 schools across J&K, aiming to reach over 1 million children as part of its safe school reopening measures in view of COVID-19 pandemic.
Dr. ArunManhas, Project Director SamagraShiksha said that the department has been on the forefront for the fight against COVID-19 and ensured that soaps are distributed to all schools across all districts for use by children.
SamagraShiksha has launched a comprehensive school safety pilot programme in 50 schools of districts of Kupwara, Baramulla, Jammu and Doda under the 'WASH in Schools' programme.
29) Answer: D
In KargilLadakh, Khelo India Ice Hockey Tournament is being organised at Chiktan by Zonal Physical Education Officer Chiktan.
For the first time the women team of Chiktan also participated in the Khelo India Games in Kargil district. There are 13 teams from different villages of Chiktan participating in the tournament, which include 11 men's teams and 2 women's teams.
The tournament was inaugurated by SDM ShakarChiktan and the Chief Guest of the event KachoAsgar Ali khan in the presence of ZPEO ChiktanGhulamRasool along incharge police post Chiktan.