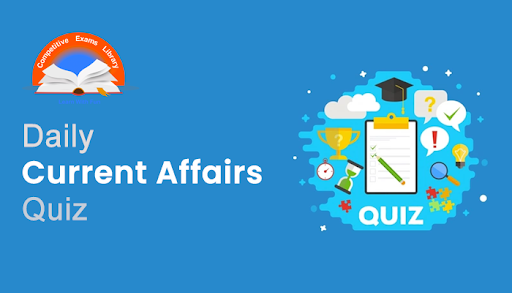 Dear Readers, Daily Current Affairs Questions Quiz for SBI, IBPS, RBI, RRB, SSC Exam 2021 of 07th May 2021. Daily GK quiz online for bank & competitive exam. Here we have given the Daily Current Affairs Quiz based on the previous days Daily Current Affairs updates. Candidates preparing for IBPS, SBI, RBI, RRB, SSC Exam 2021 & other competitive exams can make use of these Current Affairs Quiz.
1) World Athletics Day is Observed on which date?
A) May 1
B) May 3
C) May 7
D) May 4
E) May 5
2) Indian Army has launched the First Solar Plant in which state? 
A) Chhattisgarh
B) Uttar Pradesh
C) Haryana
D) Sikkim
E) Madhya Pradesh
3) As per Knight Frank's global prime property index for Q1 of 2021 Globally Bengaluru has slipped to ____ spot.
A) 35th
B) 36th
C) 37th
D) 38th
E) 40th
4) BRO will be celebrating its 61st Raising Day on which date?
A) May 1
B) May 11
C) May 2
D) May 7
E) May 3
5) Cabinet has approved the allocation of additional foodgrains to NFSA beneficiaries for _____ months this year.
A) 6
B) 2
C) 3
D) 4
E) 5
6) INS Talwar, with _____ tonne Liquid Medical Oxygen has struck out New Mangalore Port in Karnataka.
A) 25
B) 20
C) 40
D) 30
E) 35
7) The Central government has brought out the 2nd monthly installment of Post Devolution Revenue Deficit Grant of RS 9,871 crore to _____ states.
A) 20
B) 18
C) 16
D) 17
E) 15
8) Who among the following will take part in European Council meeting ?
A) Prahlad Patel
B) S Jaishankar
C) NS Tomar
D) Amit Shah
E) Narendra Modi
9) Which Online campaign has gathered almost 200,000 signatures to stop the games?
A) Munich Olympics
B) Frankfurt Olympics
C) Beijing Olympics
D) Tokyo Olympics
E) Brazil Olympics
10) MK Stalin has been sworn in as Chief Minister of which state?
A) Telangana
B) Kerala
C) Tamil Nadu
D) Chhattisgarh
E) Haryana
11) Ola Electric has appointed who among the following as CHRO?
A) Neel Gupta
B) Vijay Kumar
C) Anand Sharma
D) Krishan Sundar
E) N Balachandar
12) Which state government has launched a New scheme to provide free treatment to poor COVID patients in the state?
A) Uttar Pradesh
B) Madhya Pradesh
C) Bihar
D) Kerala
E) Telangana
13) Ayurvedic tele-medicine facility for Corona patients has been launched in which state?
A) Telangana
B) Kerala
C) Punjab
D) Bihar
E) Haryana
14) NR Congress Chief N Rangasamy to be sworn in as CM of which state/UT?
A) Daman & Diu
B) Andaman & Nicobar
C) Puducherry
D) Chandigarh
E) Punjab
15) Which state Unit of Ayurveda Vyaspeeth has unveiled "Ayurvedic Doctors on Call" service to serve Covid patients?
A) Kerala
B) Rajasthan
C) Madhya Pradesh
D) Gujarat
E) Bihar
16) The Chief minister of which state has launched 'Mukhyamantri Seva Sankalp Helpline 1100' ?
A) Chhattisgarh
B) Himachal Pradesh
C) Bihar
D) Haryana
E) Kerala
17) Railways have brought over _____MT of liquid medical oxygen to various states across the country.
A) 1200
B) 1000
C) 1500
D) 2000
E) 2500
18) Italian Ambassador to India Vincenzo de Luca installed oxygen plant at ITBP Referral Hospital at _____.
A) Gwalior
B) Pune
C) Greater Noida
D) Delhi
E) Chandigarh
19) Which company has received RBI approval for prepaid payment business?
A) PayPal
B) Ola
C) Paytm
D) Bajaj Finance
E) Cholamandalam
20) UTI AMC has appointed __________as sales head.
A) Rajesh
B) Dastoor
C) Anand Singh
D) Raj Dhingra
E) Nitesh Mathur
21) Which Bank has won 5 top PFRDA awards?
A) BOB
B) BOI
C) IDBI
D) UCO
E) KVGB
22) ____ Indian kids have bagged the Husky Investment Tournament.
A) 7
B) 6
C) 3
D) 4
E) 5
23) Who among the following has been named Sportsman of the Year, Naomi Osaka takes home Sportswoman title at Laureus Awards 2021?
A) Fernando Alonso
B) Lewis Hamilton
C) Naomi Osaka
D) Billie King
E) Rafael Nadal
24) UN Secretary General Antonio Guterres has honoured which of the following Indian UN Peacekeeping officer?
A) Neelesh Gupta
B) Sudesh Srivastava
C) Yuvraj Singh
D) Neeraj Kumar
E) Anand Prakash
25) Which institution has signed an MoU with EESL to offer energy efficient solutions to the dairy industry?
A) FedCo
B) Niti Aayog
C) CII
D) NDDB
E) IFFCO
26) Cabinet nods MoU between India and which country on Migration & Mobility Partnership?
A) New Zealand
B) Australia
C) Germany
D) UK
E) France
27) Which company has unveiled COVID-19 vaccine finder tool?
A) Facebook
B) Microsoft
C) Google
D) Ola
E) Paytm
28) Indian Army clarifies, Defence Ministry has nod to total of ____ Armed Force Medical Services.
A) 35
B) 30
C) 50
D) 40
E) 45
29) Rabindranath Tagore birth Anniversary is Observed on which date?
A) May 1
B) May 2
C) May 3
D) May 7
E) May 4
30) India, France, Australian Holds First-ever Trilateral Foreign Ministerial Dialogue in which city?
A) Kingstown
B) Melbourne
C) Munich
D) Beijing
E) London
31) Mahatma Gandhi's former personal secretary V Kalyanam recently passed Away. He was part of which political party?
A) JDU
B) RJD
C) AAP
D) BJD
E) BJP
Answers :
1) Answer: C
World Athletics Day 2021 is being celebrated on May 7.
The International Amateur Athletic Federation (IAAF) started celebrating World Athletics Day to promote participation in sports among the youngsters.
The International Amateur Athletic Federation (IAAF) started the World Athletics Day in order to boost participation in athletics among youngsters, creating awareness about the importance of fitness.
World Athletics Day falls under IAAF's social responsibility project 'Athletics for a Better World'.
The World Athletics Day is observed to make people aware on the importance of physical fitness.
2) Answer: D
On April 30, 2021, Indian Army has recently inaugurated the first green solar energy plant in Sikkim.
The facility, which uses vanadium-based battery technology.
It was built at an altitude of 16000 ft. in the northern part of the state and has a capacity of 56 KVA.
Lt. Col P. Khongsai, Public Relation Officer (Defence) Guwahati, informed that the project was commissioned in collaboration with IIT Mumbai.
The plant will not only be environment friendly but also ensure the well-being of the army personnel   who work in forward areas under challenging climate.
The plant is expected to produce at least 15 lakh units of electricity annually or about 1.25 lakh units per month.
3) Answer: E
Bengaluru has slipped four positions to rank 40th globally in annual price appreciation of luxury residential properties, according to real estate consultant Knight Frank.
Bengaluru witnessed a fall of 2.7 per cent year-on-year (YoY) in prime residential prices during January-March
In its 'Prime Global Cities Index Q1 2021' report, Knight Frank mentioned that New Delhi and Mumbai, too, slipped one spot each to rank at 32nd and 36th, respectively.
Shenzhen ranked 1st with 18.9 percent annual change for the period Q1 2020 Q1 2021.
New York was the weakest performing market and ranked 46th with a fall of 5.8 per cent in prices annually.
Prime residential property is defined as the most desirable and most expensive property in a given location, generally defined as the top 5 percent of each market by value.
4) Answer: D
Border Roads Organization, BRO is celebrating its 61st Raising Day on May 7.
BRO is a leading road construction agency under the Ministry of Defence with a primary role of providing road connectivity in the border areas.
It executes road construction and maintenance works along the Northern and Western frontiers primarily to meet the strategic requirements of the Army and is responsible for over 60 thousand Kilometers roads.
The BRO has also constructed roads in friendly foreign countries like Bhutan, Myanmar, and Afghanistan etc. thus contributing towards our strategic objectives in the region.
Director General, BRO, Lieutenant General Rajeev Chaudhary conveys his greetings to all Veterans and BRO Personnel and calls upon all ranks of the Organization to continue on the path of excellence with renewed vigour and dedication.
BRO is playing a significant role in the collective vision of Atmanirbhar Bharat.
This year 75 infrastructure projects which include 12 important strategic roads and 63 major bridges will be dedicated soon to the nation in the vision of Azadi ka Amrut Mahotsav.
5) Answer: B
The Cabinet chaired by Prime Minister Narendra Modi gave its approval for allocation of additional food grains to all beneficiaries of National Food Security Act for two additional months of May and June this year.
The announcement towards allocation of additional foodgrain under the third phase of Pradhan Mantri Garib Kalyan Anna Yojana for another period of 2 months was made by the Centre last month.
The Cabinet gave its ex-post facto approval to this decision under which 5 kilograms of rice or wheat per person per month will be given to about 80 crore beneficiaries in the country.
The relief measure announced by the Centre to ensure proper nutrition and food to every person will cost nearly 26 thousand crore to it in terms of food subsidy.
6) Answer: C
Minister of State for Ports, Shipping and Waterways Mansukh Mandaviya has said that INS Talwar, with 40 tonne Liquid Medical Oxygen has reached New Mangalore Port in Karnataka.
The 40 tonnes of Liquid Medical Oxygen filled in cryogenic containers was donated by Bahrain.
New Mangalore Port is handling the Oxygen cargo on priority basis.
To support nation's fight against COVID-19 and as a part of operation 'Samudra Setu II', seven Indian Naval ships including Kolkata, Kochi, Talwar, Tabar, Trikand, Jalashwa and Airavat have been deployed for shipment of liquid medical oxygen-filled cryogenic containers and associated medical equipment from various countries.
Operation Samudra Setu-II has bolstered India's oxygen availability.
INS Talwar, the first among the ships deployed in the operation, arrived in Mangalore from Bahrain.
7) Answer: D
The Finance Ministry released the second monthly installment of Post Devolution Revenue Deficit Grant of Rs 9,871 crore for 2021-22 to 17 States.
With this, a total amount of Rs 19,742 crore has been released in the first two months of the current financial year as Post Devolution Revenue Deficit Grant to the states.
The grants are released as per the recommendations of the Finance Commission in monthly installments to meet the gap in Revenue Accounts of the States post devolution.
The 15th Finance Commission has recommended Post Devolution Release Deficit grants to 17 States.
These states are Andhra Pradesh, Assam, Haryana, Himachal Pradesh, Karnataka, Kerala, Manipur, Meghalaya, Mizoram, Nagaland, Punjab and Rajasthan, Sikkim, Tamil Nadu, Tripura, Uttarakhand and West Bengal.
8) Answer: E
Prime Minister Narendra Modi will participate in the meeting of the European Council as a special invitee.
The India-EU Leaders' Meeting is being hosted by Prime Minister of Portugal António Costa.
Portugal currently holds the Presidency of the Council of the European Union.
Mr Modi will participate in the meeting along with the Heads of State or Government, of all the 27 EU Member States.
The leaders will exchange views on the COVID-19 pandemic and healthcare cooperation, fostering sustainable and inclusive growth, strengthening the India-EU economic partnership as well as regional and global issues of mutual interest.
The India-EU Leaders' Meeting is an unprecedented opportunity for discussion with all the leaders of the EU Member States.
It is a significant political milestone and will further build on the momentum witnessed in the relationship since the 15th India-EU Summit in July last year.
9) Answer: D
As public concerns mount over holding the Tokyo Olympics Games amidst COVID-19 pandemic, an online campaign called "Stop Tokyo Olympics" has gathered almost 200,000 signatures.
The Games which are due to open on July 23 have already been postponed for a year due to the coronavirus.
Kenji Utsunomiya, the online petition organizer, wrote on his website that they strongly call for the prevention of spread of coronavirus and protection of lives and livelihood by using available resources to stop the Olympics.
Opinion polls in Japan have also found a majority of the public is opposed to the Games.
10) Answer: C
The Tamil Nadu cabinet led by Chief Minister MK Stalin.
The state Governor Banwarilal Purohit administered the oath of office and secrecy to Mr Stalin and his 33 other cabinet colleagues at a function held in the Raj Bhavan lawns in Chennai.
The function was attended by the leaders of the ruling DMK's alliance parties, opposition AIADMK coordinator O.Panneerselvam, the state BJP senior leader L.Ganesan, PMK president GK Mani and the Makkal Neethi Maiyyam leader Kamal Haasan.Mr Stalin later took the blessings of his mother, and paid homage to the party founder CN Annadurai, Dravidian Movement leader EVR Periyar, his father and former chief minister M.Karunanidhi and other senior leaders of his party.
11) Answer: E
Ola Electric, which is gearing up to build the world's largest scooter factory in Tamil Nadu, has hired N Balachandar as chief human resources officer (CHRO).
In his new role, Balachandar will accelerate Ola Electric journey to become a world-class talent organisation, with a focus on people and culture globally.
12) Answer: B
The Madhya Pradesh government is launching a new scheme to provide free treatment to poor COVID patients.
Chief Minister Shivraj Singh Chouhan has said that under the scheme, the poor and common people of the state, including even the middle class, will be able to get free treatment for COVID-19 in the contracted private hospitals.
The government will empanel private hospitals for treatment of COVID.
Tests like CT scan, medicines, injections, oxygen etc. shall be made available free of cost.
So far, 2 crore 42 lakh cards have been made under the Ayushman Bharat Yojana in the state, under which 88 percent of the population has been covered.
All of them will be able to get free treatment for corona in government-contracted hospitals.
District collectors have been empowered to temporarily empanel private hospitals of their district under Ayushman Bharat Yojana.
The government has increased the rates of Ayushman Bharat package by 40 percent.
The state government will give Rs 5000 as diagnostic advance to every person who is receiving treatment under the scheme.
13) Answer: E
Haryana Government has launched Ayurvedic telemedicine facility for Corona patients.
Any patient can consult the Ayurvedic Doctors on phone by dialling 1075.
The facility has been launched after verifying the response of Ayurvedic medicines used on Corona patients.
A call centre has been set up to run it and teams of senior Ayurvedic Doctors have been appointed for consultation, which will provide service from 8 am to 10 pm.
14) Answer: C
NR Congress Chief N Rangasamy will be sworn in as the Chief Minister of the Union Territory of Puducherry in a simple function arranged  at  Raj Nivas.
Lieutenant Governor Dr Tamilisai Soundararajan will administer the oath of office and secrecy to Mr. Rangasamy.
The three time chief minister Rangasamy returns to power for the 4th time to lead the NDA government.
The BJP will be a part of the coalition government, and this is the first time that BJP will take part in the government.
15) Answer: D
Gujarat Unit of Ayurveda Vyaspeeth has launched an "Ayurvedic Doctors on Call" service to serve the Covid patients in the state.
Under this service, 170 Ayurvedic doctors will give free Ayurvedic consultations to the Covid patients on phone calls.
The President of Gujarat Unit- Ayurvedacharya Dr. Hitesh Jani said that the aim of this service is to provide proper guidance to the patients, so that the burden on the hospitals can be eased.
16) Answer: B
Himachal Pradesh Chief Minister Jai Ram Thakur launched dedicated COVID-19 Helpline 'Mukhyamantri Seva Sankalp Helpline 1100' for facilitating the people regarding COVID related issues in Shimla.
The Chief Minister said, this helpline is unique in itself by ensuring effective use of technology in facilitating the people.
The callers can call on toll free number 1100  from 7 am to 10 pm for seeking help regarding COVID related issues.
The call executive would register the complaint and contact concerned authorities for providing necessary help to the person regarding various issues such as test, vaccination, home quarantine, medicines, ambulance and Oxygen.
17) Answer: E
Indian Railways has delivered 2511 MT of liquid medical oxygen in 161 tankers to various states across the country so far.
Forty Oxygen Expresses have already completed their journey.
It is Indian Railways Endeavour to deliver as much liquid medical oxygen as possible in the shortest time to the requesting states.
Till date, 174 MT has offloaded in Maharashtra, 689 MT in UP, 190 MT in Madhya Pradesh, 259 MT in Haryana, 123 MT in Telangana and 1053 MT in Delhi.
Presently 22 tankers are on the run with more than 400 tonnes of LMO which are expected to arrive in MP, Haryana, Rajasthan and Delhi.
18) Answer: C
Italian Ambassador to India Vincenzo de Luca switched on an oxygen plant at ITBP Referral Hospital at Greater Noida.
The plant will supply oxygen to more than 100 beds at a time to the Covid19 patients admitted at the centre.
ADG ITBP Manoj Singh Rawat thanked the Italian ambassador for installing the plant.
The plant has been installed at the hospital in just 48 hours time.
The Ambassador while speaking on the occasion remembered the assistance by ITBP when 17 Italian Covid-19 positive tourists were taken care of by the Force at its Chhawla facility last year.
19) Answer: D
Bajaj Finance is all set to join the likes of Paytm and Amazon in the prepaid payment segment with the Reserve Bank of India (RBI) approving the non-bank lender's foray with perpetual validity.
The move is part of Bajaj Finance's broader strategy to expand its digital offerings.
"We wish to inform that the RBI vide its letter dated 4 May 2021, has granted an authorization to the Company for issuance and operation of semi-closed Prepaid Payment Instruments with perpetual validity," the company said.
A semi-closed PPI is effectively a digital wallet but one through which transactions can flow to merchants and establishments other than the one offering the wallet services.
The wallet will become a part of Bajaj Pay, which is the company's bid to provide an integrated platform for all payments solutions.
Semi-closed System PPIs allow you to make payments to multiple merchants through the platform.
Cash withdrawal services, however, still remain prohibited.
20) Answer: B
UTI Mutual Fund has appointed Peshotan Dastoor as Group President and Head of Sales.
Dastoor will be developing UTI's sales strategy, providing leadership to the sales team and exploring new opportunities for distribution and growth.
Before joining UTI AMC he led the sales at Franklin Templeton Asset Management India.
21) Answer: E
Karnataka Vikas Grameena Bank (KVGB) has bagged five top awards under various campaigns held for enrollment of Atal Pension Yojana (APY) from Pension Fund Regulatory and Development Authority (PFRDA).
Chairman, Karnataka Vikas Grameena Bank, P. Gopi Krishna, who received the five awards (Lead to Leap, APY Makers of Excellence, Game Changers, Leadership Capital and Amazing Achievers), has in a press release said that during the last financial year 2020-2021, the bank had enrolled 78,129 policies under PMJJBY, 94,658 policies under PMSBY and 68,961 accounts under APY.
Since the introduction of these schemes, the bank has enrolled (cumulative) 51, 41,524 policies under PMJJBY, 11, 89,321 policies under PMSBY and 2, 06,214 accounts under APY
22) Answer: C
The Husky Investment Tournament hosted by the College of Business at Michigan Technological University this spring drew high school business students from across the country and world to compete for a cash prize and scholarships toward a Michigan Tech education.
Students Prabnoor Singh Kohli, Tijil Gupta, and Amol Singh Cheema of Amity International School in Noida, Uttar Pradesh, India, came in first place at the conclusion of trading on April 16.
23) Answer: E
Tennis legend Rafael Nadal has won the Sportsman of the Year award at the 2021 Laureus World Sports Awards that were unveiled at a digital awards ceremony from Seville, Spain.
The Sportswoman of the Year award went to Naomi Osaka.
The World Team of the Year award was picked by the Bayern Munich football team.
The Athlete Advocate of the Year was won by Formula One champion Lewis Hamilton for his continuous efforts to raise social awareness and Liverpool footballer Mo Salah received the Sporting Inspiration Award.
The Lifetime Achievement Award went to Billie Jean King.
Nadal had a total of 8 nominations and won 4.
His first win in the Sportsman of the Year category came in 2011 while he won the Breakthrough of the Year award in 2006 and the Comeback of the Year award in 2014.
Interestingly, he was also nominated for the Sportsman of the Year award in 2014.
For Sportswoman of the Year Naomi, this was her third nomination in the awards and she has now bagged two in three.
While she won the Breakthrough of the Year award in 2019, she was a nominee for the Sportswoman of the Year award in 2020.
24) Answer: C
UN Secretary General Antonio Guterres honored Indian UN Peacekeeping officer Yuvraj Singh, who died in line of duty in 2020, during the UN annual Memorial Service 2021.
Permanent Representative of India to UN, T S Tirumurti saluted Singh's valour and contribution, and conveyed condolences to the family.
25) Answer: D
The National Dairy Development Board said it has signed an agreement with Energy Efficiency Services Ltd (EESL) to promote efficient renewable technologies in the dairy industry.
The memorandum of understanding (MoU) was signed on May 5 at Ananda, Gujarat by NDDB Executive Director Meenesh Shah and EESL Director (Projects) Venkatesh Dwivedi in the presence of senior officials, it said in a statement.
As per the agreement, EESL will conceptualize, propose and design technically sound alternate energy generation solutions for plants in the dairy cooperative sector across the country.
It will also arrange necessary technical and funding support for the design, development and operation of the non-conventional energy generation models.
Whereas National Dairy Development Board (NDDB) will extend its expertise in dairy business/dairy plant management/other related activities to facilitate /support conceptualising, development and implementation of the alternate energy generation models.
26) Answer: D
The Union Cabinet has approved the signing of an MoU on Migration and Mobility Partnership between India and the UK.
It is aimed at liberalizing issuance of visas promoting mobility of students, researchers and skilled professionals and strengthening cooperation on issues related to irregular migration and human trafficking between the two sides.
The MoU will benefit Indian students, academics, and researchers, migrants for professional and economic reasons and those willing to contribute through various projects to the economic development of both countries.
It can support the innovation ecosystem in both countries by facilitating free flow of talent.
27) Answer: E
Fintech major Paytm launched 'COVID-19 Vaccine Finder' – a platform to help citizens check the availability of vaccination slots – on its Mini App store.
The platform will help citizens to check the availability of vaccination slots for a specific date by individually entering different pin codes or district details along with age group (18+ or 45+), a statement said.
In case the slots are saturated for the near future, users can select the option for real-time alerts from Paytm once any slot is free, it added.
"The automated process reduces the hassle and ordeal of refreshing the platform for new slots repeatedly.
The data is sourced on a real-time basis from the CoWIN API where a slot can be booked to take the vaccination," it said.
A Paytm spokesperson said the new feature will help users find COVID vaccine slots in their locality and set for alerts when new slots open up.
"We believe that with the combined efforts of Government, organizations, and citizens, we are on the right track to recovery.
28) Answer: C
Indian Army has clarified that the Defence Ministry has approved a total of 50 Armed Force Medical Services, AFMS hospitals including 42 Army, five Air Force and three Navy designated as Dedicated and Mixed COVID Hospitals.
Besides the entitled clientele of the AFMS, serving personnel, dependents, veterans, and their dependents, civilians may also be admitted subject to referral by the local health authority after
ascertaining bed availability at these facilities.
29) Answer: D
May 7 is the birth anniversary of India's first Nobel laureate Rabindranath Tagore.
His birth anniversary falls on the 25th day of the Bengali month of Boishakh and is popularly called "Pachishe Boishakh".
A poet, philosopher, patriot, and a social thinker put in one, Tagore is one of the greatest revolutionaries India has produced.
His contribution to Bengali and English literature is unmatchable and he is known as the Bard of Bengal.
30) Answer: E
On May 04, 2021, The first-ever India-France-Australia Trilateral Foreign Ministerial Dialogue held in London, UK.
It was attended by External Affairs Minister, Dr. S. Jaishankar from India, France's Minister for Europe and Foreign Affairs, Mr. Jean-Yves Le Drian and Australia's Minister for Foreign Affairs, Senator Marise Payne.
The G7 meeting is the first in-person interaction of foreign ministers of the grouping amid the pandemic.
The last such meet was in France in 2019.
G7 consists of Canada, France, Germany, Italy, Japan, the United Kingdom and the United States.
For the G7 FMs meet this year, the UK as the host had invited India, Australia, South Korea, South Africa and the Secretary-General of the Association of Southeast Asian Nations (ASEAN).
The France-India-Australia trilateral was launched in September 2020 at foreign secretaries' level with three joint priorities: maritime security, environment, and multilateralism.
The focus of the three countries is  expectedly also on Indo-Pacific as well.
Both France and Australia are part of the Indo-Pacific Oceans Initiative (IPOI)  announced by India in 2019.
31) Answer: C
On May 04, 2021, Father of the Nation Mahatma Gandhi's former personal secretary V Kalyanam Passed away.
He was 99.
Kalyanam joined the freedom struggle during the Quit India Movement in 1942.
He was Gandhi's personal secretary from 1943 to 1948, when the Mahatma was assassinated.
Kalyanam later worked as Edwina Mountbatten's secretary in London.
He returned a few years later and then worked for C. Rajagopalachari and Jayaprakash Narayan.
He joined the Aam Aadmi Party (AAP) in 2014.