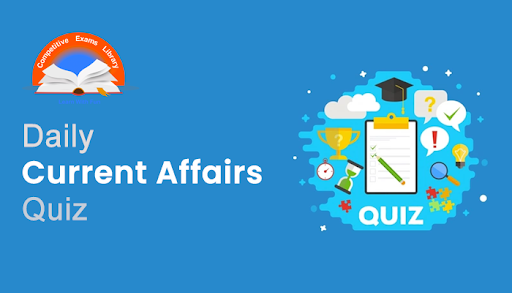 Dear Readers, Daily Current Affairs Questions Quiz for SBI, IBPS, RBI, RRB, SSC Exam 2021 of 08th May 2021. Daily GK quiz online for bank & competitive exam. Here we have given the Daily Current Affairs Quiz based on the previous days Daily Current Affairs updates. Candidates preparing for IBPS, SBI, RBI, RRB, SSC Exam 2021 & other competitive exams can make use of these Current Affairs Quiz.
1) World Red Cross and Red Crescent Day is Observed on which date?
A) May 1
B) May 2
C) May 8
D) May 3
E) May 11
2) Which of the following publishers will release Meghan Markle's First Children's Book ?
A) Hachette
B) Oxford
C) Harvard
D) Random House Children's Books
E) Penguin
3) Which state has started with PRANAYAMA started to help COVID patients to maintain oxygen level?
A) Chhattisgarh
B) Uttar Pradesh
C) Haryana
D) Bihar
E) Andhra Pradesh
4) Shesh Narayan Singh who passed away was a veteran ____.
A) Singer
B) Journalist
C) Writer
D) Director
E) Actor
5) Which institution has unveiled a new mobile application for psycho social wellness of students, parents?
A) FICCI
B) CII
C) Niti Aayog
D) CBSE
E) ICSE
6) Ayush Ministry has launched a nationwide campaign to distribute ______ &KabasuraKudineer for the fight against COVID19 pandemic.
A) AYUSH 11
B) AYUSH 64
C) AYUSH 12
D) AYUSH 50
E) AYUSH 67
7) Which country has called upon WHO to ask Taiwan for the World Health Assembly as an observer?
A) Australia
B) China
C) US
D) France
E) Germany
8) India and EIB signed a finance contract for the second tranche of ____ mn Euro for Pune Metro Rail.
A) 110
B) 200
C) 180
D) 190
E) 150
9) Which state will provide about 30 lakh new tap water connections in current FY under Jal Jeevan Mission?
A) Telangana
B) Kerala
C) Haryana
D) Bihar
E) Chhattisgarh
10) Gujarat government has asked All MLAs to allot Rs ____ lakh for health infrastructure.
A) 70
B) 65
C) 60
D) 50
E) 55
11) Workplace vaccination drive in the National Media Centre has recently been organized by ____.
A) IFFCO
B) Niti Aayog
C) FICCI
D) CII
E) PIB
12) Finance Minister to deliver a revenue deficit grant of Rs 10,000 crore to ____ states.
A) 12
B) 17
C) 13
D) 15
E) 16
13) SBI and EIB to invest up to Euro ____ million in Indian SMEs concentrated on climate change, sustainability.
A) 140
B) 130
C) 120
D) 110
E) 100
14) RBI directs Banks to lend to healthcare space within _____ days of availing funds.
A) 40
B) 35
C) 30
D) 25
E) 20
15) NCCL has appointed ____ new directors and the chairman's tenure extended.
A) 6
B) 5
C) 4
D) 2
E) 3
16) Indian Navy has established a 150 bed covid care centre in which state?
A) Telangana
B) Odisha
C) Chhattisgarh
D) Bihar
E) Haryana
17) Which company has Unveiled World's First 2 Nanometer Chip Technology?
A) Dell
B) IBM
C) HCL
D) HP
E) Infosys
18) Vanraj Bhatia who Passed Away recently was a veteran ______.
A) Actor
B) Producer
C) Music composer
D) Writer
E) Director
19) World Thalassemia Day is Observed on which date?
A) May 1
B) May 2
C) May 11
D) May 8
E) May 12
20) MatangSinh who passed away recently belonged to which political party?
A) AIADMK
B) JDU
C) RJD
D) BJP
E) Congress
Answers :
1) Answer: C
World Red Cross and Red Crescent Day is an annual celebration of the principles of the International Red Cross and Red Crescent Movement.
The theme this year is 'Together we are #unstoppable!' The World Red Cross Day is marked on May 8 every year to acknowledge the beliefs of the Red Crescent Movement and the International Red Cross.
This date is the anniversary of the birth of Henry Dunant, who is the founder of the International Committee of the Red Cross (ICRC).
He is also a recipient of the Nobel Peace Prize.
He was born on May 8, 1828.
2) Answer: D
Meghan, the Duchess of Sussex, is releasing her first children's book, titled 'The Bench' in June 2021.
About the Book :
The book deals with the one rooted in the relationship between Prince Harry and their son, Archie.
It will be published by Random House Children's Books.
Random House Children's Books announced that The Bench will be released 8 June.
Meghan will also narrate the audiobook edition of this book.
It is illustrated by award-winning illustrator Christian Robinson and Meghan will narrate the audiobook edition.
3) Answer: E
In Andhra Pradesh, many patients suffering from COVID-19 have started practicing PRANAYAMA, to have natural oxygen.
As many as 850 patients staying in Patrunivalasa COVID Care Centre, at Srikakulam in Andhra Pradesh, have been practicing yoga to improve their health under the supervision of yoga teachers.
The district Collector, J. Nivas has been visiting the Yoga Centre regularly and observes that it yields positive results.
4) Answer: B
On May 07, 2021, Veteran senior journalist Shesh Narayan Singh passed away.
He was 70.
To keep his memory alive, the Noida Media Club (NMC) has decided to organise regular seminars annually from now on to pay homage to him," Noida Medic Club's president Pankaj Parashar announced.
The NMC also announced an initiative to build a memorial in Noida as a mark of respect to those journalists who have lost their lives to the pandemic across India.
He was a columnist, political commentator and an expert on foreign policy.
He had a career spanning over two decades.
5) Answer: D
Central Board of Secondary Education (CBSE) has launched a new mobile application for psycho social wellness of students and parents.
The new app namely CBSE Dost for Life has been designed for students of classes 9 to 12 and it can be used for counseling sessions from 10th of May.
Making a departure from the existing practice of counseling through toll free numbers across the country, the board has designed this facility for the ease, convenience and utility of students and parents within the safe home environment.
Through this app, live counseling sessions will be conducted free of cost on Monday, Wednesday and Friday by the trained counselors.
The students and parents can choose any of the two time slots – 9.30 AM to 1.30 PM or 1.30 PM to 5.30 PM and connect through a chat box as per their convenience.
The app will also provide students information on suggestive course guides after ten plus two, tips on mental health and well-being, a corona guide and rap songs.
6) Answer: B
In a concerted response to the second surge of COVID-19 infection in the country, the Ministry of Ayush is launching a massive nationwide campaign to distribute its proven poly herbal Ayurvedic drugs AYUSH 64 and Sidha drug KabasuraKudineer.
The efficacy of these drugs has been proved through robust multi-centre clinical trials.
The multi stakeholder campaign being launched by Union Minister Kiren Rijiju will ensure that medicines reach the needy in a transparent and efficient manner.
The main collaborator in the campaign is Sewa Bharati.
It is worthwhile to note that since the COVID-19 pandemic hit the country, the Ministry of Ayush has taken several initiatives toward control and mitigation of COVID 19, while also working in close collaboration with the Ministry of Health and Family Welfare in the fight against COVID 19.
With the latest initiative of the Ministry to launch a nationwide campaign for distribution of AYUSH-64 and KabasuraKudineer, India aims to strengthen its position in the fight against COVID19 pandemic.
7) Answer: C
The United States has called upon the World Health Organization Director-General Tedros Adhanom Ghebreyesus to invite Taiwan to participate as an observer at the upcoming annual meeting of the World Health Assembly (WHA), saying there is no reasonable justification for Taipei's continued exclusion from the forum.
Asserting that Global health and global health security challenges do not respect borders nor recognize political disputes, US Secretary of State Antony Blinken said that Taiwan offers valuable contributions and lessons learned from its approach to these issues and WHO leadership and all responsible nations should recognize that excluding the interests of 24 million people at the WHA serves only to imperil, not advance, our shared global health objectives.
The WHA is set to hold its 74th annual meeting virtually from Geneva, Switzerland, from May 24 to June 1.
8) Answer: E
The Government of India and European Investment Bank (EIB) signed the finance contract for second tranche of 150 million Euro for Pune Metro Rail project through a virtual signing ceremony.
Additional Secretary in the Ministry of Finance, K. Rajaraman signed the loan on behalf of Government of India and Mr. Christian Kettel Thomsen, Vice-President, signed the loan on behalf of EIB.
The Ministry of Finance in a statement said, the project aims to provide an efficient, safe, economic and pollution-free Mass Rapid Transit System in a densely populated area in the city of Pune served with heterogeneous traffic options.
The financing from EIB will help to fund construction and operation of Corridor 1- Pimpri Chinchwad Municipal Corporation to Swargate and Corridor 2 -Vanaz to Ramvadi, totaling about 31.25 kilometer and purchase of a related fleet of metro cars.
Further, the project will serve a large population which consists of the working class in providing urban mobility for their livelihood.
The Maharashtra Metro Rail Corporation Ltd is the implementing agency for this project.
9) Answer: B
Kerala will provide about 30 lakh new tap water connections in the current financial year under Jal Jeevan Mission.
Jal Shakti Ministry said that Kerala presented their Annual Action Plan on planning and implementation of Jal Jeevan Mission.
Kerala has more than 67 lakh rural households, out of which around more than 21 lakh households have tap water supply.
The Ministry said, in the last financial year, about four lakh connections were provided in Kerala.
The State has planned to achieve the target of 'Har Ghar Jal' by 2024.
The Ministry has urged the State to give top priority to coverage of households in SC/ ST majority areas and Aspirational districts.
Jal Jeevan Mission is the flagship programme of the Central Government, which aims to provide household tap water connection to every rural household by 2024.
10) Answer: D
All MLAs in Gujarat will have to allot a minimum of 50 lakh rupees compulsorily from their local area development fund to upgrade facilities at hospitals.
Gujarat government took the decision at a meeting of the Core Committee for Covid Control.
According to the Gujarat government, every MLA will be required to allot their local area development fund to purchase medical equipment for the hospitals.
This will help to upgrade the medical facilities in civil hospitals, district hospitals, community health centres, primary health centres and hospitals run by local civic bodies.
According to the official sources, MLAs can allot the funds to the hospitals in their constituencies.
MLAs can also donate their grants to the hospitals run by charitable trusts on a no- profit basis.
11) Answer: E
The Press Information Bureau (PIB) organized a workplace vaccination drive in the National Media Centre, New Delhi.
A medical team led by Dr Harsh Priya and Vaishak Nag administered vaccines to about one hundred 10 people.
The Information and Broadcasting Ministry said, Centre has approved the organizing of COVID-19 vaccination sessions at workplaces, both Public and Private, which are having about one hundred eligible beneficiaries by tagging these workplaces with an existing COVID Vaccination Center.
The Ministry said, organizing vaccination at the workplace is not only convenient but also helps to avoid travel and reduces the risk of exposure to COVID-19 virus.
12) Answer: B
The Finance Ministry released Rs 9,871 crore as Post Devolution Revenue Deficit grant to 17 States for the year 2021-22.
The grants were released as per the recommendations of the Finance Commission in monthly installments to meet the gap in revenue accounts of the states post devolution.
"The Department of Expenditure, Ministry of Finance, released the second monthly installment of Post Devolution Revenue Deficit Grant of Rs 9,871 crore to 17 States," the Finance Ministry said in a statement.
With this installment, the total amount released during the first two months of the current financial year has now reached Rs 19,742 crore.
The Centre provides the Post Devolution Revenue Deficit Grant to the States under Article 275 of the Constitution.
The states recommended for grant are Andhra Pradesh, Assam, Haryana, Himachal Pradesh, Karnataka, Kerala, Manipur, Meghalaya, Mizoram, Nagaland, Punjab, Rajasthan, Sikkim, Tamil Nadu, Tripura, Uttarakhand and West Bengal.
13) Answer: E
The European Investment Bank and the country's largest lender SBI entered into a pact to jointly pump Euro 100 million in equity financing into Indian small businesses focused on climate change and sustainability.
An agreement got signed on the margins of the European Union-India leaders meeting in Portugal, where both the financial institutions agreed to back the initiative, as per a statement.
SBI already invests in a vehicle called Neev Funds for its impact investing objectives, and the two entities have created "Neev Fund II" for taking ahead this partnership.
This is one of the EIB's first private equity investments in India.
"Neev Fund II will provide equity to SMEs focusing on mitigating climate risks, promoting social development, job creation, and gender equality at scale," SBI chairman Dinesh Khara said.
He added that the cooperation with EIB, one of the world's largest providers of climate finance, will further strengthen and deepen the bond between India and the European Union.
The EIB and SBI will together support the new Neev Fund II investment fund that will unlock climate action and sustainability investment by businesses across India through new equity financing.
14) Answer: C
The Reserve Bank of India (RBI) said banks should lend to stakeholders in the COVID-related healthcare infrastructure and services within 30 days from the date of availing funds under the Rs 50,000 crore liquidity window.
According to the scheme, while there is no tenor restriction, lenders will have to ensure that the amount borrowed from the central bank is backed by lending to the specified segments until the scheme's maturity.
The scheme, which opens an on-tap liquidity window of Rs 50,000 crore for banks with tenors of up to three years at the repo rate till March 31, 2022, seeks to boost immediate liquidity, ramping up India's Covid-related healthcare infrastructure and services.
The scheme will remain operational from May 07, 2021, till March 31, 2022.
According to Crisil Ratings analysts, liquidity window can help augment the bed capacity at hospitals by up to 20 per cent as credit will be available at cheaper costs.
The agency said 354 companies it rates, with an aggregate bank exposure of Rs 40,000 crore, will be eligible for such loans.
15) Answer: D
National Commodity Clearing has appointed Praveena Kala and Harshvardhan Raghunath as public curiosity administrators on the board.
Kala is skilled in banking and administration whereas Raghunath has expertise within the area of finance and danger administration.
The tenure of present chairman of the governing board Ramaseshan and PID Shanti Srikanth was prolonged for three years, stated the clearing company.
The tenure of all of the PIDs can be efficient May 11.
Earlier, the reconstitution of the Governing Board of Directors together with the appointment of two new PIDs and reappointment of two present PIDs for 3 years was accredited by Sebi, stated NCCL.
16) Answer: B
On May 07, 2021, Covid Care Centre established to treat COVID positive patients of Khurda District by Indian Navy at its ab-initio Training Establishment, INS Chilka, under the aegis of Naval Officer -in- Charge (Odisha)  was inaugurated by Mr SK Mohanty, District Collector, Khurda District.
The 150 bed isolation centre with an additional 15 bed oxygen facility at INHS Nivarini, the naval hospital, is all geared up for treating mild symptomatic Covid positive Patients.
Dedicated doctors/ paramedical staff from the district medical authorities along with personnel from the station community will be functioning 24×7 at the COVID Care Centre to provide adequate facilities and care to all its patients.
The District Collector during his address appreciated the Indian Navy for playing a crucial role of support in the battle against COVID-19.
He also apprised that this facility for Khurda district will not only enable better treatment to the infected people, but the support from the Indian Navy will also boost up their confidence.
This is a sterling example of Civil – Military cooperation towards a common aim, provide succour to COVID positive patients.
17) Answer: B
On May 06, 2021, IBM unveiled a breakthrough in semiconductor design and process with the development of the world's first chip announced with 2 nanometer (nm) nanosheet technology.
Semiconductors play critical roles in everything from computing, to appliances, to communication devices, transportation systems, and critical infrastructure.
IBM's new 2 nm chip technology helps advance the state-of-the-art in the semiconductor industry, addressing this growing demand.
It is projected to achieve 45 percent higher performance, or 75 percent lower energy use, than today's most advanced 7 nm node chips.
The potential benefits of these advanced 2 nm chips could include:
Quadrupling cell phone battery life, only requiring users to charge their devices every four days.
Slashing the carbon footprint of data centers, which account for one percent of global energy use. Changing all of their servers to 2 nm-based processors could potentially reduce that number significantly.
Drastically speeding up a laptop's functions, ranging from quicker processing in applications, to assisting in language translation more easily, to faster internet access.
18) Answer: C
On May 07, 2021, Veteran music composer Vanraj Bhatia has Passed away.
He was 93.
He was the best-known composer of Western classical music in India.
He scored the music for Shyam Benegal classics like 'Ankur' and 'Bhumika' and TV series 'Yatra' and 'Bharat EkKhoj'.
His work ranged from composing music for advertisement films, feature films, mainstream films, television shows, documentaries.
His last work was an opera titled 'Agni Varsha' which was performed in New York.
19) Answer: D
World Thalassemia Day is observed every year on May 8th to commemorate Thalassemia victims and to encourage those who struggle to live with the disease.
The theme this year is "Addressing Health Inequalities Across the Global Thalassaemia Community".
Facts: Thalassemia is an inherited blood disorder that causes your body to have less hemoglobin than normal.
Hemoglobin enables red blood cells to carry oxygen.
Every year since 1994, the Thalassaemia International Federation (TIF) is organizing many diverse activities for the International Thalassaemia Day, with the objective to draw the attention of general public, patient associations, public authorities, healthcare professionals, and industry representatives, to fuel discussions and promote actions on a particular theme related to the prevention, management or treatment of the disease in a patient-centered manner.
20) Answer: E
On May 06, 2021, Former union minister and Congress leader, MatangSinh Passed away.
About MatangSinh :
MatangSinh was born in 1962 and was a resident of Tinsukia.
Singh was elected to the Upper house in 1992 from Assam.
He was union minister of state in parliamentary affairs from 1994 to 1998.
MatangSinh was well known in Assam as a TV tycoon.
He had introduced Assam and the Northeast to satellite television by launching the region's first satellite news channel – Northeast Television (popularly known as NETV) in 2003.