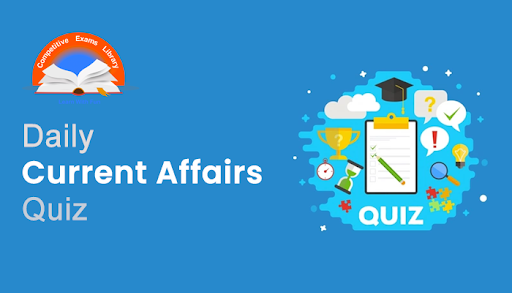 Dear Readers, Daily Current Affairs Questions Quiz for SBI, IBPS, RBI, RRB, SSC Exam 2021 of 09th & 10th May 2021. Daily GK quiz online for bank & competitive exam. Here we have given the Daily Current Affairs Quiz based on the previous days Daily Current Affairs updates. Candidates preparing for IBPS, SBI, RBI, RRB, SSC Exam 2021 & other competitive exams can make use of these Current Affairs Quiz.
1) Mother's Day is Observed on ____ Sunday of May.
A) 5th
B) 4th
C) 2nd
D) 1st
E) 3rd
2) Who has been appointed as Chennai Corporation Commissioner?
A) Sudip Kodiyal
B) Pradeep Doshi
C) Nikhil Raj
D) Gagandeep Singh Bedi
E) Anand Sharma
3) MK Kaushik and Ravinder Pal Singh who passed Away recently were eminent _____.
A) Physicians
B) Dancers
C) Singers
D) Cricket players
E) Hockey players
4) Minister of State for Finance Anurag Thakur has claimed _____lakh doses of Sputnik V vaccine.
A) 4
B) 3
C) 2
D) 1.5
E) 2.5
5) At the Laureus World Sports Awards 2021 who among the following has won the sportswomen of the year award?
A) Venus Williams
B) Manlo Santana
C) Naomi Osaka
D) Jennifer Brady
E) Serena Williams
6) The Education Minister has donated Rs _____ crore from MPLAD fund for Haridwar medical supply.
A) 1
B) 1.50
C) 2.50
D) 2
E) 3
7) In which city has ESIC installed oxygen generation plants at two hospitals?
A) Lucknow
B) Surat
C) Gwalior
D) Pune
E) Delhi
8) Who will be sworn in as Chief minister of Assam?
A) Sunil Raj
B) Jagdish Mukhi
C) Himat Biswa Sarma
D) NS Tomar
E) Arun Singh
9) Pressure Swing Adsorption Oxygen Plants has been inaugurated in which state?
A) Telangana
B) Chhattisgarh
C) Kerala
D) Himachal Pradesh
E) Haryana
10) NHIDCL has recently given ____ Critical Care Life Support Ambulances to Ladakh.
A) 6
B) 4
C) 3
D) 2
E) 5
11) DCGI has given an emergency nod to anti-Covid oral drugs developed by which institution?
A) BEL
B) HAL
C) CII
D) FICCI
E) DRDO
12) GigIndia will provide Rs ____ lakh insurance cover to active gig workers.
A) 1
B) 2
C) 3
D) 4
E) 5
13) Former minister Pitchandi has been appointed as _____ assembly pro-tem Speaker.
A) Madhya Pradesh
B) Haryana
C) Gujarat
D) Tamil Nadu
E) Chhattisgarh
14) Dr V Irai Anbu IAS appointed as new chief secretary of which state?
A) Kerala
B) Tamil Nadu
C) Haryana
D) Chhattisgarh
E) Madhya Pradesh
15) Who among the following has bagged global icon honour at 2021 Brit Awards?
A) Robbie Williams
B) Rihanna
C) Nicki Minaj
D) Jennifer Lopez
E) Taylor Swift
16) Cipla signed a pact with Eli Lilly based in _____.
A) Netherland
B) Japan
C) US
D) France
E) Germany
17) Carlyle Group sells _____ per cent stake in SBI Life for Rs 3,900 crore.
A) 3
B) 2
C) 6
D) 4
E) 5
18) Who among the following has participated in India-European Council Meeting Virtually?
A) Nirmala Sitharaman
B) Amit Shah
C) Prahlad Patel
D) NS Tomar
E) PM Modi
19) ID-Art Mobile App has been Launched by ______to help protect cultural property.
A) BEL
B) BHEL
C) Interpol
D) CBI
E) DRDO
20) Which Novel antibody engineered product to treat COVID-19 has been cleared for clinical trials?
A) VINCOV-21
B) VINCOV-22
C) VINCOV-23
D) VINCOV-19
E) VINCOV-20
21) Book Titled 'Elephant In The Womb'  has been Authored by who among the following?
A) Amit Shah
B) Kalki Koechlin
C) Kapil Dev
D) Sushmita Singh
E) NS Tomar
22) Lewis Hamilton has been awarded his _____ successive Spanish Grand Prix.
A) 6th
B) 2nd
C) 4th
D) 3rd
E) 5th
23) Aryna Sabalenka has won her _____ Madrid Open Women's singles title.
A) 4th
B) 5th
C) 1st
D) 2nd
E) 3rd
24) PIB reported No such approval has been given by the Government of India Bharat Biotech's vaccine for children above _____ years.
A) 5
B) 8
C) 9
D) 12
E) 10
25) Raghunath Mohapatra who Passed Away was an eminent ____.
A) Singer
B) Dancer
C) Musician
D) Hockey player
E) Politician
Answers :
1) Answer: C
Mother's Day is a time-honored tradition of recognizing the women in our lives who raised us, dried our tears, and well, mothered us.
Everyone has one or has someone who is like a mother to them.
On the second Sunday of May, we honor those women who are our mothers.
Mother's Day is a celebration honoring the mother of the family or individual, as well as motherhood, maternal bonds, and the influence of mothers in society.
Mother's Day was founded by Anna Jarvis who had given the idea of celebrating Mother's Day in honour of mothers and motherhood in 1907.
Nationally this day was recognized in 1914.
2) Answer: D
In another round of bureaucratic reshuffle by the new DMK government, Agricultural Production Commissioner Gagandeep Singh Bedi has been appointed as Commissioner of Greater Chennai Corporation, replacing G Prakash.
Singh was instrumental in the 'e-thottam' initiative introduced last year during the lockdown.
3) Answer: E
On May 08, 2021, Former Two Indian Hockey Players Maharaj Krishan Kaushik & Ravinder Pal Singh Passed Away.
Maharaj Krishan Kaushik was 66 and Ravinder Pal Singh was 60.
Both the players were the members of the Indian hockey team that won the gold medal in 1980 Summer Olympics at Moscow.
4) Answer: D
Minister of State for Finance Anurag Thakur has claimed 1.5 lakh doses of Sputnik V have previously reached India and Russian Direct Financial commitment Fund has also tied up with regional Indian companies for bulk manufacturing.
In reaction to a letter penned by Congress chief MallukarjunKharge to Prime Minister Narendra Modi, Mr Thakur elaborated steps taken by the Centre to deal with the COVID pandemic.
Mr Thakur mentioned IAF transport planes have carried out 50 sorties, airlifting 61 oxygen containers of 1142 MT potential from abroad.
Naval ships – Kolkata, Kochi, Tabar, Trikand, Jalashwa and Airavat – have been deployed for shipment of liquid clinical oxygen-filled cryogenic containers and associated healthcare devices from numerous nations in the Center East and South-East Asia.
5) Answer: C
On May 06, 2021, Tennis players Rafael Nadal and Naomi Osaka picked up the Laureus Sportsman and Sportswoman of the Year awards.
About Naomi Osaka :
This is Osaka's second Laureus Sports Awards.
In 2019, she won the "Breakthrough of the Year" award.
6) Answer: B
Union Education Minister Ramesh Pokhriyal Nishank has donated Rs 1.5 crore from his Members of Parliament Local Area Development Scheme (MPLAD) fund for the purchase of medical equipment in his Lok Sabha Constituency Haridwar to fight the second wave of the COVID-19 pandemic.
The funds will be utilized at four Dedicated Covid Health Centres (DCHC) at Haridwar, including Baba Barfani, Base Hospital, Mela Hospital and Civil Hospital Roorkee.
7) Answer: E
The Employees State Insurance Corporation, under the Ministry of Labour and Employment, has installed oxygen generation plants at its two hospitals in the Delhi NCR area.
These include a 440 litres per minute (LPM) capacity plant at the ESIC Hospital and Medical College in Faridabad and another plant of 220 LPM capacity at ESIC Hospital in Jhilmil, New Delhi.
The Corporation is actively helping fight the battle against Covid-19 by quickly converting 30 hospitals all over the country into Covid Dedicated facilities.
These hospitals have around 4200 beds, including 300 ICU beds and 250 ventilator beds.
The facility has been made available to all citizens of the country.
A dashboard has also been started to facilitate beneficiaries to know about availability of beds in these hospitals.
8) Answer: C
Bharatiya Janata Party (BJP) leader Himant Biswa Sarma to be sworn-in as the new chief minister of Assam, a day after he was elected "unanimously" as the leader of the BJP's legislature party in the state.
Sarma, who was administered the oath of office by Assam governor Jagdish Mukhi in Guwahati, is the 15th chief minister of the northeastern state.
The BJP legislature party meeting was held in Guwahati in the presence of central observers Narendra Singh Tomar and Arun Singh.
9) Answer: D
Himachal Pradesh chief minister Jai Ram Thakur  inaugurated pressure swing adsorption (PSA) oxygen plants at Dr Radhakrishnan Government Medical College in Hamirpur and Jawahar Lal Nehru Government Medical College in Chamba.
The CM threw open the plants virtually from Shimla.
The plant at Chamba, which has been operational and has a capacity of 400 PLM and the Hamirpur plant, has a capacity of 300 PLM.
He said both plants would ensure uninterrupted oxygen supply to patients admitted in both colleges.
The state government has taken up the matter of increasing the oxygen quota for the state from the existing 15 MT to 30 MT with the union government so as to meet the demand of the state.
10) Answer: B
Union Territory Ladakh received Four Critical Care Life Support Ambulances from National Highways and Infrastructure Development Corporation (NHIDCL) of Road Transport and Highways Ministry.
Ladakh MP Jamyang Tsering Namgyal flagged off the ambulances for public service.
After Principal Secretary of UT Administration Pawan Kotwal inaugurated, Leh CMO Dr. DorjeyMotup received the vehicles in the presence of Leh Hill Council CEC Tashi Gyaltson, MP Jamyang and Leh DC Shrikant Suse.
11) Answer: E
A drug developed by the Defence Research and Development Organization, DRDO got the approval for emergency use by the Drugs Controller General of India, DCGI.
The oral drug has been developed by the Institute of Nuclear Medicine and Allied Sciences, a lab of DRDO, in collaboration with Dr Reddy's Laboratories, Hyderabad.
Phase III clinical trial results have shown that this molecule helps in faster recovery of hospitalized patients and reduces supplemental oxygen dependence.
The Institute of Nuclear Medicine and Allied Sciences (Inmas) in collaboration with Dr Reddy's Laboratories, Hyderabad, developed an anti-Covid-19 therapeutic application of the drug 2-deoxy-D-glucose (2-DG).
The third phase of the clinical trial results have shown that this molecule helps in faster recovery of hospitalized patients and reduces supplemental oxygen dependence.
Higher proportion of patients treated with 2-DG showed RT-PCR negative conversion in patients infected with coronavirus.
12) Answer: C
GigIndia, a B2B gig marketplace for on-demand work completion, will provide free COVID health insurance to its active gig workers covering up to Rs 3 lakh of medical expenses.
Considering the adverse financial impact of COVID-19 on its gigger families, the Pune-headquartered firm in a release said that it is offering this insurance to active gig workers to make them feel relatively secure during these challenging times.
13) Answer: D
Tamil Nadu governor Banwarilal Purohit appointed former Minister K Pitchandi as pro-tem Speaker of the state legislative assembly.
Pitchandi, who represents the Kilpennathur assembly constituency in Tiruvannamalai district,will take the oath of office on May 10.
He will administer the oath of office to all the newly elected members the following day.
14) Answer: B
Senior IAS officer Dr. V Irai Anbu has been appointed as the Chief Secretary of Tamil Nadu.
Anbu was heading Anna Institute of Management during the AIADMK regime before being given the plum post.
Irai Anbu along with Vikram Kapur, Dr. Atulya Mishra, D Sabitha, and Jatindra Nath Swain were appointed as additional chief secretaries in 2019.
He is a columnist, a teacher as well as a motivational speaker.
15) Answer: E
Singer-songwriter Taylor Swift is set to be feted at the upcoming Brit Awards, where she will receive the global icon award at this year's ceremony.
According to Billboard, the American singer will become the first female artiste and the first non-English artiste to receive the honour, which the British characterise as their highest accolade.
The only previous recipients are Elton John (2014), David Bowie (2016) and Robbie Williams (2017).
16) Answer: C
Drug major Cipla has inked a pact with US-based Eli Lilly And Company to manufacture and produce baricitinib in the country for the treatment of COVID-19.
The Mumbai-based company said it has signed a royalty-free, non-exclusive voluntary licensing agreement with Eli Lilly for baricitinib.
Baricitinib has already received a restricted emergency use approval by the Central Drugs Standard Control Organisation (CDSCO), Ministry of Health, India, for use in combination with remdesivir for the treatment of suspected or laboratory confirmed COVID-19 in hospitalised adults requiring supplemental oxygen, invasive mechanical ventilation, or extracorporeal membrane oxygenation (ECMO).
This collaboration is a step further in the company's efforts to enhance access to critical treatments for patients affected by the pandemic.
17) Answer: D
On May 07, 2021, Private equity firm Carlyle Group divested 4 per cent stake in SBI Life Insurance for over Rs 3,900 crore through an open market transaction.
The transaction, shares of SBI Life rose 3.22 per cent to settle at Rs 1,000.50 on the BSE.
As per end of March 2021, Carlyle Group held 6 per cent stake in the company through its investment arm CA Emerald Investments
18) Answer: E
On May 08, 2021, Prime Minister Narendra Modi participated in the India-EU Leaders' Meeting at Virtually.
The Prime Minister attended the event at the invitation of the President of the European Council Mr. Charles Michel.
This is the first time that the EU hosted a meeting with India in the EU27 format.
In that Meeting, all the 27 EU Member States as well as the President of the European Council and the European Commission Participated.
19) Answer: C
The Interpol has launched a mobile phone application ID-Art which will help identify stolen cultural property, reduce smuggling and increase the possibility of recovering stolen works and artefacts.
INTERPOL's ID-Art app enables users ranging from law enforcement to the general public to get mobile access to the INTERPOL database of stolen works of art.
It creates an inventory of private art collections and reports cultural sites potentially at risk.
20) Answer: D
VINCOV-19- Novel antibody engineered product to treat COVID-19 cleared for clinical trials
It is a collaborative effort of the University of Hyderabad (UoH), CSIR-Centre for Cellular and Molecular Biology (CSIR-CCMB) and Vins Bioproducts Ltd.
It got approval from the Drugs Controller General of India (DGCI) for clinical trials to test against the COVID-19 pandemic.
21) Answer: B
Bollywood Actress Kalki Koechlin is making her debut as an author of a book, Titled – Elephant In The Womb.
It is an illustrated non-fiction book on motherhood.
The book illustrated by Valeriya Polyanychko.
On May 08, 2021, Penguin Random House India (PRHI) announced it will be published by this year.
22) Answer: E
On May 09, 2021, Lewis Hamilton won the 2021 Spanish Grand Prix.
This is the fifth successive Spanish Grand Prix title of Lewis Hamilton.
Also this is the third win of this season.
The race was the fourth round of the 2021 Formula One World Championship.
Top 3 Position :
1.Lewis Hamilton (Mercedes-Great Britain)
2.Max Verstappen (Red Bull Racing-Netherlands)
3.Valtteri Bottas (Mercedes-Finland)
23) Answer: C
On May 08, 2021, In tennis, Aryna Sabalenka of Belarus, defeated world number one Ashleigh Barty of Australia to win the 2021 Madrid Open women's single title.
Aryna Sabalenka was in ominous form as she overpowered world number one Ash Barty 6-0 3-6 6-4 .
This Sabalenka's 10th career WTA singles title, second WTA title of the season and first on clay court.
In the women's doubles final
Barbora Krejcikova and Katerina Siniakova, defeated Gabriela Dabrowski of Canada and Demi Schuurs of France 6-4, 6-3.
24) Answer: D
Covid 19 cases have been clocking over 4 lakh cases on a daily basis for the past few days.
There is also fear of Coronavirus third wave, which experts say would impact children the maximum.
This reason assumes significance from the point of view that most of those above 18 years would be covered in the vaccination drive before the beginning of the likely 3rd wave.
Meanwhile, a message has been circulating on social media sites claiming that the government has approved Bharat Biotech's Covaxin for children above 12 years.
This message has been shared by people and has brought sort of relief for parents, however, the government has made official statement on this rumour.
25) Answer: E
On May 09, 2021, Rajya Sabha MP and renowned Sculptor Raghunath Mohapatra passed away.
He was 78.
About Raghunath Mohapatra :
He was Born in Puri district, Odisha.
Mohapatra was nominated to the Rajya Sabha in July 2018, for Arts, Culture, and Heritage by the President of India.