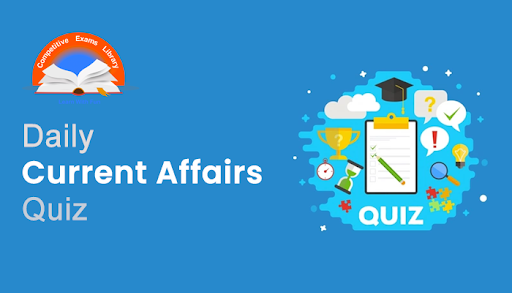 Dear Readers, Daily Current Affairs Questions Quiz for SBI, IBPS, RBI, RRB, SSC Exam 2021 of 09th February 2021. Daily GK quiz online for bank & competitive exam. Here we have given the Daily Current Affairs Quiz based on the previous days Daily Current Affairs updates. Candidates preparing for IBPS, SBI, RBI, RRB, SSC Exam 2021 & other competitive exams can make use of these Current Affairs Quiz.
1) Which edition of the Kolkata International Book Fair will be held in July 2021?
A) 25th
B) 20th
C) 45th
D) 43rd
E) 42nd
2) PM will inaugurate World Sustainable Development Summit 2021 on which date?
A) February 11
B) February 12
C) February 14
D) February 10
E) February 15
3) A major glacier burst recently occurred in which of the following state, damaging the Rishiganga dam?
A) Kerala
B) Madhya Pradesh
C) Himachal Pradesh
D) Haryana
E) Uttarakhand
4) India-US joint military exercise 'YudhAbhyas 20' has recently commenced in which state?
A) Karnataka
B) Chhattisgarh
C) Kerala
D) Rajasthan
E) Gujarat
5) PM has dedicated to the nation projects worth ______ crore at Haldia in West Bengal.
A) 4500
B) 5000
C) 4700
D) 5700
E) 5200
6) Budget 2021: What is the Agricultural credit target set at Rs. _____ lakh crore for FY22.
A) 11.5
B) 16.5
C) 12.5
D) 14.5
E) 13.5
7) India's first geothermal power project will be established at Puga village of which UT?
A) Chandigarh
B) Puducherry
C) Daman & Diu
D) Ladakh
E) Delhi
8) Who among the following will lay the foundation stone of various development projects in Assam?
A) Nirmala Sitharaman
B) Anurag Thakur
C) Narendra Modi
D) Amit Shah
E) Narendra Tomar
9) Which of the following has become the first State to implement e-cabinet?
A) Uttar Pradesh
B) Haryana
C) Punjab
D) Rajasthan
E) Himachal Pradesh
10) Which state government has decided to set up Indian Institute of Skills?
A) Nagaland
B) Assam
C) Gujarat
D) Haryana
E) Kerala
11) Akhtar Ali who passed away recently was an eminent ____,
A) Musician
B) Tennis player
C) Cricketer
D) Table-tennis player
E) Actor
12) Who among the following has been appointed to the Doval-led National Security Advisory Board?
A) Anil Ambani
B) Ratan Tata
C) Mukesh Ambani
D) Sridhar Vembu
E) Narayana Murthy
13) Who among the following has become the first batsman to score 200 in 100th Test?
A) Time Paine
B) Steve Smith
C) Rohit Sharma
D) ViratKohli
E) Joe Root
14) Which team has won the 13th CEC Cup Ice Hockey Championship?
A) LalBagh Blue
B) Sonmarg Blue
C) Drass Red
D) Kargil Blue
E) Jammu Green
15) George Shultz who passed away at 100 served in the US administration as ____.
A) Communications Secretary
B) Foreign Secretary
C) Home Affairs Secretary
D) Secretary of Defence
E) Secretary of State
Answers :
1) Answer: C
The 45th Kolkata International Book Fair will be held in July this year at the Central Park Ground of Salt Lake.
The Publishers and Booksellers Guild announced that the decision has been taken in view of the Board exams and the ensuing Assembly Elections in West Bengal.
This year the focal theme country is Bangladesh to mark the country's Golden Jubilee Year of Independence and the Centenary of Bangabondhu Sheikh MujiburRahman.
The 125th Birth year of NetajiSubhas Chandra Bose and Birth Centenary of Satyajit Ray will also be celebrated in the Book Fair. Earlier, the Kolkata International Book Fair was deferred due to the pandemic situation.
2) Answer: D
Prime Minister NarendraModi will inaugurate the World Sustainable Development Summit 2021 on 10th of February via video conferencing.
The theme of the summit is 'Redefining Our Common Future: Safe and Secure Environment for All'.
The 20th edition of The Energy and Resources Institute's (TERI) flagship event- the World Sustainable Development Summit, will be held online from 10th to 12th February.
The summit will bring together a wide number of governments, business leaders, academicians, climate scientists, youth and the civil society in the fight against climate change.
Energy and industry transition, adaptation and resilience, nature based solutions, climate finance, circular economy, clean oceans and air pollution, are amongst the range of topics to be discussed during the summit.
The Ministry of Environment, Forests and Climate Change, the Ministry of New and Renewable Energy and Ministry of Earth Sciences are key partners of the summit.
3) Answer: E
A major accident occurred in Chamoli in Uttarakhand due to the breaking of the glacier
The glacier burst took place at the Rishiganga power project  after a portion of Nanda Devi glacier broke off in Tapovan area of Joshimath in Uttarakhand'sChamoli district and damaged the Rishiganga dam on Alaknanda river.
The 13.2 MW Rishiganga hydropower project near Jashimath was completely washed away; the 520 MW NTPC hydro project on the Dhauliganga river near Raini was partially damaged and at least five bridges were impacted by the surge of water that was unleashed, cutting access to a number of villages in the area.
A multi-agency rescue operation including — Indo-Tibetan Border Police (ITBP) and National Disaster Response Force (NDRF) — is in full swing to release people still stuck in the tunnels. The forces have cleared 90 meter stretch of debris in the big tunnel at Tapovan till now, with about 100 meters of clearing still left to do.
4) Answer: D
The India-US joint military exercise "YudhAbhyas 20" commenced in Mahajan Field Firing Range of Bikaner district in Rajasthan.
This is the 16th edition of annual bilateral joint exercise of both the armies.
It will continue till the 21st of this month.
The previous version of the joint exercise was held at Seattle in the United States.
About 250 US and 250 Indian army soldiers are participating in the exercise. Both the armies will share their war-related techniques, skills and experience with each other during this exercise.
The exercise is one of the largest military training and defense cooperation efforts between India and the United States.
This exercise is another step in the growing military cooperation between the two countries, which shows the growth in Indo-US relations.
It is also a sign that both India and the US understand the threat of terrorism and are standing shoulder to shoulder in combating the same.
5) Answer: C
Prime Minister Narendra Modi dedicated to the nation four projects related to oil, gas and road sector worth rupees four thousand and seven hundred crores at Haldia in West Bengal.
The Prime Minister inaugurated three projects, Bharat Petroleum Corporation Limited BPCL's LPG Import Terminal at Haldia, GAIL's Dobhi-Durgapur Natural Gas Pipeline and NHAI's four lane ROB cum flyover at Ranichak.
Union ministers Dharmendra Singh ,Debasree Chaudhary, Governor of West Bengal Jagdeep Dhankhar were also present on the occasion.
6) Answer: B
With the aim of doubling farmers' income by 2022, Finance Minister NirmalaSitharaman announced that the agricultural credit target was set at Rs.16.5 lakh crore for FY22, during Union Budget 2021.
It is an increase of 10 percent over the previous year Rs 15 Lakh Crore
She also announced that the micro irrigation fund would be doubled by Rs.5,000crore. Operation green scheme will be expanded to include 22 perishable schemes.
Agriculture infra fund to be increased to Rs.40,000crore and this will be available to APMCs.
1,000 more mandis will be integrated with the electronic national market (e-NAM) to enhance the infrastructure of APMCs.
7) Answer: D
India's first geothermal power project will be established at Puga village of eastern Ladakh. Puga has been identified as the hotspot of geothermal energy in the country by the scientists.
In the first phase of the pilot project, one megawatt (MW) power generation capacity will be generated.
A tripartite Memorandum of Understanding (MoU) for establishment and implementation of the first phase was signed.
India's first ever geothermal power project, known as Geothermal Field Development Project is planned to commission by the end of 2022. The tripartite MOU was signed between ONGC Energy, LAHDC, Leh and the Power Department of UT Ladakh.
In the first phase, the pilot project implemented by the ONGC-OEC will explore within the depth of 500 metres and it is planned to supply 24 hours free power to 10 neighbouring villages which are not connected with the northern grid for power supply.
The second Phase is proposed for deeper and lateral exploration of geothermal reservoirs by drilling optimal number of wells and setting up of a higher capacity demo plant in Ladakh. The second phase will be the Research and Development stage or demonstration of the project.
In the third phase, it is planned to promote joint ventures and commercial projects. Puga is a place where it is uncovered with a potential of more than 100 mw of geothermal energies.
8) Answer: C
Prime Minister NarendraModi will lay the foundation stone of various development projects at Dhekiajuli in Sonitpur district in Assam.
The Prime Minister will launch 'Asom Mala', aimed at helping improve state highways and major district roads networks in the state.
The programme is unique for its emphasis on effective maintenance through continuous field data collection and its linkage with the Road Asset Management System.
Asom Mala' will provide quality inter-linkage roads between the National Highways and the rural roads network as well as facilitate seamless multi-modal transportation.
In addition to that, the Prime Minister will also lay the foundation stone of two medical colleges and hospitals, which are being set up at Biswanath and Charaideo, at a total estimated project cost of over  1100 crore rupees.
9) Answer: E
Himachal Pradesh has become the first State in the country to make the end to end processing of the cabinet paperless by implementing e-cabinet application.
Chief Minister Jai Ram Thakur inaugurated the first e-cabinet at Shimla.
The entire process from initiation of a cabinet memo, approval of the cabinet memo through concerned Secretary, Chief Secretary, concerned Minister and finally by Chief Minister to place in the cabinet has been made online.
It will also be possible to monitor the status of implementation of cabinet decisions more effectively through this application.
The e-cabinet provides for generation of automatic s through SMS on real time basis for various stages involved in processing cabinet issues like receipt of cabinet memo, finalization of cabinet meeting, advice received on cabinet memo for various levels like Secretaries and Ministers.
The e-cabinet application is also available as a Mobile App on android devices .
The new system will bring greater efficiency in the overall process of conducting a cabinet meeting by removing dependencies which arise due to the physical movement of cabinet memos.
10) Answer: C
In Gujarat, the State Government has asked the Tata group to start the work on setting up Indian Institute of Skills- IIS.
This was conveyed during a meeting between the high powered team from Tata Group and senior officials of Gujarat Government held in Gandhinagar.
IIS is being set up by the Labour and Employment Department of Gujarat along with Tata Group at Nasmed village of Gandhinagar.
The State Government has allotted around 20 acres of land for Tatas to start Indian Institute of Skills.
The foundation stone for the proposed IIS at Nasmed was performed by Union Home Minister Amit Shah who is also LokSabha Member from Gandhiagar constituency in Gujarat. Proposed IIS at Nasmed is located in Gandhinagar LokSabha constituency.
The institute is being developed on a Not-for-profit Public Private Partnership mode by the Tata Group along with the state's Labour and Employment Department.
11) Answer: B
Akhtar Ali, a former Davis Cup coach and a legendary figure in Indian tennis, passed away.
Akhtar, father of India's current Davis Cup coach Zeeshan Ali, was 83 and breathed his last in Kolkata.
He represented India in eight Davis Cup ties against Pakistan, Malaysia, Iran, Mexico, Japan and Monaco between 1958 and 1964.
He played alongside stalwarts like Ramanathan Krishnan, Naresh Kumar, PremjitLall and JaidipMukerjea.
Akhtar, who was groomed by former Australian Davis Cup coach Harry Hopman, also played in the Wimbledon and French Open grand slam events. He was the winner of the Asian mixed doubles championship.
His last ATP tour outing was against Vijay Amritraj in a clay court match in Bombay on November 11, 1974.
12) Answer: D
Zoho founder Sridhar Vembu has been appointed to the reconstituted National Security Advisory Board (NSAB) led by National Security Advisor (NSA) AjitDoval.
Vembu is one of the Padma Shri awardees announced by the government of India this year. He is currently based in Tenkasi, Tamil Nadu, working from the company's office in the village.
The members of NSAB typically have two-year terms. Other new members in this term include former ISRO Chairman K Radhakrishnan, AnshumanTripathy, faculty at IIM Bangalore, and Arun K Singh, former ambassador to France and the United States.
13) Answer: E
Joe Root, the England captain, sent India on a leather hunt, becoming the first player in history to score a double century in his 100th Test match.
Root, who was unbeaten on 128 overnight, batted on against India on Day 2 in Chennai and notched up the fifth double century of his career – second in three Tests.
In the process, Root also surpassed former Pakistan captain Inzamam-Ul-Haq as the player with the highest individual score playing the 100th Test match of his career. Inzamam had hit 184 against India in a Test match in Bengaluru in 2005, which Pakistan had won by 168 runs.
His record stood for 15 years before being broken by Root, who reached his double-century with a six off R Ashwin, the second time he hit the off-spinner over the ropes.
14) Answer: C
In KargilLadakh, Drass Red has won the 13th CEC Cup Ice Hockey Championship beating Hockey Club Chiktan team in the Final match.
The 1st Women CEC Ice Hockey Cup 2021 was lifted by ShakarChiktan Team defeating WakhaMulbekh Team.
32 Men teams and 5 Women Teams participated in the tournament which was organized by the District Youth Services & Sports.
15) Answer: E
Former US Secretary of State, George Shultz who significantly shaped foreign policy in the late 20th Century, has died at the age of 100.
He served three former Presidents – Dwight Eisenhower, Richard Nixon and Ronald Reagan – in various roles.
His efforts as America's top diplomat from 1982 to 1989 under the former President Ronald Reagan helped lead to the conclusion of the four decade long Cold War that began after World War Two.
He worked on various federal task forces at the request of former Presidents John F Kennedy and Lyndon Johnson.
He was an informal but influential adviser on foreign policy to Former US President George W Bush.