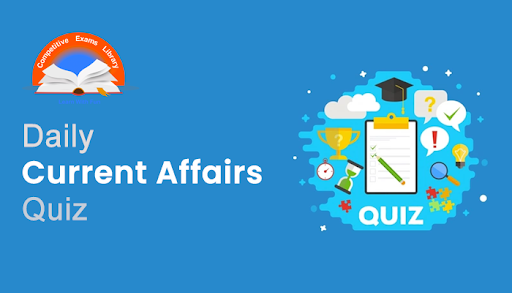 Dear Readers, Daily Current Affairs Questions Quiz for SBI, IBPS, RBI, RRB, SSC Exam 2021 of 09th January 2021. Daily GK quiz online for bank & competitive exam. Here we have given the Daily Current Affairs Quiz based on the previous days Daily Current Affairs updates. Candidates preparing for IBPS, SBI, RBI, RRB, SSC Exam 2021 & other competitive exams can make use of these Current Affairs Quiz.
1) NRI or Pravasi Bharatiya Divas 2020 is observed on which date?
A) January 11
B) January 12
C) January 9
D) January 4
E) January 6
2) I&B Minister has launched which of the following app in New Delhi recently? 
A) Digital Office App
B) Digital Diary App
C) Digital Broadcast App
D) Diary App
E) Digital Calendar App
3) The phase-9 of World's largest repatriation exercise Vande Bharat Mission has been made operational from which date?
A) January 2
B) January 3
C) January 4
D) January 5
E) January 1
4) Centre has merged the cadre of officers from which state/UT with AGMUT?
A) Kerala
B) J&K
C) Ladakh
D) Puducherry
E) Andaman & Nicobar
5) Which country has successfully test Fired an Indigenously Developed Rocket System : Fatah-1?
A) Iraq
B) Iran
C) Oman
D) Pakistan
E) China
6) Which company has announced that it will offer free Internationalized Domain Name?
A) Host Gator
B) Black Rock
C) NIXI
D) Whois
E) Go Daddy
7) The Diplomatic advisor of which country has recently met PM Modi to discuss bilateral issues?
A) Sweden
B) Switzerland
C) Israel
D) Germany
E) France
8) The Chief Minister of which state has announced to create a new BagasaraPrant in Amreli district?
A) Uttar Pradesh
B) Madhya Pradesh
C) Gujarat
D) Chhattisgarh
E) Haryana
9) As per IHS Markit, the Indian economy will rebound with ______ per cert growth in FY22.
A) 8.4
B) 8.5
C) 8.3
D) 8.9
E) 8.7
10) Union Education Minister has inaugurated ______day Virtual International Akhand Conference 'EDUCON-2020'.
A) 6
B) 5
C) 4
D) 2
E) 3
11) Which Indian-American has become the US Army's first Chief Information Officer?
A) Ankit Dhingra
B) Raj Iyer
C) Mukesh Raina
D) Anant Singh
E) Sushil Patel
12) Chitra Ghosh & Niece of NetajiSubhas Chandra Bose who passed away at 90 was a veteran _____.
A) Singer
B) Actor
C) Dancer
D) Writer
E) Professor
13) Who among the following has been sworn in as Chief Justice of Sikkim High Court?
A) Prakash Sinha
B) Deepak Gupta
C) JK Maheshwari
D) Anant Kumar
E) Suresh Ranjan
14) Justice Sudhanshu Dhulia has been appointed as Chief Justice of _____ High Court.
A) Kolkatta
B) Delhi
C) Madras
D) Gauhati
E) Punjab
15) Who among the following has been appointed as DG of CISF?
A) Anand Mittal
B) SubodhJaiswal
C) Anshul Mehta
D) Deepak Kataria
E) Rajana Desai
16) Who among the following has penned the 'Right Under our Nose'?
A) GopiThakkar
B) Neeraj Mittal
C) N Sriniwasan
D) JC Daniel
E) R Giridharan
17) IREDA has signed anMoU with which company to provide technical expertise?
A) BDL
B) BEL
C) BHEL
D) NHPC
E) ONGC
18) Ramachandran who passed away belonged to which political party?
A) CPI-M
B) JDU
C) Congress
D) BJP
E) BJD
19) Satya Paul who passed away at 79 was a prominent _____.
A) Producer
B) Fashion Designer
C) Writer
D) Singer
E) Actor
20)  A. Madhavan who passed away recently was an eminent ____.
A) Cricketer
B) Producer
C) Director
D) Writer
E) Actor
Answers :
1) Answer: C
Every year, January 9 is celebrated as the PravasiBharatiya Divas (PBD) to mark the contribution of the overseas Indian community to the development of the nation.
The day commemorates the return of Mahatma Gandhi from South Africa to Mumbai on 9 January 1915.
The theme of 16th PravasiBharatiya Divas Convention 2021 is "Contributing to Aatmanirbhar Bharat".
2) Answer: D
Information and Broadcasting Minister PrakashJavadekar launched the Government's Digital Calendar and Diary App in New Delhi.
MrJavadekar said, paperless governance has come to offices and files are now moving as e-files.
The digital calendar inaugurated and available in Hindi and English, but it will be available in 11 languages from 15th January 2021.
He said, the calendar has a theme for every month and it will also have all information of 100 revolutionary programmes of the government.
The GOI Calendar and the Diary App is available for download on both Google Play store and iOS App Store.
The app has been designed and developed by the Bureau of Outreach and Communication, Ministry of Information and Broadcasting.
The app will do away with the need for a new calendar every year.
3) Answer: E
The World's largest repatriation exercise Vande Bharat Mission has brought back more than 44.7 lakh people since May 2020.
The Phase-9 of Vande Bharat Mission has been made operational from 1st January and 1,495 international flights have been scheduled which will be operated from 24 countries.
Ministry of External Affairs Spokesman AnuragSrivastava said, it will facilitate the return of 2.8 lakh people.
He announced 261 of these flights have been operated and facilitated the return of 49 thousand people from 19 countries.
4) Answer: B
In the Union Territory of Jammu and Kashmir, the Central govt. has merged J&K cadre for all India Services – IAS, IPS and IFS officers with that of Arunachal Pradesh, Goa, Mizoram and Union Territory (AGMUT), also called the Union Territory cadre, through an ordinance.
It says officers "so borne or allocated" on AGMUT cadre shall function in accordance with rules framed by the Centre.
Sub-Section (2) of Section 88 of the Act stated that members of IAS, IPS and IFS cadres "for the existing State of Jammu and Kashmir, on and from the appointed day, shall continue to function on the existing cadres."
The ordinance has also made an addition in Section 13, inserting the words "or any other article containing reference to elected members of the Legislative Assembly of the State" after "in Article 239A".
5) Answer: D
The Pakistan Army successfully conducted the test flight of an indigenously developed Guided Multi Launch Rocket System, Fatah-1.
The Fatah-1 weapon system can hit targets up to a range of 140 km.
The Weapon System will give Pakistan Army capability of precision target engagement deep in enemy territory.
6) Answer: C
The National Internet Exchange of India, NIXI has announced that it will offer a free Internationalized Domain Name, IDN in any of the preferred 22 official Indian language along with every IN domain booked by the registrant.
Applicant will also get a free email in local language.
This offer has been created to stimulate the adoption of IDN domain name and proliferation of local language content.
This offer is valid for new .in users who register up to 31st of January.
This offer is also extended to those existing in users who renew their domain in the month of January 2021.
7) Answer: E
Emmanuel Bonne, the Diplomatic Advisor to the French President, called on Prime Minister NarendraModi and discussed wide-ranging bilateral as well as global issues.
On a visit to India for the annual strategic dialogue between Paris and New Delhi, the diplomatic advisor to French President Emmanuel Macron had held talks with National Security Advisor AjitDoval.
The Prime Minister expressed satisfaction on the progress both countries have made on key aspects of the India-France Strategic Partnership, including counter-terrorism, cyber-security, defence and strategic cooperation.
8) Answer: C
Gujarat Chief Minister Vijay Rupani has decided to create a new BagasaraPrant in Amreli district.
This will take the state's revenue services nearer to the people and provide services faster.
The newly created BagasaraPrant would come into effect on 26th January, which includes Bagasara and Vadiyatalukas in it.
Since the districts with larger geographical areas cause inconvenience to the people, the state government has been reorganizing smaller districts and talukas for administrative convenience, faster development, reducing workload as well as saving the people's time.
Now, the state government has taken up the reorganization of Prants.
9) Answer: D
Indian economy to rebound with an 8.9 percent growth in the fiscal year beginning April 2021 after economic activity showed significant improvement in the last quarter, IHS Markit.
During the fourth quarter of 2020, India's industrial production and consumption expenditure have shown a rebound.
Previously The National Statistical Organisation (NSO) predicted that the economy will contract 7.7 percent in the current financial year ending in March, the worst performance in four decades.
10) Answer: D
Union Education Minister Shri Ramesh Pokhriyal 'Nishank' inaugurated the two-day Virtual International Akhand Conference 'EDUCON 2020' through video conferencing.
This two-day International Conference is being organized by Central University of Punjab, Bathinda (CUPB) in collaboration with the Global Educational Research Association (GERA).
The focal theme of EDUCON-2020 is Envisioning Education for Transforming Youth to Restore Global Peace.
This two-day Akhand Conference will pass on the message to the researchers and students across the globe that the research is a 24X7 exercise and requires strong perseverance.
In this International Conference, scholars from the United Kingdom, Canada, Thailand, USA, Australia, Bhutan and India Participated.
11) Answer: B
Indian-American Dr Raj Iyer has taken over as the first Chief Information Officer of the US Army, after the Pentagon created the position in July 2020.
Currently Iyer serves as the principal advisor to the Secretary of the Army.
Iyer will direct the execution of policies and programmes to modernise the US Army to achieve digital overmatch against near peer adversaries such as China and Russia.
Iyer will supervise an annual budget of USD 16 billion for the US Army's IT operations and over 15,000 civilians and military personnel in over 100 countries.
12) Answer: E
ChitraGhosh, the youngest daughter of Sarat Chandra Bose and niece of NetajiSubhas Chandra Bose and eminent academician, passed away on January 7, 2021.
Professor ChitraGhosh made pioneering contributions to academics and community service.
She had been the Head of the Department of Political Science at Lady Brabourne College in Kolkata.
She was also a professor of Social and Political History, at the Netaji Institute for Asian Studies in Kolkata.
Ghosh authored many books too. These include Mother of my Heart: The Story of Bivabati Bose, Women Movement Politics in Bengal, A Daughter Remembers: Life and Times of Sarat Chandra Bose, and Opening the Closed Windows
13) Answer: C
Justice Jitendra Kumar Maheshwari was sworn in as the new Chief Justice of Sikkim High Court.
Governor Ganga Prasad administered the oath of office to Justice Maheshwari during a function held in Raj Bhavan.
Chief Minister Prem Singh Tamang, his ministerial colleagues, members of the bar and bench of the high court and senior officials attended the event.
Justice Maheshwari was the Chief Justice of the Andhra Pradesh High Court.
He has served in Madhya Pradesh High Court till September 2019 and was transferred and elevated to Chief Justice of Andhra Pradesh High Court till last month.
14) Answer: D
The Central government has cleared the appointment of Justice Sudhanshu Dhulia as the next Chief Justice of the Gauhati High Court.
Chief Justice Dhulia takes over from Justice NongmeikapamKotiswar Singh, who was appointed Acting Chief Justice of the Gauhati High Court, following the retirement of the then Chief Justice AjaiLamba on September 21, last year.
Justice Dhulia was serving as a judge of the Uttarakhand High Court when he was recommended to be appointed the Chief Justice of the Gauhati High Court.
Justice Dhulia completed LLB in the year 1986 and initially practiced before the Allahabad High Court, before he shifted to the newly created High Court of Uttarakhand. He was appointed judge of Uttarakhand High Court in 2008.
15) Answer: B
Former DGP of Maharashtra Subodh Kumar Jaiswal has taken over the charge as the new Director General (DG) of the Central Industrial Security Force (CISF).
Jaiswal is set to retire from service in September, 2022.
He is the 28th Director General of CISF.
Maharashtra DGP HemantNagrale (left) takes charge from outgoing DGP SubodhJaiswal.
16) Answer: E
A general manager at RBI, R Giridharan has authored his debut book "Right Under our Nose.
In "Right Under Your Nose", a murderer eliminates scientists right under the nose of the police and leaves forensics baffled. In response, the chief minister calls upon Vijay, who is given an impossible deadline to solve the case before Parliament resumes in a week.
The book has been published by Rupa Publications.
17) Answer: D
Indian Renewable Energy Development Agency Limited, IREDA under administrative control of Ministry of New and Renewable Energy today signed a Memorandum of Understanding with NHPC Limited, the PSU under Ministry of Power for providing its technical expertise in developing renewable energy projects.
Under the MoU, IREDA will undertake Techno-Financial due diligence of Renewable Energy and Energy Efficiency and conservation projects for NHPC.
IREDA will assist NHPC in developing an action plan to create and acquire Renewable Energy projects for the next five years.
The MoU was signed through virtual mode by Chairman-cum-Managing Director, IREDA Pradip Kumar Das and CMD, NHPC Limited Abhay Kumar Singh.
18) Answer: C
Senior Congress leader and former state minister KK Ramachandran passed away. He was 84.
Popularly known as KK Ramachandran master.
He was elected to Kerala Legislative Assembly six times from the Wayanad district. He represented SulthanBathery and Kalpetta constituencies.
He was the Food and Civil Supplies Minister in the AK Antony government and Health Minister in the OommenChandy cabinet.
By profession, he was a teacher and resigned from government service. He was expelled from the party in 2011 after he raised a serious allegation against party leaders in a graft case.
Later he was taken back to the party but not active in politics.
He resigned in 2006 and later in 2011, following differences of opinion with the party, he was ousted from the Congress party.
19) Answer: B
Popular fashion designer Satya Paul passed away. He was 79 years old.
The designer is credited for reinventing sarees in the contemporary Women.
Paul started his journey in the field of retail in the late 60's and expanded to exports of Indian handloom products to high-end retail stores in Europe and America.
In 1980, he launched the first "saree boutique" in India, L'Affaire,
He founded the eponymous Indian designer label 'Satya Paul' in 1985. The brand, now present across the country, is known for its indigenous prints.
20) Answer: D
Tamil writer A. Madhavan, who won the SahityaAkademi award in 2015, died . He was 87.
Achievements :
He served as a member of the expert committee of Kendra SahityaAkademi and was the founder and president of Thiruvananthapuram Tamil Sangam.
Madhavan has published over 500 short stories and 150 articles in various Tamil publications.
He translated into Tamil 'Sammanam' by KaroorNeelakantaPillai, 'IniNjanUrangatte' by P K Balakrishnan and 'Yakshi' by MalayattoorRamakrishnan.
In 2010, he was awarded the Vishnupuram Award.
The Tamil Nadu government has honored him with the prestigious Kalaimamani Award.
His funeral will be held at ThycaudShanthiKavadam crematorium.