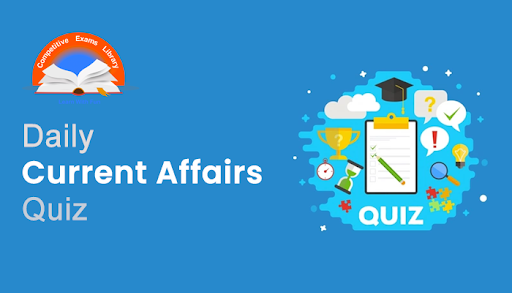 Dear Readers, Daily Current Affairs Questions Quiz for SBI, IBPS, RBI, RRB, SSC Exam 2021 of 10th & 11th January 2021. Daily GK quiz online for bank & competitive exam. Here we have given the Daily Current Affairs Quiz based on the previous days Daily Current Affairs updates. Candidates preparing for IBPS, SBI, RBI, RRB, SSC Exam 2021 & other competitive exams can make use of these Current Affairs Quiz.
1) World Hindi Day is observed on which date?
A) January 11
B) January 12
C) January 10
D) January 13
E) January 15
2) PM Modi will head a panel to commemorate ______ birth anniversary of NetajiSubhas Chandra Bose.
A) 121st
B) 122nd
C) 123rd
D) 125th
E) 124th
3) Who will address the National Youth Parliament Festival 2021?
A) Rajnath Singh
B) Venkiah Naidu
C) Anurag Thakur
D) Ram NathKovind
E) Narendra Modi
4) The Government has issued guidelines for renewal of International Driving License while travelling abroad. The applications can be made through _____.
A) Freecharge
B) Paytm
C) SBI Card
D) VISA
E) Mastercard
5) India has now become the ______ largest manufacturer of PPE kits and suits.
A) 6th
B) 2nd
C) 3rd
D) 4th
E) 5th
6) Indian Railways has attained a train speed of ______ kmph on Golden Quadrilateral – Golden Diagonal route.
A) 150
B) 145
C) 130
D) 125
E) 140
7) The Centre has provided guidelines for Migrant Children, asking states to carry out proper identification for children of age group ______.
A) 8 to 18
B) 7 to 18
C) 4 to 18
D) 6 to 18
E) 5 to 15
8) According to Union education minister Ramesh Pokhriyal 'Nishank' _____ crores have been spent for the safe movement of wildlife on the National highway.
A) 1350
B) 1300
C) 1100
D) 1250
E) 1200
9) Who among the following has dedicated the coastal research vessel to the Nation at Chennai port trust?
A) Prahlad Patel
B) Narendra Modi
C) Harsh Vardhan
D) Amit Shah
E) Anurag Thakur
10) Prime Minister NarendraModi has inaugurated the _______ edition of the PravasiBharatiya Divas convention.
A) 11th
B) 12th
C) 13th
D) 16th
E) 15th
11) A plane from which country has recently crashed resulting in the death of more than 50 people?
A) Myanmar
B) Indonesia
C) Bangladesh
D) Sri Lanka
E) Thailand
12) World's largest Floating Solar Plant will be constructed at Omkareshwar Dam in which state?
A) Karnataka
B) Kerala
C) Madhya Pradesh
D) Haryana
E) Chhattisgarh
13) The aerial survey for Delhi – Varanasi High Speed Rail Corridor began from Greater Noida using which technology?
A) Wi-Fi
B) Li-Fi
C) Drone
D) LiDAR
E) GPS
14) The government has reduced the age limit of J&K Administrative Services Exam aspirants from 37 years to ______ years.
A) 30
B) 31
C) 32
D) 33
E) 34
15) Which bank has tied up with NABFOUNDATION to Provide loans to Self – help groups?
A) SBI
B) Central Bank of India
C) Oriental Bank of Commerce
D) Bandhan
E) Axis
16) Which bank along with Indian Oil will launch a contactless RuPay debit card?
A) PayTM
B) Bandhan
C) SBI
D) ICICI
E) Axis
17) Neil Sheehan who passed away recently was an eminent ____.
A) Doctor
B) Writer
C) Musician
D) Photographer
E) Journalist
18) NALCO will invest around Rs ______ crores by the financial year 2027-28.
A) 15,000
B) 20,000
C) 25,000
D) 30,000
E) 35,000
19) Padma Awardee TurlapatiKutumbaRao who passed away recently was a veteran _____.
A) Director
B) Photographer
C) Producer
D) Writer
E) Actor
20) Modi India Calling-2021: New book chronicling PM's foreign tours has been released on the eve of ______ PravasiBhartiyaDiwas.
A) 13th
B) 16th
C) 15th
D) 14th
E) 13th
21) Who among the following has been re-elected as the Central African Republic President?
A) Catherine Samba-Panza
B) Michel Djotodia
C) Faustin-ArchangeTouadera
D) FirminNgrébada
E) François Bozizé
22) Who has been appointed as CIO of Airtel?
A) Sushil Kapoor
B) Anant Kapoor
C) Neeraj Kapoor
D) Pradipt Kapoor
E) Suresh Kapoor
23) Which country has passed a bill for large companies to appoint women in executive boards is mandatory?
A) Singapore
B) Israel
C) Sweden
D) France
E) Germany
24) MadhavsinhSolanki who passed away recently was veteran ______ leader.
A) CPI-M
B) JDU
C) Congress
D) BJP
E) BJD
Answers :
1) Answer: C
World Hindi Day is celebrated every year on January 10.
Vishwa Hindi Divas commemorates the anniversary of the first World Hindi Conference held in Nagpur on January 10, 1975.
The conference was inaugurated by the then prime minister Indira Gandhi in Nagpur.
World Hindi Day was first celebrated in 2006 by former Prime Minister Dr. Manmohan Singh.
The aim of the conference was to promote Hindi language worldwide.
National Hindi Divas which is celebrated annually on September 14.
2) Answer: D
On Jan 09, 2021, A high-level committee headed by Prime Minister NarendraModiwas  formed to commemorate the 125th birth anniversary of NetajiSubhas Chandra Bose.
The members include 10 Union ministers and seven chief ministers who will decide on the activities to be undertaken for the year-long commemoration planned by the government.
The committee will decide on the activities for a year-long commemoration, beginning on January 23, 2021.
The committee will lend guidance to the commemoration activities in Delhi, Kolkata and other places associated with Netaji and the Azad Hind Fauj, both in India as well as overseas.
The members of the committee include distinguished citizens, historians, authors, experts, family members of Subhas Chandra Bose, as well as eminent persons associated with the Azad Hind Fauj (INA).
3) Answer: E
National Youth Parliament Festival, 2021 will be held in the Central Hall of Parliament.
Prime Minister NarendraModi will address the Valedictory Function of second National Youth Parliament Festival, 2021 through video conferencing.
The first three winners will get an opportunity to speak before the Prime Minister.
The Prime Minister will also interact with the youth on the occasion.
84 winners from States and Union Territories will get an opportunity to be present in the Central Hall of Parliament before the LokSabha Speaker, Deputy Chairman of RajyaSabha along with Youth Affairs and Sports Minister KirenRijiju and other dignitaries.
29 National winners will get an opportunity to speak before the National Jury comprising of RajyaSabha MP RoopaGanguly, LokSabha MP Parvesh Sahib Singh and eminent journalist PrafullaKetkar.
4) Answer: D
The Ministry of Road Transport and Highways has issued a notification to facilitate the issuance of International Driving Permit (IDP) for Indian citizens whose IDP has expired while they are abroad.
There was no mechanism for its renewal while citizens were abroad and their IDP expired.
After this amendment, Indian citizens can apply for renewal through Indian Embassies and Missions abroad, from where these applications will move to the VAHAN portal in India, to be considered by the concerned Road Transport Officers (RTOs).
The International Driving Permit will be couriered to the citizen at his or her address abroad by the respective RTOs.
The Ministry said that the notification also removes the conditions of a Medical Certificate and a valid visa at the time of making the request for the IDP in India.
The idea is that a citizen who has a valid driving license should not have a requirement for another medical certificate.
Further, there are countries where the Visa is issued on arrival or Visa is issued at the last moment and in such cases, VISA is not available when applying for the IDP in India before travel.
Therefore, IDP applications can now be made without VISA.
5) Answer: B
Union Minister for textile and women and child development SmritiIrani has said that India has become the second largest manufacturer of PPE kits and suits in the world in record three months' time during the corona virus induced lockdown in March 2020.
She was speaking after inaugurating – Surat International Textile Expo -SITEX at Surat, the Gujarat's first physical exhibition after Covid19.
Speaking on this occasion, the Union Minister of state for women and child welfare DebasreeChaudhuri has said that industrial revolution can be brought in West Bengal, if it follows the Gujarat model.
6) Answer: C
Indian Railways has started the New Year by achieving a landmark to enhance the maximum speed to 130 kmph for 1,280 km length out of 1,612 Km in Golden Quadrilateral – Golden Diagonal route.
This covers the entire GQ-GD route over South Central Railway, except Vijayawada – Duvvada section, where signaling up gradation work is in progress.
This included heavier rails, laying of 260 meters long welded rail panels, improvement of curves and gradients among others.
PiyushGoyal is the Union minister for Railways and Minister of Railways and Minister of Commerce & Industry in the Government of India.
7) Answer: D
The Education Ministry has issued guidelines for identification, admission and continued education of migrant children.
The guidelines highlight the continuation of non-residential training for identified out of school children through volunteers, local teachers and community participation.
States and UTs to carry out proper identification of OoSC for 6 to 18 years age group through a comprehensive door to door survey and prepare action plan for their enrolment.
It also stressed to undertake awareness generation among parents and community for enrolling and attendance of children.
The main features of the guidelines are identifying out of school children, continued education for out of school children (OoSC) and children with special needs and enrolment drives and awareness generation.
8) Answer: E
Javadekar says nearly Rs1,200cr to be spent for safe movement of wildlife on National Highway
Environment Minister PrakashJavadekar has said that over Rs.1,200crore will be spent by the Road Transport and Highways Ministry to create infrastructure for safe movement of wildlife on the National Highway.
This includes construction of underpasses on the Nagpur-Jabalpur National Highway which passes through the Pench National Park and also at highways including Gadchiroli-Chandrapur and Chimur-Vadodara.
9) Answer: C
Union Health Minister Dr.HarshVardhan dedicates coastal research vessel to the Nation at Chennai Port Trust and said that the Central Government under the leadership of Prime Minister NarendraModi has been creating milestones in every field.
Speaking at the SagarAnveshika dedication function at the Chennai Port Trust he said that Prime Minister's AtmaNirbhar schemes have helped Indian scientists to formulate research activity in deep ocean research.
SAGAR ANVESHIKA, a very complex platform which will enable scientists to conduct various oceanographic research missions aboard, will house state of the art laboratories equipped with modern scientific instruments.
Indian scientists were the first in the world to isolate the Corona virus and begin genome sequencing of the virus braving the fight against Covid in an intelligent manner.
10) Answer: D
Addressing the 16th PravasiBharatiya Divas convention through virtual mode, Prime Minister NarendraModi urged the youth to use technology to take forward India's pride and culture across the globe.
He said the internet has connected people from various corners of the world but our hearts are connected with our mutual love for the country.
He said, in the past years, Non-Resident Indians have strengthened their identity by showing their commitment for the betterment of the society.
MrModi said, he feels proud to hear heartwarming stories of NRIs coming forward and helping those in need.
The Chief Guest of the PravasiBharatiya Divas convention, President of Suriname ChandrikaPersadSantokhi said, Suriname shares deep bonds with India and both the countries have managed to maintain their heritage, culture and customs.
He said, the two countries should increase their business to strengthen the bond.
The President said, India and Suriname are bonded on many levels historically, religiously and culturally.
11) Answer: B
A passenger plane of Indonesia's Sriwijaya Air carrying more than 50 people on board crashed into waters off Jakarta.
A passenger plane of Indonesia's Sriwijaya Air carrying more than 50 people on board crashed into waters off Jakarta.
A statement released by the Sriwijaya Air, said the Boeing 737-500 was on an estimated 90-minute flight from Jakarta to Pontianak, capital of West Kalimantan province on Indonesia's Borneo Island.
Indonesian authorities located the black boxes of the Sriwijaya Air jet that crashed into the sea soon after taking off from the capital Jakarta on Saturday.
12) Answer: C
The World's largest Floating solar energy project is to be constructed at Omkareshwar dam on Narmada river and will be operational by 2023 and an estimated cost of INR30 billion ($409.8m).
About the Solar Plant :
It would be a 600 MW plant based on utilising solar energy
The plant would be located on Omkareshwar dam in Khandwa district of Madhya Pradesh
The project is likely to begin generation of power by 2022-23
That electricity will be produced by installing solar panels in a 2,000 hectares area of water.
The International Finance Corporation, World Bank and Power Grid have agreed in principle to support the project development.
The Madhya Pradesh power management company has signed an agreement to buy 400MW power from the project.
13) Answer: D
The aerial ground survey for Delhi – Varanasi High Speed Rail Corridor began from Greater Noida.
Railway Ministry said, a helicopter fitted with state of art Aerial LiDAR and imagery sensors took the first flight and captured the data related to ground survey.
The Ministry said LiDAR technology provides all the ground details and data in 3 to 4 months wherein this process normally takes 10 to 12 months.
This technique uses a combination of Laser data, GPS data, flight parameters and actual photographs to give accurate survey data.
14) Answer: C
In the Union Territory of Jammu and Kashmir, the government has reduced the age limit of the aspirants of Jammu and Kashmir Administrative Services Exam from 37 years to 32 years.
J&K Public Service Commission (J&KPSC) has announced that the vacancies will be filled up in accordance with the provisions contained in J&K Combined Competitive Exam Rules 2018 (SRO-103).
J&K PSC, the recruiting agency, earlier notified that the combined competitive preliminary exam KAS-2021 will be held for 257 posts referred by the government.
SRO 103 reduces the age of open merit aspirants from 37 to 32 years.
15) Answer: B
Central Bank of India (CBoI) and NABFOUNDATION,entered into a Memorandum of Understanding (MoU), whereby working capital will be provided by the bank to all self-help groups (SHGs) which have an account with it and undertake the Nabard-sponsored 'My Pad My Right' project.
NABFOUNDATION, which is a wholly-owned subsidiary of the National Bank for Agriculture and Rural Development (Nabard).
This cheap, collateral-free credit support is just what the rural women will need as they take up manufacturing on a regular basis.
The project would see Nabard providing a total support of nearly ₹50 crore over the next three years.
16) Answer: C
State Bank of India (SBI) and Indian Oil Corporation (IOC)  launched a co-branded contactless RuPay debit card.
This Debit Card was launched by Mr. Dinesh Kumar Khara, Chairman, SBI and Mr. ShrikantMadhavVaidya, Chairman, IndianOil, in a virtual ceremony .
The features of the card are:
6X Reward Points for every Rs. 200/- spent at IndianOil fuel stations
Fuel benefits – Cardholder earns loyalty points worth 0.75% against purchase of fuel at IndianOil fuel stations
Pay with a tap (contactless card) for a single transaction of uptoRs. 5000/-
Earn Reward Points on spends on dining, movies, grocery and utility bills
Redeem Reward Points for dining, movies, grocery and paying utility bills
No monthly limit for purchasing fuel
SBI-IndianOil Co-branded RuPay Debit Card can be issued anywhere in India
Apply for a card by visiting SBI's home branch.
17) Answer: E
Neil Sheehan, a tireless chronicler of the Vietnam War who obtained the Pentagon Papers for the New York Times and later received the Pulitzer Prize for his book "A Bright Shining Lie," a meticulously researched indictment of America's role in that conflict, died. He was 84.
Achievements:
Mr. Sheehan, who covered the war from 1962 to 1966 for United Press International and The Times, was also the author of "A Bright Shining Lie: John Paul Vann and America in Vietnam," which won a National Book Award and a Pulitzer in 1989.
Reviewing it in the Times, Ronald Steel wrote, "If there is one book that captures the Vietnam War in the sheer Homeric scale of its passion and folly.
He wrote in The New York Times Magazine in 1966.
By 1966, he wrote, the moral superiority that the United States had possessed after World War II had "given way to the amorality of great power politics.
18) Answer: D
Union Minister for Coal & Mines Pralhad Joshi said, National Aluminium Company Limited, NALCO, will invest around Rs.30,000crore by financial year 2027-28 on the company's expansion and diversification plans.
He was addressing the 41st Foundation Day of NALCO in capital Bhubaneswar in Odisha.
The Minister said, the ambitious growth plans of NALCO will have a multiplier effect in the production and consumption of aluminium thereby achieving Atmanirbhar Bharat vision of Prime Minister NarendraModi.
The company that is currently operational in the tribal dominated district of Koraput and Angul in Odisha, contributes 32 per cent Bauxite, 33 percent Alumina and 12 percent Aluminium production in the country.
19) Answer: D
Veteran journalist, writer and Padma Shri awardee TurlapatiKutumbaRao passed away. He was 89-years old.
Mr. Rao had the distinction of being a personal secretary to TanguturiPrakasam, the first Chief Minister of Andhra State.
He was named for his service to journalism in the Telugu language.
Mr. Rao had worked as editor and editorial writer of Telugu newspaper Andhra Jyothi for close to three-and-a-half decades.
Along with it, TurlapatiKutumba penned more than 4000 biographies and also gave 16000 public speeches by Telugu Book of Records as a world record.
He won laurels for translating into Telugu the speeches of many national leaders and stalwarts.
The Government of India had honoured him with Padma Shri in 2002 for his valuable contribution to journalism, literature and arts.
20) Answer: B
A coffee table book filled with over hundreds of photographs of Prime Minister NarendraModi from his "107 overseas and bilateral visits" was released here on the eve of the 16th PravasiBharatiya Divas.
The book, titled "Modi India Calling – 2021", is the brainchild of senior BJP leader Vijay Jolly.
It was released by Delhi BJP president Adesh Gupta at the Press Club of India.
The 450-page book has been published by Maneesh Media.
PravasiBharatiya Divas, which aims at strengthening the engagement of the overseas Indian community with the government of India, was first held in 2003 under the leadership of the then prime minister AtalBihari Vajpayee.
21) Answer: C
Central African Republic President Faustin-ArchangeTouadera has won a second term in office, according to provisional results announced by the electoral commission.
Touadera was re-elected in the first round of the December 27 presidential vote with 53.9 percent of the votes, the National Election Authority.
The 63-year-old president has been in power since 2016.
And then He has also served as the Prime Minister of the country from January 2008 to January 2013.
22) Answer: D
BhartiAirtel announced the appointment of PradiptKapoor as its Chief Information Officer (CIO).
Kapoor takes over from Harmeen Mehta, the company said in a statement.
"In his new role, Pradipt will drive Airtel's overall engineering strategy and be a key player in helping realise the company's digital vision.
He will be a member of the Airtel Management Board and report to GopalVittal, MD and CEO, BhartiAirtel," the statement added.
23) Answer: E
German-listed companies must include women on their executive boards as part of a landmark bill agreed by the country's coalition government on Wednesday after voluntary efforts failed to close a gender gap.
The law sends "a very strong signal", Justice Minister Christine Lambrecht said, urging corporations to "take advantage of the opportunity presented by highly qualified women
24) Answer: C
Veteran Congress leader and former Gujarat Chief Minister MadahvsinhSolanki passed away. He was 93.
A veteran Congress leader and the former External Affairs Minister Mr. Solankihad served four terms as Chief Minister of Gujarat.
He is the father of Gujarat Congress leader and former Union Minister BharatsinhSolanki.
MadhavsinhSolanki served four times as Gujarat Chief Minister.
He was elected to RajyaSabha twice and served as External Affairs Minister.
Solanki had served as External Affairs Minister of India from June 1991 to March 1992.
He had been the Chief Minister of Gujarat for three times between 1976 to 1990.
He was the longest serving chief minister of the state before NarendraModi became CM.