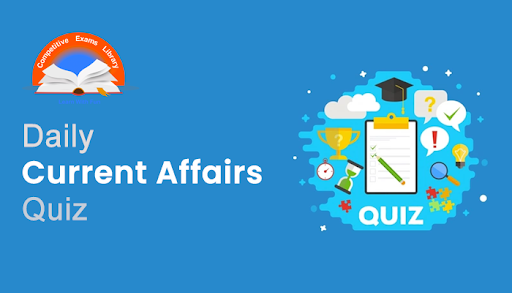 Dear Readers, Daily Current Affairs Questions Quiz for SBI, IBPS, RBI, RRB, SSC Exam 2021 of 10th February 2021. Daily GK quiz online for bank & competitive exam. Here we have given the Daily Current Affairs Quiz based on the previous days Daily Current Affairs updates. Candidates preparing for IBPS, SBI, RBI, RRB, SSC Exam 2021 & other competitive exams can make use of these Current Affairs Quiz.
1) Who among the following has inaugurated the General KS Thimayya Museum in Karnataka?
A) Prahlad Patel
B) Amit Shah
C) Ram Nath Kovind
D) Narendra Modi
E) NS Tomar
2) India's First Thunderstorm Research Testbed will be established at Balasore in which state?
A) Haryana
B) Uttar Pradesh
C) Karnataka
D) Odisha
E) Kerala
3) The Government of which state has announced the 16-Digit Unicode To Identify Landholdings?
A) Punjab
B) Kerala
C) Chhattisgarh
D) Haryana
E) Uttar Pradesh
4) Which of the following armed forces has Inducted a Women Commandos Into Elite Anti-Naxal CoBRA Unit?
A) ITBP
B) CRPF
C) CISF
D) RPF
E) RAF
5) Which company has signed an MoU with Bellatrix to use the latter's orbital transfer vehicle?
A) Antrix
B) NASA
C) Skyroot
D) Digtech
E) SpaceX
6) The chief minister of which state has launched organic products and Loumiconnect App?
A) Punjab
B) Chhattisgarh
C) Karnataka
D) Manipur
E) Kerala
7) GMR Group has inked an MoU with which company for aircraft maintenance & other airport services?
A) Tupoloev
B) Embraer
C) Bombardier
D) Boeing
E) Airbus
8) FM Nirmala Sitharaman has initiated the _______Phase of Chah Bagicha Dhan Puraskar Mela in Guwahati.
A) 1st
B) 5th
C) 3rd
D) 2nd
E) 4th
9) Defence ministry has inked a pact with which institution to procure ship-borne modern radio system?
A) GRSE
B) BEL
C) HAL
D) BDL
E) HPCL
10) Bruce Taylor who passed away at 77 was an all-rounder playing for which country?
A) Zimbabwe
B) Australia
C) West Indies
D) New Zealand
E) South Africa
11) Who among the following has taken over as acting chief of CBI?
A) Narendra Singh
B) Sunil Mittal
C) Rakesh Ranjan
D) Naving Gupta
E) Praveen Sinha
12) Which state/UT Cabinet has approved the 'Mukhyamantri Vigyan Pratibha Pariksha" Scholarship Scheme?
A) Punjab
B) Chandigarh
C) Delhi
D) Kerala
E) Uttar Pradesh
13) Which of the following players has won the third Allan Border Medal?
A) Ash Gardener
B) Steve Smith
C) Beth Mooney
D) Meg Lanning
E) Georgia Wareham
14) Who among the following has been voted ICC Player of the Month for January 2021?
A) Pat Cummins
B) Meg Lanning
C) Georgia Wareham
D) Rishab Pant
E) Virat Kohli
15) Rajiv Kapoor who passed away recently was an eminent ____.
A) Politician
B) Director
C) Musician
D) Singer
E) Actor
Answers:
1) Answer: C
On Feb 06, 2021, President Ram Nath Kovind inaugurated a museum, dedicated to the life of former Army Chief General Kodandera Subayya Thimayya, in Karnataka.
Sunny Side, the erstwhile ancestral house of General Thimayya, who served as the Chief of Army Staff from 1957 to 1961, has been renovated and converted into a museum.
General Thimayya is the pride of Kodagu and the memorial museum aims to retell the life-story of the General in an inspiring manner.
A statue of the General from Kodagu in uniform greets as one enters the museum, which also showcases a slice of Indian military history.
The museum also acknowledges the contribution of General Thimayya's siblings, including two of his brothers, who too were Army officers, and his wife Nina, who was bestowed with "Kaiser-e-Hind" award in recognition of her work in public service.
2) Answer: D
Odisha's Balasore will get the country's first thunderstorm research testbed, the India Meteorological Department (IMD).
The objective of setting up the thunderstorm testbed is to minimize human fatalities and loss of property due to lightning strikes.
The thunderstorm testbed will be established in a collaboration between the Ministry of Earth Sciences, IMD, Defence Research and Development Organisation (DRDO) and Indian Space Research Organisation (ISRO).
IMD Director-General Dr Mrutyunjay Mohapatra, while speaking with a private television channel, also revealed that a first-of-its-kind monsoon testbed is also being planned near Bhopal.
3) Answer: E
The Uttar Pradesh government has introduced a system of issuing a unique 16-digit Unicode to mark all kinds of landholdings in the state.
About the 16 Digit Unicode:
The Unicode number of the land will be 16 digits with the first six digits based on the population of the land, the next 4 digits determining the unique identity of the land.
The digits from 11 to 14 will be the number of the division of the land.
The last 2 digits will have the details of the category, through which, the agricultural, residential and commercial land will be identified.
Purpose of the Digit Unicode:
The Unicode will put an end to fake registries of disputed land and the scheme is being implemented across the state.
The work has started in most of the districts.
Every piece of land in the state will have its own unique identity from now onwards that would check cases of land disputes and save people from falling into the trap of fraudsters.
While the Unicode assessment for plots has started in all revenue villages, the work of marking the disputed plots in the computerised management system is being done by the revenue courts
4) Answer: B
Central Reserve Police Force (CRPF) inducted women commandos in its anti-Naxal Commando Battalion for Resolute Action (CoBRA) unit which will undergo training and then will be sent to Naxal-hit areas.
These 34 women personnel were inducted in the elite CoBRA wing during the 35th Raising Day of the force's 88th Mahila Battalion, the first all-women battalion in the world.
According to the CRPF, on the occasion of the 88th all-women battalion Raising Day, these women commandos have been inducted along with the introduction of all Mahila brass bands which will make CRPF the first force to have a women brass band.
The 34 women personnel from the 6 Mahila Battalions of CRPF who are joining the COBRA, will undergo a strenuous CoBRA pre-induction training of 3 months,  before being sent to Naxal-hit areas of the country.
Taking another step towards women empowerment, the 88th Mahila battalion of CRPF has the distinction of being the first all-Mahila battalion in the world.
5) Answer: C
Skyroot Aerospace and Bellatrix Aerospace have signed a Memorandum of Understanding (MoU) to use the Orbital Transfer Vehicle being developed by Bellatrix Aerospace in the upper stage of Vikram series of launch vehicles being developed by Skyroot.
Skyroot and Bellatrix plan to have the first mission of a Vikram launcher with an Orbital Transfer Vehicle by 2023.
The vehicle is expected to help global operators reduce time and costs for launching communication and earth observation satellites.
6) Answer: D
Manipur chief minister N Biren Singh launched a new range of packaged organic products and Loumi Connect App apart from distributing Bolero Camper vehicles and nurseries to seven Farmers Producer Companies (FPCs).
A function organized jointly by Directorate of Horticulture and Soil Conservation and Eastern Border Areas Development Authority (EBADA) at the Chief Minister's Secretariat in Imphal.
He also launched Loumi Connect App which would enable connect farmers with Horticulture and Agriculture experts.
The chief minister also released Illustrative guide booklets on organic farming and Mission Organic Value Chain Development for North Eastern Region (MOVCDNER).
The chief minister also informed that Food Park, Nilakuthi, will have a packaging facility soon. He also informed that the state government has already submitted a INR400 crore project proposal for bamboo to the union government.
7) Answer: E
GMR Group has signed a memorandum of understanding with Airbus (a leading manufacturer of commercial aircrafts) to explore collaboration opportunities across aviation services, technologies and innovation.
The MoU was signed at Aero India 2021, Bangalore.
As part of the MoU, GMR Group and Airbus will collaborate to explore a broad scope of aviation services, both for commercial and military aircraft to benefit the entire aerospace ecosystem in the country.
The main objective of this partnership will be to explore potential synergies in several strategic areas of aviation services like maintenance, components, training, digital.
8) Answer: C
FM Nirmala Sitharaman has initiated the 3rdPhase of Chah Bagicha Dhan Puraskar Mela in GuwahatiUnion Finance Minister Nirmala Sitharaman on February 6, initiated the ceremonial distribution ceremony of Chah Bagicha Dhan Puraskar Mela in Guwahati.
It is to be mentioned that as many as 7,46,667 beneficiaries of tea gardens were covered under the scheme. Notably, the scheme was launched in Financial Year (FY) 2017-18.
The main objective of the scheme is to incentivize and strengthen the efforts of financial inclusion of the tea tribe community.
Further, in the 1st phase of the scheme, Rs. 2500 was credited to 6,33,411 bank accounts of tea garden workers in FY 2017-18 through Direct Benefit Transfer.
In phase 2, an additional amount of Rs. 2500 was credited to 7,15,979 bank accounts of tea garden workers in FY 2018-19.
At the phase, Rs.3000 will be credited to 7,46,667 beneficiaries of tea garden workers.
9) Answer: B
India's Ministry of Defence (MoD) and Defence Public Sector Undertaking (DPSU) Bharat Electronics Limited (BEL) have signed a contract for procurement of Software Defined Radio Tactical (SDR-Tac) worth over ₹1,000 crore.
The SDR-Tac, jointly designed and developed by Defence Electronics Applications Laboratory (DEAL) of Defence Research & Development Organisation (DRDO) through a consortium of domestic agencies and industry, comprising Weapons and Electronics Systems Engineering Establishment (WESEE), BEL, Centre for Artificial Intelligence & Robotics (CAIR) and Indian Navy will bring strategic depth to the Armed Forces.
The SDR-Tac is a four Channel Multi-mode, Multi Band, 19'' Rack mountable, ship borne Software Defined Radio system.
It is intended to serve ship-to-ship, ship-to-shore and ship-to-air voice and data communication for network centric operations. It supports simultaneous operation of all the four channels covering V/UHF and L Band.
10) Answer: D
Former New Zealand all-rounder Bruce Taylor, the only player to score a century and take a five-wicket haul on test debut, has died at the age of 77, the country's cricket board (NZC).
Taylor, who had never scored a first-class century before, achieved the feat against India at Kolkata in 1965.
Walking out at number eight, he struck 105 with the bat before registering figures of 5-86 with the ball.
He also scored New Zealand's fastest test century in a game against West Indies in 1969 before the record was broken by Daniel Vettori 36 years later.
Taylor played 30 tests for New Zealand, picking up 111 wickets and scoring 898 runs.
11) Answer: E
CBI Additional Director Praveen Sinha took charge as the acting chief of the agency after the superannuation of incumbent Rishi Kumar Shukla.
About Praveen Sinha :
A Gujarat-cadre IPS officer of 1988 batch, Sinha has served in the agency as superintendent of police, deputy inspector general, joint director and additional director in two stints between 2000 and 2021.
Former CBI chief Rishi Kumar Shukla retired after a two year tenure in the agency.
Sinha who was tasked to revise the crime manual of the agency after 15 years has also served as the additional secretary in the anti-graft watchdog of the country, the Central Vigilance Commission during 2015-18.
He has served at various places in the state in various capacities from ASP to Additional DG. He has also worked as Deputy Director, ACB, Ahmedabad in 1996. Praveen Sinha has been associated with the investigation of various Supreme Court/High Courts entrusted/monitored scams; major bank frauds and financial crimes, serial bomb blasts etc," CBI spokesperson R C Joshi.
12) Answer: C
The Delhi cabinet approved "Mukhyamantri Vigyan Pratibha Pariksha" in which Rs 5,000 will be provided to Rs 1,000 meritorious students of Class 9 in schools of Delhi as a science scholarship.
The scholarship will provide a boost to science education in secondary classes at the school level.
According to the release, the students studying in Delhi schools who have secured more than 60 percent in Class 8 are eligible for the examination. Students belonging to SC, ST, PH, or OBC category will be given a relaxation of up to 5 percent of marks.
In Addition to that The cabinet  approved procurement of close to 1200 computers, multi-functional printers, and UPSs for all the schools, branch offices, and district offices under the education department.
13) Answer: B
Former captain Steve Smith claimed his third Allan Border Medal while Beth Mooney bagged her maiden Belinda Clarke Award, the top two honours of the Australian Cricket Awards.
Smith was honoured for his performances in all three formats of the game, while Mooney bagged the recognition in the Australian women's game for the first time.
The awards were decided by a voting process for the period 2020-21.
List of 2021 Australian Cricket Awards:
Belinda Clark Award: Beth Mooney. Votes: Beth Mooney 60, Meg Lanning 58, Georgia Wareham 50.
Male One Day International Player of the Year: Steve Smith. Votes: Steve Smith 28, Aaron Finch 23, Adam Zampa 19.
Female International Twenty20 Player of the Year: Beth Mooney. Votes: Beth Mooney 30, Alyssa Healy 18, Ash Gardner, Megan Schutt and Georgia Wareham 16.
Male International Twenty20 Player of the Year: Ashton Agar. Votes: Ashton Agar 19, Aaron Finch 14, David Warner 13.
Men's Test Player of the Year: Pat Cummins. Votes: Pat Cummins 16, Josh Hazlewood 9, Marnus Labuschagne 8.
Women's One Day International Player of the Year: Rachel Haynes. Votes: Rachel Haynes 11, Meg Lanning 10, Georgia Wareham 6.
14) Answer: D
The International Cricket Council (ICC) announced the winners of the inaugural ICC Player of the Month Awards which recognise and celebrate the best performances from both male and female cricketers across all forms of international cricket throughout the year.
India's Rishabh Pant won the ICC Men's Player of the Month for January 2021 for his performances in the two Tests against Australia where he scored a 97 at Sydney and an unbeaten 89 at Brisbane that led India to a historic series win against arch-rivals Australia.
South Africa's Shabnim Ismail was named the ICC Women's Player of the Month for January 2021 for her performances across three ODIs and two T20Is during the month.
Ismail took seven wickets in the victorious ODI series against Pakistan, before taking five wickets in the second T20I against the same opposition.
Pant has been honored for his superlative performances in the two Tests against Australia in January 2020, wherein he scored a 97 at Sydney and an unbeaten 89 at Brisbane, leading India to an incredible series win.
15)  Answer: E
Bollywood actor and Raj Kapoor's son Rajiv Kapoor passed away in Mumbai. He was 58.
Rajiv Kapoor, who was also a film producer and director, was the youngest son of the legendary Raj Kapoor, and the brother of Randhir Kapoor and Rishi Kapoor, all actors and filmmakers. Rishi Kapoor died last year.
Rajiv Kapoor, who made his debut in Bollywood with the 1983 film Ek Jaan Hain Hum, was best known for the 1985 blockbuster Ram Teri Ganga Maili. He was last seen in Zimmedaar.
He also acted in films like Mera Saathi and Hum To Chale Pardes , among others. The actor, known by the nickname "Chimpu", turned a film producer with the 1991 film Henna starring Rishi Kapoor. He also backed other home productions like Prem Granth and Aa Ab Laut Chalen.
He was set to make a Bollywood comeback after nearly three decades with Ashutosh Gowariker and Bhushan Kumar's joint production, a sports drama titled Toolsidas Junior, co-starring Sanjay Dutt.