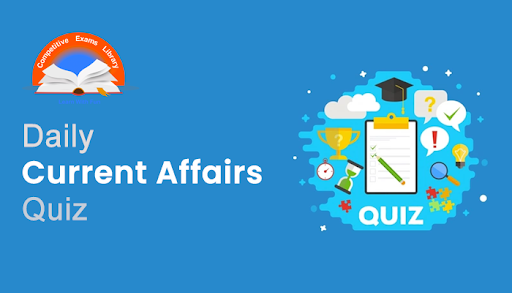 Dear Readers, Daily Current Affairs Questions Quiz for SBI, IBPS, RBI, RRB, SSC Exam 2021 of 11th & 12th April 2021. Daily GK quiz online for bank & competitive exam. Here we have given the Daily Current Affairs Quiz based on the previous days Daily Current Affairs updates. Candidates preparing for IBPS, SBI, RBI, RRB, SSC Exam 2021 & other competitive exams can make use of these Current Affairs Quiz.
1) National Safe Motherhood Day is observed on which of the following date?
A) April 1
B) April 3
C) April 11
D) April 4
E) April 5
2) Ouhoumoudon Mahadou has vowed to become as the new Prime Minister of which country?
A) Ethiopia
B) Eritrea
C) Uganda
D) Niger
E) Sudan
3) Who among the following has been called to promote the 'Teeka Utsav'?
A) Prahlad Patel
B) Narendra Modi
C) NS Tomar
D) Amit Shah
E) Jitendra Singh
4) Sanskrit learning app 'Little Guru' will be unveiled in which country?
A) Sri Lanka
B) France
C) Germany
D) Bangladesh
E) Vietnam
5) LG RK Mathur has initiated the National Training programme on Packaging in which city?
A) Delhi
B) Leh
C) Surat
D) Gwalior
E) Pune
6) Flipkart has made partnership with Adani Group, to create _____ direct jobs.
A) 4500
B) 3500
C) 3000
D) 2000
E) 2500
7) World Parkinson's Day is observed on which date?
A) April 3
B) April 4
C) April 11
D) April 5
E) April 7
8) UK's Prince Philip, husband of Queen Elizabeth II recently passed away at which age?
A) 95
B) 96
C) 97
D) 99
E) 98
9) Which organization has appointed BP Acharya as advisor to NARFBR?
A) RBI
B) IFFCO
C) SIDBI
D) NAFED
E) ICMR
10) Who has become the first Asian woman to win top prize in DGA Awards history?
A) Song Dandan
B) Lig Fu
C) Chloe Zhao
D) Zhao Yang
E) Ching Ming
11) International Day of Human Space Flight is Observed on which date?
A) April 1
B) April 11
C) April 3
D) April 12
E) April 4
12) "Little Guru" app has been launched at Indian Embassy in which country?
A) Vietnam
B) Singapore
C) China
D) Germany
E) Israel
13) Who among the following will give out AICTE Lilavati Awards 2020 on women empowerment to winners?
A) Narendra Modi
B) NS Tomar
C) Prahlad Patel
D) RP Nishank
E) Amit Shah
14) Which bank has become the co-promoter of Max Life Insurance?
A) ICICI
B) SBI
C) OBC
D) UCO
E) Axis
15) Finance Minister Nirmala Sitharaman recently attended the _____ Virtual G20 Finance Ministers.
A) 6th
B) 5th
C) 2nd
D) 3rd
E) 4th
16) Avian species count has reached _____ New Species with the Three-banded rosefinch Discovered in Arunachal Pradesh.
A) 1280
B) 1290
C) 1310
D) 1340
E) 1320
17) Sports Minister has inaugurated the Khelo India State Centre of Excellence for Rowing discipline in which city?
A) Delhi
B) Pune
C) Srinagar
D) Surat
E) Gwalior
Answers :
1) Answer: C
In 2003, the Government of India declared April 11, the anniversary of Kasturba Gandhi's birth, as National Safe Motherhood Day.
The declaration was made at the request of White Ribbon Alliance India (WRAI), an alliance of 1800 organizations.
The goal of the National Safe Motherhood Program is to reduce maternal and neonatal morbidity and mortality and to improve the maternal and neonatal health through preventive and promotive activities as well as by addressing avoidable factors that cause death during pregnancy, childbirth and postpartum period.
2) Answer: D
Niger President Mohamed Bazoum has appointed Ouhoumoudou Mahamadou as the new Prime Minister of the country effective from April 03, 2021.
Prior to this, the 66-year-old Mahamadou served as a minister in charge of the finance and mining portfolios.
He replaces Brigi Rafini, who served as the Prime Minister of Niger from 2011 to 2021.
3) Answer: E
Minister of State in PMO Dr. Jitendra Singh called for celebrating the Teeka Utsav by facilitating vaccination among those who are entitled to receive the jab.
Dr Singh, in the four days, the drive has to be carried out at multiple levels including personal level, social level and administrative level.
He said, as responsible citizens, it is the obligation of each person to act as a catalyst in the Vaccination Drive.
He said, those who have recovered from COVID should take upon the responsibility to spread awareness about the disease.
4) Answer: D
A Sanskrit learning app will be launched in Bangladesh by the Indira Gandhi Cultural Centre (IGCC) of the High Commission of India.
The Sanskrit learning app is part of the campaign being run by the Indian Council of Cultural Relations (ICCR) to promote Sanskrit language among students, religious scholars, Indologists and historians across the world.
The Sanskrit learning app 'Little Guru' is based on an interactive platform which will make Sanskrit learning easy, entertaining and fun.
This app will help people who are already learning Sanskrit or those who are desirous to learn Sanskrit to do so in an easy manner based on games, competition, rewards, peer to peer interactions, etc.
This App combines education with entertainment, said a press release issued by the High Commission of India.
5) Answer: B
In Leh, Ladakh Lieutenant Governor RK Mathur has launched a National Training programme on Packaging.
This programme is organized under 'Azadi Ka Amrit Mahotsav'  in association with National Institute of Electronics & Information Technology (NIELIT) and Indian Institute of Packaging for products from UT Ladakh.
LG RK Mathur mentioned, with most women participation annually India is doing over fifty thousand crore home based business.
While taking examples from Punjab and Kolhapuri leather goods and shoes, Mr. Mathur appealed that Ladakh has lots of potential in leather products.
He advised the participants to look back to traditional handicrafts and other products for inspiration and earn money.
He said, Likir village in Leh will be developed as Crafts Village to promote home made products, while Raj Niwas will have an exhibition of Ladakhi products to popularize them.
Mr Mathur said, Ladakh handicrafts have a scope of a hundred crore rupees turnover in the
coming Ten years of time.
6) Answer: E
Flipkart informed it has entered into a commercial partnership with the Adani Group to strengthen logistics and data centre capabilities of the Walmart-owned company and create about 2,500 direct jobs.
In this two-pronged partnership, Flipkart will work with Adani Logistics Ltd, a wholly-owned subsidiary of Adani Ports and Special Economic Zone Ltd, to strengthen its supply chain infrastructure and further enhance its ability to serve its rapidly growing base of customers, a statement said.
It added that Flipkart will also set up its third data centre at Adaniconnex's Chennai-based facility, leveraging the latter's expertise and industry-leading data centre technology solutions.
Adaniconnex is a new joint venture formed between EdgeConneX and Adani Enterprises Ltd.
7) Answer: C
Every year, April 11 is observed as World Parkinson's Day to raise awareness of Parkinson's disease, which is a progressive nervous system disorder.
The day marks the birthday of Dr James Parkinson from London, who was the first person to systematically describe the six individuals with the symptoms of Parkinson Disease.
Apart from this, the month of April is observed as the Parkinson's Awareness Month.
8) Answer: D
On April 09, 2021, Prince Philip, husband of Queen Elizabeth II of the United Kingdom Passed away.
He was 99.
About Prince Philip :
Prince Philip was the longest-serving consort of any British monarch.
He served 69 years supporting the Queen and retired from the royal service in 2017.
He was officially known as The Duke of Edinburgh.
He was a Greek prince and he married Elizabeth in 1947.
He played a key role in modernising the British monarchy in the post-World War 2 period
9) Answer: E
The Indian Council of Medical Research (ICMR) has appointed retired Telangana bureaucrat BP Acharya, as the advisor of the National Animal Resource Facility for BioMedical Research (NARFBR) that is coming up over an area of 100 acres at the Genome valley near Shamirpet.
Acharya had served as the Special Chief Secretary before retirement and also as the DG of MCRHRD Institute of Telangana.
The ICMR said that this appointment is in recognition of Acharya's efforts to create the world-class life sciences cluster in the Genome Valley and his contribution to the sector.
The NARFBR project is being developed with an investment of Rs 300 crore and will cater to the pharma and biopharma/vaccine industry in the country in their preclinical animal trials.
10) Answer: C
Filmmaker Chloe Zhao won the top prize at the Directors Guild of America (DGA) Awards for her feature film "Nomadland", further bolstering the movie's frontrunner status for the upcoming Oscars.
The Beijing-born filmmaker became the first Asian woman to win the trophy for best feature directing at the 73rd edition of the awards, which were held, reported Deadline.
She is also the second woman to earn the top DGA Award, after Kathryn Bigelow won for her 2009 movie "The Hurt Locker".
The filmmaker beat out acclaimed directors David Fincher ("Mank"), Aaron Sorkin ("The Trial of the Chicago 7"), Lee Isaac Chung ("Minari") and Emerald Fennell ("Promising Young Woman") to win the marquee award.
"Nomadland" features Academy Award winner Frances McDormand as a woman who leaves home to travel around the American West after losing her job.
11) Answer: D
The United Nations (UN) celebrates the International Day of Human Space Flight on April 12 each year.
The day remembers the first human space flight on April 12, 1961.
Statue of Yuri Gagarin, the world's first cosmonaut to have travelled in outer space.
12 April, of the anniversary of the first human space flight by Yuri Gagarin.
It was proclaimed at the 65th session of the United Nations General Assembly on 7 April 2011, a few days before the 50th anniversary of the flight.
12) Answer: C
The Indian Council for Cultural Relations (ICCR) celebrated its 71st Foundation Day.
Swami Vivekanand Cultural Centre at Indian Embassy in Beijing celebrated ICCR Foundation Day in the presence of a huge gathering of ICCR scholars in China and their disciples who learnt Indian dance and music.
The ICCR has unveiled 'Little Guru' app, world's first Gamified Sanskrit learning App which was jointly launched in Beijing by Ambassador Vikram Misri and renowned Chinese scholar on Sanskrit and India studies, Professor Wang Bangwei.
Many Sanskrit Professors from Peking University and the students were also present.
Ambassador Vikram Misri highlighted ICCR's role in promoting cultural, academic, and intellectual exchanges between India and the rest of the world.
He said nearly 300 students in China in the last few years have availed ICCR scholarships and hoped that more Chinese students will avail of these scholarships.
Appreciating the launch of the Sanskrit Guru App, Prof. Wang said that outside India, China has a very long history of Sanskrit research along with studies on Buddhism.
He said, Sanskrit is a basic language of Indian culture and heritage and a way to introduce Indian culture to people adding that India and Chinese scholars can collaborate in this field to deepen understanding between the two peoples.
13) Answer: D
Union Minister of Education Ramesh Pokhriyal 'Nishank' presented the AICTE Lilavati Awards 2020 on women empowerment to the winners in New Delhi.
Mr Pokhriyal welcomed the initiative of All India Council for Technical Education, AICTE for instituting the Lilawati Awards and stressed that such innovative steps shall be a great motivation for girls to join higher education.
He said, this initiative will pave a path towards equality in education and innovation for women.
He also informed that the Government has launched the Udaan scheme which aims to enable girls of weaker socio-economic status at school level to gain access to higher education.
He said, the government has also started Pragati Yojana to give young women opportunity to further their technical education.
The Education Minister highlighted that the new National Educational Policy has greatly emphasized on gender equality and students should participate in such initiatives to promote women empowerment.
Based on the theme 'Women Empowerment', AICTE finalized the winners from a total of 456 entries who competed across 6 sub themes, which include, Women's Health, Self-Defense, Sanitation and Hygiene, Literacy, Women Entrepreneurship and Legal Awareness.
14) Answer: E
Axis Bank Ltd informed it has become co-promoters of Max Life Insurance Company Limited, after completion of the acquisition of 12.99% stake collectively by the Axis Entities in the company.
Axis Bank and its two subsidiaries Axis Capital Limited and Axis Securities Limited will collectively own 12.99% stake in Max Life after the consummation of the deal.
The Axis Entities have a right to acquire an additional stake of up to 7% in Max Life, in one or more tranches, subject to regulatory approvals.
Insurance Regulatory and Development Authority of India (IRDAI) gave its formal approval in February of 2021.
15) Answer: C
Union Minister for Finance & Corporate Affairs Smt. Nirmala Sitharaman participated virtually in the Second G20 Finance Ministers and Central Bank Governors (FMCBG) meeting.
It was held under the Italian Presidency here to discuss policy responses to global challenges to restore strong, sustainable, balanced and inclusive growth.
The G20 Finance Ministers and Central Bank Governors discussed Updates of the G20 Action Plan in response to COVID-19.
In that Meeting They also discussed supporting the financing needs of the most vulnerable economies, the progress on the international taxation agenda, promoting greener transitions and the pandemic related financial regulation issues.
Nirmala Sitharaman urged all G20 members to ensure equitable access and widespread distribution of vaccines.
Nirmala Sitharaman reflected on the global growth projections and underlined the need for continued coordination amidst the persistence of uncertainties associated with the virus.
The Finance Minister said that the G20 Action Plan has served as a good guidance tool and shaping recovery is the mainstay of its current update.
16) Answer: D
Scientists from the Bombay Natural History Society (BNHS) Speckled a New Avian Species three-banded rosefinch.
It was made in the hilly, coniferous forests of the Sela Pass in Arunachal Pradesh, about 3800 meters above sea level.
India's avian biodiversity count to a total of 1,340 species.
It Belongs to the Family – Fringillidae
This is seed-eating passerine birds with a distinctively conical bill.
The team comprises BNHS assistant director Girish Jathar and researchers Atharva Singh and Himadri Sekhar Mondal.
They published their findings in the latest issue of the journal Indian Birds
The three-banded rosefinch was the fifth new species recorded during the year 2021.
17) Answer: C
On April 10, 2021, Union Minister for Sports & Youth Affairs Shri Kiren Rijiju inaugurated Khelo India State Centre of Excellence for Rowing discipline at the Jammu & Kashmir Sports Council Water Sports Academy in Srinagar.
There are currently 24 KISCEs across 23 States and Union Territories and each of them focuses on Olympics sports discipline.
This is one of the two KISCEs from Jammu & Kashmir itself, with the Maulana Azad Stadium for Fencing discipline in Jammu.
A consolidated amount of Rs. 5.08 crores have been approved for the 2 centres in Jammu & Kashmir.