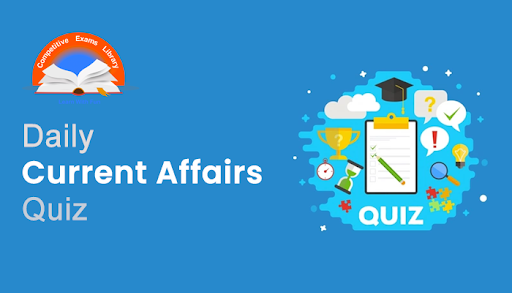 Dear Readers, Daily Current Affairs Questions Quiz for SBI, IBPS, RBI, RRB, SSC Exam 2021 of 11th & 12th March 2021. Daily GK quiz online for bank & competitive exam. Here we have given the Daily Current Affairs Quiz based on the previous days Daily Current Affairs updates. Candidates preparing for IBPS, SBI, RBI, RRB, SSC Exam 2021 & other competitive exams can make use of these Current Affairs Quiz.
1) Which state will be holding various programmers related to Azadi ka Amrut Mahotsav?
A) Punjab
B) Chhattisgarh
C) Maharashtra
D) Bihar
E) Uttar Pradesh
2) The Union Government has announced which company's plan to produce smartphones in India will create large numbers of jobs?
A) Xiaomi
B) Panasonic
C) Samsung
D) Apple
E) Nokia
3) The Labour Minister has launched ESI Scheme with Ayushman Bharat PM-JAY in _____ districts recently.
A) 109
B) 110
C) 112
D) 111
E) 113
4) The Union government has disbanded claims about Post offices charging Rs. ____ for cash withdrawal.
A) 45
B) 40
C) 35
D) 25
E) 30
5) Who among the following has unveiled the Kindle version of Swami Chidbhavanandaji's Bhagavad Gita?
A) Nitin Gadkari
B) Amit Shah
C) Narendra Modi
D) Prahlad Patel
E) NS Tomar
6) Which country broke Twitter services over 'objectionable' content?
A) France
B) Denmark
C) Russia
D) US
E) Japan
7) Which state has approved 5500 hectares of high-density plantation schemes in the horticulture sector?
A) Haryana
B) Punjab
C) Delhi
D) Chandigarh
E) J&K
8) Shri Kedarnath Dham temple Portals will open from which of the following date?
A) May 11
B) May 13
C) May 17
D) May 14
E) May 15
9) Who among the following has taken oath as Uttarakhand Chief Minister?
A) Dinesh Rawat
B) Suresh Rawat
C) Anand Rawat
D) Tirath Singh Rawat
E) NS Rawat
10) Which organization has launched its first virtual trade fair?
A) Niti Aayog
B) APEDA
C) IFFCO
D) NAFED
E) CII
11) Nitin Gadkari has initiated ______ Technology Centres, three Extension Centres of MSME.
A) 6
B) 1
C) 5
D) 4
E) 2
12) Which Bank has been removed from RBI's PCA framework?
A) BoB
B) HDFC
C) IDBI
D) SBI
E) ICICI
13) Which Bank has appointed Imran Amin Siddiqui as its Executive Director ?
A) Bandhan
B) Indian
C) SBI
D) BOI
E) BOB
14) Which of the following institution has honoured Deepika Padukone in the 2021 Young Global Leaders List?
A) Niti Aayog
B) NASSCOM
C) FICCI
D) WEF
E) CII
15) Which edition of the India – Uzbekistan joint military exercise DUSTLIK II has begun in Uttarakhand?
A) 6
B) 5
C) 2
D) 3
E) 4
16) The _______ Scorpene-Class Submarine INS Karanj has been Commissioned Into Indian Navy in Mumbai.
A) 6th
B) 5th
C) 2nd
D) 4th
E) 3rd
17) Which country along with China has agreed to build an International Lunar Scientific Research Station?
A) US
B) Ireland
C) Germany
D) Russia
E) France
18) Which country has ranked on top at the Economic Freedom Index 2021?
A) Sweden
B) Singapore
C) France
D) Germany
E) Netherlands
19) Who among the following has been declared Player of the month for February by ICC?
A) Jasprit Bumrah
B) Rishab Pant
C) Virat Kohli
D) Ravichandran Ashwin
E) MS Dhoni
20) PV Sindhu has settled for a silver medal in the BWF Swiss Open Super 300 held in which country?
A) Israel
B) Switzerland
C) France
D) Germany
E) Singapore
21) Frontier Gandhi's autobiography has been released in English. It is an autobiography of which freedom fighter?
A) Vikramajit Sen
B) Sharad Arvind Bobde
C) Khan Abdul Ghaffar Khan
D) Vallabhai Patel
E) Jawaharlal Nehru
22) Who among the following has won the BBC Indian Sportswoman of the Year award 2021?
A) Geeta Phoghat
B) Sania Mirza
C) Mary Kom
D) Manika Batra
E) Koneru Humpy
23) Hamed Bakayoko who passed away recently was the prime minister of which country ____.
A) Mali
B) Kenya
C) Ivory Coast
D) Tanzania
E) Ghana
24) Shrikant Moghe who passed away was an _____.
A) Singer
B) Actor
C) Writer
D) Musician
E) Director
Answers :
1) Answer: C
Maharashtra government will be holding various programmes related to Azadi ka Amrut Mahotsav.
Chief Minister Uddhav Thackray will flag-off Freedom Heritage walk from August Kranti Maidan in Mumbai.
Freedom fighters will also be felicitated in the programme.
The Uttar Pradesh government is holding a series of events and activities as a part of the 'Azadi Ka Amrut Mahotsav' to mark the beginning of nationwide celebrations of the 75th anniversary of India's independence.
Chief Minister Yogi Adityanath will take part in an event at Kakori Shaheed Smarak in Lucknow while Governor Anandi Ben Patel will be present in Ballia.
In Madhya Pradesh, Azadi ka Amrut Mahotsav to mark 75 years of India's Independence is being launched in a grand manner.
2) Answer: D
IT and Communication Minister Ravi Shankar Prasad said Apple's plan to produce I-phone 12 Smartphones in India will create jobs in large numbers.
Appreciating the plan, Mr Prasad said the government's effort to make India a big hub of mobile and its components manufacturing is attracting global attention.
Apple said that it is going to start I-phone 12 in India.
The tech giant, which started manufacturing I-phones in India in 2017, has been shifting some of its productions from China to India.
According to experts, shifting some of the production to India is not only in the interest of Apple, but also the Indian economy.
3) Answer: E
Union Minister for Labour and Employment Santosh Kumar Gangwar launched the convergence of ESI Scheme with Ayushman Bharat Pradhan Mantri Jan Arogya Yojana, PM-JAY in 113 districts of Chhatisgarh, Karnataka, Madhya Pradesh and Maharashtra.
It was launched on the culmination day of Employees' State Insurance Corporation, ESIC, and Special Services Fortnight at New Delhi.
The convergence will ensure that 1.35 crore ESI beneficiaries in such districts avail cashless medical services through empanelled hospitals of Ayushman Bharat PM-JAY without any need of referral.
To avail medical care, the Insured Worker or the beneficiary need to carry an ESIC e-pehchan card or Health Passbook and Aadhar Card with them.
The list of districts and empaneled hospitals are available at www.esic.nic.in/ab-pm-jay.
4) Answer: D
Government has dismissed a claim made on social media that from 1st of next month, Post offices will charge Rs. 25 on every cash withdrawal from its account.
The Press Information Bureau has termed the claim as fake.
It clarified that India Post has not announced any such charge on the withdrawal of money by account holders.
5) Answer: C
Prime Minister Narendra Modi will launch the Kindle version of Swami Chidbhavanandaji's Bhagavad Gita and also address the occasion through virtual mode.
The event has been organised to commemorate the sale of over five lakh copies of the Swami Chidbhavanandaji's Bhagavad Gita.
Swami Chidbhavanandaji is the founder of Sri Ramakrishna Tapovanam Ashram at Thirupparaithurai, Tiruchirapalli in Tamil Nadu.
Swamiji has authored 186 books and all genres of literary composition.
His scholarly work on the Gita is one of the most extensive books on the subject.
Tamil version of the Gita with his commentaries was published in 1951 followed by the English in 1965.
Its translations into Telugu, Odia, German and Japanese were undertaken by devotees.
6) Answer: C
In Russia, the media regulator, Roskomnadzor, announced that it was slowing down online access to the social media giant Twitter, accusing the social media company of failing to remove around three thousands posts relating to objectionable content.
The communications watchdog said, if Twitter does not comply with Russian law, there will be further actions against the service, including a complete ban.
The Roskomnadzor said that this first measure to slow down Twitter's service in Russia would affect all mobile devices and half of non-mobile devices.
The statement indicated that Roskomnadzor had made over 28,000 complaints to twitter since 2017, including repeated requests to remove illegal links and publications.
7) Answer: E
The Jammu and Kashmir Administrative Council under the chairmanship of Lieutenant Governor Manoj Sinha has approved the implementation of high-density plantation scheme in the horticulture sector with the support of National Agricultural Cooperative Marketing Federation of India Ltd (NAFED).
The step will go a long way in enhancing the quality and quantity of horticulture produce and doubling the farmer's income.
The farmer-centric scheme will be implemented for apple, walnut, almond, cherry, litchi, and olive among others over an estimated area of 5500 hectares of suitable agro-climatic zones for 6 years with effect from March 2021 to March 2026.
8) Answer: C
The Portals of Shri Kedarnath Dham temple will open on May 17 this year.
Shri Kedar Nath moving Deity will depart from Omkareshwar Temple Ukhimath to Kedarnath Dham on 14 May.
On the auspicious occasion of Maha Shivratri, after the PANCHANG calculation, the date for opening of the portals of Kedar Nath temple was decided  at Sri Omkareshwar Temple in Ukhimath.
9) Answer: D
In Uttarakhand, Tirath Singh Rawat was sworn-in as the new chief minister.
He was administered the oath of office by Uttarakhand Governor Baby Rani Maurya at Raj Bhawan in Dehradun.
Senior BJP leaders, Central observer and former Chhattisgarh Chief Minister Dr. Raman Singh along with state BJP in-charge Dushyant Kumar were present on this occasion.
Dr. Raman Singh told the media that the name of the cabinet ministers will be announced soon.
Mr. Tirath Singh Rawat, Lok Sabha MP from Garhwal and former state BJP chief is the 10th Chief Minister of the Uttarakhand.
His name was announced by the outgoing chief minister Trivendra Singh Rawat after the legislature party meeting, which lasted around 30 minutes.
Meanwhile, Haryana's BJP-JJP government won the trust vote in the house of state Assembly.
The 55 votes were polled against the No Confidence Motion while 32 votes were polled in favour of motion.
10) Answer: B
The Agricultural and Processed Food Products Export Development Authority launched its first virtual trade fair to boost export of agricultural and processed food products.
The fair will conclude Mar 12.
In the fair, basmati rice, non-basmati rice, millets, wheat, maize, groundnut and coarse grains have been displayed.
266 Indian and international buyers from various countries have registered for the virtual fair.
11) Answer: E
Union Minister of Micro, Small and Medium Enterprises, Nitin Gadkari inaugurated the two Technology Centres and three Extension Centres of MSME virtually.
The Technology Centres which were inaugurated have been set up at Visakhapatnam and Bhopal and the Extension Centres at Srinagar, Jaipur and Nagaur.
The MSME has rolled out the Technology Centres Systems Programme to develop the competitiveness ecosystems of MSME in the country.
These Technology Centres will train more than 16 thousand students annually and have infrastructure for training and production.
Mr Gadkari also launched the 7 Udyam Express Mobile Vans with a view to provide assistance to MSME in remote areas and also make aware the youth of rural areas about government's schemes.
12) Answer: C
Shares of IDBI Bank zoomed nearly 18 per cent in early trade after RBI removed the lender from its enhanced regulatory supervision or Prompt Corrective Action (PCA) framework after a gap of nearly four years.
The stock started on a positive note, and jumped 17.12 per cent to Rs 44.80 on BSE.
On NSE, it rallied 17.64 per cent to Rs 45.
The Reserve Bank of India (RBI) had placed IDBI Bank under PCA framework in May 2017, after it had breached the thresholds for capital adequacy, asset quality (net NPAs was over 13 per cent in March 2017), return on assets and the leverage ratio.
13) Answer: B
Imran Amin Siddiqui, the General Manager of state-owned Indian Bank, has been appointed as the Executive Director (ED) of the Bank with effect from March 10, 2021.
He has been appointed for a period of three years with effect from the date of assumption of office, or until further orders, whichever is earlier.
Siddiqui started his banking career with erstwhile Allahabad Bank, which is now merged with Indian Bank, as a SSI Field Officer in December, 1987.
Apart from him, Shri Shenoy Vishwanath V and Shri K.Ramachandran are the other two ED on the board of Indian Bank.
14) Answer: D
Bollywood actor Deepika Padukone has joined the Forum of the Young Global Leaders (YGLs) for the year 2021 compiled by the World Economic Forum.
The 2021 class of the list comprises of 112 world's most promising leaders of under the age of 40, who are involved in activities ranging from advocating for public healthcare to campaigning for inclusivity in medical research.
About the honour:
The Young Global Leaders was founded in 2005 by Klaus Schwab, founder and executive chairman of the WEF.
Its main objective is to create a world where leaders take responsibility for a sustainable future while meeting increasingly complex and interrelated challenges.
Currently, there are 1,400 members and alumni from over 120 countries.
15) Answer: C
On March 10, 2021, The Second edition of India – Uzbekistan joint military exercise DUSTLIK II commenced  in Foreign Training Node Chaubatia, Ranikhet in Uttarakhand.
This is the Second Edition of annual bilateral joint exercise between both armies.
This bilateral joint exercise will be held on 10 days ie) From Mach 10, 2012 to March 19,2021.
The first edition of the exercise was held in Uzbekistan in November 2019.
On First Edition 45 Soldiers each from Uzbekistan and Indian Army are participating in the exercise.
Both the two countries' armies will be sharing their expertise and skills in the field of counter terrorist operations in mountainous or rural or urban scenarios under UN mandate.
Defence Ministry Mentioned the joint exercise will definitely provide impetus to the ever growing military and diplomatic ties between the two nations and also reflects the strong resolve of both nations to counter terrorism.
16) Answer: E
On March 10, 2021, India's third stealth Scorpene-class submarine INS Karanj, was commissioned into the Indian Navy in Mumbai.
The diesel electric submarine was commissioned  in presence of Chief of Naval Staff Admiral Karambir Singh and Admiral (Retired) VS Shekhawat.
The technology has been designed by France's Naval Group.
The INS Karanj submarine was constructed at Mazagon Dock Shipbuilders Limited under the Make in India program.
Out of six Scorpene-class diesel-electric submarines INS Karanj is third and being built for Indian Navy.
Other 5 Submarines of this class:
1st-INS Kalvari – already been commissioned into the Indian Navy.
2nd-INS Khanderi – already been commissioned into the Indian Navy
4th-INS Vela -In Underway and undergoing trials at sea.
5th-INS Vagir – launched in November 2020 and is expected to be commissioned in 2022
6th- INS Vagsheer – currently under construction
17) Answer: D
China and Russia will build a lunar research station, on the moon's surface, marking the start of a new era in space cooperation between the two countries.
The China National Space Administration mentioned the International Lunar Research Station would also be open to use by other countries.
It described the project as a comprehensive scientific experiment base with the capability of long-term autonomous operation.
A memorandum of understanding on the project was signed by Zhang Kejian, administrator of the China National Space Administration, and Russian space agency Roscosmos chief Dmitry Rogozin.
18) Answer: B
US conservative think-tank, the Heritage Foundation launched the Economic Freedom Index 2021.
In the Economic Free index, Singapore has topped the global ranking for the second consecutive year.
Singapore increased its overall score by 0.3 points to 89.7 primarily due to an improvement in the score for government spending.
The Index has covered 184 countries in the study this time and the period of study is July 2019 to June 2020
This is the first time the index has been published since the COVID-19 pandemic overturned lives as well as global economies and the scoring reflects to a small extent how governments have responded to the health crisis.
Ranking:
Singapore – 89.7 ( Increased 0.3 Points )
New Zealand – 83.9 ( Decreased 0.2 Points )
Australia – 82.4 ( Decreased 0.2 Points )
Switzerland – 81.9 ( Decreased 0.1 Point )
Ireland – 81.4 ( Increased 0.5 Points )
India's Position in the Index:
India has been placed at 121 position in the index, with a score of 56.5 out of 100.
The Indian economy remains in the mid-range of the mostly unfree category.
In the 2021 Index, India came in around the middle of the pack among Asia-Pacific countries ranking 26th out of 40 countries.
Globally, the Foundation rates India's economy as the 121st freest.
19) Answer: D
India's premier off-spinner Ravichandran Ashwin was named the ICC men's Player of the Month for February.
Ashwin played in three tests in the four match series scored a 106 in the second innings of India's second Test victory over England at Chennai and took his 400th Test wicket in the third Test victory at Ahmedabad.
Ashwin scored a total of 176 runs across these games and took 24 wickets
In the Women's category, England's Tammy Beaumont has been named the ICC Women's Player of the Month for February.
Beaumont played three ODIs in February against New Zealand where she passed fifty in each of these, totalling 231 runs.
Player of the Month for January :
Indian wicketkeeper-batsman Rishabh Pant
20) Answer: B
On March 07, 2021,India's ace shuttler PV Sindhu settled for a silver medal in the BWF Swiss Open Super 300 at Basel.
She went down against World No. 3 Spaniard and reigning Olympic champion Carolina Marin 12-21, 5-21, in the final of the women's singles event.
BWF Swiss Open 2021 Winners List :
Men's Singles : Viktor Axelsen (Denmark) beat Kunlavut Vitidsarn (Thailand)
Men's Doubles : Kim Astrup and Anders Skaarup Rasmussen (Denmark) beat Mark Lamsfuss-Marvin Seidel (Germany)
Women's Singles : Carolina Marin (Spain) beat PV Sindhu (India)
Mixed Doubles : Thom Gicquel-Delphine Delrue (France)  beat Denmark pair Mathias Christiansen-Alexandra Boje
21) Answer: C
The autobiography of 'Khan Abdul Ghaffar Khan'(Freedom Fighter), titled "The Frontier Gandhi: My Life and Struggle" has been released.
This is the "first time" that Khan's autobiography is available in English.
It was first published in Iranian language Pashto in 1983.
It  is translated by former Pakistani civil servant and author Imitiaz Ahmad Sahibzada.
It is published by the publishing house Roli Book.
About the book:
It brings to life events and personalities of the independence movement as Khan Abdul Ghaffar Khan records the untiring energy and sacrifices that went into winning freedom.
About 'Khan Abdul Ghaffar Khan:
Khan Abdul Ghaffar Khan was also known as Bacha Khan, Badshah Khan and Fakr-e-Afghan.
He was born in Utmanzai, Northwest Frontier Province, British India in 1890.
He is an Afghan independence activist against British colonial rule in India
Khan was nicknamed as Sarhadi Gandhi ('Frontier Gandhi').
He had the leadership of the Khudai Khidmatgar (Servants of God) movement from 1930-47
22) Answer: E
World rapid chess champion Koneru Humpy has won the BBC Indian Sportswoman-of-the-Year award 2021.
The award was based on a public vote in which Humpy beat sprinter Dutee Chand, shooter Manu Bhaker, wrestler Vinesh Phogat and hockey captain Rani Rampal.
Lifetime Achievement Award 2021 – Anju Bobby George
Emerging Player-of-the-Year award 2021 – young shooter Manu Bhaker
About Koneru Humpy:
Humpy won the World Rapid Chess Championship in December 2019 after a two-year maternity break. She then won the Cairns Cup in 2020.
She became the youngest grandmaster in 2002 at the age of 15.
She has received the Arjuna Award in 2003 and the Padma Shri in 2007.
23) Answer: C
The Prime Minister of Ivory Coast's Hamed Bakayoko has passed away in the German city of Freiburg.
He was 56.
The 79-year-old president, Bakayoko was named prime minister in July 2020 following the sudden death of his predecessor, Amadou Gon Coulibaly.
Ouattara had named his close confidant and chief of staff, Patrick Achi, as interim prime minister in place of Bakayoko.
About Hamed Bakayoko :
He was first appointed minister of telecommunications and new technologies in 2003.
Bakayoko was elected mayor of the poor Abidjan district of Abobo in 2018.
He won the parliamentary seat for the Seguela district with 90 percent of the vote.
24) Answer: B
Veteran Marathi actor Shrikant Moghe has passed away. He was 91.
About Shrikant Moghe:
Shrikant Moghe was born at Kirloskarwadi in Sangli district of Maharashtra.
Moghe was popular for his work in both Marathi and Hindi languages, in films.
He is known for his performances in Marathi films like Madhuchandra, Sinhaasan, Gammat Jammat and Umbaratha, and plays such as Varyavarchu Varaat and Tuze Aahe Tujapashi.