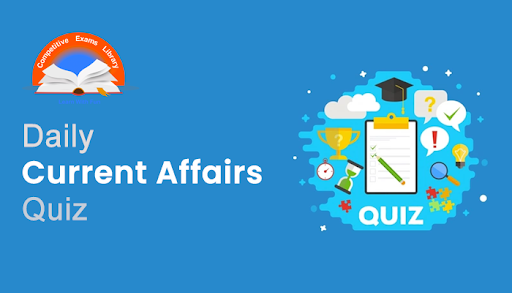 Dear Readers, Daily Current Affairs Questions Quiz for SBI, IBPS, RBI, RRB, SSC Exam 2021 of 11th February 2021. Daily GK quiz online for bank & competitive exam. Here we have given the Daily Current Affairs Quiz based on the previous days Daily Current Affairs updates. Candidates preparing for IBPS, SBI, RBI, RRB, SSC Exam 2021 & other competitive exams can make use of these Current Affairs Quiz.
1) World Pulses Day is observed on which of the following date?
A) February 11
B) February 13
C) February 10
D) February 15
E) February 19
2) FSSAI has notified regulations to limit trans-fat in food items to ____ per cent from 2022.
A) 3
B) 1.5
C) 1
D) 2
E) 2.5
3) National Horticulture Fair 2021 has begun in which of the following cities recently?
A) Chandigarh
B) Delhi
C) Pune
D) Surat
E) Bengaluru
4) Which state is set to create state's 5th tiger reserve?
A) Kerala
B) Tamil Nadu
C) Haryana
D) Bihar
E) Gujarat
5) The government has introduced a bill to replace ordinance facilitating regularisation of unauthorised colonies in which city? 
A) Raipur
B) Chandigarh
C) Pune
D) Delhi
E) Surat
6) Who among the following will launch the website – India Toy Fair- 2021?
A) Venkiah Naidu
B) NS Tomar
C) Smriti Irani
D) Prahlad Patel
E) Narendra Modi
7) Which of the following city has become Karnataka's 31st district?
A) Chikballapur
B) Bidar
C) Bagalkot
D) Ballari
E) Vijayanagara
8) The US has freezed _____ billiondollar in funds of Myanmar government recently.
A) 3
B) 2.5
C) 1
D) 1.5
E) 2
9) National Inventors' Day is Observed on which of the following date?
A) February 13
B) February 15
C) February 16
D) February 11
E) February 17
10) Which country has received USD 200 million from the World Bank?
A) France
B) Germany
C) Bangladesh
D) Japan
E) Sweden
11) Which of the following park has recorded 93 thousand 491 birds?
A) Bannerghatta National Park
B) Kaziranga National Park
C) Anamudi Shola National Park
D) Bandhavgarh National Park
E) Bandipur National Park
12) RBI has released the Annual Report of Ombudsman Schemes for 2019-20 with increase in complaints of around _____ per cent.
A) 45
B) 55
C) 60
D) 50
E) 65
13) Who among the following has written the book 'By Many a Happy Accident'?
A) NS Tomar
B) Anurag Thakur
C) M Hamid Ansari
D) Ravi Shankar Prasad
E) Prahlad Patel
14) PhonePe has partnered with which bank on UPI Multi-Bank?
A) SBI
B) Bank of Baroda
C) Bandhan
D) Axis
E) ICICI
15) Who among the following has been appointed as CFO of IndiGo? 
A) Surendra Talwar
B) Neeraj Gupta
C) Suraj Singh
D) Aditya Pande
E) Jiten Chopra
16) Who among the following will head the Expert committee to review proposal to ban 27 pesticides?
A) TS Krishnamurthy
B) TP Rajendran
C) Anand Pandey
D) Rajesh Singh
E) Ramesh Chand
17) Which country has inked a deal for construction of the Lalandar "Shatoot" Dam in Afghanistan?
A) Uzbekistan
B) Bangladesh
C) Pakistan
D) India
E) US
18) Ezra Moseley who died in an accident was the former fast bowler from which country?
A) New Zealand
B) Australia
C) West Indies
D) South Africa
E) England
19) ICC has announced BYJU'S as global partner until which year?
A) 2026
B) 2027
C) 2025
D) 2024
E) 2023
20) Who among the following has written the book, 'Platform Scale for a Post-Pandemic World'?
A) Anand Pandey
B) Sangeet Paul Choudhary
C) Neeraj Kumar
D) Anil Singh
E) Sujit Prakash
21) Which of the following film recently went out of the final list at Oscar Awards?
A) Drishyam 2
B) Kali
C) Godha
D) Jallikattu
E) Ustad Hotel
Answers :
1) Answer: C
The World Pulses Day is observed every year on 10 February.
This day was established by the Food and Agriculture Organization of the United Nations (FAO). ∙ Theme of 2021 is Nutritious Seeds for a Sustainable Future.
It has been designated on February 10 of each year since 2019 by the General Assembly of the United Nations on  December 20, 2018.
Objective: World Pulses Day is to disseminate information and organize activities related to pulses throughout the  world.
Importance : to recognize the importance of the legumes (beans, lentils, chickpeas, peas and lupines among others)  as a global food.
2) Answer: D
Packaged food companies said the Food Safety and Standards Authority of India's (FSSAI) move to reduce trans-fat in food items which use edible oil as an ingredient to 2% from 2022.
An FSSAI notification dated February 2 said the latest amendment of the Food Safety and Standards (Prohibition and Restriction on Sales) Regulations, 2011 will come into effect from January 1, 2022. ∙ It is consumer friendly and will not put burden on the industry as most companies are already working on reducing trans-fat in their products
The permissible limit for trans fats in food products in 2021 is 3 percent, cut down from the previous limit of 5 per cent.
Food products that incorporate edible oils and fats as ingredients, including edible refined oils, vanaspati/partially hydrogenated oils, margarine, vegetable fat spreads, mixed fat spreads, bakery shortenings, fall under the ambit of the newly issued Food Safety and Standards (Prohibition and Restrictions on Sales) Regulations, 2021.
The World Health Organization (WHO), which has launched a major campaign to eliminate industrially produced trans-fat from national food supplies by 2023, says trans-fat intake is responsible for approximately 500,000 premature deaths from coronary heart disease each year around the world.
3) Answer: E
The five-day National Horticulture Fair 2021 has started in Bengaluru on 8 February. ∙ The fair is organized by the Indian Institute of Horticulture Research (IIHR) at the Institute's Hessarghatta campus on the outskirts of Bengaluru city.
This is the first time when the Horticulture Fair is organized in both physical and virtual ways. Cutting edge technologies, crop varieties, pest and disease management practices, and processing methods will be demonstrated.  ∙ The theme of NHF 2021 is 'Horticulture for Start-Up and Stand-Up India'.
Virtual preparations have been made across the country to webcast the program in the premises of KVK, FPO, SSIAT centres of art of living foundation, agricultural training centres of respective state governments.  ∙ Interested farmers, entrepreneurs, and other stakeholders are requested to register in the NHF 2021 to participate through virtual mode.
4) Answer: B
With the Centre's approval, Tamil Nadu government passed an order for creating the fifth tiger reserve in the state and the 51st in the country.
The SrivilliputhurMegamalai Tiger Reserve will span the forests of Megamalai wildlife sanctuary and Srivilliputhur grizzled squirrel wildlife sanctuary spread across the districts of Theni, Virudhunagar and Madurai. ∙ The 100,000-hectare area is home to a range of mammals and bird species and more than a dozen tigers ∙ Fourteen tigers have so far been identified in Meghamalai and Srivilliputhur sanctuaries following scat analysis between 2017 and 2018.
Meghamalai is home to a large population of hoofed animals, spotted deers, Indian gaurs, etc. while Sriviliputhurhas Nilgiritahrs, Sambars, elephants, and bird species among others.
The first tiger reserve in Tamil Nadu – KalakkadMundanthurai – was formed around 1988-89, which was followed byAnamalai and Mudumalai in 2008 and 2009. The fourth reserve – Sathyamangalam was created around 2013-14.
5) Answer: D
The government introduced a bill in the Rajya Sabha, which seeks to replace the National Capital Territory of Delhi Laws (Special Provisions) Second (Amendment) Ordinance, 2020.
The ordinance was promulgated by President Ram Nath Kovind on December 30, 2020. It amended the National Capital Territory of Delhi Laws (Special Provisions) Second Act, 2011.
The 2011 Act was valid till December 31, 2020. The Ordinance extended the deadline to December 31, 2023. ∙ The 2011 Act provided for the regularisation of the unauthorised colonies that existed in the national capital as on March 31, 2002 and where construction took place till June 1, 2014.
Union Minister for Housing and Urban Affairs Hardeep Singh Puri introduced the National Capital Territory of Delhi Laws (Special Provisions) Second (Amendment) Bill, 2021
6) Answer: C
The government will launch the website of the India Toy Fair- 2021.
The website will be launched jointly by Minister of Textiles Smriti Irani, Commerce and Industry Minister Piyush Goyal and Education Minister Ramesh PokhriyalNishank in New Delhi.
Govt. launches new Scheme – 'Formation and Promotion of 10,000 FPOs
The Ministry of Agriculture has said that the government has launched a new Central Sector Scheme titled  'Formation and Promotion of 10,000 Farmer Produce Organizations (FPOs)' and it has committed  resources in this regard with a budgetary provision of Rs 6,865 crore.
The Ministry in a statement said that FPOs are to be developed to produce clusters, wherein agricultural and horticultural products are grown for leveraging economies of scale and improving market access for members. ∙ It said, under this Central Sector Scheme with funding from Government of India, formation and Promotion of FPOs are to be done through implementing agencies and at present, nine such agencies have been finalized
7) Answer: E
The Karnataka government issued an official notification announcing Vijayanagara as the state's 31st district, which was carved out of the ore-rich Ballari district.
Vijayanagara will have six taluks namely Hosapete, Kudligi, Hagaribommanahalli, Kotturu, HoovinaHadagaliand Harapanahalli.
Hosapete is the headquarters of the new Vijayanagara district.
The Yediyurappa government's plan to create Vijayanagara district had run into opposition, especially from within the ruling BJP.
Undivided Ballari was politically significant, comprising nine Assembly constituencies of which the Congress represents five and the BJP four.
Minister for Infrastructure Development, Haj and Wakf, Anand Singh, who is also the Ballari district in-charge, had anchored the efforts for the new district.
8) Answer: C
The military government in Myanmar has stepped up actions against leaders of the Aung San Suu Kyi led National League for Democracy (NLD).
A close aide to the ousted State Counsellor Aung San Suu Kyi, Kyaw Tint Swe was arrested by the army. ∙ He had served as the minister for the office of the State Counsellor Aung San Suu Kyi, reports Reuters. ∙ An official of the NLD has said that four other people linked to the previous government were also picked up from their homes.
The United States has announced that it is going to freeze USD 1 billion in Burmese government funds held in the United States.
President Joe Biden has said that the US is announcing a series of actions to impose consequences on the leaders of the Myanmar coup.
He announced that he has signed a new executive order to sanction against the military leaders who directed the coup and their close family members.
9) Answer: D
National Inventors Day honors Thomas Edison and all inventors, recognizing the enormous impact inventions have on technology industry and society worldwide.
On February 11, the United States recognizes National Inventors' Day, a day to salute past and present great inventors.
First signed into declaration on February 11, 1983, President Ronald Reagan chose the date because it was Thomas Edison's birthday.
Just think about all the inventions, and the resulting new products, processes and procedures that we have seen in our lifetime.
It readily gives us an appreciation for the inventors that allowed these things to come into being. On National Inventors Day, spend a few minutes to appreciate inventors, whatever their field. ∙ If you are lucky enough to know one, let them know just how much you appreciate them.
10) Answer: C
Bangladesh has received USD 200 million for Water Sanitation, Hygiene (WASH) project for rural areas from the World Bank.
The agreement was signed between the government of Bangladesh and the World Bank.
The project is planned to help 3.6 million to access hygienic sanitation facilities and about 6 lakh people to access clean water in rural areas.
The WB funding will provide microcredits to both households and entrepreneurs for water and sanitation facilities. ∙ More than 3 lakh poorest households will receive fully subsidised toilets.
Apart from household water connections, the project will construct 3000 community piped water schemes. ∙ The project will install about 312 public toilets and 2,514 hand-washing stations at crowded public places,  such as markets and bus stations.
About 1,280 community clinics will have new or renovated facilities, said the press release issued by the World  Bank.
11) Answer: B
In Assam, the Kaziranga national park has recorded a total of 93 thousand 491 birds as per the latest census.
There are 112 bird species and 22 families found during the enumeration.
For Study Materials: www.ibpsguide.com For Mock Tests & E-books: https://guidely.in Follow us: Telegram,Facebook,Twitter, Instagram
Daily Current Affairs 11th February 2021
The recent bird census has witnessed an increase of over 59 thousand birds in the Kaziranga national park. ∙ The park authority has recently conducted a 2 day census where 35 teams were involved.
Last year, the figure stood at 34 thousand 284.
12) Answer: E
The Reserve Bank of India (RBI) released the Annual Report of the Ombudsman Schemes for the year 2019-20.
There was an increase of around 65 per cent in the receipt of complaints out of which almost 92 per cent have been disposed of.
RBI has three Ombudsman- Banking, Non-Banking Finance Company (i.e. NBFC) and digital transactions. A common man can approach these Ombudsman for their grievances.
The Banking Ombudsman received major complaints regarding ATM & Debit Cards, Mobile & Electronic Banking. ∙ NBFC's Ombudsman received most complaints about non-observance of regulatory guidelines, lack of transparency in contract/ loan agreement and levy of charges without notice.
Digital Transactions Ombudsmen received most complaints about fund transfer
As announced in the Monetary Policy Statement last week, the three Ombudsman Schemes are being merged and integrated into a single scheme which will be rolled out starting from June this year.
13) Answer: C
Former vice president Hamid Ansari released a book titled as By Many a Happy Accident. About the Author:
Mohammad Hamid Ansari was the vice president of India and chairman of the Rajya Sabha for two consecutive terms from 2007 to 2017.
A former diplomat, he served as ambassador to the United Arab Emirates, Afghanistan, Iran, and Saudi Arabia, as high commissioner to Australia and as permanent representative to the United Nations in New York. About the book:
The book By Many a Happy Accident offers an informative and engaging account of the life and work of Hamid Ansari, an outstanding public servant.
This book is an account of a life of unplanned happenings that took M. Hamid Ansari away from his preferred fancy for academia to professional diplomacy.
This book is based on unplanned happenings that took M. Hamid Ansari away from his preferred fancy for academia to professional diplomacy and then be co-opted in public life and catapulted to the second highest office in the land for two consecutive terms. None of his predecessors, except Dr Sarvepalli Radhakrishnan, had experienced this honour.
He also highlights some of the important contemporary issues demanding urgent address to ensure good governance and inclusive growth and progress in our society.
14) Answer: D
Digital payments platform PhonePe announced that it has partnered with Axis Bank on a Unified Payments Interface (UPI) multi-bank model.
The partnership will provide PhonePe users with the option to create and use multiple UPI IDs with Axis Bank's "@axl" handle.
PhonePe will also start acquiring merchants with Axis Bank in addition to its partnership with YES Bank. ∙ This partnership with Axis Bank will ensure greater business continuity for both our customers and merchant partners, making their transaction experience seamless."
15) Answer: E
Airline IndiGo appointed Jiten Chopra as its chief financial officer (CFO), effective February 21, 2021. ∙ He will succeed Aditya Pande, who is leaving the company to pursue other interests. ∙ Chopra will report to IndiGo's whole-time director and CEO Ronojoy Dutta.
He joined the airline in February 2020 as head of governance, risk, and compliance.
Prior to joining IndiGo, he spent 25 years working at BSR & Co (KPMG) in audit and risk management, business development, operations, and transaction services.
About Indigo:
CEO:Rono Dutta
Founded: 2005
16) Answer: B
The government has appointed an expert panel to review industry's objections to the proposed ban on 27 widely used pesticides which officials say are harmful to animals and humans.
The committee, led by chairman TP Rajendran, former assistant director general of ICAR ∙ These are widely used are part of 66 contentious pesticides which are being reviewed for their toxicity. In 2018, the government had already banned 18 of them.
Among these 27 pesticides which are widely used, and some of these were used to kill locusts recently industry and companies are said to have strongly defended 23, by submitting scientific evidence.
Apart from, the banning will put an additional financial burden on farmers as the cost of these contentious pesticides range between Rs 275-450 a litre as against the cost of their alternatives which are being imported at Rs 1500-2000 a  litre.
17) Answer: D
Indian Prime Minister Narendra Modi called for an immediate and comprehensive ceasefire in Afghanistan to end a spike in violence, as the two countries signed an agreement for building a dam to supply water to Kabul city.
The project, which costs nearly $ 300 million, is a part of the New Development Partnership between India and Afghanistan.
The MoU for Shatoot dam was signed by foreign minister S Jaishankar and his counterpart Hanif Atmar. ∙ The Lalandar (Shatoot) dam would meet the safe drinking water needs of Kabul city, provide irrigation water to nearby areas, rehabilitate the existing irrigation and drainage network, aid in flood protection and management efforts in the area, and also provide electricity to the region.
18) Answer: C
Ezra Moseley, the former West Indies fast bowler, has died at the age of 63
Ezra was one of our region's premier fast bowlers from the late '70s through the '80s and into the early '90s, when he went on to play for the West Indies after playing professionally in the Caribbean, England and South Africa. ∙ Moseley, a fast bowler, played two Test matches against England in 1990 and also nine ODIs between 1990 and 1991. He had an outstanding professional career with Glamorgan in English County Cricket and in South Africa for Eastern Province and Northern Transvaal.
19) Answer: E
The International Cricket Council (ICC) has announced Indian edu-tech company BYJU'S as its global partner from 2021 to 2023.
The three-year agreement will see BYJU'S partner all ICC events over the period, including the forthcoming men's  T20 World Cup in India and the women's World Cup in New Zealand.
As a global partner, BYJU's will have extensive in-venue, broadcast, and digital rights across all ICC events. ∙ In August 2019, the company became the official jersey partners of the Indian cricket team. ∙ In addition to the integrated brand presence at some of the world's biggest sporting events, BYJU's will work closely with the ICC to deepen engagement with fans through the creation of innovative campaigns.
20) Answer: B
Entrepreneur-author Sangeet Paul Choudary explains the importance of platform business models, the forces that power their rapid scale and the factors that will cement their dominance in a post-pandemic world in his new book.
The book, published by Penguin Random House India.
For Study Materials: www.ibpsguide.com For Mock Tests & E-books: https://guidely.in Follow us: Telegram,Facebook,Twitter, Instagram
Daily Current Affairs 11th February 2021
The first edition of "Platform Scale" was published in 2015 and it was an outcome of this growing fascination to unpack the inner workings of business models in a networked world.
This new edition significantly updates the original text and thesis to help executives understand the ever-increasing importance of platform scale in a post-pandemic world.
21) Answer: D
Lijo Jose Pellissery'sJallikattu is officially out of the race for the Oscars in the Best International Feature Film category.
The Academy of Motion Picture Arts and Sciences did not include the Malayalam flick when it published the list of final 15 movies.
In all, films from 93 countries were nominated to the category.
The shortlisted 15 will now be viewed by the Academy members and five of them will make it to the final five of Oscar nominations.