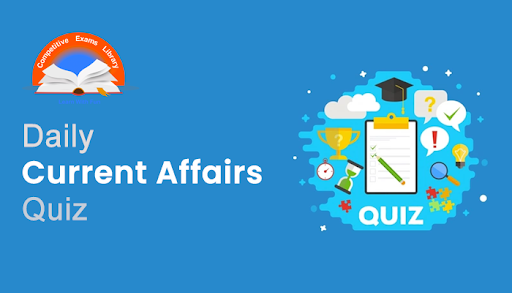 Dear Readers, Daily Current Affairs Questions Quiz for SBI, IBPS, RBI, RRB, SSC Exam 2021 of 12th & 13th January 2021. Daily GK quiz online for bank & competitive exam. Here we have given the Daily Current Affairs Quiz based on the previous days Daily Current Affairs updates. Candidates preparing for IBPS, SBI, RBI, RRB, SSC Exam 2021 & other competitive exams can make use of these Current Affairs Quiz.
1) National Road Safety Month 2021 is being observed from which of the following days to make the streets and roads safer?
A) 15 January
B) 14 January
C) 11 January
D) 12 January
E) 13 January
2) Who will head the empowered panel for Covid-19 vaccine?
A) Amitabh Kant
B) VK Saraswat
C) VK Paul
D) RS Sharma
E) Ramesh Chand
3) National Youth Day 2021 is observed on which of the following date?
A) January 11
B) January 14
C) January 16
D) January 17
E) January 12
4) Who will head the panel to Study NFHS-5 Findings?
A) Anant Hedge
B) Ridhima Singh
C) Nilesh Mishra
D) Preeti Pant
E) Sudha Kant
5) Which country has committed Rs 2113 Crore Support for COVID relief efforts?
A) Denmark
B) Sweden
C) Japan
D) Germany
E) France
6) Who among the following has launched a 'Single Window Clearance System' for coal mines?
A) Suresh Prabhu
B) Amit Shah
C) Prahlad Patrel
D) Anurag Thakur
E) Narendra Modi
7) Two-day coastal defence drill 'Sea Vigil-21' has been kicked off recently, it will conducted on ________.
A) 17-18 January
B) 16-17 January
C) 14-15 January
D) 13-14 January
E) 12-13 January
8) US President-elect Joe Biden has named ______Indian Americans in National Security Council of White House.
A) 6
B) 5
C) 4
D) 2
E) 3
9)  Which country will be the focus country at the 51st International Film Festival of India?
A) Singapore
B) Thailand
C) Vietnam
D) Sri Lanka
E) Bangladesh
10) What is India's rank on the World's Most Powerful Passports 2021 List?
A) 78
B) 82
C) 85
D) 80
E) 81
11) Which social media company has deleted Donald Trump's POTUS handle and suspended his campaign account?
A) Google+
B) Twitter
C) Vine
D) Facebook
E) Instagram
12) Mamata Banerjee has Inaugurated the ______ Kolkata International Film Festival.
A) 24th
B) 22nd
C) 23rd
D) 26th
E) 25th
13) Who among the following has inaugurated the Coastal Research Vessel 'Sagar Anveshika'?
A) Venkiah Naidu
B) Narendra Modi
C) Rajnath Singh
D) Amit Shah
E) Harsh Vardhan
14) ICRA forecasts India's real GDP to expand by ______ per cent in FY22.
A) 10.2
B) 10.1
C) 9.5
D) 9.9
E) 9.4
15) RBI has cancelled the licence of which bank recently?
A) Apna Sahakari Bank.
B) Adarsh Co-operative Bank
C) Abhyudaya Co-op. Bank
D) Vasantdada Nagari Sahakari Bank
E) Karad Sahakari Bank
16) Who has been named as BCCI's representative on ICC Board?
A) Ranjit Kapoor
B) Nisha Gupta
C) Jay Shah
D) Arun Kumar
E) Umesh Sinha
17) Defence Secretary has co-chaired the _____ India-Vietnam Defence Security Dialogue with his Vietnamese counterpart.
A) 9th
B) 13th
C) 12th
D) 11th
E) 14th
18) Which country will host the 4th One Planet Summit in cooperation with UN and World Bank?
A) China
B) US
C) Israel
D) Germany
E) France
Answers :
1) Answer: C
Road Safety Week is observed from 11 January to 17th January every year.
Aim : For making the roads and streets in India safer.
The Ministry of Transport and Highways, the ministry has decided to observe Road Safety Month from 18 January to 17 February 2021 instead of National Road Safety Week.
During this period, various nation-wide activities have been planned to be conducted throughout the country in association with the state governments/ UT administrations, OEMs and other stakeholders.
The month-long event will see awards being given to best performance in road safety to a state as well as Swachata Award, road safety activities by NHIDCL (National Highways and Infrastructure Development Corporation Limited), HOAI (Highway Operator Association of India), NHAI among others.
The various activities that are slated to take place during National Road Safety Month 2021 include advocacy of road safety, road safety awards, launch of digital road safety calendar 2021, selection of best performing states and UTS for road safety 2021, awards and certificates for road safety, good samaritans etc, and National Highways Excellence Awards.
2) Answer: D
The Union government has appointed RS Sharma, former TRAI chief, as the chairperson of an empowered committee for administration of Covid-19 vaccine.
This has come days ahead of the mega vaccination drive to start in India.
A ten member team has been constituted to be headed by Sharma.
The panel can invite eminent persons as and when required to ensure delivery of the vaccine through the Co-Win technology platform
It must be noted that Sharma is also a member of the National Expert Group on Vaccine Administration of Covid-19 that was formed in August 2020 and is headed by Niti Aayog member, VK Paul.
Sharma was the first person to officially initiate a discussion on vaccination delivery in the government in the summer of 2020 when Covid-19 cases peaked.
3) Answer: E
The National Youth Day is observed all over India on 12 January.
Theme for National Youth Day 2021 is 'Channelizing Youth Power for Nation Building
Since 1984, the birthday of Swami Vivekananda (January 12) is celebrated as National Youth Day across the country.
The day was chosen to honour one of India's greatest spiritual and social leaders, Swami Vivekananda.
It is also commonly known as Yuva Diwas.
One of the main objectives of National Youth Day is to promote rational thinking among the youth, who are the future of the country.
National Youth Day which aims to discuss the lectures, thoughts and writings of Swami Vivekananda. Several competitions on essay writing, debates and poetry also mark the day.
In 2021, we are observing the 158th birth anniversary of Swami Vivekanand (12 January 1863).
4) Answer: D
The Health and Family Welfare Ministry has set up a technical expert group to examine the adverse findings from the National Family Health Survey-5.
The Union Ministry has set up the technical committee of medicine and nutrition experts under the leadership of Joint Secretary Preeti Pant.
The expert group also includes State programme officers from Chhattisgarh, Madhya Pradesh and Karnataka.
The technical committee will examine the findings of the National Family Health Survey-5 as well as suggest policies and courses of action to improve on indicators related to anemia, malnutrition, C-section, and stunting.
The newly formed technical expert group will conduct meetings regularly and will provide its recommendations soon.
As of now, no meeting has been held and no date has been finalized for the first meeting.
5) Answer: C
Japan has committed Official Development Assistance (ODA) loan of an amount of JPY 30 billion (about ₹2,113 crore) to support India's efforts at providing social assistance to the poor and vulnerable households severely impacted by the Covid-19 pandemic.
This programme loan aims to support India's efforts to provide coordinated and adequate social protection to the poor and vulnerable across the country against the severe impact of Covid-19 pandemic.
India and Japan have had a long history of bilateral development cooperation since 1958.
In the last few years, the economic cooperation between India and Japan has grown into strategic partnership.
6) Answer: B
Union Home Minister Amit Shah launched the 'Single Window Clearance System', an online platform to obtain clearances for smooth operationalisation of coal mines.
It will be an online platform to obtain clearances for smooth operationalisation of coal mines.
The Coal Sector has the potential to be the biggest contributor towards Prime Minister Narendra Modi's Vision of making India a 5 trillion dollar economy by 2024.
This will give the states an estimated revenue of about Rs 6500 crore per year and will also create more than 70,000 Jobs.
7) Answer: E
The second edition of the biennial pan-India coastal defence exercise 'Sea Vigil-21' will be conducted on 12-13 January 2021.
It will involve all the 13 coastal states and Union Territories along with other maritime stakeholders.
And that will cover the country's 7,516 km coastline and exclusive economic zone.
The exercise is being coordinated by the Indian Navy.
The entire coastal security set up was reorganised after the 26/11 Terror attack at Mumbai which was launched via the sea route.
SEA VIGIL 21' will provide a realistic assessment of our strengths and weaknesses and thus will help in further strengthening maritime and national security.
The exercise is a build up towards the major Theatre level exercise TROPEX [Theatre-level
8) Answer: D
In the United States, the President-elect Joe Biden has appointed two Indian-Americans to the National Security Council of the White House.
Biden has named Indian-American Sumona Guha as senior director for South Asia and Tarun Chhabra as senior director for Technology and National Security.
Sumona Guha was co-chair of the South Asia foreign policy working group during the Biden-Harris campaign.
During the Obama-Biden administration, Chhabra had also served on the National Security Council staff as director for Strategic Planning and director for Human Rights and National Security Issues.
9) Answer: E
Bangladesh has been chosen as the 'Country in Focus' for the 51st International Film Festival of India (IFFI) starting at Goa on January 16.
The country of focus section will include Jibandhuli directed by Tanvir Mokammel, Meghmallar directed by Zahidur Rahman Anjan, Under Construction by Rubaiyat Hossain and Sincerely Yours, Dhaka by Nuhash Humanyun, Syed Ahmed Shawki and 9 other individual directors.
The International Film Festival of India (IFFI), founded in 1952, is one of the most significant film festivals in Asia.
The festival aims at providing a common platform for the cinemas of the world to project the excellence of the film art, contributing to the understanding and appreciation of film cultures of different nations in the context of their social and cultural ethos, and promoting friendship and cooperation among people of the world.
The festival is conducted jointly by the Directorate of Film Festivals (under the Ministry of Information and Broadcasting) and the state Government of Goa
The festival will conclude on 24th January.
10) Answer: C
Henley and Partners Passport Index of 2021 has revealed the list of the world's most powerful passports and India has been ranked 85th on it.
India's passport got a visa-free score of 58, which means Indian passport holders can visit 58 countries without prior visa. India shares the no. 85 rank with Tajikistan.
Japan tops the list of being the most powerful passport in the world for the year 2021, according to the latest report by the Henley Passport Index released on January 5.
Singapore is in second place (with a score of 190) and South Korea ties with Germany in third place (with a score of 189).
Syria, Iraq and Afghanistan continue to be the countries with the 'worst passports to hold' at the bottom of the list with a passport score of 29, 28 and 26 respectively.
11) Answer: B
Twitter Inc. on January 8 deleted new tweets posted by US President Donald Trump on the official government account @POTUS and suspended the account of his presidential campaign, after booting his personal account off the platform permanently.
@POTUS government account, has 33.4 million followers.
Twitter had permanently suspended the president's go-to megaphone, his @realDonaldTrump personal account.
Twitter shut down his @TeamTrump campaign account shortly after it sent out a tweet with a "statement from President Trump" accusing Twitter of "banning free speech" and coordinating with "the Democrats and the Radical Left" to silence him.
12) Answer: D
West Bengal Chief Minister Mamata Banerjee virtually inaugurated the 26th Kolkata International Film Festival (KIFF).
The inaugural ceremony was also virtually attended by Bollywood superstar and West Bengal's brand ambassador Shah Rukh Khan from Mumbai.
Legendary filmmaker Satyajit Ray's classic 'Apur Sansar' will be the inaugural film of the festival in which 131 movies from 45 countries will be screened till January 13.
Films will be screened at Rabindra Sadan, Nandan, Sisir Mancha and Rabindra Okakura Bhavan in Salt Lake.
Six films by Italian filmmaker Federico Fellini and movies on sitarist Ravi Shankar, singer Hemanta Mukherjee and flicks of comedian Bhanu Bandyopadhyay will be screened.
13) Answer: E
Union Minister of Earth Sciences, Dr Harsh Vardhan on January 09 inaugurated Coastal Research Vessel (CRV) 'Sagar Anveshika' at Chennai Port Trust.
It will be used for research purposes by the National Institute of Ocean Technology (NIOT) and has been built by Titagarh Wagons, Kolkata, West Bengal.
The vehicle will be used to carry out environment indexing and bathymetric (mapping underwater features) in both coastal and offshore waters.
NIOT already has 6 Research Vessels – Sagar Kanya, Sagar Sampada, Sagar Nidhi, Sagar Manusha, & Sagar Tara.
14) Answer: B
India's real GDP is projected to record a growth of 10.1 percent in 2021-22, according to Icra Ratings.
The rating agency ICRA had earlier projected a contraction of 7.8% for the ongoing fiscal 2020-21.
15) Answer: D
The Reserve Bank of India (RBI) has cancelled the licence of Vasantdada Nagari Sahakari Bank Ltd., Osmanabad, Maharashtra to carry on banking business, with effect from the close of business on January 11.
The Bank has failed to comply with the requirements of Section 11(1) read with Section 56 of BR Act and thus would be unable to pay its present depositors in full in its current financial position.
The Commissioner for Cooperation and Registrar of Cooperative Societies (RCS), Maharashtra has also been requested to issue an order for winding up the bank and appoint a liquidator for the bank.
With the cancellation of licence and commencement of liquidation proceedings, the process of paying the depositors of Vasantdada Nagari Sahakari Bank as per the DICGC Act will be set in motion.
16) Answer: C
On Jan 10, 2021, Jay Shah was named as the official representative of Board of Control for Cricket in India (BCCI) for the International Cricket Council (ICC) Board meetings.
BCCI secretary Jay Shah is all set to be named as India's representative in the ICC Board.
He will replace BCCI president Sourav Ganguly, was the person going on behalf of India to any meetings or interactions of the ICC Board, but he had recently suffered a heart condition on January 2 and was subsequently admitted to a hospital in his home town in Kolkata where he underwent primary angioplasty.
17) Answer: B
Defence Secretary Dr Ajay Kumar co-chaired the 13th India-Vietnam Defence Security Dialogue along with his Vietnamese co-chair Sr Lt Gen Nguyen Chi Vinh, Deputy Defence Minister  of Vietnam.
During virtual interaction, both of them expressed satisfaction at the ongoing defence cooperation between the two countries in spite of the limitations imposed by COVID 19.
During the interaction, the Defence Secretary and the Deputy Defence Minister exchanged views on the plan of action that has emanated from the recently concluded Virtual Summit between   Prime Minister Narendra Modi and Prime Minister of Vietnam  Nguyen Xuan Phuc in December 2020.
18) Answer: E
The Government of France, in cooperation with the UN and the World Bank, the 'One Planet Summit' for biodiversity on January 11 aims to advance the protection of nature.
French President Emmanuel Macron, UN Secretary-General Antonio Guterres, and World Bank Group President David Malpass are organising the fourth 'One Planet Summit' which will focus on biodiversity to mobilise commitments to protect ecosystems and make links to human health.
The theme of the Summit was "Let's act together for nature!"
The summit programme will focus on
Biodiversity preservation
The protection of terrestrial and marine ecosystems
The promotion of agroecology,
The mobilisation of funding for biodiversity
The link between deforestation, species and human health.
The event will be in a hybrid format with the participation of leaders in person in Paris and via video-tele-conferencing. It will be live-streamed on webtv.un.org.