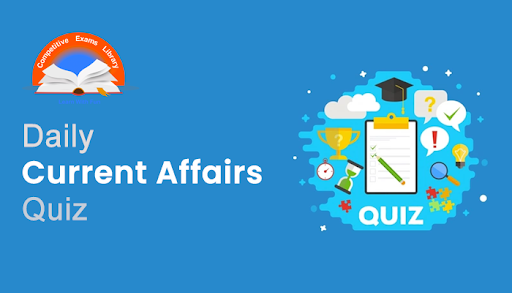 Dear Readers, Daily Current Affairs Questions Quiz for SBI, IBPS, RBI, RRB, SSC Exam 2021 of 12th February 2021. Daily GK quiz online for bank & competitive exam. Here we have given the Daily Current Affairs Quiz based on the previous days Daily Current Affairs updates. Candidates preparing for IBPS, SBI, RBI, RRB, SSC Exam 2021 & other competitive exams can make use of these Current Affairs Quiz.
1) International Epilepsy Day 2021 is observed on which of the following date?
A) February 11
B) February 14
C) February 8
D) February 1
E) February 2
2) World Unani Day is Observed On which of the following date?
A) February 1
B) February 3
C) February 4
D) February 11
E) February 5
3) Who among the following has inaugurated the World Sustainable Development Summit 2021?
A) Nirmala Sitharaman
B) Anurag Thakur
C) Prahlad Patel
D) Amit Shah
E) Narendra Modi
4) RajyaSabha has passed the Major Port Authorities Bill 2020 which will replace the Major Port Trusts Act of _____.
A) 1964
B) 1961
C) 1950
D) 1963
E) 1962
5) National Deworming Day 2021 is observed on which of the following date?
A) February 1
B) February 3
C) February 10
D) February 5
E) February 12
6) ________ kilometer area of India-Bangladesh border cannot be fenced as per Minister of State for Home Nityanand Rai.
A) 55
B) 60
C) 35
D) 40
E) 50
7) India along with which country recently reviewed the Indo-Pacific developments?
A) Australia
B) France
C) Russia
D) Japan
E) US
8) What is the theme of the RBI Financial literacy week 2021?
A) Education Management
B) Farmers
C) Credit Discipline and Credit from Formal Institutions
D) MSMEs
E) Credit Management
9) Which state has recently launched the Knowledge Mission?
A) Bihar
B) Kerala
C) Chhattisgarh
D) Uttar Pradesh
E) Madhya Pradesh
10) Coast Guard has conducted a Pollution Response Workshop and Mock Drill in which state?
A) Kerala
B) Punjab
C) Haryana
D) Gujarat
E) Chhattisgarh
11) International Day of Women and Girls in Science 2021 is being observed on which of the following date?
A) February 1
B) February 3
C) February 4
D) February 5
E) February 11
12) Who among the following flagged the BJP's ParivartanYatra in West Bengal?
A) Nirmala Sitharaman
B) Prahlad Patel
C) Narendra Modi
D) Amith Shah
E) NS Tomar
13) Citizen-centric on-line services of State Transport department has been aulnched by which state recently?
A) Kerala
B) Odisha
C) Maharashtra
D) Haryana
E) Punjab
14) As per SBI Research what is India's FY21 GDP estimates?
A) -5.5 percent
B) -6 percent
C) – 7 percent
D) -7.5 percent
E) -6.5 percent
15) Irdai panel has okayed the launch of index-linked insurance policies which were banned in the year _____.
A) 2008
B) 2009
C) 2011
D) 2012
E) 2013
16) AGS Transact Technologies has partnered with which company to Introduce First-Ever 'Contactless' Cash Withdrawals on ATMs in India?
A) Paytm
B) Mastercard
C) Visa
D) NPCI
E) SBI
17) Who among the following has been listed as the best batsman as per ICC Test Rankings?
A) Babar Azam
B) ViratKohli
C) Joe Root
D) Kane Williamson
E) Steve Smith
18) Indian Army has laid the foundation of a 100-foot-high national flag in which UT recently?
A) Andaman & Nicobar
B) Daman & Diu
C) Puducherry
D) Delhi
E) J&K
19) Which of the following Ministry has launched an Investment Corner on Revamped Site?
A) Finance
B) Education
C) Petroleum
D) Earth Sciences
E) Science
20) Who among the following has been appointed as Kerala's chief secretary?
A) Neeraj Singh
B) VP Joy
C) Suresh Kumar
D) Anil Mittal
E) Rajesh Ranjan
21) The government of which state has decided to appoint sprinter Hima Das as DSP?
A) Kerala
B) Gujarat
C) Bihar
D) Haryana
E) Assam
22) IPL 2021: Royal Challengers Bangalore has appointed who among the following as batting consultant?
A) Mohinder Amarnath
B) Sunil Gavaskar
C) Sanjay Bangar
D) Anil Kumble
E) Zaheer Khan
23) Who among the following has won the Wildlife Photographer of the Year People's Choice Award?
A) Suresh Kumar
B) Anand Rajesh
C) Anil Singhvi
D) Robert Irwin
E) Neeraj Singh
24) Pacer Ishant Sharma has becomes the ____ Indian pacer to take 300 Test wickets.
A) 6th
B) 5th
C) 4th
D) 2nd
E) 3rd
Answers :
1) Answer: C
The second Monday of February is observed as International Epilepsy Day, a special event which focuses on promoting awareness on epilepsy.
The Day is a joint initiative by the International Bureau for Epilepsy (IBE) and the International League Against Epilepsy (ILAE).
This day is celebrated mainly to raise awareness about epilepsy and highlight the kinds of problems faced by victims, their friends and family.
2) Answer: D
World Unani Day is a global event celebrated on February 11 to spread awareness about health care delivery through the Unani system of medicine through its preventive and curative philosophy.
It is the birthday of the great Unani scholar and social reformer "Hakim Ajmal Khan"
Objective :
To pay tribute to Hakim Ajmal Khan for his contribution in the sustained development of the Unani system of medicine in the country and world across.
First Unani Day was celebrated at Central Research Institute of Unani Medicine (CRIUM), Hyderabad in 2017.
The Unani system of medicine is a science of life, a system of healthcare and medicine that aims to assist people in living a healthy life.
About Hakim AjmalKhan :
Hakim Ajmal Khan, he was an eminent Indian Unani physician who was a versatile genius, a great scholar, a social reformer, a noted freedom fighter, an Unani medical educationist, and founder of scientific research in the Unani System of Medicine
He was one of the founders of the JamiaMilliaIslamia University, New Delhi.
He was also appointed the university's first chancellor in 1920 and remained in office until his death in 1927.
3) Answer: E
Prime Minister ShriNarendraModi inaugurated the World Sustainable Development Summit 2021 via video conferencing.
The theme of the Summit is 'Redefining our common future: Safe and secure environment for all'.
The 20th edition of The Energy and Resources Institute's (TERI) flagship event, the World Sustainable Development Summit, will be held online from February 10 to February 12 and will bring together a wide number of governments, business leaders, academicians, climate scientists, youth, and the civil society in the fight against climate change.
India's Ministry of Environment, Forests and Climate Change, Ministry of New and Renewable Energy and Ministry of Earth Sciences are key partners of the Summit.
The Summit series brings together governments, business leaders, academicians, climate scientists, youth, and the civil society in the fight against climate change
4) Answer: D
RajyaSabha passed the Major Port Authorities Bill, 2020.
The Bill was put to Division Voting wherein 84 members supported the bill and 44 voted against it.
The bill seeks to provide for regulation, operation and planning of major ports in the country and provide greater autonomy to these ports.
It seeks to replace the Major Port Trusts Act, 1963.
The legislation provides for the creation of a Board of Major Port Authority for each major port.
These Boards will replace the existing Port Trusts.
Union Shipping Minister MansukhMandaviya while replying after the discussion on the bill said that it will make the major ports in the country more autonomous and provide major thrust in the maritime sector.
5) Answer: C
Every year February 10 and August 10 are observed as the National Deworming Day (NDD).
The day aims at eradicating intestinal worms also referred to as Soil-Transmitted Helminths (STH), among children within the age bracket of 1-19 years
The operational guide issued by the Ministry of Health & Family Welfare
6) Answer: B
Minister of State for Home NityanandRai said, there are 60 kilometres area in India Bangladesh border which cannot be fenced, making it prone to infiltration.
Replying to a question in the RajyaSabha, MrRai said due to rivers in the area the fencing is difficult.
He said, 33 land acquisition proposals are pending with the West Bengal government.
The minister lamented that the state police does not act in the manner it should act
7) Answer: E
External Affairs Minister S Jaishankar and US Secretary of State Antony Blinken held a "comprehensive discussion and reviewed Indo-Pacific developments and the Quad cooperation".
MrJaishankar said that they also exchanged views on the situation in Myanmar.
The External Affairs Minister said, he looks forward to remaining in touch with him.
The telephonic conversation between MrJaishankar and Blinken came a day after Prime Minister NarendraModi  had a telephonic conversation  with  US President Joe Biden.
During the conversation, both the leaders discussed regional issues and the shared priorities.
8) Answer: C
Reserve Bank of India, Delhi is observing Financial Literacy Week from February 8-12, 2021, to propagate financial education.
The Reserve Bank of India has launched the Financial Literacy Week on the theme of 'Credit Discipline and Credit from Formal Institutions'.
This theme is one of the strategic objectives of the National Strategy for Financial Education 2020-2025. Focus will be on responsible borrowing; borrowing from formal institutions and timely repayments.
This five-day event was launched on Monday by Ajay Kumar, Regional Director, Reserve Bank of India, New Delhi
The Reserve Bank of India (RBI) has been conducting Financial Literacy Week (FLW) every year since 2016 to propagate financial education messages on a particular theme across the country.
9) Answer: B
The state government has launched Kerala Knowledge Mission which aims to transform the state to a knowledge economy.
Chief Minister PinarayiVijayan inaugurated the project at an event held at Mascot Hotel, Thiruvananthapuram.
The mission will promote innovative ideas, coordinate knowledge initiatives and equip young people with updated skills.
The initiative is a comprehensive digital platform for educated youngsters which would help them upskill, enhance knowledge and empower them to face the challenges of ever-changing job market.
This digital platform will create a great opportunity for those who took a break from work and jobless to connect with global employers.
They can upskill and earn more knowledge preferred by the employers. This will create at least three lakh jobs in a year and Kerala government also provides benefits such as insurance and loan assistance for the entrepreneurs through this platform.
10) Answer: D
In Gujarat, the Coast Guard District Headquarters Number-1 conducted the district-level Pollution Response Workshop and Mock Drill – 2021 at Porbandar.
It was conducted to revalidate the response mechanism for oil pollution incidents and enable the Indian Coast Guard to fine tune the Regional and National Oil Spill Disaster Contingency Plan.
According to official sources, the workshop was inaugurated by Deputy Inspector General S.K. Verghese, the Commander of District HQs Number-1.
The workshop was conducted in two phases.
The First Phase consisted of Table-top Exercise simulating oil spill while the practical demonstration of oil spill equipment on-board ICGS SamudraPavak for containment and recovery of oil spill was covered in the Second Phase.
11) Answer: E
On 11 February, the United Nations, partners worldwide, women and girls will mark the International Day of Women and Girls in Science.
This year, the world will celebrate the 6th International Day of Women and Girls in Science Assembly
The Day focuses on the reality that science and gender equality are both vital for the achievement of internationally agreed development goals, including the 2030 Agenda for Sustainable Development.
The 2021 theme of the Day is  "Women Scientists at the forefront of the fight against COVID-19".
The UN General Assembly established this Day, on 22 December 2015, to recognize the critical role women and girls play in science and technology
The Day is implemented by UNESCO and UN-Women in collaboration with institutions and civil society partners that aim to promote women and girls in science.
As per UNESCO data (2014-2016), only around 30 per cent of all female students select STEM-related fields in higher education. Across the globe, enrolment of female students is lower in natural sciences,  mathematics and statistics as compared to men.
12) Answer: D
Union Home Minister and senior BJP leader Amit Shah will be visiting West Bengal.
He is scheduled to flag off BJP's ParivartanYatra from Cooch Behar in North Bengal before addressing a public meeting at BangaonThakurnagar in North 24 Parganas.
Earlier, Mr Shah's two day visit to the state in the last week of January had been postponed.
13) Answer: B
Odisha launched various citizen-centric on-line services of the State Transport department.
On the occasion, Chief Minister Naveen Patnaik said that the digital initiative will allow freedom to the vehicle owners to choose any transport office of the state for vehicle related services.
The state road transport offices going paperless and contactless, long queues in front of the transport offices across the state will soon be a thing of the past-said the chief minister while rolling out the services.
While the chief minister described the initiative as a kind of liberation for thousands of people, an official release to this effect says that Odisha is the first state in the country to introduce document upload through digital signature, using the NIC platform.
The state rolled out as many as nine online services that include vehicle registration and ownership transfer.
14) Answer: C
The State Bank of India's (SBI) Economic Research Department has revised GDP estimates of India for FY21  to contract 7.0%.
And Earlier this was estimated GDP at -7.4%.
The SBI Research Report has retained its GDP forecast for FY22 at 11 percent.
15) Answer: E
Committee set up by the Insurance Regulatory and Development Authority of India (Irdai) has recommended the introduction of index-linked insurance policies (Ilips).
The committee was formed about four months ago after requests from insurers for reintroducing Ilips, which were banned by the regulator in 2013.
The product structures are mainly proposed under the traditional participating (par) and non-participating (non-par) designs. This way Ilips will give additional options to customers under these designs.
16) Answer: B
AGS Transact Technologies (AGSTTL) has partnered with Mastercard to provide a pan India 'contactless' cash withdrawal experience at ATMs.
First, Mastercard cardholders will be able to withdraw cash by scanning a QR code displayed on the ATM screen of all participating Banks.
Aim : The partnership aims to provide a more secure banking experience to customers in India.
The partnership will allow the Mastercard cardholders to access any participating Bank ATM in the country and carry out three transactions without any additional charges making it a scalable option for banks providing a consistent experience to their consumers.
17) Answer: D
Indian captain ViratKohli has slipped to No. 5 in the latest ICC Men's Test Player Rankings.
The top ten Batsmen in the list :
Kane Williamson – New Zealand
Steve Smith – Australia
Joe Root – England
MarnusLabuschagne – Australia
ViratKohli – India
Babar Azam – Pakistan
CheteshwarPujara – India
Henry Nicholls – New Zealand
Ben Stokes – England
David Warner – Australia
18) Answer: E
The Indian Army has laid the foundation stone of the tallest 'Iconic National Flag' at the famous ski-resort of Gulmarg in Jammu and Kashmir.
The flag will be on a 100 feet-high pole, the highest Tricolour in the Valley.
The Indian Army in collaboration with the Solar Industry India will install the 'Iconic National Flag' at Gulmarg.
The foundation stone for the iconic national flag was laid by Dagger Division General Officer Commanding (GoC) Major General Virendra Vats along with Bollywood actor-producer Arbaaz Khan and actress VidyaBalan.
This iconic Indian national flag will be a first in many ways. The site is expected to become another tourist attraction, among the snow-clad mountains of Kashmir.
19) Answer: C
Minister of Petroleum and Natural Gas & Steel DharmendraPradhan launched the Investment Corner under the Project Development Cell (PDC), on the revamped website of the Ministry of Petroleum and Natural Gas.
It has taken this initiative to dedicate a section showcasing investible sectors and opportunities and as a means to channelise investors' interest to the MOPNG PDC Team.
The Investor corner will enable the Ministry to effectively implement Union Cabinet's decision to set up Project Development Cells (PDC) in GoIMinistries/Departments to enhance the investment friendly ecosystem that supports and handholds investors for the grounding of investible projects and also supports in coordination of issues with stakeholder agencies of Government of India and State Governments.
20) Answer: B
Additional Chief Secretary VP Joy will succeed Vishwas Mehta as the state's Chief Secretary.
The cabinet took a decision in this regard.
Mehta will retire on February 28 and is expected to take over as the Chief Information Commissioner.
21) Answer: E
Assam Chief Minister SarbanandaSonowal chaired a meeting of his cabinet where a decision was taken to appoint World Championship sprinter Hima Das as a Deputy Superintendent of Police in the state.
Union Youth Affairs and Sports Minister KirenRijiju said that sprinter Hima Das will continue running for the country even after the Assam government decided to appoint her as a Deputy Superintendent of Police in the state.
The 21-year-old is currently preparing for the upcoming Tokyo Olympics qualification at NetajiSubhas National Institute of Sports, Patiala.
22) Answer: C
Royal Challengers Bangalore (RCB) announced the appointment of Sanjay Bangar as the new batting consultant ahead of Indian Premier League (IPL) 2021.
Bangar comes with vast experience of having coached the national team and also IPL teams in the past.
Bangar will join an illustrious coaching staff that already has SridharanSriram as batting and spin bowling coach, and Simon Katich as head coach.
23) Answer:  D
Australia Zoo's Robert Irwin has won the Natural History Museum's Wildlife Photographer of the Year People's Choice Award.
Robert won the award for the image titled 'bushfire', which is the picture of the devastating Australian Bushfire in 2020, he captured using a drone, near the Steve Irwin Wildlife Reserve in Cape York, Queensland.
Irwin has won the Natural History Museum's Wildlife Photographer of the Year People's Choice Award for a striking bird's-eye-view image capturing the devastating bushfires that tore through Australia 12 months ago.
The image shows a line of fire burning in between the bushes, dividing it into parts.
Irwin's image was chosen from a shortlist of 25 finalists that received a total of 55,486 votes.
24) Answer: E
Veteran fast bowler Ishant Sharma became the sixth Indian and the third pacer from the country to take 300 wickets in Test cricket
The 32-year-old Ishant reached the milestone in 98 matches, more than the other Indian bowlers in the club.
Ishant reached the landmark when he trapped Dan Lawrence with a delivery that swung back sharply before hitting his pads in England's second innings on the fourth day of the opening Test
Besides Kumble (619) and Kapil (434), RavichandranAshwin (377 before this game), Harbhajan Singh (417), and Zaheer Khan (311) are the other bowlers from the country who have reached the landmark.
The ICC also lauded the seasoned fast bowler's achievement, coming after more than 13 years of toil.