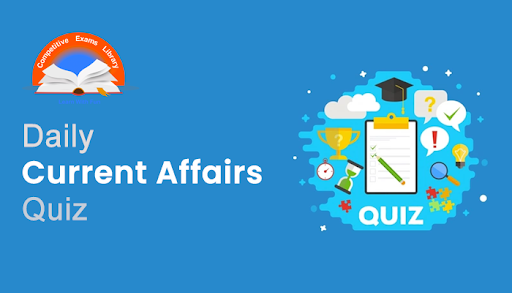 Dear Readers, Daily Current Affairs Questions Quiz for SBI, IBPS, RBI, RRB, SSC Exam 2021 of 12th May 2021. Daily GK quiz online for bank & competitive exam. Here we have given the Daily Current Affairs Quiz based on the previous days Daily Current Affairs updates. Candidates preparing for IBPS, SBI, RBI, RRB, SSC Exam 2021 & other competitive exams can make use of these Current Affairs Quiz.
1) International Nurses Day is Observed on which date?
A) May 1
B) May 2
C) May 12
D) May 3
E) May 4
2) Padmakumar Nair has been appointed as CEO of NARCL. He was a former employee of which bank?
A) Yes
B) Axis
C) IDBI
D) SBI
E) ICICI
3) PayTM Foundation has donated ____ concentrators with oxygen generation plant to Gujarat.
A) 200
B) 120
C) 20
D) 50
E) 100
4) Indian Navy has set Up COVID Care Centre at INS ______.
A) Nikunj
B) Kamorta
C) Delhi
D) Kalinga
E) Vayu
5) Which edition of India-Swiss Financial Dialogue has been held virtually in New Delhi?
A) 6th
B) 4th
C) 3rd
D) 2nd
E) 5th
6) Which has become the first country to test run for Metro train?
A) Sweden
B) Denmark
C) France
D) Germany
E) Bangladesh
7) As per UN forecast: In which year India will be the world's fastest growing major economy ?
A) 2026
B) 2025
C) 2022
D) 2023
E) 2024
8) Moody's has Predicted India's FY22 growth forecast as _____ per cent.
A) 8.3
B) 8.5
C) 9.1
D) 9.3
E) 9.2
9) Indian Railways has brought nearly ____ tonnes of Liquid Medical Oxygen so far across country.
A) 5135
B) 5735
C) 5450
D) 5200
E) 5100
10) Which Small Finance Bank has launched 'I choose my number' feature for its customers?
A) Bandhan
B) Equitas
C) Jana
D) Yes
E) Capital Local
11) Supreme Court recently appreciated which state's oxygen model ?
A) Bihar
B) Chhattisgarh
C) Tamil Nadu
D) Gujarat
E) Maharashtra
12) Who among the following has been appointed as McDonald's North & East new COO?
A) Navin Mittal
B) Anand Kumar
C) Rajeev Ranjan
D) Sushil Raj
E) Anand Tiwary
13) Which company has Appointed Sudhir Sitapati as MD and CEO?
A) Epson
B) Tata
C) Mahindra
D) Godrej Consumer
E) Sony
14) Who among the following Indian-American chemist has been nominated for the inventor award?
A) Shruti Sharma
B) Sumita Mitra
C) Anand Raj
D) Sudhir Srivastava
E) Mani Mittal
15) Geojit has inked a pact with which company recently?
A) Bandhan
B) Axis
C) SBI
D) HDFC
E) PNB
16) CPP Invests Rs 1,005 cr for additional ____ per cent stake in IndInfravit Trust.
A) 9.5
B) 10.5
C) 15.9
D) 14.3
E) 11.2
17) Which institution has developed an AI tool for COVID detection in chest X-rays?
A) ISRO
B) HAL
C) BHEL
D) DRDO
E) BEL
18) Swadhin Bangla Betar who passed away recently was an eminent ____.      
A) Director
B) Freedom Fighter
C) Musician
D) Writer
E) Actor
Answers :
1) Answer: C
International Nurses Day is an international day observed around the world on 12 May of each year, to mark the contributions that nurses make to society.
The theme for the 2021 is Nurses: A Voice to Lead – A vision for future healthcare.
The International Council of Nurses (ICN) has celebrated this day since 1965.
In January 1974, 12 May was chosen to celebrate the day as it is the anniversary of the birth of Florence Nightingale, the founder of modern nursing.
Each year, ICN prepares and distributes the International Nurses' Day Kit.
2) Answer: D
Padmakumar M Nair of State Bank of India (SBI) will be the chief executive of National Asset Reconstruction Company (NARCL), a proposed entity for taking over bad loans of lenders, predominantly public sector banks.
NARC, also called a 'bad' bank, is expected to be operational in June 2021.
Nair has been picked up for the CEO post of the proposed bad bank NARCL as he has a long exposure of handling resolution of stressed assets.
He will be joining the company on a deputation basis for the moment, two sources said.
3) Answer: E
To meet the rising oxygen demand for the treatment of COVID-19 patients, the Paytm Foundation has donated 100 oxygen concentrators along with an oxygen generation plant to Gujarat.
While the plant will be set up at the main civil hospital in the city, 100 oxygen concentrators will be distributed to different government-run hospitals in the state through the Corona Sewa Yagna' initiative being run by an NGO under the guidance of Gujarat Governor Acharya Devvrat.
Paytm Foundation is the CSR arm of financial service firm Paytm.
4) Answer: D
As part of the Indian Navy's efforts to assist the general population of Bheemunipatnam in dealing with the devastating second Covid wave, a 60-bed Covid Care Centre has been set up at INS Kalinga, Bheemunipatnam.
This facility was dedicated to the public by AP Tourism Minister and Bheemunipatnam MLA Shri Muttamsetti Srinivasa Rao on 11 May 2021.
The Commanding Officer INS Kalinga stated that the COVID Care Centre has adequate facilities to provide treatment to COVID positive patients with moderate symptoms from Bheemunipatnam Mandal and adjoining areas.
Administrative, logistic support food conservancy services and medical equipment is being provided by the Indian Navy.
The COVID Centre will be manned by three doctors and 10 nursing staff provided by the Community Health Centre.
Towards the maintenance and the running of the COVID Care Centre, a Memorandum of Understanding (MoU) was signed by CmdeNeerajUday Commanding Officer INS Kalinga and the Superintendent of the Community Health Centre Bheemunipatnam in the presence of the Tourism Minister and the District Medical and Health Officer Dr G Suryanarayana.
5) Answer: B
The fourth India-Swiss Financial Dialogue was held here virtually through video conferencing.
Ajay Seth, Secretary Economic Affairs led the Indian delegation.
The delegation from the Swiss side was led by Daniela Stoffel, State Secretary, and State Secretariat for International Finance, Switzerland, said an official press release.
The Indian delegation included representatives from the Department of Economic Affairs, Department of Revenue, Department of Financial Services and Ministry of External Affairs.
The dialogue, inter-alia, covered sharing of experiences by both countries for collaboration on various aspects including investments, International Financial Services Centre Authority (IFSCA), National Investment and Infrastructure Fund (NIIF), FinTech, sustainable finance and cross border financial services.
Further, matters relating to G20, International Monetary Fund (IMF) and tax challenges arising from the digitalization of the economy were discussed along with infrastructure financing, read the release.
6) Answer: E
The test run of the first electrical metro train in Bangladesh was conducted in Dhaka.
Road Transport and Bridges Minister Obaidul Quader inaugurated the metro rail test run virtually.
Six coaches of the metro train imported from Japan left the workshop inside the metro rail workshop in Diabari in Dhaka to travel about 500 metres at slow speed.
Japanese Ambassador to Bangladesh Naoki Ito was also present on the occasion at the test site.
He stated that the first metro and electrified train in Bangladesh will be a symbol of the changing face of Dhaka.
After the 'receiving inspection', the trains will go through a functional test followed by a performance test in August.
7) Answer: C
India is forecast to grow at 10.1 per cent in 2022, becoming the fastest growing major economy in the world, the United Nations said, but cautioned that the growth outlook of 2021 was "highly fragile" as the country was the "new hotbed of the pandemic."
The United Nations, in its mid-year update of the World Economic Situation and Prospects (WESP) which was first released in January 2021, projected that the Indian economy would grow at 10.1 per cent in the calendar year 2022, nearly double the 5.9 per cent growth forecast for the country in the January report.
At a growth rate of 10.1 per cent in 2022, India will be the fastest growing major economy in the world, ahead of China, which is projected to grow at 5.8 per cent, a slowdown from 8.2 per cent in 2021.
8) Answer: D
Rating agency Moody's has cut India's gross domestic product (GDP) forecast for FY22 to 9.3 per cent from the earlier projection of 13.7 percent and has ruled out a sovereign rating upgrade – at least for now.
The downward revision in GDP estimates comes on the back of a second wave of Covid infections across the country, which has triggered localized lockdowns and mobility curbs, except for essential services.
"As a result of the negative impact of the second wave, we have revised our real, inflation-adjusted GDP growth forecast down to 9.3 percent from 13.7 percent for fiscal 2021 (FY22)," the Moody's release said.
9) Answer: B
The railways have delivered nearly 5,735 tonne of oxygen in over 390 tankers to various states.
The Oxygen Express trains delivered 755 tonne of liquid medical oxygen (LMO) across the country.
More than 90 Oxygen Express trains have completed their journey so far.
Till the time of this release 293MT of LMO has been offloaded in Maharashtra, nearly 1630 MT in UP, 340 MT in MP, 812 MT in Haryana, 123 MT in Telangana, 40 MT in Rajasthan, 120 MT in Karnataka and more than 2383 MT in Delhi.
Stations near Dehradun (Uttarakhand) & Pune (Maharashtra) are also set to receive their First Oxygen Express.
While the First Oxygen Express to Uttarakhand is expected to reach 120MT of Oxygen from Tatanagar in Jharkhand.
Oxygen Express to Pune is also set to reach with more than 50 MT of Oxygen from Angul (Orissa).
10) Answer: C
Jana Small Finance Bank announced the launch of "I choose my number" feature for all its customers across India.
This new feature gives the bank's existing and new customers the option to select their favorite numbers as their savings or current account number.
Numbers play a very important role in the lives of the majority of Indians.
Some numbers are special to one, be it a lucky number, the favorite vehicle's number plate, birthday or wedding date, a memorable phone number, etc.
Considering this love and obsession for numbers, this feature of Jana Small Finance Bank will allow its customers to choose their favorite numbers as the last 10 digits of their bank account, savings or current.
The allocation of the account number chosen by the customer will be subject to availability of the requested number.
11) Answer: E
The Supreme Court has appreciated the 'Mumbai Model' and asked Delhi and the Centre to take a look at it so that no one in Delhi suffers oxygen shortage.
P Velrasu, additional municipal commissioner (project), stated that they worked on various fronts to counter oxygen shortage.
The normal demand per day for Mumbai's oxygen is 210 MT, at peak, it was 260 MT and now, it is 240 MT.
12) Answer: C
McDonald's India- North & East announced the appointment of Rajeev Ranjan as Chief Operating Officer (COO) and Rajeev Goel as Chief Financial Officer (CFO) of the company.
Both will step into their respective roles with immediate effect, following the retirement of Robert Hunghanfoo, head of Connaught Plaza Restaurants Pvt Ltd (CRPL), a statement said.
They would report to CRPL Chairman and Developmental Licensee Sanjeev Agrawal.
McDonald's restaurants in North and East of India are operated by CPRL, which has the licence for the region.
13) Answer: D
Godrej Consumer Products (GCPL) said that Sudhir Sitapati will join the company as managing director and chief executive officer effective October 18.
He was appointed to the HUL management committee as an executive director in 2016, making him one of it's youngest-ever members.
His appointment would be effective from October 18, 2021, following which Nisaba Godrej, who is currently the chairperson and managing director, will serve as executive chairperson, GCPL in a regulatory filing.
14) Answer: B
Indian-American chemist Sumita Mitra has been nominated as a finalist in the "Non-EPO countries" category of the European Inventor Award 2021 for applying nanotechnology to the production of dental materials, leading to the creation of a new composite to repair teeth which have many advantages over conventional materials.
Mitra's material overcomes many of the limitations of previous dental composites, which were either too weak to be used on biting surfaces, or quickly lost their polish and became physically unattractive, according to a release.
In addition, her invention is more versatile than other composites, and can be used in any area of the mouth, and simplifies the filling procedure for dentists.
15) Answer: E
Geojit Financial Services has entered into an agreement with Punjab National Bank to provide a three-in-one account to the latter's customers.
The new service gives customers who have a savings account with PNB, a PNB demat account and Geojit trading account.
Saving and Demat accounts can be opened online in PNB with a hassle free approach.
The 3-in-1 account makes it easier for PNB customers to transfer funds real time via the payment gateway facility from their savings accounts to meet their investment needs.
16) Answer: C
On May 06, 2021, Canada Pension Plan Investment Board (CPP Investments), bought an additional 15.9 per cent of the total units in IndInfravit Trust for Rs 1,005 crore.
CPP Investments has acquired seven percent of the units from Sadbhav Infrastructure Project and will acquire an additional 8.9 percent from L&T IDPL.
After that, CPP Investments' stake in IndInfravit increased from 27.9 percent to 43.8 percent .
17) Answer: D
DRDO has developed an artificial intelligence Named ATMAN,  based on intelligent software that helps in Covid detection.
The Software uses Chest X-rays and classifies those into normal, Covid19, pneumonia classes with the help of sample images that are limited in number (a few hundreds).
The tool was developed by DRDO's Centre for Artificial Intelligence and Robotics (CAIR), with the support of 5C Network & HCG Academics.
The ATMAN AI is an artificial intelligence tool for chest X-ray screening as triaging tool in COVID-19 diagnosis which is a method for rapid identification and assessment of lung involvement, according to a statement issued by HCG Academics.
Triaging COVID suspect patients using X-ray is fast, cost-effective and efficient.
The algorithm showed an accuracy of 96.73 percent.
It can be a useful tool especially in smaller towns in our country owing to lack of easy access to CT scans.
The tool would help in automatically detecting radiological findings indicative of COVID-19 in seconds, enabling physicians and radiologists to more effectively triage the cases, especially in an emergency environment.
18) Answer: B
On May 07, 2021, Freedom fighter and Swadhin Bangla Betar Kendra musician Anup Bhattacharya passed away.
He was 77.
About Anup Bhattacharya :
Anup Bhattacharya was born in Zakiganj, Sylhet in 1954.
During the liberation war of Bangladesh he worked as the composer and music director at Swadhin Bangla Betar Kendra.
He is also a founder member of the Rabindra Sangeet Shilpi Sangstha.
His ever-present liberation songs including "Teer Hara EiDheu-er Sagor," "Rokto Diye Naam Likhhechhi," "PurboDigonteSurjoUtheche," and "Nongor Tolo Tolo" inspired the liberation war fighters during 1971.