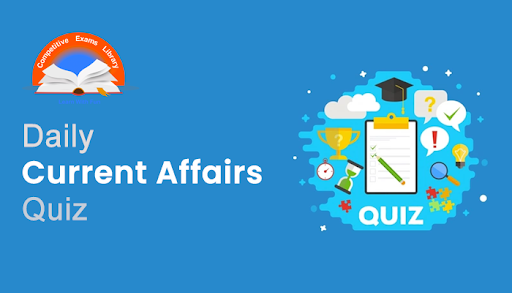 Dear Readers, Daily Current Affairs Questions Quiz for SBI, IBPS, RBI, RRB, SSC Exam 2021 of 13th March 2021. Daily GK quiz online for bank & competitive exam. Here we have given the Daily Current Affairs Quiz based on the previous days Daily Current Affairs updates. Candidates preparing for IBPS, SBI, RBI, RRB, SSC Exam 2021 & other competitive exams can make use of these Current Affairs Quiz.
1) World Kidney Day is Observed on which of the following date?
A) March 1
B) March 3
C) March 11
D) March 5
E) March 7
2) Who among the following will chair the Conference of Ministers of States, UTs?
A) Amit Shah
B) Prahlad Patel
C) Narendra Modi
D) NS Tomar
E) Gajendra Singh Shekhawat
3) World Sleep Day is Observed on _____.
A) March 8
B) March 12
C) March 10
D) March 13
E) March 11
4) Who among the following has initiated the Amrit Mahotsav exhibitions at six places?
A) Amit Shah
B) Prakash Javadekar
C) NS Tomar
D) Narendra Modi
E) Prahlad Patel
5) Who will Chair the First Meeting of BRICS CGETI?
A) Denmark
B) Germany
C) Japan
D) India
E) China
6) How manypersons will be conferred with the Sahitya Akademi awards.
A) 13
B) 15
C) 16
D) 18
E) 20
7) _____ heads of state will participate in the 10 day long celebrations on the occasion of the centenary of Bangabandhu Sheikh Mujib and 50 years of liberation of Bangladesh.
A) 4
B) 5
C) 8
D) 7
E) 6
8) J&K: Ramban District Administration has developed a mobile app named ______.
A) e-Public
B) e-Delivery
C) e-Seva
D) e-Madad
E) e-Suvidha
9) India's first dedicated express cargo terminal has been launched on which airport ?
A) Surat
B) Pune
C) Bengaluru
D) Delhi
E) Hyderabad
10) The government has launched which portal for handholding and facilitation of domestic investors?
A) Atma Nirbhar Domestic Mitra
B) Atma Nirbhar Niveshak Mitra
C) Atma Nirbhar Investment Mitra
D) Atma Nirbhar Financial Mitra
E) Atma Nirbhar Promotion Mitra
11) Who among the following has recently bagged the Kendra Sahitya Akademi Award-2020?
A) Rajesh Tanwar
B) Mithilesh
C) Sukanya
D) Anand Raj
E) Nikhileswar
12) Who has been appointed as Executive Vice President and President American Tower's India operations?
A) Anand Tiwary
B) Rajendra Kumar
C) Sanjay Goel
D) Rajat Singh
E) Naresh Mehta
13) Joint Earth Observation Satellite Mission Radar has been Developed by which company along with NASA?
A) BDL
B) ISRO
C) DRDO
D) Antrix
E) SpaceX
14) Cabinet gives nod to amendments in Insurance Act to Increase FDI Limit to _____ per cent.
A) 100
B) 51
C) 74
D) 49
E) 26
15) Which institution has Developed an Air Independent Propulsion (AIP) System?
A) BDL
B) BEL
C) HAL
D) DRDO
E) ISRO
16) Which Bank will divest stake in asset reconstruction JV ASREC India?
A) Bandhan Bank
B) Yes Bank
C) Axis Bank
D) Bank of India
E) Indian Bank
17) Name the app launched by the Union Ministry of Consumer Affairs, Food and Public Distribution for those ration card holders who migrate to new places in search of livelihood?
A) Mera Poshan
B) Mera Ration
C) My Food
D) Food beneficiary
E) My Budget
18) Mithali Raj Becomes 1st Indian Women Cricketer To Score _____ International Runs.
A) 13,000
B) 12,000
C) 10,000
D) 8,000
E) 5,000
19) Who among the following has authored a book titled Karunanidhi: A Life?
A) N.Ravi
B) N. Ram
C) AS Panneerselvan
D) Mariam Chandy
E) Vidya Ram
20) Baanjh: Incomplete Lives of Complete Women' has written by who among the following?
A) Ramesh Mehta
B) Suresh Bajaj
C) Anand Talwar
D) Susmita Mukherjee
E) Rajni Singh
21) Who among the following has released a new poetry book- Hunchprose?
A) Vidya Ram
B) Anand Tiwary
C) Suresh Singh
D) Ranjit Hoskote
E) Malini Prasad
22) NADA's disciplinary panel imposes sanctions on which of the following weightlifter & boxer for violating code?
A) Avdesh Singh
B) Narayan Rane
C) Sudesh Kumar
D) Nilesh Pandeu
E) Madhavan R
Answers :
1) Answer: C
World Kidney Day is a global health awareness campaign focusing on the importance of the kidneys and reducing the frequency and impact of kidney disease and its associated health problems worldwide.
World Kidney Day is observed annually on the 2nd Thursday in March.
The World Kidney Day Steering Committee has declared 2021 the year of "Living Well with Kidney Disease".
This has been done in order to both increase education and awareness about effective symptom management and patient empowerment, with the ultimate goal of encouraging life participation.
2) Answer: E
Jal Shakti Minister Gajendra Singh Shekhawat will be chairing a Conference of States and UTs Ministers on Jal Jeevan Mission and review the progress made under the Mission.
The conference is being organized to discuss planning, implementation and progress made so far as well as the way forward so that the remaining households in villages get tap water connections at the earliest.
About the scheme:
The Mission is a flagship programme of the Centre for providing tap water connection in every rural household by 2024.
Since the announcement of Jal Jeevan Mission on 15th August 2019, significant progress has been made across the country.
So far, more than 3.79 crore rural households have been provided with tap water connections.
3) Answer: D
World Sleep Day is an annual event observed on March 13 organized by the World Sleep Day Committee of the World Sleep Society, formerly World Association of Sleep Medicine, since 2008.
The celebrations of World Sleep Day are based on some slogans and themes for annual celebrations. So, the theme or slogan for World Sleep Day 2021 is "Regular Sleep, Healthy Future."
The World Sleep Day Committee of the World Sleep Society organized the World Sleep Day with an objective to minimize the burden of the problems related to sleep on the society through better prevention and management of sleep disorders.
4) Answer: B
Union Minister for Information and Broadcasting Shri Prakash Javadekar will inaugurate exhibitions at six places virtually.
The six places are Bangalore, Pune, Bhubaneswar, Patna, Moirang District in Manipur and Samba District in Jammu and Kashmir.
In addition, Shri Prakash Javadekar will also inaugurate an exhibition at the National Media Center in New Delhi.
The exhibitions are being organised in pursuance of the vision of the Prime Minister and to contribute to the festive fervor to the Azadi ka Amrut Mahotsav  as part of India's 75th Independence Day celebrations.
Azadi ka Amrut Mahotsav commenced, 75 weeks prior to Independence Day 2022,  and would continue till Independence Day 2023.
5) Answer: D
The first Meeting of the BRICS Contact Group on Economic and Trade Issues (CGETI) was held under India's Chairship from 9th till 11th of this month.
The theme of BRICS this year is -"BRICS at 15: Intra BRICS Cooperation for Continuity, Consolidation, and Consensus".
India presented the calendar of events for BRICS CGETI 2021, which included the priority areas for deliverables, schedule and scope of the MSME roundtable conference workshop on Services Statistics, and the BRICS Trade Fair.
Till September, inter sessional deliberations will be carried out to reach consensus amongst the BRICS countries.
6) Answer: E
Politician-writer M Veerappa Moily, poets Arundhathi Subramaniam and Anamika are among the twenty writers who will be conferred with the Sahitya Akademi Award 2020.
This annual Sahitya Akademi Award has been announced for India's 20 regional languages including Hindi, Maithili, Urdu and others.
According to an official communication of the Akademi, the seven books of poetry, four books of novels, five books of short stories, two plays one each of Memoirs and Epic poetry have won the awards.
The official statement mentioned that awards in Malayalam, Nepali, Odia and Rajasthani will be announced at a later date by the Akademi.
Kamal Kant Jha of Darbhanga bagged the award for his short story titled 'Gachha Roosal Achhi' on the importance of plantation in Maithili, while Anamika from Muzaffarpur won in poetry in Hindi titled 'Tokri Mein Digant Their Gatha'.
Bihar chief minister Nitish Kumar congratulated Jha and Anamika for their outstanding literary creations that have brought laurel to the state.
Jha, addressing the media mentioned, "It is an honour for all who work with literary creation with patience.
Creativity never goes unacknowledged".
Other winners are Harish Meenakshi (Gujarati), Anamika (Hindi), RS Bhaskar (Konkani), Irungbam Deven (Manipuri), Rupchand Hansda (Santali), and Nikhileswar (Telugu).
Nanda Khare (Marathi), Maheshchandra Sharma Gautam (Sanskrit), Imaiyam (Tamil) and Sri Hussain-ul-Haque were named as winners for their novels.Apurba Kumar Saikia (Assamese), (late) Dharanidhar Owari (Bodo), (late) Hiday Koul Bharti (Kashmiri) and Gurdev Singh Rupana (Punjab) have received the award for short stories.
The Akademi has named Gian Singh (Dogri) and Jetho Lalwani (Sindhi) the winners for their plays, while Shankar (Mani Shankar Mukhopadhyay) in (Bengali) received the award for a memoir.
7) Answer: B
Five heads of state and heads of government from the South Asian region will participate in the ten-day-long celebrations being organised on the occasion of the centenary of Bangabandhu Sheikh Mujib and 50 years of liberation of Bangladesh.
The 10-day long special programme will start on 17th March and conclude on 26 March.
Chief Coordinator of the Committee tasked with the planning of the celebrations in Bangladesh, Dr. Kamal Abdul Naser Chowdhury told the media in a press meet that the events will be held with a separate theme for each day.
Strict health guidelines will be observed during the programme.
Dr. Chowdhury mentioned that 500 invited guests from Bangladesh and abroad will be present during the functions to be held at the National parade ground on March 17,19,22, 24 and 26.
All the programmes will be telecast on television.
8) Answer: E
In the Union Territory of Jammu and Kashmir, the District Administration, Ramban has developed a mobile application named e-Suvidha, which shall bring many public delivery services and departments on the digital platform.
The initiative has been taken on the directions of Lieutenant Governor's Secretariat.
Deputy Commissioner, Ramban, Mussarat Islam, cleared the decks for the launch of the Mobile App which will be launched after a final trial run next week.
Pertinently, the e-Suvidha Mobile App will be available on the Google Play-store and will  be a game changer as it will provide access to the people to all basic services like plumbing, electric works, mobile and laptop troubleshooting, masonry, carpentry and skilled jobs on a digital platform with a click on the mobile phones.
The application shall also link many important departments like Health, Community Service Centres, Food & Civil Supplies, Banks and other financial institutions.
9) Answer: C
The Kempegowda International Airport in Bengaluru now has India's first dedicated Express Cargo Terminal exclusively for export and import of international couriers.
A media release issued by Bangalore International Airport Limited that operates the Bengaluru airport says that the Chief Commissioner of Customs in Bengaluru zone Mr.M Srinivas inaugurated the Terminal.
The two lakh square feet built to suit facility will be operated by Express Industry Council of India.It has a dedicated space for customs offices with direct access to both Landside and Airside wing of the airport.
The Chief Commissioner M Sirinivas mentioned that the exclusive Terminal for express couriers at south India's busiest Cargo Airport in Bengaluru will enable ease of doing business and reduce transaction time and cost for the shipper.
The new facility will enable Bengaluru Airport to process 150,000 Metric Tonnes annually, taking the Airport's overall annual cargo capacity to 720,000 MT, from the existing 570,000 MT.
10) Answer: B
Government will soon launch 'Atma Nirbhar Niveshak Mitra' portal for handholding and facilitation of domestic investors.
In order to further strengthen efforts to promote domestic investments, the Department for Promotion of Industry and Internal Trade (DPIIT) is in the process of finalising the 'Atmanirbhar Niveshak Mitra' digital portal.
The portal is in testing phase and the final version will be ready for launch by 15th May this year.
The webpage will also be available in regional languages and mobile App in due course.
The Commerce Ministry has termed the development as one of the most significant digital initiatives being undertaken to target the specific investor interests and ensure swift clearances & approvals throughout the business journey of domestic investors.
Some of the special features of the Atma Nirbhar Niveshak Mitra portal include One-stop-shop to access all MSME portals; Information about the Approvals, Licenses, Clearances, Incentives & Schemes applicable to specific businesses across different sectors and Information on Manufacturing Clusters and Land Availability.
11) Answer: E
Renowned writer Nikhileswar, and one among the six 'Digambara Kavulu' has been chosen for the Kendra Sahitya Akademi Award-2020 for his anthology of poems Agniswaasa penned in 2017.
A poet with a focus on social issues for almost six decades now, Nikhileswar also contributed to English and Hindi languages.
Speaking to TNIE, Nikhileswar mentioned, "Though, some Telangana poets are doing a good job, the latest trend is that a section of the poets have pledged fealty (udigam) to the rulers.
This is a dangerous trend.
All the democratic, human rights and Left forces should unite at this juncture."
12) Answer: C
American Tower Corporation announced that Sanjay Goel has been appointed Executive Vice President and President, Asia-Pacific succeeding Amit Sharma.
The appointment will be effective March 16.
13) Answer: B
The Indian Space Research Organisation (ISRO) has completed the development of a radar for the joint earth observation satellite mission with the US space agency National Aeronautics and Space Administration (NASA).
This is a part of an agreement that was signed by NASA administrator Charles Bolden and the then ISRO chairman named K Radhakrishnan on September 30, 2014, in Toronto, Canada.
NASA-ISRO SAR (NISAR) is a joint collaboration for a dual-frequency L and S-band SAR for earth observation.
ISRO has developed a Synthetic Aperture Radar (SAR), capable of producing extremely high-resolution images for the mission.
NISAR will be the first satellite mission to use two different radar frequencies (L-band and S-band) to measure changes in our planet's surface less than a centimeter across
14) Answer: C
The Union Cabinet has approved to increase the foreign direct investment (FDI) limit to 74 percent.
Currently, the permissible FDI limit in life and general insurance stands at 49 percent with ownership and management control with Indian.
The Cabinet has approval for amendments in the Insurance Act, 1938
The decision regarding increasing the FDI was taken during Budget 2021 on February 1.
In 2015 the government hiked the FDI cap in the insurance sector from 26 percent to 49 percent.
Benefits :
The new structure allows a majority of directors on the board and management to be resident Indians.
15) Answer: D
Defence Research and Development Organisation (DRDO) has Developed an important milestone in the development of Air Independent Propulsion (AIP) System by proving the land-based prototype.
The plant was operated in endurance mode and max power mode as per the user requirements. The system is being developed by Naval Materials Research Laboratory (NMRL) of DRDO.
The technology has been successfully developed with the support of industry partners L&T and Thermax.
16) Answer: E
State-owned Indian Bank will divest stake in joint venture entity ASREC (India) Ltd as part of asset monetisation exercise.
The bank holds a 38.26 percent stake in ASREC (India) Ltd.
The monetisation of the bank's non-core assets, the board of directors of the bank in its meeting held on March 5, 2021
17) Answer: B
On March 12, 2021, Union Ministry of Consumer Affairs, Food and Public Distribution launched "Mera Ration" Mobile App for those ration card holders who migrate to new places in search of livelihood.
This app will benefit especially those ration card holders who move to new areas for livelihoods.
The app is developed by the government in association with NIC "to facilitate various ONORC related services among National Food Security Act (NFSA) beneficiaries, particularly migrant beneficiaries, FPS dealers and other relevant stakeholders.
18) Answer: C
On March 12, 2021, Mithali Raj became the first Indian woman to score 10000 runs in international cricket across all formats.
The 38-year-old Mithali, leads the Indian ODI team, joined England's Charlotte Edwards in the elite club.
She achieved the feat with a boundary off Anne Bosch in the 28th over of India's innings during the ongoing third ODI against South Africa.
About Mithali Raj :
Mithali Raj is the highest run-scorer in women's international cricket and the only female cricketer to surpass the 6,000 run mark in Women's One Day International matches
In June 2018 during the 2018 Women's Twenty20 Asia Cup, she became the first player from India (either male or female) to score 2000 runs in T20Is, and also became the first woman cricketer to reach 2002 WT20I runs.
In 2019, she became the first woman to complete 20 years in international cricket
She also became the second woman cricketer at the international level to complete 10000 runs.
She is the recipient of several national and international awards, including the Wisden Leading Woman Cricketer in the World in 2017, Arjuna Award in 2003, and the Padma Shri in 2015, both by the Government of India.
19) Answer: C
The readers' editor of The Hindu A.S. Panneerselvan authored a book titled Karunanidhi: A Life.
The book was published by Penguin viking.
The book was written by former editing chief of hindu N.Ram
A.S. Panneerselvan tells the story of the man who became a metaphor for modern Tamil Nadu, where language, empowerment, self-respect, art, literary forms and films coalesced to lend a unique vibrancy to politics.
This is the second biography of Karunanidhi to hit the stands in the last 12 months after Karunanidhi – The Definitive Biography" (Juggernaut) by noted Tamil journalist and author Vasanthi, who notes that in the rough and tumble of Tamil Nadu politics, Karunanidhi was a fighter to the end.
20) Answer: D
Actor, producer, director, writer Susmita Mukherjee's new book of short stories 'Baanjh: Incomplete Lives of Complete Women' released in January 2021.
The book is a collection of 11 short stories written "over three decades
About the book :
Incomplete Lives of Complete Women, a collection of short stories based on the author's observations, takes you on a journey into the world of women from the society's fringes as well as the high echelons with entitled husbands and regressive labels.
About Susmita Mukherjee :
Susmita Mukherjee won  ITA Award for Best Actress in a Supporting Role, STAR Parivaar Award for Favourite Mazedaar Sadasya
She is the founder of Natak Company , Started in 1988.
21) Answer: D
The Indian Poet, cultural theorist Ranjit Hoskote released a poetry collection titled, 'Hunchprose'.
This is the poet's 8th poetry collection.
About the book :
The poems are about the turbulent times we live in and celebrate every aspect of humanity and being human.
About Ranjit Hoskote :
He is best known for 'Vanishing Acts', 'Central Time' 'Jonah Whale' and 'I, Lalla: The Poems of Lal Ded'.
He has been awarded the Sahitya Akademi Golden Jubilee Award, the Sahitya Akademi Translation Award and the S.H. Raza Literature Award.
Hoskote is known as a translator as well, for his translations of the legendary Urdu poets Mir and Ghalib.
His works have been translated into German, Hindi, Bengali, Irish, Marathi, Swedish and Spanish.
22) Answer: E
Explanation:
The National Anti-Doping Agency's (NADA) disciplinary panel imposed sanctions on weightlifter Madhavan R and boxer Ruchika for violation of its code.
Weightlifter Madhavan R, tested positive for prohibited substance Phentermine and Mephentermine, was handed a four-year ban by the Anti Doping Disciplinary Panel.
A two-year ban on boxer Ruchika after she was found positive for Furosemide.
The athletes have an option to appeal against the sanctions to a higher panel Anti Doping Appeals Panel (ADAP).