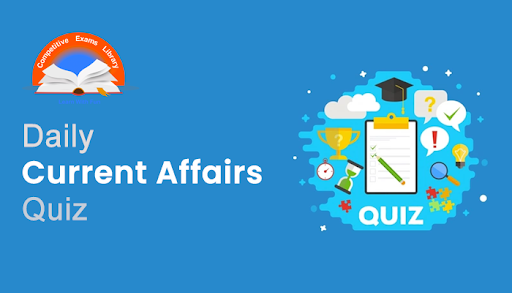 Dear Readers, Daily Current Affairs Questions Quiz for SBI, IBPS, RBI, RRB, SSC Exam 2021 of 13th May 2021. Daily GK quiz online for bank & competitive exam. Here we have given the Daily Current Affairs Quiz based on the previous days Daily Current Affairs updates. Candidates preparing for IBPS, SBI, RBI, RRB, SSC Exam 2021 & other competitive exams can make use of these Current Affairs Quiz.
1) PM CARES Fund approved procurement of _______ lakh units of Oxycare system.
A) 4.5
B) 3.5
C) 1.5
D) 2.5
E) 3
2) Manchester City crowned Premier League champions for the ____time.
A) 6th
B) 5th
C) 4th
D) 3rd
E) 2nd
3) The Union Cabinet has given a nod for PLI Scheme in the field of Advanced Chemistry Cell Battery Storage worth _____ crore.
A) 18500
B) 18400
C) 18300
D) 18200
E) 18100
4) Centre has approved transfer of ITBP land to which state government?
A) Kerala
B) Madhya Pradesh
C) Haryana
D) Uttarakhand
E) Chhattisgarh
5) WHO has not associated the term "Indian Variant" with which variant of coronavirus?
A) B.1.500
B) B.1.617
C) B.1.615
D) B.1.531
E) B.1.432
6) The World Bank reported that India received USD ____ billion in remittances in 2020.
A) 79
B) 80
C) 83
D) 82
E) 81
7) Aahaar is a free meal distribution initiative in which state?
A) Kerala
B) Uttar Pradesh
C) Madhya Pradesh
D) Assam
E) Chhattisgarh
8) Which state government has announced to provide free COVID treatment to beneficiaries of Himcare and PM-JAY scheme in registered private hospitals?
A) Madhya Pradesh
B) Uttar Pradesh
C) Kerala
D) Chhattisgarh
E) Himachal Pradesh
9) Which state government has set up 'Black Fungal Infection' treatment units in OTs ?
A) Uttar Pradesh
B) Telangana
C) Madhya Pradesh
D) Kerala
E) Chhattisgarh
10) Tamil Nadu CM has announced Rs ____lakh compensation to families of 43 medical professionals who died due to COVID-19.
A) 12
B) 10
C) 15
D) 25
E) 20
11) Adani Group has set up regional headquarters in which country?
A) Laos
B) Singapore
C) Thailand
D) Myanmar
E) Vietnam
12) Which bank has launched video KYC for opening an account?
A) UCO
B) Axis
C) Indian
D) Bandhan
E) South Indian Bank
13) Which company has launched digital Foreign Inward Remittance Advice?
A) Stripe
B) PayTm
C) PayPal
D) OlaPe
E) GPay
14) Who among the following has been appointed as vice-president at ICAS?
A) Anil Chaudhry
B) Sudhri Kumar
C) Rajeev Pandey
D) Manisha Kapoor
E) Rajat Mittal
15) Cabinet has approved the signing of MoU between ____ and QFCA.
A) CII
B) Niti Aayog
C) BCCI
D) ICCI
E) ICAI
16) Bay tree india holdings has sold over 2 stake in which bank?
A) BOI
B) ICICI
C) Yes
D) Axis
E) SBI
17) Homen Borgohain who passed away recently was an eminent ___.
A) Freedom fighter
B) Hockey player
C) Director
D) Writer
E) Actor
Answers :
1) Answer: C
The PM CARES Fund has approved procurement of 1,50,000 units of Oxycare System developed by the Defence Research Development Organization at a cost of Rs 322.5 crores, the DRDO informed.
It further informed that the Oxycare System is a SpO2 based Oxygen Supply System that regulates oxygen being administered to patients based on sensed SpO2 levels.
"Under this sanction, 1, 00,000 manual and 50,000 automatic Oxycare systems along with NRBM (Non-rebreather mask) masks are being procured.
The Oxycare system delivers supplemental oxygen based on the SpO2 levels and prevents the person from sinking into a state of Hypoxia, which can be fatal," it added.
The system was developed by the Defence Bioengineering and ElectroMedical Laboratory (DEBEL) in Bengaluru of the DRDO for soldiers posted at extreme high-altitude areas.
The system is indigenously developed for operation in field conditions and is robust.
2) Answer: D
On May 11, 2021, Manchester City were crowned Premier League champions for the third time in four seasons after Manchester United crashed to a 2-1 defeat against Leicester.
Pep Guardiola's side are 10 points clear of second-placed United with three games to spare.
This is Manchester City's fourth Premier League title.
3) Answer: E
The Union Cabinet approved an Rs 18,100-crore plan to incentivize battery makers to manufacture locally as it looks to cut import dependence while giving a boost to electric vehicle (EV) adoption.
This was a Department of Heavy Industries' proposal, which the government expects will create direct investment of Rs 45,000 crore.
Under the production-linked incentive (PLI) scheme floated by the central government, the Cabinet in November 2020 had approved Rs 18,000 crore for domestic manufacturing of Advanced Chemistry Cell (ACC) battery storage.
Currently, the country's ACC demand is being met through imports.
The nodal ministry, thereafter, proposed a national programme on ACC battery storage to achieve manufacturing capacity of 50 GigaWatt-Hour (GWh) of ACC and 5 GWh of "Niche" ACC.
4) Answer: D
The Cabinet chaired by Prime Minister Narendra Modi, has approved transfer of 1500 square metres of land belonging to Indo-Tibetan Border Police (ITBP) at Mussoorie to the State Government of Uttarakhand for their infrastructure project, namely, 'Aerial Passenger Ropeway System' between Dehradun and Mussoorie.
The proposed Ropeway is a mono-cable ropeway of 5,580 meters length under Public Private Partnership (PPP) mode between Purkul Gaon, Dehradun (Lower Terminal Station) and Library, Mussoorie (Upper Terminal Station) being constructed at an estimated cost of Rs.285 crore with a carrying capacity of 1000 persons per hour per direction.
This will considerably reduce the traffic flow on the road route from Dehradun to Mussoorie.
5) Answer: B
The Ministry of Health and Family Welfare clarified that WHO has not associated the term "Indian Variant" with B.1.617, now classified as "Variant of Concern".
Several media reports have covered the news of the World Health Organisation (WHO) classifying B.1.617 as a variant of global concern.
Some of these reports have termed the B.1.617 variant of the coronavirus as an "Indian Variant".
This is to clarify that WHO has not associated the term "Indian Variant" with the B.1.617 variant of the coronavirus in its 32 page document.
In fact, the word "Indian" has not been used in its report on the matter," it said.
As per media reports, earlier the World Health Organisation (WHO) had said that the Indian coronavirus variant (B1617), now declared as "variant of global concern" has spread to 44 countries.
6) Answer: C
India received over $83 billion in remittances in 2020, a drop of just 0.2% from the previous year, despite a pandemic that devastated the world economy, according to a World Bank report.
In 2019, India had received USD 83.3 billion in remittances.
As per the latest World Bank data released,China which received USD 59.5 billion in remittances in 2020 against USD 68.3 billion the previous year, is a distant second in terms of global remittances for the year.
7) Answer: D
In Assam, Aahaar, a free meal distribution initiative with the motto of combating hunger- feeding future is successful hearts in Guwahati metropolis.
This initiative is being taken up by an NGO- Care U 365 with the purpose to offer wholesome meals to roadside dwellers and their service is being acquired by the needy via their meals van.
Hundreds of individuals have been fed by this group in Guwahati throughout COVID scenario.
It's to be famous that this group is working actively in diversified fields like offering examine supplies to visually impaired, sanitary pad distribution, girls empowerment via technological development and coaching, neighborhood improvement initiatives in Assam.
8) Answer: E
Himachal Pradesh Government will provide free treatment to COVID patients under Himcare and Ayushman Bharat schemes in registered private hospitals.
According to the state government, only the beneficiaries of the Himcare and Ayushman Bharat scheme can avail of the facility.
Further, the private hospitals must be designated as a dedicated COVID hospital.
Chief Minister Jai Ram Thakur stated that,"Himachal Pradesh Government has decided to provide free treatment to beneficiaries of Himcare and Ayushman Bharat schemes to COVID-19 patients in registered private hospitals which have been dedicated as COVID hospitals,".
9) Answer: C
'Black fungal infection' treatment units with operation theatres (OTs) will be opened in Bhopal and Jabalpur in Madhya Pradesh.
Patients are getting infected with 'black fungal infection' during Covid treatment due to overdose of steroids.
Doctors are removing the infected parts, such as the eyes, palate, jaws and so forth, before the infection reaches the brain.
Even deaths have been reported from Jabalpur due to 'black fungal infection'.
There will be separate OTs for those who become Covid-negative after treatment.
According to health experts, the symptoms of mucormycosis include headache, fever, pain under the eyes, nasal or sinus congestion and partial loss of vision.
10) Answer: D
Tamil Nadu Chief Minister MK Stalin announced Rs 25 lakh compensation to the families of 43 medical professionals who died of Covid-19 while performing duty.
The DMK government also announced incentives to frontline workers including doctors, nurses and paramedics and other staff members who are involved in Covid duty for the months of April, May and June.
Doctors will receive Rs 30,000, nurses and trainee doctors Rs 20,000, and other staff members like sanitary workers, people working in CT scan department and ambulance workers will get Rs 15,000.
The government also stated that PG and trainee doctors will get Rs 20,000 for their hard work during the pandemic.
11) Answer: B
The Adani Group has opened its regional headquarters office in Singapore with focus on the energy, infrastructure and technology portfolios.
Adani Singapore (SG) Country Head Jeyakumar Janakaraj said Singapore was an ideal choice for Adani's regional headquarters, thanks to its ideal geographic location, legal and regulatory structure.
12) Answer: E
Customers can initiate Video KYC Account Opening by visiting https://videokyc.southindianbank.com.
The link will be available in the pre-login page of SIB Mirror+ (Bank's mobile App) and also in the bank's website.
South Indian Bank has rolled out Video KYC Accounting Opening.
This digital initiative helps the customer open an account through a video call just with the help of PAN and Aadhaar number of the customer.
Video KYC is a hassle-free mode of account opening which allows the customer to open an account fully online, completing all KYC procedures instantly.
KYC documents are verified, and the signature and photograph are captured in the process.
13) Answer: C
Digital payments provider PayPal has introduced an automated process to obtain monthly foreign inward remittance advice (FIRA), allowing Indian merchants to download their monthly digital FIRA issued by banks.
The automated process will not require sellers to place manual and individual requests, thereby reducing the time taken to file the paperwork.
The initiatives at zero cost are aimed to empower Indian MSME exporters to seamlessly grow their business internationally.
14) Answer: D
Advertising Standards Council of India (ASCI) said that its General Secretary Manisha Kapoor has now been appointed to the executive committee of the International Council for Advertising Self-Regulation (ICAS).
Set up by the European Advertising Standards Alliance in 2008, ICAS is a global platform of self-regulatory organizations (SROs).
Kapoor will be one of the four vice presidents on the executive committee.
15) Answer: E
The Union Cabinet, chaired by the Prime Minister Shri Narendra Modi has approved signing of Memorandum of Understanding (MoU) between Institute of Chartered Accountants of India (ICAI) and Qatar Financial Centre Authority (QFCA).
This MoU will benefit the Ministry of Corporate Affairs, Institute of Chartered Accountants of India and Qatar Financial Centre Authority.
The MoU would enhance cooperation between the Institutes to work together to strengthen the Accounting profession and entrepreneurship base in Qatar.
ICAI has an active Chapter in Doha, Qatar which was established in the year 1981 and is the oldest among the 36 overseas Chapters of the ICAI.
The membership of the Chapter has grown steadily since its founding days and presently has over 300 members who hold key positions in various private and public companies and are actively involved in support and development of the accounting profession in Qatar.
16) Answer: C
Private equity firm Bay Tree India Holdings I LLC has sold over 2 percent stake in YES Bank through open market transactions.
Bay Tree India Holdings I LLC, which held 7.48 per cent stake in YES Bank earlier, sold 52.15 crore shares representing 2.08 percent of equity stake in multiple tranches between January 6 and May 6, 2021.
In July 2020, YES Bank garnered ₹4,098 crore from anchor investors.
Bay Tree India Holdings I, owned by Tilden Park, was the largest anchor investor, investing ₹2,250 crore in YES Bank for an allocation of 1,87,50,00,000 (7.48 per cent) shares.
17) Answer: D
On May 12, 2021, Eminent writer, veteran journalist, Homen Borgohain passed away.
He was 88.
About Homen Borgohain :
Borgohain has written several novels, short stories and poetry.
He was associated with several newspapers.
He was most recently working as the editor in chief of Assamese daily Niyomiya Barta until his death.
He had also worked as an Assam Civil Service officer briefly.
He was also the president of Asom Sahitya Sabha from 2001-2002.
Achievements :
Homen Borgohain was awarded the Sahitya Akademi Award in the Assamese language for his novel Pita Putra in 1978.