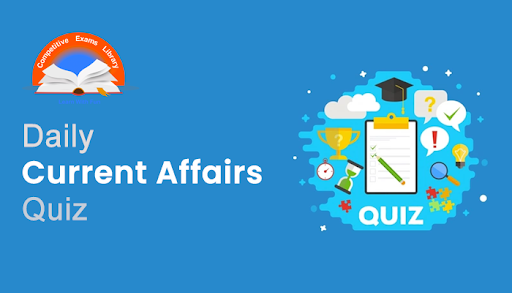 Dear Readers, Daily Current Affairs Questions Quiz for SBI, IBPS, RBI, RRB, SSC Exam 2021 of 14th and 15th February 2021. Daily GK quiz online for bank & competitive exam. Here we have given the Daily Current Affairs Quiz based on the previous days Daily Current Affairs updates. Candidates preparing for IBPS, SBI, RBI, RRB, SSC Exam 2021 & other competitive exams can make use of these Current Affairs Quiz.
1) National Women's Day in India is Celebrated on which of the following date?
A) February 11
B) February 12
C) February 13
D) February 14
E) February 17
2) What is the theme of World Radio Day 2021?
A) Services rendered by the Radio
B) As the World Changes, the Radio Evolves
C) Resilience of Radio
D) New World, New Radio
E) Evolution of Radio
3) 'Black day for India' is observed on which of the following date?
A) February 11
B) February 12
C) February 15
D) February 18
E) February 14
4) The Skills development ministry has launched the Mahatma Gandhi National Fellowship in partnership with IIMs and will be assisted by which of the following bank?
A) ECB
B) ADB
C) World Bank
D) AfDB
E) AIIB
5) Which of the following country has recently test-fired a surface-to-surface cruise missile?
A) Japan
B) Pakistan
C) Bangladesh
D) Germany
E) Sweden
6) Which of the following states has launched the Mandu festival?
A) Kerala
B) Chhattisgarh
C) Bihar
D) Madhya Pradesh
E) Haryana
7) PM Modi has unveiled several development projects worth 6100 crore in which of the following states?
A) Haryana
B) Punjab
C) Kerala
D) Chhattisgarh
E) Bihar
8) The first time in its history, the Indian Space Research Organisation (ISRO) has opened its UR Rao Satellite Centre in which city for testing satellites developed by the private sector?
A) Pune
B) Chennai
C) Bengaluru
D) Hyderabad
E) Surat
9) Who among the following has addressed the party MPs on 'SamarpanDiwas' to commemorate contributions of PanditDeendayalUpadhyaya?
A) Anurag Thakur
B) Narendra Modi
C) Prahlad Patel
D) Ram Nath Kovind
E) Venkiah Naidu
10) Fin Min will infuse _______ crore in state-owned general insurers this quarter.
A) 2500
B) 2000
C) 1500
D) 3000
E) 3500
11) Which state/UT has launched a campaign to become Covid-free by February 28?
A) Delhi
B) Bihar
C) Chandigarh
D) Daman & Diu
E) Puducherry
12) Prime Minister NarendraModi has unveiled several developmental projects in which state recently?
A) Haryana
B) Punjab
C) Tamil Nadu
D) Chhattisgarh
E) Bihar
13) Exim Bank will provide ______ million for Maldives project.
A) 250
B) 300
C) 350
D) 450
E) 400
14) Which of the following bank will provide a $100 million Project to Support Nutrition-Supportive Agriculture in Tribal-Dominated Areas of Chhattisgarh?
A) AfDB
B) AIIB
C) ECB
D) World Bank
E) ADB
15) SERB has announced Women Excellence Award 2021 in Science on the International Day of Women. The winners will receive a grant of _____ lakh for a period of 3 years.
A) 12
B) 15
C) 10
D) 7.5
E) 8.5
16) Who among the following has been appointed as MD, CEO of Aegon Life?
A) Sudeshna Ranjan
B) Rajeshwar Rao
C) Satishwar Balakrishnan
D) Anand Patel
E) Neelam Sharma
17) Which company has appointed Marc Llistosella as new CEO & MD?
A) Mahindra
B) Hyundai
C) Audi
D) Tata Motors
E) BMW
18) A three-day Annual Convention of Association of Domestic Tour Operators of India has started in which state recently?
A) Punjab
B) Bihar
C) Haryana
D) Madhya Pradesh
E) Gujarat
19) Who among the following has launched the book 'Turn Around India: 2020- Surmounting Past Legacy' Authored by R.P. Gupta?
A) Venkiah Naidu
B) Prahlad Patel
C) Jual Oram
D) Narendra Modi
E) Anurag Thakur
20) Who among the following has penned the memoir 'Starstruck: Confessions of a TV Executive'?
A) Prannay Roy
B) Rajat Sharma
C) John Abhraham
D) Peter Mukherjee
E) Amitabh Bachan
Answers :
1) Answer: C
In India, the National Women's Day is observed every year on 13 February.
Purpose :
To mark the birth anniversary of Sarojini Naidu, who is also popularly known as 'The nightingale of India.
About SarojiniNaidu :
Born in Hyderabad, Sarojini Naidu belonged to a Bengali Brahmin family with her ancestral roots in Bangladesh.
AghorenathChattopadhyay was the principal of Nizam's College with a doctorate of Science from Edinburgh University.
The political activist and poet was garnered with the title 'the Nightingale of India', or 'Bharat Kokila' by Mahatma Gandhi because of colour, imagery, and lyrical quality of her poetry.
In 1925, Sarojini Naidu was appointed as the first woman President of the Indian National Congress and later the first woman to be a governor of a state.
She was appointed as the governor of the United Provinces, known as Uttar Pradesh today.
A proponent of civil rights, women's emancipation, and anti-imperialistic ideas, she was an important figure in India's struggle for independence from colonial rule.
2) Answer: D
Every year World Radio Day (WRD) is celebrated on 13 February.
The day was proclaimed by the member states of UNESCO in 2011 and subsequently adopted by the United Nations General Assembly in 2021 as an International Day.
The theme of World Radio Day 2021, "New World, New Radio", will highlight the services rendered by the radio medium throughout the crisis.
The year 2021 will see WRD being divided into three main sub-themes as well. These include:
"Evolution: The world changes, radio evolves. This sub-theme refers to the resilience of the radio, to its sustainability."
"Innovation: The world changes, radio adapts and innovates. Radio has had to adapt to new technologies to remain the go-to medium of mobility, accessible everywhere and to everyone;
"Connection: The world changes, radio connects. This sub-theme highlights radio's services to our society—natural disasters, socio-economic crises, epidemics, etc."
3) Answer: E
40 CRPF personnel were killed on February 14, 2019, when their convoy was attacked by a suicide bomber on the Srinagar-Jammu highway in J&K's Pulwama district.
It was said to be the worst-ever terror attack in Jammu and Kashmir since militancy erupted in 1989.
A 'black day' in the history of India – February 14, 2021 marks two years of the Pulwama terror attack, when 40 Indian soldiers were martyred in one of the worst terror attacks in Jammu and Kashmir.
4) Answer: C
To strengthen skills training at district level, the skills development ministry launched the Mahatma Gandhi National Fellowship (MGNF) programme nationwide in partnership with nine Indian Institutes of Management across India.
The programme has been launched under the World Bank loan assisted programme SANKALP (Skills Acquisition and Knowledge Awareness for Livelihood Promotion).
The two-year academic programme will have an in-built component of on-ground practical experience with the district administration.
The nine IIMs include the IIM Bangalore, IIM Ahmedabad, IIM Lucknow, IIM Kozhikode, IIM Visakhapatnam, IIM-Udaipur, IIM Nagpur, IIM Ranchi and IIM-Jammu.
Selected fellows will be given a stipend of about Rs 50,000 per month during the first year and Rs 60,000 per month during the second year of the fellowship programme.
The fellows will be imparted training by the nine top IIMs of the country and in the later phase of the fellowship, the fellows will work on strengthening the District Skill Committees and the District Skill administration.
5) Answer: B
Pakistan conducted a successful training launch of a surface-to-surface cruise missile which can strike targets up to 450 kilometres,
This was the country's third missile test in three weeks.
The Babar missile "is capable of engaging targets at land and sea with high precision.
The Babur cruise missile IA was launched from a "state of the art Multi Tube Missile Launch Vehicle
On January 20, the army conducted a successful test of the surface-to-surface ballistic missile Shaheen-III.
Earlier this month, the army successfully conducted the 'training launch' of nuclear-capable ballistic missile sileGhaznavi as part of its annual field training exercise.
Earlier in January this year, the army had also test-fired an indigenously developed extended-range guided Multi-Launch Rocket System (MLRS).
6) Answer: D
In Madhya Pradesh, the three-day Mandu Festival began at Mandu in the historic town of Dhar district.
State culture and tourism minister Usha Thakur inaugurated the mandu festival.
Handicrafts related to handmade art are also being displayed in the ManduUtsav to encourage vocals for locals.
Dino Adventure Park & Fossils Museum also inaugurated by the state culture and tourism minister.
The State Minister informed that the Dinosaur Park is the country's first modern fossil park which has 24 eggs and other fossils of dinosaurs on display.
The park also provides information related to the life of dinosaurs.
Principal Secretary Tourism and Culture ShriSheoShekharShukla said that Such events will not only familiarize people around the world with the special culture of rural Madhya Pradesh but will also help in realizing the dream of Atmanirbhar Madhya Pradesh by creating new employment opportunities.
7) Answer: C
Prime Minister NarendraModi unveiled several key development projects worth 6,100 crore rupees at INS Garuda Naval Air Station at Kochi in Kerala.
The Prime Minister said, the projects inaugurated will energize the growth trajectory of India.
The Prime Minister said, Indians can do wonders in achieving the target of Atmanirbhar Bharat.
The Prime Minister said, India has the ability to rise to the occasion and contribute to the global good.
The Prime Minister also inaugurated the country's first full-fledged international cruise terminal, Sagarika at Cochin Port and Marine Engineering Training Institute of Cochin Shipyard Ltd.
Among the projects unveiled by the Prime Minister include the Propylene Derivative Petrochemical Project of Bharat Petroleum Corporation.
8) Answer: C
The first time in its history, the Indian Space Research Organisation (ISRO) has opened its UR Rao Satellite Centre in Bengaluru for testing satellites developed by the private sector.
Two satellites by Indian startups SpaceKidz India and Pixxel (incorporated as Sygyzy) were tested at the UR Rao Satellite Centre.
Isro helped these two companies fix problems with the solar panels on their respective satellites.
This is a first for the space agency, which so far has only taken help in manufacturing and fabrication of various parts of satellites and rockets from the Indian industry.
Two firms will also test their engines at Sriharikota spaceport and Thiruvananthapuram rocket centre.
A satellite designed by students from SpaceKidz had been launched by ISRO as an experiment in January 2019 using the fourth stage of the PSLV as the platform for the KalamSat.
9) Answer: B
Prime Minister NarendraModi is addressing the party MPs on the occasion of 'SamarpanDiwas' to commemorate the contributions of his party's founder leader DeenDayalUpadhyay on his death anniversary.
He is addressing BJP MPs at Ambedkar International Center, Janpath.
PanditDeendayalUpadhyay was a RashtriyaSwayamsevakSangh (RSS) thinker and former leader of the political party Bharatiya Jana Sangh, the forerunner of BharatiyaJanata Party.
DeenDayalJi was behind the 'vision of building a self-reliant India'. He said that we need to build an India that is self-reliant not just in agriculture, but also in defence and weaponry.
10) Answer: D
The Finance Ministry will infuse Rs 3,000 crore capital into state-owned general insurance companies during the current quarter in a bid to improve their financial health.
The Union Cabinet headed by Prime Minister NarendraModi cleared proposals to provide capital support to National Insurance, Oriental Insurance and United India Insurance.
The cabinet had also decided to increase the authorised share capital of National Insurance Company Limited (NICL) to Rs 7,500 crore and that of United India Insurance Company Limited (UIICL) and Oriental Insurance Company Limited (OICL) to Rs 5,000 crore each to give effect to the capital infusion decision.
The capital infusion will enable the three public sector general insurance companies to improve their financial and solvency position, meet the insurance needs of the economy, absorb changes and enhance the capacity to raise resources and improve risk management.
11) Answer: E
In Puducherry, a campaign has been launched titled "Zero Covid by Feb28" to ensure that there are no COVID-19 cases by the end of February 2021.
Under the "Zero Covid by Feb 28" campaign, all those who had come into contact with people infected with coronavirus would be identified and provided treatment, so that the further spread of the pathogen could be prevented
12) Answer: C
The Prime Minister inaugurated and laid the foundation stone of several developmental projects worth over 8000 crore rupees at Chennai in Tamil Nadu.
The Prime Minister asserted, these projects are symbols of Innovation and Indigenous development.
The Prime Minister said, India has the ability to rise to the occasion and contribute to the global good.
The Prime Minister also handed over the indigenously designed and manufactured Arjun Main Battle Tank (MK-1A) to the Army.
The Prime Minister asserted, these projects are symbols of Innovation and Indigenous development.
He stated that the projects will further the growth of Tamil Nadu.
Prime Minister said, Thanjavur and Pudukkottai will be specially benefited after the foundation for the extension, renovation and modernization of six hundred and thirty six kilometre long Grand Anicut Canal System was laid.
It will improve irrigation facilities for 2.27 lakh acres of land in the delta districts.
The Prime Minister lauded the farmers of Tamil Nadu for record food grain production and good use of water resources.
He emphasized the need to remember the mantra of Per Drop More Crop.
13) Answer: E
Export-Import Bank of India (Exim Bank) will provide $400 million to Maldives to fund Greater Male Connectivity Project.
The agreement under the line of credit is effective January 28, 2021.
The 6.7 km Greater Male Connectivity Project (GMCP) will be the largest civilian infrastructure project in Maldives, connecting Male with three neighbouringislands  Villingili, Gulhifahu and Thilafushi.
India will fund the implementation of a major connectivity project in Maldives through a USD 400 million line of credit and USD 100 million grant.
14) Answer: D
The Government of India, the Government of Chhattisgarh and the World Bank signed a $100 million project to develop sustainable production systems.
That will allow tribal households in remote areas of Chhattisgarh to practice round-the-year production of diversified and nutritious food.
CHIRAAG – Chhattisgarh Inclusive Rural and Accelerated Agriculture Growth Project will be implemented in the southern tribal-majority region of the state where a large population is undernourished and poor.
The project will benefit over 180,000 households from about 1,000 villages in eight districts of Chhattisgarh.
The loan agreement was signed by Dr. C S Mohapatra, Additional Secretary, Department of Economic Affairs, Ministry of Finance on behalf of the Government of India and MrJunaid Kamal Ahmad, Country Director (India) on behalf of the World Bank
15) Answer: B
The SERB Women Excellence Award was announced on the occasion of International Day of Women and Girls in Science 2021.
The SERB Women Excellence Award that has been conferred on them provides a grant of Rs. 15 lakhs for a period of three years to the awardees to pursue their research ideas.
The award given by the Science and Engineering Research Board (SERB), a Statutory body of the Department of Science and Technology (DST) supporting basic research in the frontier areas of science and engineering, was launched in the year 2013.
It is a one-time award given to women scientists below 40 years of age who have received recognition from any one or more of the National Academies such as Young Scientist Medal, Young Associateship, etc.
List of winners
Dr. ShobhnaKapoor, Assistant Professor at Indian Institute of Technology Bombay, working in the area of Chemical Biology with expertise in 'Host-Pathogen Interactions and Membrane Biology, Chemical Biology and Biophysics'
Dr. Antara Banerjee, Scientist B National Institute For Research In Reproductive Health, Mumbai, Maharashtra from the Health Sciences area with expertise in Signal Transduction, Biology of Reproduction and Endocrinology,
Dr. Sonu Gandhi Scientist D from National Institute Of Animal Biotechnology, Hyderabad from Bionanotechnology area focusing on Nanosensors, Design and Fabrication of Label-free Biosensors
Dr. Ritu Gupta, Assistant Professor at Indian Institute Of Technology Jodhpur, Rajasthan working on Nanotechnology with expertise in Materials Science, Nanodevices and Sensors, Health & Energy.
16) Answer: C
Private life insurer Aegon Life Insurance has elevated SatishwarBalakrishnan to the position of managing director and chief executive officer.
Balakrishnan had joined the company in July 2019 as the chief financial officer.
Prior to joining Aegon Life, he has worked with IndiaFirst Life, Reliance Life and ICICI Prudential Life. He is a chartered accountant by qualification.
17) Answer: D
Tata Motors Limited said that it has appointed Marc Llistosella as chief executive officer and managing director effective 1 July 2021.
He will replace current CEO & MD of Tata Motors, GuenterButschek, who had expressed his desire to relocate to Germany at the end of the contract for personal reasons.
Marc Llisotsella is an experienced automotive executive with a long track record in greenfield projects, turnaround management and leading organizations as chief executive officer and managing director.
Llistosella was most recently the president and chief executive officer of Fuso Truck and Bus Corporation where he worked on improving the profitability and sales potential of the business.
He was earlier the managing director and chief executive officer of Daimler India Commercial Vehicles Pvt Ltd.
18) Answer: E
The slogan of 'DekhoApnaDesh' by the Prime Minister has given boost to domestic tourism stated Union Minister of State (IC) for Tourism & Culture, ShriPrahlad Singh Patel, while inaugurating via video conferencing Kevadia, Gujarat.
The three-day event has been organised from February 12 to 14, 2021.
The three day ADTOI 10th Annual Convention-cum-Exhibition at the Statue of Unity (SOU), Tent City 2 in Kevadia, is based on the theme: 'Domestic Tourism  Hope for the revival- DekhoApnaDesh'.
This convention has been jointly organized by the Ministry of Tourism and ADTOI with support from Gujarat Tourism.
It aims at building public confidence to travel for the revival of domestic tourism in the country and is being attended by around 400 delegates comprising ADTOI members from across India, hoteliers, airlines representatives, senior government officials, media-persons among other stakeholders of the tourism industry.
19) Answer: C
A book titled Turn Around India: 2020- Surmounting Past Legacy' – creating economic awareness among masses authored by R.P. Gupta was launched by MrJualOram, Hon'ble M.P. & Chairperson Standing Committee on Defence, Government of India.
About the Book :
Turn Around India: 2020' is an intimate narrative of Gupta's experiences and how he attained success through sheer hard work and determination. Published by Himalaya Publishing House,
The book highlights the required modes and strategies to transform India into a vibrant economy and among the most developed nations of the world.
The book talks about the economic history of India enabling it to identify the strengths and weaknesses and take corrective actions.
The book provides a practical and viable option for reviving Indian economy for creating new jobs and enlarging public income and also, the structural reforms such as fiscal and monetary stimuli for overcoming economic crisis arising due to pandemic.
20) Answer: D
Peter Mukerjea has come out with his memoir 'Starstruck: Confessions of a TV executive'
It is a recollection of his experiences in the satellite television industry in India and is neither intended to open a can of worms nor is a set of kiss-and-tell stories.
Mukerjea is the former chief executive of Star India.
In this book, he has shared his journey, to highlight and showcase the plenty of mistakes made and the plenty of lessons learnt over almost three decades
The book, published by Westland, also talks in detail how Amitabh Bachchan was hired as a host for "KaunBanegaCrorepati".