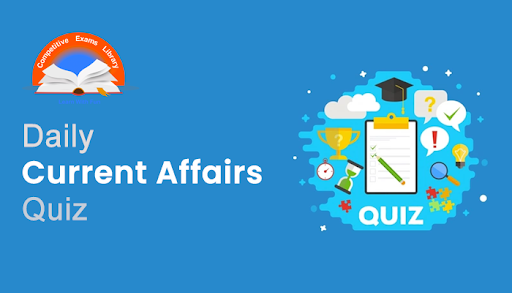 Dear Readers, Daily Current Affairs Questions Quiz for SBI, IBPS, RBI, RRB, SSC Exam 2021 of 14th & 15th March 2021. Daily GK quiz online for bank & competitive exam. Here we have given the Daily Current Affairs Quiz based on the previous days Daily Current Affairs updates. Candidates preparing for IBPS, SBI, RBI, RRB, SSC Exam 2021 & other competitive exams can make use of these Current Affairs Quiz.
1) International Day of Mathematics is observed on which of the following date?
A) March 9
B) March 7
C) March 14
D) March 6
E) March 5
2) The government has announced linking of OTPRMS certificates with which of the following app?
A) MobileSeva
B) KhanPahari
C) MyGov
D) Digilocker
E) UMANG
3) World Consumer Rights Day is observed on which of the following date?
A) March 1
B) March 2
C) March 3
D) March 5
E) March 15
4) The Central government has announced a new scheme for tourist vehicle operators where the permit will be issued online within ____ days of application submission.
A) 20
B) 15
C) 30
D) 45
E) 60
5) Which state has been paired with Bihar through Ek Bharat Shrestha Bharat campaign?
A) Chhattisgarh
B) Mizoram
C) Manipur
D) Tripura
E) Bihar
6) The I & B Minister has inaugurated Azadi Ka Amrit Mahotsav exhibitions at _____ places.
A) 9
B) 7
C) 8
D) 6
E) 5
7) India's first centralised AC railway terminal in which city will be operational soon?
A) Surat
B) Chandigarh
C) Pune
D) Hyderabad
E) Bengaluru
8) World's fastest supercomputer named ______ has been introduced.
A) Fujimura
B) Shinzen
C) Fugaku
D) Shiketsu
E) Shitsuketsu
9) The J&K government has sanctions interest-free loan worth ____ lakh rupees for PMAY-U beneficiaries.
A) 4
B) 2
C) 2.5
D) 3
E) 3.5
10) Covid Tracker helpline has been launched in which of the following city?
A) Pune
B) Surat
C) Mumbai
D) Delhi
E) Chennai
11) New mobile app named ______ has been launched on poll stats launched for Assembly Elections.
A) ElectNow
B) VoteToday
C) ElectVote
D) BolSubol
E) BolElect
12) Which company has recently appointed Hardeep Singh Brar as the new National Head-Sales & Marketing?
A) BMW
B) Honda
C) Mercedez
D) Hyundai
E) Kia
13) Who among the following has bagged the Sahitya Academy Award recently?
A) Brahm Kumar
B) Mani Shankar Mukhopadhyay
C) Suresh Raj
D) Anad Tiwary
E) Manoj Kumar
14) Author V Krishna Vadhyar has been honoured with the Kendra Sahitya Akademi Award. He belongs to which state?
A) Punjab
B) Bihar
C) Chhattisgarh
D) Kerala
E) Uttar Pradesh
15) Union Culture Minister Prahlad Singh has inaugurated digitization of _____Crore pages of Records.
A) 6.5
B) 7.5
C) 5.5
D) 3.5
E) 4.5
16) The _____ edition of the Quad Leaders Summit has been held Virtually.
A) 5th
B) 1st
C) 2nd
D) 3rd
E) 4th
17) PM Modi inaugurate Global Ayurveda Festival Virtually to be held between _____.
A) March 14-21
B) March 13-20
C) March 12-19
D) March 11-18
E) March 10-17
18) Which state is celebrating the festival of Shivratri 'Herath'?
A) Madhya Pradesh
B) Chhattisgarh
C) Bihar
D) Haryana
E) J&K
19) ISRO has launched _____ rocket to Study attitudinal variations.
A) RH-860
B) RH-460
C) RH-560
D) RH-660
E) RH-760
20) Marvin Hagler who passed away recently was a former ____.
A) Singer
B) Tennis player
C) Actor
D) Boxer
E) Musician
21) Hemiandrus jacinda New insect Species has been named after PM of which country?
A) China
B) US
C) New Zealand
D) France
E) Germany
22) Billionaire MP Olivier Dassault who passed away recently belonged to which country?
A) US
B) Switzerland
C) Israel
D) Germany
E) France
Answers :
1) Answer: C
The International Day of Mathematics is 14 March.
It is also known as the Pi Day, because the mathematical constant π can be rounded up to 3.14.
UNESCO's 40th General Conference decided Pi Day as the International Day of Mathematics in November 2019.
This year, the theme of the International Day of Mathematics is "Mathematics for a Better World".
On the occasion of International Day of Mathematics 2021, Audrey Azoulay, Director-General of UNESCO in an official statement said, "Mathematics, with its many technical applications, now underpins all areas of our lives.
2) Answer: D
Union Education Minister Ramesh Pokhriyal Nishank has announced linking of Online Teacher Pupil Registration Management System, OTPRMS certificates with DigiLocker.
This has been done in order to ensure hassle free access to verified OTPRMS Certificates.
The issued certificates will automatically be transferred to DigiLocker and the same may be traced at the website of National Council for Teacher Education and DigiLocker.
The Minister also informed that the registration fee of 200 rupees payable for obtaining OTPRMS Certificates, issued by NCTE has been waived off.
This will enable all stakeholders across India to be digitally empowered facilitating ease of doing business.
3) Answer: E
World Consumer Rights Day is observed on March 15. Consumers International is the membership organization for consumer groups around the world.
The World Consumer Rights Day 2021 theme is to gather all the consumers in a fight to "Tackle Plastic Pollution".
Founded on 1 April 1960, it has over 250 member organizations in 120 countries.
Its head office is based in London, England, with regional offices in Latin America, Asia Pacific, Middle East and Africa.
4) Answer: C
The Ministry of Road Transport and Highways has announced a new scheme for tourist vehicle operators.
Any tourist vehicle operator may apply for an All India tourist authorization and permit through online mode.
It will be issued, after relevant documents are submitted and fees deposited, within 30 days of submission of such applications.
About the new scheme:
The new set of rules, to be known as, All India Tourist Vehicles Authorization and Permit Rules, 2021, will be applicable from 1st April this year.
All existing permits shall continue to be in force during their validity.
The new rules for permits are expected to go a long way in promoting tourism across the states.
It will also consolidate a central database and fees of all such authorization which might give a sense of tourist movements, scope for improvement and promotion of tourism.
5) Answer: B
A country wide Ek Bharat Shrestha Bharat campaign, which highlights the age-old tradition of our country – unity in diversity.
The campaign portrays the very common principle of cultural harmony of the people though we are living in different geographical areas with diversity of language, food, custom and costumes.
Exchange of different languages, food habits, and similarly paying respect to others' culture, music, dances and customs are in fact the mantra of Ek Bharat Shrestha Bharat.
Under this Ek Bharat Shrestha Bharat campaign, each state is paired with another state and highlights the milieu of mutual exchange of cultures.
Mizoram is paired with Bihar on Ek Bharat Shreshtha Bharat campaign.
Mizoram is endowed with serene landscape and rich natural resources.
Many people from other states frequently visit Mizoram for occupational and travel purposes.
Many of them talk about the culture, peaceful behaviour and law-abiding nature of the Mizo people.
Also, many Mizo people who have visited Bihar still remember their good experiences.
Recalling the ethos of culture, customs and heritage of Bihar, many people of Mizoram observed that Bihari people are very cooperative and they live a simple life.
According to them, Bihar is a mix of Hindu, Islam, Buddha, Jain and Christians.
A Sizable population belongs to tribal communities.
Terming the Holi in Bihar as very joyous, they also found that Chhath festival is indigenous to people of Bihar.
6) Answer: D
Information and Broadcasting Minister, Prakash Javadekar inaugurated the exhibition to commemorate 75 years of India's Independence, Azadi Ka Amrit Mahotsav at six places in the country virtually.
The six places where Azadi Ka Amrit Mahotsav exhibitions were inaugurated are Jammu, Imphal, Patna, Bhubaneshwar, Pune and Bengaluru.
About Exhibition:
Mr. Javadekar said, Independence was achieved after a lot of sacrifices by the freedom fighters.
He said through exhibition people will come to know about the freedom struggle.
He also said that the basis of the objective to celebrate Azadi Ka Amrit Mahotsav by the Prime Minister is to connect people and make them aware of the freedom struggle.
Secretary Information and Broadcasting, Mr. Amit Khare, Principal Director General of Bureau of Outreach, Mr. Satyendra Prakash, and Principal Director General of PIB, Mr. Jaideep Bhatnagar and other senior officials were present on the occasion.
7) Answer: E
India's first centralised air-conditioned (AC) railway terminal has been built at Baiyappanahalli in Bengaluru.
Named after 'Bharat Ratna Sir M Visvesvaraya' one of the foremost civil engineers, the AC railway terminal is set to become operational soon.
It has been built at an estimated cost of Rs 314 crore.
The Byappanahalli terminal is the third coach terminal named after Bharat Ratna Sir M Visvesvaraya, sanctioned in 2015-16.
8) Answer: C
The world's most powerful supercomputer named "Fugaku", developed by Japanese scientific research institute RIKEN and Fujitsu, has been made available for research work.
The development of the machine was started about six years ago in 2014 and was completed in May 2020.
74 research projects have already been selected by Japan's Research Organization for Information Science and Technology (RIST) and will be implemented from April 2021.
About "Fugaku" supercomputer:
Fugaku will help the Japanese government to achieve its vision to establish an ultra-smart Society 5.0, where all people live safe and comfortable lives.
Fugaku computer has 100 times the application performance of K supercomputer and is developed to implement high-resolution, long-duration and large-scale simulations.
A portion of Fugaku's research is said to be dedicated to COVID-19 related projects.
9) Answer: B
Jammu and Kashmir government has approved a proposal to provide interest-free loan up to 2 lakh rupees to the urban homeless economically weaker section beneficiaries under Beneficiary Led Construction (BLC) component of the Pradhan Mantri Awas Yojana-Urban (PMAY-U).
J&K Administrative Council, which met under the chairmanship of Lieutenant Governor Manoj Sinha, approved the proposal of the Housing and Urban Development Department.
The beneficiaries under the BLC component of PMAY-U have experienced the difficulty in mobilising their contribution as they come from economically weaker sections.
As a result of which the construction of dwelling units under this component of PMAY-U could not achieve the desired targets.
The beneficiaries of this component have demanded enhancement of assistance in their favour so that they can complete their houses within the targeted date of the mission.
About The scheme PMAY-U:
Pradhan Mantri Awas Yojana is an initiative by the Government of India in which affordable housing will be provided to the urban poor with a target of building 20 million affordable houses by 31 March 2022.
Pradhan Mantri Awas Yojana – Urban (PMAY-U), a flagship Mission of Government of India being implemented by the Ministry of Housing and Urban Affairs (MoHUA), was launched on 25th June 2015.
The Mission addresses urban housing shortage among the EWS/LIG and MIG categories including the slum dwellers by ensuring a pucca house to all eligible urban households by the year 2022, when Nation completes 75 years of its Independence.
10) Answer: C
The coronavirus cases in Maharashtra including Mumbai have been witnessing a sharp spike since last few days.
In order to make the testing convenient for citizens, the Covid Tracker helpline is enabling Mumbaikars to do Covid testing at home without going to the hospital.
'Covid Tracker' helpline has been launched for the citizens of Mumbai.
About the helpline:
Through this helpline, citizens are being provided guidance on Covid -19 and various tests are being made available at home.
Citizens are getting advice from expert doctors by contacting the helpline.
Further tests, medications and treatments are also being provided at the patient's home if required.
Critically ill patients are being assisted through government agencies for further treatment.
All these facilities are being provided at government rates and as per the standards of the World Health Organization.
This initiative by the Udan Foundation is expected to reduce the stress on the government medical system to some extent.
11) Answer: D
Ahead of the assembly elections in four states and a union territory, a startup firm has unveiled a mobile application with poll statistics and data on the country's economy to help voters take fact-based decisions before exercising their franchise
The startup – Demokratika- launched the application, BolSubol, which has economic and political information about all the constituencies in India for over 60 years on average, they claimed.
"Except the election commission's efforts, not much seems to be done by political parties to empower voters.
Hence, the app is rolled out.
It will offer a powerful microblogging tool," Ritesh Verma, one of the directors of the company.
12) Answer: E
Kia Motors India, a wholly-owned subsidiary of Kia Corporation, has appointed Hardeep Singh Brar as National Head of Sales and Marketing.
Brar will be responsible for enhancing Kia's leadership position in the Indian market and for enabling the next wave of growth, a release issued by the company stated.
Brar has over two decades of experience in the automotive industry and was most recently working at Great Wall Motors as Director Marketing & Sales.
Prior to this, Brar has held senior leadership positions across sales, network, and marketing functions at Maruti Suzuki, Volkswagen, General Motors & Nissan.
He holds a Mechanical Engineering degree from Thapar Institute of Engineering and Technology, Punjab and is also an alumnus of Harvard Business School, according to the company release.
13) Answer: B
Eminent author Mani Shankar Mukhopadhyay, better known as Shankar, is set to receive the Sahitya Academy Award this year for his Memoirs 'Eka Eka Ekasi'.
Sponsored by Sahitya Academy Government of India, India's National Academy of letters, the award comprises a plaque and a cash prize of Rs.1 lakh.
14) Answer: D
For V Krishna Vadhyar, based at Irinjalakuda, the Kendra Sahitya Akademi Award for Best Children's book is recognition of his work towards promoting Konkani language. He belongs to Kerala.
But these awards hardly make a difference to him as he continues to pursue writing, be it in Malayalam or Konkani.
Born in Alappuzha, Vadhyar, who retired as a senior superintendent from the Kerala State Electricity Board (KSEB), has authored a handful of novels.
15) Answer: E
On March 11, 2021, Union Culture Minister Prahlad Singh Patel inaugurated Digitisation of 4 crore 50 lakh pages of Records and Exhibition on Mahatma Gandhi & the Non-Cooperation Movement.
On the occasion of 131st foundation day of the National Archives of India Mr. Patel launched the process of digitisation
The exhibition on 'Mahatma Gandhi and the Non-Cooperation Movement' is based on the original documents.
This exhibition will run till 15 April 2021.
The National Archives currently has a collection of over 18.00 crore pages, about 4 crore 50 lakh pages will be digitised in the first phase which is expected to get over in the next three years.
Public records include files recognized by the President of India, volumes, maps, bills, treaties, rare manuscripts, ancient records, personal papers, cartographic records, important collections of gazettes and gazetteers, census records, Parliamentary and Assembly debates, literature, travelogue etc.
16) Answer: B
On March 12, 2021, the first historic virtual summit of Quadrilateral leaders began.
The virtual summit was attended by the leaders of India, Japan, US and Australia
Prime Minister Narendra Modi, President Biden (US), Prime Minister Scott Morrison (Australia) Prime Minister Yoshihide Suga (Japan) addressed the first Quad leaders virtual summit.
In November 2017, India, Japan, the US and Australia gave shape to the long-pending proposal of setting up the Quad to develop a new strategy to keep the critical sea routes in the Indo-Pacific free of any influence.
17) Answer: C
On March 12, 2021, Prime Minister Narendra Modi inaugurated the fourth edition of the Global Ayurveda Festival through video conference.
This festival will be held virtually between March 12 and March 19.
Union Sports and Youth Affairs Minister Kiren Rijiju, Union Minister V Muraleedharan, the Federation of Indian Chambers of Commerce and Industry (FICCI) President Uday Shankar and former FICCI President Dr Sangita Reddy will also be present at the event.
Muraleedharan is the Chairman of the Organizing Committee of the festival
Note : The festival, which was scheduled to be held in Angamaly in May 2020, was postponed due to the COVID-19 pandemic.
The second edition of the Global Ayurveda Festival had also been inaugurated by Prime Minister Narendra Modi in Kozhikode.
18) Answer: E
The Union Territory of Jammu and Kashmir, Celebrates the festival of Shivratri 'Herath'.
It is a three day festival starting from March 10, 2021 to March 12, 2021.
Festival Mahashivratri locally known as Herath in Kashmir is being celebrated across J&K by Kashmiri Pandit Community with religious fervour by offering "Watak Nath Pooja".
Purpose :
This festival symbolizes the values of devotion and harmony, which are the hallmarks of glorious tradition & cultural ethos of Jammu and Kashmir.
The festival assumes colossal importance among the Kashmiri Pandit Community who celebrate it to mark the wedding of "Lord Shiva with Goddess Parvati
19) Answer: C
On March 12, 2021, The Indian Space Research Organisation (ISRO)  launched a sounding rocket (RH-560) from Andhra Pradesh's Sriharikota-based Satish Dhawan Space Centre (SDSC).
It is mainly for studying the attitudinal variations in the neutral winds and plasma dynamics.
ISRO currently has three different versions of sounding rockets, namely RH-200, RH-300-Mk-II and RH-560-Mk-II
The  three different versions of sounding rockets are capable of carrying 8 to 100 kilogram of payload to an altitude varying between 80 to 475 kilometres from the ground.
20) Answer: D
On March 13, 2021, Former undisputed middleweight world champion Marvelous Marvin Hagler has Passed away.
He was 66.
About Marvin Hagler :
He was an American dominated the middleweight division from 1979 until his controversial defeat by Sugar Ray Leonard in April 1987.
Hagler fought 67 times during his 14-year professional career, winning 62.
He triumphed on 52 occasions by knockout, while he drew two and lost just three times. Hagler made 12 successful title defences until his defeat by Sugar Ray Leonard by a split decision and he retired a year later.
Hagler made 12 successful title defences until his defeat by Leonard by a split decision and he retired a year later.
21) Answer: C
A newly discovered Hemiandrus jacinda cricket has been named after New Zealand's prime minister, Jacinda Ardern, making it the fourth insect to be named in her honour.
Steven Trewick, the scientist named and formally described the insect.
About Steven Trewick :
Trewick, a professor in evolutionary ecology at Massey University in New Zealand
Steven Trewick, the scientist named and formally described the insect, informed the name had struck him for reflecting traits of the prime minister
About Hemiandrus jacinda :
The species of wētā, a giant and flightless cricket, native to the Oceanic country has been called Hemiandrus jacinda apparently.
The cricket is red in colour and long-limbed, something which is similar to Ardern's Labour party colour and symbol.
22) Answer: E
Olivier Dassault, deputy of the Les Republicains (LR) conservative party and son of billionaire industrialist Serge Dassault, was killed in a helicopter crash.He was 69.
About Olivier Dassault :
Olivier was the grandson of Marcel Bloch, a famed aeronautical engineer. He belonged to France
He was the son of businessman and politician Serge Dassault.
Olivier Dassault was considered the 361st richest man in the world, worth an estimated 6.3 billion euros ($7.3 billion).